---
Peter Soave and Itzhak Perlman in Detroit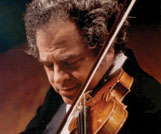 The Detroit Symphony Orchestra presents violinist Itzhak Perlman in concert Thursday,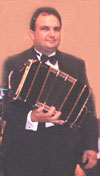 September 15, 2005 at 8:00 PM at Orchestra Hall in Detroit, Michigan.

The concert will feature one selection in collaboration with Peter Soave on Bandoneon - Por Una Cabeza.

The DSO opens the season with legendary violinist Itzhak Perlman, Dinner and concert ticket packages available, for information call 313-576-5111. Limited concert-only tickets.


---
Elsie Bennett Passes Away in New York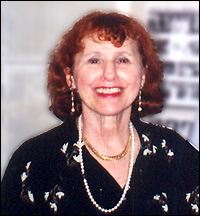 It is with sadness that the accordion world announces the passing of Mrs. Elsie Bennett. Elsie passed away on Saturday evening, September 3rd, 2005.

A member of the Accordionists and Teachers Guild, International since 1945 and long time Board of Director for the American Accordionists' Association, Elsie devoted her life to music and the accordion.

Elsie's parents came to the United States from Russia in the early 1900's and settled in Detroit where her father established himself in the fur business. When Elsie was nine years old, her father came home with a small button accordion. Elsie immediately took to its voluminous sounds and within a few years had progressed to a full sized 120 bass piano accordion. When she was 14 she enrolled in the Wurlitzer School where she learned guitar, saxophone and organ. Accordion proved to be her favorite instrument, and at the age of 16 she was asked to set up an accordion school at Wurlitzer. Within a few months the enrollment had grown to 85 students.

She married her high school sweetheart, Morton Bennett, and had two sons. Determined to get a formal music education, and playing her own way with money she had earned, she registered at the prestigious Ganapol Conservatory of Music, in Detroit's Wayne State University, for a Bachelor of Music Degree in Theory. She was one of the first people to graduate with that degree. Elsie and her husband then decided to move to New York, where Elsie was the first person in history to use the accordion as a major instrument to earn her Master's Degree in Music Education at Columbia University's Teacher's College. In 1946 the Bennett Music Studios opened in Brooklyn, NY. Elsie was instrumental in persuading the NYC Board of Education to recognize music teachers using the accordion as both a major and minor instrument for the performance part of their city license. She served as secretary of the Brooklyn Music Teachers'Guild, became a board member of the American Accordionists' Association and was editor of the Accordion World Magazine.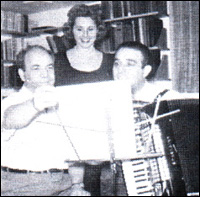 During her many years on the AAA Board of Directors she has served in many positions, however her biggest legacy was her work with the Commissioning Committee, where she was instrumental in commissioning many major works for the accordion by well known American composers. She sent hundreds of letters to composers, hoping to convince them to write something for the accordion. She succeeded with many, and had reported that there are over 50 commissioned compositions for the accordion by such outstanding people as Virgil Thomson, Paul Creston, Henry Cowell, Lukas Foss and many others. Elsie is pictured above confering with composer Paul Creston and Carmen Carrozza on the AAA's first commissioned work. Still active on the AAA Board until her passing, the AAA commissioned a new by John Franceschina entitled "For Elsie" to celebrate her recent 80th birthday and also her work on the Commissioning committee. This work was premiered by Peter Soave at the recent AAA festival in Elsie's home town, Detroit.
Elsie's outstanding contributions to the International Accordion Movement were recognized when the Confédération Internationale des Accordéonistes (CIA), honored her with the CIA Merit Award during its 1996 General Assembly in Dunajska Streda, Slovakia.
Elsie had a passion for the theater and frequented many Broadway productions where she was friendly with many of the star performers. She proudly displayed her many pictures from her backstage meetings with the Celebrities that she so adored.
Services will take place on Tuesday, September 6th at 11:30 a.m. at:
Parkside Funeral Chapel
2576 Flatbush Avenue
Brooklyn, NY
718-338-1500
Directions: Belt Parkway to Exit 11 North. Straight on Flatbush Avenue to the 3rd traffic light. Funeral chapel will be on your left.


---
Hurricane Katrina Devastates Zydeco Mecca
Our thoughts and prayers go out to all our accordion friends in the hurricane-ravaged Gulf Coast States.

As chaos engulfs New Orleans and other cities and states that have been devastated by Hurricane Katrina, we cannot begin to imagine the ordeal that lies ahead as residents try to deal with the aftermath of this natural disaster.

We hope that the all our accordion friends that have made New Orleans and other cities famous with their rich and vibrant music are safe, and we offer our heartfelt prayers for the challenges that lie ahead.


---
A Service for the life of Myron Howard Floren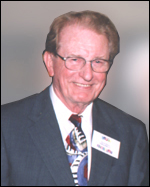 A Service of Thanksgiving to God for the Life of Myron Howard Floren By Faithe Deffner.
An emotional memorial tribute "In loving remembrance of Myron Floren" took place on August 6, at the Ascension Lutheran Church in Rancho Palos Verdes, California, where the family has worshipped since the mid-60s. Myron died at home on July 23, 2005 at age of 85.
A near life-size picture of Myron, youthful grin on his face and accordion in his arms stood near the pulpit, looking out at family and friends who had assembled for this final farewell. Remembering the biblical enjoinder to "make a joyful noise unto the Lord," the Rev. Dr. Jan L. Womer told the congregants that this had been Myron's lifetime work.
Floren's personal warmth, humility and gentleness were eulogized by his daughter Holly Floren; his son-in-law Bobby Burgess; Herb Skoog of the New Braunsfels, Texas festival where Myron was an annual attraction for the past 34 years; and his longtime friend and agent Warren Bills.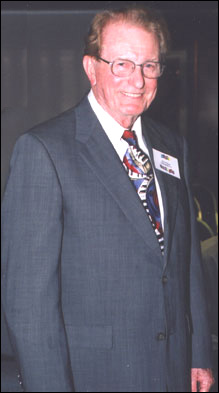 Myron himself provided the music for the memorial from among the hundreds of titles he recorded over the years: Fughetta, Sentimental Journey, How Great Thou Art, The Lost Chord, and Battle Hymn of the Republic. Each song was a poignant punctuation to prayers, scriptures and blessings in the touching service. Rev. Womer spoke of Myron's lifetime spent in delighting audiences, noting that "His name brings a smile to people's faces. The heavenly choir sings even more beautifully today because there is a new musician in their ranks."
As it was throughout Myron's lifetime, his accordion was predominant in the memorial service, capturing the essence of the consummate musician cited by Rev. Womer for his "Life with purpose."
When the service concluded, Floren's youngest daughter Heidi gathered several necklaces of beautiful purple orchids, the traditional Hawaiian lei. She put one on her mother, Berdyne, on each of her four sisters, Randee, Kristie, Robin and Holly, and herself, to wear as a symbol of farewell to their loved one, in the style of the Islands where the family frequently vacationed.
A repast for family and friends followed in the church's anteroom. Here, the walls were covered with lifetime photos - Myron with the Welk Orchestra and in appearances during an iconic career as an entertainer, which spanned more than six decades - with the familiar accordion in his arms. The background music was Myron playing, while family and friends reminisced about this always-modest gentle man who was bigger than life. In the words of Rev. Womer, "We shall not look upon his like again."

Please visit Myron Floren - November 5, 1919 - July 23, 2005 'The Accordionist Who Played in 32.5 Million Homes' by Faithe Deffner a longtime friend of Myron's, for a beautiful tribute to Myron's life and accordion career.

---
Accordionist featured at World Premiere of Ballet X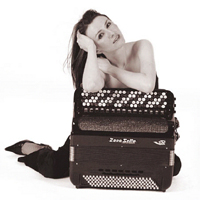 Accordionist Lidia Kaminska will be featured in the world premiere performance of two different- two exciting new works, one by BALLET X cofounder Mathew Neenan with music performed live by Lidia, and one by London-based choreographer, David Fielding.

Two of contemporary ballet's most formidable young talents, Neenan and Fielding each combine an edgy, contemporary artistic sensibility with a deep and abiding passion for classical ballet. At the same time that these common threads unite Fielding and Neenan's work, each has an original artistic vision and a signature approach to movement rooted in differences in their training, cultural perspectives and professional dance experience. Their unique work, performed by some of the most technically accomplished and artistically versatile dancers around, will leave longtime dance lovers and newcomers alike yearning for more.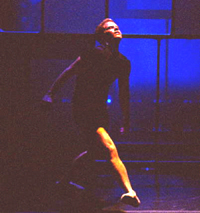 Trained at the Boston Ballet School and the School of American Ballet, Matthew Neenan has been a member of the Pennsylvania Ballet since 1994, performing a diverse range of classical and neoclassical roles. His choreographic accomplishments include Frequencies for Phrenic New Ballet and numerous commissions for the Pennsylvania Ballet, including the critically acclaimed 11:11, set to music by Rufus Wainwright.

Lidia Kaminska will perform four pieces from her repertoire, choreographed for this special event by Mathew Neenan:
Leon Boelmann: Priere a Notre-Dame
J. P. Rameau- Le Rappel des Oiseaux (The call of the birds)
Franck Angelis - Romance
Ole Schimdt - Toccata No. 1, op. 24
The program is presented as a part of the Philadelphia Live Arts Festival---- September 7-10, 2005 at 7:30 p.m. and September 11 at 2:00 PM, Philadelphia Arts Bank, 601 S. Broad St. Tickets will be available online at http://www.livearts-fringe.org/ starting August 8 and at the Live Arts box office, National Building, 119 Arch Street, side door, starting August 22.

For more information, please call 215.423.1318 or visit: www.lidiakaminska.com



---
Buckwheat Zydeco Promotes New CD in Kansas City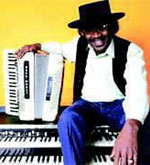 Buckwheat Zydeco performed at Knuckleheads in Kansas City in August and was promoting his first studio disc in eight years.

The album, titled Jackpot!, on Tomorrow Recordings (distributed through ADA), combines soulful original tunes, inspired playing and singing, and the trademark exuberance that's made him the world's best-loved zydeco artist, and has earned Buckwheat Zydeco the sobriquet "the world's greatest party band." There's plenty of Buckwheat's signature accordion, and for the first time ever Buck specifically features his soulful mastery of the horizontal keyboard on a three-song Hammond B3 "Encore featuring Organic Buckwheat."

Jackpot! opens with the strutting accordion-, organ- and horn-laced original "I'm Gonna Love You Anyway" before swinging into "It Must Be Magic," a tune that leads into a string of great new songs showcasing Grammy nominee and Emmy winner Stanley "Buckwheat" Dural Jr. and his long-time touring band.

The sweetly funky title cut and the slinky guitar breaks of "Rock, Boogie, Shout!" are due for road tests at festivals, theaters and clubs across the U.S. and Canada during the months ahead. Zydeco fans can expect more of the rootsy boogie that fuels "Come And Get Yourself Some" and the Creole French "Old Times La La" on the album, two of nine accordion-led originals on the disc.

Like discovering a beautiful new back road you've never been down before, Jackpot! takes a surprising and very cool side trip as it goes home with a trio of tunes offering a 18-minute encore presentation of "Organic Buckwheat," reuniting Dural with his first love, the Hammond B3 organ.

Dural's venerable keyboard playing stands up to anyone playing the B3 today -- whether it's the wailing blues of "Buck Goes Downtown," the jazzy tour de force Jimmy Smith tribute "Buck Goes Uptown," or on the anthemic reggae of the finale, "Buck Goes To Trenchtown." The Hammond organ only brings Buck back closer to his roots - as he first gained renown playing the Hammond in zydeco king Clifton Chenier's legendary Red Hot Louisiana Band in the 1970s.

"It was great to get back in the studio with a batch of new song ideas and my band," Dural notes. The band contains longtime stalwart, Lee Allen Zeno, on bass and vocals; the legendary Paul "Lil' Buck" Sinegal, and Olivier Scoazec, lead guitars; Buckwheat's son Sir Reginald Master Dural on rubboard and vocals; Gerard St. Julien on drums; and Curtis Watson, trumpet. Catherine Russell, who tours regularly with the likes of David Bowie and Jackson Brown, provides background vocals.

"I've been playing my new B3 onstage for a while now, stretching out during encores, and for these sessions we pulled the organ back into the zydeco tunes while branching out in some new directions," Dural adds.

Longtime manager and co-producer Ted Fox says that "In many ways this record feels like a fresh new start for us, like when we did our first major label release, On A Night Like This, back in the mid-'80s. Jackpot! totally captures Buckwheat Zydeco's unique sound, which has only gotten more powerful and impressive during the last couple of decades. I don't think anyone else is playing like this."

The record is Dural's third on his own Tomorrow Recordings label, which is distributed by Alternative Distribution Alliance.

Buckwheat Zydeco's trailblazing sound incorporates soul, blues and southwestern Louisiana's Creole French zydeco music. The band comes from a land of rich cultures and heady influences, and they've taken their music to an unprecedented and ever-expanding number of international venues.

The new disc will no doubt generate new reviews like those that have followed the band's recorded work and concert appearances. Anyone seeking the essence of Zydeco music as seen through the prism of rock, soul and jazz will certainly feel that they've hit the Jackpot!


---
New Record set in Canada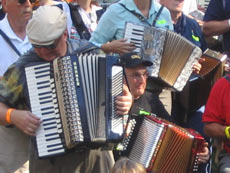 On Saturday 6th August, there was a new world record set, for the largest crowd to all play the accordion. Organizers, who needed 645 people to set the record, said 989 participants officially signed registration forms. The results will now be submitted to the Guinness World Records book. The previous record was set in July this year by 644 players Kimberley at the International Oldtime Accordion Championships.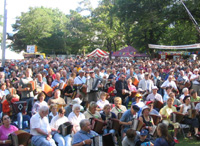 Dubbed the "Accordion Revolution," the St. Johns event drew participants from beyond Newfoundland and Labrador, including other provinces and the USA. The campaign became something of a summer phenomenon, with many people who had never even touched an accordion signing up to get involved.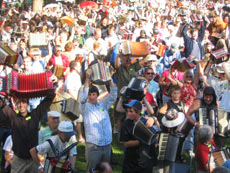 The "Accordion Revolution" drew players of all ages and talent levels, from seasoned professionals to absolute amateurs, armed with accordions, concertinas and hand-me-down squeezeboxes. Starting as a slow waltz, the players picked up tempo, as thousands of onlookers clapped in time. Saturday's event attracted scores of children, teenagers and young adults.

Organizer Dave Penny said the biggest problem wasn't getting the musicians together. "We were all in different keys, and we had to get everyone in the same key," he told reporters. Penny admitted the whole thing started off as a bit of a joke to promote the festival, which became a tremendously successful promotion of the accordion.

---
Judy Tenuta and her Accordion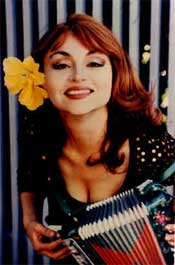 Raised in Oak Park, Judy Tenuta of Illinois calls herself a "Goddess" and promotes her own religion, "Judyism." Her unique comedy, punctuated with her trademark accordion, has made her a crowd favorite.

Vogue Magazine declared, "Tenuta is to female stand-up comics what Carrie was to high-school girls."

"Petite flower, earth mother goddess, geisha girl, healer of hermaphrodites, and empress of Elvis impersonators" are all words this gum-spitting, male-bashing, and undeniably brilliant comedienne uses to describe herself. Ms. Judy Tenuta's comic stylings border on performance art; she never appears out of character when being interviewed.

Tenuta's stage persona is as colorful as the garb she wears on stage (Goddess outfits) while attacking audience members in a fun and feminist fashion. Those two words could end up in the same sentence together? Who knew? During her act, Judy Tenuta can be seen mesmerizing the audience with her accordion and singing wacky songs while attempting to convert all to a religion of her own persuasion: "Judyism."


---
Carrefour Mondial de l'Accordéon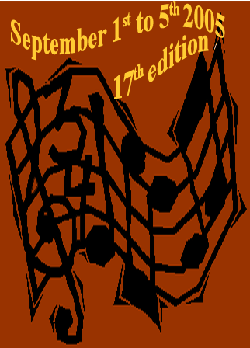 The Carrefour Mondial de l'Accordéon de Montmagny is an annual large-scale accordion festival, instituted in 1989, and attracting visitors and players from many countries. This year's festival takes place from September 1st to 5th, and the guests include Paul Grollier (France), Raynald Ouellet (Quebec), Rock Schryer Band (Ontario) and the Oblivion Jazz Trio (France). The festival includes folk, classical, rock, jazz and popular music styles, and there are concerts, dancing and workshops.

An important feature of this festival is a visit to the Accordion Museum, founded in 1992, and situated in the Manoir Couillard-Dupois. The Accordion Museum includes 130 instruments, 800 pictures and 1,500 sound recordings. There is also a shop, selling CDs, books, and numerous accordion-related items.

With the goal of promoting cultural diversity and the discovery of many different musical styles, the Carrefour mondial de l'accordéon offers a unique opportunity to enjoy folk, classic, rock, jazz and popular repertoires.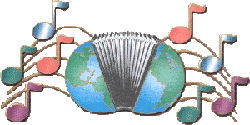 Since 1989, recognized accordionists, from all over the world, have graced the Carrefour's stages with their presence. In doing so, they have help in creating an international an multicultural event.

In addition to the accordion's reputation for bringing people together, this event also highlights an important part of our cultural heritage, while at the same time opening the door to the discovery of world music!

For the growing number of festival-goers, the concerts, dance evenings, outdoor concerts, conferences and exhibits at the Carrefour mondial de l'accordéon offer a unique chance to discover the rich potential of this multifaceted instrument.

For further information e-mail: accordeon@montmagny.com


---
Nick Perito Passes Away in Los Angeles
Pianist and accordionist Nick Perito, an Emmy-nominated Hollywood composer and arranger who worked for more than three decades with Perry Como, has died at the age of 81.

Born in America to Italian parents, Perito's musical career began by playing accordion at parties and restaurants. He later studied piano at university in Denver, after which he spent the war years as an arranger and pianist for the US army band.

Nick Perito began working as an arranger on Como's television show in 1963. In 1964 he became a conductor for Perry Como's shows, studio recordings and tours. In all, Nick Perito was nominated 12 times for awards for his musical direction and arrangements for the long running Perry Como television shows.

---
Ramon Ayala's Long Run of Succes
Mexican-born accordionist Ramon Ayala has had a career that must be the envy of many others. He has recorded no less than 103 albums, composed songs that have been covered by other artistes, won three Grammy awards, and is often referred to within the norteño and tejano genres as the 'King of the Accordion'.

Based in Hidalgo since 1980, Texas, began his music career performing at small cantinas in Mexico in the early 1960s. "I'd like to believe that I have done my part to help the city's growth," he said. "Hidalgo has been wonderful to me. They are so supportive and proud of me. … The whole (Rio Grande) Valley, to me, is super special. … It's my home."

Ayala currently is promoting his 103rd album,' El Disco Que Se Ve'. It features the single 'Ya No Llores', currently No. 1 in several markets.

When asked recently about his longevity, Ayala replied: "I have to give credit where credit is due," he said. "It's the fans. My first fans in the early 1960s introduced my music to their children and grandchildren. I've survived through many eras, from the Beatles craze, John Travolta (in the 1970s), to now. There's no easy answer to that question, but you do have to be prepared to put everything out on the line for your music."

Ramon Ayala could soon be on his way to The Guinness Book of World Records, who are researching his claim that his 103 albums is the most for any Mexican-born recording artiste. Ayala also was nominated recently for a star on the Hollywood Walk of Fame, and a motion picture about his life story is also a possibility.

Ramon's attitude to music was summed up: "Even if I'm in a wheelchair, I'll keep playing my accordion. As long as my fingers don't give out, I'm going to be playing my music."


---
Jon Hammond Shows Accessible On-line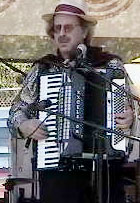 Accordionist and presenter Jon Hammond has archived tapes of his television show, dating back over the last 22 years available for listening via podcast technology.

Podcasting is a method of publishing audio broadcasts via the Internet, allowing users to hear previously recorded programs. Any digital audio player or computer with audio-playing software can play podcasts. In addition, these programs can now also be seen when accessed by 'Video Node'.

Jon's guests have included accordionists Art Van Damme, Dick Contino and Tommy Gumina, plus other great musicians such as Les Paul, Lionel Hampton and Sammy Davis Junior, to name but three.

For further information on accessing the shows, please e-mail laterent@tmail.com


---
Accordion at the Fairbanks Summer Arts Festival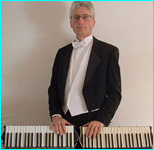 American concert accordionist Henry Doktorski served on the music faculty at the Fairbanks Summer Arts Festival at the University of Alaska Fairbanks campus for two weeks during July 2005 as instructor of accordion.

The Fairbanks Summer Arts Festival, founded in 1980, is a study-performance festival held annually on the beautiful University of Alaska Fairbanks campus. The curriculum includes classes in music (strings, guitar, woodwinds, brass, celtic and classical harp, classical and world percussion, voice, choral, fundamentals of music, and now accordion), dance, theater, opera theater, story telling, creative writing, healing arts, visual arts, and ice skating.

Doktorski taught three classes -- Beginning Button-Box Accordion, Beginning Piano-Accordion, and Intermediate Piano-Accordion -- which met every weekday evening from 6 p.m. until 10 p.m. The classes were so popular (about forty students enrolled, and some traveled great distances from Ohio, Florida, California, and Arizona to attend) that the Fairbanks Daily News-Miner newspaper published a half-page article about the classes in their July 21 issue. To read the article visit: http://www.news-miner.com/Stories/0,1413,113~7244~2974968,00.html)

Special guest 83-year-old Karl Carlson, a longtime Fairbanks resident and professional accordionist, lectured and performed for the classes on Thursday July 21.

The highlight of the Festival for the accordion students may have been the free ninety-minute concert presented on the stage of the Fairbanks Elks Lodge on Wednesday evening, July 24th for the pleasure of patrons and guests. All three classes performed, and the more advanced students, such as Gerald Sudkamp, Elaine Andalora, Christine Upton, Marlene Bubenicek Bach, and Antonio Marcantonio performed solo pieces. The distinguished guest of honor, Carl Carlson, also performed.

Doktorski was also a featured performer at FSAF faculty concerts, and performed Brahms' Hungarian Dance No. 5 and his own Theme and Variation on Richard Roger's "Edelweiss" at the Sunday afternoon July 17th "Meet the Guest Artists" concert. He also performed his own arrangement of Clarinet Polka at the July 18 "Lunch Bites" noon concert.

Doktorski was especially honored to be chosen to be the headliner at the Friday night July 22 formal recital at the University of Alaska Charles Davis Concert Hall. At this concert he performed J. S. Bach's Prelude and Fugue in C Major (BWV 553) on the University's 66-stop three-manual 1982 Gress-Miles organ (the largest pipe organ in the State of Alaska), and Guido Deiro's vaudeville hit, My Florence waltz, on his 1978 Victoria accordion.

Jo Ryman Scott, the founder and producing director of the Fairbanks Summer Arts Festival, explained, "It was our pleasure to have Henry as one of our 90+ guest artists at our Festival this summer. Adding accordion to our lists of studies was suggested a year ago by a local accordionist, Elaine Andaloro, and we had people coming from all over to study and perform with Henry. He was a great teacher and performer."

For information about the 2006 Fairbanks Summer Arts Festival, visit the Festival's web site at http://www.fsaf.org/ or contact Jo Ryman Scott at:
Fairbanks Summer Arts Festival
P.O. Box 80845
Fairbanks, Alaska 99708
Phone: (907) 474-8869
E-mail: festival@alaska.net


---
Camp to feature Frank Marocco and Nick Ballarini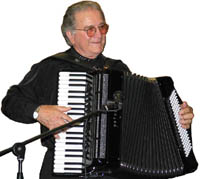 Frank Marocco/Ballarini Accordion Camp will take place from 13-17 November 2005 at the Blue Spring State Park, Florida.

This is truly an accordion camp featuring four days of Accordion and a great opportunity to learn from and hear one of the one of the greatest performers, composer and teachers that the accordion world has ever had, Frank Marocco. There will be group and individual lessons, workshops, jam sessions and performances. It is approximately 30 miles north of the Accordion Smash Hotel (Orlando).

One Price Includes:
Lodging Sunday Afternoon through Wednesday (Thursday checkout)
Participants Concerts
Solo performance Daily
Band Concert Daily
Study Groups/Bands of 4 -6 Persons
Private (One On One) Lesson With Frank
Workshops
Jam Sessions
Music will be sent to registrants prior commencement
Beautiful Learning Environment
Good Food & Drink
Accordion Camp Location and Charges:

There will only cabins and lodging for 21 people at the state park with back-up accommodations for 60 additional people at Comfort Inn. Cost $425.00, Sunday through Wednesday, Thursday checkout. The rate for those that do not want food and lodging is: $75.00 per day or private one hour lessons $50.00.

For Reservations Send $425.00 to: Marocco/Ballarini Accordion Camp
c/o Nick Ballarini
3964 Calculus Drive
Dallas, TX, 75244
Phone: 972 247 0071

Blue Spring State Park is located approximately 30 miles north of Orlando Smash Hotel. Each cabin has central air/heat, fireplace, two bedrooms, bathroom, fully equipped kitchen (stove and refrigerator), screened in porch, an outdoor grill and picnic table. Linens, pillows, blankets, towels and cooking and eating utensils are provided (linen is not furnished on a daily basis). One bedroom has a double-bed and a set of bunk beds, the other bedroom has a double-bed. Six(6) people is the maximum per cabin.
Blue Spring offers swimming and scuba-diving in a crystal clear, 72 degree spring run. Scuba-divers must register at the entrance station between the hours of 8 AM. and 3 PM, with an up-to-date certification card and a partner. Swimming or diving with the manatees is NOT permitted. The same pristine beauty enjoyed by Florida's earliest residents still can be seen today. A self-guided boardwalk guides visitors through a lush hammock to Blue Spring. From the accessible fishing pier, anglers will find an abundance of bluegills and blue cats, in addition to largemouth bass, shellcrackers and speckled perch. A Florida freshwater fishing license is required for persons age 16 years and older. A concession stand offers snacks, camping supplies and limited groceries. Canoe rentals are available.

Park Contact:
Blue Spring State Park
2100 West French Avenue
Orange City, Florida 32763
386-775-3663

---
Mary Tokarski to Perform in the Czech Republic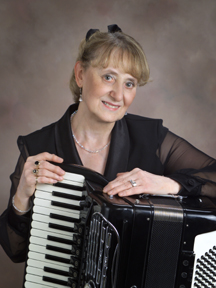 On the 13th of October, 2005, accordionist Mary Kasprzyk Tokarski will be the featured soloist in Olomouc, Czech Republic during an upcoming concert of works by New Zealand composer Gary Daverne. Performing with the Moravian Philharmonic Orchestra in the Olomouc City Concert Hall, Mary will be performing the Rhapsody for Accordion and Orchestra by Gary Daverne and a concerto adaptation of The Fox and The Hound by Frank Mucedola.

In addition to this concert, Mary will also give a special performance on Sunday, October 9th, at a Children's concert also at the Olomouc City Concert Hall with the Moravian Philharmonic Orchestra.

Mary's early-life musical training with Michael Fernino of Ansonia, Connecticut, developed into a lifelong love and study of music. When her sister Julie began lessons, Mary was offered the opportunity to begin as well, however decided against it. After Julie would repeatedly come home with an ice cream cone for a good lesson, Mary reconsidered her position on musical study and decided to begin the accordion as well.

Performances were numerous, and competitions were a regular part of growing up. By the time she reached early adulthood, Mary stacked up over 175 trophies and awards for State, Regional and National competitions.

Mary went on to represent the United States in the Coupe Mondiale (World Accordion Championship) sponsored by the Confederation Internationale Des Accordeonistes in Belgium (1971) and in France (1973).

Today Mary spends much time performing with her brother and sister in The "K" Trio (Mary Kasprzyk Tokarski, Julie Kasprzyk Cardona and Walter Kasprzyk) which perform around the world.

The Moravian Philharmonic Orchestra was founded in 1945 and is amongst the foremost and oldest symphonic orchestras in the Czech Republic. It is based in the historic Moravian city of Olomouc. This ancient university town is an important canter of education and culture of the whole of central Moravia. After the creation of the independent Czech Republic Olomouc became the canter of the administrative unit of the District of Olomouc.

The Moravian Philharmonic Orchestra has been lead by some important personalities of the Czech music culture and it has been conducted by artists of international renown such as Lord Yehudi Menuhin, Václav Neumann, Libor Pešek, Vladimír Válek and others. Famous soloists have performed with the orchestra, for example S. Richter, I. Oistrach, G. Kremer, S. Ishikawa, P. Fournier, J. Suk, V. Hudeèek, E. Indjic, J. Carreras, A. Baltsa, J. Cura.

During its existence the orchestra has performed an outstandingly broad and varied repertoire which, apart from Czech music, includes compositions of the classics of 19th and 20th century European orchestral music.

The Moravian Philharmonic Orchestra intensively promotes contemporary Czech and international music which is shown in the hundreds of premiered works of contemporary composers. In recent years the orchestra has specialized in recording contemporary international music, such as a CD of works by New Zealand composer Gary Daverne.

The Moravian Philharmonic Orchestra has performed with great success in most European countries and has taken part in important international music festivals in the Czech Republic and abroad, for example The Prague Spring Festival, Smetana's Litomysl, the Summer Music Festival in Reims, France or the Thurn und Taxis Fest-spiele in Regensburg, Germany. The orchestra has performed on important European stages such as Alte Oper in Frankfurt, Saal der Munchner Philharmonie, Vereinsaal Wien, Saal Pleyel Paris, Tonhalle Zurich or Palaois de Musica in the Spanish cities of Barcelona and Valencia.

The Moravian Philharmonic Orchestra actively participates in the organizing of the artistic and cultural life in Olomouc. It is also the organizer of the international music festival of Dvoøák's Olomouc, the International Organ Music Festival and the International Festival of Contemporary Music.

For more information, please e-mail: mary.tokarski@comcast.net


---
Joseph Andrew Zarnich Passes Away
Joseph Andrew Zarnich first fell in love at 14. He was at a South Side street fair in the late 1920s with his family and he spotted a woman playing the accordion.
"He fell in love with the sound," said his daughter, Christine Zarnich.

It was the beginning of the Depression, and the gold-paved streets that Mr. Zarnich's parents had been told of before emigrating from Yugoslavia hadn't materialized. But Mr. Zarnich's father and mother worked extra hours and saved their money to allow their son to play the instrument he so admired. "They were immigrants and they were poor," Zarnich said. "But they saved up to buy him an accordion." The instrument played a pivotal role in Mr. Zarnich's life.

He taught the accordion to Pittsburghers for more than 40 years from a small studio on East Carson Street and later in Mount Oliver. He also achieved a bit of fame playing in the Polish Aristocrats Orchestra. His enthusiasm and longevity paid off in the form of a nickname that many in Pittsburgh knew him by: "the accordion man."

Mr. Zarnich, of Whitehall, died Thursday, after being diagnosed with lung cancer two weeks ago. He was 90. Mr. Zarnich was the second oldest of four children. He graduated from a technical high school and immediately began teaching and soon met his future wife, Elizabeth "Betty" Marx. "She was taking lessons from him," their daughter said. "He started asking her out. She was a stunning woman and she became like a groupie." They married in 1948. Zarnich and her brother, Joseph Howard Zarnich, both learned to play the accordion from their father.
"As a father he used to put Cheerios on his face to make us laugh," she said. "His warmth and humor while he was teaching always made the discipline and practicing easier."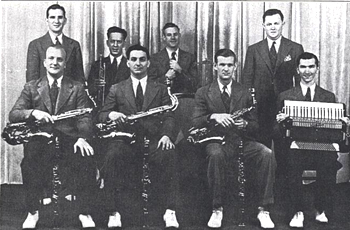 His gigs with the Polish Aristrocrats made him well-known in Pittsburgh and he was eventually dubbed "the accordion man.""If you wanted to know about accordions, people would say, 'Come to Joe Zarnich, he's the best in Pittsburgh,' " his daughter said. Playing at various concerts and private events, along with giving lessons and fixing broken accordions, afforded Mr. Zarnich a very comfortable lifestyle. But more than anything, his daughter said, he received an enormous amount of self-satisfaction by passing along his love for the accordion to those he taught."He taught kids of middle class, people with low incomes," she said. "If they couldn't afford to pay for what he called the beginner's class, they might make him food or something. He just loved to see people play."

But as the years passed, people's enthusiasm for the accordion seemed to fade."Guitar got very big, and rock 'n' roll, and kids were just into sports and different extra curricular activities," she said. "And they just didn't want to do the practicing that went into the accordion. He was disappointed that it wasn't as wonderful an instrument to others as it was to him." Just two weeks before his diagnosis, he was still teaching. His five students, a few 14-year-olds and a doctor in his 70s, would come to his house in Whitehall for their lessons.
In addition to his daughter and son, Mr. Zarnich is survived by two grandchildren and two great-grandchildren.

Mass was celebrated at 10 a.m. on Monday, August 29, 2005, at St. Gabriel of the Sorrowful Virgin Church in Whitehall, with a prayer service preceding it.


---
Attendees Got Their Eats with Dr. William Schimmel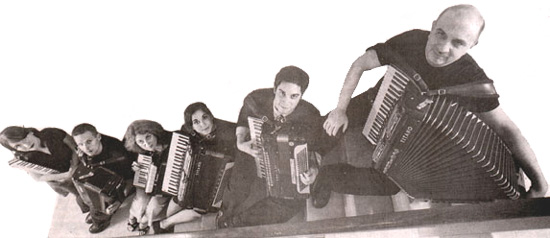 On August 26th, 27th and 28th, Dr. William Schimmel presented his 11th annual master class and concert series sponsored by the American Accordionists' Association.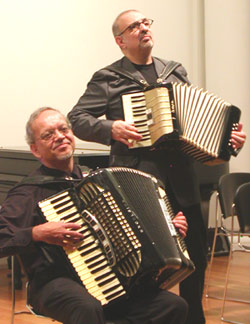 This year's title was: 'At Least You Can Get Your Eats' and featured three days of exciting concerts and lectures. The accordion is often associated with eating and drinking, and this year Dr. William Schimmel (pictured standing right in duo with Paul Stein) presented a weekend of lectures, workshops, seminars and concerts dedicated to exploring accordion culture with all of its splendors, tastes, smells, appetites, menus and indigestions, providing food for the mind, food for the soul and food for the spirit.

Taking place at the Tenri Cultural Institute of New York the well attended event showcased the many styles of music popular on the accordion today ranging from classical, contemporary, punk, jazz and folk to name a few.

To see complete details and concert programs, please visit: www.ameraccord.com, meanwhile many of the artists from the Saturday night concert are pictured below:
| | |
| --- | --- |
| | |
| Walter Kuhr | Will Holshouser |
| | |
| Raja Azar | Benjamin Ickies |
| | |
| Allyssa Lamb (and Bill Schimmel on Video) | Kamala Sankaram |
| | |
| Dr. Robert Young McMahan | Mary Tokarski & Julie Cardona |

---
Ray Walther performs in the Zoppe Family Circus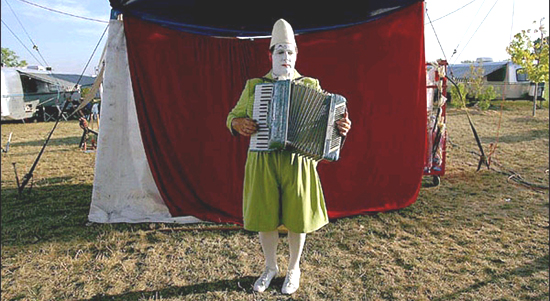 Accordionist Ray Walther is shown on the front page of the New York Times, as he prepares for a performance of the Zoppe Family Circus, a family that has been in the business since 1842.


---
Joseph Petric to Perform in Ontario
Canadian concert accordionist Joseph Petric will perform the following concerts in September and October in Onatrio, Canada.
September 4, Kitchener, Ontario
Bach organ sonatas in duo with Normand Forget (Oboe)
September 9, Elora, Ontario
Bach organ sonatas in duo with Normand Forget (Oboe)
September 11, Hamilton, Ontario
Bach organ sonatas in duo with Normand Forget (Oboe)
September 15, Die Winterreise, Montreal, Maison de Culture series
Solo concert
October 4, Die Winterreise, Montreal, Maison de Culture series
Solo concert
For further information e-mail richard@greatconcerts.com

---
Lidia Kaminska Performs in Philadelphia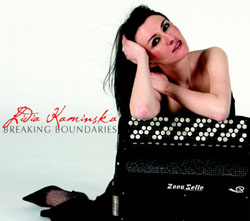 After having just released a new CD, Accordionist Lidia Kaminska will perform the following concerts in Philadelphia in September.
September 1, Day-Before-First-Friday Cabaret at L'Etage, Philadelphia, PA. L'Etage, 2nd floor of Beau Monde, 9:30PM at 6th & Bainbridge Streets. Phone: 215 592-0656. Tickets on sale online now for only $5.00.
September 25, Philadelphia Salon Series, Philadelphia, PA, 19 Year Anniversary Salon Concert at 7:30 PM. The venue is located at 400 South Sydenham Street (near 15th and Pine)


---
---
---
Note: In order to provide as much information as possible for the United States National Accordion News stories, many different sources are often researched to gather additional information and pictures to complement what has been submitted. This information is then correlated to provide the news on www.accordionusa.com in the spirit of which it is intended, which is to provide a free news service to the Accordion Community, specifically in the United Sates. If you feel any copyright has been violated please advise www.accordionusa.com and the article will be removed immediately.