Funeral Service held in Memory of Anthony Galla-Rini
Family and friends gathered in Corona, CA on August 12, for a service in the memory of the late Anthony Galla-Rini who passed away on July 30th, 2006 at the grand age of 102.

Pictures and memorabilia were on display at the funeral service and reception, offering an interesting glimpse into Galla-Rini's long and productive life, one which he dedicated to the accordion.

The service opened with a musical offering by the San Francisco Accordion Chamber Ensemble under the direction of Joe Smiell, performing several of Galla-Rini's arrangements.

Pastor Miles Galla-Rini offered an inspiring Homily, personal recollections and readings from Psalm 150 in memory of his grandfather, followed by a performance by Lynn Ewing of Galla-Rini's arrangement of How Great Thou Art.

Guest speakers were Kjell Holmes from San Diego, who spoke of Galla-Rini's work with the annual accordion camp, and Kevin Friedrich from New York, who spoke as President of the Confédération Internationale des Accordéonistes (CIA) and as a Board of Director of both the American Accordionists' Association (AAA) and Accordionists and Teachers Guild, International (ATG). (Note: Galla-Rini served as a Vice President of the CIA, and was a founding member of both the AAA and ATG.)
---

Kjell Holmes looking at pictures of
Galla-Rini's 100th Birthday Party

Anyone who received correspondence from Mr. Galla-Rini was sure to have had it typed on this faithful companion.

Picture of Mr. Galla-Rini surrounded by his family

San Francisco Accordion Chamber Ensemble
under the direction of Joe Smiell

Lynn Ewing of Galla-Rini's arrangement of
"How Great Thou Art"

Esther Lanting performed Galla-Rini's arrangement of
"The Lords Prayer"

Grandson - Pastor Miles Galla-Rini

Ron Galla-Rini who spoke of how it was to be the son of the famous Anthony Galla-Rini.

The Polka Dots
entertaining at the Reception after the service

Frank Marocco performing at the Reception following Galla-Rini's memorial service

Irene Yale, Amy Jo Sawyer,
Kevin Friedrich and Susie Katyama

CIA President Kevin Friedrich, ATG Board Member Amy Jo Sawyer and longtime Galla-Rini friend Frank Marocco

---
Esther Lanting performed Galla-Rini's arrangement of The Lords Prayer followed by a moving tribute from Galla-Rini's only child, Ron Galla-Rini who spoke of how it was to be the son of the famous Anthony Galla-Rini.

To conclude the service, attendees were treated to a recording of a 37 year old Galla-Rini performing the premiere of his Concerto No. 1 in G minor on November 15, 1941, at the Fine Arts Auditorium in Oklahoma City, with James Neilson conducting.

At the reception guests were treated more beautiful music by the Polka Dots accordion ensemble and an impromptu performance by Jazz legend Frank Marocco.

Mr. Galla-Rini's obituary was included in the Los Angeles Times, the San Francisco Chronicle, The San Diego Union Tribune, Forbes, The Ledger, WBZ News Radio in Boston, Yahoo News, The West Palm Beach Post, CBS News, AOL News, The Baltimore Sun, the Boston Globe, The Guardian (United Kingdom), the Montreal Gazette, and dozens and dozens of other major newspapers, magazines, Radio and online news services around the world.

Donations, if desired, may be given to the "Galla-Rini Memorial Fund" with proceeds going to a possible scholarship for the annual Galla-Rini Camp.

For official speeches, memories and more information on Anthony Galla-Rini, please see words by:



Personal condolences may be sent to: Ronald Galla-Rini, 9185 Stone Canyon Rd., Corona, CA 92883 or e-mail: Rongee_3@hotmail.com


---
Joan Sommers visits Beijing, China

ATG President and Vice President of the CIA Music Committee Joan C. Sommers recently visited Beijing, China where she guest conducted the The Beijing Children's Palace Bai Di Accordion Orchestra (40 members) on their annual concert. Joan conducted the orchestra performing Bugler's Holiday by Leroy Anderson and Teufelstanz by Josef Hellmesberger.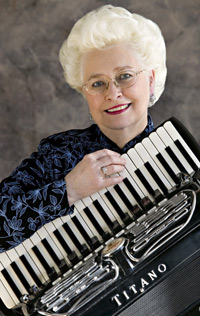 In addition to these two pieces conducted by Joan Sommers, the orchestra also performed works such as Ruslan and Ludmila Overture by Glinka, West Side Story Medley by Bernstein and other works conducted by their regular conductor Rei Liang Chen.

Students from the accordion class of Mr. Xiaoqing Cao at the Central Conservatory of Music Peking presented a welcome concert for Joan performing solos, duos and ensemble music.

While in Beijing, Joan presented a workshop on accordion orchestras highlighting the importance of the accordion orchestra and its place in the music world.

Joan Cochran Sommers established the accordion degree program at the University of Missouri-Kansas City Conservatory of Music in 1961.

Professor Sommers has since retired from this position, but continues to direct the UMKC Accordion Orchestra, and also continues to teach privately.

In addition, she travels widely giving master class lessons, orchestral workshops and serves as guest conductor for orchestras around the United States and abroad.


---
Will Holshouser Releases New CD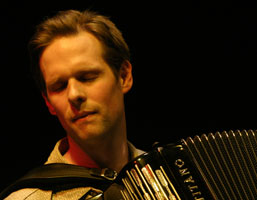 New York accordionist Will Holshouser (photo left - by Günther Gröger) announces the release of his new CD 'Singing to a Bee' recorded live in Faro, Portugal, featuring fellow Trio musicians Ron Horton on trumpet and David Phillips on Bass. The collection of new original Holshouser compositions along with the traditional tune "La Esperanza" was recorded during the Jazz No Inverno Festival during a ten day tour of Portugal organized by the Trio's Portuguese label, Clean Feed. The venue was the small 19th century Teatro Lethes, a beautiful hall designed for acoustic music.

Will Holshouser has developed his own approach to the accordion as a composer, improviser and working musician. His unique form of jazz is influenced by folk and experimental music. He plays in New York City and internationally with his trio, with David Krakauer & Klezmer Madness, and with Matt Munisteri & Brock Mumford. He has also worked with Phillip Johnston, Lenny Pickett, Andy Statman, Dave Douglas, Brian Dewan, Michael Hashim, Jenny Scheinman, David Garland, the Brooklyn Philharmonic Orchestra, Orpheus Chamber Orchestra, New York City Opera, Mark Morris Dance Group, Raymond Scott Orchestrette, and others.

Will has also composed music for solo accordion and for short films, and has arranged music for various groups. He studied with Anthony Braxton and Bill Barron at Wesleyan University, where he received a grant to research Cajun and Creole music in Louisiana. After moving to New York in 1991, he began studying accordion with Dr. William Schimmel.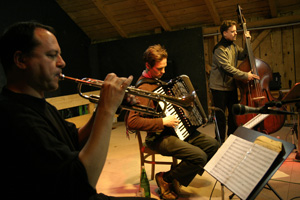 Will Holshouser's trio plays his original music and features Ron Horton on trumpet and David Phillips on bass. Together since 1998, they have developed an intimate ensemble sound that is somewhere between jazz, folk music and chamber music. The spare, drumless instrumentation works especially well in acoustic venues and allows for a wide dynamic range, and the elaborate arrangements leave plenty of room for improvisation. Ron Horton's broad palette of trumpet timbres, Dave Phillips' rich sound with the bow, and Will Holshouser's rhythmically driving accordion are among the highlights of the trio's sound.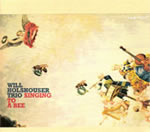 The group's first CD Reed Song was released in 2002 on Clean Feed (Portugal) featuring guest percussionist Kevin Norton on two tunes. This second CD 'Singing to a Bee' (CF054) will be available at a CD Release Party on September 19, at the Will Holshouser Trio - New York CD Release Party to be held at the Bowery Poetry Club, 308 Bowery (near Bleecker St.), New York NY. Performing 2 sets beginning at 10:00 PM, the entry fee is $10.00. (212-614-0505).

On September 21 the Will Holshouser Trio will be playing at the Clean Feed Festival at Barbes, 376 Ninth St. (at 6th Ave.), Brooklyn NY at 7:30 PM, 1 set (plus other bands). Admission is $10.00. (718-965-9177).

To order the CD online or get further information about Will, his previous recording or upcoming concerts, please visit www.willholshouser.com


---
Cafe Accordion Orchestra Releases a new CD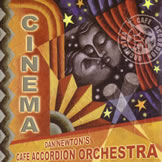 The Cafe Accordion Orchestra is pleased to present CINEMA, their brand-new CD. The new CD celebrates the music of the silver screen. Cinema covers over 70 years of Hollywood soundtrack gems, running the film legend gamut from the Marx Brothers to Orson Wells, from Peter Sellers to Quentin Tarantino, and, of course, Bond – James Bond. You'll hear familiar and not-so-familiar tunes from Henry Mancinni, played the way only CAO can! The band had a great time making this recording, and they are are sure you'll have an equally wonderful time listening to it!

You can listen to, or buy CINEMA on line at www.cafeaccordion.com/cinema.php.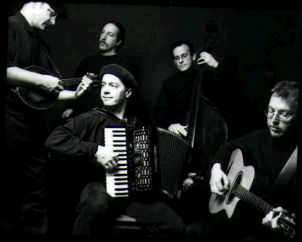 If you're in the Twin Cities you can buy CINEMA at the Electric Fetus, Barnes & Noble (Har Mar Mall), Cheapo, Roadrunner, Homestead Pickin' Parlor, Mahler Music, Bibelot Shops, and Castle Accordions. CINEMA is also available from the band at any of their public performances.

The CAO will perform on September 8th in concert at the Fitzgerald Theater in St. Paul. Minnesota Public Radio is sponsoring this event which will include Cafe Accordion performing music from the Cinema CD, film clips, guest vocalists Connie Evingson, Diane Jarvi, Charmin Michelle, live accompaniment to a French silent film, a cartoon, a theater organist, and MPR's "Movie Maven" Stephanie Curtis.

Tickets are $20-29, available at the Fitzgerald box office, 651-290-1221, or by going to: http://www.fitzgeraldtheater.publicradio.org/events.

For more information, please visit: http://www.cafeaccordion.com


---
16th Annual Irish Cruise to the Panama Canal
More than 50 hours of traditional Irish entertainment will highlight the 16th Annual Irish Festival Cruise aboard Holland America Line's Volendam departing from Fort Lauderdale on January 22, 2007.

This 10 night cruise to five tropical ports of call -- Half Moon Cay, Aruba, Curaçao, The Panama Canal, Colón and Costa Rica -- combines the best in Irish music, dance and culture with luxurious Caribbean cruising.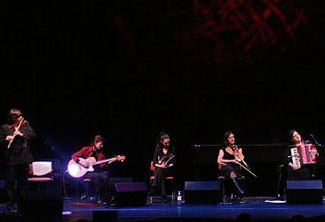 Performers include Tommy Makem, Paddy Reilly, Frances Black, Cherish the Ladies (right), Phil Cunningham and Aly Bain and balladeers Tom Sweeney and Liam Tiernan. Also, Dermot Henry, Bogside Rogues, McGillian and Brennan, Michael Black, Aoife Scott, comedian Conal Gallen, raconteur John Gleeson and world champion Irish dancers.

Mary Rowley, executive director of Irish Festival Cruises, says that "a highlight of all Irish Festival Cruises is the enjoyment guests derive from the informal socializing with the performers." In addition to the nightly concerts, there will be a variety of workshops on all things Irish...from learning to dance a jig or speak the Irish language to instructions on the tin whistle and bodhran.

In addition to the Irish Festival activities, guests can also enjoy all the luxury facilities, dining and amenities of the world class Volendam. The cruise ship features an array of onboard activities including casino gambling, golf at sea, swimming, bingo, scuba lessons, fashion shows and more. Many staterooms have private verandahs.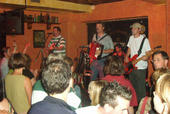 One of the bands using accordion that is Featured on the cruise are the veteran Irish rock group, Bogside Rogues. They are based in the Philadelphia area and are known for an upbeat sound while maintaining their traditional roots. Drawing from the varied experience of its members, the band performs a variety of Irish and Celtic styles including ballads, rebel songs, traditional dance music (Ceili) and contemporary Irish songs. Featuring Accordion/Tin Whistle, Guitar, Bass and Drums, each of the band's members have come together from different Celtic music backgrounds to form a striking live sound that has won over audiences wherever they go, and inspired many other musicians to take up instruments in order to continue the tradition.

Inspired themselves, the group has played extensively in the Mid-Atlantic United States, as well as having toured Ireland. While the band is at their best when performing at show venues like pubs and festivals, they have performed in Saint Patrick's Day Parades and other functions featuring Irish music and culture. The members of the band work in close association with the Irish community and its various member groups, especially the Ancient Order of Hibernians (AOH), and contributes time, talent, and resources in their various fundraising efforts.

Irish Festival Cruise accommodations, for January 22nd through February 1st, start in price from $1,499.00 USD per person (based on double occupancy). The price includes all shipboard accommodations, meals and entertainment. The package can only be booked through Irish Festival Cruises, Ltd. at 1-800-441-HARP. The website is www.irishtours.com


---
Peter Soave and the Detriot Symphony Orchestra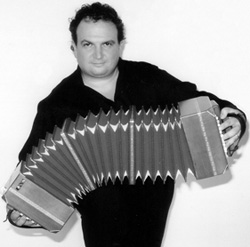 For the eighth and final concert in its Meadowbrook series last Sunday, the Detroit Symphony opened the gate to a new world of music created by two of the most exciting composers of modern times, Astor Piazzola and Alberto Ginastera. Both represent the blended musical traditions of Spain and Argentina.

The showcase piece on the program was Piazzola's concerto for Bandoneon. Including as it does the prominent use of an instrument that until recently was rarely heard, the concerto revealed to us the unusual expressive powers of this amazing instrument. Most simply described, it can be called a button accordion. But the range of emotional expression radiating from the voice of this powerful instrument, from plaintive and melancholy, to explosive, energetic and lustful, is highly evocative, unique, and unforgettable. It far transcends our traditional impression of what an accordion can do.

To cap it all off, an energetic young conductor for whom the music seems like second nature led the performance and the soloist enjoys worldwide recognition for his art.

Bandoneon virtuoso, Peter Soave, not only played with technical perfection. He gave full expression to the remarkable interweaving of the different threads of musical tradition that this work combines. As everyone knows, Piazzola's basic inspiration is the Argentine Tango with all its shadowy moods and Latin rhythm. But this student of the great teacher of composers, Nadia Boulanger, learned from her to be true to his native music as he enlarged it into a bigger, more comprehensive statement. The native Argentine moods and rhythms are all there, but now disciplined (at least partly) by the classical form of the concerto. For anyone who loves both the tango tradition and the classical form, the result is irresistible, especially when performed with such expertise and abandon.

Soave had it all and it was spiced with a tangy flavor that has rarely invested classical symphonic music. His playing evoked mental images of the smoky dives of Buenos Aires while fulfilling the elegant musical standards of a symphonic performance. And his obvious rapport with guest conductor Edwin Outwater transported his listeners to the torrid world of his musical inspiration. The Bandoneon and the orchestra, took turns at communicating the alternatively melancholy, passionate, joyful and lustful moods of this unique music with a rare conviction.

No less dynamic and emotional, but distinctively wild and crazy was Ginastera's dance piece, Malambo, which followed. It too has its roots in Argentinean music but with a character all its own that sounds like it was inspired by the Gauchos on the Pampas.

Piazzola then returned to the program in a purely orchestral work called Tangazzo. It amounts almost to a symphony and once again achieves the remarkable adaptation of the passionate Latin phrases to the complex and fascinating orchestral form. It was interesting, too, to hear Piazzola's creation without the distinctive tones of the Bandoneon which give the music so much of its tango identity. But it was equally exciting music with dramatic rhythms and sensuous melody.

When the balance of the program reverted to familiar standards with Capriccio Espagnole by Rimsky Korsakov and Ravel's Bolero, it was almost anticlimactic and was saved only by the expertise of the performance. And as for that, the Bolero with its steady rhythmic flow and gradual increase in dynamics as the theme passes from instrument to instrument and section to section in the orchestra, can be played by the DSO almost without the help of a conductor. To Outwater's credit, he contributed to an exciting rendition, but he had to work hard at it.

With the Meadowbrook DSO Festival now over, we can look forward to the opening of the Symphony's regular season. That happens on the weekend of September seventh to the tenth and it will be a spectacular. Conductor is Peter Oundjian who has been one of the most outstanding guest conductors to lead our band in the past two years. With him will be the brilliant young Chinese pianist, Lang Lang who will play the Rachmaninoff Rhapsody on a Theme of Paganini. Bookending the program is music by Beethoven and Chopin.

For more information and tickets call 313-567-5111.


---
Lidia Kaminska Makes Philadelphia Debut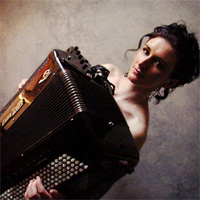 Lidia Kaminska recently made her Philadelphia debut when she performed her concert: BACH TO PIAZZOLLA.

Performing the music of Bach, Mendelssohn, Tchaikovsky, Khachaturian, Gubaidulina, Zolotariev and Piazzolla, The concert featured musicians Lidia Kaminska - Classical Accordion and Bandoneon, Hugh Sung - Piano and Jasmine Choi - Flute. The concert also featured Pennsylvania Ballet Dancers: Emily Waters & Elysia Lichtine, with choreography by Jorge Laico.

For more information, please visit www.lidiakaminska.com


---
Bella Ciao Performs for the San Francisco Giants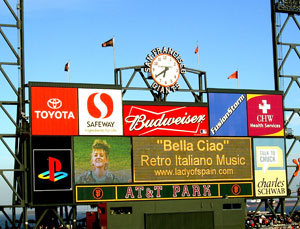 The San Francisco based band Bella Ciao was selected by the San Francisco Giants as the musical entertainment for the Giants' Italian Heritage Night promotion which took place on August 22.

Bella Ciao performed a fun set of retro-Italiano hits for hundreds of adoring fans (of both the band and the Giants) in front of the ballpark before the game (Giants vs. D-Backs) and then were brought onto the field to perform the Italian National Anthem, and as a result of the performance, become the first musical group ever in America to perform the Italian National Anthem in a major league ballpark!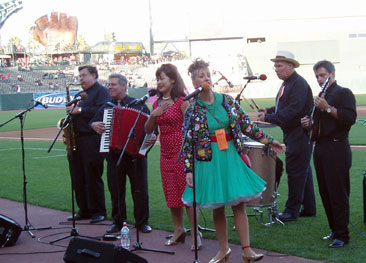 To cap the evening, Bella Ciao led the crowd of over 30,000 in an a rousing a cappella rendition of Take Me Out To the Ballgame, as part of the 7th Inning Stretch.

The Bella Ciao band had a fabulous time in helping to make Italian Heritage Night a success and is very proud to have made history in the process.

For more information on Bella Ciao please contact: tom@ladyofspain.com

---
Dale Wise performs in Washington, DC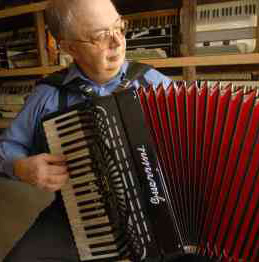 Accordionist Dale Wise will perform on Saturday, September 30, 2006 at 6:00 PM (doors open at 5:00 PM) in the Parish Hall in Washington, DC. Suggested donation is $15 and all proceeds will go to Christ Church.

Dale Wise has performed for five presidents and countless sold out concerts for many years. All types of music will be enjoyed, especially "Octoberfest" selections.

Christ Church and Washington Parish is located at 620 G Street SE, Washington, DC 20003.

The Christ Church is just two and a half blocks south of the Eastern Market Metro station.


---
Wilmington Accordion Festival
The Wilmington Accordion Festival will take place on Saturday, September 16, 2006 at the Aldersgate United Methodist Church, 2313 Concord Pike, Fairfax, Wilmington, Delaware.

Registration begins at 12:30 PM and workshops include:

1:00 PM - Alex Meixner - European/American Polkas
2:00 PM - Master Class with Richard DiBlassio
3:00 PM- Shirley Johnson - Rhythms and Styling; or the Darrows' Accordion Kaleidoscope
4:00 PM - Phyllis Edamasu - Ragtime Favorites; or Henry Doktorski - Guido and Pietro Deiro
5:00 PM - Buffet dinner, mini-concert by Richard & Shirley
6:30 PM - Westmont Philharmonia Accordion Orchestra in concert
7:30-8:15 PM - Henry Doktorski (right) in concert
Fees: $20 for workshops in advance, $25 at the door; $30 for dinner and concert; $25 for concert at the door. Advance registration required. Send check payable to Lisa Cristofich, c/o DAC, 10 Walnut Avenue, Wilmington, DE 19805-1144.

For more information, call Joshua or Lisa at (302) 993-0374.


---
Free-Reed Getaway in the Berkshires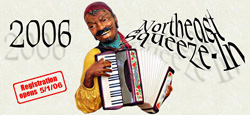 The Free-Reed Getaway will take place September 1st, 2nd & 3rd at BUCKSTEEP MANOR in Washington, Massachusetts.

Bucksteep Manor is surrounded by 350 acres of towering pines and majestic maples. The Inn has three lounges, a bar, and plenty of space for playing music and meeting friends old and new in a comfortable, low-key setting. We'll have splendid meals, workshops and spontaneous squeezings throughout the weekend. Hobnob with a variety of free-reed aficionados and behold an assortment of squeezeboxes and their paraphernalia for sale, swap and hagglement.

This year's event will be on Labor Day weekend, rather than our customary 3rd weekend in September. Although the Button Box's role as organizer will end Sunday afternoon, participants are welcome (and encouraged!) to take advantage of the holiday weekend by staying over at Bucksteep until Monday. You can make arrangements directly with Bucksteep (800-645-BUCK) for Sunday night accommodations and additional meals. Registered participants may exchange information about this year's potential for extended activities by participating in our pre-event e-mail discussion list.

Accommodations vary from camping (no hookups) and rustic cabins (read: marginal shelters) to comfy rooms in the Manor House (with shared bathrooms) and the newer Lodge and Annex (with private bathrooms).

The rates listed include lodging for Friday and Saturday nights and all meals beginning with Friday evening dinner through Sunday late brunch. Room rates are per person based on double occupancy. We will assign roommates taking into consideration preferences and foibles (or lack thereof) noted in your registration.


Room accommodations, all meals included $265
Cabin accommodations, all meals included $190
Camping, all meals included $185
Camping, without meals $ 55
Saturday admission, including lunch, dinner, evening concert and dance $ 60
Saturday admission, without meals $ 20

To register by phone, please call us at (413) 665-7793 or e-mail: squeeze@buttonbox.com


---
Promoting Your Accordion Services Free at AWW

The Internet is changing the way your customers are searching for services. The days of lugging out a 12 lb. telephone book to find very limited and outdated business information are coming to an end. People are still letting their fingers do the walking, but they're doing it over a computer keyboard. Below are some revealing facts from the Kelsey Group.
74% of US households use the Internet as an information source when shopping.
Approximately 45% of searches had a buying intent.
The percentage of respondents who used yellow page directories decreased from 75% to 62%.
(If you have a printed yellow page ad, it is time to consider buying a smaller ad and shifting your marketing dollars to the Internet.) The off-line Yellow Pages see the writing on the wall and are scrambling to transfer their business model to the Internet.

Businesses can no longer ignore these facts. If you want to be successful, you must have a presence where your customers are searching. Being found on the Internet is vital to the future of your business.



The Accordion Yellow Pages offers free of charge listing for all accordion businesses, teachers and for every type of service for accordionists. On the Accordion Yellow Pages site, you do not need to have a website for accordionists find you and contact you.



The search-accordion.com site is also free of charge, being a listing service for every type of accordion service but you must have a website. Viewers of search-accordion.com can click to your website.



Very popular is the AccordionLinks.com site where those accordion service providers with a website, can attract accordionists free of charge to their website.

All it takes is a little effort, to make sure your information on these three popular and very effective accordion sites is up to date. Your future success may well be determined by your ability to effectively adapt to the Internet. Should it be your New Year's resolution for 2006?

---

---
Benefit Concert for Thomas Family

A concert featuring accordionists to benefit the family of well known accordionist Sammy Thomas will be held at 8pm, September 30th at the St. Mark's Lutheran Church, Spokane, WA. The concert is sponsored by the Spokane Accordion Ensemble.

The father of Sammy Thomas, Stephen Thomas, died last week while recovering from injuries suffered in an automobile accident. Sammy Thomas, a 17-year-old Spokane resident, is a member of the Spokane Accordion Ensemble and was the recent winner of the AAA National Accordion Competition in Buffalo, New York.

Sammy is scheduled to represent the USA in the Coupe Mondiale World Accordion Championships in October and will be performing at this benefit concert, all the solos he will play in Asker, Norway. Members of the Spokane Accordion Ensemble will also perform. Donations will be accepted.

---

---
Compressing the World opens with Finland's Maria Kalaniemi Trio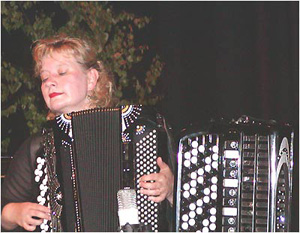 The Maria Kalaniemi Trio will perform on Thursday, September 28, 8:00 PM a the Skirball Cultural Center, 2701 N. Sepulveda Blvd., Los Angeles, CA, 90049.

Known as Finlands Queen of the Accordion, Maria Kalaniemi is one of the worlds most gifted players and composers of accordion music. Kalaniemi's acclaimed trio, featuring pianist Timo Alakotila and guitarist Olli Varis, will perform its traditional, original, and uplifting compositions. It has been said that "It seems impossible for Kalaniemi to play a single note that isn't made in heaven!"

This concert launches a new series at the Skirball, COMPRESSING THE WORLD, which showcases the accordion across diverse cultures and styles of music.

Tickets are $25 General, $20 Skirball Members, $15 Full-Time Students. Advance tickets available via TicketWeb at www.ticketweb.com or (866) 468-3399, or in-person at the Skirball Admissions Desk.

For more information, please visit: www.skirball.org


---
Detroit Jazz Festival features Accordionists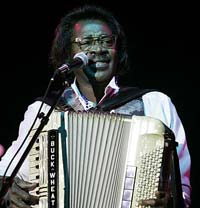 Accordion was in the air at the 27th Detroit International Jazz Festival held September 1st to 4th, 2006. A diverse musical menu included Sergio Mendes, Ahmad Jamal, Diane Schuur, Taj Mahal, Oscar Castro-Neves, Dr. John, and many more.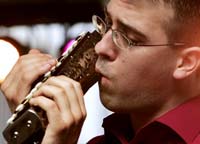 Three accordionists were also part of the festivities: CJ. Chenier & his Red Hot Louisiana Band rocked the house on Friday. Buckwheat Zydeco (left) kicked up a notch on Saturday getting the crowd dancing with cover tunes like "Hey Joe" and the Rolling Stones' "Beast of Burden". Accordionist Julien Labro (right) took the stage on Monday playing with "The Hot Club of Detroit", an electrifying and visionary ensemble that takes the traditions pioneered by Django Reinhardt and spins them in a way that's both reverent and refreshingly contemporary.

With a newly released CD on Mack Avenue Records, The Hot Club of Detroit got fans stomping and cheering each soloist and was the crowd pleaser of the festival.

---
---
Note: In order to provide as much information as possible for the United States National Accordion News stories, many different sources are often researched to gather additional information and pictures to complement what has been submitted. This information is then correlated to provide the news on www.accordionusa.com in the spirit of which it is intended, which is to provide a free news service to the Accordion Community, specifically in the United Sates. If you feel any copyright has been violated please advise www.accordionusa.com and the article will be removed immediately.