Kammermusik No. 1 Performance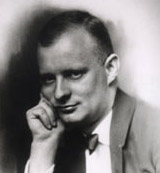 American concert accordionist Henry Doktorski will perform with the Duquesne University Contemporary Ensemble on Thursday October 11, 2001 in a performance of Kammermusik No. 1 by the German Neoclassical composer Paul Hindemith (1895 - 1963, pictured right in early 1920's when he composed Kammermusik No. 1). The concert, at the Duquesne University Recital Hall in Pittsburgh, Pennsylvania, will be conducted by Jonathan Niederheiser.

The fifteen-minute work -- in four movements -- is scored for a string quintet with flute, clarinet, bassoon, trumpet, accordion, piano and a battery of percussion, including xylophone, a siren and a tin can filled with sand. It was written in 1921 and was the first of seven Kammermusik pieces -- literally "Chamber Music" -- which have been called "A twentieth-century equivalent of J. S. Bach's Brandenburg Concertos."

One of the main innovators of musical modernism, Hindemith was a composer, conductor, violist, educator, and theoretician. Of the four founders of modernism -- Arnold Schoenberg, Igor Stravinsky, Bela Bartok, and Hindemith -- one can argue that Hindemith was by far the most scholarly and intellectual in temperament. His theoretic interests were both deep and wide-ranging and included medieval philosophy and the writings of the early church, as well as musical topics. He could play all the standard musical instruments at least passably and was a recognized virtuoso on the viola and viola d'amore. A sought- after educator, he taught such composers as Lukas Foss, Arnold Cooke, Franz Reizenstein, and Norman Dello Joio and wielded great influence in Europe and the United States between the two World Wars.

Kammermusik No. 1 is a cheerful, irreverent suite which manifests clear reference to Hindemith's early experience performing in dance bands and musical comedy orchestras in and around Frankfurt. Strong rhythms, sparkling instrumentation, and incorrigible impudence are the work's distinguishing features. Its first three movements are a boisterously dissonant prelude, a frivolous march, and a pastoral 'quartet' for the three woodwind instruments and a single note on a glockenspiel. The finale unleashes the whole ensemble in an obstreperous display of anarchic humor. The climax comes with the quotation, by the trumpet, of a contemporary fox trot in G major, accompanied by scales in all the other eleven major keys, and the end is a manic stretto worthy of any great comedy of the silent screen.

Hindemith's Kammermusik No. 1 was one of the very first pieces written by a classical composer to include accordion. Only Tchaikovsky's Orchestral Suite No. 3 (1883), Umberto Giordano's opera Fedora (1898) and Charles Ives Orchestral Set No. 2 (1915) predate it.

Conductor Jonathan Neiderheiser said, "It's really amazing how much the accordion adds to the ensemble in this piece. It's coloring is quite distinctive and memorable. Without the accordion, Kammermusik No. 1 is simply not the same."

Max Rieple attended a performance of Hindemith's Kammermusik No. 1 in Munich in 1923 and wrote: "A few weeks earlier I had been involved in a concert by the American George Antheil . . . and witnessed a bombardment of tomatoes, eggs, and even stink bombs. I prepared myself for something similar on Hindemith's first appearance in Bavaria's conservative capitol. And I was right. Scarcely had the last measures of the fox-trot imbedded in the piece subsided than the hall turned into chaos. Whistles blew, boos resounded, chairs flew through the air -- a hellish noise filled the large room. Hindemith, in the meantime, had disappeared backstage with the other musicians. As the spectacle reached its height, he reappeared -- thoroughly calm -- seated himself at the percussion . . . beat with all his might on the drums, and let the slide whistle howl. The honest Münchener were so taken aback by this unexpected behaviour that Hindemith was the victor in an unequal battle." .

For information, please contact: webmaster@henrydoktorski.com

Come to the Smash!
The members of the Florida Accordion Association invite you to attend their 1st "Smash" on Saturday, December 1st, 2001 from 10:00 AM - 9:00 PM. Events will be held at:
The Knight's of Columbus, #2112
5727 Cornelia Ave,
Orlando, FL 32807
Phone (407) 678 2112.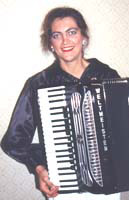 This Smash will feature Virtuoso artist Nina Slyusar-Wegmann (pictured left), who was the winner of the Virtuoso Entertainment Category at the 2001 ATG International Competition and Festival, held in San Antonio. Other artists will include Boris Veksler, Maricarmen Vasquez, Jessica Lei, Jim Bubaloni, Rita Davidson, Andy Bakke, James Wadowick, Dale Haag, Walter Von Ryik, Loni LeGrand and more.

There will also be a festival band conducted by Linda Soley Reed, Vice President of the American Accordionists Association.

Workshops will include: Eugene Ettore Workshop by Rita Davidson, The Art of Practice Workshop by Jim Bubaloni, and Accordion Display by Joh Gaunt from Accordions and Keyboards.

Price for members is $35.00, inclusive of meals, concerts, band music and workshops. (Non-member price $40.00) Registration deadline is November 1st, 2001.

All this and more! Don't miss this exciting opportunity to enjoy a day of Food, Fun and Friends. Fore more information please contact
Karen Adam, Florida Accordion Association,
2244 Musket Drive,
Navarre, FL 32566
Phone: (850) 93608722
e-mail: ibqueen@bellsouth.net
http://www.accordions.com/florida

Star Line-up in Las Vegas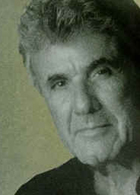 The Las Vegas International Accordion Convention running from October 14 - October 18th, 2001 will be featuring Dick Contino (pictured left), Art Van Damme, Peter Soave, Gina Brannelli, Joe Vento, Tony Lovello, Tom Collins plus many more. This professionally run event includes 4 nights and 3 full days of concerts, workshops and master-classes including all meals.

Convention co-coordinator Paul Pasquali reports nearly 400 prepaid registrants coming from Germany, Croatia, Norway, Sweden, Australia, New Zealand, England and most every state and province of the USA and Canada. Highlights of the convention will include Lunch with the Legend Art Van Damme and Dinner with the Legend Dick Contino. Art will perform with his quintet and Dick will perform with his Las Vegas group.

The stellar list of entertainers will be conducting over 35 workshops and master classes. Rooms are available at the Plaza Hotel at the special convention rate of $40 per night. Simply tell the hotel you are with the Accordion Convention.

All are looking forward to this magical time together when the accordion community unites to celebrate life and our love for the accordion!

Highlights include:

Dick Contino - 2001 Honorary Director - The chance of a lifetime to not only hear Dick in his element "Las Vegas" but to attend a Master Class "The Life & Times of Dick Contino". A rare opportunity to not just hear, but to learn from the legend!

Art Van Damme - Our Alumni 2000 Honorary Director told Paul "Let's do it again" and what an honor it is to have Art return - His performance and master class are truly a bit of heaven - A thrill you will never forget!

Peter Soave - The artist who will win your heart as he has so many all over the World. Peter's performance and master classes are a touch of magic - Peter is truly a musical genius and his performances and master classes are worth the trip.

For up to the minute details, please visit www.accordioninfo.com

Showstoppers Accordion Orchestra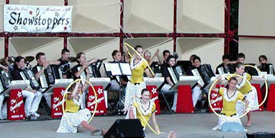 The 40 member Showstoppers Accordion Orchestra & Dancers will present "Share the Magic," an evening of live music and dance on Saturday November 17 from 7:00 PM to 10:00 PM at the Lions Hall in Hudson, NH. Ticket donation is $12.00. Tables may be reserved for 8 or more. Tickets are available at Rosita Lee Music and Dance Centers. Bring your own snacks and beverages.

Proceeds will benefit the Showstoppers 2002 Disneyworld tour. The orchestra is under the Direction of Rosita Lee Latulippe. The dancers are under the direction of Shelly Latulippe-Klimas. The Showstoppers range in age from 12 to 21. Abroad they have performed in Italy, Canada, and Ireland. Annually they perform on the Seashell Stage, Hampton Beach, at Greeley Park in Nashua, and at the New England Music Competition and Festival, sponsored by the ATAM.

They recently were the guest performers at the Accordion Federation of North America Music Competition held in July at the Hyatt in Irvine, CA. They were the first place winners in AAA Competition in the "Entertainment AAA" category in Nashville, TN and Philadelphia, PA. They have performed on the "Good Day" TV show, performed in concert with Myron Floren, and were the guest performers at the Bavarian Inn, Frankenmuth, Michigan.

The Showstoppers include a variety of music and dance selections in their program. Broadway show tunes, waltzes, polkas, patriotic music, lines dances, and songs from the "Big Band" era to hits of today. The results are family entertainment for all ages!

For further information, please contact Roger LaTulippe e-mail: roger@rositalee.com
phone number: (603) 882-8940

The Continental Sound Orchestra
Dominic Karcic & The Continental Sound Orchestra will be performing Saturday, November 10, 2001 - 8.00 PM at the Astorian World Maor, 25-22 Astoria Blvd, Astoria, NY.

For information, please contact Mr. Frank Forlini: (914) 963 3602


Miss Cybelvis Monroe sings to accordion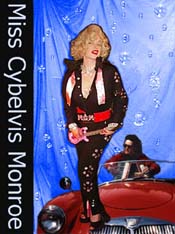 On Thursday October 11, 2001 Miss Cybelvis Monroe will be featured in concert.

Direct from Graceful land via the Hollywood District - A Marilyn Monroe impersonator who interprets Elvis Presley's hit songs to accordion & sequencer backing by Botielus of Samsonite & Delight-Ya.

Hip gyrates & bellows shakes, it's cabaret style musical comedy with a touch of burlesque & a whole lotta camp goin' on. Cybelvis is a hunka hunka burnin' blonde with her clinging pink & black jumpsuit and crimson lip curls!

The show will be held at:
Plan B (B Complex)
320 SE 2nd Ave (btwn Oak & Ash, next to City Signs)
Portland, OR
Phone: (503) 235-4424

ALL AGES $11.00 in advance via Fastixx, Music Millennium NW, Ozone Records, & Jackpot Records. Tickets may also be available at the door the day of the show for a slightly higher price.

For more info please contact: Cybele at: Cybele@Cybelvis.com
Phone: (503) 282-4058
PO Box 6714, Portland OR 97228-6714, USA

2002 Leavenworth Int. Accordion Celebration

Every year, accordionist and accordion enthusiasts flock to Washington's Bavarian Village to enjoy Leavenworth International Accordion Celebration, one of the most exciting and entertaining events of the year! Accordionists compete for top honors including the Leavenworth Open .

Those 17 and younger compete in the Petosa Youth Competition and for Accordion Scholarships. If you haven't had an opportunity to experience this wondrous festival, don't miss this year's extravaganza!

The Bavarian Village fills with accordion music from dawn to dusk as showmanship, spirit, and the flavor of each accordion player promises a memorable celebration. The week-long event opens June 18 with an evening Welcome Fest and jam session. Competition takes place Thursday through Saturday featuring classical, popular and old time music.

The workshops focus on jamming and blending techniques, ethnic music, giving better performances, musicianship and more! Many concerts offer a wide variety of musical styles Leavenworth International Accordion Celebration is held each June in Leavenworth, Washington "The Bavarian Village" in the heart of the Cascades.

Celebration in 2002 will be headlined by the world famous Dick Contino. Other performers include Joe Smiell Band, Diane Hagen, Chuck Berger, Sylvia's Fjordsong Polka Band, World Champion-Diane Schmidt and the Button Box Trio featuring Joe Smiell, Peggy Mueller & Otto Schnauber. Nightly concerts and dancing, Daytime jam sessions and competitions plus workshops. Activities will run between June 18-22, 2002.

For information, please contact: Frank Calapristi e-mail: fcalapristi@eamil.msn.com
phone number: 509-548-0155
or visit: www.accordioncelebration.com

The Maine Squeeze
There will be an accordion jam of Maine artists on November 3rd, 2001 at the Trenton Grange Hall, route 3 Trenton, ME . All accordionists are invited to participate. This will be a chance to swap squeezebox tips and hobnob with the wizards of diatonia.

Admission $5:00

call (207) 667 0260 for further information or e-mail Joe Niemczura at: josephn@acadia.net

Tony Lovello in Concert
The Alabama Accordion Association will present Tony Lovello in a Workshop/Concert on Saturday October 27, 2001 in Clanton, Alabama.

For Further information and reservations please contact
Jim Wadowick: wadowick@troycable.net
Phone: 1-334-566-1664

Why not advertise your web site on accordionusa.com?
TELL THE USA WHAT YOU HAVE TO OFFER!
Accordionist Receives Composer Award
USA Accordionist Guy Klucevsek received a composer award on September 21st in New York. The award reads: "Dance Theatre Workshop presents a New York Dance and Performance Award, in recognition of outstanding creative achievement during the 2000-2001 season, to Dan Hurlin and Guy Klucevsek, for a "bunraku musette of puppetry and accordion, a toy theatre of the examined life," in Everyday Uses for Sight: No. 7, The Heart of the Andes".

Innovative Liturgies
Accordionist and composer Dr William Schimmel works closely with Pastor Rev. Robert Brashear to bridge the relationship between music, arts and worship at Manhattan's West Park Church.

Schimmel is no stranger to liturgical music having been involved with experimental liturgies as far back as the 1960's and having composed innovative Masses which include his three hour mass for chorus and orchestra (1973 Juilliard Doctoral Dissertation) and his tango mass which was performed in such prestigious institutions as Riverside Church, Union Theological Seminary and General Theological Seminary.

At West Park Church, Schimmel draws upon the rich cultural diversity of Manhattan's upper West Side using salsa, tango, conjunto, Celtic, gospel, classical, jazz, punk, grunge, cajun, reggae and makes the accordion a significant part of the celebratory experience. Schimmel feels that the accordion is the perfect catalyst for bridging the gap between musical cultures as well as ecumenical forms of worship.
In keeping in the spirit of the recent tragedy at the World Trade Center, the liturgies will take on a more meditative and reflective dimension.

Final Alice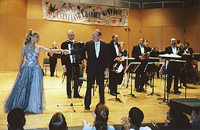 Henry Doktorski performed with the Cleveland Chamber Symphony on Monday September 24, 2001 in a performance of "Vintage Alice: Fantascene on a Mad Tea Party" by the American Pulitzer Prize-winning composer David Del Tredici (b. 1937).

The concert, performed to a packed house at the Drinko Recital Hall at Cleveland State University, featured the Israeli-born soprano Hila Plitmann, and was conducted by the composer.

Doktorski said, "The accordion part was substantial: some two dozen pages of music. It was one of the most difficult accordion pieces I have played with orchestra -- due to the presto tempo and convoluted right and left-hand passages (after all, it was a mad tea party), but that simply made the live performance even more exciting.

For much of the piece, the accordion, banjo and mandolin functioned as a trio within the orchestra; at several other places, the accordion was featured as a solo instrument and even had its own cadenza toward the end.

My favorite part was the accordion and soprano duet near the conclusion of the piece, a classical-period stylistic variation on the Twinkle Twinkle Little Star melody (which figures prominently throughout the piece) which was pure pleasure to play."

During a four-hour recording session held the day after the concert, Vintage Alice was recorded for a future compact disc release.