---
ATG Invites you to Richardson, Texas in 2005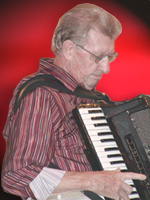 The 65th Annual Accordionists and Teachers Guild, International Competition and Festival will be held at the Richardson Hotel in Richardson, Texas (Dallas area) from June 15-19, 2005 and you are invited!

Festival highlights include two international competitions:
Anthony Galla-Rini International Competition for Classical Accordionists
1st Prize: $3,000.00
2nd Prize: $1,500.00
3rd Prize: $500.00
Art Van Damme International Competition for Jazz Accordionists
1st Prize: $3,000.00
2nd Prize: $1,500.00
3rd Prize: $500.00
In addition to these two exciting international competitions, festival attendees will be treated to an international lineup.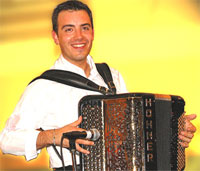 Due to popular demand, the ATG has invited French sensation Jérôme Richard back to appear at the Texas festival in 2005. Jérôme will be appearing both as a soloist and with his guitarist Jeff Rossi in the "Jazzy Duo".

Jérôme is undoubtedly one of the most talented virtuoso entertainers of the new Millennium and received numerous standing ovations for his dazzling USA debut performance this summer, which highlighted his flawless and effortless technical ability with his popular and appealing program.


The other international guest artists will be the popular Russian pair, the Moscow Duo. Since their formation of the Moscow Duo in 1995, Evgenij Grechov and Aleksandr Ushakov have concertized throughout Russia as well as in Denmark, Portugal, Germany, Korea, Italy and the United States .

In October 1998 the Moscow Duo participated in the International contest "Citta Di Castelfidardo Prize" in Italy and was awarded first prize.
The variety of music in their program ranging from classical music to the colorful Russian Folk Music, mostly performed from their own arrangements and transcriptions regularly brings the audiences to their feet.

In addition to the regular features of the ATG Festival including competitions, trade show displays, workshops and concerts, the 2005 Festival will also offer its popular ATG Festival Accordion Orchestra which this year attracted 85 players. The 2005 ATG Festival Orchestra will be conducted by Joan C. Sommers.

For more information, please check the ATG website where details will be posted as they become available.


---
Joan Sommers to serve on CIA International Jury
Joan Cochran Sommers will serve as the United States adjudicator at the upcoming Confederation Internationale des Accordeonistes (CIA) Coupe Mondiale International Competition for Accordionists in Pontarlier, France from October 19-24, 2004.

The competition will feature six categories including the Coupe Mondiale, Junior Coupe Mondiale, International Competition for Piano Accordion, International Competition for Virtuoso Entertainment Music, Junior Virtuoso Entertainment Music and International Competition for Chamber Music.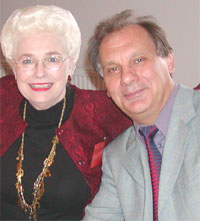 The competition will also feature an international concert with appearances by The "K" Trio from the USA, the 2002 CIA Coupe Mondiale Champion Alexander Poeluev and the 2003 CIA Coupe Mondiale 1st and 2nd prize winners Nikolay Sivchuk and Aleksei Peresidly.

Joan Sommers has previously represented the United States in the Coupe Mondiale, as has her daughter Cathy, and currently serves as Vice President of the Music Committee for the CIA. Joan is pictured here with fellow CIA Music Committee member Viatcheslav Semionov during a recent meeting in Hungary.


---
E. Deffner Inc. makes first donation to CIA Archives
September 21, 2004 marked the first donation to the archives of the Confédération Internationale Des Accordéonistes (CIA) a member of the International Music Council (IMC-UNESCO).
The archives center is housed at the Hanuritalo (accordion house) in Ikaalinen, Finland which is also the home of the CIA member, the Finnish Accordion Association. The archives will collect all materials pertaining to the CIA such as all former Test Pieces, program books, information such as recordings and bios from all CIA winners, Merit and Honored Friend award recipients, press coverage, mark sheets and results from previous competitions and much more.
As the CIA moves forward into its 70th anniversary year, the establishment of the CIA archives enables an opportunity to put together in one place, the rich history of this international organization.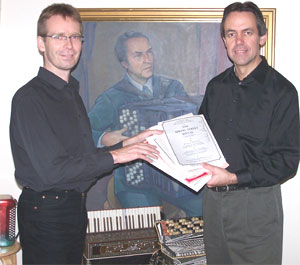 CIA President Kevin Friedrich traveled to Finland to make the first official donation to the archives and is pictured here with President of the Finnish Accordion Association Kimmo Mattila.

This first donation of many CIA Test Piece scores was made by Ernest Deffner, Inc, the parent company of Ernest Deffner Publications, Pancordion, Inc. and Titano Accordion Co., international. commemorating the firm's own 70th anniversary. The president of the firm Mrs. Faithe Deffner is a long time friend of the CIA and has been a United States delegate to the CIA for more than 30 years.

Anyone in the United States who is interested in donating material pertaining to the CIA Archives is invited to do so, by sending the material to:

CIA Archives
Hanuritalo
Kyrösselänkatu 3
IKAALINEN, 39500
FINALND

Tel: 358 3 4400221
Fax: 358 3 4509071
e-mail: cia.archives@harmonikkaliitto.net

or you may send it to:

Kevin Friedrich - CIA President
P.O. Box 150393
Kew Gardens, NY 11415-0393
e-mail: accordion@compuserve.com

Items sent to this USA address, will be delivered to the curator of the CIA Archives during regular meetings throughout the year.

As mentioned above, material might include program books, copy of test pieces, newspaper articles, subsequent solo recordings, tickets from functions, mark/score sheets, copies of pictures from the Coupe Mondiale and any other items that will help document and preserve the history of this 70 year old organization.

It should be noted the customs form on items being shipped directly to the CIA Archives in Finland, that the material is used, historical material being donated to the archives.
An official ribbon cutting ceremony to formally open the CIA Archives is scheduled to be held early in 2006.


---
AAA to present Lifetime Achievement Award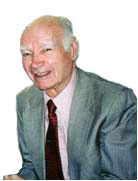 The
American Accordionists Association
will present a lifetime achievement award to Charles Nunzio recognizing his status as an AAA founding member and his contributions to the accordion world.
The celebration will take place on Sunday, 7 November, 2004 at 12:30 PM at
La Fiesta Caterers, Route 17, Wood-Ridge, New Jersey.
Included in the program will be several guest artists including: The Accordion Pops Orchestra conducted by Dan Desiderio, Dominic Karcic, Eddie Monteiro, Donald Hulme, Carmen Carrozza and a special performance by Charles Nunzio.
Charles Nunzio has a long and stellar history with the accordion. Born in Cattafi, Sicily, he was eight years old when he came to the USA. A student and dear friend of Pietro Frosini, Charles would often fill in for him during his many radio broadcasts. He also was a regular substitute for Joe Biviano and Charles Magnante.
A founding member of the American Accordionists' Association, and a past President of the Accordionists and Teachers Guild, International, Charles has been active as a teacher, performer, composer and business person throughout his distinguished career. He was also the teacher of the CIA Coupe Mondiale World Champion, Donald Hulme.
Charles Nunzio currently resides in New Jersey, where he enjoys playing selective engagements, repairing and tuning accordions, and working with fellow accordionists through his accordion sales business.

If you are interested in attending the event, please visit the AAA website for on-line registration. Registrations close October 27, 2004. Or, you may contact:

AMERICAN ACCORDIONISTS' ASSOCIATION
580 Kearny Avenue. Kearny, NJ 07032
Phone: (201) 991-2233
Fax: (201) 991-1944
e-mail: AAA1938@aol.com
For those traveling from out of town, special arrangements for hotel accommodations have been made at the Courtyard Marriott in Lyndhurst, New Jersey (a short distance from the Fiesta). Rate of $79.00 is valid until October 22nd. Please mention AAA to obtain discounted rate. Contact the Courtyard Marriott at 201-896-6666.
Directions to La Fiesta, Route 17S, Wood-Ridge, NJ. Phone: 201-939-5409
Turnpike North - Exit 16 W to Rt. 3 West. Continue on 3 West to Rt. 17 North. Fiesta is 3 miles on left.
Parkway North - Exit 153A, Rt. 3 East. Continue on Rt. 3 East to Rt. 17 North. Fiesta is 3 miles on left. Parkway South - Exit 163, Rt. 17 South. Fiesta is 5 miles on right.
GW Bridge - Take Rt. 80 or Rt. 46 West to $5. 17 South. Fiesta is 3 miles on right.
Lincoln Tunnel - Take Rt. 3 West to Rt. 17 North. Fiesta is 3 miles on left.
Route 80 East - Exit 64, Rt. 17 South. Fiesta is 3 miles on right


---
Florida Accordion Association 4th Smash in Orlando
The Florida Accordion Association invites you to attend its Fourth Annual Smash to be held from November 12-14, 2004 in Orlando at the Holiday Inn Select, 12125 High Tech Avenue, Orlando, FL (Phone: 407-275-9000).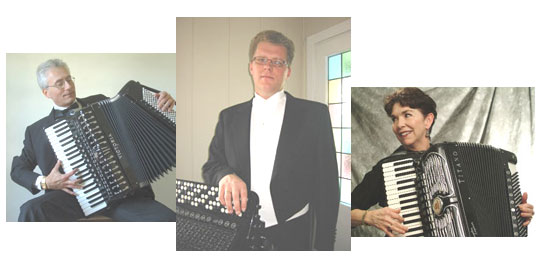 pictured left to right: Henry Doktorski, Havard Svendsrud and Janet Todd
Featured guest artists will include Winner of the Vivian Vivio Stolaruk Memorial Senior Entertainment Competition held at the AAA festival in Boston - Havard Svendsrud from Norway (pictured left), Salt Lake accordionist Janet Todd and concert accordionist Henry Doktorski.

Activities begin on Friday evening with Café Accordion in the Lounge, hosted by Alvaro "Beaver" Barsi beginning at 4:30 PM. All are invited to play solos, duets, trios, jams, etc. (including ALL instruments welcome).

Saturday will include professional performances (accordion and other instruments encouraged to participate), dealer displays, lunch & dinner with strolling, bass workshop by Nick Ballarini, conga line with Maricarmen Vazquez's performance, FAA band performance, 50/50 raffles, jam session and much more.
Lunch and Dinner will be held on Saturday as well as an optional Sunday morning Breakfast featuring Jerry Tramontozzi (MA). For further information, please visit www.accordions.com/florida or please call the Florida Accordion Association at (850) 936-8722 CST.

Formed in September 2000, the Florida Accordion Association is dedicated to the promotion of the accordion through all music genres and all variations of accordion instruments. Having grown to over 350 plus members, they represent all types of accordion instruments including piano accordion, diatonic, chromatic button accordion and bandoneon.
The FAA also encompasses all types of musical genres such as ethnic, jazz and classical to name a few, on all playing levels.

Membership is open to all accordionists and currently for the FAA this includes members ranging in age from from 7-99 from Florida, GA, TN AL and the Carolinas.


---
The 'K' Trio in to Debut in Europe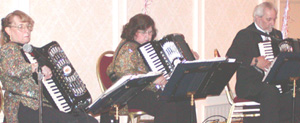 The 'K' Trio comprising Walter Kasprzyk, Mary Kasprzyk Tokarski and Julie Kasprzyk Cardona will be making their European debut in October. The trio will perform in Switzerland, France and Germany.

While in France, The 'K' Trio will perform at the Grand Opening Concert of the Confederation Internationale Des Accordeonistes (CIA) Coupe Mondiale World Accordion Championships.

No strangers to the CIA, both Mary and Julie are former USA representatives to the Coupe Mondiale. Julie competed in 1967 in Leiden, Holland - 3rd Place, 1968 in Leicester, England - 2nd Place and 1969 in New York - 4th Place and Mary competed in 1971 in Bruges, Belgium and in 1973 in Vichy, France.

Since The 'K' Trio was formed in 1996, they have produced three CDs and have performed in concert and at festivals all across the United States as well as international tours to Canada Australia and New Zealand.

Concerts on their European debut tour include:
October 17th (5.00 PM)
Schwerzenbach, Bahnstr.14, Chimli-Saal,
Zurich, SWITZERLAND
October 19th (8:30 PM)
Salle Des Capucins,
Pontarlier, FRANCE
October 29th (8:00 PM)
in the Fichtelgebirgshalle,
Wunsiedel, GERMANY
October 30th (5:00 PM)
Schwarzenbach Saale at City Hall, Oberkotzauer Str.
Bayreuth, GERMANY
October 31st (10:30 AM)
A New Theater, Kulmbacher Strasse 3, 95028
Hof, GERMANY
For further information please visit www.ktrio.com or e-mail mary.tokarski@comcast.net


---
Alpine Echoes in California
The Alpine Echoes, an accordion trio, play every Sunday afternoon from 12.30 until 4.00 PM at the Donkey Deli, 322 Third St, San Juan Bautista, California. Their repertoire is mainly German and Slovenian music, plus some American tunes.

Irmgard Wynn, who owns no less than six accordions and is currently trying hard to master the button accordion, leads the trio.

Mrs. Wynn has been a dedicated accordionist for most of her life so far, and recently commented: "There is so much gratification in this. I feel sorry for people who don't have music. They miss a lot".


---
Music from Bulgaria and the Balkans in San Francisco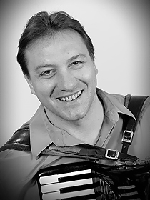 Accordionist Milen Slavov is the special guest in a concert at the ODC Theater, 3153 17th St, San Francisco, on October 8th, commencing at 8.00 PM.

The program features music from Bulgaria and the Balkans, plus new Jewish music and music with poetry from other parts of the world. Also appearing are the Orkester Sali, Davka and Rumen Shopov.
Milen Slavov is a composer, performer, arranger, and teacher. Born in Stara Zagora in the Thrace region of Bulgaria, he began playing accordion at the age of seven. He graduated from the Filip Kutev Music School in Kotel, then studied for one year at the Musical Pedagogical Conservatory in Plovdiv. He is a skilled master of piano accordion, keyboard, and tambura. He plays and composes music in Bulgarian traditional, contemporary, improvisational, Eastern European, and World Music Fusion styles.
Slavov began his performing career in 1984. Later, as a teacher of tambura at the Kutev School, Slavov wrote original works designed specifically for his students, a practice he continues today. His compositions are still taught at the Kutev School. In 1994 the school honored Slavov by adopting a photo of him with singer Zhivka Papancheva as their official school emblem.
Slavov has composed music for ensembles in Bulgaria and USA. In 1992 he founded Trio Nazdravica, making numerous appearances on Bulgarian radio and television. Slavov's recording credits include composing, arranging, conducting, and performing on Nazdravica's "Poluh ot Strandzha" (1994), "Kitka OT Strandzha" (1995), and "Samodiva" (1997). In the US, he released the recording "Steep Path" in 1998, the CD/Book "Richness of Music", "From the Old Milennium" CD (2000), and Book & CD "Bright Stage" in 2001.

In 2002 and 2003 Slavov conceived and produced "Passing with the Time" - Popular Bulgarian Folk Songs; a groundbreaking series of four Book & CD sets for Bulgarian folk instruments. The latest release of Slavov's music is the "Za Vsichki" CD (Nov. 2003). Milen Slavov also appears as composer and solo performer on the "Suita" track of the 2003 ARC Music Productions (UK) "Masters of the Accordion" CD.
Slavov has lived in America since 1997. He served as Music Director and Composer for San Francisco-based Westwind International Folk Ensemble. Slavov was guest teacher of the UCLA Ethnomusicology Department for the 98/99 academic year. In 1998 he was Guest of the Community at the EEFC's Mendocino Balkan Music and Dance Workshop. Milen Slavov has toured and performed throughout the United States and Canada.

He has performed with Yuri Yunakov, Donka & Nikolai Kolevi, Grammy-winning vocalist Kremena Stancheva, Kitka, Khadra, and at the Montmagny International Accordion Festival, the California Academy of Sciences, the Cotati Accordion Festival, the East European Accordion Masters, and USM's Roots Reunion Concert & Live Radio Show. He has appeared on live radio in Oregon, California, Mississippi (including WLOX TV), Wisconsin, Missouri, and Texas.

In 2003 Slavov presented Bulgarian musical culture to nearly 10,000 students as a Visiting Artist with FAME (Foundation for Music and Art in Elementary Education) in Indiana. Mr. Slavov is the owner of MS Music Agency.

For further information e-mail info@msmusicagency.com


---
International Song Writing Competition
October 15 marks the deadline for an International Song Writing Competition which includes a category for an instrumental work. This international competition offers $100,000.00 in prize money divided over 16 categories.

The International Songwriting Competition (ISC) is an annual songwriting contest whose mission is to provide the opportunity for both aspiring and established songwriters to have their songs heard in a professional, international arena. ISC is designed to nurture the musical talent of songwriters on all levels, and promote excellence in the art of songwriting.

Amateur and professional songwriters and musicians are invited to participate. ISC has the most prestigious panel of judges of all the songwriting contests in the world, offering exposure and the opportunity to have your songs heard by the most influential decision-makers in the music industry.

In addition to the Grand Prize of 10,000.00, success in this competition offers candidates a great opportunity to secure recording contracts with major record companies and develop show business opportunities. Entries can be sent online.

ISC is a great opportunity for songwriters to win cash and prizes, to further a music career, and to gain recognition and exposure in the music industry.

Prizes are as follows:
Overall Grand Prize Winner - $10,000 cash and $30,000 in prizes
First Place Winners in each category - $1,000 cash and $2,000 in prizes
Second Place Winners in each category - $1,000 in prizes
Third Place winners in each category - $500 in prizes
The large panel of judges includes accordionist David Hidalgo, of Los Lobos. For further information please visit www.songwritingcompetition.com

---
New CD Release from Footloose, North Carolina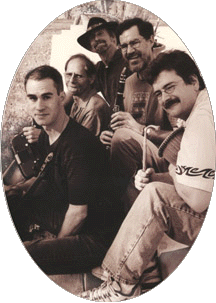 The accordion-led quintet Footloose, featuring David DiGiuseppe on accordion, have released a new CD, titled 'Everdance'. This CD has fourteen tracks, all in waltz or mazurka tempo, of music composed by band members in pastiches of French musette, Italian, Scottish, Cajun and French Canadian styles.

Footloose is a high energy and oft times zany dance band. Performing for New England-style contra dances and concerts, Footloose has become a highly respected and sought after band, playing at numerous dance festivals and week-long dance camps.

The diverse musical influences each of its members bring to the band help to explain (if not excuse) their unique sound. The Footloose sound draws upon Irish, southern old time, jazz and classical music influences.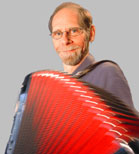 Although the primary purpose of Footloose is to rock the socks off of contra dancers, the band also performs southern old-time music, English country dance, tango, swing, waltz, hambo, schottische and zwiefacher.

Accordionist David DiGiuseppe's musical career began at the tender age of three in the local barber shop, where he was often lifted onto a chair and encouraged to sing his favorite songs. At the impressionable age of eight, he was taking accordion lessons, becoming a model student at Petteruti's School of Music in Providence, RI.

Since that auspicious beginning, David has gone on to perform as a soloist and with numerous groups. He is an accomplished and versatile singer, accordionist, mandolinist, and Irish cittern player.

A recognized accordionist, DiGiuseppe is known for his fiery and emotive playing. He is equally at home performing Irish tunes in a pub, French musettes in a cabaret, contra or Cajun music for a dance, or in the intimate setting of a concert hall.

The recording is suitable either as dance or background music. For further information, e-mail daviddg@mindspring.com


---
Carl Fortini's Special Concert Celebrations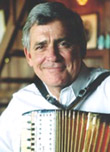 Accordionist Peter Di Bono of San Francisco Bay Area Accordion Club organized a concert on September 12th by Carl Fortini, the accordionist who played on over 600 movie soundtracks with everybody from Elvis Presley to Dean Martin and The Beatles.

Jazz legend Art Van Damme made a surprise appearance at the end of Carl's concert and afterwards 40 accordionist friends joined Peter, Carl & Art for a fine evening of dinner and music at the Basque Cultural Center in South San Francisco California.

Peter DI Bono and Ron Borelli serenaded the accordionists with a medley of Art Van Damme classics including "Green Dolphin Street" & "A la Mode". The general verdict was that a fine time was had by all! San Francisco Bay Area Accordion Club meets every 2nd Sunday of the month at the Moose Lodge in Daly City California.


---
The 57th CIA Coupe Mondiale, Pontarlier - France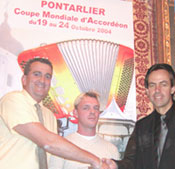 An international press conference in Pontarlier, France on September 23rd 2004 was the setting in which Patrick Genre, the Mayor of Pontarlier, welcomed the Confédération Internationale Des Accordéonistes (CIA) USA based President Kevin Friedrich and CIA Organizer Frederic Deschamps.
Marking the eighth time this international accordion competition is to be held in France, the 57th Coupe Mondiale in Pontarlier from October 19-24, 2004 will feature competitions in six categories and has attracted competitors, jury and delegates from around the world.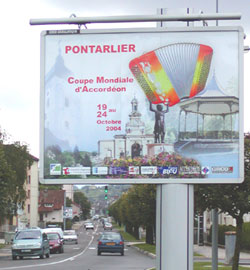 The Coupe Mondiale will open on Tuesday October 19 with the 112th General Assembly of Delegates followed by the opening concert featuring The "K" Trio, Alexander Poeluev - the 2002 Coupe Mondiale Champion, 1st and 2nd place 2003 CIA winners Nikolay Sivchuk, and Aleksei Peresidly as well as internationally acclaimed French accordion sensation, Jerome Richard, who will perform with Jeff Rossi as the duo "Jazzy Musette", a duo that will be featured at the Accordionists and Teachers Guild, International Annual Competition and Festival to be held in the Dallas area from June 15-19, 2005.
Billboards, posters and information pertaining to the Coupe Mondiale already greet visitors and residents arriving in Pontarlier. Attendees will be treated to a week-long series of competitions, displays and meetings concluding with the Grand Bal Musette featuring Jerome Richard and his international orchestra.

The United States has won the Coupe Mondiale on several occasions including:
1956 in Bienne, Switzerland - John Lapadula
1957 in Saarbrucken, Germany - Ronald Sweet
1961 in Pallanza, Italy - Donald Hulme
1963 in Baden Baden, Germany - Leonard Langley
1964 in Toronto, Canada - Stephen Dominko
1965 in Valetta, Malta - Beverly Roberts
1970 in Salzburg, Austria - Diane Schmidt
1972 in Caracas, Venezeula - John Torcello
1984 in Folkstone, United Kingdom - Peter Soave
Unfortunately, after the withdrawal of the US entrant, there will be no American candidates in any of the Coupe Mondiale categories, but it is hoped that next year will see the possibility of a US candidate when the Coupe Mondiale is held in Portugal.
For updated information as well as daily reports during the festival, please visit www.coupemondiale.org


---
Los Lobos Tour Dates in the USA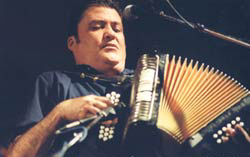 Los Lobos, the Mexican-American quintet featuring David Hidalgo on accordion and lead vocals, have announced concert dates in California during October.

Formed in 1973 by four schoolboy friends, David Hidalgo, Cesar Rosas, Louie Perez, and Conrad Lozano (Steve Berlin would later join the band in 1980), they started out as traditionalists, entertaining their barrio amigos with celebratory Mexican conjuntos.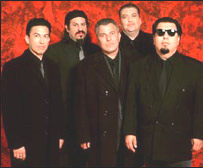 Today, Los Lobos draws equally from rock, Tex-Mex, country, folk, R&B, blues, and traditional Spanish and Mexican music. From their very first recordings their rich musicality was apparent; on nearly every subsequent record they have found ways to redefine and expand their sound, without ever straying from the musical traditions that form the heart and soul of the band.

They shot to international attention via the 1987 movie soundtrack for La Bamba, the film biography of the late Ritchie Valens. The Los Lobos version of the song La Bamba was a worldwide hit record, and has been followed by several successful CD recordings and concert appearances in many countries.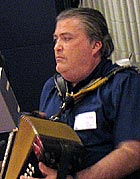 The band celebrated their 20-year anniversary with Just Another Band From East LA, a modestly titled two-CD set that featured most of their biggest singles and recognized songs. It also had rare tracks from their first album, outtakes, and live tracks that fans had been waiting for. They didn't appear together on record again until 1995, when they released the children's record Papa's Dream on Music for Little People Records. They also scored the film Desperado and contributed tracks to several other soundtracks and tribute albums.

Their dates are as follows:

October 22nd - Universal Ampitheater, Universal City, California
October 23rd - Pechanga Resort Casino, Temecula, California


---
Dan Newton on 'A Prairie Home Companion'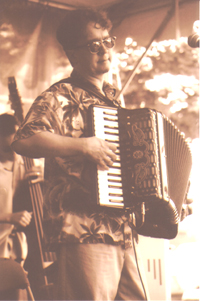 Accordionist Dan Newton will be on "A Prairie Home Companion" live from St.Paul, Saturday October 2nd. The show airs from 5.00 PM - 7.00 PM Central Time on Minnesota Public Radio. http://prairiehome.publicradio.org

Dan Newton grew up listening to big band, classical and Broadway records, and to his mom playing hymns on the piano. Along the way, he learned to express his "inner Dan" through the piano, tin whistle, hammered dulcimer and guitar (and belly dancing – more about that later).

While playing piano in one of his earlier bands, the other members increasingly booked gigs at bars that didn't have a piano. Dan was oblivious to this not-so-subtle hint, and instead decided the solution lie in the accordion.

Since then, Dan has won the 1987 Nebraska Accordion Contest at the Wilber Czech Festival. Dan has taught at Lark in the Morning (Mendocino, CA), Augusta Heritage Institute (Elkins, W.Va.), and Ashokan Fiddle & Dance Camp (Ashokan, NY). He has performed at Freight & Salvage (Berkeley, CA), Winnipeg Folk Festival, Prairie Home Companion, Montmagny Accordion Festival (Canada) and at over 1,500 nursing homes and senior centers in Minnesota, Nebraska, Kansas and Colorado.

Dan's professional bands include Paddywhack, North Wynd, Boys of Blue Hill, Fat City, Last Call, Daddy Squeeze & The Doctor, Vooju Rockin' Tango Club, Irish Brigade, Rockin' Pinecones, Group du Jour, Jumbo Ya Ya, Swamp Sextet, Café Accordion Orchestra, Art Carnage and Guys Can Talk. His 1993 solo release "Café Accordion" spawned Café Accordion Orchestra.

Dan will also be performing at The International Accordion Festival from October 16-17 in San Antonio. For more information, please visit www.internationalaccordionfestival.org.


---
Café Accordion Orchestra, Minnesota - USA

The Café Accordion Orchestra is currently promoting a new CD 'Le Disque Français'. The new CD includes such well-known pieces as the valse musette Indifference, La Mer, The Sheik of Araby, and two compositions by Django Reinhardt - Nuages and Swing 42.

Dan Newton leads this sextet on accordion, and their repertoire includes French musette, vintage swing, European and Latin dance music.

Café Accordion Orchestra (CAO) performs an eclectic mix of French Musette, vintage swing, Latin and European dance music styles. Their repertoire is that of the "Bal Musette" orchestra, through which they recreate the music that was popular in Parisian dance halls, cafés and bistros in the 1920's through 1950's.

Café Accordion Orchestra is lead by Daniel Newton on accordion and vocals, with Brian Barnes on guitar and vocals, Eric Mohring on mandolin, fiddle and vocals, Erik Lillestol on bass violin, and Joe Steinger on percussion.

The members have a combined total of over a century of experience with the likes of Stoney Lonesome, the Bone Tones, The Nationals, Jumbo YaYa, Prairie Home Companion, the Ethnic Dance Theater and the Laketown Buskers.

The Café Accordion Orchestra's upcoming concerts include
October 5 - Tuesday 9.00 PM - midnight
Cafe Accordion Orchestra
Kitty Cat Klub
Minneapolis
612-331-9800
October 24 - Sunday 4.00 PM - 6.00 PM
Cafe Accordion Orchestra
Augustana Church Concert Series
West St Paul
651-457-3373
October 29 - Saturday 9:30 PM - close
Cafe Accordion Orchestra
The Times Restaurant
Minneapolis
612-617-8098
For further information e-mail daddysqueeze@yahoo.com


---
Austrian Accordionist Alfred Melichar in New York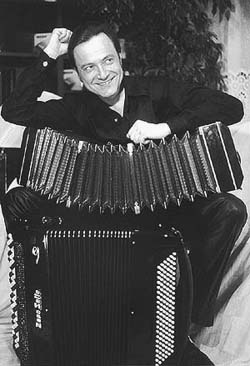 Accordionist Alfred Melichar and the Ensemble Wiener Collage recently appeared in New York City in September.

Their three concerts featured works by contemporary composers born or living in Austria. The concerts were designed to convey an idea of the richness of composing in Austria in the 20th and 21st century. Most of the performances were USA premieres.

The composers Erik Freitag, Eugene Hartzell, and Ren Staar founded the Ensemble Wiener Collage in 1987 to open up modern music to a broader audience. It consists chiefly of members of the Vienna Philharmonic Orchestra, joined by freelance soloists and chamber music performers, and has established itself as one of the leading ensembles for modern music.

Accordionist Alfred Melichar was born in Vienna in 1957, studied in Vienna and graduated from Warsaw Chopin Academy studying under Prof. Lech Puchnowski. In addition, he attended master-classes with Mogens Ellegaard, Friedrich Lips, and Elzbeth Moser.

Since 1980, he has been a teacher of accordion at the Bruckner Conservatoire in Linz, Austria and in 1989, he became a Professor. As a lecturer, he has worked at national and international courses and seminars and in international juries at accordion competitions.

As soloist, he has performed with such orchestras as the Dutch Radio Symphony Orchestra, RSO-Vienna, the Bruckner Orchestra in Linz, Ensemble Wiener Collage, Ensemble Die Reihe and others. Alfred has also written articles, gave lectures and participated in radio, TV and film production in many European countries and overseas.

A multitude of new musical pieces for accordion solo and chamber music have been created through his cooperation with contemporary composers such as Friedrich Cerha, Violeta Dinescu, Dieter Kaufmann, Tera de Marez Oyens, Karmella, Tsepkolenko, Erich Urbanner.

The Musical Offerings at the Austrian Cultural Forum in New York included:

Chamber Music Ensemble Wiener Collage (Petra Ackermann, viola, Johannes Marian, piano, Alfred Melichar, accordion, Gabriele Mossyrsch, harp, Stefan Neubauer, clarinet, Michael Seifried, double bass)
September 17:
Arnold Schoenberg: Piece for Piano, Op. 33b
Isabel Mundry: Spiegelbild für Klarinette in B und Akkordeon
Shih: Ein Takt für Klarinette und Klavier
Rene Staar: Bagatelles for piano
Zdzislaw Wysocki: Etude for clarinet
Herbert Lauermann: Waves for piano
Karl Kohn: Toccata and Virelais for accordion and harp
September 20:
Shih: Ein Takt für Harfe
Georg Friedrich Haas: ... aus freier Lust ... verbunden ... for double bass
Zdzislaw Wysocki: Etude for clarinet, accordion, harp, and double bass, Op. 65/14
Wladimir Pantchev: NN for clarinet, harp, and double bass
Roman Haubenstock-Ramati: Kathedrale I for harp
Dieter Kaufmann: Grand Jeu for accordion and tape
September 21:
Ernst Krenek: Acco Music for accordion, Op. 225
Gerald Resch: Lettura/rilettura II for clarinet in A, viola, and piano
Eugene Hartzell: Monologues for clarinet
Shih: Ein Takt für Viola und Klavier
Rene Staar: Jam session for viola, clarinet, accordion, and double bass
Christoph Herndler: NEW YORK, 09.21.04 for viola, clarinet, accordion, and double bass
Johannes Maria Staud: Bewegungen for piano
Erich Urbanner: Duo for accordion and double bass


---
New Dallas/Ft. Worth Accordion Club Forming
If you live in Irving, Arlington, Hurst, Euless, Bedford, or one of the many cities between Dallas and Fort Worth, you will be pleased to know about a new accordion club in the Mid-Cities area. The new club will be unique in several ways:
Location: The Dallas/Fort Worth area has the great fortune of having 3 wonderful accordion clubs - two in Dallas and one in Fort Worth. This new club will serve the cities in between -- the Mid-Cities area. The first 2 meeting are scheduled in Hurst, but other locations in the Mid-Cities area will be considered.
A Weekend Club: All of the current clubs in the Dallas/Fort Worth area meet on weeknights. The new Mid-Cities Club will meet on the third Sunday of the month from 2 until 4 p.m. This will make it easier for working folks who have difficulty making it to meetings during a busy workweek. It will also be easier on those who no longer like to drive at night.
Not in a Restaurant: The Mid-Cities Club is not meeting at a restaurant. While snacks will be served, and plenty of time will be provided for fellowship, this new setting will give a different feel to the meetings and provide opportunities for a wider variety of program activities.
The first meeting of the Mid-Cities Club will be Sunday, October 17, from 2 until 4 p.m.

The meeting place will be the Hurst Recreation Center, 700 Mary Drive in Hurst. The Center is just a mile south of Airport Freeway, at the intersection of Mary Drive and Pipeline Road. There is plenty of free parking on smooth concrete parking lots with easy ramps on all sidewalks. The building is fully handicap accessible and our spacious meeting room is on the ground floor.

If you are interested in participating in the Mid-Cities Accordion Club, please send your email address to the club¹s organizer, John Martin. He will put you on the club¹s mailing list. If you have any questions, or would like to help with this new club, please contact John Martin at (817) 282-7449 or johnjeanmartin@charter.net
---

---

---
Note: In order to provide as much information as possible for the United States National Accordion News stories, many different sources are often researched to gather additional information and pictures to complement what has been submitted. This information is then correlated to provide the news on www.accordionusa.com in the spirit of which it is intended, which is to provide a free news service to the Accordion Community, specifically in the United Sates. If you feel any copyright has been violated please advise www.accordionusa.com and the article will be removed immediately.