---
The Elders draw 6,000 in Kansas City Show
The Kansas City Star reports that seating for the Elders' September 4th show in the Crown Center pavilion Kansas City began immediately after Cherish the Ladies finished their set, but anyone trolling for seats by then might as well have been looking for cheap real estate in Northern California.
The Elders (featuring Brett Gibson - accordionist) weren't the official headliner this evening, but they became the main event, drawing a crowd of 6,000 or so that spilled out of the pavilion and packed itself up to the northern edge of its adjoining lawn, which prompts an almost-absurd question: When is the last time a local Celtic/roots-rock band could say they outdrew the Backstreet Boys?
Apparently word of their shows has spread beyond the local Irish community and into other scenes places where bands like the Dropkick Murphys and Flogging Molly entertain teenage and 20-something punks. Whatever the reason, the Elders have developed a reputation for bristling live shows and, even better, for exceeding their lofty reputation.
Sunday night they started their 100-minute set at warp speed and slowed down only once or twice for a teary love ballad or a paean to family. Ian Byrne, a native of County Wicklow, Ireland, is the band's ringmaster - a singing dervish with a washboard to scrape and several drums to bang. "We're Irish," he said, "and we sing about drinking, fighting and dying."
And so they did, like it was their last day on earth. They sang several from their latest album, "American Wake," including the title track, "Haverty Boys" and the raucous and irresistible "Moore St. Girls." They also detonated a few instrumentals, including the infernal "Buzz's Jig,"
But the songs that nearly raised the roof off the skating rink were favorites from the "Pass It on Down" album, some of them tales of tragedy and woe: "Fire in the Hole" and "Packy Go Home," which prompted the loudest sing-along all night. When it all ended, the lights went up and the PA system played canned music, even as the crowd sustained a heavy chant of "one more song." But it was not to be: The headliner was due on stage in 15 minutes. The good news: There were seats to be had.

For information on the band, please visit www.eldersmusic.com


---
New Accordion CD Released by Rounder Records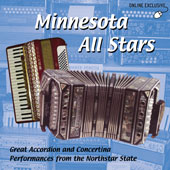 In Minnesota music, the accordion and concertina rule. For more than a century these instruments have enlivened family gatherings and brought merriment to long winter evenings. These long-standing traditions have provided the foundation for today's virtuosity. Inside this package, you'll find a sampling of today's scene: breathtaking polkas, concert waltzes, right-on-the-money jazz and far out contemporary music. It's a slice of what's happening up north.

The CD - Minnesota All Stars: Great Accordion and Concertina Performances from the Northstar State contains the following tracks:
01 - Getting Loose - Bill Czerniak
02 - Calle Schewen Waltz - Mel Brenden & the Minnesota Scandinavian Ensemble
03 - Sambo de Orfeo - Larry Malmberg
04 - Under the Double Eagle - Hank Thunander
05 - Emil's Polka - "Wee Willie" Makovsky
06 - Los Pastres - Dan Newton
07 - Malagueña - Dee Langley
08 - Reels: The Floggin' Reel/The Hut in the Bog - Paddy O'Brien
09 - Silver Wedding Oberek - Joe and Bill Czerniak
10 - Arevik - Valeriy Saakian
11 - The Expectation Waltz - Mark Stillman
12 - Black Canyon Polka - Matt Vorderbruggen Band
13 - Hoppsan Schottis - Duane Swanson
14 - Modern Love Waltz - The Accordion Concertina Music Ensemble
15 - The Barnswallow Polka - Jerry Minar


---
Voices of Shekhinah: Four Illuminations
Voices of Shekhinah: Four Illuminations (for full orchestra plus shofar, accordion, and 4 vocalists), commissioned by the Tifereth Israel Synagogue for its 100th Anniversary, receives its World Premiere performances by the Tifereth Israel Community Orchestra,
conducted by David Amos, in November 2005. Music and libretto by Valarie Morris.
This work honors important women in Jewish history. The four movements of Voices of Shekhinah: Four Illuminations feature four vocalists representing significant women of the past and the present who tell their stories. The work highlights women from different
walks of life, women from the Torah and Talmud, and women from Sepharidic and Ashkenazic traditions.
Saturday, November 12, 2005, 7:00 p.m. Phone: 858.513.8330
Ner Tamid Synagogue Tickets: $18.00
18315 Pomerado Road, Poway, CA
Tuesday, November 15, 2005, 7:30 p.m. Phone: 619.697.6001
Tifereth Israel Synagogue Tickets: $12.00,
group & student rates available
6660 Cowles Mountain Blvd., San Diego, CA
Vocal soloists are Sylvia Lorraine Hartman, Ava Baker Liss, Anna Bjarnson-Carson, and Julienne McWhirter. Paintings by Viviana Lombrozo, reflecting the women portrayed by the vocalists, will be on display in the lobby. Performance time of Voices of Shekhinah: Four
Illuminations is approximately 30 minutes.
Other works on the program are Fanfare to Israel by Paul Ben Haim, Rabin by Ariel Blumenthal, and Violin Concerto in D Major by Beethoven.
Tifereth Israel Community Orchestra will perform Symphony of Light and Shadows, Valarie Morris' first orchestral work (premiered by the Sacramento Philharmonic Orchestra) at their June 14, 2006 concert. For more information about the music of Valarie Morris, please visit
http://www.sandscapepublications.com or contact: news@sandscapepublications.com


---
3rd Annual Rock Accordion Summit of New York
The 3rd Annual Rock Accordion Summit of New York city took place on Friday, September 30th at the Delancey in New York.

This years summit was scheduled to feature: Corn Mo, Benjamin Ickies & Friends, Alec K. Redfearn & The Eyesores, Julz A, Brian Dewan, Uncle Moon and Unicornicopia.

---
International Accordion Festival in San Antonio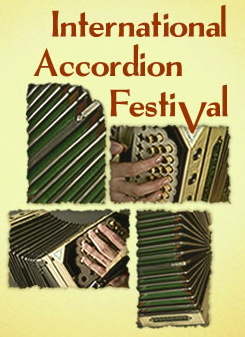 Join us October 15 and 16, 2005 for the 5th annual International Accordion Festival in San Antonio for two days of accordion music from around the world. Held every year in the beautiful downtown Riverwalk area on the historic grounds of La Villita (3 three blocks south of the Alamo on South Alamo Street), the 2005 International Accordion Festival features performances, workshops, open mic sessions, accordion jams and strolling musicians in a beer garden setting.
On three stages, enjoy more than a score of ensembles playing music from around the globe: from Celtic to Zydeco, from Conjunto to Cowboy, from Vallenato to Slovenian, from Polish to Azerbajani and much, much more. In three other festival areas, find informal workshops, jam sessions, open mics and other casual presentations featuring up-close and personal interactions with master artists and their music. It's big, it's outdoors, it's two days and it's multiple stages of music, dancing and fun for the whole family. The festival also boasts ethnic foods, beverage and merchandise booths throughout the weekend. And best of all, admission is free!
Cumbia, step dance, polka, waltz! That's right, put on your dancing shoes. The International Accordion Festival puts special stock in styles of music that are dynamic and danceable, rhythmic and riotous. Accordion music is the music of community and social life, of front porch get-togethers and dancehall showdowns, of circle dances and fancy stepping.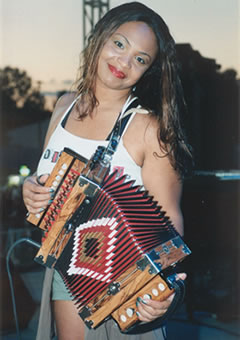 Celebrate the venerable accordion and its many cousins -- the keyboard, the chromatic, the diatonic - but don't be confused, because they all make the most dynamic music. Check out our developing roster of artists to read about the stellar performers we've scheduled this year. All of them are performing on stage as well as participating in workshops and jams. There will be demonstrations, question and answer sessions, song and squeeze swaps, open mikes and, of course, loads of great accordion music.


Participate in a special program for this year's festival, Accordions Around the World: Exploring the Old World Roots of Texas Ethnic Music, funded by the Trust for Mutual Understanding. In 2005, from the Czech Republic we welcome the Lower Chodsko Trio, who will spend over a week in Texas performing at the festival and interacting with Texas Czech musicians and community members. At the festival, join the Lower Chodsko Trio and Mark Halata and Texavia for a workshop exploring the relationship between these two musical cousins.

We also want to express our appreciation for our partners and sponsors. The International Accordion Festival is produced in partnership with the Witte Museum, the City of San Antonio Office of Cultural Affairs and the San Antonio Accordion Association and sponsored by Southwest Airlines, the official airline of the International Accordion Festival, the National Endowment for the Arts, the Texas Commission on the Arts, the Trust for Mutual Understanding, Fall Art Festivals, the City of San Antonio Office of Cultural Affairs, the San Antonio Express-News, Valero Energy Corporation, HEB, BudCo, Univision and Guaranty Bank.

For information, call 210.573.6984


---
Buckwheat Zydeco Busy Raising Money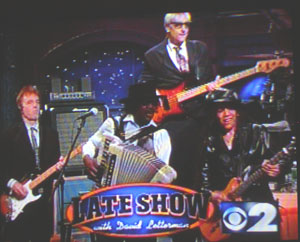 Buckwheat Zydeco was one of many stars in the Big Apple raising money for the victims of Hurricane Katrina. Buckwheat appeared at Madison Square Garden and while in town he also appeared on the Late Show with David Letterman.

From the Big Apple To the Big Easy: Hurricane Katrina Benefit Concert. Other stars included Simon and Garfunkel, John Fogerty, Elton John, Rod Stewart, Earth, Wind & Fire, Stevie Nicks, Bette Midler, Elvis Costello, Dave Matthews, Tom Waits, Trey Anastasio, John Mayer Trio, Joss Stone, Galactic with the Mardi Gras Indians, Ray Lamontagne, Ry Cooder, and Jimmy Buffett, among others.

In addition to the live concerts, millions tuned in on pay-per-view satellite where the funds will go towards the rebuilding and relief of the entire Gulf Coast area affected by Hurricane Katrina.



Madison Square Garden is underwriting the entire show, so each and every cent raised will be donated to the Bush Clinton Katrina Fund, Habitat for Humanity, MusiCares Hurricane Relief Fund and the Children's Health Fund, among other organizations dedicated to the cause. In an official statement, organizers announced: "In the midst of this national crisis, to have the City of New York, which has known such tragedy itself, to reach out to the citizens of New Orleans is a wonderful thing, and to do it in such a way that celebrates the rich traditions of New Orleans music shows and understanding and compassion that is truly heartwarming."


---
Karen Fremar performs with Pavarotti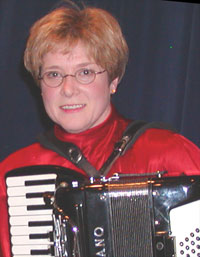 Karen Fremar of Leawood, Kansas, recently served as the accordionist with the orchestra for the Luciano Pavarotti Farewell Tour performance in Tulsa, Oklahoma. The Pavarotti Farewell Tour will make 40 stops all over the world in the next two years. Pavarotti opened the US leg of his Worldwide Farewell Celebration Tour at Tulsa's Mabee Center. Close to 9,000 people attended the concert and greeted the singer with shouts of bravo and a standing ovation. Pavarotti performed a selection of arias and duets (with acclaimed and award winning soprano, Cynthia Lawrence) including several by Puccini and Mascagni, as well as several Neapolitan songs.

The orchestra consisted of 64 outstanding musicians selected from the Midwest under the name of the Tulsa City Orchestra (directed by Pavarotti's pianist and conductor Leone Magiera). The orchestra had only three rehearsals with Pavarotti over the course of two days to prepare for this concert.

Fremar performed on the segment of Neapolitan songs and was seated at center stage directly behind Pavarotti. She is a graduate of the Conservatory of Music at the University of Missouri, Kansas City, and she was a student of Joan Cochran Sommers; and her mother, Margie Fremar, of Fort Scott.

---
Northwest Accordion Society
The Northwest Accordion Society serves as an umbrella organization for the Northwest region with clubs, social events and accordion activities in several states including British Columbia, Alaska, Washington, Idaho, Montana and Oregon.

The current President is Rick Hatley and the society maintains a website at www.nwasnews.com. For information on activities, please contact: John Nantz in Poulsbo, WA by phoning 360-779-3494 or e-mailing: heron@sprintmail.com


---
NH Accordion Association Benefit Concert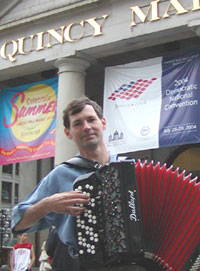 There will be a Benefit Concert for the victims of Hurricane Katrina, sponsored by Norumbega Lodge #506, Sons of Norway, and organized by Jon-Richard Knoff (left) and the New Hampshire Accordion Association, on Saturday, October 1st, 2005, from 4:30 - 7:00 p.m. at the Scandinavian Living Center, 206 Waltham Street, West Newton, MA.

Ticket prices are $10 for adults and $5 for children 10-16. Additional donations gratefully accepted. The proceeds will be distributed through the Sons of Norway Foundation Humanitarian Fund designated for Hurricane Relief.
For information, please contact: Luana Marie Josvold: Phone - 508-758-7849 or e-mail:
LMJ1705@comcast.net


---
Philip Melancon featured in NY Times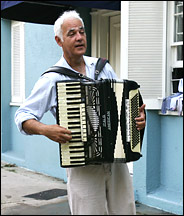 Philip Melancon, a long time musician at the historic Pontchartrain Hotel on St. Charles Avenue, did not stay in New Orleans because the city needed him, but more because he needed the city.

During the time he has remained in New Orleans, he has ended up entertaining many different people, and considers himself a mini USO Show.

Philip was the feature of a recent New York Times article which showed this picture of him.

---
Bill Schimmel Featured in New Opera Recording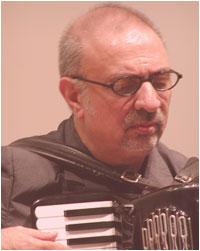 New World Records has recently released a two CD, one hour and forty minute chamber opera: 'The Floating Box', by Jason Kao Hwang. It traces the history of Chinese immigrants and their settling in New York's Chinatown. The libretto is by Catherine Filloux. The opera features an elaborate accordion part performed by Dr. William Schimmel.
A recent review in the International Record Review states: "most inspired of all is his (Hwang's) use of the accordion to provide the harmonic filling: and in this he is served by the admirable William Schimmel, whose subtlety is in itself one of the highlights of the recording."
Jason Kao Huang worked closely with Dr.Schimmel in developing this intricate part and Mr. Huang uses it as a bridge between his scoring for western instruments as well as traditional Chinese instruments such as the erhu and the pipa. The International Record Review lists Dr. Schimmel as a character in the opera along with the singers. 'The Floating Box' had its world premiere in 2001 at Asia Society in New York. Juan Carlos Rivas conducted both the premiere and the recording.
For more information on this recording: www.newworldrecords.org


---
Murl Allen Sanders at the 13 Coins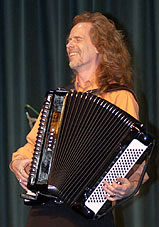 Murl Allen Sanders will be playing at the 13 Coins SeaTac Restaurant from September 27th to October 1st, 7:30 PM until midnight. The 13 Coins is located directly across from SeaTac airport, Washington. Every Wednesday, Murl plays at the noon Jazz service at Plymouth Congregational Church, near Seattle.
From November 10th to 14th, Murl Sanders will be performing and teaching at the Caister Accordion Festival, England. On December 30th Murl will be performing with the Everett Symphony Orchestra. Murl now has a DVD, featuring solo performances and as a trio with fellow accordionists Frank Marocco and Ken Olendorf
For further information e-mail murl@murlallensanders.com


---
CIA President Participates in World Music Forum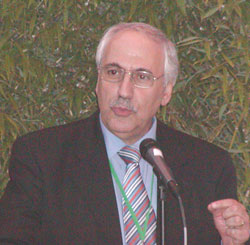 The Confédération International des Accordéonistes (CIA) President Kevin Friedrich is attending the International Music Council (IMC-UNESCO) General Assembly meetings in Los Angeles in conjunction with the World Music Forum. The series of lectures, concerts, meetings and exhibits will take place at The Hotel Renaissance - Hollywood, from October 1st to 5th.

The World Music Forum opened on September 30, with an address by Margie Reese, the General Manager of the City of Los Angeles and the World Forum on Music Chairperson, and the IMC President Kifah Fahkouri (pictured left). They welcomed 300 delegates from 31 countries, as well as invited guests and speakers from around the Globe for this international conference.
The IMC World Music Forum is staged to be a highly influential global knowledge-building platform and will address diverse topics such as music and social change; music and media; technology and public access; copyright and music education. In order to explore and integrate different perspectives, it will bring together voices from different stakeholders in the field of music such as government officials, private sector executives and professionals from the civil society, scholars, artistes, and students. Themes of the forum include: 'The Power of Music in a Fast Changing World, Music and Technology: What Lies Ahead and Globalisation and the Future of Music'.
The IMC was founded in 1949 at the request of UNESCO as a non-governmental advisory body on musical matters. It currently comprises national music committees in 74 countries on all continents as well as 34 International organizations representing most fields of musical activity and some Members of Honor.
In 1975 the Confédération International Des Accordéonistes (CIA) became the first instrument specific organization to be accepted into the International Music Council and has maintained an active membership ever since.


---
The Fuchsia Band in Weston, Missouri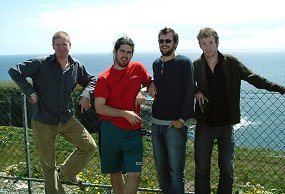 The Fuchsia Band is making its rounds in the United States and will be appearing at the Weston Irish Festival from October 7-9, 2005. The recently played at the Kansas City Irish Festival and were just in LA before returning to Missouri for the Weston festival.

Three parts Carrigaline (Co. Cork), one part Accordion player, The Fuchsia Band are just over a year old but have already chalked down nearly a hundred gigs with their lively folk-trad spirit and charm never-failing. Most recently, The Fuchsia Band played with Altan, bringing the sold-out venue to a storming frenzy through song, stories and dancing. These four lads have travelled far and wide, bombarding people with ceol binn every step along the way! In their debut venture to The States, The Fuchsia Band will put you all under their spell and whisk you away to a time before television, a time before radio, when people entertained themselves…into Fuchsia Land!

Accordionist Eoin Verling proudly hails from Enniskeane in West Cork, where he started playing the button box at the age of 5 in a marching band. He played all along until his late teens, when he then put the box aside for awhile. He says It was only while traveling in Australia, when he met a little man under a stone, that he finally came to his senses and took it back up again!

Eoin has notched up numerous medals and prizes over the years for playing music and has played manys the session at the Fleadh and Scór.
For more information, please visit www.thefuchsiaband.com

---
Non Stop Accordion Music from Afar
For those who would like a little accordion music to serenade them while working on their computers, you can visit: http://www.live365.com/stations/davidbatty

Playing a variety of accordion music, this online Radio Station plays nonstop accordion music for your listening pleasure.

---
---
Note: In order to provide as much information as possible for the United States National Accordion News stories, many different sources are often researched to gather additional information and pictures to complement what has been submitted. This information is then correlated to provide the news on www.accordionusa.com in the spirit of which it is intended, which is to provide a free news service to the Accordion Community, specifically in the United Sates. If you feel any copyright has been violated please advise www.accordionusa.com and the article will be removed immediately.