Melba Yale Passes Away by Faithe Deffner
MELBA JEAN BAXTER YALE - November 11, 1919 - September 4, 2006, or "Mrs. Yale," as she was affectionately known to thousands of young musicians whom she taught over a 71-year career, passed away peacefully at home at the age of 86. Melba's determination and consistent efforts were basic characteristics tempered by her sincere warmth and dedication to those with whom she worked.

Few women attended college in 1939 when Melba, the daughter of a professor, earned her B.A. Degree in music from Kansas State Teachers' College (Kansas State University). She studied and performed on the pipe organ and played the string bass in the College Symphony. In addition, she earned a reputation as a fine accordionist and was sought after to teach this instrument locally. She became a staunch supporter of the accordion and loved its music throughout her life.

In June of 1940 she married Oakley Yale. When they moved to Buffalo, New York, they formed the Yale Accordion Duo and performed many engagements and concerts, beginning what was a lifelong collaboration.

The family moved to sunny California in 1953, where they founded the "Yale Accordion Academy" in Inglewood. As their school grew in prominence and student body, they introduced the world-famous "Yale Accordion Symphony" which made six critically acclaimed concert tours to Europe.

Melba Yale's professional achievements are very impressive. She was a life member of Sigma Alpha Iota, Alpha Kappa Chapter (the national professional music fraternity for women), a life member of the American Federation of Musician Union Local 47, a past president and a member of the Philanthropic Educational Organization (P.E.O. Sisterhood) for 62 years, and a former past president and a member of Accordion Federation of North America (AFNA).

In 1990 her husband Oakley passed away, followed by her son Darrell in 1997. Oakley Yale, Sr. was a past president of the Accordionists and Teachers Guild (ATG) and the Accordion Federation of North America.

Melba Yale leaves behind sons Oakley, Jr. (wife Connie) and Paul (wife Anne), and daughters Margo (husband Ron) and Melody (husband Dave) and daughter-in-law Irene Yale, as well as eight grandchildren, two great grandchildren and a great-great grandson. She will be remembered fondly by hundreds of students whose lives she touched with the positive influence of music.


---
Frank Marocco and Nick Ballarini Camp in Arizona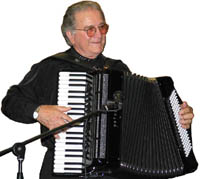 The location and date of the 2007 Marocco-Ballarini Accordion Camp have just been announced. The camp will take place in Mesa, Arizona (a suburb of Phoenix) on January 24-28, 2007.



The camp will feature daily orchestra rehearsals led by composer, performer, and conductor, Frank Marocco. The orchestra will perform a public concert on the last evening of the camp. There will also be workshops and nightly performances and activities, which will be coordinated by accordionist and band leader, Nick Ballarini.

Participation is limited to 50 players - there is no limit on non-players. Registration closes on November 15, 2006. See complete details and registration information at www.frankmarocco.com


---
Looking for an Accordionist in California
Rick Hoglund is the musical director of an off-Broadway musical call "Spitfire Grill" that calls for a small Appalachian-style ensemble including an accordion to accompany the seven actors in the show.

The show is being performed in Hemet California, between Riverside and Palm Springs the show is currently looking for an accordionist. The part is fully notated, no chord symbols, and does not call for improvisation. It doesn't seem to be highly technical, but it requires a sensitive player who is rhythmically accurate.

The budget for this job is $820.00 for 4 rehearsals and 5 shows in late October.

Anyone interested in this opportunity, please contact: Rick Hoglund at 951-652-6404, or e-mail rickhoglund@msn.com


---
Celtic Duo to Perform in Central Illinois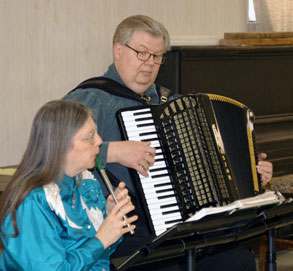 Jay and Pat Landers, husband and wife for almost 34 years, have also been a Celtic duo, "Donnybrook", for many years. While they usually perform "seasonally" around St. Patrick's Day, if you are in the area of Central Illinois on Saturday, October 14, their special brand of authentic Celtic folk music can be heard 11 AM - 1 PM at the Lincoln Memorial Gardens "Indian Summer Festival" on Lake Springfield.

Jay Landers started playing the piano accordion as a child and played ever since. Unlike the many thousands of accordionists who took lessons in the 1950's and '60's and have since stopped playing, Jay has never put the accordion down.

He's had various combos over the years and has played just about every occasion or venue you can think of from excursion boats to outdoor musical theatre to festivals and county fairs; TV appearances while in his teens on a local station in his hometown of Louisville, KY; weddings, banquets, parties, theatre organ concerts...even a genuine Irish Wake!

The Celtic Duo 'Donnybrook' summarize their year so far as follows:

"This Year It Was a Blessing".

This year it was a particular blessing to have so many performing opportunities, despite the violent weather that shook the Capital of Illinois.
"May the road rise to meet you..."

Jay, piano accordion, and his wife Pat, penny whistle and vocals, proceeded with a full performance schedule in commemoration of St. Patrick's Day, March 12 to 21.

"May the wind be always at your back.."

Two tornado's came through Springfield, IL, about 8:30 PM, March 12, and again around 2:00 AM on March 13. The community's emergency warning sirens began sounding at the stroke of 8:00 PM, just as "Donnybrook" was finishing its 3 hour engagement. Within minutes much of Springfield was without power, and the devastation was evident on the ride home.
"May the sun shine warm upon your face..."

Well in advance of this history-making weather, these dates were set for programs of traditional Irish and Scottish music:

March 12 Island Bay Yacht Club on Lake Springfield
March 16 Mary Bryant Home for the Blind and Bickford House (assisted living complex)
March 17 The Dublin Pub, Pleasant Hill Elementary School and Panther Creek Country Club
March 23 Oak Terrace (retirement community)
March 24 Vachel Lindsay Elementary School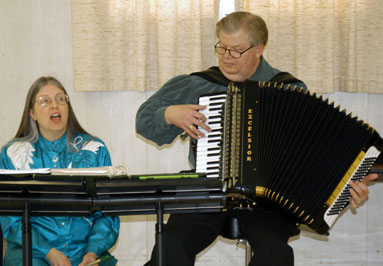 The horrific F-2 tornado's with 120 mph winds that struck Springfield just hours apart on March 12 and 13, created massive power outages, 4 days of school closings, and over $100 million in property damage. One week later a blizzard on March 21 dumped up to 9 inches of snow in Central Illinois! Despite all of this, there was sufficient time for recovery and people wanted a return to their normal routine and calendar of events. "Donnybrook" was fortunate to fulfill all 8 of its Celtic performance obligations.

"May the rains fall soft upon your fields..."

The most impressionable audiences were the two school assemblies. The exposure for two seldom-seen and less-understood instruments included Pleasant Hill Elementary School (K-5; 250 students) and Vachel Lindsay Elementary School (K-5; 500 students). The students stare at the accordion and tin whistle and wonder where the music's coming from. The sounds don't appear to match the instruments. It's hard for them to keep still during unfamiliar tunes such as "Star of the County Down", "Kesh Jig", "Strop the Razor" and "Give Me Your Hand". The polka's, jigs, reels, slides and waltzes are infectious.

"And, until we meet again, may God hold you in the palm of His hand."

The folks with the most to contend with were the residents of the Mary Bryant Home for the Blind. They stomped their feet while seated at their tables, and clapped their hands with enthusiasm. Some got up and did impromptu jigs. They commented after practicallly every piece...expressing appreciation for the music and the varied rhythms.

For more information, please contact Jay and Pat Landers at jllanders5214@msn.com


---
Accordion Tribe Film Shown at the DC National Gallery of Art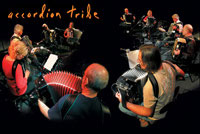 The much-acclaimed Stefan Schwieter film Accordion Tribe will be screened at the National Gallery of Art in Washington, DC, October 14 at 2:30 PM.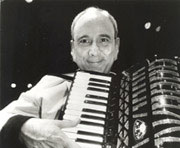 Featuring five highly individual musicians from different countries, the Accordion Tribe consists of New York avant-gardist Guy Klucevsek (who plays with John Zorn and Laurie Anderson); Slovenian punk rocker Bratko Bibic; classically influenced Maria Kalaniemi from Finland; blind and self-taught Otto Lechner from Germany; and rhapsodic Lars Hollmer from Sweden.
This film, which was released in spring of 2005, instantly receiving three awards: Swiss Art TV - Best Film of the Year, Swiss Film Prize - Best Documentary, and Wurzburg Film Festival - Best Documentary.

The Accordion Tribe is determined to transform their instruments into a power station of feelings. The film captures exciting sound landscapes of trance-like intensity and follows their charismatic creators on their journey through Europe and its rich musical inheritance, searching for new beginnings.
The Tribe screening at the National Gallery heralds the forthcoming accordion extravaganza, the 2007 Coupe Mondiale world accordion championships which will take place in the DC area, from August 13 to 18, 2007, at the Holiday Inn in historic Alexandria, Virginia. It will be followed by numerous accordion events to be announced in the coming months.


---
International Accordion Festival in Texas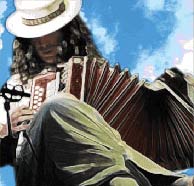 The International Accordion Festival takes place from October 13th to 15th in La Villita, San Antonio, Texas. Held in the Riverwalk area, three blocks south of the Alamo, the festival includes concerts, workshops, open mic sessions, in a casual beer garden setting. Musical styles include Celtic to Zydeco, Conjunto to Musette, Klezmer to Cowboy, and much else in between.

This year's guests include Flaco Jimenez, Joel Guzman, Sunny Sauceda, Shirley Johnson, Corey 'Lil Pop' Ledet, Joaquin Diaz (Puerto Rico) and Shati, The Texana Dames, The Fabulous Shpielkehs, Poor Man's Fortune, Peter Stan and Balkan Fantasia, Mingo Saldivar and the Gulf Coast Playboys, the Gourds, Los DesperadoZ, Brian Marshall and the Texas Slavic Playboys, and the Marian Pelka Trio, from Poland, Les Primitifs du Futur, from France, Helen Xu and Zong Ti Lin, from China, and Renato Borghetti (pictured above left), from Brazil.

For further information e-mail: staff@internationalaccordionfestival.org or visit: www.internationalaccordionfestival.org


---
Dr. William Schimmel Announces Fall Schedule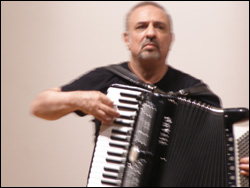 After the successful 12th AAA Master Class and Concert Series (The Seminars) and master classes, concerts and recordings at the Janacek Conservatory in Ostrava, Czech Republic - Dr. William Schimmel resumes his fall schedule. Here are some highlights:
October 1, 2006
A Benefit Concert for CPR Awareness
featuring: Wynton Marsalis (trumpet), Mark O'Connor (violin), Ted Nash (sax/reeds), Wycliffe Gordon (trombone/tuba), Bill Schimmel (accordion) and others. Hosted by Yola Nash
Location: Tribeca Performing Arts Center - 199 Chambers Street, New York
Time: 12:00 Noon
October 19, 2006
Music In Love: The Metropolis Ensemble All About Love, by David Schiff Il and Combatimento di Trancredi e Clorinda by Claudio Monteverdi. Both works will feature Dr. Schimmel on accordion.
Location: Angel Orensanz Foundation Center for the Arts, 172 Norfolk St., New York
Time: 8:00 PM
0ctober 28 - 29, 2006
A Musical Journey starring Vicki Phillips includes a performance by Dr. Schimmel. A journey through postwar Europe by way of the songs by Kurt Weill, Jacques Brel and Charles Aznavour.
Location: Queens Center for the Performing Arts - Flushing, Queens
Time: 8:00 PM
November 6, 2006
Strings Attached: Peter Sachon (cello) and Dr. Schimmel (accordion) performance of Andrew Lippa's Venicia Variations for cello and accordion.
Location: Birdland - 315 W 44th Street, New York
Time: 7:00 PM
November 13, 2006
In a China Shop by Liam Robinson. Composed for and performed by Dr. William Schimmel (accordion).
Location: The Manhattan School of Music - 120 Claremont Ave., New York
Time: 7:00 PM
New Recording: projected release time -Christmas Riders to the Sea - and opera by Marga Richter Leonarda Records featuring Dr. Schimmel on concert accordion.
New Cyber Symphony by Dr. Schimmel - Vienna Genesis projected release time: Christmas. Will be available for downloads only - on www.billschimmel.com


---
Victor Prieto Trio at the Bacchus Room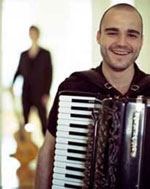 The Victor Prieto Trio will be performing on October 19th at 8 PM at The Bacchus Room, 60 Second Ave., New York. Victor will be presenting some of his new compositions.

"Prieto plays accordion the way Toots Thielmans plays harmonica or Dino Saluzzi plays bandoneon. He transcends the instrument and just plays music." – Budd Kopman, 'All About Jazz' magazine.

The Victor Prieto Trio is: Victor Prieto, accordion; Carlo DeRosa, bass; Allison Miller, drums.

For further information e-mail: vpcruz@gmail.com

---
Daniel Binelli Performances in New York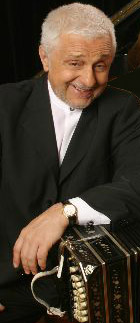 Argentinean bandoneonist Daniel Binelli (pictured right), widely acclaimed as one of the foremost exponents of the music of Astor Piazzolla will be performing in the United States in November and December as follows:
November 13th
The Binelli- Ferman Duo at the Museo del Barrio, New York
November 20th
Binelli-Ferman duo with Jennifer Muller Dance Company, Museo del Barrio, New York City
November 25th
Binelli-Ferman Duo recital in Washington DC
November 29th
The Binelli-Ferman- Isaac Trio at Merkin Hall, New York
December 6th
Americas Society, New York, 'Piazzolla- Borges' - Daniel Binelli (bandoneon), Polly Ferman (piano), Eduardo Isaac (guitar) Marcelo Balsells (voice).



---
Steve Albini Concerts in California
Accordionist and vocalist Steve Albini will be appearing at the Madonna del Lume Celebration at Fisherman's Wharf in San Francisco on October 1st. The celebration was brought to San Francisco over sixty years ago by Sicilian immigrants, and the annual celebration concludes with the blessing of the fishing fleet.

On October 6th Steve will be performing solo at the Columbus Day Civic Celebration in San Rafael, California. This celebration is sponsored by the Cristofo Colombo Club of Marin.

On October 15th the Steve Albini Trio will be headlining the North Bay Italian Cultural Society's Festa Italiana in Santa Rosa, California. The trio consists of Steve Albini on the Roland V-Accordion, the 'Concerto' digital/acoustic accordion, guitar and vocals, Dave Albini on MIDI and acoustic accordions and trumpet, and Jim Lehmann on drums and percussion.

Steve Albini and friends will be performing November 17th and 18th in Ciao Italia, a concert to benefit the Tomales High School Italian Exchange Program. The performances will take place at the Tomales Historical Center and Museum in Tomales, California.

For further information e-mail: salbini@msn.com


---
Ethnic Dance Theatre Honors Muslim Cultures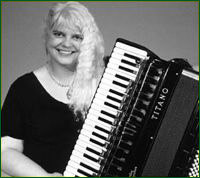 Due to popular demand, the Ethnic Dance Theatre repeats a show performed in June that seeks to foster understanding and awareness of world cultures through the re-creation and presentation of traditional ethnic dance and music.

The EDT Folk Orchestra, including accordionist Dee Langley, will collaborate with guests from the Schubert Gamelan Ensemble during the production of Ethnic Dance Theatre's 'Beyond the Crescent Moon.' This show takes place on October 5th to 8th, 2006 (Thursday, Friday and Saturday, 8 p.m.; Sunday, 2 PM); June 4th at 2 PM at the Ritz Theater, 345 13th Ave. NE, Minneapolis.

For further information e-mail: info@ethnicdancetheatre.com


---
Promoting Your Accordion Services Free at AWW

The Internet is changing the way your customers are searching for services. The days of lugging out a 12 lb. telephone book to find very limited and outdated business information are coming to an end. People are still letting their fingers do the walking, but they're doing it over a computer keyboard. Below are some revealing facts from the Kelsey Group.
74% of US households use the Internet as an information source when shopping.
Approximately 45% of searches had a buying intent.
The percentage of respondents who used yellow page directories decreased from 75% to 62%.
(If you have a printed yellow page ad, it is time to consider buying a smaller ad and shifting your marketing dollars to the Internet.) The off-line Yellow Pages see the writing on the wall and are scrambling to transfer their business model to the Internet.

Businesses can no longer ignore these facts. If you want to be successful, you must have a presence where your customers are searching. Being found on the Internet is vital to the future of your business.



The Accordion Yellow Pages offers free of charge listing for all accordion businesses, teachers and for every type of service for accordionists. On the Accordion Yellow Pages site, you do not need to have a website for accordionists find you and contact you.



The search-accordion.com site is also free of charge, being a listing service for every type of accordion service but you must have a website. Viewers of search-accordion.com can click to your website.



Very popular is the AccordionLinks.com site where those accordion service providers with a website, can attract accordionists free of charge to their website.

All it takes is a little effort, to make sure your information on these three popular and very effective accordion sites is up to date. Your future success may well be determined by your ability to effectively adapt to the Internet. Should it be your New Year's resolution for 2006?

---

---
US Delegation to the 59th Coupe Mondiale in Asker, Norway
The 59th CIA Coupe Mondiale World Accordion Championships in Asker, Norway has attracted several attendees from the United States who will be attending as Delegates and Contestants.



Participants include CIA President Kevin Friedrich (New York), Vice President of the Music Committee and ATG President Joan C. Sommers (Kansas City), AAA President Linda Reed (Fairfield, CT), Delegate Faithe Deffner (New York) who is also the 2007 60th Anniversary Coupe Mondiale Coordinator, CIA Guest Sylvia Prior (Los Angeles) as well as the two United States Contestants Sammy Thomas (AAA - International Competition for Piano Accordion and Junior Virtuoso Entertainment - pictured right) and Samantha Jarquio (ATG - Junior Coupe Mondiale - pictured below).



The first time the Coupe Mondiale has been held in Norway, this International Competition and 116th General Assembly of Delegates has attracted almost 100 contestants from 30 countries, as well as approximately 70 delegates and members of the International jury.

The festival will feature concerts, competitions and special events for the attendees, as the Norwegian Accordion Association (Norske Trekkspilleres Landsforbund - NTL), hosts the Coupe Mondiale for the first time while celebrating its own 35th anniversary.

Readers who are interested in the event, can follow along online by visiting www.coupemondiale.org during the event which will take place from October 18-22, 2006.

Meanwhile, we wish our US contestants Sammy Thomas and Samantha Jarquio all the best in their preparations and a most successful competition in their respective categories.

---
Mary Tokarski Releases New Solo CD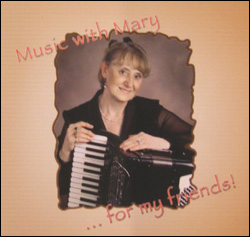 Accordionist Mary Tokarski has just released her first Solo CD entitled"Music With Mary... For My Friends!"

The CD is $17.00 (full details are available on Mary's website) which includes shipping and handling. Please make your check or money order payable to Mary Tokarski, and send to the address listed below. Be sure to include your mailing address, phone number and e-mail address for return shipping purposes.

Mary Tokarski
15 Maplewood Lane
Northford, CT 06472
USA

Mary began her music career at 7 with Michael Fernino of Ansonia, Connecticut, and performed and competed at local, state and national events throughout early adulthood . . . amassing over 185 trophies and awards, including two US Championship Titles, a 3rd place in the 1973 Confederation Internationale des Accordeonistes (CIA) Coupe Mondiale, and a 2nd place in that year's Coupe Mondiale Pop Category.

In 1983, Mary founded Tokarski Music Center, where she served as owner and Director of Music Education. Her students have also compiled an impressive list of awards in competition.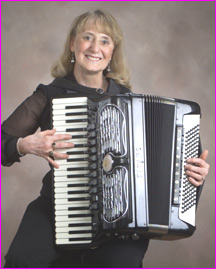 Mary's teaching started at an early age (before finishing high school) . . . and over the years has fine-tuned her teaching skills by taking all sorts of music and education courses, and studied Early Childhood Education through Kindermusik International at Princeton University and Boston University at Lowell. She is currently a music teacher in the North Haven Department of Education Early Childhood Development Program at Green Acres Elementary School, where she teaches music for the 3 and 4 year old programs. Her students have included many "special needs" children over the years, and she developed a successful Kindermusik program at Tokarski Music Center.

Holding memberships in the Music Teachers National Association, the Connecticut State Music Teachers Association, the New Haven Chapter of CSMTA, the North Haven Rotary Club, and the Arts Council of Greater New Haven, Mary is a Board of Directors member for the American Accordionists' Association (AAA) as well as the Accordionists and Teachers Guild, International (ATG).

A member of The "K" Trio, Mary performs in concert throughout the United States and internationally with her sister Julie and brother Walter. The trio performs a wide variety of musical genres, and has been acclaimed as one of the world's finest accordion ensembles.


Mary is a "regular" on the workshop circuit in the musical associations, and along with the members of The "K" Trio, she regularly presents workshops on Precision Ensemble Techniques, Technical Development and Virtuoso Performance Preparation.

Tracks on Mary's new CD include:

01. The Musical Party
with the Moravian Philharmonic - Petr Sumnik, Conductor Gary Daverne
02. Concerto in E, Rondo Pietro Deiro
03. Remembering A Legend: Charles Magnante William Schimmel
04. Gentilezza Mario Tacca
05. Pioneer Concerto Eugene Ettore
06. Dance of the Demon Holst/Desiderio
07. Three Songs Without Words - 1. Firelight Fantasies
with the New Zealand Symphony Orchestra - Kenneth Young, Conductor Gary Daverne
08. Three Songs Without Words - 2. The Awakening
with the New Zealand Symphony Orchestra - Kenneth Young, Conductor Gary Daverne
09. Three Songs Without Words - 3. The Journey
with the New Zealand Symphony Orchestra - Kenneth Young, Conductor Gary Daverne
10. Flat the Fifth Frank Mucedola
11. Concerto in E flat Major, Excerpts Liszt/Galla-Rini
12. Mexican Carnival Daniel Desiderio
13. The Fox and The Hound
with the Auckland Symphony Orchestra (New Zealand) - Gary Daverne, Conductor Frank Mucedola

For further information, please contact Mary at: Phone: (203) 484 5095 or e-mail: mary.tokarski@comcast.net

---
---
Note: In order to provide as much information as possible for the United States National Accordion News stories, many different sources are often researched to gather additional information and pictures to complement what has been submitted. This information is then correlated to provide the news on www.accordionusa.com in the spirit of which it is intended, which is to provide a free news service to the Accordion Community, specifically in the United Sates. If you feel any copyright has been violated please advise www.accordionusa.com and the article will be removed immediately.