Classical Accordionist featured at the San Francisco Conservatory
Accordionist Leesa Dahl, a Master in Music - Piano Performance candidate performed the Hindemith work, Kammermusik #1 op. 24 as part of the San Francisco Conservatory of Music's 'New Music Ensemble' concerts in October.

The ensemble, conducted by Nicole Paiement, presented two concerts, and provided a great opportunity for all Bay Area Accordionists including the Bay Area Accordion Club and the Golden State Accordion Club to support the accordion.

Myron Floren's Birthday Party
Wurstfest in New Braunfels, Texas celebrates Myron Floren's birthday each year with a party on the first Sunday of Wurstfest. This year's party will be on Sunday November 5th at 11:30 A.M. in Das Grosse Zelt.

All accordionists are invited to come on stage to play "Happy B'day" for Myron and play a few tunes along with the Master.

For tickets, please call Wurstfest at 1-800-221-4369 and Happy Birthday Mryon!

Peter Soave performs Accordion Concerto by Carmine Coppola
This newly rediscovered work by ACADEMY AWARD Winning composer Carmine Coppola was performed by Peter Soave - accordion and the Emerald Sinfonietta conducted by Maestro Felix Resnick on Sunday, October 22, 2000 --7:00 p.m. at the Grosse Pointe War Memorial Hall.

The season opening concert was followed by a CD Release Party at the Ambleside Art Gallery. The name of this new recording is "Homegrown: A Salute to 20th Century American Composers!"

This concert and recording (made September 18, 2000) represent a major breakthrough for accordionists in the symphonic world. Coppola's Accordion Concerto was written in 1973 and basically fell by the way side until Maestro Resnick's and Soave's current project. Critics have already referred to this piece as: "Carmine Coppola's GIFT to the Accordion"

Immediately following the Grosse PoInte appearance, Soave embarked on a European concert tour which featured "3 concerts in 3 different countries in 3 consecutive days". Perhaps this was a first in the accordion world!
(1) October 26...Bucharest, Rumania w/The Rumanian Philharmonic performing the world premier of Aldemaro Romero's: Piazzollana - Concerto For Bandoneon.
(2) October 27...Nova Gorica, Slovenia with The Rucner String Quartet and
(3) October 28...Zagreb, Croatia w/The Rucner Quartet.

This tour concludes on November 3 in Italy at Villa Borromeo Senago (near Milan) in a star studded concert featuring The Roumanian Philharmonic with the famous Italian singer/actress MILVA and Soave. The program features symphonic works of Aldemaro Romero and Astor Piazzolla.

For information on recordings available by Peter Soave, please visit www.petersoave.com

San Francisco Concert features Baguette Quartette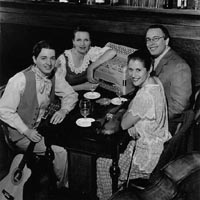 The Baguette Quartette is a San Francisco Bay Area group that plays music that was heard in Paris between 1920 and 1940 on street corners, in cafes, and in popular dance halls. Led by accordionist Odile Lavault, its repertoire consists of valses musettes, tangos, pasos dobles, fox trots, marches and realistic songs.

Odile Lavault played the accordion for many years in the cafes and restaurants of her native Paris. She mastered the traditional Parisian repertoire as well as Gypsy cabaret music. She traveled all over Europe with a variety of musicians, dancers and theater companies, before moving to Berkeley in 1992.

The Baguette Quartette will perform on the 17th November, 2000 at 8.00 P.M. at St ALBAN'S, 1501 Washington Ave, Albany (San Francisco Bay Area), CA.



The Baguette Quartette has recorded two CD's including L'air de Paris and Rendez-Vous.



For further information, please contact Odile Lavault e-mail: olavault@well.com. Admission price: $12.00 or visit http://www.well.com/user/baguette


The San Francisco Bay Area Accordion Club now meets on the first Wednesday of the month (except in Nov, because of its special concert with Stas Venglevski & Mike Alongi.

The San Francisco BAY AREA ACCORDION CLUB (BAAC) in celebration of its Tenth Anniversary and the tenth year since the declaration of the ACCORDION AS THE OFFICIAL INSTRUMENT OF SAN FRANCISCO ANNOUNCES A SPECIAL ANNIVERSARY CONCERT NOVEMBER 8TH AT 8:00 PM Stas Venglevski & Mike Alongi will play duets and solos in concert.

The BAY AREA ACCORDION CLUB is bringing together two of the country's finest artists and creating a phenomenal event by pairing two extraordinary exponents of the major traditions of the accordion. IT'S AN EVENING OF EAST MEETS WEST for some of the finest music you'll ever hear.

Stas Venglevski, a Moscow trained artist, from Moldava of the former Soviet Union (now living in Milwaukee) will play his Russian style accordion, the BAYAN, and display talent formed by the traditions of conservatories and Russian musical pedagogy. Mike Alongi, USA trained, playing the familiar piano accordion (which was practically invented in San Francisco) and one of the country's greatest players of the instrument, as well as a superb exponent of American Jazz will join STAS.

They will combine in duets, playing traditional and original music so well it will seem like a single artist with four hands. This will be one of the greatest concerts you'll ever hear, as well as a wonderful commemorative event.

The public is invited and seating is limited. All tickets are sold at the door on a first come, first serve basis. Tickets for BAAC Members are $5.00, $1000 for Non-Members. The event will be held at Patio Espaņol 2850 Alemany Blvd., San Francisco.

For information contact: LOU SOPER, President (510) 792-765 www.BAACcordionclub.org.

Why not advertise your web site on accordionusa.com?
Reasonable monthly rates available!
remember... a banner here... can take you there!
The Art of Bayan Playing - Friedrich Lips
The long-awaited English translation of the legendary book Die Kunst des Bajanspiels by Friedrich Lips -- world-famous Russian virtuoso and professor at the Gnesin Music Academy in Moscow, is now available.

212 pages, more than 100 sketches, musical notations, in an easy-to-read 6.5" x 9.5" format, this volume on Playing the Accordion Artistically is considered the Bible for classical accordionists as well as those who wish to improve their musical comprehension and proficiency. Hailed by educators as a fine educational tool for all grades. The original German version which first appeared in 1990, was considered a milestone in the history of music literature for accordionists. The publisher refers to the volume as "a Bible for classical accordionists as well as all others who wish to improve their musical comprehension and proficiency."

The contents deal with every aspect of accordion playing, including: Creating Tone (Bellow-Finger Coordination, Keystrokes, Bellows Techniques, Vibrato, Articulation, Registers and Combinations); Playing Technique; Interpreting a Musical Composition; Particulars of Concert Activities; and a wide variety of references, musical examples, a biographical register, etc. The editor notes that " the word bayan, which originates in the Russian language, can be used as a synonym for the word accordion."

Introductory price is $23.95 postpaid in US (plus $5 outside US). Visa, Mastercard and American Express are accepted.

ERNEST DEFFNER PUBLICATIONS
P.O.Box 608 Mineola, NY 11501
Tel 516/746-3100 Fax 516/746-7085a

Peter Soave, Dino Valle and Nik Fehr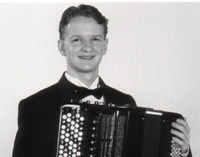 Peter Soave: Accordion (Bayan,Bandoneon) Dino Valle: Verdian Baritone and Nik Fehr (pictured right): Accordion (Bayan,Bandoneon) Baritone Portland, OR. will perform on January 5, 2001 at 7:30pm at the Portland Mennonite Church, 1312 SE 35th Avenue. Tickets are $10.00 and are available at the door or by mail payable to: MFGS 1645 SE 87th Avenue Portland, OR USA 97216-1807.

One of the best "accordion" musicians in the world (Bayan, Bandoneon) will perform along with his good friend and operatic singer, Dino Valle, and his student, Nik Fehr, (Bayan, Bandoneon, Baritone) in Portland on Friday, January 5, 2001. The concert will include a variety of classical and contemporary solos and duets. The three performers reside in Detroit, MI where Valle manages the Catholic Radio Station, is under contract with Plymouth Symphony, and manages the Verdian Opera Society.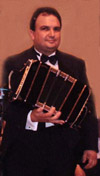 Soave plays with the Detroit Symphony and other Symphonies around the world focusing on the Tango music of Astor Piazzola on the Argentine instrument, Bandoneon.

Fehr is a student in residence with Soave and a full scholarship recipient of the music department of Wayne State University, Detroit for the study of Bayan. For information on recordings by Valle go to www.dino-valle.com. For information on recordings by Soave go to www.petersoave.com.

For more information e-mail MFGS at mfehr@juno.com or call (503) 939-5546

'Operation Tango' presents concert in St. Louis.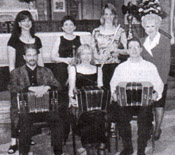 Directed by Jeffrey Collins, the St. Louis based group presented a concert featureing Astor Piazzolla's compositions at Christ Church cathedral in St. Louis. Following in the footsteps of Piazzolla's own New Tango Quintet, Operation Tango continues the tango 'craze' set in motion decades ago by Piazzolla himself. truly multicultural, new tango synthesizes components of jazz, classical, and folk music into a single musical art form that transcends the limitations of contemporary music. In a day where most contemporary music is written 'by composers for compress,' tango's simplicity and poignancy appeals to the deepest heartfelt human emotions.

The quintet consisted of cello, violin, bass, bandoneon and piano. Guest artist, Ricardo Melo, from Bage, Brazil performed some of his original compositions with the group. Mr. Melo is currently attending Southern IL University - Edwardsville pursuing a second major in Composition, his first degree being in conducting. As a Bandoneonist in Brazil, he studied with Edgardo Pedroze (Uruguay) who was a very famous performer in the 'golden ages of the tango'. He also studied with Tulio Vivanco and Rene Marino Rivero, the later having had a career as a concert player and composer in Europe.


2001 ATG Festival in San Antonio offers "TWO" International Competitions
Next years ATG Annual Festival will be just as informative, interesting and entertaining as our last one. There will be competitions for all interested in that area of the accordion, again whether for beginners, young or old, or for young professionals. There will be exhibits to whet imaginations, and workshops to educate and encourage future improvement. And, yes, there will be ACCORDION MUSIC! Lots of it! The ATG has always featured some of the most outstanding, world-renowned soloists and groups at its annual festival. We welcome all types of accordions, button or keyboard.

The massed accordion orchestra rehearsals and performances have grown every year in popularity. This year there will again be guest conductors of the highest caliber who will introduce music to inspire and excite both players and audiences alike.

Last year's VIRTUOSO ENTERTAINMENT COMPETITION offering $1750.00 in prize money was truly stimulating and thrilling to everyone. This will once again be offered in July of 2001. And, because the need for such a competition in the USA exists for the player of classical repertoire and because the ATG wishes to honor the accomplishments of Anthony Galla-Rini, one of its founders, there will be a second competition: THE ANTHONY GALLA-RINI INTERNATIONAL COMPETITION FOR CLASSICAL ACCORDION. This competition will also offer prize money totaling $1750.00 to the winners.

The ATG is offering both these events as a testimony of its faith in the future of the accordion and to continue its encouragement of young people to play the accordion!

For further information please visit the Accordionists and Teachers Guild, International on-line at www.accordions.com/atg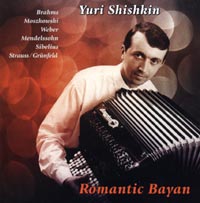 Musica Russica is a terrific on-line resource for CD's and cassettes from Russia, Ukraine and the Balkans which now boasts approximately 300 titles.

One of those recordings is the CD from Yuri Shishkin entitled: Romantic Bayan. Yuri performs transcriptions of popular works by Brahms, Moszkowski, Weber, Mendelssohn, Sibelius and Strauss.

From Azov, Russia, Yuri is a graduate of the Gnesin Academy of Music in Moscow and is a student of Professor V. Semionov.

Yuri's performance is distinguished by deep revealing images, prominence and even spectacular personification of music expressing it with brilliant skills. His artistic image is added to his passion for music and his enthusiasm, while elaborating new techniques of sound. By exploiting added technical possibilities available on the button accordion, he has created a very special artistic charm.

This outstanding CD can be purchased on-line at www.musicarussica.com or by calling toll free 800/326-3132.

Accordions of the Month

At the recent Coupe Mondiale in Kragoujevac, Yugoslavia, the French candidates dazzled the audience, not only with their outstanding performances, but also with their bright instruments which spanned almost every color of the rainbow. Pictured here are just three of the popular range known as "Fun Flash".

Just for fun...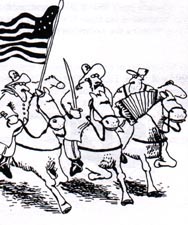 "You heard me, Simmons!... You get that cursed bugle fixed!"

We invite you to submit your
News, Concert, Club Listing, CD or Article!
---
www.accordionusa.com
is a free service to the accordion community made possible by the kind sponsorship of our advertisers such as:
---
and the generous support by
'Accordions Worldwide' found at: www.accordions.com