---
US Delegation Celebrates CIA's 70th Anniversary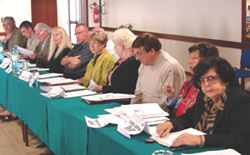 Several US Delegates were present at the recent Confédération Internationale des Accordéonistes (CIA) 58th Coupe Mondiale held in Castelo Branco, Portugal. Representing the American Accordionists Association were three delegates including two Executive Committee Members Maddalena Belfiore and Dr. Carmelo Pino and past President Faithe Deffner. Representing the Accordionists and Teachers Guild, International were President Joan C. Sommers and Board Member Karen Fremar. Maddalena Belfiore, Joan Sommers and Karen Fremar were also members of the CIA International Jury. (Pictured above at the General Assembly meeting from right to left are Faithe Deffner, Maddalena Belfiore, Dr. Carmelo Pino, Joan Sommers and Karen Fremar, and below Karen Fremar and Maddalena Belfiore.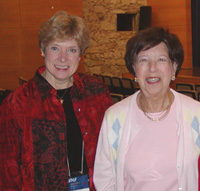 Since the first competition in 1938, the CIA Coupe Mondiale has established itself as one of the most important accordion events in the world, this year marked the first time this international event was held in Portugal. The event was hosted by the CIA member, the Conservatorio Regional de Castelo Branco, Portugal.

This year was particularly exciting as the CIA celebrated the 70th Anniversary of the CIA. Founding members from France, Germany and Switzerland gathered in 1935 with the aim of working together to elevate the status of the accordion, and today they are joined by 27 other members working to promote accordion excellence around the world.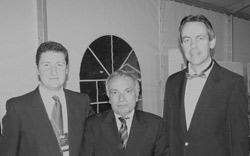 Among the delegation representing the USA, each has had an affiliation with the CIA for many years. CIA President Kevin Friedrich, a New Zealand citizen living in the United States for many years competed in the Coupe Mondiale in 1979, 80 and 81, and after serving as a member of the Music Committee and Vice President for several years, was just reelected CIA President for the 2005-2009 term of office. Pictured are 2005 Coupe Mondiale organizer Carlos Semedo, the President of the Local Council Mr. Joquin Morão and CIA President Kevin Friedrich.

It was 50 years ago that Joan Sommers took the stage at the Coupe Mondiale as the first contestant for the Accordionists and Teachers Guild, International (ATG) from the United States. Today she serves as the Vice Chairperson of the Music Committee, a committee of which she has also served as Chairperson.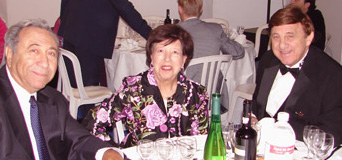 AAA Delegate Maddalena Belfiore (pictured with husband Mauro (left) and Dr. Carmelo Pino right at the 70th Anniversary Banquet) served as a CIA Vice President for 16 years while Faithe Deffner has attended CIA General Assemblies for more than 30 years.

Dr. Carmelo Pino composed the 1969 Coupe Mondiale Test 'Piece Suite for Accordion' and Karen Fremar composed the 1981 Test Piece - Reflections. Karen also won the 1974 Coupe Mondiale Virtuoso Entertainment Category in Stockholm, Sweden.

Over the years, the United States has had several Coupe Mondiale Winners including:

1956 - Bienne, SWITZERLAND - John LA PADULA, USA (Coupe Mondiale)
1957 - Saarbrucken, GERMANY - Ronald SWEETZ, USA (Coupe Mondiale)
1961 - Pallanza, ITALY - Donald HULME, USA (Coupe Mondiale)
1963 - Baden Baden, GERMANY - Leonard LANGLEY, USA (Coupe Mondiale)
1964 - Toronto, CANADA - Stephen DOMINKO, USA (Coupe Mondiale)
1965 - Valetta, MALTA - Beverly ROBERTS, USA (Coupe Mondiale)
1970 - Salzburg, AUSTRIA - Diane SCHMIDT, USA (Coupe Mondiale)
1972 - Caracas, VENEZEULA - John TORCELLO, USA (Coupe Mondiale)
1974 - Stockholm, SWEDEN - Karen FREMAR, USA (Virtuoso Entertainment)
1984 - Folkstone, UNITED KINGDOM - Peter SOAVE, USA (Coupe Mondiale)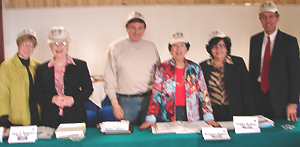 The five day festival opened with the 114th General Assembly of Delegates followed by a Gala Banquet where many former CIA Dignitaries and Champions, including those from the USA were recognized. The Opening ceremony concert featured an accordion and piano duo comprising Gonçalo Pescada and Natália Ryabova,, 2004 CIA Coupe Mondiale Champion Alexander Selivanov from Russia, and 2002 CIA Virtuoso Entertainment Champion from Portugal João Frade and his Trio. Pictured above are the US Delegation sporting caps advertising the joint AAA and ATG sponsored Coupe Mondiale to be held in Washington DC in August of 2007. Left to right: Karen Fremar, Joan C. Sommers, Dr. Carmelo Pino, Maddalena Belfiore, Faithe Deffner and Kevin Friedrich.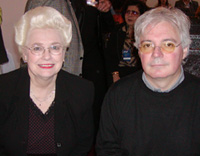 As part of the Coupe Mondiale, competitors were required to perform the new work by Portuguese composer Carlos Marecos 'O Medo Do Ritmo'. Mr. Marecos served as one of the jury members for this section of the competition and was impressed with the standard of performances. Pictured are Joan Sommers , Vice Chairperson of the CIA Music Committee with Mr. Marecos).
At the Awards Ceremony in addition to the candidates receiving their diplomas, prize money and trophies for each category, members of the International Jury, International Delegates and Guests were awarded diplomas signifying participation 2005 Coupe Mondiale. In addition, recent recipients of the CIA Merit Award Ulrich Schulling from Intermusik, Zoran Rackic from Serbia and Montenegro and Peter Anders of Denmark.
Three additional prizes were offered including two concert tours. One to New Zealand and Australia offered by the New Zealand Accordion Association, a tour to Slovakia, Hungary and the Czech Republic offered by the Methodical Centre of Accordion "Marta Szokeová" (MCA) and the production of a CD recording offered by Intermusik. The recipient of all three prizes was winner of the International Competition for Piano Accordion Alexander Shirunov.
The Closing concert featured each of the winners from the Coupe Mondiale as well as the 2005 Honorary Vice President performing his own composition Improvisata with the String Orchestra 'Esart Ensemble', directed by Cesario Costa, and the popular group Lusotango.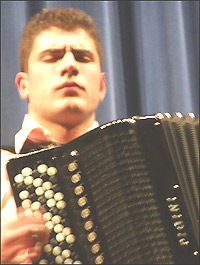 The winner of the 2005 Coupe Mondiale was Rade Miljatovic from Serbia and Montenegro. A student of Miljan BJELETIC, Rade has also won the Junior Coupe Mondiale.
The excellent cooperation and gracious hospitality of the Local Council President - Mr. Joquin Morão, CIA Honorary Vice President and Artistic Council - Mr. Paulo Jorge Ferreira and 2005 Coupe Mondiale Organizer, made the 70th Anniversary a truly memorable event.
Coupe Mondiale
1st - Rade MIJATOVIC, Serbia and Montenegro
2nd - Rinat VALIEV, Russia
3rd - Danil STADNYUK, Russia
Junior coupe Mondiale
1st - Dimitri BOUCHLIER, France
2nd - Marko MILETIC, Serbia and Montenegro
3rd - Milovan CIKIC, Serbia and Montenegro
Virtuoso Entertainment
1st - Guy GUILIANO, France
2nd - Alexander SHIRUNOV, Russia
3rd - Mickael VIGNEAU, France
Junior Virtuoso Entertainment
1st = Julian GONZALES, France
1st = Antonio MANCINI, Italy
3rd - Simon GACHET-MAUROZ, France
International Competition for Piano Accordions
1st - Alexander SHIRUNOV, Russia
2nd - Ivica DJOKIC , Serbia & Montenegro
3rd - Anastasiya SHKINDZERAVA, Belarus
International Competition for Chamber Music
1st - CAPRICE, Russia
The 59th Coupe Mondiale will be held in Asker, (Oslo) Norway from October 18-22, 2006. Contestants from the United States interested in representing the United States in any of the six categories at the 59th Coupe Mondiale in Norway, should contact either the American Accordionists Association or the Accordionists and Teachers Guild, International.

For a full list of results and daily reports from the 2005 Coupe Mondiale, please visit www.coupemondiale.org.


---
Mary Tokarski to Perform and Lecture in New Zealand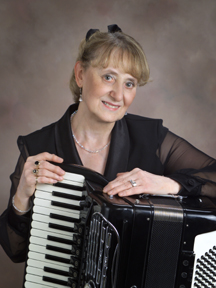 On the 20th and 27th of November, 2005, accordionist Mary Kasprzyk Tokarski will be the featured soloist in Auckland, New Zealand for a concert of works from Prokofiev to Lord of the Rings, and original works by New Zealand composer Gary Daverne.

Performing with the Auckland Symphony Orchestra in the Auckland Town Hall and the Bruce Mason Centre in Takapuna, Mary will perform the "Rhapsody for Accordion and Orchestra" by Gary Daverne and "The Fox and The Hound" by American composer Frank Mucedola of Auburn, New York.
Just returning from a trip to the Czech Republic, Mary performed two concerts with the Moravian Philharmonic Orchestra at the Olomouc City Concert Hall in Olomouc, Czech Republic. During her visit in Olomouc, Mary also recorded a composition by Gary Daverne entitled "A Musical Party" with the Moravian Philharmonic Orchestra.
Mary's early-life musical training with Michael Fernino of Ansonia, Connecticut, developed into a lifelong love and study of music. When her sister Julie began lessons, Mary was offered the opportunity to begin as well, however decided against it. After Julie would repeatedly come home with an ice cream cone for a good lesson, Mary reconsidered her position on musical study and decided to begin the accordion as well.
Performances were numerous, and competitions were a regular part of growing up. By the time she reached early adulthood, Mary stacked up over 175 trophies and awards for State, Regional and National competitions.
Mary went on to represent the United States in the Coupe Mondiale (World Accordion Championship) sponsored by the Confederation Internationale Des Accordeonistes in Belgium (1971) and in France (1973).
Today, Mary spends much time performing with her brother and sister in The "K" Trio (Mary Kasprzyk Tokarski, Julie Kasprzyk Cardona and Walter Kasprzyk) which perform around the world. In addition to her performances with the Auckland Symphony Orchestra, Mary will be presenting a Master Class on Sunday 13th November at Sunnybrae Primary School, Room 1 from 4:30 PM to 6.30 PM.


---
Peter Soave in Concert at Schoolcraft College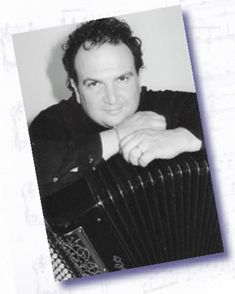 Accordionist Peter Soave will perform the evocative nuevo tango music of Astor Piazzolla on Wednesday, November 9 at Noon in the Presentation Room, VisTaTech Center at the Schoolcraft College.

Peter Soave, accordion and bandoneon virtuoso, will perform in solo, duo and trio settings with fellow accordion artists Madeleine Soave and Julien Labro. Soave is an adjunct associate professor at Wayne State University of bandoneon, the characteristic tango accordion, and bayan, the Russian chromatic button accordion for classical music. He tours extensively in Europe and the United States,and recently released a recording of Piazzolla's Five Tango Sensations with the Ruener String Quartet of Zagreb.

Soave has performed with Neeme Jarvi and the Detroit Symphony Orchestra, as well as orchestras in Phoenix, Napa Valley and Grand Rapids, and the Minneapolis, Indianapolis and Ohio chamber orchestras. He received the Detroit Music Award for best classical recording in 2001 and for the best classical instrumentalist in 2003.

All recitals are free, open to the public and last approximately one hour. For more information, please call the Schoolcraft Music Office: 734-462-4403.


---
Florida Accordion Association Annual Smash
This year's Florida Accordion Association annual event on November 11-13 is is planned to be a grand affair.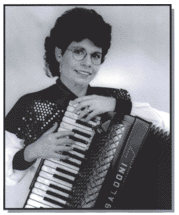 The guest lineup includes Frank Marocco - The Jazz Legend; Tony Lovello - Liberace of the Accordion; Betty Jo Simon (right)(yes, that's right .. former student of Joan Cochran Sommers); Denis Novato - International Button-box Champion coming from Italy; Lenny Feldmann - NJ Virtuoso Champion; Maestro Nick Ballarini - Dallas, TX; Walt "K" of the "K" Trio; Super Dick Albreski - OK City, OK; The Accordion Trolls - coming from Norway; Maricarmen Vazquez; Carmen Vitanza; Jerry Tramontozzi, Vince Aleandri; Alex Chudolij, and MORE!

The famous Friday night "Cafe Accordeon", in the lounge is open to anyone wishing to play from 4:30 PM onwards. Free appetizers and cash bar available. Accordion dealer displays are open, and accordion greats are in attendance. Come & meet these legends! There is a short accordion orchestra rehearsal for those that sign up to participate.

Saturday - 3 dealer displays open: John Gaunt, Accordions & Keyboards, Clearwater, FL; Alex Chudolij, Music Magic Accordions of Clifton, NJ; Nick Ballarini, with a Ballarini & Petosa display. Registration opens at 8:30 am, and the day includes lunch & dinner (with accordion entertainment ... of course!). This day is loaded with professional performances, and Frank Marocco will be holding a workshop. Festival accordion band performance conducted by Linda Soley Reed, President of the American Accordionists' Association (we're performing a Tribute to Myron Floren).
Sunday - optional breakfast, concert provided by none other than Jerry Tramontozzi, of Arlington, MA! Great time to kick back & relax, enjoy your fellow accordionists, and enjoy Jerry!
For Hotel reservations: contact Holiday Inn Select, 12125 High Tech Avenue, Orlando, FL (UCF area). 407-275-9000. Mention Florida Accordion Association for discounted room rates of $75.00 per night (plus tax). RSVP to hotel by 10/27 for this rate.
A good time will be had by all! Reservations to Florida Accordion Association for the event must also be received by Thursday, 10/27/05. Online registration at http://www.accordions.com/florida, simply click on the link to "register online".

Any questions, please contact: Karen Adam, Florida Accordion Association, 2244 Musket Drive, Navarre, FL 32566. Phone: (850) 936-8722 (CST).


Vladimir Sidorov Concert and CD, Montreal - Canada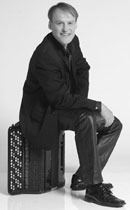 Russian accordionist Vladimir Sidorov now resident in Canada, is to perform a concert with percussionist Marie-Josée Simard at Piano Nobile, Salle Wilfrid-Pelletier, Place Des Arts, Montreal on November 27th, at 11.00 AM.

Vladimir Sidorov was born in Volgograd, Russia in 1970. The concert bayanist graduated first in his class with a Master's Degree in Music from the Astrakhan State Conservatory (Russia), in 1994. He was one of only three music students graduating that year, to be granted the designation of "concert performer". As a young student of music, Vladimir competed in and won top prizes at local and regional bayan competitions. He is a 1993 laureate of a Bayan Competition organized by all of the Russian Conservatories and held in Astrakhan. He gained international exposure when he was invited to give recitals in Hungary, Croatia and the Federal Republic of Yugoslavia, in 1997.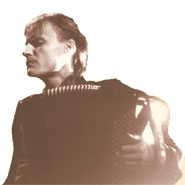 Vladimir Sidorov's repertoire ranges from classical to contemporary and includes his personal interpretations. Many of the works he plays are his own transcriptions written for the bayan. In addition to performing solo, Vladimir has played with various ensembles in Russia and Canada. His goal is to promote the Russian school of bayan in the West and to demonstrate the vast potential of the bayan as a serious concert instrument. Photo: Chantale Riopel

Vladimir Sidorov is now preparing to record his second CD, due to be released March 2006. The program includes music by A. Liadov, J. Williams, A. Piazzolla, V. Monti, F. Chopin, J. Rodrigo, V. Gridin and V. Sidorov.


---
Will Holshouser Trio in New York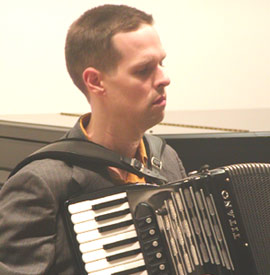 Jazz Accordionist Will Holshouser will perform with his Trio in two performances including November 17th at Kavehaz and November 29th at Cornelia Street Cafe. The Trio includes Will Holshouser, accordion, Ron Horton, trumpet and David Phillips, bass.
Kavehaz, Thursday, November 17th
6 PM - 9 PM, 2 sets, no cover, $10 food or drink minimum
37 West 26th St., NYC
www.kavehaz.com
212-343-0612
Cornelia Street Cafe, Tuesday, November 29th
8:30 - 11 PM, 2 sets, $6 cover
29 Cornelia Street, NYC
www.corneliastreetcafe.com
212-989-9319
Recent news reports include:
"Accordionist Will Holshouser is the secret weapon in several of the scene's most inventive and engaging bands."
- Time Out New York
"Will Holshouser plays as much accordion as there is to be played."
- David Wondrich, Village Voice
"The accordion straddles both the New World and old . . . as jazz once did, to create a new music out of traditional folk music. Will Holshouser injects the (new) New York experience of postmodern music and composition with the tug-and-pull of ethnic music. Holshouser projects fun cartoon music for adventuresome kids of adult status."
- allaboutjazz.com
"[Holshouser] successfully showcased the range and beauty of the accordion. His compositions are intriguing, with wayward harmonies and soft-spoken melodies that make the accordion's thin, reedy treble range sound sweet. This could be music for some fantastical Fellini film."
- Anthony Tommasini, New York Times
"Accordionist Will Holshouser makes a convincing bid for recognition on Reed Song ...enduring compositions ...dynamic interplay ... the compositional and instrumental diversity makes for a remarkably broad palette."
- Jay Collins, Signal to Noise
His CD "Reed Song" (on Clean Feed) is available at www.cadencebuilding.com


---
Florida Camp Features Frank Marocco and Nick Ballarini
The Frank Marocco/Ballarini Accordion Camp will take place from 13-17 November 2005 at the Blue Spring State Park, Florida.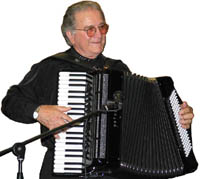 Featuring four days of Accordion, this is a great opportunity to learn from and hear one of the one of the greatest performers, composer and teachers that the accordion world has ever had, Frank Marocco. There will be group and individual lessons, workshops, jam sessions and performances. It is approximately 30 miles north of the Accordion Smash Hotel (Orlando).

One Price Includes:
Lodging Sunday Afternoon through Wednesday (Thursday checkout)
Participants Concerts
Solo performance Daily
Band Concert Daily
Study Groups/Bands of 4 -6 Persons
Private (One On One) Lesson With Frank
Workshops
Jam Sessions
Music will be sent to registrants prior commencement
Beautiful Learning Environment
Good Food & Drink
Accordion Camp Location and Charges:

There will only cabins and lodging for 21 people at the state park with back-up accommodations for 60 additional people at Comfort Inn. Cost $425.00, Sunday through Wednesday, Thursday checkout. The rate for those that do not want food and lodging is: $75.00 per day or private one hour lessons $50.00.

For Reservations Send $425.00 to: Marocco/Ballarini Accordion Camp
c/o Nick Ballarini
3964 Calculus Drive
Dallas, TX, 75244
Phone: 972 247 0071

Blue Spring State Park is located approximately 30 miles north of Orlando Smash Hotel. Each cabin has central air/heat, fireplace, two bedrooms, bathroom, fully equipped kitchen (stove and refrigerator), screened in porch, an outdoor grill and picnic table. Linens, pillows, blankets, towels and cooking and eating utensils are provided (linen is not furnished on a daily basis). One bedroom has a double-bed and a set of bunk beds, the other bedroom has a double-bed. Six(6) people is the maximum per cabin.
Blue Spring offers swimming and scuba-diving in a crystal clear, 72 degree spring run. Scuba-divers must register at the entrance station between the hours of 8 AM. and 3 PM, with an up-to-date certification card and a partner. Swimming or diving with the manatees is NOT permitted. The same pristine beauty enjoyed by Florida's earliest residents still can be seen today. A self-guided boardwalk guides visitors through a lush hammock to Blue Spring. From the accessible fishing pier, anglers will find an abundance of bluegills and blue cats, in addition to largemouth bass, shellcrackers and speckled perch. A Florida freshwater fishing license is required for persons age 16 years and older. A concession stand offers snacks, camping supplies and limited groceries. Canoe rentals are available.

Park Contact:
Blue Spring State Park
2100 West French Avenue
Orange City, Florida 32763
386-775-3663


---
Former Canadian Champion Releases CD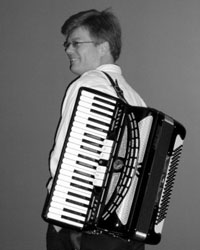 Two-time Canadian accordion champion Mark Roberts, who was twice a fourth place winner in the CIA Coupe Mondiale has recently released a new CD.

Residing in St. Catharines, Ontario, Canada, Mark began his musical studies with Boris Borgstrom at age six. Progressing quickly, he placed second in the Junior World Accordion Championship at age twelve and also traveled to Copenhagen, Denmark, to give a classical concert at the Royal Danish Conservatory of Music.

The following year, he placed second at the Open Canadian Accordion Competition, allowing him the distinction of becoming the youngest performer to ever compete in the World Accordion Championships (Coupe Mondiale), held that year in Helsinki, Finland. Winning the Canadian title the next two years, he again represented Canada in both Washington DC and the Netherlands, placing fourth each time.

Though he has studied to be a physician, music has never been far from heart or mind. He has resumed performing an eclectic repertoire, while pursuing a new passion for songwriting.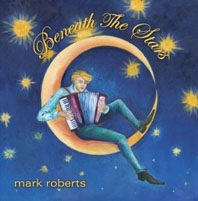 His CD of original music has garnered very positive comments on its freshness, musical colorings, use of instrumentation, and memorable melodies. The tracks are a changing kaleidoscope of styles, from polka, waltz, tango, schottische, march and novelty.
The CD is $15.99 CAN plus shipping, and can be purchased easily, on a secure site, at www.bigwhitedogmusic.com. You can also contact Mark directly at: mvroberts@sympatico.ca


---
Crossing Over: Accordion Jazzy & Ultra-Modern
The American Accordionists Association presents: Crossing Over: Accordion Jazzy and Ultramodern, Robert Young McMahan, Producer and Moderator FRIDAY, DECEMBER 9th at 7:30 p.m.

Third in a Series of Concerts Featuring Original Concert Music for or Including the accordion the concert will be held at the Elebash Recital Hall, Graduate Center of the City University of New York, 365 Fifth Avenue, New York, NY opposite the Empire State Building.

Our program will really swing this season with the jazzy rhythms and styles of Elie Siegmeister's Improvisation, Ballade, and Dance, Henry Brant's Sky Forest, a jazz fugue for accordion quartet, William Schimmel's Civil War Tangos, for accordion, dancer, and interactive video, and Gary William Friedman's colorful "crossover" piece Accordion Samba, for accordion, scat singer, cello, and bassoon. These will be complimented by Sofia Gubaidulina's Silenzio, for violin, cello, and accordion, Robert Young McMahan's Symbiosis, for Guitar and Accordion, and other such modernist works. Entertaining solo concert compositions by pioneering accordionist Pietro Deiro will round off the program.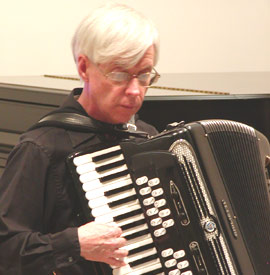 Returning to our stage will be accordionists Beverly Roberts Curnow, Rita Davidson, Robert Young McMahan (right), and William Schimmel, cellist Madeleine Shapiro, and violinist Airi Yoshioka. New artists in the series will include accordionist Lenny Feldmann, bassoonist Valerie Trollinger, vocalist Glen Turner, dancer/choreographer Micki Goodman and Pavel Vasilev, winner of the AAA's 2005 Carrozza Scholarship Competition who will perform Rondo by Otto Luening.

As has been the custom in the past, there will be a panel discussion before the concert in which composers present whose works are on the program will discuss their music and answer questions from the audience. This season's panel will consist of Gary William Friedman, Robert Young McMahan (moderator), and William Schimmel.

Why not brighten the final days of autumn by attending this truly unique evening.

The tickets are $20.00 per person. To reserve your place, please contact:

AAA EXECUTIVE OFFICE
580 KEARNY AVENUE
KEARNY, NJ 07032
(201) 991-2233
FAX: (201) 991-1944
e-mail: aaa1938@aol.com


---
Accordionist Jeff Lisenby in "Ring of Fire"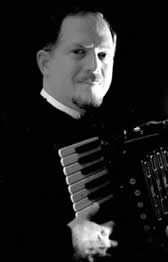 In a musical review highlighting the songs of legendary Johnny Cash, accordionist Jeff Lisenby takes the spotlight as musical director and soloist. The 14-member cast of "Ring of Fire" includes an eight-piece orchestra. The musicians are all performers in their own right and they weave in and out of the action as much as the soloists do, providing a constant source of on-stage variety.
The show recently opened in Buffalo amid rave reviews in "The Buffalo News" and "Toronto Star," as well as "Variety Magazine." The Buffalo paper said the production "captures the spark and charisma of Johnny Cash in a musical that's sure to wow them all the way to Broadway." At the same time, "Walk the Line," a film about Cash, was grabbing headlines for its gala opening just over the border at the Toronto International Film Festival.
Reviewer Richard Huntington asks, "Can a show be all highlights?" He answers with "It seems to happen here. Beth Malone's 'I Still Miss Someone' is exquisite. She joins Jarrod Emick for one of the best versions I've heard of 'If I Were a Carpenter,' including Cash and June Carter Cash's take. Jeb Brown sounds a little more like Willie Nelson in his marvelously soulful rendering of Kris Kristofferson's 'Sunday Morning, Coming Down' and later, in a couple of more expansive tunes, shows a little Harry Chapin-like eagerness.
"Lari White is compelling in 'All Over Again' and in her duets with Jeb Brown in Act II. The men of the company do 'I've Been Everywhere' at dazzling speed, and the whole company shines in 'Daddy Sang Bass,' with multitalented musician David M. Lutken …… coming out of the band to do Daddy's part. It goes on and on, one wonder after the other, each tied to the last by (director) Richard Maltby's sly theatrical alchemy.
"The musicians keep up this stellar standard set by the singers. Jeff Lisenby, besides playing keyboards and several accordion solos, conducts this group of inspired players" as their music director.
"Ring of Fire" is scheduled to open on Broadway later this season (April, 2006), after a further tryout in San Francisco, but reviewers stated that the Buffalo show is already slick and entertaining enough to warrant theatergoers attention.

Jeff is one of those rare musical talents that can play multiple styles with such ease; and all of this on an accordion. As you listen to these styles below, it will take you back to certain memories that capture a moment in time…..the theme park when you were a kid, the Italian restaurant where you had your first date, the Mardi Gras trip that you wish you could forget. Whatever the style, we know that you will appreciate this awesome musician and the amazing diversity that he offers to Hummingbird Productions.
Jeff has twice been the national classical accordion champion and bronze medallist in international competitions. He has also been a keyboard player for: the Kansas City Chiefs' football games, USO European shows, Norwegian Cruise Lines, and has toured extensively with Boots Randolph and Brenda Lee, including tours all over the U.S. and the Orient.
Jeff has performed with the Kansas City, Los Angeles, and Nashville Symphonies, and for several of the touring Broadway shows at the Tennessee Performing Arts Center. He has also accompanied many singing artists in live shows, including: Luciano Pavarotti, Mel Torme, Blake Shelton, Roy Clark, Lee Greenwood, Tricia Yearwood, Jo Dee Messina, Dolly Parton, Three-Dog Night, Jamie O'Neil, the Mills Brothers, the Coasters, and David Cassidy.
Jeff currently serves as a faculty member of the School of Music at Belmont University in Nashville.


---
New Course for Accordionists

Ken Mahler, a 25 year instructor, musician, and accordion retailer announces his new release of Advanced Intermediate Course, the fifth release of the Accordion Classroom Series designed to help accordion enthusiasts develop "Confidence and Techniques".

To help accordionists master the basics at an intermediate level, The Accordion Classroom series, founded by a St. Paul music instruction and retail company devoted to helping Accordionists learn, improve and master the instrument, is offering this product in VHS and DVD formats.

This course clearly enables students and instructors to enhance the scope of supplemental
material available in the art of learning to play the accordion. Equivalent to one year of personalized training, Ken Mahler's unique style makes it easy to learn standard and specialized ornamentation, new key signatures, scales, chords, bass patterns and many other beneficial techniques.

For a copy of the Accordion Classroom, Advanced Intermediate Course or other great musical Products and accessories, order online at www.accordionheaven.com or call Mahler Music Center, 907 Randolph Avenue, St. Paul, MN 55102 at 651-224-6943.


---
Jay Landers to Perform in "The Baker's Wife"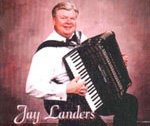 Jay Landers, currently of Springfield, Illinois, will perform the score for accordion in the pit orchestra of the Millikin University production of "The Baker's Wife", music and lyrics by Stephen Schwartz. His rehearsal schedule with the orchestra includes six sessions from October 31 to November 10. There will be three performances at the Kirkland Fine Arts Center, Decatur, IL, on Friday and Saturday, November 11 and 12, 7:30 PM and a matinee' on Sunday, November 13, 2:00 PM.

"The Baker's Wife", written in 1976, failed to reach Broadway, but remains Stephen Schwartz' most popular show for regional theatres. He has the distinction of being the first composer-lyricist to have three successful Broadway shows running simultaneously, "Godspell", "Pippin", and "The Magic Show". "The Baker's Wife" is adapted from the 1940 Marcel Pagnol film.

Tunes from the music include "Chanson", "If It Wasn't For You", "Gifts of Love", "Proud Lady" and "Romance".

Jay Landers began playing the piano accordion in January, 1958. It's an avocation that has stayed with him for almost 48 years. Previously, he has performed the scores for accordion in "Fiddler On The Roof" and "Cabaret" in productions by Music Theatre of Louisville (KY), the Springfield Muni Opera and Springfield Theatre Center (IL). He produced his first CD in 2003, "Side By Side".

You can contact Jay Landers via the Internet at jllanders5214@msn.com


---
Bella Ciao Gets Grammy Nod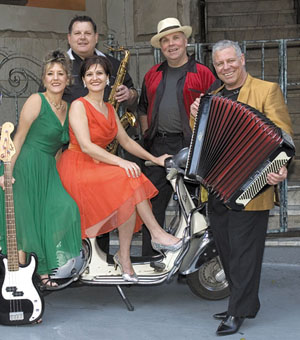 Accordionist Tom Torriglia who represents and performs with the San Francisco-based, six-piece band Bella Ciao, is pleased to announce that Bella Ciao's latest musically groundbreaking release, Legends of the Italian Lounge, is included on this year's Grammy Awards' nominating ballot in two very important categories.

The album itself, Legends of the Italian Lounge, is listed in the Pop Vocal Album category and the biggest hit from the CD, Blue Italian Skies has been listed in the Song of the Year category.

There are a lot of great CDs released this year, but, what really makes Legends of the Italian Lounge unique is that this is the first commercially released CD in over 40 years to contain original Italian-American music!

We all remember the hip Italian-American pop hits from the late '50s and early '60s like That's Amore, and Buona Sera; and with Legends of the Italian Lounge, Bella Ciao follows in that tradition with their own mambolicious assortment of Italian-American pop hits including the Pizza Guy, the Pasta song, Monica from Monaco and on and on. The CD is rounded out with some covers of classic Italian songs from the '50s.

Of course, we hope to get enough votes from Grammy voters to get to the final round and appear as final nominees for a Grammy, but this is still a big thrill and a great opportunity to reintroduce to America and the world great Italian and Italian-American music.

For more information about Bella Ciao and to hear snippets from or to order copies of Legends of the Italian Lounge, please visit us at www.ladyofspain.com/bellaciao.html.


---
William Schimmel Performs in New TV Film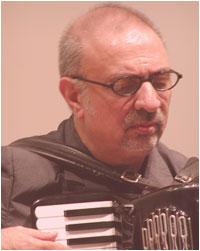 New York-based accordionist William Schimmel recently recorded a new soundtrack for the upcoming cable television film: 'Tango MacNorton'. It is produced by and will air on the Nickelodeon channel Schimmel comments: "'Tango MacNorton' is about a 12 year old lad who saves his lunchroom at his local middle school. He seems like a 'geeky' sort of lad with not too much going for him. But he's able to stop the culprits of the lunchroom staff from serving slop. He uses the only talent he possesses. He knows how to tango. He tangos the bad dudes out of the school (the tango becomes a kind of martial art) and saves LUNCH- PERIOD."

Wade Tonken composed an unusual, novel and creative tango dominated score and called on Schimmel for his expertise. He allowed Schimmel to use his creative skills as an improviser as well as interpreter - the accordion performing throughout the entire score. 'Tango MacNorton' is a short film, but it will be enjoyed my many people for a long time, especially those who possess unappreciated skills - and for those who know the difference between a good lunch and bad cafeteria slop.


---
Pauline Oliveros' Mixed Media Appearances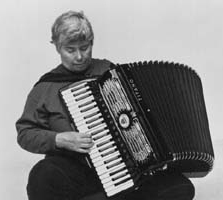 In a whirlwind of October activities, renowned composer-accordionist Pauline Oliveros is scheduled to perform in a variety of different musical settings.
The month commences with Pauline paired with Stuart Dempster, performing a "SEDIMENTAL JOURNEY! Via iCHAT. Oliveros' performance will come from Troy, New York, in the iEAR Studio at Rensselaer Polytechnic Institute; Stuart will perform in Seattle, at the DX Center of the University of Washington and the duo will appear on screen in the concert hall at Mills College in Oakland, California as part of Mills' Songline Series. This concert commemorates 50 years of musical friendship and collaboration between Pauline and Stuart. If the concert is not also streamed onto the Internet as well, audiences in Oakland, Troy and Seattle will attend it.
Pauline is scheduled to do solo concerts in the Long Arms Festival in memory of Nicolai Dmitriev in St. Petersburg and Moscow in Russia under the sponsorship of CEC ArtsLink, a New York-based nonprofit organization, with a grant from the Trust for Mutual Understanding, to bring 6 US musicians to Russia for this festival.
Later in the month, Oliveros will appear with trombonist David Dove in the Instal Festival in London, UK. Details are available from barry.esso@btopenworld.com

She will also perform Cross Overs with Ione, in a concert sponsored by Meet the Composer at the Mercantile Library in New York City.
Ms. Oliveros is a prestigious composer and educator, as well as an important figure in avante-garde music circles of international scope. Her work in mixed-media includes many highly acclaimed compositions. One that is outstanding is her "Trio for Accordion, Trumpet and String Bass."


---
Daily News Reports About Accordions
Lenore Skenazy who writes for a popular New York City newspaper which boasts more than 27 million readers, recently set her sights on righting the wrongs perpetrated by accordion detractors.

Her headline says, "Let's lay to rest accordion geekiness." She ends her amusing little article by telling us that "The accordion may look a little too shiny and sound a little too loud, but there is a reason so many cultures - and channel 21 (one of the city's PBS-TV stations) - keep it around. It always manages to squeeze the heart. If that's dorky, so is art."


---
Joseph Petric to Appear in New York City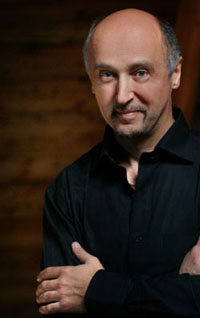 Concert accordionist Joseph Petric will appear in concert at the Aaron Silberman Concert Series at the Baruch College, Engelman Recital Hall located at One Bernard Baruch Way, (25th Street between Lexington and Third Ave).

Mr. Petric who was quoted by the Chicago Tribune as "A glittering exhibit, Petric is more than a virtuoso..." will present music by Bentzon, Hatzis, May and Soler. The concert will take place Monday, November 7, 2005 at 1:00 PM and is free to the public.

Joseph Petric's musicianship and emotional depth of his performances and recordings have invited a reappraisal of the concert accordion. Critics describe his solo performances as "magical, astonishing ... ferocious virtuosity and understated mastery ... a revelation." In the inclusive programs that are his hallmark, Petric juxtaposes works by Bach and Rameau with Berio, Lutoslawski, and newly commissioned scores.

Petric's discography, which includes 22 CDs, was nominated for the 2003 Hunter Foundation Recording Award. Critics called his JUNO-nominated Orbiting Garden "breathtaking . spectacular" ( Classical Net Review ); his 2001 release of keyboard works by JS and CPE Bach on the Analekta label was hailed as "brilliant in its rigour and fantasy" ( La Scena Musicale , CAN). His collaborative performances with Bellows and Brass and Erosonic have been lauded as "eye-popping" (American Record Guide ) and "more than exquisite" (Cadence, USA). His Rameau CD is slated for release in 2004.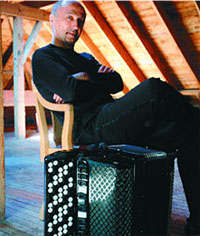 Petric is the dedicatee of more than 160 commissions, among them a new canon of 13 concerti and 26 electro-acoustic works. With his riveting bibliography of transcriptions of more than 1200 standard scores, prepared between 1992 and 2000 with the support of the Canada Council, he has created an expansive repertory for the accordion, reaffirming his long commitment to communication and community through his embrace of historical memory in a contemporary context. The first accordionist to audition successfully for the BBC's Radio 3, he has recorded for BBC 3, PBS, and Canada's CBC and Soci? Radio Canada, as well as French, Norwegian, and Swedish national radio and the EU TV5.

Whether appearing at the Boston Symphony's Tanglewood Festival, London 's Purcell Room, IRCAM in Paris, or Vienna 's Musikhaus, Petric continues to impress audiences with his vivid interpretive art and innovative collaborations.

---
---
Note: In order to provide as much information as possible for the United States National Accordion News stories, many different sources are often researched to gather additional information and pictures to complement what has been submitted. This information is then correlated to provide the news on www.accordionusa.com in the spirit of which it is intended, which is to provide a free news service to the Accordion Community, specifically in the United Sates. If you feel any copyright has been violated please advise www.accordionusa.com and the article will be removed immediately.