Young Accordionists Perform well at CIA Coupe Mondiale in Norway
Contestants, Delegates and Jury Members from more than 30 countries around the world gathered in Asker, Norway for the 59th Coupe Mondiale and 116th General Assembly Congress hosted by the CIA member the Norske Trekkspilleres Landsforbund (NTL). The event coincided with the 35th anniversary of the NTL and marked the first time in CIA history that the event had been held in Norway.

This years Coupe Mondiale was won by Vladimir Chernukh (Russia) a student of Viatcheslav Semionov. Capacity audiences enjoyed a spectacular array of music in the six Coupe Mondiale categories and concerts.

This year, two contestants represented the United States including Sammy Thomas (representing the AAA, he competed in the International Competition for Piano Accordion and Junior Virtuoso Entertainment and Samantha Jarquio (representing the ATG in the Junior Coupe Mondiale). Both young contestants performed extremely well, presenting themselves as artists to the audience. Playing alongside fellow contestants from around the world, the standard of the competitions was quite high, making the competition very exciting.

Samantha Jarquio placed 14th in the world ranking in the Junior Coupe Mondiale while Sammy Thomas placed 10th in his International Competition for Piano Accordion category and an outstanding 4th place in the Junior Virtuoso Entertainment Competition. In his Junior Virtuoso Entertainment Competition, Sammy captured the hearts of the capacity audience and jury members alike with his dazzling program.
Both young contestants gained valuable experience on the international stage, and it is anticipated that both will be strong contenders for the 2007 Coupe Mondiale to be held in Alexandria, VA (Washington DC area) from 13-18 August, 2007.

Both the AAA and ATG will have their respective Coupe Mondiale qualification competitions early next year. Anyone wishing to qualify for any of the six CIA competitions, should contact these two CIA national member organizations for further details.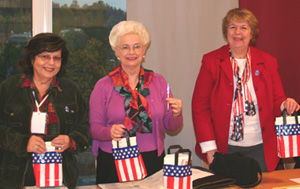 During the 116th General Assembly of Delegates, 2007 Coupe Mondiale organizer Faithe Deffner gave a presentation on the 2007 Coupe Mondiale plans with both ATG President Joan C. Sommers and AAA President - Linda Soley Reed offering a warm welcome to the many delegates and guests from around the world. Joan Sommers also invited attendees to perform in the World Accordion Orchestra, which will comprise accordionists from around the world during the spectacular international gathering planned in Alexandria.



During the 116th General Assembly, Joan C. Sommers was reelected to her position as Vice Chairperson of the CIA Music Committee for the 2006-2010 term and 2007 Coupe Mondiale Organizer Faithe Deffner was appointed as the 2007 CIA Honorary Vice President.

Also in attendance at the 116th General Assembly and 59th Coupe Mondiale was the CIA representative from the Accordion Federation of North America - AFNA, Sylvia Prior (left).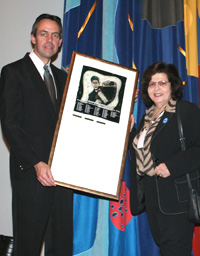 As is becoming tradition, the current Coupe Mondiale organizer from the host nation passes over the duties to the next organizer wishing them much success in their work ahead. This year at the Gala Closing Ceremony Concert, Lars Arnevig presented 2007 Coupe Mondiale organizer Mrs. Faithe Deffner with a beautiful painting adorned with the names of all the host nations since the first Coupe Mondiale in 1938. Each year, the host will add the plaque of the future host nation and present it to the next organizer. Mrs. Deffner is pictured here with CIA President Kevin Friedrich with the award.

The Mayor of Asker Mr. Morton Strand attended several of the events and offered his warm welcome to all of the international visitors and CIA President Kevin Friedrich offered special thanks to the Mayor for his support, as well as the 2006 CIA Honorary Vice President and Norwegian Accordion Association President Mr. Kjell Olsen and the 2006 Coupe Mondiale Organizer Mr. Lars Arnevig and their respective teams for all the work they did in preparing the outstanding event.

Upcoming 2007 CIA events include:
CIA Winter Congress
Nagigia Island, Fiji
January 23-28th, 2007
Internet: www.accordions.com/cia/winter_07.htm
E-mail Winter Congress Organizer - Harley Jones: harley@accordions.com


60th Anniversary Coupe Mondiale
Alexandria, VA (Washington DC), USA
August 13-18th, 2007
joint host: Accordionists and Teachers Guild, International (ATG)
joint host: American Accordionists' Association (AAA)
E-mail 2007 Coupe Mondiale Organizer - Faithe Deffner: fdeffner@aol.com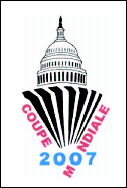 This milestone Coupe Mondiale being held in Alexandria, VA (Washington DC area) from 13-18 August, 2007 has already attracted many participants from around the world with hotel rooms already becoming hard to find.



During the meetings of the CIA Music Committee, Karen Fremar's newest work for accordion "Fantasy, Op. 67" was chosen as the Test Piece for the 60th Anniversary Coupe Mondiale. A beautiful new work for accordion, this is her second work to be selected as Test Piece for the Coupe Mondiale. Her composition entitled "Reflections" was the Test Piece for the last United States Coupe Mondiale that was held in 1981 in Kansas City. The 2007 Test Piece will be available very soon on the www.coupemondiale.org site.

Top winners at the 2007 Coupe Mondiale were as follows:

59th Coupe Mondiale:
1st - Vladimir CHERNUKH, Russia
2nd - Ildar SALAKHOV, Russia
3rd - Vincent LHERMET, France
4th - Victor SEMENKIN, Russia
5th - Ivan SVERKO, Croatia
Junior Coupe Mondiale:

1st - Petar MARIC, Serbia
2nd - Mirko JETOVIC, Serbia
3rd - Vitaly PUGACHEV, Russia
4th - Nicola KERKEZ, Serbia
5th - Marko STOJANOVIC, Serbia
International Competition for Piano Accordion:

1st - Vladimir ANIKIN, Russia
2nd - Alexandar STEFANOVIC, Serbia
3rd - Stanislav JUSUFOVIC, Netherlands
4th - Nikola GLAVAS, Croatia
5th - Aleksandr SATSENKO, Russia
International Competition for Chamber Music:

1st - DES CONCERTANTE TRIO, Portugal
Carisa MARCELINO (Accordion)
Sérgio NEVES (Clarinet)
Ana Luísa MARQUES (Cello)
2nd - Julien GONZALES (Accordion), France
Cyril CARBONNE (Clarinet)
3rd - Carisa MARCELINO (Accordion), Portugal
Carolina PATRICIO (Flute)
4th - Live Berger BREKKE (Accordion), Norway
Ida Løvli HIDLE (Accordion)
5th - ACCORDION DUO, Norway
Stian AASE (Accordion)
Lars RØYSENG (Accordion)
International Competition for Virtuoso Entertainment Music:

1st - Julien GONZALES, France
2nd - Dimitri SAUSSARD, France
3rd - Benoit CHABOD, France
4th - Jeremie BUIRETTE, France
5th - Anne-Mari KANNIANEN, Finland
Junior International Competition for Virtuoso Entertainment Music:

1st - Mario D'AMARIO, Italy
2nd - Vitaly PUGACHEV, Russia
3rd - Sarah VONAU, France
4th - Sammy THOMAS, USA
5th - Aldo CUPUA, Italy
For a full review of the 2006 Coupe Mondiale including contestants, jury members, delegates, guests, results (including all adjudicator's mark for each candidate) and a pictorial review of each day's activities and more, please visit www.coupemondiale.org

This site will be updated with the information for our upcoming 2007 60th Anniversary Coupe Mondiale soon, meanwhile, you are invited to visit the sites of the AAA and ATG for preliminary information regarding the 2007 event.


---
Frank Marocco and Nick Ballarini Camp in Arizona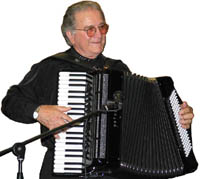 Registration forms for the Marocco-Ballarini Accordion Camp have been coming in at a steady pace. A few openings still remain for the camp, which will take place in beautiful Mesa, Arizona, January 24-28, 2007.

The camp will feature daily orchestra rehearsals led by composer, performer, and conductor, Frank Marocco. The orchestra will perform a public concert on Saturday evening, January 27. There will also be workshops and nightly performances and activities, which will be coordinated by accordionist and band leader, Nick Ballarini. The first evening will feature performances by the camp leaders and others.
Participation is limited to 50 players - there is no limit on non-players. Registration closes on November 15, 2006. See complete details and registration information at http://accordionartistry.com/camp/index.htm or http://frankmarocco.com


---
2007 Annual Master Class and Seminars in New York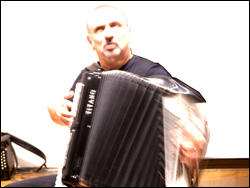 HOGUS/BOGUS - A WEEKEND OF QUESTIONABLE, USELESS AND FAR FETCHED INFORMATION - DR. WILLIAM SCHIMMEL, moderator/curator.

From July 27-29, 2007 you'll learn that the accordion has two reputations: A REAL ONE - and A BOGUS ONE. The real one is the one that we accordionists are all aware of - through our festivals, contests and fellowship among fellow accordionists. WE KNOW WHAT IT CAN DO! THE BOGUS ONE is the one that all of you out there know - the fact that the accordion can play Lady of Spain by itself (complete with bellows shake) -or in the midst of a classical or rock concert half of you in the audience are yearning to get back to your roots, screaming for polkas, helgatos, jigs and clogs complete with beer and urinal tents - ONE MAN'S REAL/ANOTHER MAN'S BOGUS (Marry, Sir, nose painting, sleep and urine -Macbeth -Act II scene III - Shakespeare).
SO, LET'S GET BOGUS, FOLKS! AND WELCOME TO HOGUS/ BOGUS! OUR THIRTEENTH SMASH YEAR! OUR BAR MITSVAH! Join accordion philosopher, Dr. William Schimmel, in a weekend romp of questionable, useless and far-fetched information.

Here are some starting points:
The Accordion as Magic Square:
Dr. Robert Young McMahan, an avid 12 tone composer, will present a much needed lecture that shows all of the "serial" aspects of the accordion - from original and retrograde bellowing to reed switching and dynamic control -
All within the dodecaphonic framework - including the chrome trimming on the grille.

A Culture if Mis-spelling and Mis-information:
Why can't Leonard Bernstien put accordeen stection in the New York City Sympathy?
Lenny is dead, in case you didn't know. Find out the real reason for no accordeen stections and learn to turn your own juicy blunders and misinformed declamations into culture - and liking it - without even having to go back to night school.

Delight in a Bogus rendition of Alexander Nevsky
Only 10 minutes long - no film - no social fuss - NO Stalin!
Carmina Burana meets the Kama Sutra in Karmina Sutrana - AND - Ben Whore!
A method book romp - from old home study courses that promise the "healing power of the accordion"
to transcriptions of Hanon, Czerney and Cramer - designed to lubricate your joints and get those fingers flying to the point of - well, thank God that the accordion came a bit after Robert Schumann.
Did the great American composer, Roger Sessions write for the accordion? Absolutely not - but thrill to the performance of his first sonata.
What about the myth of the free bass accordion? You know - unlimited possibilities. Does it go way back? Or did Richard Pryor start it?
And the Stradella bass "illusion"- certainly good enough for us - or do we need a new cultural revolution that destroys every one in or out of sight? And/or a new work: The Destruction of the World, by Mee - O?!
Can the accordion "de-camp" Broadway? We think it can - with new renditions of Fiorello, Pajama Game (Pajama Party), West Side Story (6th and Pike) and Fiddler. Using the process of Musical Reality, Dr.Schimmel will demonstrate how Broadway should be - UNBOUND and dominated with THE BUILT IN IRONIC DUALITY - and nothing over twelve minutes. Quick, and yer out! More time to get to Olive Garden for breadsticks and pasta and Leo Lindy's for cheese cake!
EVOLUTION IN THE REALM OF PERMANENT TRANSITION - appearing!/gone!/re-appearing!
And…. living with the discomfort of its "buzz": self-obliteration, "bogus suicide" and "being over there".
AND: Paul Stein as Rabbi Rabbitt singing and playing in Yiddish - yes playing in Yiddish! My Yiddisha Accordion! - also: Topical Squeeze - sucking the juice out of accordion-political satire.
Will Holshouser and Bach Shock - Morning (broken) becomes electroshock - Bach/Musette/Cat Stevens.
Sospeso's Kirk Noreen's The Magician - Ken Laufer's Every Piece Ever Written (in five minutes)-

plus... The K Duo -Magic! - Dr. Neupauer's Magic Fingers - Ray Rue's Groucho's Back - Marni Rice's All the World's a Stage and We are Stooges - Alexander's Rag of Ecstasy/ The Mark of Cain by King of Ragtime Dr. Mark Birnbaum - Rembrants by ranter Rembert Block -Indi-trio Balcones Fault - Scriabin's White Funeral (a black mass alternative), Ethnomusicologist Maria Sonevytsky 's Ukrainian Diasopora in Argentina - Godfrey and Lorraine with their ontological "7" (glad it's not "13") - Rita Davidson performing "real" and "bogus " Eugene Ettore - Kamala Sankaram continuing her Indo-Noir music and video works a well as her psychordion lectures - Russian bass, Walter Gerasimonicz, singing and playing Old Man River and American Spirituals - standup artist Lenny Feldman performing Pink Floyd - Benjamin Ickies showing the virtuosity of punk - composer David Stoler who tunes pianos for celebrities -Liam Robinson who enjoys smashing precious China - Chinese artist Vivian Chou - David First who specializes in drones and "Notekillers" - AussieRocker Serge Stanley - an Israeli groove by Uri Shardin - Croation flavors by Dragica Banic-Curcic and her 10 year old son, Stefan - digital flutist Lee McClure, one of the starters of modernism goes eclectic, hence "Eclectix" - German bluesmann Walter Kuhr - actress Kathleen Tipton who has hosted, acted, sang and lectured with us for more than a decade - cyber-artist Rachid Eladlouni from Morrocco - Branding expert, accordionist and Cajun singer Cristina Speligene - singer/melodica /glockenspiel/Fado artist Allyssa Lamb - AAA commissioned works by Robert Baska and Joel Brickman and the irreverent, useful and far-fetched Brian Dewan.

Eminent choreographer, director, video artist and fitness expert Micki Goodman will present a new work as well as a lecture on what's "real" and "bogus" in the world of fitness. Canon Law, based upon the Catholic Mass and Creole culture will feature Dr. Schimmel's reality dimension music.

Dr. William Schimmel will present a Collary and Theorum depicting accordio - velocity in time, space and high school. He will also cover: The Genius of Sloth; Chanta, meaning "line shooting" or "BS" and an analysis of Borges' own "REAL AND BOGUS" reputation and how it applies to the accordion -much inspired by the story by V.S. Naipal: Borges and the Bogus Past.

Dr.Schimmel will close the weekend with a demonstration of the "proper smirk" mandatory for all artists, living and dead. And yes, he will be wearing wing tips, fedora and rather natty tweeds (weather pending).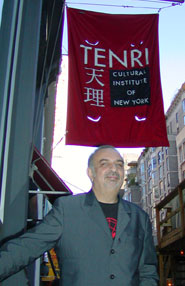 THE ACCORDION HAS COME FAR! LET'S FETCH IT BACK! TO IT'S HOGUS ROOTS!
The event will take place at:

THE TENRI CULTURAL INSTITUTE OF NEW YORK
43A WEST 13TH ST. (between 5th and 6th Ave.)
New York City
July 27-29, 2007

Master Classes at 3 PM Concerts at 7 PM

$20 per master class - THOSE WHO WISH TO PLAY, CONTACT DR. SCHIMMEL
$25 per concert
$40 per entire day - includes master class and concert
$110 per entire weekend - includes three master classes and three concerts
Reservations and information: 212-876-0827 - www.billschimmel.com or www.ameraccord.com


---
Jazz Accordionist Amy Jo Sawyer Releases New CD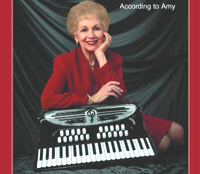 Accordionist Amy JO Sawyer has recently released her first CD entitled: According to Amy featuring her expertise as a jazz artist.

Amy JO Sawyer began her study of the accordion at the age of ten under the tutelage of Henri Milano, in Mesa, Arizona. She came from musical parents, Marlin & Virginia McLaws, who played trumpet and piano respectively in their own Dance Orchestra for fifty years in the Phoenix area. Amy JO started piano lessons at the age of five and during her grade and high school years played the baritone horn in the school bands. The accordion became her "first love" and at age fourteen she entered the National Accordion Competition, in Chicago, placing 2nd in her age category. At age nineteen she won first place in the Western States Accordion Competition in Long Beach, California and competed in the "Coupe Mondiale" (World Accordion Competition) in Biel, Switzerland, establishing herself as one of the world's foremost accordionists.

She continued her studies under the direction of Anthony Galla-Rini, in Los Angeles, and represented Arizona in the National Accordion Competition in New York City. "One of the greatest compliments I have received was from Mr. Galla-Rini, as he included my name with those he considered his most talented students in the book, 'Anthony Galla-Rini on His Life and the Accordion' written by Swedish author Ove Hahn."

In 1964 she won a competition sponsored by the Sacramento Symphony Orchestra, the winner of which to perform in solo with the symphony. The other contestants were violinists and pianists. The Symphony Conductor, Sandor Salgo, exclaimed, "she is a musical genius, and just happens to play the accordion!" She performed "Fantasia for Accordion & Orchestra", by Paul Creston.

Amy JO has written music for, and performed with, the University of Missouri at Kansas City Accordion Orchestra, under the direction of Joan Sommers, on four of their international tours. Amy JO received a BA degree in Composition in 1988 and a Master's Degree in Jazz Performance in 1989 from Southern Illinois University - Edwardsville. While there she composed several jazz originals that were performed by the SIU-E Concert Jazz Band, with her on keyboards. An original, "Just You," was also performed by the Brigham Young University "Synthesis" Jazz Band. Amy JO has performed accordion parts with the Saint Louis Symphony Orchestra on numerous occasions, including accompanying world renowned Italian Tenor, Luciano Pavarotti. Amy JO has served as President of the Accordionists & Teacher's Guild, International, Inc.

The CD is available for $18.00 (including Shipping and Hangling) from Amy's website www.amyjosawyer.com


---
Maria Merkelo Performs at Oktoberfest in Illinois
Maria Merkelo and her trio (clarinet - Carlyle Johnson and tuba - alternating between Jerry Shelatto or Chris Combest) continued their "Oktoberfest" in October at the Bayern Stube in Gibson, City, IL.
Maria is another one of the American accordion community's "best kept secrets". Born in Ukraine, she grew up in Chicago. Maria began to study the piano at 5 and then the piano accordion at 10. She studied with Willliam "Bud" Kuehl and was certified to teach at the Paramount School of Music in Chicago.
Maria Merkelo makes her home in Urbana, IL. She has Bachelor's and Master's degrees in literature and languages from the University of Illinois. Each day she teaches private piano and accordion lessons to both children and adults. Maria coaches singers in the pronunciation of various European languages.
Her two children share their mother's musical pedigree. Paul is principle trumpet with the Montreal Symphony Orchestra. Daughter Jean is a freelance clarinetist.
Since 1993, Maria has performed most Friday's at the Bayern Stube in Gibson City, IL, from 6-9 PM. The Bayern Stube - literally "Bavarian living room" - is about 40 miles northwest of Champaign-Urbana off I-74.


---
Arizona Accordion Festival
The 2006 Arizona Accordion Festival took place on October 21st featuring a variety of accordion styles including Jazz, Zydeco, Norteno, Old Time, Pops to Polkas.
A scheduled feature of this years festival was a performance by the Varitones featuring Ron Brzoska on accordion and keyboard and Joe Kino, billed as Arizona's No. 1 Norteno accordionist.


---
Angels and Accordions in Brooklyn, NY
Angels and Accordions is a site-specific performance/walking tour of Green-Wood Cemetery produced by Dance Theatre Etcetera and the Green-Wood Historic Fund in conjunction with openhousenewyork 2005. In this show, a cast of 30 angels, 10 accordions and a classical music ensemble guided visitors through Brooklyn's historic Green-Wood Cemetery. ANGELS AND ACCORDIONS was made possible with support from the Green-Wood Historic Fund, the Puffin Foundation and the Brooklyn Tourism and Visitors Center. The music by Todd Reynolds and Bob Goldberg for ANGELS AN ACCORDIONS was commissioned by the American Music Center's Live Music for Dance Program. Further assistance was provide by openhousenewyork and BAX/Brooklyn
Ed Gawlinski has offered his perspective of this event as he happened upon this exciting event when visiting his father's grave at the Green-Wood Cemetery. The following is his account of the event:
On Saturday, October 7th, I was in Brooklyn, NY visiting my mother. I first stopped at Green-Wood Cemetery (http://www.green-wood.com/) to visit my father's grave site and found out that there was an event scheduled that day called "Angles and Accordions." Prior to the Civil War, Green-Wood Cemetery was the number one tourist attraction in the United States. Last week it was designated a "National Historic Landmark" by the Department of Interior.

Angels and Accordions was a performance event with actors and dancers from "Dance Theater Etcetera" directed and choreographed by Martha Bowers and Robert Martin. They were accompanied by about a dozen accordions featuring original music composed by Guy Klucevek and Bob Goldberg.
The musicians were all dressed in black and the dancers were all dressed in white. The audience was led around the cemetery by a guide carrying a black and white umbrella and a single accordion player. We started at the main gate, which for anyone who has never seen Green-Wood Cemetery is, in itself one of Brooklyn's architectural gems. Before starting out Guy Klucevek played one of his original pieces to which the dancers (by my count there were about thirty of them) performed. The dancers went off to their stations around the cemetery and the audience was then led by their guide and musician. We went left from the gate, which brought us past the area where my father is buried.

Guy Klucevek is an obviously serious and accomplished accordionist with a beautiful instrument by Titano. Like all instruments, there are accordions and there are very special accordions. The quality of the reeds and soundboard can make a difference. This was an impressive instrument with a wonderfully powerful and pure sound. Usually we think of the accordion as playing happy music, polkas, tarantella, zydeco, etc. It also can have a darker side which Guy Klucevek's compositions brought out.

The first station was at a place where the monument, an angel was being repaired. The dancer stood on the pedestal in the pose the angel had been in, while an accordion plated at its base. The way this was set up you approached each station in the middle of the performance, the musician leading us stopped playing when we the music at the station could first be heard. As you approached the music became louder. Some stations were close enough to each other that at the point one accordion was too faint to hear, the next became just audible. At some stations a dance was being performed at others, the performers were standing motionless, at others there was singing.
One very interesting station was at the Catacombs. This was one of the original pieces. There were two accordions playing at the end of the catacombs and a slide show playing on the wall above them. The audience had to walk along the long narrow corridor approaching them. There were dancers in some of the side chambers holding a candle and bell, periodically, one would call out a name and strike the bell. A third accordion played and walked slowly down the corridor. The acoustical quality of the setting and changing position of the three instruments in relations to each other made this a very interesting sound.

The music at each station was by an accordion. The musicians varied in skill and instrument quality. Most musicians were playing full sized (120 bass) accordions but there were also a few smaller instruments (I believe 48 bass). At some of the stations, familiar tunes were played, such as "The Last Rose of Summer." At one station, there was an accordion accompanying a woman playing "Over the Rainbow" on a saw.

The final station was at the Steinway tomb. Steinway Pianos had their home office in Queens, and the family grave site in Brooklyn. Their mausoleum is the largest in Green-Wood Cemetery. Naturally Guy Klucevek was playing here and it was a pleasure listening to his original pieces.

The finale was on the hill overlooking the memorial chapel. The hill was east of the audience and the sun was near setting, so the lighting was about as dramatic as could possibly be arranged. The finale included all of the dancers and all of the musicians who played full sized instruments.

This may have been the most unique performance I've ever had the pleasure of attending. As sometime this month (or perhaps last month) is the fiftieth anniversary of my first accordion lesson, it was very propitious that I happened to be able to attend it - Ed Gawlinski.


---
New Edition of Historic 1843 Accordion Book Published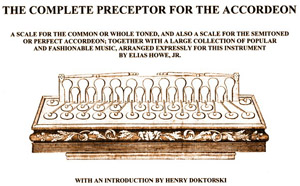 THE COMPLETE PRECEPTOR FOR THE ACCORDEON, CONTAINING A SCALE FOR THE COMMON OR WHOLE TONED, AND ALSO A SCALE FOR THE SEMITONED OR PERFECT ACCORDEON; TOGETHER WITH A LARGE COLLECTION OF POPULAR AND FASHIONABLE MUSIC, ARRANGED EXPRESSLY FOR THIS INSTRUMENT
by Elias Howe, Jr. (1820-1895) and originally published in 1843, with a New Introduction by Henry Doktorski.
The book contains:
A diagram of the scale for the diatonic single-action accordion with a 20 note range with an explanation of the letter and numerical symbols accompanying the staff notation.
86 songs written in traditional staff notation for single-line melody in treble clef, as well as a series of numbers and letters which allow those who do not read music to play the pieces.
The scale for the semi-toned or perfect accordion [also single-action]. This was a nearly-perfectly chromatic instrument with a 37 note range. Also included is an illustration of the semi-toned instrument.
A contents page which appears at the very end of the book.
Softcover, 44 pages, Accurate facsimile of Howe's original book Measures 8.5 x 11 inches
Professional Printing and Binding.

Doktorski explained in the Introduction: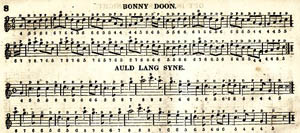 "The Complete Preceptor for the Accordeon is a fascinating relic of an earlier era: Howe's book was published in 1843, only fourteen years after the Austrian piano and organ maker Cyrill Demian (1772-1847) patented the accordion in Vienna on May 23rd, 1829.

"The illustration of the semi-toned accordion in Howe's book is detailed and clearly shows the placement of the keys, pallets, valves, bellows and ornamental filigree.

"The choice of tunes presented gives us an indication of the styles of music which the public expected to hear on the accordion. There were the expected European ethnic songs: British, Irish, Russian, German, Hungarian, Danish, Prussian, Swiss, etc., as well as some folk fiddle tunes such as Old Zip Coon."

Certainly The Complete Preceptor for the Accordeon is a priceless treasure from the annals of free-reed history.

Images: (1) Cover of The Complete Preceptor, (2) One page from The Complete Preceptor.
Order from Henry Doktorski at http://henrydoktorski.com/books/completepreceptor.html

---
New CD - Sta_Sera Duo in Concert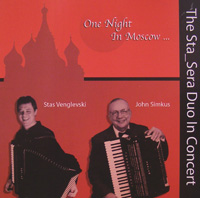 Milwaukee based accordionist Stas Venglevski and his duo partner Chicago Jazz Accordionist John Simkus have just released a new CD entitled One Night in Moscow.

Track titles include:
01 - Musette Caprice - Stas Venglevski
02 - Stella by Starlight - Victor Young
(Solo by J. Simkus)
03 - Russian Winter - Anatoly Shalaev
04 - Autumn Leaves - Joseph Kosma
05 - Ozornie Naigrishi - Victor Gridjin
06 - Beautiful Love - Victor Young
(Solo by J. Simkus)
07 - For You - Stas Venglevski
08 - June - Stas Venglevski
09 - July - Stas Venglevski
10 - August - Stas Venglevski
(solo by S. Venglevski)
11 - Autumn Illusions - Stas Venglevski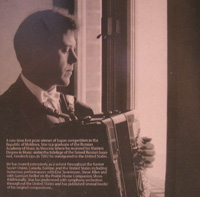 Stas is a two time first prize winner of bayan competitions in the Republic of Moldova and a graduate of the Russian Academy of Music in Moscow where he received his Masters Degree in Music under the tutelage of the famed Russian Bayan artist Friedrich Lips.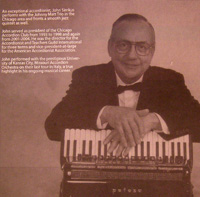 John Simkus performs with the Johnny Matt Trio in the Chicago area and fronts a smooth jazz quintet as well.

John performed with the prestigious UMKC Accordion Orchestra on their last tour to Italy, and has served on the Board of Directors for the Accordionists and Teachers Guild, International (ATG) and a vice president at large for the American Accordionists Association (AAA).

For further information or to order this new CD recording, please visit www.accordions.com/stas


---
John Hammond's Inter-Continental Schedule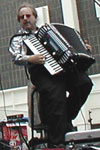 Accordionist, organist and media personality Jon Hammond is currently involved in some hectic international travel, taking in China and Europe, that includes a CD release.

Jon recently performed as a duo with Chinese Accordion Champion Fang Lin at the Official Opening Reception of Music China in Shanghai.

The visit to China is followed by a trip to Castelfidardo, Italy. From Italy, Jon moves on to Germany, for two events to promote his new CD release 'NDR SESSIONS Projekt'. These take place in Music Club Live in Hamburg on October 30th, from 6 PM to 8 PM, and the Jazzkeller in Frankfurt on November 3rd. The musicians who played on the recording – Heinz Lichius (drums), Lutz Buchner (saxes) and Joe Gallardo (trombone), will be present for a cocktail and champagne reception. Jon Hammond played Excelsior accordion on 6 of the 12 tracks, with the Hammond XK-3 organ featured on the others. The tour also includes visits to Vienna, Austria, and Oslo, Norway.

For further more information e-mail: jonhammond@jonhammond.com


---
Allons Danser Cajun and Zydeco Music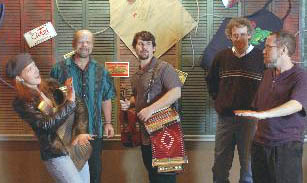 The 'Allons Danser' Cajun and Zydeco club present several concerts this fall, including:
November 3rd – Dennis Stroughmatt and Creole Stomp play at the TK Club, East Hector and Apple Streets, Conshohocken, PA.
"One of the Hardest Working Bands in live Music" Dennis Stroughmatt and Creole Stomp travel the country carrying the long tradition of Mississippi River valley French Creole music to audiences of thousands. Not only have they caught the attention of Louisiana music fans across the United States and Canada, but also those who enjoy Bluegrass, Blues, Rock, Country, Swing, and Latin...all the while simply being who they are...a band that plays French Creole music to the core. Led by French speaking Creole accordionist and fiddler Dennis Stroughmatt, the group hopes to not only entertain but also to educate.
November 10th – Roy Carrier (right) and The Nite rockers – above venue FRIDAY, NOVEMBER 10 at the TK Club, East Hector & Apple Streets,
Conshohocken, PA


December 9th – Geno Delafose and French Rockin' Boogie play at the Holy Savior Club, 436 East Main St., Norristown
To this day, Geno still performs in many of the same dancehalls and churches that he visited as a child in his father's group. Geno Delafose and French Rockin' Boogie are no strangers to the stage. Performing a rigorous one hundred fifty shows each year has left the band in a rigid state of exactness. Cut after cut the group is right there, turning on a dime with each spicy lick emitted from Geno's squeezebox.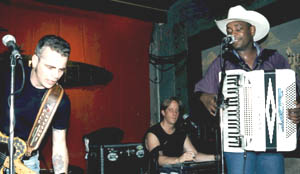 Geno fuses his Creole roots and modern voice through his multi-accordion attack. Germans introduced the accordion to Louisiana, and, ever since, it has been a popular instrument thanks to its distinctive ability to speak above the hum in a crowded room of dancers. Geno plays the single-row and triple-row diatonic button accordions for more traditional "French style" tunes, and changes to piano accordion for pounding out contemporary Zydeco. Piano accordions were adopted for their chromatic versatility and ability to play "blue notes." Up until the 1980s only the most sophisticated players could incorporate them into Zydeco.


---
Promoting Your Accordion Services Free at AWW

The Internet is changing the way your customers are searching for services. The days of lugging out a 12 lb. telephone book to find very limited and outdated business information are coming to an end. People are still letting their fingers do the walking, but they're doing it over a computer keyboard. Below are some revealing facts from the Kelsey Group.
74% of US households use the Internet as an information source when shopping.
Approximately 45% of searches had a buying intent.
The percentage of respondents who used yellow page directories decreased from 75% to 62%.
(If you have a printed yellow page ad, it is time to consider buying a smaller ad and shifting your marketing dollars to the Internet.) The off-line Yellow Pages see the writing on the wall and are scrambling to transfer their business model to the Internet.

Businesses can no longer ignore these facts. If you want to be successful, you must have a presence where your customers are searching. Being found on the Internet is vital to the future of your business.



The Accordion Yellow Pages offers free of charge listing for all accordion businesses, teachers and for every type of service for accordionists. On the Accordion Yellow Pages site, you do not need to have a website for accordionists find you and contact you.



The search-accordion.com site is also free of charge, being a listing service for every type of accordion service but you must have a website. Viewers of search-accordion.com can click to your website.



Very popular is the AccordionLinks.com site where those accordion service providers with a website, can attract accordionists free of charge to their website.

All it takes is a little effort, to make sure your information on these three popular and very effective accordion sites is up to date. Your future success may well be determined by your ability to effectively adapt to the Internet. Should it be your New Year's resolution for 2006?

---

---
Patrick Harison in Minnesota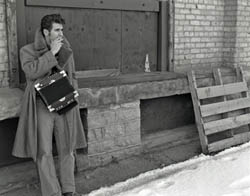 Accordionist Patrick Harison will be appearing several times in November in Minnesota including:

November 3rd, 2006
Friday - 6:30-8:30 PM
Kramarczuk's European Deli
215 E. Hennepin Ave.
Mineapolis, MN
Solo, Eastern European and Gypsy Folk Music
November 9th, 2006
Thursday - Doors 7 PM
Concert 7:30 PM
Washington County Historic Courthouse
101 W. Pine Street
Stillwater, MN Patrick Harison Ensemble
Admission Includes sampling of St. Croix Valley Wine.
General Admission $15.00
Tickets also available @ 651-351-9180
November 10th, 2006
Friday - 6:30-8:30 PM
Studio 211, 516 N. 2nd Street
Stillwater, MN Solo at the Studio 211 Art Showing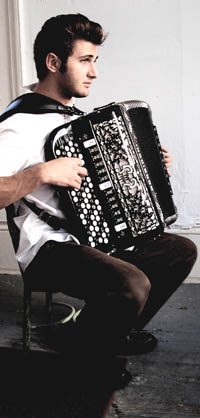 Born to a goldsmith accordion player and a ballet teacher, Patrick Harison grew up in an home full of art, music and dance. His father convinced him to pick up the accordion at age 13. Patrick learned how to turn the bulky and boisterous machine into a sensitive instrument by listening to and imitating the masters from every corner of the world. By age fourteen, Patrick's professional career had begun. The heart of his musical education took place on the bandstand, performing Zydeco, Gypsy Jazz, Tango, Blues, Western Swing, French Musette and Klezmer with a long list of skilled musicians. He has had the pleasure of performing with some of the best musicians in the country including Connie Evingson, Coach Said Not To, Doug Kershaw, Sam Miltich, The Mandragora Tango Orchestra, Mark Kreitzer, Jack Norton and Poncho Chavis.
Patrick's debut album Streetwalker explores his diverse musical roots with a collection of original compositions, earthy Brazilian grooves and haunting gypsy melodies. After a 16 state national tour, he found himself in New Orleans. There, he hoped to understand the tangled roots of African and American music. In the crescent city, Patrick joined New Orleans' famous Panorama Jazz Band with whom he had the pleasure of performing at the 2006 New Orleans Jazz and Heritage Festival and the Festival Internacional de Jazz in Veracruz, Mexico. Upon returning to Minneapolis he was awarded the 2006 McKnight Fellowship for Performing Artists through MacPhail Center for Music.
Presently, Patrick is performing with his brand new quintet of musicians he calls the Anachronous Ensemble. This group performs Patrick's latest compositions which take diverse world grooves to fierce jazz improvisations. The result of this artistic alchemy allows audiences to dance to another place and time.

For further information, please contact: harisonbooking@gmail.com

---
Lenny Feldmann performs at Fundraising Concert in NJ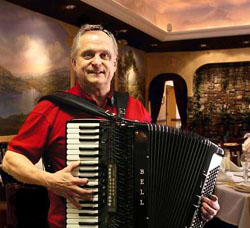 Accordionist Lenny Feldmann recently returned to the concert stage in Caldwell NJ, performing a benefit concert for two young children Victoria (5 years) and Mathew (3 years) who have been diagnosed with Muscular Dystrophy since birth, with funds going towards ongoing therapy and special home equipment.

Lenny chose the a program including: a tribute to the late Tony Galla-Rini, he was scheduled to open with his wonderful accordion transcription of "Rhapsody in Blue", followed by the very exciting, upbeat Samba recently composed in 2003 by
the great Jazz Accordionist, Frank Marocco entitled "Samba Italiano". Next on the program, two of Astor Piazzolla's most popular pieces - "Oblivion" and "Libertango" then closing with one of his most popular requests, his rendition of "Three Coins In The Fountain".

At Vander-Cook College of Music in Chicago, Illinois, Lenny received his Bachelor of Music Education Degree, using the accordion as his major instrument and studying with Mort Herold and the late Mario Moschino. A ten year career of teaching and playing professionally in the New York area followed. During this time, Lenny performed throughout the NY Metro Area with the famous Tony Cee Orchestra as the personal accompanist of Tony (Cee) Corsetto -Popular Vocalist and Orchestra leader.

In 1989 Lenny was the accordionist with the world-famous Mantovani Orchestra on the Mid-West tour, as well as a nine week engagement performing in Yokohama, Japan during the World's Fair. Lenny performs with, and is the assistant conductor for the Accordion Pops Orchestra directed by Danny Desiderio. The APO, consisting of professional and semi-professional accordionists from seven Northeast states, has presented concerts with various guest artists including Myron Floren and Dick Contino.

---

---
Frank Marocco performs in current series of The Bachelor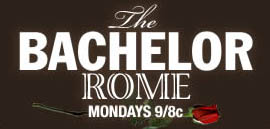 Frank Marocco has recently composed and played on eight episodes of the TV show "The Bachelor". This time the show takes place in Rome. Frank also performed on the season of The Bachelor: Paris last season and was asked once again by Warner Bros. Studio to compose and play some of the background music for the series that airs Mondays on ABC.

Hosted by Chris Harrison, The Bachelor: Rome is produced by Next Entertainment in association with Warner Horizon Television. Mike Fleiss and Lisa Levenson are the executive producers. David Bohnert and Martin Hilton are the co-executive producers.

For further information, please contact: frankmarocco@aol.com


---
Jazz Accordionist Victor Prieto to record with Nicole Renaud
Jazz Accordionist Victor Prieto is working on recording a new album with Nicole Renaud. Nicole Renaud is a classically trained soprano and accompanies herself on the accordion.

Born in Paris in 1967, based in New York City since 1990, Nicole describes herself as a "neo soprano", giving an elegant 21st century twist to classical music. Her ethereal, mystical voice blends with deep baroque strings and soothing ambient sounds. She wears original haute couture futuristic costumes reminiscent of Man Ray's avant garde glamour, Fritz Lang, Ridley Scott and Luc Besson's stylized science fiction (Metropolis, Blade Runner and The Fifth Element). Nicole's use of light in her costuming enhances the mystery of her show which is often compared to Cirque du Soleil. She sings in French, English, Italian and German.

Also on the album will be Pedro Degeraudo (Bass) and Gilad (percussion).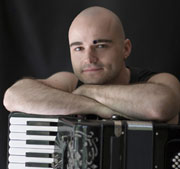 In addition to his recording work, Victor will be performing with Emilio Solla & The NY Jazz-Tango Group featuring famous jazz player Donny McCaslin on sax. The music is based on jazz tango original compositions by Emilio Solla. Show details are as follows:

Cornelia Street Cafe - 16 November - 8:30 PM
New York, NY
Emilio Solla & The NY Jazz-Tango Group
Emilio Solla, piano
Donny McCaslin, saxophone
Victor Prieto, accordion
Pablo Aslan, bass
Franco Pinna, drums

For more information, please visit www.victorprieto.net

---
9th Annual NE Accordion Festival
Minnesota's finest celebration of the free-reed instrument family - the Ninth Annual NE Accordion Festival has it all: concerts, workshops, jam sessions, and dances. Music from cool jazz to sultry tangos, Hot Club to oom-pah: Bach to Balkan.

This festival takes place on November 10th and 11th at the Aldo Moroni Gallery, California Building, 2205 California Street NE in 'Nordeast Minneapolis'.

Musicians on button accordion, diatonic, concertina and piano accordion from Canada and the East Coast join Twin Cities favorites include: The Golden Strings Trio with Larry Malmberg, John Scaffeo (Canada), Machinery Hill, Dan Newton, Dee Langley Eric Ray & Jenny Schultz, Patrick Harrison, Dan Turpening, Jose Curbelo, Joanna Arnold Darrow (New Jersey), Jerry Minar (2006 Lifetime Accordion Award Recipient), Hank Thunander, and the Orkestar Bez Ime.

In order of performance here featured performers showtimes are:

Eric Ray & Jenny Schultz
(Friday, November 10, 6-7 PM)
The Golden Strings Trio with accordionist Larry Malmberg (Friday, November 10, 7-8 PM)
Like most accomplished accordionists, Larry Malmberg began his extraordinary career at a very early age. His musical career glitters with significant names. Dina Shore, Pavarati, the Minnesota Orchestra, the Minnesota Opera and the St. Paul Chamber Orchestra. At 83 he still tours with the Golden Strings. The ensemble (with Cliff Brunzell and Clyde Anderson) entertains often in prominent establishments as well as farming community auditoriums and dancehalls. Larry and his friends play it all-classical, jazz, polkas and popular music.
John Scaffeo
(Friday, November 10, 8-9 PM)

Machinery Hill with accordionist Datta Hartman
(Friday, November 10, 9-11 PM)
Machinery Hill is a Minneapolis based band that blends ska, klezmer, celtic, rock, American folk & many other colors into their own style. A lot of instrumentals and many well crafted lyrical salads. Machinery Hill is a 1996 winner of a Minnesota Music award for best world beat CD & 1999 MMA winner for specialist recording. They have performed along with such diverse acts as BeauSoleil, BuckWheat Zydeco, Frente, Phish, Black 47, Brave Combo, Eugene Chadbourne, Jimmy Carl Black and Queen Ida; and have headlined at The Great River Folk Festival,among others.
"Skeets" Langley, guest conductor
(Saturday, November 11, 9-11 AM)
A world-renowned accordionist, in 1963 "Skeets" Langley competed in Baden Baden, Germany at the Confederation Internationale des Accodeonistes (CIA) winning the coveted first place trophy against more than twenty countries. "Skeets" lives in the Twin City area, performs with the Tantara Trio and has recently retired from teaching Elementary School Band in the Robbinsdale School District.
Dan Newton
(Saturday, November 11, 1-2 PM)
Dan offers bands of all sizes, as well as solo performances for dances, receptions, concerts, parties and recording sessions. Daddy Squeeze can provide you with elegant French and continental sounds, rockin' blues and Zydeco, swingin' hillbilly jazz, plus ethnic music such as Celtic, British, Latin rhythms, Square and Contra-dance, Cajun, Jugband, Americana and even some old-time Polka sounds.
Dan Turpening
(Saturday, November 11, 2-3 PM)
Jose Curbelo
(Saturday, November 11, 3-4 PM)
José Curbelo (pictured right in picture by Xavier Tavera) was born in Minnesota to a Norwegian-American mother and a Uruguayan father. José spent three years in Uruguay conducting research on traditional accordion music. José has got people dancing at festivals in Uruguay, Brazil, Argentina, Canada, and the U.S. Ike Russell-Hart (bass) and Andrew Gillespie (drums) bring reggae and funk elements to create an infectious dance music that is a mix of gaucho rhythms from Uruguay, Argentina, and southern Brazil, with Midwestern polkas and waltzes.
Joanna Arnold Darrow
(Saturday, November 11, 4-5 PM)
Jerry Minar
(Saturday, November 11, 5-6 PM)
Jerry Minar, of New Prague, Minnesota, was one of the organizers of the Czech Country Concertina Marching Band and manufactures Hengel concertinas and is one of the guiding forces of the Czech Area Concertina Club. A life long dedication and love of the accordion and concertina has earned him the 2006 "Lifetime Accordion Award".
Dee Langley
(Saturday, November 11, 6-7 PM)
When Dee Langley first played the accordion at the age of four, she could not have known that her love for the instrument and her passion for music would eventually reap her numerous first place honors, take her to Europe, and earn her several guest appearances as accordionist with the Minnesota Orchestra and the St. Paul Chamber Orchestra. As a professional, Dee has participated in seminars and symposiums on accordion styles and techniques in Chatel, France and Klingenthal, East Germany. She also has performed with the Dolina Polish Folk Dancers and Ethnic Dance Theatre as well as officiating as Director of The EDT Folk Orchestra. Concert tours of Poland, France and the Czech Republic, respectively, being a few of the highlights of her tenures with these companies.
Patrick Harison
(Saturday, November 11, 7-8 PM)
Born to a goldsmith accordion player and a ballet teacher, Patrick Harison grew up in an home full of art, music and dance. His father convinced him to pick up the accordion at age 13 and has had the pleasure of performing with some of the best musicians in the country including Connie Evingson, Coach Said Not To, Doug Kershaw, Sam Miltich, The Mandragora Tango Orchestra, Mark Kreitzer, Jack Norton and Poncho Chavis. Patrick was awarded the 2006 McKnight Fellowship for Performing Artists through MacPhail Center for Music.
Orkestar Bez Ime with accordionist Dee Langley
(Saturday, November 11, 9-11 PM)
Orkestar Bez Ime, meaning "orchestra without a name" in Bulgarian, met in the Ethnic Dance Theatre and has since grown to be one of the Midwest's hottest and most sought-after international dance bands specializing in Balkan music. Using a mix of folk and modern instruments—including accordion, clarinet, dumbek, flute, guitar, kaval, tambura, violin and voice—the group stays close to traditional Eastern Europe through its American melting-pot sensibility.

For further more information please e-mail Dee Langley at: squeezermn@yahoo.com
---
---
Note: In order to provide as much information as possible for the United States National Accordion News stories, many different sources are often researched to gather additional information and pictures to complement what has been submitted. This information is then correlated to provide the news on www.accordionusa.com in the spirit of which it is intended, which is to provide a free news service to the Accordion Community, specifically in the United Sates. If you feel any copyright has been violated please advise www.accordionusa.com and the article will be removed immediately.