News Stories
Los Super Vatos
Los Super Vatos, Saturday, December 9, 2000 at 8 PM. Curtain talk by Juan Tejeda at 7:30 p.m at The Paramount Theatre, 713 Congress Avenue in Austin. Tickets may be purchased in person at Start Ticket outlets or the Paramount Theatre box office; over the phone by calling 469-SHOW; or over the Internet at www.startickets.com. For information: call TFR at (512) 441-9255 or visit our website at www.main.org/tfr.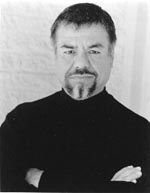 Join Texas Folklife Resources and the Paramount Theatre for Los Super Vatos, the premier program in our Texas Folk Masters 2000-2001 series. Cool dudes of Tex-Mex join forces in a hot and spicy blend of Tejano, conjunto, and country music hosted by the legendary Little Joe Hernandez. Adding flavor to the mix will be conjunto accordionist Santiago Jimenez, Jr., Chicano blues man Randy Garibay and Austin1s own Derailers frontman Tony Villanueva. This combo platter of cumbias, boleros, rancheras and much, much, more will have you dancing in the aisles!

Little Joe y La Familia is one of the most popular Tex-Mex bands. A pioneer of Tejano music, Little Joe has more that 40 years in the music business under his belt. He began performing in 1955, recording his first single for Terrero Records in 1959. Since then he has recorded over 50 albums, garnered 3 Grammy nominations, and in 1994, won the Grammy Award for Best Mexican-American Performance for his album "Diez Y Seis De Septiembre." He has recently signed with Capitol EMI, for which his first recording was Grammy-nominated.

Santiago Jimenez, Jr. began his career as an accordionist at 15 and released his first single at 17. Following in the tradition which his father helped establish, Santiago plays in a sincere and simple style. Now he has more that 150 singles, 60 albums and cassettes, and three Grammy nominations to his credit. In September of this year, he was awarded the prestigious National Heritage Award from the National Endowment for the Arts, recognizing him as one of this country1s cultural treasures.

As San Antonio's premier purveyor of Chicano blues, Randy Garibay has over 40 years in the music business. He will shake the Paramount with what he calls "puro pinche blues."

Derailers frontman Tony Villanueva grew up in a Mexican-American family with farm roots and a mother who kept the radio tuned to the local country station. With Derailers cofounder Brian Hofeldt, singer/guitarist Villanueva helped revive a Buck Owens/Bakersfeild/Western swing sound that has garnered the band titles like honky-tonk heroes and and praise as the next big thing in Austin country.

Texas Folklife Resources is a nonprofit arts organization dedicated to the presentation and preservation of the living folk arts and folklife of the Lone Star State. Our offices and gallery are in Austin but our mission is carried out statewide through concerts, media projects, museum exhibitions, and community and educational residencies.

Sponsors of the 2000-2001 Texas Folk Masters Series are The City of Austin through The Austin Arts Commission, Texas Commission on the Arts, National Endowment for the Arts, AT&T, Guaranty Federal Bank, F.S.B. and American Airlines.

Dr. Carmello Pino elected new AAA President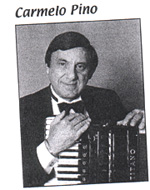 The American Accordionists Association has elected Dr. Carmello Pino as their new President during their recent Board meeting held in New York City.

The post of President has been held for the last six years by Faithe Deffner, who will now assume a role as a Board of Director. In her closing speeches, Mrs. Deffner reflected on the wonderful accomplishments of the AAA during her six year term, including things such as the successful "Search for the Hottest Accordionist" in Branson, Missouri, the highly publicized festivals in places such as Houston, Washington DC and Nashville, as well as the affiliation with the "World of Accordions" Museum housed in Duluth, Minnesota.

Thanks were given to all the Board Members and officers who assisted during her Presidency, and also special thanks to Dr. William Schimmel who has moderated the annual series of concerts and masterclasses in New York on behalf of the AAA.

The new officers for the next two year term are as follows:

President: Dr. Carmello Pino
First Vice President: Frank Busso
Second Vice President: Linda Soley Reed
Secretary/Treasurer: Dr. Robert McMahn

Julie Silfverberg New MAMA President

The Mid America Music Association (MAMA) is pleased to announce that Kansas City resident Julie Silfverberg has been elected to the office of President of their organization.

MAMA holds an annual festival each summer which now attracts thousands of contestants from all across the Midwest.

Julie holds a Bachelor of Music in Accordion Performance from the University of Missouri - Kansas City where she was a student of Joan C. Sommers. Julie has traveled in many countries during her accordion career, performing with the UMKC Accordion Orchestra, in duo with her husband Juha and with The International Trio.

Together with her husband Juha, Julie has made several appearances on television in both Finland and the United States and also plays piano and organ for many school and church functions.

Julie teaches accordion and piano in a private studio in Overland Park, Kansas and also keeps busy with her musical family. Her husband Juha performs in the great Kansas City area and runs an accordion repair business, her daughter Jessica is an accomplished clarinet player, holding first chair in both Concert Band and Symphony Orchestra, and their son Janne is an accomplished Trombone player, specializing in Jazz.

Stas Venglevski performs out West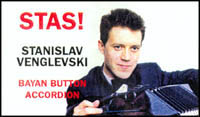 Stas Venglesvski entertained a packed house at the Los Angeles-based club, "The Accordionaires'" Monday, November 7th meeting. Part of a west coast tour, the evening included excerpts from a collection of his original works, "Illusions" (available on CD) , as well as the Bach "Passacaglia and Fugue" in C minor, and his arrangements of music from Rossini"s "Marriage of Figaro", Tchaikovsky's "The Nutcracker Suite", and a medley of popular international melodies.

A dazzling display of technical prowess, along with an engaging personal style, gave the members a new sense of possibility for excellence and enjoyment of the accordion. For the remaining portion of the tour, Stas was joined by his partner, Mike Alongi, for a performance at the Bay Area Accordion Club.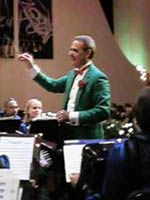 December 3rd marks the 25th Anniversary of the American Family Xmas Concert held at the University of Missouri - Kansas City.

The UMKC Accordion Orchestra is one of the highlighted groups on the show, both as a featured performer and also as the pit orchestra for the choral groups. The orchestra has taken part in the show since its inception.

Two sellout concerts are given at 2:30 and 7:30 PM which provides excellent exposure for the accordion orchestra, which has long been a favorite part of this annual production.

For tickets, please contact: 816 235-2700.

Why not advertise your web site on accordionusa.com?
Reasonable monthly rates available!
remember... a banner here... can take you there!
Calling All UMKC Accordion Orchestra Members from 1961 to the present!
The annual Spring Concert of the UMKC Accordion Orchestra under the direction of Joan C. Sommers will mark the 40th Anniversary of the group.

Many people have performed in the group over its 40 year history, and all are invited to return for this anniversary celebration which will feature a reunion, the 40th Anniversary Concert and other festivities.

The Anniversary celebrations are made more special since the director Joan C. Sommers is retiring from her post at the University.

If you would like to be a part of the anniversary celebration either playing in the orchestra a reunion selection, or just attending the events, please contact the UMKC Accordion Orchestra director Joan C. Sommers at: sommersj@umkc.edu

Recital for Doctorate in Accordion Performance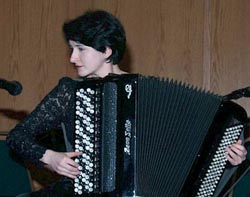 Accordionist Lidia Kaminska will present her first in a series of four recitals required to fulfill her Doctorate in Accordion Performance at the University of Missouri-Kansas City where she studies with Joan C. Sommers.

The concert will be held on the UMKC Campus in White Recital Hall, 4:30 PM, on Sunday, December 10. Admission is free.

Lidia is 22 years old and from Poland. She graduated from the Chopin Academy of Music, in Warsaw with a Master of Music Degree, where she was a student of Lech Puchnowski. Lidia has been living in the United States for one year.

This summer, she won the first prize in the ATG Virtuoso Entertainment Music contest, and has also performed concerts in Dallas, Chicago Kansas City and Milwaukee.

Lidia's first program is:

Sonata in F Major, K.44 - Domenico Scarlatti
Sonata in C Major, K.461 - Domenico Scarlatti

Sonata for Bayan - Albin Repnikov

Chaconne in d minor - Bach - Busoni

Sentido Uinco - Astor Piazzolla
Contrabajeando - Astor Piazzolla
Che Tango Che - Astor Piazzolla

Voices of Spring - Johann Strauss


CIA to offer 6 Categories in 2001
The Confederation Internationale des Accordeonistes will offer a total of 6 categories of world competition next year including:

(1) Coupe Mondiale World Accordion Championships
(2) Junior Coupe Mondiale
(3) Virtuoso Entertainment Competition
(4) Junior Virtuoso Entertainment
(5) Piano Accordion Championships
(6) World Diatonic Championships

All the categories except the Diatonic Championships will be held in London from the 20 - 25th October, with the Diatonic Championships will be held from June 22-24 in Schenkenfelden, Austria.

The CIA one of the oldest members of the International Music Council (IMC) and one of the only organizations to have been admitted representing a specific instrument.

Anyone interested in competing in any of the above championships, should contact one of the two national member associations, the Accordionists and Teachers Guild, International (ATG) or the American Accordionists Association (AAA).

The 2002 Coupe Mondiale to be held in Copenhagen, Denmark will see the addition of the seventh category, which will be a chamber music class, featuring the accordion with other instruments.

For more information on the CIA and its activities, please visit www.accordions.com/cia

New Accordion Club in Kansas
The Kansas Accordion Club is now officially called the Kaw Valley Accordion Club. The meetings are held the second and fourth Mondays of each month from 7:00 - 9:00 PM at the Ecumenical Christian Ministries Building which is located at 1204 Oread in Lawrence, Kansas.

For more information, please contact John Thompson at (785) 841-1740.
e-mail: cthompso@falcon.cc.ukans.edu

The American Accordionists Association will hold its 2001 Annual Competition and Festival in Cleveland, OH from 11-15 July.

The festival will include competitions, workshops and concerts and is open to all ages and levels of accordionists.

For more information please contact AAA at: ameracc@aol.com

Dr. William Schimmel performs with the Houston Symphony
New York based accordionist Dr. William Schimmel recently returned from a series of concerts with the Houston Symphony.

A regular with symphonies across the country, Dr. Schimmel was featured performing the works of Astor Piazzolla.

Dr. Schimmel also announced his 2001 series of concerts and lectures to be held in New York City which will be entitled 2001 - An Accordion Odyssey!

ATG Announces European Orchestra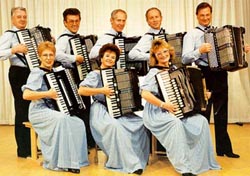 The Accordionists and Teachers Guild, International is pleased to announce the appearance of the Viennese Accordion Ensemble at its 2001 Competition and Festival to be held in San Antonio, Texas from July 19-22, 2001.

From their first hour together the main aim was to show and to prove that the accordion claims its place in the concert hall. In this field the Viennese Accordion Chamber Ensemble has certainly done a pioneer's job. This shows in its repertoire which contains all styles. About half of their standard program contains compositions from Bach, Handel, Mozart, Mussorgsky and Johann Strauss to Gershwin and Bernstein.

The big aim of the ensemble, whether it be classic or light music, is good interpretation.

Yann-Fanch Perroches to appear in Austin, Texas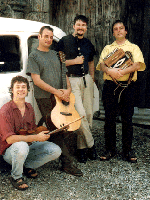 Austin Friends of Traditional Music, The Austin Celtic Association and Austin International Folk Dancers present POZAOUT from Brittany performing music for a real Fest-noz (Breton Ceili) Thursday, December 14th Carpenter's Hall 400 Josephine Austin (One block west of Lamar Blvd. and one block north of Barton Springs Road. Just South of the Lamar/Town Lake Bridge) 7:30 PM - 11:00 PM ABOUT THE EVENT: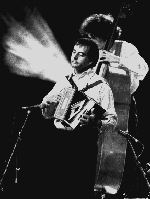 What happens when you put 4 of the finest Breton musicians in one room? Pozaout, of course! Roughly translated, Pozaout means "Cowboy" in the Breton language. This quartet represents the best of a breed of musical masters from Brittany (the Celtic region of NW France), one of the most musical lands on the planet. The names Skolvan, Skeduz and Kurun read as a virtual Mount Rushmore of top Breton dance bands of the last decade.

Led by famed accordion master Yann-Fanch Perroches of Skolvan (many will remember Yann-Fanch from last year's Austin Celtic Festival), Pozaout includes fiddler Laurent Dacquay of Skeduz, guitarist Roland Conq of Kurun and flute master Stephane Morvan. Pozaout will bring their own "cowboy" style of Breton dance music to Austin for a real Breton fest-noz (literally: night dance). Whether you have two left feet or studied under Twyla Tharp, you'll enjoy not only listening to Pozaout, but you'll put your money where your feet are and enjoy dancing to traditional Celtic music, perhaps for the first time!

You can also expect to hear (and dance to) a few Irish reels and jigs as well. The show will begin at 7:30 with a 45 minute concert by the band. After a short break to clear the dance floor, the dancing will begin. There will be a few minutes of dance instruction before each dance to familiarize the audience with the dance steps.

Admission is $5.00. Snacks and beverages will be available.

A little background on Breton music and dance: In Brittany, due to the convoluted French legal system, the Breton folk music revival took shape in dance halls much more than concert halls. Dances were deemed "Fund-raising" events, while "Concerts" were heavily taxed. While once there were clubs for Breton groups to perform in, recent years have seen them all but disappear.

Any kind of association could organize a fest-noz to make money, so that's where the folk scene is. Therefore, as interest in traditional music in Brittany evolved beginning in the early 70s (parallel to that in the British Isles), traditional dancing among everyday folks evolved to a much greater degree than in her sister Celtic nations of Ireland or Scotland.

Today in Brittany, traditional Celtic music is performed mostly in large dance halls with almost everyone, young and old, participating in the dancing. Also, Breton dances are much simpler than traditional Irish or Scottish dances. This, along with the fact that, according to Yann-Fanch, Bretons are "dancers to the bone!" Anyone can, within a few minutes, get the basics of most of the dances and "join the round." They are mostly "line" or "round" dances with the dancers either holding pinkies or clasping right arm over left and moving to the left. Breton dancing is very easy and very infectious!

For more information: e-mail Larry Rone at auscelt@io.com or call 512-916-8152
www.io.com/~rarii/TCMN/Coming.html
or visit the Austin Celtic Association http://www.io.com/~rarii/ausceltt

Westmont Philharmonia Accordion Orchestra Celebrates 40 years!
The Westmont Philharmonia Accordion Orchestra presents the first concert of their 40th Anniversary Year on Sunday December 3rd at 3:00 PM. The concert will be held at the Holy Saviour Auditorium, 15 Virginia Ave. Westmont, NJ 08108. Admission is by donation.

Music to be presented during this concert will vary from ethnic to romantic to jazz. Some of the compositions being presented are Take Five, Slavonic Rhapsody, West Side Story, Vivaldi and more.

Stanley Darrow will be joined in directing the orchestra by new Assistant Conductor Vitali Pirog. Mr. Pirog joined the orchestra in January 2000 just after emigrating from the Ukraine. While in the Ukraine he was the professional conductor of the National Philharmonic Ukraine.

The orchestra presented its first concert in 1961, and since its inception the orchestra has toured Canada, Europe and Iceland. During the 40th anniversary the primary goals are to organize a concert tour of Paris and Germany, scheduled for October 2001.

The public is encouraged to attend and experience the wonderful sound created by this ensemble.

For more information call: Joanna Arnold (856) 854-6628 or Ray Haines: (856) 589-8308

Once Upon A Sleigh Ride
Mrs. Leroy Anderson tells us that there will be a documentary entitled "Once Upon A Sleigh Ride" which will be aired on PBS in the United States late in December. It will have all of the favorites of the composer , many of which are also favorites of accordionists.

This video is about the life and music of the American composer of light concert music, Leroy Anderson (1908-1975), and is produced by Emmy-Award Winning Producer/Director, Peter Rosen. Narrator is Dick Cavett.

It will no doubt be of great interest to those of us who enjoy playing many of his hits such as Sleigh Ride,Syncopated Clock, Blue Tango and many more mentioned in the release found at: http://www.leroy-anderson.com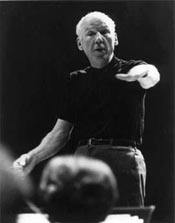 Leroy Anderson came along just in time to provide the perfect music for classical orchestra "pops" concerts. A talented musician, Anderson graduated with honors from Harvard and worked as an organist, bassist, and choirmaster and began arranging for Arthur Fiedler's Boston Pops Orchestra in the mid-1930s.

Fiedler encouraged him to write his own pieces for the Pops. Finally, in 1938, Anderson complied, with ``Jazz Pizzicato'' and ``Jazz Legato,'' both immediate audience favorites. Over the next 25 years he composed some 50 more light classics, which virtually defined the sound of the American pops orchestra.

Most of these works are humorous--like the "The Waltzing Cat," which turns schmaltzy string sighs that are standard fare in a Strauss waltz into meows or show pieces, like "Bugler's Holiday," in which three trumpeters show off (although the parts are actually written to sound more difficult than they actually are high school orchestras with three good trumpters often play it), or simply light and listenable, like "Blue Tango," his most-covered song.

Anderson is best-known for his works incorporating gadgets as solo instruments, such as "Sandpaper Ballet,'' ``The Syncopated Clock,'' and "The Typewriter," which features the sounds of that venerable maching tapping keys, grinding shifts, tinkling margin bell although these are probably unfamiliar to today's computerized generation. Many know his tunes as they were incorporated for TV shows and commercials. "The Syncopated Clock" later became the theme of many a late-late movie show.

He recorded a number of collections of his own tunes, and his single of "Blue Tango" was a #1 hit in 1951. His holiday season instrumental number, "Sleigh Ride," has, over the years, become a standard piece for Christmas concerts and has become his most-covered composition.

He also wrote a number of serious contemporary compositions, including the Irish Suite, Suite of Carols and the Concerto in C for Piano and Orchestra, and the score of a Broadway musical, "Goldilocks," in 1958, but putting words to music wasn't his forte. Anderson continued to compose, almost exclusively for the Boston Pops, until his death.

His works are still in print and a staple of pops orchestras around the world.

Just for fun...
Accordion Birthday Card

And just for more fun...

We invite you to submit your
News, Concert, Club Listing, CD or Article!
---
www.accordionusa.com
is a free service to the accordion community

the generous support of
'Accordions Worldwide'
found at: www.accordions.com