---
'The Unforgivable Sin Premiere' in New York City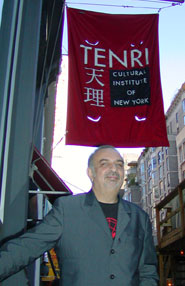 A new film by Micki Goodman will be shown at the Tenri Cultural Institute, New York, on Friday December 10th - 'The Unforgivable Sin'. The film is in four parts: Evidence - Falling From Grace - Parousia - And What Is This Thing Called Accordion? It celebrates 25 years of theatre, dance and performance art collaborations of Micki Goodman and Dr William Schimmel.

'The Unforgivable Sin' mark's Micki's film making debut. It is edited by Deborah Magosci, also an accordionist. It is not a documentary. It has its own non-linear plot. Part 4 focuses in on Dr Schimmel and his accordion philosophies; Part 3 focuses in on the term Parousia, meaning presence; Part 2 focuses in on the constant sense of struggle, conflict and non-resolve; and Part 1 defines the plight of Dr Schimmel in his accordion quest - and the price he has to pay for it.

After the screening, there will be a reception in honor of the film, the holiday seasons and the 25th wedding anniversary of Micki Goodman and Dr William Schimmel. Since seating is limited, invitations were necessary, but some space remains for those who would like to see the film. For reservations or further information e-mail billschimmel@billschimmel.com


On December 3rd and 4th, Dr Schimmel will perform the New York premiere of Howard Shore's 'Lord of the Rings Symphony' with the New Jersey Symphony Orchestra. Howard Shore will be present and will speak before the Friday night performance. The concerts will take place at the New Jersey Performing Arts Center in Newark, New Jersey.

A week later, on December 13th, Kamala Sankram will perform Dr William Schimmel's 'Punk Prelude and Fugue in G Minor' at the Cornelia St Café in New York. Kamala, who is also an opera singer, sitar player and clinical psychologist, teaches at New School University and is a Doctoral candidate, soon to receive the Neupauer Conservatory Order of the Shield Diploma, under the tutelage of Dr William Schimmel.


---
AAA Announces 2005 Festival Dates



The American Accordionists' Association (AAA) will hold its annual competition and festival from July 6-10, 2005 at the Hyatt Regency in Dearborn, Michigan. Festival participants will receive a special rate of $94.00 single-quad occupancy.

Further details on the International Competitions and other activities will be announced soon, or please contact the AAA at: AAA1938@aol.com


---
Alexander Sevastian in New York City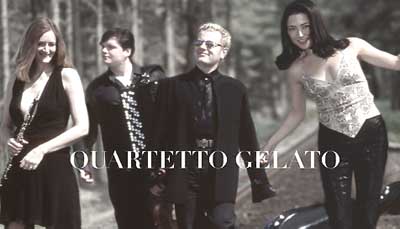 Quartetto Gelato featuring accordionist Alexander Sevastian will be performing in New York City at the Metropolitan Museum in two concerts on December 12, 2004 at 6.30 PM and 8.30 PM.

Alexander Sevastian (accordionist) is a three-time first prizewinner of international accordion competitions. He won the Oslofjord in Norway (1998), The Cup of the North in Russia (2000), and the ATG Anthony Galla-Rini Competition for Classical Accordion in the USA (2001).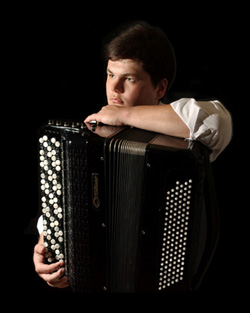 He was born in Minsk, Belarus and began his studies on the bayan (chromatic accordion) at the age of 7. In 1991 he attended the Glinka Musical College in Minsk. His advanced studies took him to the Gnessin Academy of Music in Moscow where he received his Masters in Performance degree, studying with the renowned performer and pedagogue, Friedrich Lips. Alex began his professional career in Moscow in 1996, performing with the Russian Radio Orchestra. He has performed as recitalist and soloist with orchestras throughout Russia, Ukraine, Germany, Italy and Japan. Highlights include performances at the Tchaikowsky Concert Hall in Moscow, Suntory Hall in Tokyo and the Minato Mirai Hall in Yokohama.

Alexander and his family moved to Canada in April 2001. In May 2003 he completed the Advanced Certificate in Performance program at the University of Toronto where he studied with Joseph Macerollo. Since September 2002 Alexander has been playing with the internationally recognized group "Quartetto Gelato" and has toured regularly in the United States and Canada. The group has also appeared in Korea, Japan and Italy.


---
Stas Venglevski to Perform Galla-Rini Concerto No. 2

The Skokie Valley Symphony Orchestra will celebrate its 43rd Concert Season with a concert on March 13, 2005 at 4:00 PM entitled Fantasy and Virtuosity featuring accordionist Stas Venglevski performing the Anthony Galla-Rini Concerto No. 2.

As part of this program, there will be a special "Meet the Amazing "Bayan" & Our Family of Instruments"session designed to introduce the audience to the accordion. Attendees will also be able to stroll through the lobby and visit the "instrumental petting zoo" offering the opportunity for guests to get a closer look at the various instruments featured during the concert.

Founded in 1962, the Skokie Valley Symphony is composed mainly of volunteers whose love is performing music. This season we are joined by internationally renowned musicians and local up-and-coming artists.

The Skokie Valley Symphony Orchestra is a not-for-profit organization, governed by a dedicated volunteer board of directors. The Orchestra is continually striving to provide cultural enrichment to our community. We need your support and the support of your friends and neighbors to help us in this endeavor. We invite you to become a subscriber and contributor so that the Orchestra can continue its cultural mission for another forty years.

The Skokie Valley Symphony is fortunate to have the highly talented Daniel Boico serving as its Music Director and Conductor. Boico has worked with Daniel Barenboim of the Chicago Symphony, assisted Zubin Mehta and guest conducted all over the world. His expressive style and emotional attachment to the music speak to both the audience and orchestra alike.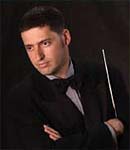 Daniel Boico developed his unique style while studying under the revered Russian conductor and pedagogue, Ilya Musin, at the St. Petersburg Conservatory. With a solid grounding in the classics, a professionally-trained singing voice, and fluency in four languages, Boico has emerged with a magical combination of skill and spirit that fuels his passion to connect audiences with "that inseparable part of life we call music.

The program will feature:
Rimsky-Korsakov - Le Coq d'Or (Introduction & Wedding March)
Galla-Rini - Concerto No. 2 for Bayan, Stas Venglevski, soloist

Intermission - Midwest Young Artists Chamber Music in the Lobby


Williams - Harry Potter Suite
Holst - The Planets (Mars, Venus & Jupiter)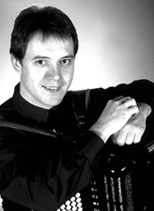 Stas's artistry, dazzling technical command, and sensitivity have brought this native of the Republic of Moldova, part of the former Soviet Union, increasing acclaim as a virtuoso of the bayan. A two-time first prize winner of bayan competition in the Republic of Moldova, Stas is a graduate of the Russian Academy of Music in Moscow where he received his Masters Degree in Music under the tutelage of the famed Russian bayanist, Friedrich Lips. In 1992 he immigrated to the United States.
Stas' repertoire includes his original compositions, a broad range of classical, contemporary and ethnic music. He has toured extensively as a soloist throughout the former Soviet Union, Canada, Europe, and the United States including numerous performances with Doc Severinsen, Steve Allen and with Garrison Keillor on the Prairie Home Companion Show. Additionally, he has performed with symphony orchestras throughout the United States.



He performed the world premiere of Concerto No. 2 by Anthony Galla-Rini (pictured right) and also the world premiere of Bayan and Beyond, composed for Stas by Dan Lawitts. He is a regular participant of the Milwaukee Symphony Orchestra's Arts in Community Education Program (ACE); has done television commercials and performed in theater productions; produced numerous recordings including transcription of Tchaikovsky's Nutcracker Suite for bayan as well as one of original compositions. He has published several books of original compositions.
Stas also performs as a member of the A Sta_Sera Duo where he combines talents with accordionist, John Simkus, known primarily for his smooth jazz renditions. Their musical partnership has resulted in a unique repertoire and as a duo they have toured the United States and Europe extensively and collaborated on a CD of original compositions, Seasonings.
Stas serves as President of the prestigious Accordionists and Teachers Guild, International (ATG) which was established in 1940 with the purpose of furthering the progress of the accordion by improving teaching standards, music, and all phases of music education. The ATG is a member of the International Music Council (IMC-NESCO) and holds an annual competition and festival in various cities around the United States.
For Concert Tickets to hear Stas perform the Galla-Rini Concerto No. 2 ($8 - $34) please call: (847) 673-6300 or contact: North Shore Center for the Performing Arts, 9501 Skokie Blvd. Skokie, IL 60077. Phone (847) 679-9501 x3014, fax (847) 679-1879, e-mail: info@skokievalleysymphony.org or visit www.northshorecenter.org


---
Washington Metropolitan Accordion Society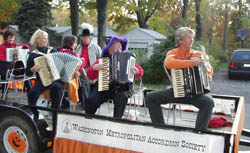 The Washington Metropolitan Accordion Society (WMAS) is pleased to announce that on December 12th at 4:00 PM, they will hold their second annual Holiday Concert which will be followed by a pot luck dinner. (Pictured left, are WMAS members during their recent Halloween Parade outing.)

The concert will feature the WMAS Orchestra as well as the exciting new group, the Potomac Accordion Ensemble. In addition to these two groups, there will also be a wide variety of solos and duets.

Everyone is welcome to come and bring their accordion and play during the "Open Mike" during dinner.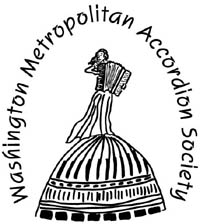 The mission of WMAS (pronounced Wah-mass) is to bring together accordionists and promote accordion music in the national capital region. Regular meetings are held the second Tuesday every month at 7:30 PM at Sleepy Hollow United Methodist Church in Falls Church, Virginia.

Dues are $15.00 a year, and to cover the cost of renting the church, a $2.00 contribution is requested at each meeting.

Admission is $7.00, and the concert will be held at their regular meeting spot, the Sleepy Hollow United Methodist Church, 3435 Sleepy Hollow Road, Falls Church, VA 22044-1006. For more information, please contact: Karen Malan-Uribe: e-mail: wmas2002@cox.net or phone: 703-671-5395.


---
Henry Doktorski to Perform Concerto with Orchestra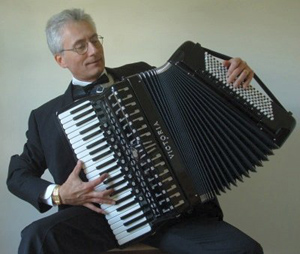 American concert accordionist Henry Doktorski will perform as soloist with the Butler County Symphony Orchestra on Saturday February 12, 2005 in a performance of "Tres Tangos" by the Argentinean-born composer Astor Piazzolla (1921-1992). During the concert, Doktorski will also accompany the young Pittsburgh lyric soprano, Beth Ackelson, in a performance of "If We Only Have Love" by the Belgian singer/song writer Jacques Brel (1929-1978). The concert will be conducted by Elisabeth Heath-Charles, the music director and conductor of the orchestra.
Doktorski said, "I look forward to performing as soloist with the Butler County Symphony Orchestra. Piazzolla is one of my favorite composers; this work, Tres Tangos (originally written for bandonéon, a type of button-accordion especially popular in South America), perfectly adapts to the piano-accordion. The three movements are titled Allegro tranquillo, Moderato, and Allegro molto marcato. The second movement begins with a haunting and lyrical accordion solo."
The city of Butler, Pennsylvania, is located about thirty miles north of Pittsburgh. For tickets, contact the Butler Symphony at 724-283-1402.


---
New Trustee Honor Roll Recipient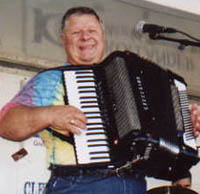 Accordionist Fred Scherz Sr. was the joyful recipient of the Trustee's Honor Roll at the at the National Cleveland-Style Polka Hall of Fame's 17th Annual Awards Show in Euclid on Saturday, Nov. 27, 2004.

The Board of Trustees established the Honor Roll in 1989 to recognize individuals who contribute to the quality and success of Cleveland-style polka music. Cleveland-style polka music is recognized as a distinctly American style of the gaudy, famously upbeat music. Experts call it "more of a swing style." The accordion, banjo and sax are its signature instruments. Fred Scherz and five others, two of them posthumously, join the 134 individuals and institutions already on the Honor Roll.

An indefatigable polka promoter and musician, Fred Scherz SR for 60 years has played the accordion at innumerable Oktoberfests, weddings, hotels, fund-raisers, fairs and festivals throughout New York state. He had come a long way from his Depression days, when he began playing in Ava, N.Y. at 14, the age he started listening to Frankie Yankovic, a Cleveland-style icon, on a used German-made Hohner accordion he bought for $40. He got $5 for playing at a local political event, his first gig.

Fred Scherz formed Fritz's Polka Band, named for his son, in 1978. The band has released 11 CDs and is now in the studio for their 12th, "FPB on Tap," which is slated for a year-end release.


---
Tejano King of Accordion Nominated for Award
Ramon Ayala, known in the world of Tejano music as the 'King of Accordion', nominated for two Latin Grammy awards at a ceremony in Los Angeles, last week won 'Best Norteno Album' for his recent CD 'Dos Grandes Del Norte'. Ayala, who has played in public for about 30 years, has more than 75 album recordings to his credit and is currently engaged in making a film about his life.
Apart from playing the accordion, Ramon Ayala works as a bicycle maker and is well known for his voluntary work with disabled and abused children. His unstinting philanthropic work is motivated by the fact that his two brothers were both disabled, and he recently commented that "If someone fills a child with love, what is that child going to give? Love, of course. And that's what the world needs".


---
Benjamin Ickies at the Knitting Factory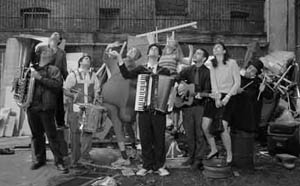 Accordionist Benjamin Ickies will perform on Friday, December 10th at the Knitting Factory Old Office at 8.00 PM. Admission is $ 8.00. In addition, Benjamin will be performing for the off-Broadway play Belle Epoque from Dec. 11th through Dec. 24th.

For further information, please contact: number2@ickies.com or call (646) 541-7781


---
Billy McComiskey and Friends in Philadelphia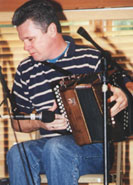 Two-row diatonic accordionist Billy McComiskey, originally from Brooklyn, New York, and now resident in Baltimore, is in concert at Coatsville Cultural Society, 143 E. Lincoln Highway, Coatsville, Philadelphia on December 11th, at 8 PM.

A key figure in the vibrant Washington DC-area Irish music community Billy was a member of the other groups including The Irish Tradition and Trian.

In the Philadelphia performance, Billy will be playing with Laura Byrne (flute), Peter Fitzgerald (banjo), Pat Egan (guitar) and Myron Bretholz (bodhran). All five musicians will conduct specialist workshops prior to the concert.



In addition, Billy McComiskey will be inducted into the Comhaltas Ceoltóirí Éireann Hall of Fame this February, in their Mid-Atlantic Region. CCE is an international Irish music and dance organization.

Billy McComiskey, winner of the All-Ireland Championship for button accordion in 1986, is an acknowledged master of the East Galway style that characterises the playing of many of New York's best Irish accordionists. He has made many recordings, the latest of which is a CD titled 'Makin' the Rounds'.


---
Victor Prieto in New York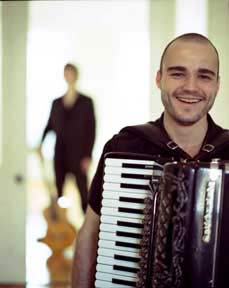 Daniel Garcia Quintet featuring Victor Prieto on accordion will be performing at Swing 46 on December 1st at 8:30 PM. The show will feature Brazilian Music.

Mariano Gil Avantango Trio also featuring Victor Prieto will be performing at Barbes on December 6th at 9:30 PM. The Trio includes: Mariano Gil on Sax,
Victor Prieto on Accordion and Pablo Aslan on Acoustic Bass.

To hear Victor and the World Music Trio, stop by Paradou (8 West 12th Street) at 7:30 PM on December 13th & 20th, 2004.

For more information, please contact: www.victorprieto.net

---



---

---
Note: In order to provide as much information as possible for the United States National Accordion News stories, many different sources are often researched to gather additional information and pictures to complement what has been submitted. This information is then correlated to provide the news on www.accordionusa.com in the spirit of which it is intended, which is to provide a free news service to the Accordion Community, specifically in the United Sates. If you feel any copyright has been violated please advise www.accordionusa.com and the article will be removed immediately.