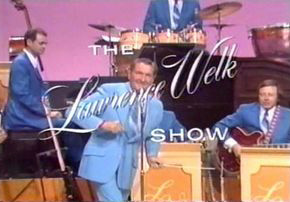 Thirty-five years ago last Fall, the week of September 10, 1971 to be exact, The Lawrence Welk Show # 1 aired. "Thank You Very Much", his opening song of his opening new-season show, might well have been the theme song of the premiere program inauguration of the new Lawrence Welk Network. The new network made its nationwide debut just one week after the final broadcast of "The Lawrence Welk Show" on the ABC-TV network. ABC had announced its cancellation of the Welk show after 16 seasons in the Spring of 1971. Lawrence Welk and his producers had anticipated the network's eventual cancellation of his long-running weekly, one-hour musical variety series. What's remarkable, though, is that within 90 days, Lawrence Welk, at age 68, became the first national television figure to be personally responsible for the largest weekly syndication network at that point in time in television history.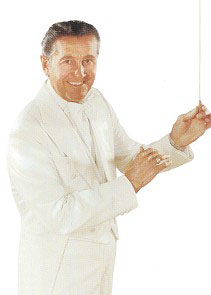 The theme of the initial Lawrence Welk Show on the new network was "A Musical Tour of America" and Welk used it to express his and his musical family's appreciation to the hundreds of thousands of friends whose overwhelming response and support helped him to establish his television network. "It's simply great to be an American and to live here in America ," Welk said to his audience in that first new program, "where such a thing as this can be accomplished. We owe so much to so many people for their words of praise and encouragement, and this is our way of saying, 'Thank You Very Much'!"

Highlights of the first program of his syndicated network included Guy and Ralna Hovis singing "Moon Over Miami", Joe Feeney singing "On the Banks of the Wabash", an instrumental rendition of "Carolina in the Morning", Sandi and Salli's version of "Everything's Up to Date in Kansas City", Bob Ralston's piano medley of New York tunes, Norma Zimmer and Jim Roberts' duet of "Beautiful Ohio", the Hotsy Totsy Boys and Mary Lou Metzger with "Alabamy Bound", Ken Delo singing "Oklahoma" and Myron Floren and the band did a swinging "Pennsylvania Polka".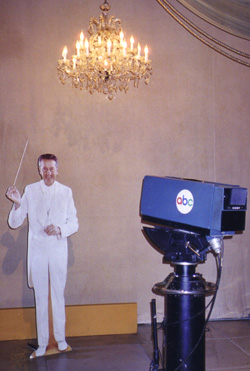 The accordion in America was riding the crest of the fame of The Lawrence Welk Show. The weekly fan mail for the show averaged 5,000-6,000 letters every week from 1955 to 1971 while it aired on ABC. Famed newspaper columnist and radio commentator Walter Winchell proclaimed Lawrence Welk "an American Tradition in his Own Lifetime". When ABC announced its cancellation of the series, that fan mail soared to more than 80,000 letters per week. There were 7,000 telephone calls to ABC in the Los Angeles area alone. In all more than a million "letters, wires and phone calls" from all over the country were received by ABC, and the offices of Lawrence Welk and Don Fedderson Productions once the series was canceled.

Over 200 TV stations signed nationally to form the new Lawrence Welk Network. This included 135 ABC affiliates, 29 NBC and 27 CBS stations, and key-city independent stations, including the four Metro Media stations in New York, Washington, Kansas City and Los Angeles. The Champaign Music Makers had first established their TV credentials with 3 1/2 years of weekly local telecasting credits in Los Angeles on KTLA. Their national debut came as a 13-week summer replacement program on ABC in July, 1955. Five weeks later Welk's 13-week contract was replaced with one for a full year, and the "first generation" of the Lawrence Welk Show was underway.

So, how many years and how much hard work did it take to become an American musical icon?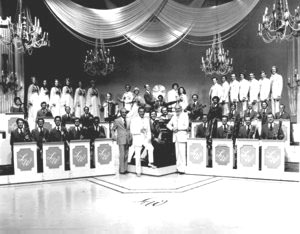 From 1927 to 1938, Lawrence Welk had discovered and maximized the marketing and promotional power of radio. Welk had already spent a number of years as a teenager and young man in his twenties fronting small musical groups and performing for barn dances, weddings and a variety of musical theater and community celebrations all over the Midwest. For a time in 1926-27, young Lawrence was a "Peerless Entertainer" with George T. Kelly, who had a traveling troupe of actors and musicians who put on shows in small towns. When that folded, he called his group "Lawrence Welk and the Hotsy Totsy Boys". Then, Welk gathered together a 4-piece group, including himself on accordion, and they were performing in the Dakota's and intending to work their way south to New Orleans. There was an unseasonal blizzard and they found themselves pulling to a stop at 4:30 AM at the Collins Hotel in Yankton, South Dakota. A new radio station, WNAX, got Welk's attention and piqued his curiosity. Commercial radio was barely 5 years old and something of a novelty.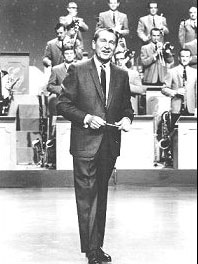 The WNAX studios were on the top floor of the Gurney Seed and Nursery Company. Lawrence Welk went in and introduced himself and said he had a band, "Lawrence Welk and his Novelty Orchestra" - 4 pieces including piano and accordion, sax and a drummer who sang - and they specialized in polkas. It was 8:15 AM "Can you have them here by nine o'clock?" That chance stop in the bleak winter of 1927 led to his first long-term contract and established themselves as celebrities with a reputation that extended four hundred miles in every direction. Welk realized and learned how to use the power of the communications media, beginning with radio and later TV, for the rest of his career. It's a legacy that thrives today as 2007 will mark 80 years of some form of Lawrence Welk's music being heard on the airwaves.

While still under contract to WNAX in Yankton, South Dakota , Lawrence Welk added to his orchestra and it became 6 musicians, all of whom could play multiple instruments. Welk was determined to play the better ballrooms, including a chain of 7 ballrooms through the Midwest. Trouble was, they were large well-run establishments that played only well-known big band. Welk countered with being billed as " America 's Biggest Little Band". The Welk band never seemed to make it to the "big time" in cities such as Chicago . At one point Welk's entire band walked out on him and said his persistent bookings "in the sticks" and his German accent held back the band! Out of that despair, Lawrence Welk decided that his band needed a "sponsor", and he contacted a dealer on the West Coast and bought wholesale lots of chewing gum called Honolulu Fruit Gum.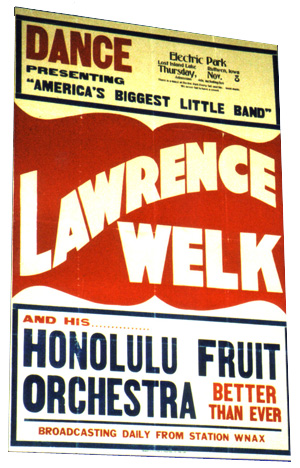 Lawrence Welk made more money selling Honolulu Fruit Gum in ballrooms, drugstores and restaurants in the Midwestern states, than he did playing music! He bought it for a fraction over a penny per package and retailed it for a nickel. His band bus was painted with "Lawrence Welk and His Honolulu Fruit Orchestra". The band wore (and hated) white full-sleeved shirts and paper flower leis when they played. There was no air conditioning and when it was hot and sticky the color in the leis would run and at the end of the evening the members of the band would be wet and every color of the rainbow! Financially, though, there were big statewide contests for Miss Honolulu Fruit Gum, and contestants were often sponsored by service clubs or the Chamber of Commerce, which was great for the band and the music side of the business. Eventually, interest in the contests diminished. Worse, ballroom managers complained about the dance floors being knee-deep in gum wrappers, and gum stuck to walls and floors, which often had to be re-sanded and re-polished.

By the late 1930's the big-name bands were in their prime. Lawrence Welk had great admiration for Glenn Miller, Tommy Dorsey, Jimmy Dorsey, Guy Lombardo, Isham Jones, Paul Whiteman, Duke Ellington, Benny Goodman, Artie Shaw, Jan Garber, Orrin Tucker, Russ Morgan, Woody Herman, Glen Gray and Hal Kemp. Welk once drove over 400 miles from Big Springs, Texas, to Dallas just to get a "close-up listen" to Kemp's brass and reed sections, which "played with almost machine-like precision". It was not lost on Welk that all the orchestra's of the day had descriptive names.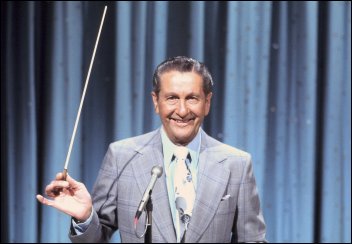 Guy Lombardo and His Royal Canadians played "The Sweetest Music This Side of Heaven". Wayne King was "The Waltz King". Shep Fields had "Rippling Rhythm" (and featured the accordion). Lawrence Welk admired Red Nichols and His Five Pennies. He saw how Cab Calloway and Louie Armstrong captivated dance crowds for 8-9 minutes at a time, instead of the traditional 3-4 minute band arrangement. These people were the "musical heroes" of their day, drawing enormous crowds. Welk wanted one more chance at the big-time. He got his first break with a long-running stand at the St. Paul Hotel in Minnesota , in 1937, and had a nightly radio broadcast from the hotel over KTSP. This led to a booking at the William Penn Hotel in Pittsburgh , where they were to open "at the stroke of midnight on New Year's Eve in 1938, in the exclusive Italian Terrace, the finest and most expensive room in the hotel".

The reviews were more than favorable and the public responded. There were 3 nationwide broadcasts a day from the hotel over WCAE, an outlet of the Mutual-Don Lee Network. Fan mail poured in and Welk's radio announcer, Phil David, pointed out the specific descriptive references to his music; that it sounded "sparkling", "light", "effervescent", "bubbly", and "happy". Phil summed it up for Lawrence and declared: "They're saying that dancing to your music is like sipping champagne. You've got yourself some Champagne Music!" And, that's how "the Champagne Music of Lawrence Welk" came to be.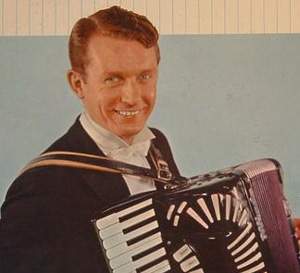 What about the original theme? Lawrence Welk had written a song to celebrate his daughter Shirley's birth, "You're My Home Sweet Home". It was a slow, sweet legato ballad, a "kind of hymn to my daughter". When he played this at a much faster tempo, with a few added runs and frills, the result "was a light, frothy piece which seemed to suit our musical style perfectly". But, the title wasn't right, so Welk had a contest to give the song a new name. A Pittsburgh patron suggested "Bubbles in the Wine". Getting the "popping cork sound" was another matter. Opening a real bottle was never the same way twice and too difficult for the right timing while playing the song. Welk solved the problem by sticking his finger in his mouth and popping it out with a "whoosh". He later said: "I may not play the accordion as well as Myron Floren, but I play a champagne bottle much better than he does."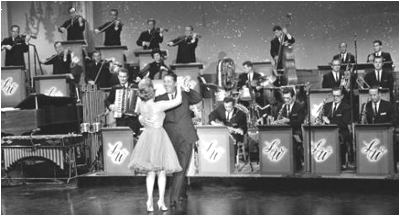 Thirty-three years later, in November, 1971, the first season of shows on the Lawrence Welk Network of more than 200 TV stations was well underway. There were 2 stations in Alaska and 3 in Hawaii . About 96% of the TV homes in America - some 59 million television homes - had access to these shows and the accordion. Virtually, 90% of the stations broadcast the show on Saturday night; about 5% on Sunday; and the remainder on other days. All stations telecast the same program each week. Don Fedderson Productions sent 45 master-tape copies to as many stations, which copied them and sent them on to other stations in the cycle. The master tapes were returned to Fedderson for subsequent reuse. There were 32 new one-hour programs, and 20 were selected for re-runs to complete a 52-week schedule.

There was no purchase price involved. Stations simply contracted to telecast each of the 52 shows each week at an agreed-upon time and day. Each program contained 4 minutes of commercials from national sponsors, along with more local-sponsor time during the station break, about 30 minutes into each show. Local sponsors constituted the station profits, while the national commercials underwrote the production and distribution costs. (This feat of syndication was accomplished nearly a decade "ahead" of today's satellite technology, which enables the overwhelming amount of programming that is seen on scores of cable television channels.)

The national sponsors which followed the Lawrence Welk Network included J.B. Williams Company - Aqua Velva, Sominex, etc.; the Dodge Division of Chrysler Corporation; Block Drug Company - Polident, Tegrin Shampoo, etc.; and Ocean Spray - Cranberry Juice, Jelly, etc. The sponsors' local dealers were anxious to take advantage of the Welk shows' appearing on local stations, and this created window display streamers, in-store placards and shared portions of newspaper ads. Ran-Wood's newest Lawrence Welk Album in the Fall of 1971 was "Lawrence Welk Plays Jerome Kern & Other Great Composers". A complimentary album was sent to all Welk Network TV stations, and, once again, local record dealers were cooperating with window and in-store displays about the broadcasts.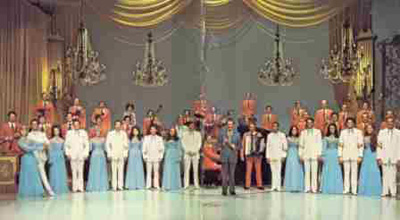 Additional promotions included radio affiliates of the Welk TV outlets, or other local radio station contacts; getting local viewers tickets to the Los Angeles tapings of the shows; toy bubble machines for use on local stations' children's programs or for contest prizes; Mayoral Proclamations of "Lawrence Welk Week" in the network TV stations' communities; Lawrence Welk phone interviews; Hollywood Palladium tickets ("musical home" of the Champagne Music Maker throughout his TV years) for the local TV outlets' "favorite local people"'; full-color fact-finders called the "Music Maker Personal Data Guide" which gave complete, compact and up to the minute information on Lawrence Welk and all of his TV Music makers and Performers (!); fan mail (a database of 250,000 people maintained by the Welk Offices, culled from mail sent to stations all over the country, and which helped to determine some of the shows' program content); and personal appearances.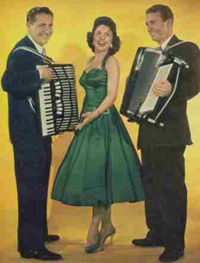 Every week at least 6-10 of Lawrence Welk's most popular performers, i.e. Bobby (Burgess) and Cissy (King), Sandi (Griffiths) and Salli (Flynn), Dick Dale, Bob Ralston, Joe Feeney, Jim Roberts...and Myron Floren, would fly all over the country on personal appearance concert performances for all types of organizations and events. The one most in demand, logging an average of more than 150,000 air miles each year, was "quiet-mannered, fast-fingered accordionist" Myron Floren. He was also Welk's "right arm in the band administration department". His musicianship and dependability were legendary. Hired on the spot by Lawrence Welk in St. Louis in 1950, while both were there on separate engagements, Floren maintained an association with the Welk Organization for 55 years until his death in July, 2005.

How were the TV programs produced? Virtually all of the musical numbers, except for a few, were pre-recorded to eliminate the need for overhead mic booms, which cannot be used for long-shot production numbers. Lawrence Welk emphatically believed that his was essentially a "sound" show. If the sound was not excellent in quality, it failed to live up to the televiewer and his expectations. Each switch of the camera angles occurred at a particular bar-break, so that the music and the visual actions had a continuous, unceasing flow.

Thirty-five years later millions of Public Broadcasting Service (PBS) TV viewers continue to enjoy programs from 26 seasons of The Lawrence Welk Show, which originally were aired from 1955 to 1981.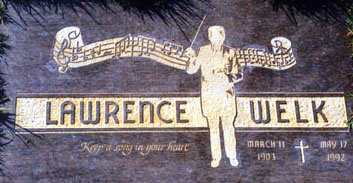 Lawrence Welk, March 11, 1903 - May 17, 1992, whose "earliest clear memory is of crawling across the floor of our sod farmhouse toward my father, who was smiling and holding out his accordion", said: "All of the wonderful things that have happened to me in my lifetime more than justify my strong belief in our American system, and my faith in our country's great future - the future of a beautiful community and a wonderful country which has given me so much more than I ever dreamed of achieving."

Sources for this article: Don Fedderson Productions Syndication Division, J.L. Kaufman, Director of Public Relations - materials sent to this writer in November, 1971, for a paper in a Communications Course of his Senior year at Murray State University , Murray , KY; "Wunnerful, Wunnerful! The Autobiography of Lawrence Welk", by Lawrence Welk with Bernice McGeehan, Prentice Hall, 1971; and a "date check" from the Lawrence Welk Chapter of "The Golden Age of the Accordion", Ronald Flynn, Edwin Davison and Edward Chavez, Flynn Associates Publishing Company, 1992.