---
Frank Marocco Accordion Event in Arizona
by Dan and Joan Grauman
---
Donna Massey, Bob Moloznik
photo by Bruce Lawrie

Orchestra members
photo by Bruce Lawrie

Orchestra members watching Frank Marocco
photo by Bruce Lawrie

Fifty-two accordionists plus 25 spouses and friends from 15 states and three Canadian provinces gathered in Mesa, Arizona for four days of accordion music-making on January 24-28, 2008. During the day, the orchestra rehearsed under the direction of the great Frank Marocco, enjoyed wonderful hands-on workshops presented by Lenny Feldmann, Dr. Ian Blair Fries, and Frank Marocco, and partook in private classes with master accordion instructor, Ilmar Kuljus.

Afternoons were spent enjoying the beautiful tropical surroundings and some people even practiced! Evenings were spent listening to solos, duets, as well as larger groups, and there was even a comedy act. Everyone was encouraged to play. After a banquet-style dinner on Saturday night, the attendees were treated to a wonderful performance by Frank Marocco. This highlight of the event was a standing room only concert attended by over 300 people with an overflow crowd watching through the windows and filling the lobby of the building. In addition to the six beautiful orchestral selections, the 90-minute program also included solos and duets performed by orchestra members, and a surprise performance of "Cute" and "A Train", featuring Frank Marocco, accompanied by two incredible Mesa Community College music majors, percussionist, Wes Anderson and bassist, Sean Brogan. Following the concert, Los Angeles accordionist, Norman Panto, entertained the audience, as well as the orchestra members, with nearly two straight hours of accordion music of every imaginable genre.

Concert audience
photo by Bruce Lawrie

Frank, Lynn Ewing, Stella Allison, Sharon Walters Greyhosky, Joan Grauman
photo by Bruce Lawrie

Bassist Sean Brogan
photo by Bruce Lawrie

Frank Marocco
photo by Joan Grauman

The event was coordinated by Dan and Joan Grauman. They were assisted by the amazing sound engineer / photo & video guru, Bruce Lawrie and terrific emcees, Geoff Levear and Lenny Feldmann. Dale Wise was indispensable as our resident accordion repairman, who refused payment for countless hours of hard work. A wonderful time was had by all!

Bob Moloznik, Wayne Huntsinger
photo by Bruce Lawrie

Lenny Feldmann conducting workshop
photo by Joan Grauman

Orchestra members participating in (Lenny's) workshop
photo by Joan Grauman

AAA Board members Marilyn O'Neil, Joan Grauman, Lenny Feldmann
photo by Bruce Lawrie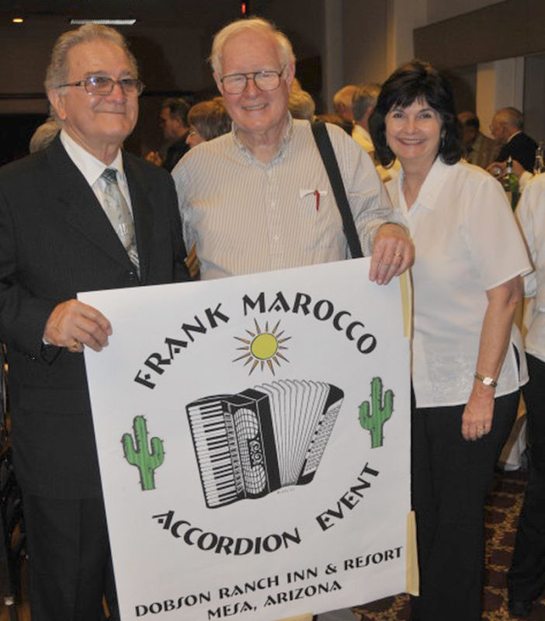 Frank, Dan Grauman, Lynn Ewing
photo by Bruce Lawrie
---
Side Note to Accordion Event with Frank Marocco
Accordionists to the Aid of Young Bass Player

Something beautiful happened at the 2008 Frank Marocco Accordion Event besides the music. Young bassist, Sean Brogan, a second-year music major at Mesa Community College, and member of the Frank Marocco Accordion Event Orchestra, was late for practice. He was late, because he had to clean up the broken glass that was left after his car had been burglarized overnight outside his home.

His prized Fender bass guitar and an amplifier, valued at over $1,000, had been stolen. Everyone in the orchestra felt very badly for Sean, and then, during the first rehearsal break, something truly amazing happened. Members of the orchestra, including director, Frank Marocco, quietly began to approach Sean, whom they had just met the previous day, to express their regrets about his loss and to give him donations toward the purchase of new equipment. Absolutely no request was made for these donations, this was purely spontaneous! We believe that he received enough money to replace his instrument.

People frequently joke about accordions and accordionists. Here is a heartwarming story about their kindness and generosity.