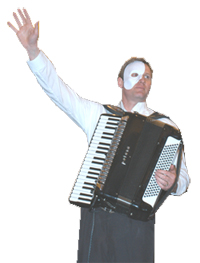 The National Accordion Association's 2006 convention, held in Richardson, Texas, March 9-11, was a smashing success!

While the organization's convention has been an annual event for many years, this convention was the first held under the new name, National Accordion Association. (pictured right is Phantom, Jim Rommel).

As always, there were a large number of workshops from which to choose, concerts, a polka festival, banquet music by attendees, and opportunities for impromptu performances and jam sessions.

Perhaps the key difference in this convention, however, was the focus on the diatonic accordion and polka music.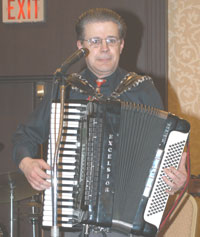 The NAA featured diatonic accordionists Fred Ziwich (left), Alex Meixner, Joel Guzman, and the Pivovar Trio. NAA attendees and planning committee were also delighted with a surprise visit by Marge Ford and the Alaska Polka Chips.

The NAA was very fortunate to secure Denis Novato of Trieste, Italy, as a featured performer. Denis is the National Button Accordion Champion of Italy, and nobody hearing him would ever doubt his claim to the title. He did some amazing feats-and on a three-row diatonic accordion! He also heavily utilized the basses-all 12 of them.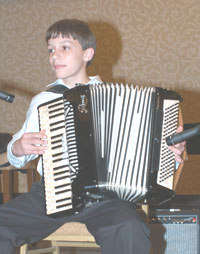 The NAA planning committee received many positive comments about the wonderful dance music performed on Thursday and Friday nights. The dance floor was constantly filled with animated couples, and those who simply sat and listened certainly got their money's worth, too. Polkas and waltzes were the theme of both evenings, and Joel Guzman provided a bit of diversion with his spicy Hispanic music. (Pictured right is young accordionist Elliott Micaiah).

The 2006 convention offered workshops covering a wide variety of content. One new, very popular workshop was an overview of the physiology and well-being of the accordionist's hands. This workshop was presented by Ian Fries, MD, an orthopedic surgeon specializing in the hand.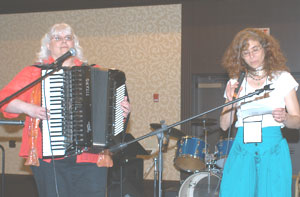 Dee Langley and Shirley Johnson (pictured left) collaborated on two separate workshops introducing Balkan music on the accordion. Shirley even taught beginning dance steps to workshop participants.

If you have attended the NAA conventions in the past, you know that each one is different from the previous years'. Next year will be no exception, so don't miss it!