---
National Accordion Association
Richardson, (Dallas area), Texas
It's Party Time - Bring Your Accordion! - March 2008
photos courtesy of Bruce Lawrie, NAA Member
---
The 21st annual National Accordion Convention "Let's Have a Party" was definitely that! With the resurgence of accordion popularity in the United States, a national committee was formed to develop a convention that addressed those needs. The general format was announced, and a "call for presenters" was sent to accordionists on the national e-mail list (over 2000 addresses). A large number of accordionists responded and forwarded proposals to the committee. After a lengthy selection process, a comprehensive convention program was developed. While this procedure is time consuming, the resulting convention was very successful and a lot of fun.

Never a Dull Moment! For the first time in our history, the three different days had three different emphases. Thursday focused on training accordionists to perform folk music and to perform for folk dances. Friday concentrated more on band performers, and Saturday was more of a traditional accordion convention. Special guest to the dance programs included the 2007 Texas Wurstfest dance contest winners and members of the Multi-Ethnic Cultural Arts Association (MECAtx.org). All these winners were dressed in beautiful costumes.

| | |
| --- | --- |
| | |
| Karen Fremar of Vivant! | Danny Jerabek |
| | |
| Dee Langley | Carl Finch of the 'Brave Combo' |

Some of the enthusiastic attendees at the National Accordion Association Event

Comfort Zones - Gone-gone! For 2008, the NAA President (Norman Seaton) requested that all presenters "step out of their comfort zone and do something different." As a result, many new presenters made their way to the front of the show this year. New names that came to the forefront include Shelia Lee (Galveston, Texas), Catie Offerman and Terry Cavanagh (Central Texas), Vivant! (Kansas City area), Danny Jerabek (Wisconsin), Sylvia Marie (California), Carol Widder (Arkansas), Wesley Kucera (Texas), Albreski's Youth Program, Accordion All-Stars, and Brave Combo (Texas). We must never forget those who traditionally lead convention activities and worked again this year to assure that the convention had a well-balanced program. Yes, the traditional presenters also "stepped out of their comfort zones." Again, the 2008 convention was all about teamwork, the wave of the future!

2008 "Way-out" Events! While several of these individuals and groups are new to the NAA, they are well known in their respective areas. Newsworthy new events included Debra Peters' folk music accordion band, Dee Langley's rock 'n roll accordion orchestra, and the Accordion All Stars. NAA charter member Carl Finch (Brave Combo) assembled a combo of younger accordion players and performed during the Friday night event. Their performance included music never heard before on accordions. Approximately 100 people stood in front of the stage for nearly an hour watching Carl Finch, Terry Cavanagh, Ginny Mac, Patrick Harison, Wes Kucera, and Danny Jerabek perform. During the same evening, Fourth Generation Band performed. The name Fourth Generation was selected because most of the musicians are 4th general players in family bands. Yes, Wesley's daughter was involved in the band, so the tradition is headed toward the 5th generation!

Vivant! The Saturday evening concert ended with the amazing musical production of Vivant! Both newcomers and veteran conventioneers simply could not comprehend the high-level musicianship and caliber of this fantastic musical group. Talk about a "wow" factor, Vivant! has it.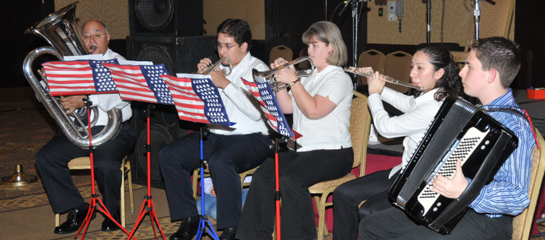 MECA Stars and Stripes Band from Killeen, Texas
Jairo Baquero (accordion) from Okalahoma City was recruited on site to play for the opening ceremony with this band. A fine young musician, Jairo did a superb job!

Vivant! from Kansas City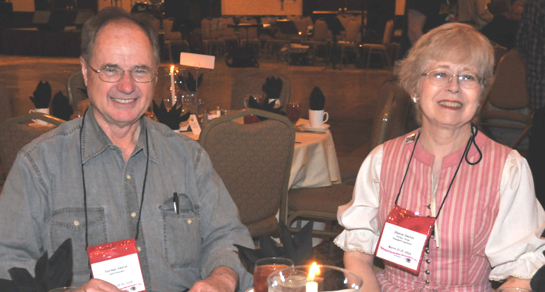 NAA President Norman Seaton with wife Sharon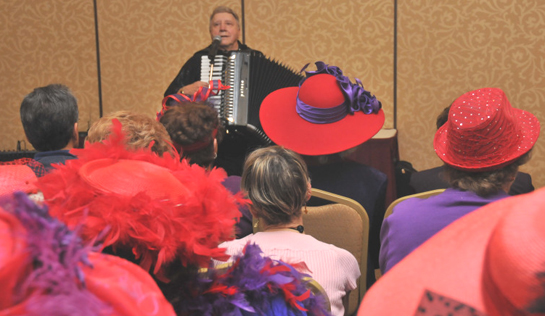 Tony Lovello in Concert

Youth Involvement! Due to generous gifts to the National Accordion Development fund, this year's convention included youth everywhere, including some of the Friday evening award-winning dancers. In fact, every other act on the Saturday night concert included at least one teenage performer. Dick Albreski's "youth orchestra" drew young musicians from several areas, including Alaska. Also new to the convention was 13-year old prodigy violin player Catie Offerman. Catie also performed on accordion in Albreski's youth concert.

Accordion Raffle! Walt Jakowicz of Golden Age Accordions donated a new Baffetti Concerto accordion that was won by Len Imberry from Regina, SK, Canada. NAA officials want to thank Walt and Teresa for donating such an impressive accordion!

Talk About Teamwork, 2008 had 33 Different Presenters! 2008 is an impressive year for teamwork! Thirty-three (33) different people took leading roles in the 2008 convention, and that does not count those who assisted. As president, it was impossible for me to attend all the events, or to even take time to visit with all the presenters and performers. That is the reason for the extensive delegation that now occurs at such conventions. I want to thank everyone involved for making this such a well organized and executed convention. Yes, I realize that it is impossible to list everyone's fantastic contributions, so please forgive me in advance for missing some of those important details.

For those of you who missed the convention, the agenda will continue to be on the web page for your review for another 30 days. http://accordions.com/naa. For those of you who are not on the National Accordion Association e-mail list, send Norman Seaton a message and ask to be placed on that list. Be sure to include your name and state (or area) where you live.

For those who want to support the National Accordion Association, be sure to click the link to become a member and mail $12.00 to the address given. Your membership fees assure that the accordion will keep growing in popularity in the United States.

| | |
| --- | --- |
| | |
| Sylvia Marie | Valina Wijnberg and Ross Witte |
---