For further information and tickets, please visit:
It was seven years ago that Kim and Dan Christian noticed an advertisement recruiting musicians to perform at Silver Dollar City in southern Missouri. No one could have imagined that this would lead to the establishment of a full time show in the heart of the USA's Las Vegas of the Midwest - Branson, Missouri.

After winning the audition and a subsequent show at Silver Dollar City in December of 2000, Kim and Dan fell in love with the lifestyle and people of the Branson area and thus began the dream of establishing a full time show in Branson that not only gave them the ability to make a living performing on the instrument they loved so much, but also to showcase the accordion to the world.

The years that followed were spent making the business plan, finding the theater, securing the necessary financing to get the show off the ground, preparing the show itself, recruiting cast members and moving the family across the country to their new Missouri home.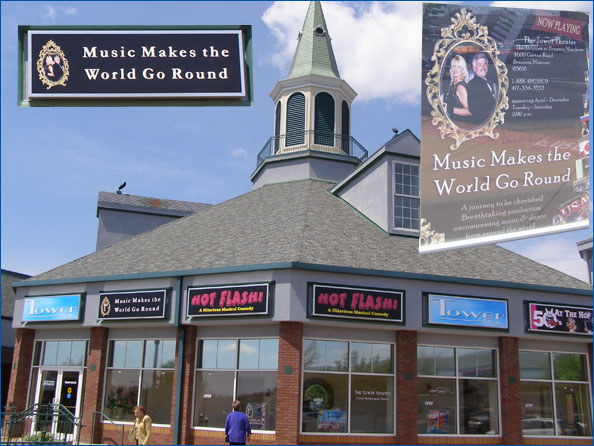 This incredible leap of faith and hard work paid off when the 'Branson Dream' became reality during opening day on Tuesday April 24, 2007 at the Tower Theater. Kim and Dan took their positions on their unique accordion stage, surrounded by their two daughters and fellow cast members to make accordion history!

Kim and Dan's plan to bring the accordion to the general population is now in full swing during their daily 2:00 PM show entitled Music Makes the World Go Round, where the cast take audience members on an exciting musical journey around the world. Kim is the creative force behind the artistic side of the show, while husband Dan took care of all the musical arrangements, culminating in a spectacular production which will play through December during this first season run.

On Friday, April 27, 2007, several graduates of the University of Missouri - Kansas City Accordion department including Michelle Boddicker-Schefler, Betty Jo Simon, Joyce Davis and Kevin Friedrich traveled to Branson to see the show.

The verdict was unanimous..... A Must See for All!!

Against all odds, Kim and Dan have stepped up to the plate to realize their dream, and have also brought credibility to the accordion by producing an excellent show that appeals to all. The show features the versatility of the accordion while integrating film and dance to captivate all of the senses.
The Stars of the Show get ready back stage: Dan, Kim, Camille and Cerissa

The Dressing Room full of costumes
In a remarkable musical adventure, the show features many well known selections performed from instrumental duos, trios and quartets by Kim and Dan, and their two daughters Camille and Cerissa, to full scale show numbers with vocals, percussion and dancers by fellow cast members Travis Lantz (percussion), April Christine and Scott Sartain (Dance) and Mathew Mattney, under the choreography of Michelle Willadsen.

Kim and Dan engage the audience in a warm and humorous manner, captivating their audience's imagination as they take them on their musical world tour with interactive trivia and musical education.

The first half of the show visits many countries around the world, while the second half pays tribute to the many genres of American music, a short history of the accordion and the various artists, culminating in a salute to the many who have served in the United States Army, Navy, Coast Guard, Air Force and Marines.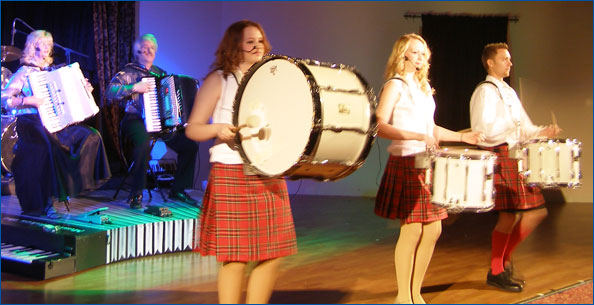 The Show begins in Ireland, then journeys on to England, Spain, France, Germany, Austria, Italy, Greece, Russia, Japan and Mexico, before settling into the USA.

The two hour show (including 15 minutes intermission) includes sensational renditions of Malaguena and Copland's Rodeo, as well as Dan's rousing arrangement of Old Time Religion and an entertaining Dueling Banjos and Orange Blossom Special. There are Sing-A-Longs, audience participation, dancing, vocals and much more to compliment the superb technical and musical performances of the Christian family and fellow cast members.

Congratulations to Kim and Dan and their family for the endless amount of work they have done in putting this entertaining performance together and getting the show off the ground.

The show is every Tuesday - Saturday at 2:00 PM with tickets running $24.95 (adult), $14.95 (ages 12-18) and under 12 are admitted free of charge.

For all information and show dates, please visit: www.musicmakestheworldgoround.com

Music Makes the World Go Round is an amazing interactive production that leaves the audience with a unique experience that will be remembered and cherished throughout a lifetime! This show features world-renowned maestro accordionists Kim and Dan Christian. Kim and Dan are the recipients of many prestigious awards including US National Champion and World honorary bronze medal winner. They have performed all over the world and are now dedicated to bringing their multitalented family to the new and exciting Tower Theater in Branson.
Dan and Kim along with their family invite you to come on a 'virtual' visual and audio world tour. You will experience the music, costumes, dances and scenery of several of the most beautiful countries of the world while enjoying the comfort of a lush theater seat in Branson. You will be immersed in the cultures of 14 different countries. You will feel like you are actually traveling to France, Germany, Italy, Russia and many more without the fuss and fatigue of real travel. Dance styles represented include an Irish jig, a Spanish Flamenco dance, a tarantella, a Greek folk dance and more.
Some of the places you'll 'visit' include an Irish castle, a Spanish bullfight, the Oktoberfest in Munich, and a Venetian gondola boat to name a few. You will have the opportunity to sing along with such favorites as When Irish Eyes Are Smilin,' Edelweiss, and of course the Beer Barrel Polka. There will even be a chicken dance competition at the Oktoberfest. What a blast!
Dancers April Christine and Scott Sartain dazzle the audience with their flawless choreography

Stars Kim and Dan Christian constantly delight the audience
After "traveling" the world abroad, you will then spend the second half of the show enjoying the diversity of several different styles of American music including a rag, boogie, polka, gospel, pop, cajun, patriotic and more. Nowhere else can one be exposed to such amazing and versatile talent featuring the intriguing sounds of both acoustic and midi accordion. You will be fascinated as you're hearing Aaron Copland's Hoe Down which is written for an entire symphony orchestra, but is being performed by just 2 amazing accordionists. You will also hear the incredible vocal talents of the Christian sisters as well as their talents on the accordion and other instruments.
There will be an amazing Patriotic tribute celebrating the fact that although there are many beautiful countries to visit, we are all very blessed to live in the greatest country in the world……. The United Stated of America!
You simply must see this show! You will have the time of your life!

Dan was born to be performer. He is at his best when he is on stage. He started music lessons when he was 8 years old. Dan became passionate about music and practiced 2 hours a day from that point forward. He won every major competition he ever entered. His greatest accomplishments include winning the regional Rocky Mountain Accordion Championship 4 times, and being the first winner ever of the prestigious Galla- Rini Award. Dan's teacher just happened to be Kim's father. Thus they grew up together with a unique musical connection.
Dan began teaching at age 16. He developed a passion for classical music and has transcribed several entire symphonic works for accordion orchestra. He became an accomplished director and led his orchestra to 2 National Champion titles. Dan is a fantastic music arranger and is responsible for all the arrangements for "Music Makes the World Go Round" and all the duet arrangements he performs with Kim.
A closer look at the 'accordion stage' in Branson
Dan is passionate about performing with his wife, Kim. Together, they've performed throughout the US, Canada, Mexico and even China. Performing at the Beijing Philharmonic and adjudicating for the 8th International Accordion Festival of China was definitely a career highlight for both Dan and Kim.

Kim has a true gift for musical interpretation and expression. She has been surrounded by music her entire life. Her parents own the Young Musicians of America music school and the Monarch Accordions dealership. Ever since she can remember, she has been playing in bands and competing.
Her biggest accomplishments include the US National Championship and bronze medal winner in the Coupe Mondiale World Championships. Kim attended Loretto Heights College and studied accordion, piano and voice. She has been teaching private music lessons for 27 years. Four of her students have received full music scholarships to Denver University's Lamont School of Music. Kim has directed dozens of bands that have won numerous awards in competitions throughout the US.
Kim and Dan Christian (left) and dancers April Christine and Scott Sartain (right)
Kim's greatest joy comes from performing with her husband, Dan. Dan and Kim have known each other since she was 4 years old. Dan took lessons from Kim's father. Dan and Kim together create a magic through music that is truly inspirational. Between the two of them and their diverse talent, they can cover the music that would normally be played by a twelve piece orchestra. They feel truly blessed beyond measure to be able to perform in Branson full time. It is literally a dream come true!

17 year old Cerissa is an energetic person who loves people and has a huge passion for music. She has been performing since she was 3 years old. Her biggest achievements include winning 1st place in every accordion Royalty category from age 6 to age 16. She has also been a member of the esteemed Colorado Springs Children's Chorale for two years.
Kim and Dan Christian (left) and right, the Christian family with sisters Camille and Cerissa
She has been a section leader in her high school show choir and madrigal choirs. Her biggest love is singing. She loves to belt out a soulful tune every chance she gets. Her two favorites styles are R&B and Gospel. Cerissa also plays the piano and drums.

14 year old Camille has been surrounded by music throughout her life. She grew up competing every year in competitions with YMA Music (her family's business). She loves the fact that her family is very close and the fact that they all love the many aspects of music. She intends to follow closely in their footsteps. She has won dozens of awards including Countess and Duchess of the Rocky Mountain Accordion Festival.
Throughout elementary and middle school, Camille attended band and choir. Just last year she was extremely excited when she was accepted to sing in the Colorado Springs District 11 Honor Choir. It was a great experience for her. She is a great trumpet player as well.

Percussionist Travis Lantz has always been a lover of music. Beginning early on in his life, he found music to come natural with his personality. As he grew older, he became dedicated to finding his uniqueness as a musician and always enjoyed arranging hymns and Christmas pieces for local churches. His two main instruments are drums and piano, and although asked many times if he preferred one over the other, his answer always stated that each played a special part in his life and allowed him to express himself differently with each one.
While finishing his Music Performance degree, he spent time on cruise ships and numerous venues around the nation enjoying the art of performance. Perhaps his most fulfilling time as a musician has been leading and being part of worship teams. He maintains that it has been a wonderful thing to study the arts so rigorously in the classroom, and then take them out into the world and apply his individuality with the ideas of musical legends.

Dancers April Christine and Scott Sartain perform throughout the show, adding dazzling visuals to the show, as audience members are taken on a wonderful world tour.

Cast member Mathew Mattney assists with vocals, dancing and stage management.
The accordion stage is simply folded up and wheeled out

Linda (Public Relations Manager), Michelle Scheffler (Oregon), Dan Christian, Betty Jo Simon (Kansas),
Kim Christian and CIA President Kevin Friedrich (New York)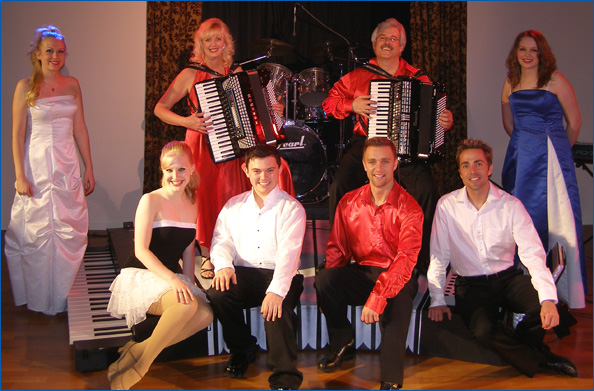 Standing: Camille, Kim, Dan and Cerissa Christian
Front: April Christine, Mathew Mattney, Travis Lantz and Sott Sartain