---
CHARLES NUNZIO - INSPIRATION TO GENERATIONS OF ACCORDIONISTS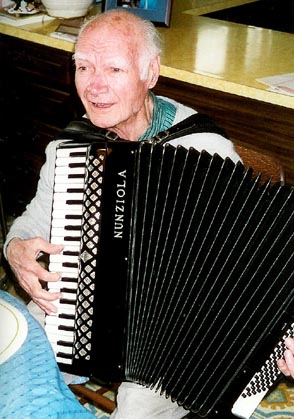 Residing in Basking Ridge, New Jersey...you know...George Washington, the Revolutionary War, Trenton, the British, the Hessians, "The Crossing"...there is another historical figure - Charles Nunzio. A living legend and one of a handful of surviving icons from the development of the accordion in the USA in the twentieth century, Maestro Nunzio is still on a mission.
Yes, he continues to teach in his 91st year. One student's family drives five hours each month from Providence, Rhode Island for a lesson. He continues to practice daily and arranges music, too. It's part of a daily regimen that begins before 6:00 AM.
There is a bigger picture to the mission. It's that of disposing of an inventory of his life's work - more than 100 accordions. Many of them have genuine historic value for reasons other than the fact that you're dealing with Charles Nunzio.
Mr. Nunzio last performed in public on March 2, 2002, before an appreciative audience at the annual convention of the American Accordion Musicological Society, founded and administered by Stan Darrow (who, with his wife, Joanna, is on the Executive Board of the Accordionists & Teachers Guild, International...and they are a classical accordion duo, as well). The AAMS honored Charles and the inscription on the award is an appropriate summary of a career that spans more than 70 years:
"Presented to The Legendary Charles Nunzio...
In recognition of your contributions in developing
the accordion's American Evolution as artist,
teacher, composer, innovator and as an
aspiring idol of so many accordionists.
The impact of your contributions will forever be felt."
A native of Cattafi, Italy, Charles immigrated to America at age eight in 1921. His early musical instruction included Solfeggio, a rigid discipline which covers reading music and timing. For two years Charles studied sight reading and beating time without playing a note on the accordion! His family lived in Newark, New Jersey and in order to continue his accordion study with Frank Umbriaco in New York City, Charles and his father would travel for 2 hours every Sunday morning.
Maestro Nunzio's advanced study continued with Pietro Frosini. He would sub on radio programs for Pietro Deiro, Charles Magnante, Joe Biviano and Frosini. At one time in the 1930's, Charles would do as many as 35 radio programs in a week, plus maintain his teaching schedule and evening appearances with orchestras. He performed with Guy Lombardo, Rudy Vallee, Meyer Davis and Lester Lanin. He was also recording for Decca, Victor and Columbia.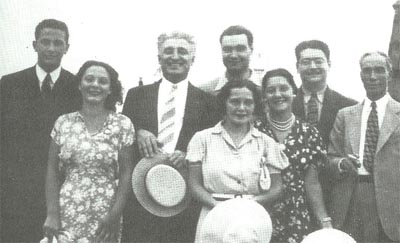 In 1937 he established a music studio in the Carnegie Hall building where he taught 3 days a week. That same year he was sponsored by the Settimio Soprani factory as consultant and advisor for improving the instrument and to create an "artist" model for the American trade. He spent time in Castelfidardo in the Soprani factory supervising various manufacturing departments. Charles is pictured above center in 1937 before departing for a trip to Italy. Pictured left to right are: Frank Iacolucci, Vicky DeBellis, Pietro Deiro, Charles Nunzio, Eva and Maria DeBellis, Louis Iorio and John Nunzio.
In 1938 Charles Nunzio became a founding Board member of the American Accordionists Association along with Pietro Frosini, Abe Goldman, Sydney Dawson, Anthony Galla-Rini, Charles Magnante, Pietro Deiro, Gene Von Hallberg, Joe Biviano, John Gart, Sam Roland and Byron Streep. He maintains a friendship with Maestro Galla-Rini to this day.
AAA Founders Pictured above Left to Right:
Front Row: Pietro Frosini, Abe Goldman, Sydney Dawson
Center Row: Anthony Galla-Rini, Charles Magnante, Pietro Deiro Sr, Charles Nunzio
Back Row: Gene Von Hallberg, Joe Biviano
Not Pictured: John Gart, Sam Roland, Byron Streep
In 1960 Nunzio served a term as president of the Accordionists & Teachers Guild, International. That same year his student, Donald Hulme, from Belleville, New Jersey, won the World Championship in Pallanza, Italy.
In 1972 Charles closed his accordion school and in 1977 he moved to his present home in Basking Ridge. However, he brought his inventory with him and has continued to cultivate and maintain it in his home for more than 25 years. His extensive knowledge of the accordion has led him to specialize in its repair, tuning, collection and shipment. He invented his own custom design model, the Nunziola, in the 1940's. And he holds a patent on the Kuehl Free-Bass accordion, which he developed with the late William "Bud" Kuehl of Chicago.
In the 1980's Nunzio became a consultant to the Parrot accordion factory in Tientsin, China. He was also inducted as the first artist in the Accordion Association Hall of Fame by the Accordion Teachers' Association of New Jersey.
Eighteen of Charles' compositions have been published and he has written arrangements for at least 300 songs. In the past year, he has reissued an updated version of his "Hanon for Accordion", a two-volume set of exercises that are a must for every accordionist. They are available as a set for $15 by contacting Mr. Nunzio.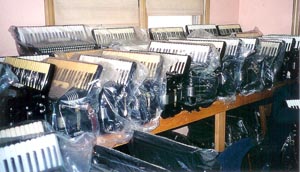 Finally, as for that inventory of accordions, the list is impressive and representative of some of the finest brands and models of accordions past and present. At one point, Charles had a financial interest in Bell Accordions. Along about 1957-58, he took the top professional model to Charles Magnante hoping for an endorsement. Magnante already had a commitment, but he was impressed with the instrument and played it for most of an afternoon in-between recording sessions. That instrument is among the more than 100 that are for sale including these manufacturers: Iorio, Bugari, Zero Sette, Sonola, Galanti, Guerrini, Dallape', Italo America, Giulietti, Paolo Soprani, SANO, Crucianelli, Pan Jet, Excelsior, Farfisa, Hohner, Imperial, Titano...and more.
Charles Nunzio and his contemporaries, many of whom are gone, now, serve to inspire current and future generations about the accordion. The accordion and longevity are certainly part of a lifelong equation. Look at Anthony Galla-Rini, Carmen Carrozza, Art Van Damme, Mort Herold, Art Metzler, Tom Collins, Dick Contino, Myron Floren, Tony Lovello...and others...who are still making contributions to the USA accordion scene through their performances, appearances, compositions, arrangements, recordings and correspondence.
Information for this article was provided by and/or excerpted from Charles Nunzio; "The Golden Age of the Accordion" by Flynn, Davison and Chavez, 1992 ed.; and "The Polka News" (Aug., 1999) of St. Charles , MI.

You are encouraged to contact Charles Nunzio about his published music, his accordion inventory, or just to "be a fan": 107 North Finley Ave., Basking Ridge, NJ 07920; tel. 908-766-5109.