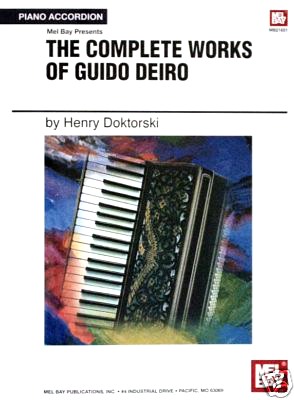 "The Complete Works of Guido Deiro" by Henry Doktorski (2008)

This magnificent volume contains 192 pages of historical narrative and photo's featuring 45 original works for accordion composed by Guido Deiro (1886-1950). It is the culmination of more than 5 years of scholarly research by Henry Doktorski, a concert accordionist and educator living near Pittsburgh, PA. Collaborating with Guido's only son, Count Guido Roberto Deiro, Henry released a masterful double CD set, released in 2003, of solo accordion performances which recreated all of Deiro's music. Now all accordionists have access to this historic material.

You're probably asking why should there be any significant interest in early 20th-century music, especially when it was written for the accordion. The comparison must be made to the enduring Masterworks that are the core of any orchestra's repertoire, and the answer is "their compelling appeal". In the case of "The Complete Works of Guido Deiro" there is an aura of discovery and the satisfying result of more music that is now available to every accordionist, regardless of their skill level. While it's categorized as music of the 1910's, 20's and 30's, there is much for the player to celebrate and enjoy in a wide variety of melodic marches, waltzes, polkas, fox trots, tangos, rags, mazurkas and quadrilles.

Henry Doktorski "set the record straight" with his retelling of the story of Guido Deiro and his significant contributions to the history of the accordion in America. 2008 marks the 100th anniversary of Guido's arrival in Seattle, WA, where he introduced (and coined the phrase) the "piano accordion" and pursued his professional musical career, which led to his debut in vaudeville in 1910. For nearly 20 years Guido was a headliner in vaudeville and was one of the highest-paid musicians earning $600 a week His popularity extended beyond the stage to records, radio and the movies.

The Deiro accordion had 41 keys with 4 ranks of 328 reeds in the treble - 1 low and 3 middle ranks. There were 120 reeds in the left-hand manual with 132 bass and chord buttons. The instrument featured a mute for the left hand and two registers for the right hand - an "organ-like" master of all 4 sets of reeds and the violin register of the 3 middle sets of reeds.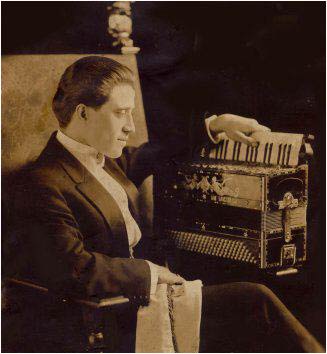 Guido owned the finest cars and a yacht; enjoyed custom-tailored clothes; entertained lavishly; operated music studios; sold Italo-American and Guerrini accordions; and married four times. Henry's authoritative biography, "The Brothers Deiro and Their Accordions", tells the stories of Guido and Pietro Deiro. They generated the popularity of the accordion in America through their published music and live-concert and recorded performances of accordion music.

Several compositions stand out for me as a player: "Deiro Rag", "My Florence Waltz", "Tango Tosino", "Valse Pirouette", "Variety Polka" and "Queen of the Air March". These are challenging, yet rewarding, and they give the player a feeling of accomplishment. There are more rudimentary pieces from Guido's accordion method series and the titles include "Accordionette Waltz", "Beautiful Girl Waltz", "Torpedo March" and more. There are 5 duets, among them "Jewel Waltz" and "King Boy" (fox trot). A more accessible revision of "My Florence Waltz", arranged by Anthony Galla-Rini and released in 1952, is included along with reproductions of many original sheet music covers.

This material should find its way to every player who has the heart and interest to present the accordion as an instrument that is capable of sonorous melodies and delicate technique.

Available from:
Henry Doktorski, 142 Holly Hill Drive, Oakdale, PA 15071
Phone: (724-693-8752)
E-mail: henrydoktorski at gmail dot com
Price: $25 plus S & H