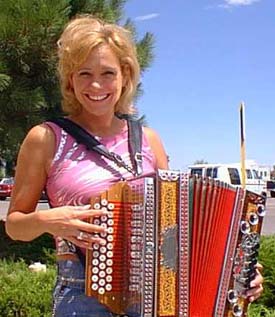 At the beginning of this year, LynnMarie was ready to throw in the towel and her squeeze box and refocus her energy away from her music. However, in February, her CD, "Squeeze Box" was nominated for a Grammy in the polka category. Although she didn't win, this experience has opened new opportunities of which she never dreamed. The Grammy nomination and the appearances on the Leno and Letterman shows have been significant turning points in her career.

LynnMarie can still remember her father, Ludwig Hrovat's ability to walk into a room and make the audience come to life with his accordion music. Her father became a true inspiration for LynnMarie. She too wants to move audiences and change the mood, from a neutral or depressed one to an atmosphere of joy. LynnMarie wants to make people happy. She lights up the room while singing and playing the squeeze box.

LynnMarie spent her free time during her growing up years at the Slovenian home (similar to a community hall) in Cleveland. Her father was the leader of the house band there. LynnMarie has fond memories of singing with the Slovenian Junior Chorus at age five and festivities filled with music, singing and dancing. She first had the opportunity to transform a typically uneventful, boring First Communion party into a festive occasion through her music.

In high school, LynnMarie was a teen you could label, Miss High School. She was one who participated in all the school extracurricular activities such as being in plays, cheerleading, in addition to playing the button box. However, her first love was acting, and she was accepted to the American Academy of Dramatic Arts in New York. But LynnMarie's mother died of cancer during her senior year in high school. She changed her plans and decided to remain in Ohio to continue her education.

LynnMarie, 36, has been married to Jim Rink for 15 years. He is supportive of her and encourages her to do all that she does and be all that she can be. In 1994, they moved from San Diego (where they had been living for eight years working in the television industry) to Nashville.

With her high energy (she doesn't relax), LynnMarie is constantly pursuing new avenues to express herself through music. She has a new CD coming out in September. It incorporates traditional polka, "alternative" polka, Tex-Mex, Cajun and swing music. Her mission is to bring the world of polka music to new audiences that haven't previously been exposed to polka music and to help take away the "bad rap" of the accordion.

Tidbits of advice that she has received along the way are "You will regret things in life that you don't try". When she's in doubt about pursuing a new path, she asks herself, "Will I regret it if I don't try it?" These words have kept her moving forward.

Country music artist, Tim McGraw, once said that the music industry is often dependent upon luck. The important thing to remember is that when your lucky time comes, you need to be ready.

LynnMarie's advice to others is "find your passion…and don't quit." God always gives us desires in our hearts. And God is able to imagine all of the possibilities and opportunities that are available to us.

With her determined spirit, you never know where LynnMarie may appear-maybe even on the "Drew Carey" television show.