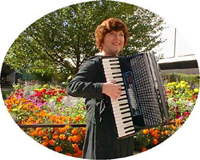 On a cool day in April last year, I participated in the local accordion club by playing a song. I wasn't aware of feeling particularly anxious until I began. Once I was onstage, my heart started pounding as all eyes were focused on me. I was determined to plow through my anxious feelings and proceed. However, one mistake led to the next. "Watch out. Here comes a difficult part," my inner voice said. My mistakes took on lives of their own. I started and stopped, like a sputtering car. Finally, somehow I reached the end of my song and hung my head low, feeling humiliated and embarrassed in front of my teacher and peers. "OK, I said to myself, either you find a solution to this stage fright problem or you throw in the towel and not perform in front of an audience." I knew I had to make one last desperate effort to find a solution.

When I arrived home, I sat down at my computer and typed "stage fright" in my Internet search. Less than 15 seconds later, the website "Showoffs Studio for Performers" was at the top of the list. What kind of organization would be called "Showoffs," I wondered, as I remembered my parents and teachers warning me, "never be a showoff."

Art Nefsky is the director of Showoffs Studio for Performers in Toronto, Ontario, Canada. He is also a performance coach, singer, actor and all-round performer. His method of helping people stand up to stage fright and overcome fear and self-consciousness is through singing. I stopped singing in high school when the choir teacher threatened to fail me if I sang the songs or pass me if I mouthed the words.

Singers, musicians, public speakers and others who wanted to feel more comfortable while performing participated in the workshop. All experienced sweaty palms, shaky knees, or a multitude of other symptoms while performing. The bonds of fear of being judged and making mistakes connected us all.

Art was a perceptive and intuitive teacher. He utilized a variety of exercises geared to the students' unique problems. Singing in front of the class was the method used to do these exercises. Students learned to focus on and connect with the audience. Mistakes were not only accepted but also encouraged. One of the exercises that I was given was to sing off-key. When I wasn't singing enough off-key, Art got on stage and helped me. I learned to attach no judgment to singing off-key or making mistakes. Singing off-key was not right or wrong, good or bad but merely singing off-key. Art also provided different personas to act out while singing. For example, I was to act as though I was a pompous superstar (something totally out of character for me). We all learned by having fun and sharing humor in a playful atmosphere. Another portion of the workshop helped us identify, clarify and visualize our dreams for the future.

Overall I learned many lessons. One important lesson was the realization that when I share my gift of music with others, the audience is not analyzing it technically but is there simply to be entertained. Another lesson was the importance of group process and support. When I saw others struggling with the same issues as mine (particularly, perfectionism and fear of making mistakes), it made it easier for me to deal with my own problems.

Upon returning to Denver, I continued to play my accordion and perform in front of audiences. I felt like a "new person" and people commented on how different I was. Further evidence of the benefits of the workshop for me was receiving six trophies at the annual music competition.

And for the first time, I recently sang two songs at karaoke, "What a Difference a Day Made" and "I Can See Clearly Now". Now that's progress considering I hadn't sang in public since high school. What a difference a weekend made and, as a result, I can see clearly now-and that's more than just song titles! They're my new theme songs.

For more information about the Showoffs Studio for Performers, contact Art Nefsky at showoffs@home.com, visit his web site at www.showoffstudio.ca or call the following toll-free number: (877) 781-4044.

Kate Kelsall is Coordinator of Volunteers at the University of Colorado Hospital in Denver, Colorado. In her leisure time, she plays the accordion-solos, duets and in two accordion bands. Kate can be contacted at KateDenver@aol.com or (303)252-9796.