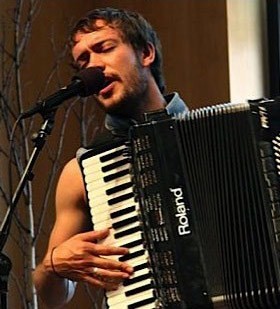 Mumford & Sons' second studio CD 'Babel', released in September 2012, on February 10th won the Grammy award for Album of the Year. 'Babel' debuted at number one in the UK and US, becoming the fastest selling album of 2012 in the UK, and the second-biggest selling debut in 2012 in the US.

Mumford & Sons are an English folk-rock band, whose members include Ben Lovett - vocals, accordion and keyboards. The group formed in December 2007, emerging out of what some in the media labeled the "West London folk scene" with other artists such as Laura Marling, Johnny Flynn and Noah and the Whale.

Keyboard and accordion player Ben Lovett met Marcus Mumford sometime around third grade at the King's College School, a private school in Wimbledon attended by John Barrymore and Charles Dickens Jr. Mumford played rugby and soccer and acted in school musicals (he played the Artful Dodger in "Oliver"; Lovett was a classically trained pianist who also played in several bands. Together they started a six-man free-jazz group called Détente – but when a friend of Mumford's older brother made him a bluegrass mixtape near the end of high school, Mumford became obsessed and started writing those kinds of songs instead.

The band name, "Mumford & Sons" originates from the fact that Marcus Mumford was the most visible member, organizing the band and their performances. Lovett indicated that the name was meant to invoke the sense of an "antiquated family business name".A handful of similar bands were increasing their visibility in West London around the same time, giving rise to the label "West London folk scene". Mumford downplays that characterization as an exaggeration—Mumford & Sons and a few other folk acts just happened to be operating in general area at the time.

In an interview with the Herald Sun, Marcus Mumford said, "It's not folk really. Well, some of it is, and it's certainly not a scene. Someone got over-excited about a few bands who live in a hundred-mile radius and put it in a box to sell it as a package. It's a community, not a scene. It's not exclusive." Having developed in the same musical and cultural environment, Mumford & Sons' sound has been compared to that of artists such as Noah and the Whale, The Avett Brothers, Johnny Flynn, and Laura Marling, for whom Marcus Mumford used to drum. Mumford & Sons continued to grow in popularity in 2011, winning several major awards and headlining larger shows and festivals.

In February 2011, they received a European Border Breakers Award for their international success.They received a Brit Award for British Album of the Year with Sigh No More and performed "Timshel" at the ceremony. UK sales of the album subsequently increased by 266 percent.While touring the United States in early 2011, the band began writing songs for the follow-up album. Keyboardist Ben Lovett credited the creative atmosphere of Nashville, Tennessee with easing the songwriting process.

Mumford & Sons played at the Glastonbury festival on Friday 24 June 2011, and then embarked on a North American tour. Mumford & Sons have recorded two songs for Andrea Arnold's adaptation of "Wuthering Heights", one of which (entitled "Enemy") will be played over the closing credits.Through 2011, the band continued to 'road test' songs from their upcoming album, many of which had been written before and during the writing of Sigh No More.

In June 2012, Mumford & Sons contributed a song "Learn Me Right" with Birdy to the Pixar film "Brave", which came to be called "Not with Haste". Soundtrack.On 16 July 2012, Mumford & Sons officially announced the details of their second studio album Babel, including the release date of 24 September 2012 and a track listing of 12 songs. A deluxe edition containing three exclusive songs was also announced. A week later, the album became available for pre-order.

The lead single "I Will Wait" premiered on Zane Lowe's BBC Radio 1 show on Tuesday 7 August.On 29 August 2012, Mumford & Sons recorded their live performance of "I Will Wait" at Red Rocks Amphitheatre in Colorado.The performance was released on 9 September as the bands official video for the song.

On 22 September 2012, the band performed two songs from the new album, "I Will Wait" and "Below My Feet", on Saturday Night Live. Mumford & Sons' second album "Babel" debuted at number one on the UK Album Chart and the US Billboard 200.It became the fastest selling album of 2012 in the UK, selling over 158,000 copies in its first week, and was the biggest selling debut of any album in 2012 in the US, selling 600,000 in its first week and over a million worldwide.In November 2012, Mumford & Sons released their 2013 East Coast tour, which includes stops in Boston, New York and Fairfax, Va. in February 2013.