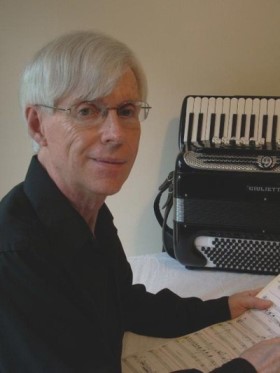 Dr.Robert McMahan will perform Robert Baksa's Sonata for Accordion (1997; commissioned by the AAA) this Saturday evening, October 9, at 8:30 PM, in the annual Faculty Gala Concert in the Mayo Concert Hall, Music Building, The College of New Jersey.

Recently Princeton soprano Joy Bechtler and Dr.McMahan formed a duo performing Italian opera arias and other transcribed vocal music. Their "world premiere" was given this past Sunday afternoon in a concert held by the Belle Mead Friends of Music in Princeton where they performed arias by Alessandro Scarlatti, Durante, Bononcini, Gluck, and Paisiello. The audience was enthralled and delighted by the combination.

Dr.McMahan's education includes:
D.M.A., Music Composition, Peabody Institute of the Johns Hopkins University, M.A., Liberal Arts, Great Books Program, St. John's College, M.M., Music Composition, Peabody Institute of the Johns Hopkins University.B.M., Music Theory, Peabody Institute of the Johns Hopkins University

Dr.McMahan is Professor of Music at The College of New Jersey where he is also Area Coordinator of Music Theory, Composition, Ear Training, and Classical Accordion.

Prior to his appointment at TCNJ, Dr.McMahan taught Music Theory and related subjects at Towson University, Morgan State University, College of Notre Dame, Essex Community College, and the Peabody Preparatory School (of the Peabody Institute) where he was Head of the Theory Department and developed its curriculum. He also taught Classical Accordion at the Peabody Preparatory School and at the University of Maryland, Baltimore County.

Dr. McMahan studied composition with Robert Hall Lewis, Jean Eichelberger Ivey, and Stefan Grove at the Peabody Institute. He received honors in composition there and awards in composition from the Annapolis Fine Arts Composers' Competition and Contemporary Recording Society. In addition, he has received a number of Meet the Composer grants since 1996.

Dr. McMahan is a recognized authority on the American composer, Carl Ruggles, and has published articles in American Music, Sonneck Society Bulletin, New Grove Dictionary of Opera, and New Grove Dictionary of Music. He is presently working on a book on the life and works of Ruggles.

Dr. McMahan's primary instrument is classical accordion, and he has tirelessly promoted the instrument in serious contemporary music throughout his career. He has been commissioned to write works for the accordion by various individuals and organizations, including the American Accordionists' Association and the New York State Council on the Arts. He has recorded on the CRS and Orion labels and is published by Ernest Deffner Music.

During his years in the Baltimore area, Dr. McMahan was accordionist for the Baltimore Symphony, Baltimore Chamber Orchestra, Washington Ballet and American Ballet Orchestras (at the Kennedy Center), and for other cultural and performing organizations. He has performed under such notable conductors as Julius Rudel, Rob Fisher, Sarah Caldwell, Sergiu Comissiona, Gunther Schuller, Frederik Prausnitz, Murry Sidlin, bandleader Les Elgart, Leon Botstein, Leon Fleisher, and Peter Schickele, and with Sting, Georgia Brown, Maureen McGovern, Alvin Epstein, Boyd Gaines, and Theodore Bikel.

Besides his numerous published articles, Dr.McMahan has been featured in articles by others in Keyboard Magazine, The Music Connoisseur, High Fidelity, Who's Who in American Composers: Classical, and several other highly regarded publications.

Dr.McMahan serves as a reader and table leader at the annual examinations readings of the College Board's Advanced Placement Program for Music Theory and had been a reader for the Graduate Record Examination in Music Theory prior to its discontinuance. He is also Secretary of the AAA governing board and serves as the Chair of the AAA Composers Commissioning Committee.