Quartetto Gelato releases 'A Concert in Wine Country'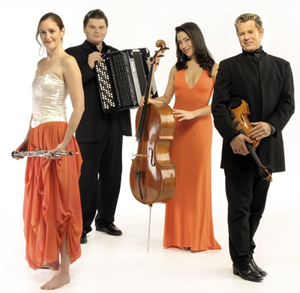 American Public Television ( APT) and Linus Entertainment are pleased to announce the release of Quartetto Gelato's first ever major televised special - A Concert In Wine Country. Shot in scenic Niagara on the Lake, A Concert In Wine Country will be available to PBS affiliates for broadcast across the US via the APT Exchange service beginning in January 1, 2007. This spectacular live event comes to you from an outdoor concert amphitheater nestled within the lavish Jackson Triggs Winery located of the breathtaking Niagara Wine Region. Audiences are in for a treat as Quartetto Gelato perform their most popular selections from composers renowned the world over.

Shot beautifully on HD and Dolby E digital surround sound, A Concert In Wine Country will delight audiences with enthusiastic and beautifully crafted performances set against a beautifully lit and dressed stage. The concert is spiced with bright and funny interviews with members of Quartetto Gelato in and around the winery, and scenic fall footage from across the wine region. Quartetto Gelato has earned their reputation as international favorite live performers with concert goers in New York, Washington, Vancouver, Chicago, Houston, Dallas, San Francisco, Los Angeles, Toronto, Calgary, Tokyo, Edmonton, Seoul, and Hong Kong to name a few.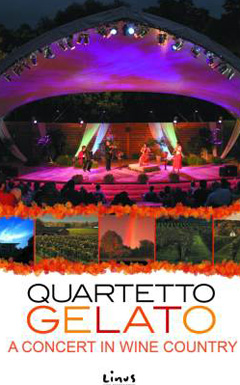 A Concert In Wine Country features members Cynthia Steljes on oboe, tenor Peter De Sotto on vocals and violin, Alexander Sevastian (three-time first prizewinner of the International Accordion Competition) on accordion, and Kristina Reiko Cooper (Doctorate of Music from the Juilliard School of Music and winner of the 1999 Walter M. Naumberg Chamber Music Competition) on cello.

This is going to be a great year for Quartetto Gelato who are set to release their first major televised concert special in 2007, premiering in the USA on public television, where it was accepted by over 72% of PBS affiliates. For over a decade, this dazzling ensemble has enchanted audiences and critics worldwide with their exotic blend of musical virtuosity, artistic passion and charismatic presence. Quartetto Gelato established themselves as dominant forces on the emerging "new classical" scene early in their career by winning the coveted title as NPR Performance Today's 'Debut Artist of the Year' in 1996. Today, Quartetto Gelato continues its reign as an international sensation with repeat sold-out performances throughout the globe.

This past summer Quartetto Gelato performed an outdoor concert at Jackson Triggs winery in Ontario's scenic Niagara on the Lake district for their first ever major televised special, A Concert In Wine Country. This High Definition/Surround Sound program, available to air beginning New Years Day 2007, brings beautiful music, magical lighting and breathtaking scenery together for a brilliant feast of the senses! Critics from the LA Times describe a concert with Quartetto Gelato as: "Light programming, like comedy, is serious business. Quartetto Gelato has the stuff."

Keith Holding directs A Concert In Wine Country, which features renditions of 'Romanian Caravan', 'Besame Mucho', the beloved classic 'Danny Boy', and lively interviews with group members. The DVD includes: Romanian Caravan, Meditango, Besame Mucho, Tombeau de Couperin (Prelude, Minuet, Rigaudon), Al Di La, Konzerstuck Opus 79 Finale, La Danza, Danny Boy. To purchase this exciting new DVD, please visit: http://quartettogelato.ca/videos.html

Radio listeners across the continent know the instantly recognizable sound of Quartetto Gelato, who are broadcast frequently on the CBC, PRI, and NPR networks. When recognized as the 'Debut Artist of the Year' on NPR's Performance Today program, the quartet were described as 'an amazing ensemble that achieves the nearly impossible.'

Classical in intent, eclectic by design, Quartetto Gelato not only thrills its audiences with the mastery of eight instruments, but also offers the wonderfully unexpected bonus of a brilliant operatic tenor. With a performance repertoire that travels imaginatively between classical masterworks, operatic arias and the sizzling energy of tangos, gypsy and folk songs, the group's relaxed stage presence and delightful humor creates an immediate rapport with traditional and nontraditional classical audiences alike. Performing without scores, their shows radiate a sense of spontaneity and excitement rarely seen on the classical stage.

The 2004-2005 season alone featured concerts throughout the US, Canada and Guatemala with extended residency programs in Albuquerque NM, Brownsville TX and Kansas City MO. To much critical and public acclaim Quartetto Gelato released Travels the Orient Express, in spring 2004, a celebration of the original journey of the famous train that featured music from London to Istanbul. The Metropolitan Museum of Art in New York City also welcomed the Quartet for a fourth performance of their holiday program, Christmas From Around The World. According to the New York Times: "Quartetto Gelato's performances have a warm, endearing vitality…"

The quartet performed over 100 concerts in recital and with orchestra throughout the 2005-2006 season across the US, Canada, Sweden, Asia and Estonia marking their first visit to the former Soviet country. Following that, the group returned to Sweden in November for a fourteen-concert tour.

Favorite Flavors, Quartetto Gelato's first best of CD, was released in response to demand from fans to access their most popular repertoire on a single disc. It includes highlights from five previously recorded CDs and offers a sneak preview of a previously unreleased track from their sixth album (music of Latin America). Favorite Flavors was released in Canada on September 27th, and November 9th in the US through Koch Entertainment.

Quartetto Gelato can also be heard on the soundtrack recording from the major motion picture Only You, starring Marisa Tomei and Robert Downey Jr., on the Sony label and have appeared on Ashley MacIsaac's (their new label mate) hit CD, Hi, How Are You Today?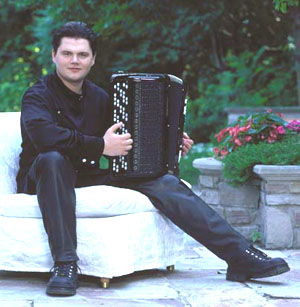 Alexander Sevastian (accordion, piano) is three-time first prizewinner of the International Accordion Competition. He won the Oslofjord in Norway (1998), The Cup of the North in Russia (2000) and the Accordion Teachers Guild in the USA (2001).

Alex was born in Minsk, Belarus and began his studies on the accordion at the age of seven. In 1991 he attended the Glinka Musical College in Minsk. His advanced studies took him to the Gnessin Academy of Music in Moscow where he received his Masters in Performance degree, studying with renowned performer and pedagogue, Friedrich Lips. While at the Academy, Alex also studied piano, conducting and philosophy.

Alex began his professional career in Moscow in 1996, performing with the Russian Radio Orchestra. He has performed as recitalist and soloist with orchestra throughout Russia, Ukraine, Germany, Italy and Japan. Highlights include performances at The Kremlin, the Great Hall of the Moscow Conservatory, Tchaikovsky Concert Hall in Moscow, Suntory Hall in Tokyo and Minato Mirai Hall in Yokohama.

Alex and his family moved to Canada in April 2001. In May 2003 he completed the Advanced Certificate in Performance program at the University of Toronto where he studied with Quartetto Gelato's previous accordionist Joseph Macerollo.

For a sample of Alexander and Quartetto Gelato please click the following link for a .mp3 file:

Konzertstück Opus 79 - Finale by C.M. VON WEBER, arr. by De Sotto/Sevastian


---
Remembering Shirley Walker 1945-2006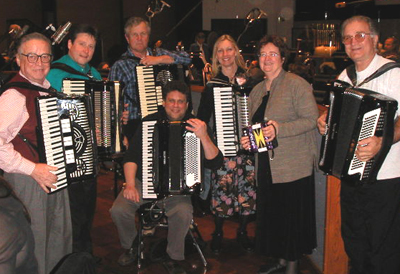 The music world was saddened to learn that renowned composer Shirley Walker passed away early Thursday, November 30, 2007 due to complications following a stroke.

The accordion world at large was introduced to the most successful American woman film composer ever - Los Angeles based Shirley Walker when on February 7, 2003 she took the podium at Warner Bros. Eastwood Scoring Stage to conduct the first-ever accordion section, part of the 90-piece orchestra that brought to life her much-anticipated score for New Line's remake of the cult classic horror film 'WILLARD' featuring Crispin Glover in the title role.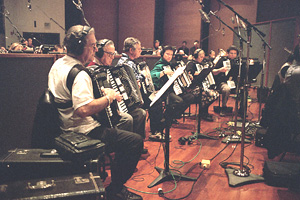 The six accordionists involved in this history making moment under the direction of Shirley Walker included jazz legend Frank Marocco, Nick Perito, Dart Zubis, Ed Vodicka, ATG Board of Director Liz Finch and former CIA World Champion accordionist - John Torcello.

Shirley Walker was a cornerstone in the film music industry as a composer, arranger, orchestrator, conductor, and "score doctor" extraordinaire. A pioneer for women film composers, she stood at the podium at a time when no women were doing so in the industry. Although a number of women have written music for film before Walker was hired to write for Memoirs of an Invisible Man in 1992, her credit was groundbreaking in that it was the first time a major Hollywood studio hired a woman as the sole composer. The project was so significant to various Hollywood insiders that an audience gathered at the scoring stage during the first scoring sessions to witness the historical occasion and experience the lore.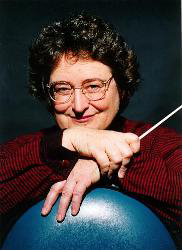 Always a highly visible role model as a woman in a man's world, Shirley Walker continued to tackle projects traditionally assigned to male composers, such as action, superhero, and science fiction pictures. After Memoirs, Walker followed her solo debut with the highly acclaimed score to the animated feature, Batman: Mask of the Phantasm. A critical favorite with its grand orchestral fanfare and gothic themes, Mask of the Phantasm is indisputably one of the best Batman music ever to be composed. In 1995, she co-wrote the score to Escape from L.A. with John Carpenter, successfully inventing a dark, industrial action atmosphere for the film while capturing an "old west," futuristic, and world music feel. Walker followed this synthesizer action with the intense and chilling orchestral score to MGM's 1997 suspense thriller, Turbulence (starring Ray Liotta and Lauren Holly). She continued to establish herself as one of the leading talents in superhero action music with the greatly anticipated Batman Beyond, a futuristic, techno/grunge rock underscore.

Her cutting edge work in scoring is critically loved in television as well as film. She won a Daytime Emmy Award as musical director on the praised animated Batman series, and received nominations for composition for both the Batman and Superman series. She received a Cable ACE nomination for the Blair Brown film Majority Rule, a Prime Time Emmy nomination for the popular Fox series, Space: Above and Beyond, and two Annie nominations - one for the animated Superman Main Title Theme and one for her original score for HBO's Spawn series. She also scored NBC's highest-rated television Mini Series of the season, Asteroid, and a TV movie for Disney entitled, The Garbage Picking, Field Goal Kicking Philadelphia Phenomenon.

Before film music, Walker had a distinguished career as a piano soloist with the San Francisco Symphony, beginning while she was still in high school. She got her first big break as a synthesist on Francis Ford Coppola's 1979 feature Apocalypse Now, and co-composing credit on Coppola's Black Stallion, in that same year. Throughout the years, she secured a place for herself in the industry as a leading orchestrator and conductor, and worked in extensive collaborations with such illustrious composers as Hans Zimmer and Danny Elfman. Her work in these roles can be heard in such hit films as Batman, Days of Thunder, A League of Their Own, Backdraft, and True Lies.

As a film composer, Walker invented an intriguing, original sound: the bombastic underscore. Her music often found that delicate balance between thematic fanfare for the superhero and suggestive ambiance for the superhero's world, not in separate cues, but simultaneously. Rather than being limited to a certain character or scene, Walker's themes served the larger purpose of creating a musical world and atmosphere for the film. The result is an intense and penetrating musical backdrop that cleverly captures the futuristic, eerie, industrial, or fantastic feel of the story setting. Walker has a special facility for dark, superhero scores, as evidenced by her prolific and profound work for Batman, Superman, and Spawn. Actually, it is quite easy to understand why she worked so well with Hans Zimmer and Danny Elfman - her own style reflects the same kind of emotional power characteristic of Zimmer and portentous darkness typical of Elfman. But no matter what genre she wrote for, it is clear her music always went for the gusto, just like her.

Based on the novel "Ratman's Notebooks" by Stephen Gilbert, the Willard project is a remake of the 1971 film of the same name which starred Bruce Davison as Willard. That film was followed by a sequel, appropriately titled Ben, and which is probably best remembered by film buffs as featuring a pop song about Ben by a very young Michael Jackson. This remake of Willard follows a young man named Willard (Crispin Glover) as he plots revenge on his boss when his pet rat is killed. His plan: send out an army of intelligent and deadly rats (led by one named Ben) to kill the coworkers.

A public service celebrating her life and work will be held in the Los Angeles are in early 2007.

Shirley regularly supported the following charitable organizations and the family will be honored if you choose to make a donation to your favorite charity in her memory.:

Special Olympics
Doctors Without Borders
The Wilderness Society
Environment of People Foundation
America's Second Harvest
Natural Resources Defense Council

Correspondence may be directed to:
Walker Family
c/o First Artists Management
16000 Ventura Blvd. Suite 605
Encino, CA 91436

Readers who feel moved to share stories, memories, or appreciations of Shirley are invited to visit the following web-site: http://mcsv.net/cgi-bin/redir?MCid=dJGJ4VsdySEJxb7IjGU4


---
Alex Carozza of New York Buys Bell Duovox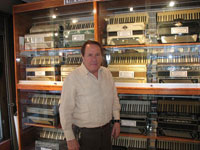 Alex Carozza, a New York-based accordion dealer and technician has bought the name Bell Duovox, with plans to develop it in the future. Mr. Carozza announced the news at the Opening Reception for his Accordion Museum on December 7th, 2006. Aldo Mencaccini, founder and President of Bell Accordion Co. was present to coincide with the announcement.

New York City's only accordion museum is located on 48th Street in Times Square, 165 West, 48th Street, between 6th and 7th Avenue in New York City. For further information e-mail: benjamin@ickies.com


---
Historical Klezmer Music Concert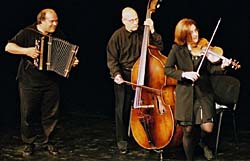 The Veretski Pass Trio will perform on January 20, 2007 in Branford, CT. Playing in an unbound, energetic "village style", the trio Veretski Pass will present a concert of historical klezmer music of Eastern Europe; pre W.W.II melodies from Ukraine, Carpathian-Ruthenia, Bessarabia and Rumania played on violin, accordion tsimbl, basy and baraban.

With unique arrangements and compositions, this group of veterans carries on the ancient tradition of klezmer musicians, playing music of all kinds, but with a recognizably Jewish sound on January 20, 8:00 PM at the Branford Folk Coffeehouse First Congregational Church of Branford located at 1009 Main Street, Branford, CT.

---
Accordion Tribe Film to be Presented in Boston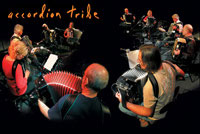 On Thursday January 11, 8:15 PM the Accordion Tribe by Stefan Schwietert (2004, running time of 87 minutes) will be shown in Boston.

The film which features five highly individual musicians from different countries that get together to form the "Accordion Tribe" with the aim to return their instrument to the worldwide recognition it once enjoyed, as a powerhouse of emotions.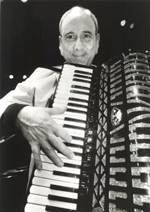 Slovenian American accordionist Guy Klucevsek (right) had a dream: to gather a group of accordion great - Maria Kalaniemi from Finland, Sweden's mad scientist Lars Holmer, fellow Slovenian Bratco Babic, and the elfin Austrian Otto Lechner and make music together.

Follow this unlikely quintet, the Accordion Tribe, on tour through picturesque European countryside's - practicing, performing, and attempting to return their instrument to worldwide recognition as a powerhouse of emotions. In English and German with English subtitles.

This series is made possible with assistance from Pro Helvetia - Swiss Arts Council, Swiss Roots–Cultural Offshoots, and co-presented by the Consulate of Switzerland, Boston.

The Accordion Tribe film will be presented at 8:15 PM, Thursday, January 11, 2007 at the
Remis Auditorium at the Boston Museum of Fine Arts, 465 Huntington Avenue, Boston, Massachusetts 02115-5523. For more information, please call 617-267-9300. Tickets for MFA members, seniors, and students are $8:00 and General Admission $9.00.


---
Leroy Thomas and the Zydeco Roadrunners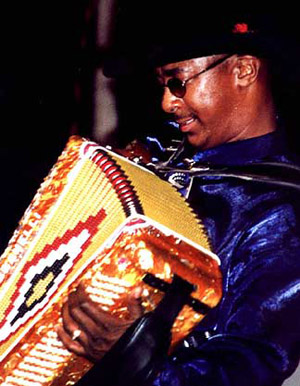 On Saturday, January 13, 2007, Leroy Thomas & The Zydeco Roadrunners will play at Balboa Park, San Diego. The Doors Open at 6:00 PM, 6:20-7:00 PM offers Dance Lessons with the Open Dancing to Leroy Thomas being held from 7:00 to 10:30 PM.

Manhattan is a long way from Elton, LA., where Thomas grew up (he was born in 1965) and where his father, Leo "The Bull" Thomas still lives, but Leroy Thomas now seems at ease wherever he chooses to be, whether in Houston, the city he now calls home, in rural Zydeco clubs like Richard's in Lawtell, in night clubs all over the United States, or in upscale establishments that are within the purview of The New Yorker Magazine.

According to a cover story in Houston City Life, Thomas started playing drums at eight: "I wanted to play drums, but I was scared to death to get on my dad's, so my brother and I made some drums out of five-gallon paint buckets. We bolted two more to the sides and flipped them over, and used little branches of trees as sticks."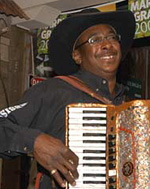 Not long after he started playing drums, he also began to learn the accordion, eventually mastering both the button accordion used by Zydeco musicians like John Delafose and Boozoo Chavis and the piano accordion, the instrument that Clifton Chenier played.

Admission: $14 ($12 for BTSC and KSDS Jazz 88 members. Directions: From Interstate 5 south, exit at 10th Avenue in downtown San Diego, turn left on A Street, turn left on Park Blvd. (12th Avenue), go over freeway bridge, turn left on Presidents Way, drive to the stop sign, and park in the lot ahead if spaces are available. The Recital Hall is north of the parking area adjacent to the Auto Museum.


---
Accordionist Tech. Sgt. Frank Busso and the Air Force Strings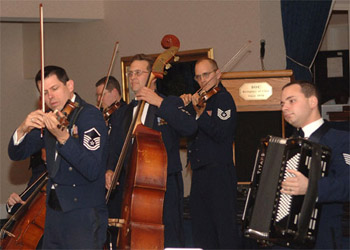 The Air Force Strings is one of the most diverse and flexible units of The United States Air Force Band. This wide-ranging flexibility allows The Air Force Strings to musically respond to the requirements of almost any occasion and provide an enjoyable experience for everyone. A key element of its mission is to entertain audiences at high-level protocol events in a formation known as The United States Air Force Strolling Strings. On other occasions it performs as The United States Air Force String Orchestra, presenting the standard works of the classical repertoire for strings. The ensemble often joins forces with members of The United States Air Force Concert Band, Singing Sergeants and Airmen of Note, to form The United States Air Force Chamber, Symphony and Jazz Orchestras. Additionally, members of The Air Force Strings appear regularly as soloists, and in duo, trio and string quartet ensembles, to present chamber concert performances, and provide quality entertainment and ambient music for official protocol functions.

Appearing as The United States Air Force Strolling Strings since 1954, The Air Force Strings has had the honor of performing at the White House for every president from Eisenhower to Clinton. Traditionally, a Senior Noncommissioned officer has guided The Strolling Strings' musical direction. The extraordinary talent of this unit is regularly displayed at official dinners hosted by the secretaries of state and defense, on Capitol Hill for members of Congress, and at official diplomatic events hosted by the chairman of the Joint Chiefs of Staff and Chief of Staff of the Air Force. Providing a multidimensional experience, these outstanding musicians surround the audience with music performed exclusively from memory and without the aid of a conductor. Their repertoire includes classical, popular, continental, Broadway, bluegrass and patriotic compositions.

Truly international ambassadors of music, the Strolling Strings has traveled to every continent, every state of the Union, and virtually every Air Force installation, delighting thousands of listeners. The musical virtuosity and sheer elegance demonstrated by the Strolling Strings has earned the recognition of world leaders.

The United States Air Force String Orchestra traces its roots to 1944 when Colonel George S. Howard, commander and conductor of The United States Army Air Forces Band, set out to build the best band in the world. With this grand vision in mind, he recruited the nation's top musicians of the day and created a word-class symphony orchestra-thereby distinguishing The Army Air Forces Band from all other military band organizations. Today, The United States Air Force String Orchestra is honored to continue Colonel Howard's vision of musical excellence.

The United States Air Force String Orchestra meets the need for a more intimate, but lively form of entertainment at social gatherings, such as official military, diplomatic and high-level civilian functions. The Air Force String Orchestra has performed at numerous conventions and musical conferences-most notably, the International Viola Society. These performances have afforded the Strings numerous opportunities to accompany some of the world's most-renowned artists. From 1986 to 1988, The Air Force String Orchestra was the resident ensemble of The United States Air Force Band Sinfonietta Series at the Library of Congress, Coolidge Auditorium.

The United States Air Force Strings is comprised of 22 world-class musicians. Each of these outstanding performers has studied and perfected their craft at leading colleges, universities and music conservatories around the world. Their studies successfully prepared them to excel during an intensive and competitive audition process, which led to their selection for membership in The United States Air Force Band. A performance by The United States Air Force Strings reflects a combination of immense collective musical experience with the boundless dedication to perfection.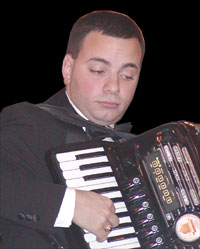 Originally from Staten Island, New York, Technical Sergeant Frank John Busso, Jr., accordionist with The United States Air Force Strings, Bolling Air Force Base, Washington, D.C. began his Air Force career in 2005.

Frank attended Boston University and received a Bachelor of Science degree in Business Administration in 2001. He studied accordion with Frank Busso, Sr. at the Staten Island Music School in New York. Prior to joining the Air Force, Sergeant Busso was an instructor and arranger with the Boston University Athletic Bands. He was also an instructor at the Staten Island Music School, where his students earned many regional and national titles in competition.

As a competitive accordionist, Sergeant Busso received numerous regional titles from the Accordion Teachers Association of New Jersey, including the organization's virtuoso championship in 1995. He also earned multiple national titles from the American Accordionists' Association in classical, popular, and ethnic competitions. Since 2001, Sergeant Busso has performed in concert as a member of The Busso Trio at numerous summer festivals hosted by the American Accordionists' Association and the Accordionists & Teachers Guild. Sergeant Busso's military awards and decorations include the National Defense Medal and the Global War on Terrorism Medal.

Upcoming performances include:
Sun. February 18, 2007
Guest Artist Series, 3:00 PM
DAR Constitution Hall, 1776 D Street NW, Washington, DC- Featuring pianist Abbey Simon and Conductor Emeritus Col (Ret) Arnald D. Gabriel!
Sun. February 25, 2007
Guest Artist Series, 3:00 PM
DAR Constitution Hall, 1776 D Street NW, Washington, DC - Featuring the Empire Brass!
Sun. March 4, 2007
Guest Artist Series, 3:00 PM
DAR Constitution Hall, 1776 D Street NW, Washington, DC- Featuring the New York Voices and the Young Artist Competition Winner!
All performances are free and open to the public. For detailed information about performances in the Washington, DC, area, please call the Band's 24-hour concert line at (202) 767-5658.

---
Buckwheat Zydeco and Marcia Ball Concert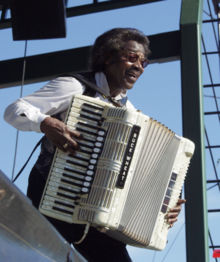 The combination of Buckwheat Zydeco and Marcia Ball promises a raucous evening of stomping Louisiana music: rhythm-and-blues, zydeco, soul-drenched singing, and keyboard boogie on accordion and piano. Featuring in two New England performances, the two can be heard:
January 26, 2007
Burlington VT
Venue: Flynn Center for the Performing Arts
January 27, 2007
Ridgefield CT
Venue: The Ridgefield Playhouse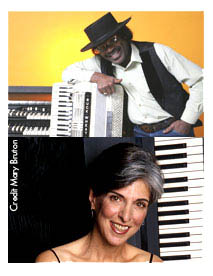 Accordionist Buckwheat Zydeco combines original tunes, inventive covers, and the trademark exuberance that has made him the world's foremost ambassador of zydeco music.

The New York Times says "Buckwheat leads one of the best party bands in America . . . pumping out zydeco two-beats or shifting into rolling 12-bar blues, steaming all the way."

Marcia Ball blends sounds from the Texas-Louisiana border with classic blues, roadhouse country, and rollicking piano in the great New Orleans tradition. Let the good times roll!

"Ball is the bayou queen of the piano, steeped in blues, honky-tonk, and gospel." (Minneapolis Star-Tribune).


---
Gulf Coast Playboys in Austin, Texas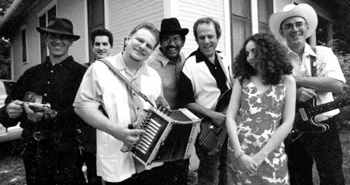 On January 14, 2007 at Guero's Taco Bar, 1412 South Congress Avenue in Austin, Texas from 3 PM to 6 PM (Admission: Free) you are invited to hear the Gulf Coast Playboys.

Since 1997, they've been playing a mix of Texas-Louisana music for dancing crowds all over the state of Texas. Cajun two-steps and waltzes, zydeco, blues, country, polka, cumbia, Tex-Mex and maybe an"oldie or two" is what you will hear on our bandstand. The members of our group have had a lot of experience in the regional musical styles of Texas and Louisiana.


---
16th Annual Irish Festival Cruise
The 16th Annual Irish Festival Cruise, January 22nd - February 1st 2007 aboard Holland America Line's Volendam. The Cruise will feature a world class line up of performers including Phil Cunningham, Cherish the Ladies and Bogside Rogue among others.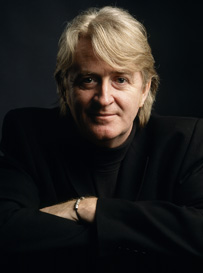 Widely regarded as one of the most exciting and innovative accordion players of the times,
Phil Cunningham has taken this instrument from strength to strength, setting the standards by which many young players fix their sights today.

His early work with leading Scots band Silly Wizard (1976-1986) reclaimed a place for the instrument in the traditional music world and his astonishing dexterity and musicality has delighted audiences across the world.

The accordion being only one of the strings to his bow..multi instrumentalist Cunningham works extensively in the television and film world as a composer , music director and presenter, He is much sought after as a record producer and he manages to juggle all of these diverse commitments to enable him to continue touring with long time musical partner and friend Aly Bain.

His compositions are covered by musicians the world over, and he continues to write and add to his prolific repertoire. The depth and beauty of his slow airs is renowned among audiences and performers alike.

His proudest moments have been the premiers of his two orchestral suites for Symphony orchestra and Celtic instruments. His last piece "Ceilidh" was written for and performed by acclaimed Scots percussionist Evelyn Glennie and the Royal Scottish National Orchestra.

He teaches regularly, both children and adults alike and is currently trying to establish a Traditional youth orchestra in the Highlands of Scotland.

Phil was awarded the MBE in 2002 for services to Scottish Music and was voted Best Instrumentalist in the inaugural Scottish Traditional Music Awards in 2003.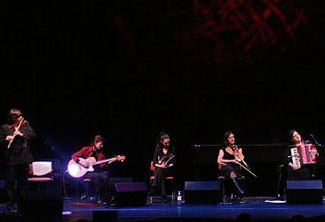 Popular 'Cherish the Ladies' affectionately referred to as Cherish, is the only all-woman ensemble on the Irish traditional music scene. In what has been a male-dominated field, they have won the hearts of audiences on both sides of the Atlantic.

Formed in 1985 and named for a well-known jig, these ladies will delight you with their blend of first-rate talent and world-class step dancing. Most members are first generation Irish-American and live in the New York area. The members are Joanie Madden playing the flute, Mary Coogan on guitar, Siobhan Egan and Donna Long on fiddles, Mary Rafferty on accordion. Joining the ladies on stage are champion dancers Donny Golden, Eileen Golden, Kevin Broesler and Sinead Lawlor.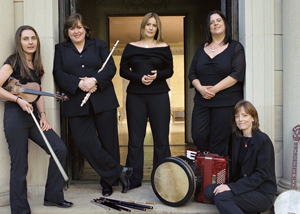 Occasionally, shipboard, passengers are often treated to "Cherish and their fathers" as Joe Madden has sailed with us on several occasions and Mike Rafferty sailed on our Western Caribbean itinerary. With Joe on the accordion and Mike on the flute...many cherished moments were created for the audiences.

The veteran Irish rock group, Bogside Rogues featuring accordionist Bob Hurst, is based in the Philadelphia area in the Mid Atlantic United States and is known for an upbeat sound while maintaining their traditional roots. Drawing from the varied experience of its members, the band performs a variety of Irish and Celtic styles including ballads, rebel songs, traditional dance music (Ceili) and contemporary Irish songs. Featuring Accordion/Tin Whistle, Guitar, and Bass, each of the band's members have come together from different Celtic music backgrounds to form a striking live sound that has won over audiences wherever they go, and inspired many other musicians to take up instruments in order to continue the tradition.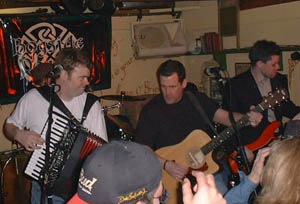 Inspired themselves, the group has played extensively in the Mid-Atlantic United States, as well as having toured Ireland. While the band is at their best when performing at show venues like pubs and festivals, they have performed in Saint Patrick's Day Parades and other functions featuring Irish music and culture. The members of the band work in close association with the Irish community and its various member groups, especially the Ancient Order of Hibernians (AOH), and contributes time, talent, and resources in their various fundraising efforts.

---
Promoting Your Accordion Services Free at AWW

The Internet is changing the way your customers are searching for services. The days of lugging out a 12 lb. telephone book to find very limited and outdated business information are coming to an end. People are still letting their fingers do the walking, but they're doing it over a computer keyboard. Below are some revealing facts from the Kelsey Group.
74% of US households use the Internet as an information source when shopping.
Approximately 45% of searches had a buying intent.
The percentage of respondents who used yellow page directories decreased from 75% to 62%.
(If you have a printed yellow page ad, it is time to consider buying a smaller ad and shifting your marketing dollars to the Internet.) The off-line Yellow Pages see the writing on the wall and are scrambling to transfer their business model to the Internet.

Businesses can no longer ignore these facts. If you want to be successful, you must have a presence where your customers are searching. Being found on the Internet is vital to the future of your business.



The Accordion Yellow Pages offers free of charge listing for all accordion businesses, teachers and for every type of service for accordionists. On the Accordion Yellow Pages site, you do not need to have a website for accordionists find you and contact you.



The search-accordion.com site is also free of charge, being a listing service for every type of accordion service but you must have a website. Viewers of search-accordion.com can click to your website.



Very popular is the AccordionLinks.com site where those accordion service providers with a website, can attract accordionists free of charge to their website.

All it takes is a little effort, to make sure your information on these three popular and very effective accordion sites is up to date. Your future success may well be determined by your ability to effectively adapt to the Internet. Should it be your New Year's resolution for 2006?


---
60th CIA Coupe Mondiale to feature Kennedy Center Performances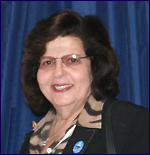 2007 Coupe Mondiale organizer Mrs. Faithe Deffner has arranged that during the 60th Anniversary Coupe Mondiale week, from August 13 through 18, 2007, the Kennedy Center in Washington, DC has agreed to feature accordionists in six evening concerts at the Millennium Stage (6:00 PM - 7:00 PM) with the final concert on Saturday, August 18 featuring live performances by the winners of the six competitions of the CIA Coupe Mondiale.

All the concerts will be broadcast live simultaneously on the Internet at www.kennedy-center.com/millennium. As with all the concerts, they can be viewed subsequently in the Millennium Stage Performance Archives.

The John F. Kennedy Center for the Performing Arts stages at least one free performance every day of the year. The Chairman of the national center for the performing arts, James A. Johnson, launched "Performing Arts for Everyone" in the winter of 1997: nine initiatives designed to expand and increase access to the performing arts for local Washington residents and visitors to the nation's capital.



Performing Arts for Everyone is designed to introduce the Kennedy Center and its programs to a far wider audience than ever before by providing a performance open to the public and free of charge 365 days a year. The Coupe Mondiale will have an incredible opportunity to partake in this initiative.



"The Kennedy Center belongs to the nation, and the productions staged here must be shared with every American," says Chairman Johnson. "The daily free performances and the downtown location for discount tickets were important first steps toward that goal." "Our goal is: Every resident of the Washington area, and every visitor to Washington, DC, will think of the Kennedy Center as the place they call their own to experience the performing arts again and again."



The 60th Anniversary Coupe Mondiale will be jointly hosted by the Accordionists and Teachers Guild, International (ATG) and the American Accordionists Association (AAA) and marks the first time in many years that this world renowned event is being held in the United States.

This spectacular gathering of the worlds finest accordionists be be held in Alexandria, VA in the Washington DC area, and is billed to be the largest International Accordion event in the United States ever!

Attendees have already booked in from all over the world, and the Coupe Mondiale will be held in conjunction with the annual festival activities of the AAA and the ATG.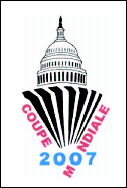 The festival will feature our six CIA Coupe Mondiale Categories offering approximately $15,000 dollars in prizes, performance opportunities for the CIA winners at the famous Kennedy Center for the Performing Arts, numerous International Accordion Orchestra performances, the AAA and ATG Competitions, outstanding accordion exhibits of both new and historical instruments, sightseeing in Washington DC, a performance of the Massed Band on the steps of the US Capital Building in the center of Washington DC and the much anticipated World Accordion Orchestra under the direction of our Music Committee Vice Chairperson Joan C. Sommers.

We invite you to reserve the dates of this 2007 festival now, and the www.coupemondiale.org website will be updated by the 15th January 2007 with all the relevant details.

---
Victor Prieto Trio in New York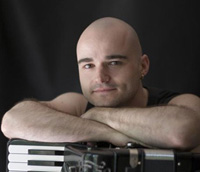 Accordionist Victor Prieto has recently returned from Montreal, Canada where he was recording with singer songwriter Peter Cole.

Victor will be featured in an upcoming performance in New York with his trio including Dave Ambrosio on bass and Vince Cherico on drums.

The performance will be held on January 4th, 2007 at Lois 649 ( 9th Street, between Ave. B an C in Manhattan) from 9:00 PM - midnight.

---
---
Note: In order to provide as much information as possible for the United States National Accordion News stories, many different sources are often researched to gather additional information and pictures to complement what has been submitted. This information is then correlated to provide the news on www.accordionusa.com in the spirit of which it is intended, which is to provide a free news service to the Accordion Community, specifically in the United Sates. If you feel any copyright has been violated please advise www.accordionusa.com and the article will be removed immediately.