Ernest Deffner, Inc. Announces Partnership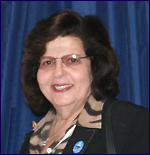 Frank J. Busso, Jr. has become a partner in the firm of Ernest Deffner, Inc., which was founded in 1934, according to a statement issued by Faithe Deffner (left), who heads the well-known company since her husband's death in 1971. Busso has his degree in Business Administration from Boston University and will assume the post of Vice-President in charge of Education and Sales.

Ernest Deffner, Inc. is a leader in accordion distribution in the US. It owns both Pancordion, Inc. and Titano Accordion Co., and is the exclusive North American distributor of Pigini accordions. Among accordionists who have played the firm's professional instruments are Bill Palmer and Bill Hughes, Lawrence Welk and Myron Floren, Frank Yankovic, Joey Miskulin, William Schimmel, Guy Klucevsek, Don Lipovac, Robert Davine, Pauline Oliveros, The "K" Trio and others.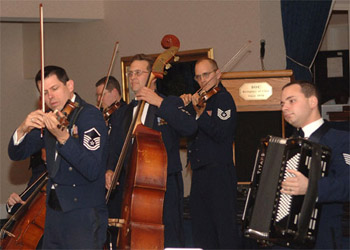 Mr. Busso is the accordionist with the United States Air Force Band, the group which often plays at official functions at the White House in Washington DC, and he brings a wealth of musical expertise to the firm.

His accordion studies began with his father, noted accordionist and educator, Frank Busso, Sr., director of the Staten Island Music School in New York, and he continues to play in The Busso Trio, a family group consisting of his father, sister Christina and himself.

Mrs. Deffner said, "Our firm plans to expand its educational activity in the accordion field and Frank will be invaluable in this endeavor. Our Ernest Deffner Publications division offers more than 10,000 music titles to accordionists. We are very active in accordion organizations, both nationally and internationally, and have always worked to improve the accordion's status as a prestigious instrument suitable for all areas of music."


---
Washington Metropolitan Accordion Society (WMAS) Activities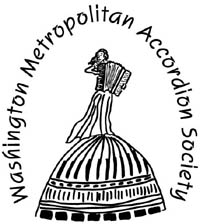 The Washington Metropolitan Accordion Society begins its 5th year, beginning with the February 13th meeting. Although piano accordionists comprise the majority our players, some members play Eastern European button-boxes, German diatonic accordions, and bayans.

Highlights of events from August 2006 are as follows:

Vic Aijala and Lee Paulson started the August meeting with an interactive workshop on improvisation, with handouts describing scales and related chords helpful in improvising songs. Following the improv workshop, Peter DiGiovanni presented a CD of his original composition, "Childhood Reflections," which won First Place Original Composition at the Balalaika Domra Association annual convention in Akron, Ohio in July.

September meant Oktoberfest, so WMAS obliged with a night of polkas and waltzes. Soloists and duets provided for a great night of dancing.

October was a special night as we bade farewell to our friend and WMAS member, Vladimir Titarenko, on the eve of his return to Moscow . The night was filled with Russian music and a tributary cake adorned with Russian and American flags. Vladimir continues to send us video-clips and photos of accordion events in Russia. He plays Russian bayan and visited the Bayan/Bayanists event at the Gnessin Academy in December after his return home. October also signaled the Potomac Ensemble (led by Joan Grauman), and the WMAS Orchestra to begin rehearsing for the upcoming December concert.

Our meeting place, the hall of Sleepy Hollow United Methodist Church in Falls Church, Virginia, rocked in November to "Rock 'n Roll" night with songs of the 1950's and '60s. Featured players were Joe Kulick, Lee Paulson, and the trio of Leone and the Cherkasky sisters, playing Zydeco and 50's songs. Peter DiGiovanni ended the meeting with a "Name That Tune" history of Rock 'n Roll.

The WMAS annual holiday concert took place on December 3rd. On December 20th, WMAS members were guest musicians at Dale Wise's Christmas Concert in Oakton, Virginia. Seasonal songs of all types were played, as well as a variety of classical, semi-classical, and popular favorites. Bayanist, Jim Vandelly was the featured guest.

At the December monthly WMAS meeting, Jim Vandelly presented a workshop on "Nuances" of playing the accordion, with stress on bellows control. Ken Kunec demonstrated his electronic enhancements to his solo performances, and Clay Bobrowski played his favorite songs that contained interesting bass patterns.

At the January meeting, a solo concert by Accordionist Robert Ford was comprised of a variety of semi-classical and classical songs. Robert was a Bolivian National Champion accordionist as a child, and is now a member of the WMAS

WMAS will be assisting the ATG and AAA at the Coupe Mondiale from 13-18 August, 2007 in Alexandria, Virginia. WMAS is the premier Metro Washington accordion society with more than 60 active members. Our website is www.washingtonaccordions.org


---
Accordion Show to Debut in Branson, Missouri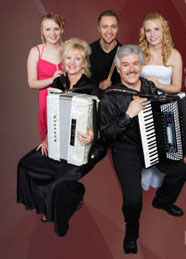 Beginning April 6, 2007 "Music Makes the World Go Round" will make its debut in Branson featuring the Christian family. Billed as an amazing interactive production that leaves the audience with a unique experience that will be remembered and cherished throughout a lifetime, the show features world-renowned maestro accordionists Kim and Dan Christian. Kim and Dan are the recipients of many prestigious awards including US National Champion and World honorary bronze medal winner. They have performed all over the world and are now dedicated to bringing their multitalented family to the new and exciting Tower Theater in Branson.

Dan and Kim along with their family invite you to come on a 'virtual' visual and audio world tour. You will experience the music, costumes, dances and scenery of several of the most beautiful countries of the world while enjoying the comfort of a lush theater seat in Branson. You will be immersed in the cultures of 14 different countries. You will feel like you are actually traveling to France, Germany, Italy, Russia and many more without the fuss and fatigue of real travel. Dance styles represented include an Irish jig, a Spanish Flamenco dance, a tarantella, a Greek folk dance and more.


Some of the places you'll 'visit' include an Irish castle, a Spanish bullfight, the Oktoberfest in Munich, and a Venetian gondola boat to name a few. You will have the opportunity to sing along with such favorites as When Irish Eyes Are Smilin,' Edelweiss, and of course the Beer Barrel Polka. There will even be a chicken dance competition at the Oktoberfest. What a blast!

After "traveling" the world abroad, you will then spend the second half of the show enjoying the diversity of several different styles of American music including a rag, boogie, polka, gospel, pop, Cajun, patriotic and more. Nowhere else can one be exposed to such amazing and versatile talent featuring the intriguing sounds of both acoustic and midi accordion. You will be fascinated as you're hearing Aaron Copland's Hoe Down which is written for an entire symphony orchestra, but is being performed by just 2 amazing accordionists. You will also hear the incredible vocal talents of the Christian sisters as well as their talents on the accordion and other instruments.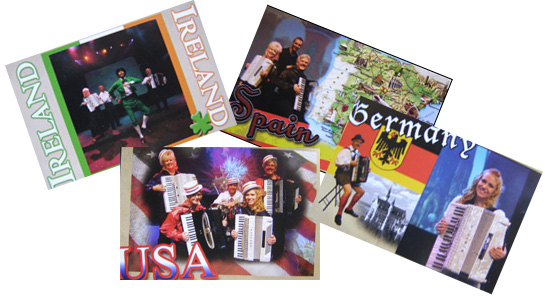 There will be an amazing Patriotic tribute celebrating the fact that although there are many beautiful countries to visit, we are all very blessed to live in the greatest country in the world……. The United Stated of America! You simply must see this show! You will have the time of your life!

For show times and further information, please visit: www.musicmakestheworldgoround.com


---
Victor Prieto Trio in Night and Day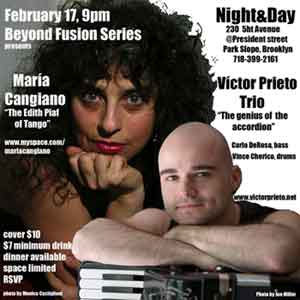 Victor Prieto's series of shows 'Night and Day, Park Slope' resumes in February and runs the 3rd Saturday of each month until June. This year features various guests and begins on February 17th, 9:00 PM with Maria Cangiano (vocals), Victor Prieto (accordionist), Carlo deRosa (bass) and Vince Cherico (drums).

As All About Jazz says "Spanish born jazz accordionist Victor Prieto is the most exciting such player to come on the scene since Eddie Monteiro. Melding Argentine and Brazilian influences with a bop sensibility, Prieto gives the lie to all of the nasty things that have been said over the years about the much-maligned squeezebox." The trio will present repertoire from their recent release CD Persistencia and Maria Cangiano will perform tangos and some cross-genre repertoire with them.

There is a $10.00 cover with a $7.00 drink minimum. Space is very limited so advance reservations are advised. You can reserve by e-mailing: maria.cangiano@gmail or contact the Biscuit Biscuit Restaurant (Night and Day Performance space), 230 5th Ave. (at President Street), Park Slope, Brooklyn. Phone: 718-399-2161.


---
Texas Concert Honoring Joe Vento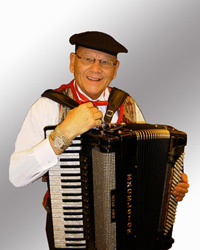 The Houston, Fort Bend County and Bay Area Accordion Clubs are cosponsoring a tribute concert to honor accordionist Joe Vento on February 10, 2007.

Joe Vento is a Grammy Award-winning musician who began studying violin at 2 years of age with Professors Bevalaqua and Solfeggio and under the capable guidance of his musicologist-father. At 4, Joe began accordion-studies with Guido Deiro. An accelerated student, at 13 he won a scholarship in composition and musicology from the Julliard School of Music. He later studied conducting at New England Conservatory of Music. Charles Magnante discovered Joe, the world's most accomplished accordion virtuoso, and immediately began a long period of accordion studies.

Near the end of WW II, Joe's studies were interrupted when he began a stint in the army band and orchestra with Jack Cathcart, Conductor at Camp Roberts, California. Upon Joe's army-discharge, it was Cathcart (married to Sue Garland, Judy Garland's sister) who suggested Joe move to California where Cathcart introduced Vento to Mickey Whelan, music-contractor at MGM studios. Since then, Joe has made over 500 movie and TV appearances with such stars as Joan Collins, Elvis, Charlton Heston, Dean Martin, Mario Lanza, and Frank Sinatra to name just a few.

Of special note ... This multitalented individual studied medicine during the interim to become an ophthalmologist who, until recently, has had an active practice.

Beginning in 1955, Joe performed for 27 years with the Three Suns appearing many times on The Tonight Show, Ed Sullivan Show, Mike Douglas Show, Kate Smith Show, Frankie Yankovich Show and Jerry Lewis Telethons. Some of Joe's worldwide appearances include command performances in the White House, Imperial Palace in Tokyo, Japan, and Beijing, China as well as numerous USO appearances in Asia, Europe, the Mideast and Vietnam. In Vietnam he was wounded by mortar fire during a performance for the troops. An interview with An American Profile covered the story after his return to America that was broadcast in the series entitled: "Wounded Accordion.''


Vento has been conductor of many performers including Victor Borge, Nelson Eddy, Broadway shows and on cruise ships. Joe presently appears at the Paris resort hotel in Las Vegas. He also conducts the Veteran Tonight Show Big Band in Los Angeles every Wednesday night (now in their 10th year).

Joe is a consummate musician, full of energy, excitement and great wisdom who has much to share. He will be teaching master classes on technique, bellowing and styles of music from ethnic to swing at the Las Vegas International Accordion Convention this year. See the back cover of this publication for more information.

The event will take place Saturday, February 10, 2007, at the Sugar Land Community Center located at 226 Matlage Way Sugar Land, Texas 77478. Among the guest artists will be Kim and Dan Christian, Mario Pedone and 4th place winner in the CIA Junior International Competition for Virtuoso Entertainment Music - Sammy Thomas. Doors open at 6:00 PM and concert starts at 7:00 PM.


---
Olive Blossoms CD Released by Zevy Zions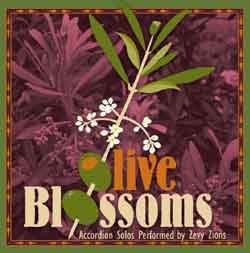 The "Olive Blossoms" all the time in the hands of Zevy Zions. This is a new CD of 63:00 of solo acoustic accordion solos performed by a former kid from the Bronx, raised just a block away from Yankee Stadium.

Basically, here's a self-taught musician with an analytical ear for music who has studied Bach, Beethoven, Schubert and , especially, Mozart. Zevy plays keyboards, piano and accordion. His accordion skills have truly blossomed during his association with Maestro Charles Nunzio during the past 7 years.

This release focuses on material that's often thought to be dated or inaccessible to the average accordionist. There are 7 originals and 1 arrangement by Pietro Frosini. Frosini, along with Guido Deiro, were instrumental superstars of the vaudeville circuits almost 100 years ago. Frosini was perhaps the first person to record the accordion for commercial release. His recordings endure to this day, as do many of his published works. "The Jolly Caballero" is presented alongside "Bel Viso", as well as "Olive Blossoms" and others. These works have been recorded over the years by a number of fine accordionists, notably John Molinari, The "K" Trio, Stas Venglevski and Bernadette Conlon.

The influence of Charles Nunzio is evident throughout this CD. At 94, Nunzio continues to reach out to pupils from his home in Basking Ridge, New Jersey. (For more information on the life and times of Charles Nunzio reference the article on the "Past News" link, June, 2003.) Some of Nunzio's original works and arrangements on this CD include "Elenita", "Streamline", "La Cumparsita", "Czardas" and "Carnival of Venice".

Zevy Zions' mission here is to present the solo acoustic accordion's versatility of tone colors and special effects. The material here, while challenging in many respects, does remain accessible to the player who takes his/her music seriously. John Gart's "Vivo" and Zions' arrangement of Mozart's "Menuetto" help stake the instrument's rightful claim to classical music.

There are 18 tracks in all. Zions' arrangement of "Klezmer Suite" and Nunzio's arrangement of "Keili, Keili" speak to the accordion's rich ethnic tradition in Yiddish music, in addition to its prevailing Italian heritage.

Angelo DiPippo summed up this CD in his "Forward" to both the contents and the performer: "This CD exposes an essential selection of accordion music, played by a great artist." You can contact Zevy Zions and obtain this CD by going to www.oliveblossoms.com.

This article submitted by Jay Landers, a freelance writer and accordionist living in Springfield, IL. You can contact him at jllanders5214@msn.com

---
Richard Galliano takes on the Big Apple at the IAJE Festival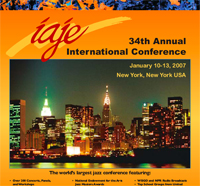 The Cultural Services of the French Embassy in the United States, Cultures France, the French Ministry of Culture, SACEM, and the Paris Conservatory of Music (among others), were pleased to present an emphasis on jazz in France during the 2007 IAJE Annual Conference. Together, these organizations cooperated to bring about 250 French musicians to the IAJE Annual Conference. A variety of French activities occurred throughout the conference including student and professional performances, a panel discussion exploring ways to strengthen the vital Franco-American bridge at all levels, and an entire French Quarter in the exhibit hall.

The Saturday evening stage featured among others, the Richard Galliano Trio with Richard Galliano, accordion; George Marz, bass; and Clarence Penn, drums.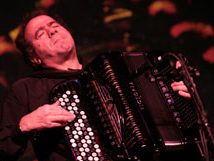 Born in Cannes in 1950, Richard Galliano learned the piano and accordion with his father, Lucien Galliano, before pursuing his musical studies at the Nice Conservatoire, presided at that time by organist Pierre Cochereau.

Galliano is a true virtuoso of the accordion which he plays in an inspired and fervent style. He has worked with French artists such as Reggiani, Barbara, Greco, Aznavour, Moustaki and Nougaro. The last decades have seen him sharing the stage with great musicians in concerts all over the world (Paris, New York, Moscow, London, Buenos Aires, Montréal, San Francisco, Istanbul, etc.). He played with Chet Baker, Ron Carter, Al Foster, Pierre Michelot, Biréli Lagrène, Eddy Louiss, Philip Catherine, Aldo Romano, Charlie Haden, André Ceccarelli, Michel Portal and many others.

During this period he also composed numerous original works, many of which were acclaimed by both the press and the public. His encounter with Astor Piazzolla was very important and, in 1991, his album 'New Musette' brought him much deserved acknowledgement. Since then, he has recorded many albums and has received several awards for his work.

He has inspired the entire new generation of international accordionists. Today many young musicians play his music and copy his style. Richard's own words best describe his music: "Very simple harmonies and standards, always simpler than the theme itself, as in Charlie Parker's records".

It is anticipated that the 'Tangaria' CD project, a special quartet with violin (the incredible Alexis Cardenas from Venezuela), bass (Philip Catherine's mate Philippe Aerts), and another fine player from Venezuela, percussionist Rafael Mejias, with the Brazilian special guest on mandolin, Hamilton de Holanda, that will be the highlight of the year 2007, with an extensive tour in the summer 2007, adding the fine drumming of Clarence Penn. Recorded with some Brazilian special guests in Sao Paulo in September 2006, the album will be out in February 2007 for Milan Records.


---
Milwaukee Accordion Club to feature Lou & Peter Berryman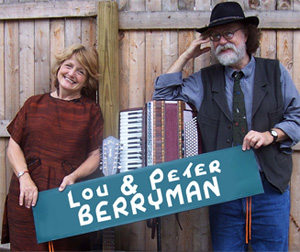 The Milwaukee Accordion Club (MAC) will feature Lou and Peter Berryman on February 26, 2007. Admission is $3.00 for members and $5.00 for nonmembers.

Lou and Peter Berryman were both raised in Appleton, WI, and began playing music together in high school during the sixties. During the following nomadic decade, Lou studied classical voice and music theory in college while Peter continued an unfocused fascination with surrealist art, beatnik poetry, and jug band music. Early influences of American and British musical comedy and folk music fed a growing songbag of their original songs. Their brief marriage in the early seventies resolved into a lifelong friendship, and by the late seventies and early eighties they were honing their skills playing regular weekly concerts at a music club in Madison, becoming full-time musicians and songwriters in 1979.
During those early years they were motivated to write new songs every week, many about the history, cheese, beer and strange politics of their home state. By the mid '80s they were traveling all across the country, still writing and singing, but now with a broader perspective, finding that the quirks of their home state were not so much Midwestern as human. In these twenty-five years of performing together, Lou and Peter have produced twelve albums and two songbooks worth of hilarious, quirky, yet oddly profound songs, rich with word play and interesting images.
Pete Seeger, Tom Paxton and Tom Lehrer count themselves among their fans. Their work has appeared in numerous compilations such as the popular RISE UP SINGING songbook, in periodicals like SING OUT! Magazine, and in many audio collections. Berryman songs are being sung around the world by a legion of professional musicians including Peter, Paul and Mary, Garrison Keillor and Peggy Seeger, as well as shower singers everywhere.
In 1999 and again in 2002 they performed at the Kennedy Center is Washington, DC, chosen as Wisconsin's representative for Wisconsin State Day. They have appeared on such national programs as MPR's A Prairie Home Companion and NPR's Weekend Edition, and tour across North America throughout the year.
The performance will take place at the Root River Center, 7220 W. Rawson Avenue, Franklin, WI 53132, Phone (414) 425-7225. For information please visit www.accordions.com/mac


---
Brett Gibson to perform with Kansas City Civic Symphony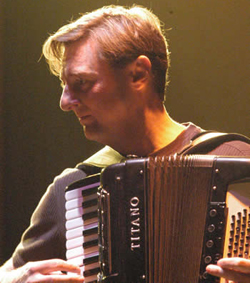 Accordionist Brett Gibson will be the featured soloist with the Kansas City Civic Orchestra under the direction of Andy Anderson on April 28, 2007 when he performs the Concerto for Accordion and Orchestra by Astor Piazzolla.

The Kansas City Civic Orchestra focuses on community enrichment and interaction, drawing players from all walks of life and bringing music to people of all ages and interests. Now in its 48th season, the Kansas City Civic Orchestra presents quality orchestral concerts to the public free of charge.

Accordionist Brett Gibson was born in Auckland, New Zealand who now makes his home in the Kansas City area of the United States. Brett began playing the accordion at age 7 and at the age of 12 won his first New Zealand championship for that age category and continued to seriously play and compete into his late teens as a soloist and with duet, trio, quartet, ensemble and orchestra.

The concert will take place at 7:30 PM, Saturday, April 28, 2007 at the Atonement Lutheran Church, 9948 Metcalf Ave.

The program will include:
Wagner - Siegfried's Death and Funeral Music from Goetterdaemmerung
Boito - Prologue in Heaven from Mefistofele, Gustavo Halley, bass
Piazzolla - Concerto for Accordion and Orchestra, Brett Gibson, accordion
Respighi - Church Windows

---
National Accordion Association Convention

The National Accordion Convention will be held from March 7-11, 2007 at the Richardson Hotel in Richardson, Texas. The popular annual festival will this year feature 'Accordion Diversity' and offer fun, Workshops, jam sessions, accordion orchestras, the Swap Shop, Polka Festival and Concert. Billed as a "hands-on convention" all participants are invited to bring their accordions.

The convention is offering a special participation rate of $140.00 per person, or daily rates are available. Convention Coordinators for this year include: Dick Albreski: Orchestra Librarian, Sharon Seaton: Traditional workshops and Ron Pivovar: Buttons and Polka Dance.
The "most requested" training session for 2007 is dancing lessons! Dr. Daniel Kott has volunteered to create the training material that incorporates the accordion. He has successfully conducted these training sessions for years, and he is using the material for the convention training sessions. The Thursday evening International Folk Dance training session will include a booklet of international folk dances complete with accordion music. Polka dancing will be included in this training session.
Evening Events include:
Wednesday: Starting at 6:00 p.m. Arrivals, reception, music review, and open mike in the bar area
Thursday: Folk Music Dance Training with Daniel Kott and professional trainers
NAA 20th Birthday Celebration and Dancing (MC: Fred Ziwich)
Friday Polka Party: Featuring Marge Ford, Patti Gersich, Fred Ziwich, Don Lipovac, Pivovar Trio
Saturday: Gala Concert
For all information, online registration, information on performing in the various festival orchestras and more, please visit: www.accordions.com/naa


---
45th ATAM Festival in Massachusetts
The Accordion Teachers Association of Massachusetts (ATAM) will hold its 45th Annual Festival from April 13-15, 2007 at the Marriott Hotel in Newton, MA.

The ATAM was established in 1962. The founding father is Aldo DeRossi of New Bedford, MA. who is still active within the organization. The first President was the late Frank Gaviani, Sr.

The annual New England Music Competition and Festival is sponsored by the ATAM. All events are open to the public free of charge and over 1200 contestants take part in Accordion, Drum, Guitar, Keyboard, Piano, and Voice Competition. Solo, Duet, Ensemble, and Band Categories are offered for ages 6 through 22. Non Competitive Categories include Evaluation Solos and Festival Band Divisions.

On Friday evening a "Battle of the Bands" is held in the Ballroom. Cash awards are given to the first place winners in three divisions. The Accordion, Guitar, Drum, and Piano Championships are also held Friday evening with cash awards given to the First, Second and Third Place winners.

On Saturday and Sunday a continuous Accordion Ensemble and Band competition is held in the Ballroom. Solo and duet competition is ongoing. A $500.00 cash Award is presented to the first place winner in the Senior Orchestra Division. An Awards banquet is held on Saturday evening with over 500 in attendance. A $500.00 cash Scholarship is awarded to a contestant who has been accepted as a Music Major in college. Over $3,000 is awarded to winners throughout the weekend.

For further information please contact please contact ATAM Contest Chairperson Roger Latulippe, 136 Lowell Road, Hudson, NH 03051, or visit www.accordions.com/atam


---
Dr. William Schimmel announces Spring Concert Schedule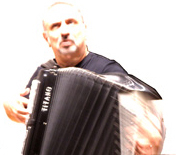 New York accordionist Dr. William Schimmel will keep a busy Spring concert schedule with his performances taking him from coast to coast. His upcoming appearances include:
January 25, 2007
Manhattan School of Music, New York, NY - guest composer/performer at the Composers' Forum - performed his own Dean Martin Variations and Pro But - Luciano Berio's Sequenza 13 (Chanson) and Liam Robinson's In a China Shop
February 12, 2007
Nancy Lee's Pig Heaven - Chinese New Years - guest artist
February 14-18, 2007
appearing in A Musical Journey starring Vicki Phillips at the Mishler Theatre in Altoona PA. Performing the music of Kurt Weill, Jacques Brel and Charles Aznavour
February 22-24, 2007
Jazz at Lincoln Center - Rose Theatre - Jazz Orchestra at Lincoln Center - Wynton Marsalis conducting - Jazz and Art - Mark O'Connor , violin - Wycliffe Gordon, trombone and tuba and Bill Schimmel, accordion - all guest artists in a new work by Ted Nash - 8:00 PM, New York, NY
March 13, 2007
Modernworks - Christ and St. Stephen's Church - New York - performing in the world premiere of Spiral Jetty by Anthony Cornicello for accordion , violin, cello and electronics as well as works by Sofia Gubaidulina and Judith Shatin
March 17, 2007
Close Encounters with Music - St. James Church - Great Barrington MA. 6:00 PM, performing in the world premiere of Jorge Martin's Ropa vieja - Cuban Suite No 2 for accordion, cello and percussion
March 24, 2007
Theatre 4301 - Scottsdale Center for the Performing Arts - Scottsdale, AZ, Performing in the world premiere of Jorge Martin's Ropa Vieja - Cuban Suite No 2 for accordion, cello and percussion
March 26, 2007
concert with Angelina Reaux, soprano - The music of Kurt Weill - Napa Valley, CA
May 5, 2007
Eastern Conn. University - Hartford, CT. 3:00 PM, performing in the world premiere of Spiral Jetty by Anthony Cornicello for accordion , violin, cello and electronics as well as works by Sofia Gubaidulina and Judith Shatin
In addition to his concert performances, Dr. Schimmel has also been working on several diverse recording projects.

You can hear Dr. Schimmel with his Tango Project in the motion picture, All the Kings Men, starring Sean Penn and is now available in DVD, you can hear Dr. Schimmel in the motion picture The Baker, music by Alex Wurman (due for release in May) and also on the new CD release of Pinsk and Blue by Alla Borzova on Albany Records, due for release in March.

From July 27-29, Dr. Schimmel will present the 2007 Accordion Master Class & Concert Series Sponsored by the American Accordionists' Association at the Tenri Cultural Institute of New York, 43 A West 13th Street (Between 5th & 6th Avenues). The 2007 series is entitled HOGUS/BOGUS - A WEEKEND OF QUESTIONABLE, USELESS AND FAR FETCHED INFORMATION! For further information on this annual event including daily concert and master class schedule please visit www.ameraccord.com.

---
Promoting Your Accordion Services Free at AWW

The Internet is changing the way your customers are searching for services. The days of lugging out a 12 lb. telephone book to find very limited and outdated business information are coming to an end. People are still letting their fingers do the walking, but they're doing it over a computer keyboard. Below are some revealing facts from the Kelsey Group.
74% of US households use the Internet as an information source when shopping.
Approximately 45% of searches had a buying intent.
The percentage of respondents who used yellow page directories decreased from 75% to 62%.
(If you have a printed yellow page ad, it is time to consider buying a smaller ad and shifting your marketing dollars to the Internet.) The off-line Yellow Pages see the writing on the wall and are scrambling to transfer their business model to the Internet.

Businesses can no longer ignore these facts. If you want to be successful, you must have a presence where your customers are searching. Being found on the Internet is vital to the future of your business.



The Accordion Yellow Pages offers free of charge listing for all accordion businesses, teachers and for every type of service for accordionists. On the Accordion Yellow Pages site, you do not need to have a website for accordionists find you and contact you.



The search-accordion.com site is also free of charge, being a listing service for every type of accordion service but you must have a website. Viewers of search-accordion.com can click to your website.



Very popular is the AccordionLinks.com site where those accordion service providers with a website, can attract accordionists free of charge to their website.

All it takes is a little effort, to make sure your information on these three popular and very effective accordion sites is up to date. Your future success may well be determined by your ability to effectively adapt to the Internet. Should it be your New Year's resolution for 2006?


---
2007 Event in the USA Celebrates 60th Anniversary Coupe Mondiale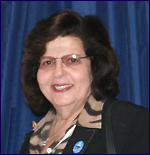 2007 Coupe Mondiale in Alexandria VA (Washington, DC) Celebrating the 60th Anniversary of the CIA Coupe Mondiale.

Report from Faithe Deffner, 2007 Coupe Mondiale Coordinator

Plans for the 60th Anniversary CIA Coupe Mondiale scheduled from August 13 to 18 are progressing rapidly, with an unexpected surge in attendance resulting from the participation of a number of accordion orchestras, both national and international. Reservations have been made by orchestras from California, Canada, Connecticut, Denmark, Germany, Missouri, New Hampshire, Pennsylvania, New Zealand, and Texas. There is also interest from a group in China.

The headquarters hotel is the Holiday Inn in Alexandria, where almost all activities will take place. The Holiday is now fully booked and we have made arrangements for additional accommodations at the Radisson Hotel, 2-1/2 blocks away. There will be shuttle service connecting both hotels. The Radisson will provide the same $99 room rate and the same amenities as the sold-out Holiday Inn. A few hundred rooms have already been booked at the Radisson, making early reservations important.

The site for the 2007 Coupe is the charming and historic city of Alexandria, about seven miles from Washington DC, with nearby Metrorail transportation. Both hotels are ideally located near the Potomac River and King Street's entertainment district, close to restaurants and shopping. The hotels offer free shuttle service to and from Reagan Airport so it is advisable to use this as the arrival airport.

The 2007 Coupe Mondiale is jointly sponsored by both US member organizations of CIA - the American Accordionists' Association (AAA) and the Accordionists and Teachers Guild, International (ATG).

The prizes for the six categories are as follows:

| | | | |
| --- | --- | --- | --- |
| Category | 1st | 2nd | 3rd |
| 60th Anniversary Coupe Mondiale (1st Prize in honor of Anthony Galla-Rini) | $5000 | $1500 | $500 |
| International Competition for Piano Accordion | $5000 | $1500 | $500 |
| Junior Coupe Mondiale | $1500 | $800 | $500 |
| International Competition for Virtuoso Entertainment Music | $1500 | $800 | $500 |
| International Competition for Junior Virtuoso Entertainment Music | $1000 | $500 | $350 |
| International Competition for Ensemble Music | $1000 | $500 | $350 |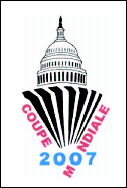 In addition to the above cash prizes, each first-place winner will be featured in a concert performance at Kennedy Center's Millennium Stage in Washington on Saturday, August 18, with simultaneous broadcast. The winners will also receive trophies and participation recognition. In addition, Kennedy Center has agreed to feature accordionists and accordion groups at its nightly concerts on the Millennium Stage during the whole week of the Coupe Mondiale activities. There will also be accordion performances by members of our group in outdoor venues and concert locations in Alexandria.

Highlights of the Coupe Mondiale are nightly concerts, the premiere performance of the World Accordion Orchestra under the direction of Joan Cochran Sommers, a massed band of accordionists conducted by an accordion-playing army colonel will perform in front of the US Capitol, a sightseeing tour of beautiful Washington, DC, the 60th Anniversary Coupe Mondiale Banquet Gala will take place Friday night, the US Army and the US Air Force Bands - each featuring an accordionist - will perform in concerts, a series of social receptions with entertainment, and late evening performances in a lounge setting with open mic for participating accordionists.

Alongside of the Coupe Mondiale activities, there will be competitions sponsored by the AAA/ATG for US students and members of the international orchestras. There will also be a first prize of $5,000 for a competition honoring longtime CIA delegate Maddalena Belfiore in a competition entitled the Maddalena Belfiore International Competition for Female Accordionists.

If there are questions, or need for special arrangements, please contact Faithe Deffner, Coordinator of the 2007 Coupe Mondiale, Faithe Deffner, PO Box 608, Mineola, NY 11501 USA Fax: 001 516 746 7085 or e-mail: E-mail: fdeffner@aol.com

---
Massachusetts Accordion Association (MAAA)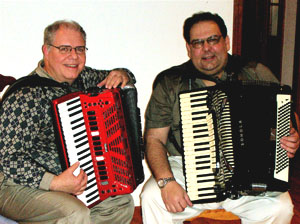 The MAAA 'where knowledge and fun meet' aims to be an organization where goals include experiencing accordion music through a variety of song performances, exploring accordion music through style discussions, examining accordion music through workshops and expanding accordion music through dedication to accordions of all types. Players of all ages and skill levels, listeners and their families and friends are cordially welcomed. Pictured right are MAAA founders - Joe Maciejowski and Tony Marini.

The MAAA meets on the 4th Sunday of every month starting at 1:00 PM at the Dolphin Seafood Restaurant, 12 Washington St., Natick, MA (dining optional). For general information please contact Joe Maciejowski e-mail: info@MAaccordion.com or visit: www.MAaccordion.com.


---
Lidia Kaminska Winner of the 2007 Astral National Audition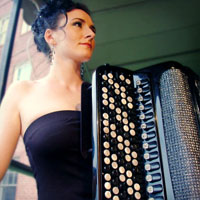 Candidates from across the United States vying for a place on Astral Artistic Services' prestigious roster underwent a rigorous application process to earn a live audition for Astral. After hearing selected applicants during four days of auditions in January 2007, the panel, consisting of professional musicians at the top of their respective fields, chose four extraordinary artists for placement on Astral's current roster of young, emerging classical musicians.

One of the winners of the 2007 National Auditions Winners include a native of Przasnysz, Poland, accordionist LIDIA KAMINSKA who is first and only person in the United States to receive a Doctor of Musical Arts in Accordion Performance (from the University of Missouri Kansas City). Most recently Lidia was featured at the WHYY and NPR Radio Times with Marty Moss-Coane and in the Philadelphia Magazine 2006 Best of Philly issue. She resides in Philadelphia.

Other three winners include cellist SUSAN BABINI who graduated from the San Francisco Conservatory of Music and Juilliard School; soprano ANGELA MEADE, semi-finalist of the Metropolitan Opera National Council Auditions and currently a student at Philadelphia's Academy of Vocal Arts; and a native of China, pianist DI WU who is currently pursuing a Master of Music degree at The Juilliard School, and holds a Bachelor of Music degree from The Curtis Institute of Music.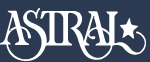 Since its founding in 1992, Astral Artistic Services has played a unique and vital role in the development of the nation's most gifted young musicians. A Philadelphia-based non-profit organization, Astral serves as a 'career bridge' for promising young artists, who often graduate from conservatories superbly trained as musicians but without the business and professional skills needed to face the challenges of establishing a classical music career. Astral provides invaluable mentoring and practical advice; Philadelphia and New York City debuts; collaborations with world-renowned musicians; auditions for major presenters, managers, and conductors; outreach training; and world premières of new compositions frequently written for Astral musicians and commissioned by Astral - all at no cost to the artist.

Astral selects its artists from a nationwide pool of applicants at annual auditions and presents these promising young musicians in concert series, outreach programs, and musicales in private homes. Astral's highly regarded Philadelphia Concert Series offers an exciting range of recitals, chamber music, and orchestral concerts with the Haddonfield Symphony. Other series in and around Philadelphia feature Astral artists in performances at universities, museums, and schools. Each year Astral reaches approximately 10,000 community members through concerts and extensive outreach programming in schools and adult care facilities.

For more information about Lidia please visit www.lidiakaminska.com

---
---
Note: In order to provide as much information as possible for the United States National Accordion News stories, many different sources are often researched to gather additional information and pictures to complement what has been submitted. This information is then correlated to provide the news on www.accordionusa.com in the spirit of which it is intended, which is to provide a free news service to the Accordion Community, specifically in the United Sates. If you feel any copyright has been violated please advise www.accordionusa.com and the article will be removed immediately.