---
ATG Annual Competition and Festival to be held in Nashville

The Accordionists and Teachers Guild, International (ATG) will hold its annual competition and festival from June 12-15, 2008 in Nashville, TN at the Hotel Preston.

The festival will feature many workshops, two concerts, the popular Festival Orchestra, various social events and many other accordion activities of interest to everyone who likes the accordion.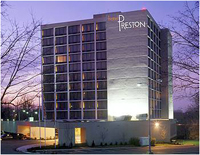 The Hotel Preston is offering a convention rate of $99.00 (single through quad) for convention participants. The Hotel Preston is located at 733 Briley Parkway,
Nashville, Tennessee, 37217. For reservations, please contact toll free: (877) 361-5500.

Details on the guest artists and activities will be announced soon on the ATG website found at www.accordions.com/atg

Meanwhile, all inquiries should be directed to ATG President Joan Sommers at: e-mail: Sommersj@umkc.edu or by telephone at: (913) 722-5625.



---
Jeff Lisenby Performs in home town of Kansas City
On Thursday, January 17th, Jeff Lisenby's jazz accordion concert at the University of Missouri at Kansas City (UMKC) Performing Arts Center was a wonderful success.

Joan C. Sommers reports that If you did not attend the recent Jeff Lisenby Concert at UMKC, that you missed out on a wonderful evening of really great music-making led by an outstanding accordionist. Jeff grew up in the Kansas City area, got his musical education here and all the while was busy performing. After moving to Nashville, he established himself as one of the most sought-after musicians in that area, too, just as he had been in Kansas City before moving.

At his concert, he included three well-known local jazz musicians: Doug Auwarter on drums, Danny Embry on guitar, and Greg Whitfield on bass. His daughter, Jaclyn Brown, who is a successful songwriter/vocalist, also joined the group on three pieces, a couple of which were her own.

Jaclyn is young, vivacious, friendly, a great promoter, but above all, a very fine singer with a beautiful voice who knows how to sell a song; she was truly an outstanding addition to the overall success of the four veteran professional musicians led by Jeff on Thursday evening. She had presented her own show the night before at the popular Kansas City night spot known as Bar Natasha.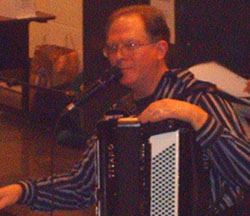 Jeff Lisenby has the technique to carry out all his musical ideas. He includes great jazz arrangements of both standard tunes as well as his own compositions and shares the limelight equally with all members of the group.

Even when others are carrying the solo spot, Jeff provides that extra-special accompaniment with artistic interest and excitement, always inspiring the group towards musical excellence throughout. Last night's concert was laid-back, convivial and intimate, in a space similar to a club; it offered a perfect climate for a warm connection among the members of the audience and the musicians, and gave Jeff ample opportunity to introduce the repertoire with short, sometimes funny, anecdotes.

It was a great evening for everyone and as one departing member of the audience kept saying, "We need to do this once a month!" No one wanted to leave and all agreed.

Thank you, Jeff, Jaclyn, Doug, Danny and Greg for a wonderful musical experience; we loved it!


---
Kansas City Accordionist to appear with Longmont Symphony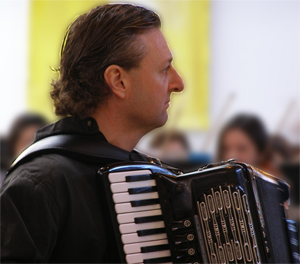 Kansas City based accordionist Brett Gibson will perform as guest soloist on the Tango Romantico Concert in Longmont, CO, featuring the Longmont Symphony and the Longmont Youth Symphony Orchestras on February 2, 2008.

Brett will perform Piazzolla's Concierto para Bandoneo y Orquesta, Tres Tangos para solo Bandoneon Y Orquesta and Gardel's Por Una Cabeza under the direction of Michael Boone.

The February 2, 2008 concert will take place at 7:30 PM at the Vance Brand Civic Auditorium Skyline HS, 600 East Mountain View Ave., Longmont, Colorado.

The full concert program is as follows:

Fuga from Tres Piezas: Piazzolla
Dansas Brazilias (with Longmont Youth Symphony): Guarnier
Las Cuatro Estaciones Porteñas - Invierno Porteño: Piazzolla
Las Cuatro Estaciones Porteñas - Otoño Porteño: Piazzolla
Dances of Estancia: Ginastera
Los Trabajadores Agrícolas
Danza Del Trigo
Danza Final (Malambo)


Concierto para Bandoneo y Orquesta: Piazzolla
Tres Tangos para solo Bandoneon Y Orquesta: Piazzolla
Por Una Cabeza: Gardel
Brett Gibson, accordion soloist


---
National Accordion Association Features Accordion All-Stars!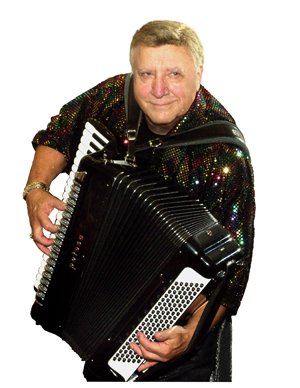 Included in the impressive lineup, the upcoming NAA Convention will feature a seminar and concert by Accordionist Tony Lovello. Tony Lovello, the undisputed "King and Master of the Bellow Shake," is sharing his numerous techniques for entertaining audiences in his seminar which will deal with enhancing entertainment techniques. While some use "musical dynamics" for special emphasis, Lovello incorporates his "Razzle and Dazzle." During this seminar, accordionists will learn numerous techniques for adding excitement to a normal performance. Lovello will be one of the featured entertainers on the Saturday evening program.

Other featured performers and workshop presenters include: Danny Jerabek (below), Vivant!, Patrick Harison, Bradley Williams, Carl Finch, Ginny Mac,Wesley Kucera, Sylvia Marie, Nick Ballarini, Dee Sligar, Julie Silfverberg, Karen Fremar, Shelia Lee, Debra Peters, Mary Wright, Gordon Kohl, ACCORD'S youth accordionists from Oklahoma City, Kay Hickman, Pete Nalda, Ian Blair Fries, Carol Widder Fayetteville, Thomas A. Visentin, Jerry Cornish and Sharon Seaton, Arlyn Visentin plus many others!

For a full list of presenters and artists and the times they will be appearing, please visit www.accordions.com/naa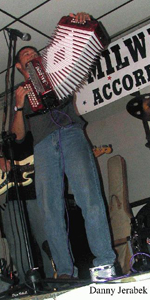 The 2008 National Accordion Association Convention takes place at the Richardson Hotel, Dallas, from March 13th to 15th. The Convention covers a very wide spectrum of national and international accordion styles.

The schedule summary is as follows:
Wednesday evening (March 12, 2008)
A room will be reserved for those wanting to play in one of the accordion dance bands. A formal reception is not planned; however, various individuals will be partying somewhere!
Thursday evening (March 13, 2008)
The Thursday evening event will concentrate on an accordion-driven audience involvement program. Examples include using the accordion for dances (couple and singles), sing-a-longs, and folk dance music. It will be a lighthearted, fun evening.
Friday evening (March 14, 2008)
"Polka Plus!" A four-hour dance program is being scheduled that will range from romantic waltzes through up-tempo polka bands. This program will be a smorgasbord of danceable musical styles. Hint: we are in the contract signing phase with an internationally famous, Grammy-winning, polka combo!
Saturday evening (March 15, 2008)
Concert artists who have a unique presentation.
Sunday Morning (March 16, 2008)
During the checkout time, conventioneers often meet in the hotel restaurant, lobby, and local restaurants to discuss the convention and other accordion activities. When y'all come to Texas, ya just gotta be friendly!
For further information, and regular updates on workshop and performers, please visit www.accordions.com/naa or please e-mail NAA President Norman Seaton at: NatlAccordion@SBCGlobal.net



---
Absolut Accord Accordion Ensemble in San Mateo, CA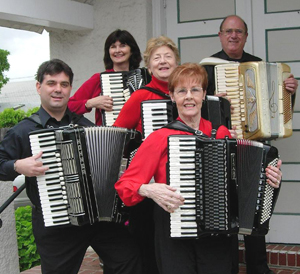 The accordion ensemble "Absolut Accord" recently performed for the Silicon Valley Accordion Society as well as a concert in San Mateo. Between February 12 and April 29, 2008 the Ensemble will be performing many concerts for schools located in the San Jose school district and on May 18, 2008, at 2 PM they will be presenting a concert for the San Francisco Accordion Club at the Oyster Point Yacht Club, 911 Marina Boulevard, South San Francisco, CA 94080.

From Absolut Accord's first concert in August of 2001 this San Francisco Bay Area group has been recognized as an unusual and rare musical treat. AbsolutAccord consists of five accordionists (Lynn Ewing, Joe Simoni, Sharon Walters Greyhosky, Richard Yaus, Norma Zonay-Parsons) who by joining forces have succeeded in creating a new listening experience for the most discerning audience.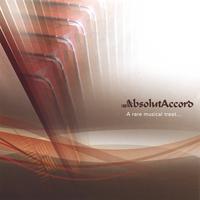 Lynn Ewing was born and raised in San Diego, California, where she started playing accordion at age seven. Later, Lynn directed five accordion bands and taught more than a hundred young children play accordion with the Robert Mitchell Accordion Studio. Lynn received certification in the Orff Method of Music Instruction and taught as the Music Specialist at El Granada Elementary School until recently. Currently Lynn teaches private accordion students and plays and entertains with two accordion ensembles, the Accordion Chamber Ensemble and AbsolutAccord.

Joe Simoni has been playing accordion for almost fifty years and has studied with San Francisco's own Michael Corino and Professor Giovanni Vitale, an accomplished and highly respected accordion instructor from Lucca, Italy. Joe is the leader of the JPS Band, which has been entertaining audiences from Napa to Monterey. Joe is also proud and honored to be one of the three original accordionists in AbsolutAccord.

Sharon Walters Greyhosky began playing the accordion at age six. In addition to playing bass accordion in AbsolutAccord, Sharon is a member of the Accordion Chamber Ensemble (ACE), plays with the San Francisco Cabaret Opera Company and accompanies poetry presenters at Freight & Salvage in Berkeley. Sharon is a member of the Accordionists and Teachers Guild, International (ATG); she resides and teaches accordion in San Francisco.

Richard Yaus studied with the German accordion virtuoso Georg Schwenk, while winning music competitions in the solo, duo and orchestra categories during the 1980's and 90's. Richard attended conducting classes held at the conservatory in Munich and in Trossingen, led his own accordion orchestra, played accordion parts in opera and musical theater in and around Munich, and later joined his teacher's accordion ensemble and orchestra. The avid accordionist founded AbsolutAccord six years ago using many of his teacher's arrangements.

Norma Zonay is originally from Southern California. Norma has entertained since her teens, was lead singer and accordionist touring with her own trio for a number of years, playing in clubs, shows and radio. Norma teamed for several years in a violin/accordion duo with a noted violin impresario in Salt Lake City, doing POPS Concerts and a weekly variety TV show. Norma now teaches in her studio in San Jose and performs with Bellows and Bow, a violin/accordion duo, and with AbsolutAccord.



For more information, about this group or their CD, please visit their website at www.absolutaccord.com or contact Musical Director Richard Yaus at: e-mail: ryaus@earthlink.net or by phone at: (415) 518-1447.



---
Good Goes Around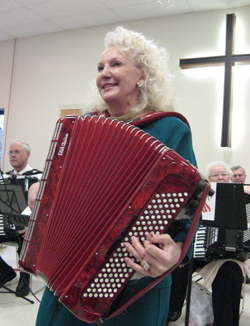 Accordionist Nancy Leonard of Silver Spring, MD, had the recent heartwarming experience of experiencing 'A Gift That Kept on Giving'.

At her Church potluck dinner, she played her accordion as part of the entertainment. A nun from the parish told her that she hadn't played her accordion for years but still had it in her closet. She then said, "I would like to give it to you." Several days later, she sent her a Macy's gift certificate in appreciation of the beautiful instrument.

In the first week of December, Nancy received a letter from the Sisters of the Immaculate Heart of Mary saying that the nun had purchased a winning raffle ticket for her and a check for $300.00 was enclosed.

They were having a Christmas toy drive at Nancy's Parish, so she took the money and bought 33 presents for the children. Nancy said 'I felt so good that I could bring joy into their lives, just as the nun had brought joy into my life.

Through the act of giving we also receive.


---
AAA kicks off 70th Anniversary at Magnanini Winery
The American Accordionists' Association (AAA) begins its 70th Anniversary celebration year by presenting the 6th Annual Afternoon of Music, Food and Fun at the Winery to benefit the Carmen Carrozza Scholarship Fund, for the advancement of promising young accordionists.


Guests: Mary Mancini & Mario Tacca, Frank Toscano, Frank Carozza,
Dominic Karcic, Ray Oreggia, Lenny Feldmann

The celebration will take place on Sunday, March 2, 2008 from 12 noon until 5:00 PM at the Magnanini Farm Winery, 172 Strawridge Road, Wallkill, NY 12589, tel. 845-895-2767.



Featuring traditional 'Valtaro' Music, guest artists include renowned husband wife duo Mario Tacca and international vocalist Mary Mancini, Frank Toscano, Frank Carozza, Dominic Karcic, Ray Oreggia, Lenny Feldmann and others.

Tickets are available for $65.00 per person which includes wine tasting at 12 noon along with complete dinner and entertainment.

For more information, please visit www.ameraccord.com


---
'Smiling Eyes' Celtic CD released in Central Illinois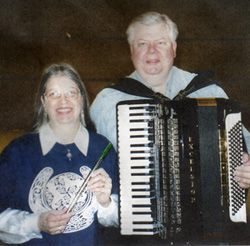 Jay and Pat Landers have been married for over 33 years. These native Kentuckians have made their home in Central Illinois/Springfield since 1997. Jay's been a member of the Peoria Area Accordion Club for almost 9 years and is a past president and newsletter editor for that organization. Jay's played the piano accordion for 50 years. He and Pat have performed Celtic music for 25 years going back to their experience as founding members of the band "Drowsy Maggie" with Jerry, Martha and Sean Forde. For more than 10 years Jay and Pat have performed as the duo "Donnybrook".

Jay released a solo CD in 2003 called "Side By Side" and it has 24 tracks of solo acoustic accordion and several tracks of original arrangements utilizing multi-tracking and MIDI techniques. He and Pat talked for years about a Celtic CD, but it never seemed to make it onto the "priority list" in the Landers household.

Then, everything changed dramatically in April, 2007. They lost their younger son, Ryan - 19, after an auto accident. They made him an organ donor and he's already saved the lives of two men in Illinois. Eventually, it became clear that a way to commemorate Ryan would be through their music. Ryan left behind 3 guitars and amplifiers, and in addition two cars. Automotive technology ultimately took precedence over music in Ryan's life. Jay and Pat recorded their first tracks in Redbone Studios in Louisville, KY, in September, 2007. They returned and finished the project in January, 2008.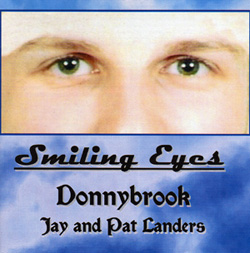 "Smiling Eyes" is dedicated to Ryan. It also celebrates the wonderful Celtic heritage in 17 tracks of instrumentals and vocals with a total running time of almost 47:00. Performed on piano accordion and tin whistle, highlighted by Pat's vocals, the titles include:

Red Rose/Irish Washer Woman (jigs); Turam-De-Laub (Give Me Your Hand - waltz); Lannigan's Ball/The Road to Lisdoonvarna (jigs); Star of the County Down (vocal); Brian Boru's March; Dennis Murphy's/Johnny Mickey's (slides); Carrickfergus (vocal); Port Lairge/Rakes of Mallow (polka/reel); Isle of Innisfree (vocal); Wicklow/The Rights of man (hornpipes); The Rare Ould Times (vocal); The Mountains of Mourne (waltz); Fields of Athenry (vocal); Haste to the Wedding/Kesh Jig/Strop the Razor (jigs); Ashokan Farewell (waltz); When Irish Eyes Are Smiling (vocal); Danny Boy (vocal).

The cost of the "Smiling Eyes" CD is $18 by mail. The "Side By Side" CD is still available and is $18.00. Their contact information: e-mail - jllanders5214@msn.com or cell 217-899-9157.



---
Maria Merkelo Performs with Jacksonville Symphony Orchestra
In Central Illinois, the community of Jacksonville is celebrating the 45th season of its symphony orchestra. On November 3, 2007, the second concert of the season featured Maria Merkelo in a performance of Dominick Argento's "Valentino Dances" from the opera "The Dream of Valentino".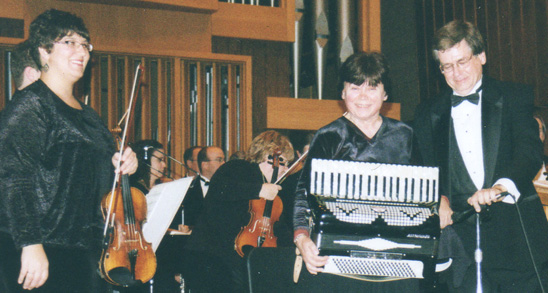 Maria Merkelo (accordion) and Garrett Allman (Conductor)

The program theme for the evening was "International Gems: A Musical Travelogue". The audience of 200 in Rammelkamp Chapel on the campus of Illinois College was in for a surprise. In addition to the accordion soloist for the evening, the Jacksonville Symphony shone brightly under the baton of Music Director and Conductor Garrett Allman.

The selections included Dvorak's "Slavonic Dance in C Major", Leroy Anderson's "Blue Tango", Ketelbey's "In a Persian Market", Offenbach's "Can Can", Faure's "Pavane", Brahms' "Hungarian Dance No. 5", Ippolitov-Ivanov's "Procession of the Sardar", Gliere's "Russian Sailor's Dance"...and...believe it or not...a "tango" from John Philip Sousa "The Gliding Girl"! And, yes, since the accordion was front and center in this concert, there was an obligatory polka for an encore - Strauss' "Thundering and Lightening Polka".

Perhaps the highlights of the evening were the two sets of accordion/violin duets in both halves of the concert. Maria Merkelo was joined by her friend Dorothy Martirano, concertmaster of the Champaign-Urbana Symphony. They performed 8-10 pieces in their two sets of duets without the JSO. The music was representative of a wide variety of ethnic origins including "Tzena Tzena", "La Paloma", "Spanish Eyes", "Good-bye My Gypsy Camp", "Anniversary Waltz", a Greek tune and others.

Maria Merkelo emigrated from Ukraine and studied the accordion with William Kuehl in Chicago. She resides in Urbana, where she teaches piano at a private school and gives lessons in piano accordion at her home. She played accordion in the University of Illinois Russian Orchestra for 10 years and has numerous performance credits with other orchestra's, area ensembles and theater groups. For 14 years she has performed regularly on weekend at Bayern Stube, a German restaurant in Gibson City. Since the late 1970's Maria has performed with various musicians as "Maria & Company".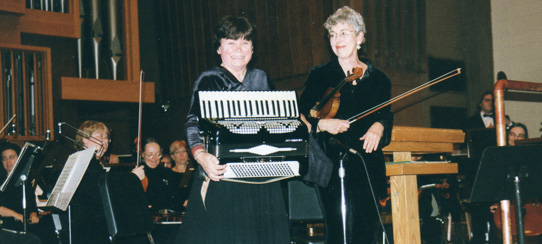 Maria Merkelo (accordion) and Dorothy Martirano (Violin)

Dorothy Martirano has served as concertmaster for several symphonies and ensembles. She is violinist for "Maria & Company" and the Tone Road Ramblers. She was a founder and director of String Society Artists and the Squareknot Quartet. She performs at new music festivals around the United States, and performs and records with jazz groups and blues bands in Central Illinois, Memphis and Phoenix, AZ.

Maria and Dorothy endeared themselves to the appreciative and responsive audience with both their superb musicianship and Maria's communication skills. She spoke before each piece and kept the commentary light and humorous. Dorothy's skills as a violinist included "bariolage" - rapid up and down (bouncing of the bow) using all 4 strings; "sautille portamento or portando" - a type of sliding; "fall" - used at the end of a note common to jazz performance; "sul tasto" - extremely delicate high notes; and strumming and pizzicato, which are more universally known. She also used a great many double stops/chords. These two accordion/violin artists were perfect complements for one another.

The Jacksonville Symphony Society has been behind the orchestra for five decades. The JSO depends upon players from all over the area in addition to Jacksonville, including Taylorville, Springfield, Champaign, Peoria and Quincy, as well as St. Louis.

---
Mario Pedone Concerts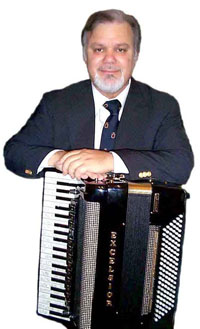 Italian born accordionist Mario Pedone will perform at Polish American accordion club in Chicago Illinois on February 24, at the The Alliance & Polish Club, 5835 West Diversey @ Monitor (for information call Ed Smollen (773) 407-6156) and on February 25, he will be performing at Chicago Accordion Club. For information call Leni Leto 630-918-0812.

In addition to his Chicago appearances, Mario's tour will take him to:

Saturday, February 9, 2008
Portland, OR
Community Music Center, SE Francis.
7:30 PM
Admission: $ 10.00 suggested donation (No One Will Be Turned Away)
Monday, February 11, 2008
Seattle, WA
NWAS Accordion Social West Seattle
7:30 PM
Admission $ 10.00
Victoria BC Canada from February 13 till 20 - 2008
Concerts and Work Shops.
For more information please visit: tempotrend.com
The following was reported by Ron Schwarz in the Sharps 'N' Flats ACCORDIONAIRES Newsletter Volume 2007, Issue 12 December, 2007

LET THE MEETING BEGIN
Mario Pedone was hooked up and ready to give the Accordionaires a great concert. Mario brought dozens of CD's and music books he has written. Sales were brisk before, during and especially after his performance. Our members were inspired to emulate the outstanding technique Mario displayed all evening. Mario performed for just over two hours. His only break came when the police temporarily interrupted the meeting to ask us to come outside to see if our cars had been hit by a SUV that had jumped the curb and sheared off the fire hydrant at the corner of Victorio's parking lot. The flying SUV hit three parked cars, but none were from our group.

After that bit of excitement, Mario was playing for us again. Mario used an Excelsior Symphony Grand, which he played to perfection. This is a great accordion and in his expert hands the result was perfection. His presentation took two forms: playing with CD background, and playing solo. As you know from the biography you read in last month's newsletter, Mario used the piano and keyboards extensively as a performer. Over time he learned to record his own multi-track accompaniment, which could be used with the accordion or other instruments.

Parts of Mario's performance this evening featured the recorded orchestral background as he took front stage live with the accordion. The result was extremely enjoyable. Unlike simultaneously using a midi module, Mario's method produced a very realistic, orchestral presentation. Mario used our Club amp for the CD accompaniment and a separate amp for his accordion. By having the accompaniment separate (recorded on the CD) he was able to enhance the effect of the accordion or the background independently just as would have occurred in a live band performance. "Feeling" and "expression" were two terms everyone mentioned after hearing Mario.

Additionally Mario had everyone craning their neck to watch him play. His command of the keyboard was simply outstanding. Slow, medium or lightening fast, his fingers were right on target all the time. Mario also interchanged melodies from the bass section and the treble keyboard. Much of his bass work was very reminiscent of Nick 4 Ariondo—his fingers were everywhere on that bass-board. Further enhancing the evening, Mario played selections of all types: Latin, French, polkas, ballads, marches, and waltzes - you name it, he did it.



---
Promoting Your Accordion Services Free at AWW

The Internet is changing the way your customers are searching for services. The days of lugging out a 12 lb. telephone book to find very limited and outdated business information are coming to an end. People are still letting their fingers do the walking, but they're doing it over a computer keyboard. Below are some revealing facts from the Kelsey Group.
74% of US households use the Internet as an information source when shopping.
Approximately 45% of searches had a buying intent.
The percentage of respondents who used yellow page directories decreased from 75% to 62%.
(If you have a printed yellow page ad, it is time to consider buying a smaller ad and shifting your marketing dollars to the Internet.) The off-line Yellow Pages see the writing on the wall and are scrambling to transfer their business model to the Internet.

Businesses can no longer ignore these facts. If you want to be successful, you must have a presence where your customers are searching. Being found on the Internet is vital to the future of your business.


The accordion-yellowpages.com offers free of charge listing for all accordion businesses, teachers and for every type of service for accordionists. On the Accordion Yellow Pages site, you do not need to have a website for accordionists find you and contact you.


The search-accordion.com site is also free of charge, being a listing service for every type of accordion service, but you must have a website. Viewers of search-accordion.com can click through to your website.


Very popular is the AccordionLinks.com site where those accordion service providers with a website, can attract accordionists free of charge to their website.

All it takes is a little effort, to make sure your information on these three popular and very effective accordion sites is up to date. Your future success may well be determined by your ability to effectively adapt to the Internet. Should it be your New Year's resolution for 2008?



---
MO Valley Folklife Society Presents Metro Artists' Concert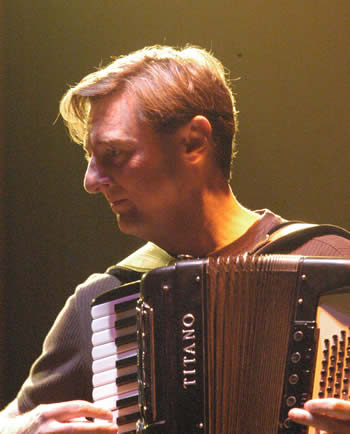 Kansas City accordionist Brett Gibson will be one of the featured artists when the Missouri Valley Folklife Society presents a Metro Artists' Concert called 'Scottish Legacy Night.' The concert will take place at 8:00 PM on Saturday, February 9, 2008 at the Community Christian Church, 4601 Main St., Kansas City, MO.

Artists include Brett Gibson (accordion), Shane Borth (fiddle), Hazel Whyte (Scottish folksinger), Bill Morris (singer), Kansas City St. Andrew's Highland Dancers and Iaian J. McKee & David McNally (Highland Pipes). The concert of Kansas City artists will explore the music and dance legacy of Scotland and delight in the region's roster of fine talent.

The concert, including Scottish born folk singer Hazel Whyte, Kansas City's Bill Morris, highland pipers and Scottish dancers, will culminate with Brett Gibson, an accordion wizard born in Auckland, New Zealand and now making his home in Kansas City. A frequent performer with Eddie Delahunt, a former member of the Elders, Gabriel's Gate, and Shenanigans, last spring Brett was the featured soloist with the Kansas City Civic Orchestra. Brett will be accompanied by Shane Borth, fiddler with Flannigan's Right Hook. Brett began playing the accordion at age 7 and at the age of 12 won his first New Zealand championship for that age category and continued to seriously play and compete into his late teens as a soloist and with duet, trio, quartet, ensemble and orchestra.

Tickets are General Admission $15, St. Andrews Society members $12, Students (full-time with student ID) $5 and Children (under 6) Free, and are available by calling the 24/7 Ticket Hotline at 1-800-838-3006, online at www.mvfs.org or they can be purchased at the door until the venue reaches capacity.


---
A Proud Night for the Accordion in Carnegie Hall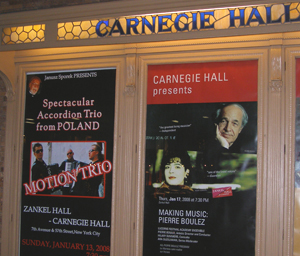 On January 13th, Zankel Auditorium in Carnegie Hall was filled to capacity for the renowned Polish group 'Motion Trio'. Performing their own compositions and arrangements, their program was a diverse array of cutting edge performances including the World Premiere of the accordion version of Krzysztof Penderecki's 'Ciaccona' in Memory of John Paul II. Having worked with the Motion Trio, Penderecki himself calls them an exceptional accordion trio!
Utilizing every dimension of their instruments, the Motion Trio comprising Janusz Wojtarowicz, Pawel Baranek and Marcin Galazyn, brought the house down leaving the audience calling for several encores. Each a skilled artist with superb technical and musical ability, the three combined to capture and ignite the imagination of the enthusiastic audience. Formed in 1996, the Motion Trio has performed in 29 countries and continues to explore the boundaries of the instrument while drawing inspiration from all forms of music including contemporary, classical and baroque, through to rock, metal and techno.
The Motion Trio artists include:
Janusz Wojtarowicz (1971) Composer, accordionist, founder and leader of the Motion Trio. Began piano and accordion studies at the age of seven, under his father Eugeniusz. Completed the Public Secondary School of Music in Krakow and studied the accordion at the Krakow Academy of Music. Winner of many chamber music competitions in Poland and abroad. Composer of theatrical music. Received a scholarship from the president of the city of Krakow in 2001.
Pawel Baranek (1978) Began learning to play the accordion and organ when nine years old, under professor Wieslaw Kusion. Completed the Public Secondary School of Music in Tarnów. Winner of Polish and international competitions, in Germany and Italy among others. Currently one of Europe's finest accordionists of the younger generation. Currently studies the accordion at the Academy of Music in Krakow.
Marcin Galazyn (1975) Began accordion studies seven, under professor Eugeniusz Ajdmach. Completed the Public Secondary School of Music in Bialystok, after which he studied accordion at the Academy of Music in Krakow. Winner of many national accordion competitions in Poland.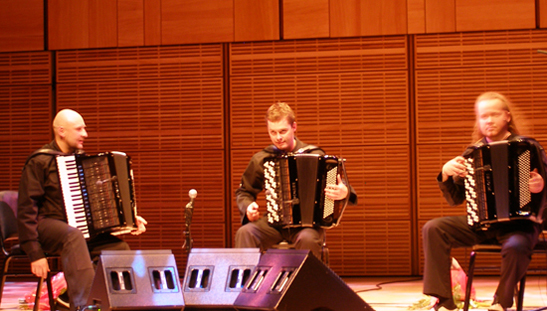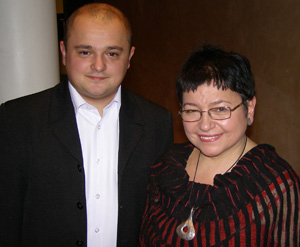 The concert was held in the memory of the famous Polish composer Andrzej Krzanowski (1951-1990), and his wife and son (pictured) were in attendance at the concert. A renowned composer, Krzanowski was himself a skilled accordionist who studied in Katowice with Joachim Pichura.

Among his hundreds of compositions for many instruments, Krzanowski composed the Test Piece for the 1978 CIA Coupe Mondiale held in Lodz, Poland.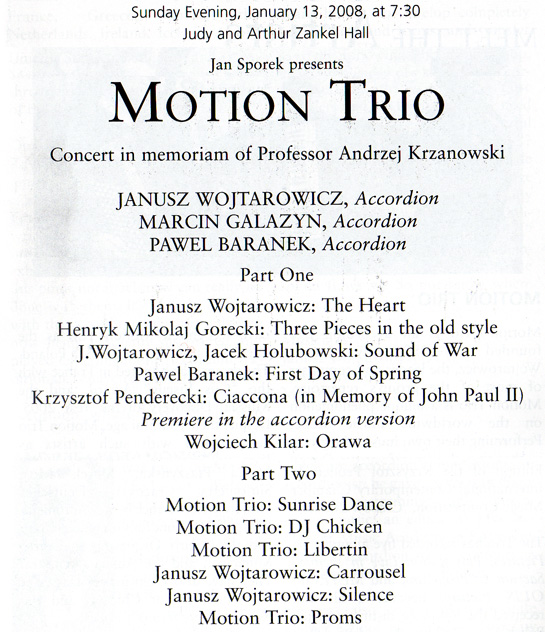 ---
Rik Kaplan to be honored at AAMS Festival in Pennsylvania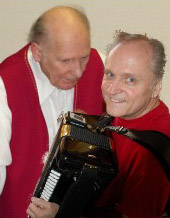 The annual festival and competition sponsored by the American Accordion Musicological Society (AAMS) takes place from March 7th to 9th, and once again held at the Dolce Valley Forge Hotel, King of Prussia, Pennsylvania.

The program of guest performers this year includes Mario Tacca, Mary Mancini, Stanley (pictured left) and Joanna Darrow Richard DiBlassio, Ron Onda, Ed Touchstone, Bobby Raye, Jim Vandelly, and Lenny Feldmann, (pictured right with Stanley Darrow) known as 'The CordeenMan'.

The festivities begin with a Cajun/Zydeco concert on the opening night. Saturday will feature the competitions and a range of accordion workshops.

The Annual Dinner takes place at 5:30 PM on Saturday evening where this year's Honoree, Rik Kaplan, will be recognized. From Washington, DC, Rik is being recognized not for a particularly distinguished musical career, but his enthusiastic support for this organization; cheerful volunteerism; and promoting respect for the "established" participants with inspiration for the younger. Rik graduated from George Washington University, with study at Berklee & MIT. Keeping active in music (primarily for dance and theater) he made his primary vocation in network level engineering at the Mutual Broadcasting System and, since 1979, at National Public Radio, at both their headquarters in Washington DC.


Using equipment and skills from his broadcast and audio production background, Rik has provided sound reinforcement and A/V support for individuals; ensembles; and orchestra's throughout the festivals. He reminds the AAMS that the world of Folk music and non-written accordion music has much value, which can supplement (not compete with) the more traditional conservatory-style education. He's shared songs and techniques with a concentration on Melodeons as used in the Cajun/Creole/Zydeco music of Southwest Louisiana. Passing on this info is homage to those kind enough to teach him as well as the elders of the genres who never got to benefit personally (either financially or by Mainstream acceptance).

As a gift to the symposiums, Rik has produced many Friday evening concerts presenting local; regional; national; and international artists. The goal was to entertain early arrivals; present dramatic context for the genres & techniques he promoted; as well as showcase certain artists and musicians who might not otherwise have the opportunity to perform their dance music for such an academic audience. Conference guests may recall the Tango music of Hector Del Curto; the Cajun & Zydeco of Geno Delafose; Andre Thierry; Zcrayz; Tom Tonon (with the world début of his "BluesBox" poly-reed pitchbending invention); as well as the multi-culti modern repertoire of Kraig Greff with The Crawdaddies.

He has been keen on inspiring the youngest of the attendees, showing them that despite the anxiety of performance and competition, there can be a great deal of Joy in playing less structured community oriented unwritten & improvised music. He hopes to further support Joanna Arnold Darrow's involvement in the Musikgarten program.

An Accordion Spectacular Concert, featuring guest artistes Mario Tacca and Mary Mancini, and supporting acts, will follow the dinner.

On Sunday, the morning will continue with more competitions and more workshops. After lunch will be the Awards Concert featuring the Festival Massed Band, guest artists, and the presentation of awards and trophies. The festival also includes a trade display, accordion repair seminars, accordion memorabilia, recordings and sheet music.

For complete information, please visit: www.aamsaccordionfestival.com

---
Henry Doktorski Keeps Busy Concert Schedule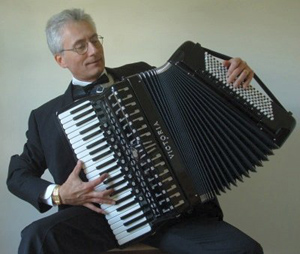 Concert accordionist Henry Doktorski will be featured in the following concerts:

February 14-15:
Henry Doktorski performs the songs of Edith Piaf with contralto Daphne Alderson and quintet at Heinz Memorial Chapel on the campus of the University of Pittsburgh in Pittsburgh, Pennsylvania, during two Valentine's Day concerts on February 14 at 7 PM and February 15 at 8 PM. Tickets may be purchased by calling 412-624-4257.
February 21-24:
Henry Doktorski performs accordion with the Pittsburgh Opera Theater Orchestra during four performances of Kurt Weill's Broadway musical *Lost in the Stars.* Performances are at the Byham Theater in Pittsburgh's Cultural District. Dates and times are:
Thursday, February 21, at 7:00 PM
Friday, February 22, at 10 AM
Saturday, February 23, at 8:00 PM
Sunday, February 24, at 2:00 PM
Tickets may be purchased by calling the Pittsburgh Cultural Trust at 412-456-6666.
May 5:
Henry Doktorski performs a world premiere by composer Andy Rindfleisch (right) with the Cleveland Chamber Symphony in Cleveland, Ohio.
For more information, please visit www.henrydoktorski.com


---
Polka Floyd Show Releases Debut CD
The Polka Floyd Show has released their debut CD on Indie label Static Records.

Ever wonder what the music of Pink Floyd would sound like polka? The Polka Floyd show was formed in 2006 out of the ashes of nameless bands in the Toledo, OH and Detroit, MI area. The Polka Floyd show is no ordinary tribute band; they perform the music of Pink Floyd, polka style, with all the energy of a high-octane rock band!

The Polka Floyd show is the latest project of native Detroiter and musician Ken Haas who lends his guitar and vocals to this unique band. Haas is a veteran of many bands including The Culture Bandits, The Hoolapoppers, Kids from Krypton and, most recently, the Zimmerman Twins. This project came about unexpectedly when Haas and fellow Toledo musicians, bassist Chris Zielinski and drummer Frank Dramczyk - from the nationally-renowned polka band, Crusade - got together to jam.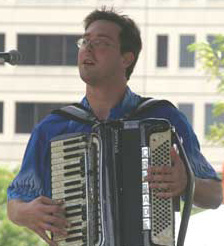 Messing around with some Pink Floyd tunes, they added a polka twist to the classic rock songs and a new band was born. After recruiting accordion player Eric Hite and keyboardist Penny Haas, the band played their first gig to a sold-out hometown Toledo crowd.

The Polka Floyd show pays tribute to Pink Floyd in their own way, featuring classic material from throughout the band's history from the early Syd Barrett period to the epic "The Wall", including "Comfortably Numb" the first song they covered together as a band. They have also performed the seminal "Dark Side of the Moon" album in its entirety.

What started out as a fun band rehearsal has taken on a life of its own. Along with their many headlining performances, the Polka Floyd show has also opened for notable acts including Unknown Hinson & The Mysterians. They were also invited to play music festivals: The Shamybash in Columbus, Detroit Cityfest and the Hamtramck Festival's "Polka Palooza." They have since taken the show on the road to enthusiastic audiences from Cleveland to Fargo.

Static Records will release their self-titled debut album that features a seven-song selection from their vast repertoire, including "See Emily Play," Pink Floyd's second single.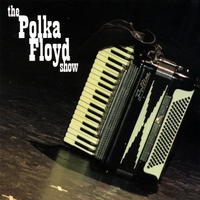 "Polka Floyd plays remarkably good renditions of all your favorite Floyd tunes with a polka twist that'll have you jaw-dropped in awe at the stellar musicianship while laughing at the pure ridiculousness of it all at the same time." Ryan Bunch, Toledo City Paper, 9/12/07

The band comprises Ken Haas - Vocals, Guitar, Steel, Eric Hite - accordion/vocals, Chris Zielinski - Bass/vocals, Penny Haas - Keyboards and Frank Dramczyk - Drums.

For more information on Polka Floyd and their new CD, please visit www.polkafloyd.com



---
Alexander Shirunov Appears at NAMM Show in CA
During the Winter NAMM Show in Anaheim, California, held from January 17th to 20th, 2008, young Russian accordion star Alexander Shirunov cast a spell over the audience with his Hohner Fun Flash piano accordion while a guest of the Hohner company, demonstrating their line of piano accordions at their trade stand.
Alexander will also will perform daily during this year´s Musikmesse in Frankfurt both at the Hohner stand and on the Acoustic Stage. Alexander Shirunov performs on his 'Morino IV 120 C45' deluxe converter accordion and his Fun Flash Piano accordion.

For further information e-mail: HFausel@hohner.de

---
'50 Bluebells' splices 50 Cent with Sir Jimmy Shand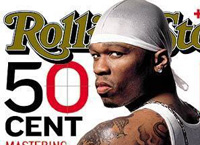 The late Sir Jimmy Shand, the legendary Scottish accordionist who would have been 100 years old, has had his Bluebell Polka bootlegged with US rapper 50 Cent's 'In Da Club' in a release titled 'Jimmy Shand Vs 50 Cent.' The bootleg track '50 Bluebells' refers to the splicing of 'In DA Club' over the top of the Jimmy Shand track of Bluebell Polka.

Originally released in 2005 on LP 'PRM001 -Various -'Cowboy Boots EP' from the then 'Prank Monkey Records' the track was included in an album themed around the marriage of country style music with the vocals of current, popular rap and R'n'B stars. On the Album, Pheugoo's lead track finds Usher's 'Yeah' delivered hilariously over the Smokey and the Bandit Theme while '12 String Milkshake' involves that most unlikely, yet fantastic, marriage of Kelis to Glen Campbell.

On the flipside, on the track in question, Rapper 50 Cent dons a kilt to duet with Scottish legend Sir Jimmy Shand and his accordion while 'Man of Constant Sorrow' from 'O Brother Where Art Thou' provides the perfect new backing for Southern Belle Britney Spears. This 200 copy limited edition release sold out in record time after being nominated as LP vinyl release of the week in London's flagship HMV store.

From this incredibly small release of 200 LP's to an an astonishing resurgence via the power of the Internet, the release of the track has created interest and in some cases uproar all around the world, drawing reactions ranging from admiration to disbelief. Some believe Sir Jimmy Shand would be rolling in his grave, while others think it is a great way to expose the accordion to a generation of rappers, that might not otherwise be exposed to the instrument.
Original 1976 Picture of
Sir Jimmy Shand and John Macdonald


Altered picture to show Rap artist
50 Cent with Sir Jimmy Shand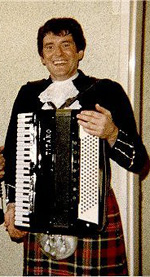 To add to the mix, a copyright infringement from popular New Zealand Scottish entertainer residing in Australia for the unauthorized use of his picture used to accompany the re-release on youtube is in an ongoing dispute.

While not used on the original 'Cowboy Boots' LP, the Internet release uses a copyrighted picture of renowned entertainer John Macdonald (left) with Sir Jimmy Shand taken in 1976, which was digitally altered to remove John's head and replace it with the head of rapper 50 Cent.

Anyone wishing to view the release, can do so at: http://uk.youtube.com/watch?v=QBpcIw9lLE4&feature=related
To see the original Jimmy Shand track and picture please visit: http://uk.youtube.com/watch?v=PIG9evq2RqM



---
Steve Albini at Copia, CA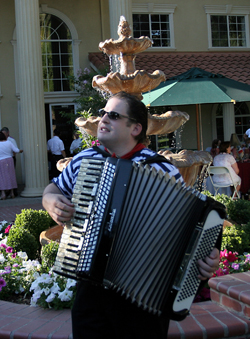 Accordionist Steve Albini will appear in February at the following locations.

Wednesday, February 06, 2008
Piccolino's Italian Cafe
Napa, CA 6:30 PM
Steve performs solo
6:30 PM - 8:30 PM

Friday, February 08, 2008
Veteran's Memorial Building
Petaluma, CA 6:00 PM
Rotary Club of Petaluma Crab Feed. For more information please contact: secretary@petalumarotary.org
Saturday, February 09, 2008
Tagliaferri's
Petaluma, CA 12:00 PM
Steve performs solo 12:00 PM -3:00 PM
25 Petaluma Blvd. South
Wednesday, February 13, 2008
Piccolino's Italian Cafe
Napa, CA 6:30 PM
Steve performs solo 6:30 PM -8:30 PM

Thursday, February 14, 2008
Giorgio's Ristorante
Larkspur, CA 7:30 PM
300 Drakes Landing Road
Larkspur, CA 94904
(415) 925-0808
Steve performs solo
Friday, February 15, 2008
"B" Street Recreation Center
San Rafael, CA 8:00 PM
Club Italia of Marin's Valentine Dinner/Dance. For more info call Dave at: (415) 898-7490
Wednesday, February 20, 2008
Piccolino's Italian Cafe
Napa, CA 6:30 PM
Steve performs solo 6:30 PM - 8:30 PM

Thursday, February 21, 2008
Copia, The American Center for Food, Wine and the Arts
Napa, CA 8:00 PM
Una Bella Sera
An evening with international singer/musician Steve Albini.
Concert ticket includes a complimentary tasting of rare Italian wines courtesy of Salvia Bianca Imports from 7:15 - 8:00 PM
Concert begins at 8:00 PM
$20 general admission

Saturday, February 23, 2008
Tagliaferri's
Novato, CA 12:00 PM
Steve performs solo
12:00 PM - 3:00 PM
2051 Novato Boulevard
Novato, CA 94949

Wednesday, February 27, 2008
Piccolino's Italian Cafe
Napa, CA 6:30 PM
Steve performs solo 6:30 PM - 8:30 PM
Accordionist Steve Albini is an acclaimed musician and an emotional singer. Steve's Italian roots are brought to life through a passionate performance infused with world, jazz and Latin rhythms. The music is lively and the rhythms are infectious! La musica con passione e fuoco!

For over a decade Steve has been enchanting audiences throughout the United States and Italy with his blend of musical virtuosity, artistic passion, and charismatic presence. Through his performances of traditional and modern Italian music as well as American jazz and popular standards, Steve has become a true international artist.

Steve's musical career began after participating in and winning numerous instrumental and vocal competitions. He has appeared on stage with popular Italian singer Frankie Fanelli and performed for many well-known personalities such as singer Al Martino, singer/musician Jose Feliciano, Sen. Diane Feinstein and former Secretary of State Alexander Haig.

For further information e-mail: info@albinimusic.com


---
Cape Cod Irish Village features Irish Lineup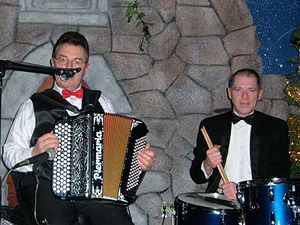 The Cape Cod Irish Village, 512 Main Street, West Yarmouth, Massachusetts, will features Irish American musicians every weekend throughout the year, including many accordionists.

Established in 1976 by Noel Henry and family, the Village offers comfortable guest rooms, a restaurant, along with the Irish Pub, featuring traditional Irish entertainment.

The February schedule includes the following:
February 1 &2: Silver Spears
February 8: Fintan Stanley
February 9: Noel Henry Showband
February 10: Noel Henry Showband
February 15 &16: The Old Brigade
February 17-21: Norman Payne
February 22 & 23: McTeggarts
February 29: McNulty's Pride
For more information, please visit: www.capecod-irishvillage.com/index.shtml


---
Hogfish Gumbo - "It's All Good!"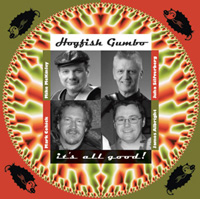 Last months posting of information about a new CD"It's All Good" inspired this CD review from fellow accordionist Brett Gibson.

Often when a band finally gets into the studio, their cautious efforts may drive them toward overproduction, neurotic cleaning or worse - both. Creating that razors edge of live stage energy and quality mixing takes the ear of a musical professional steeped in their art. This is exactly what you'll take home with the latest from Hogfish Gumbo - "It's All Good" and believe me, it is.

This fresh menu of Cajun and Zydeco a la carte plays like a Louisiana eatery made for dancing. In fact, this entire album was made for dancing, right up to the original closing waltz for solo accordion "End of Evening."

In the hands of Juha Silfverberg you'll hear the accordion on a peer footing with some of Kansas City's finest - Mark Cohick, James Albright, Mike McKinley and the great young talent of Trombonist Janne Silfverberg. This configuration never relegates the accordion the oft condemned background of musical "flavor" simply to fool the uninitiated. Instead, you'll hear that level of musical ambassadorship which can only be forged from both instrumental mastery and years of immersion in the genre.

The entire album, while never predictable in its landscape of original arrangements, has a genuinely original tone reminiscent perhaps of any great 50's band able to get you on your feet from track one - and keep you there. The coupling of Mike's comfortable, inviting vocals and the bands instinctive solos proves that Kansas City has a band par excellence in its own backyard with a lot to say about this music - to an audience who's never heard it like this.

CDs are available directly from Hogfish Gumbo for $15.00 plus $2.25 shipping and handling. To purchase CDs by mail send Check or Money Order for $17.25 to:

Juha Silfverberg
Hogfish Gumbo
9613 Kessler
Overland Park, KS 66212
(Please allow 2 weeks for shipment)

For more information and track samples, please visit www.hogfishgumbo.com



---
Vivant! to Hold CD Release Party for 'River of Destiny'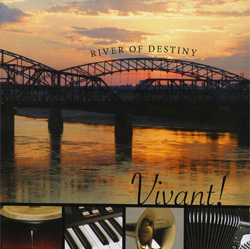 Kansas City based Vivant will be appearing in two upcoming shows.
Live in Concert
CD Rollout Concert and Signing Party
Unity on the Plaza, Main Auditorium
707 W. 47th Street, Kansas City, MO
March 8, 2008, 7 PM
National Accordion Association Convention
Richardson Hotel, Dallas TX
March 15, 2008, Shows at 2 PM & 8 PM

Vivant! is made up of multitalented musicians whose primary musical training centered around the accordion, in addition to various other keyboard instruments and other acoustical and percussion instruments. The focus of the group is to share the unique versatility of the accordion and the various styles of music that are possible to produce with the instrument.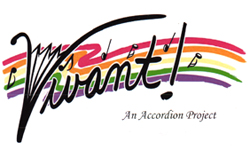 The accordionists in Vivant! all began studying the instrument at a young age. They are highly decorated musicians in both ensemble and solo performing. Most have toured professionally, and collectively they have concertized in most of the United States and in 28 countries throughout the world. Several of the musicians chose the accordion as their major area of emphasis in college and have continued to play professionally.

The sound of Vivant! combines the richness of the acoustic accordion and bass accordion reeds with the electronic sounds of synthesizers, trombone, and various percussion instruments. Their style combines the art of virtuoso concert accordion with jazz, pop, Latin and tango. Vivant! explores original music written for the accordion, Baroque and other classical works suitable for the instrument, as well as tango, jazz and other popular works. Above all, their music is exciting, captivating, and alive!

The Musicians in the group include:


Janne Silfverberg, Gail Overly, Erica VandeVoort,
Karen Fremar, Julie Silfverberg, Dee Siglar and Sarrah Cantrell
During their individual careers, the members of Vivant! have toured and concertized as accordionists in most of the states in the continental USA and in the following countries, islands, and principalities: Austria, Azores, Czech Republic, Denmark, Egypt, England, Estonia, Finland, France, Germany, Guam, Hungary, Israel, Italy, Japan, Liechtenstein, Midway Island, Monaco, Netherlands, New Zealand, Okinawa, Philippines, Saudi Arabia, Scotland, South Korea, Sweden, Switzerland, and Taiwan.

For more information and to order CD's, please visit: www.vivantsound.com

---
Accordion Cruise with Pedone and Ballarini a Success!
The Pedone/Ballarini Accordion Clinic Cruise was a terrific success. Members of the interesting Cruise took part in a five day vacation to Cozumel and Progresso, Mexico while enjoying a lot of fun as well as accordion Work Shops and Concerts. Organizers Mario Pedone and Nick Ballarini announced that more such Accordion Clinic/Cruises would be held in the future.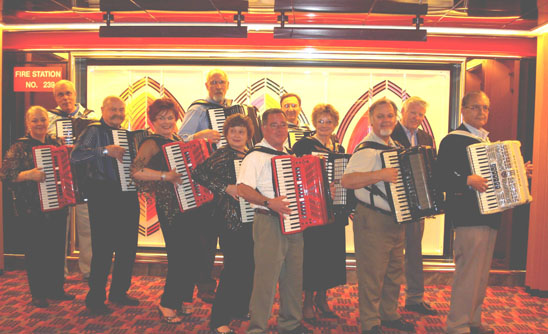 For more information on future events, please contact: Ballarini@sbcglobal.net

---
Sylvia Prior Accepted to Receive CIA Award at Macedonian Meeting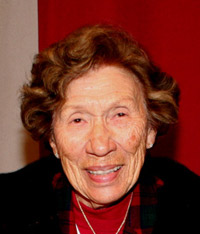 The Confédération Internationale Des Accordéonistes (CIA) held its 119th General Assembly of Delegates "Winter Congress" in Skopje, Macedonia hosted by the Association of Accordionists from the Republic of Macedonia. In addition to the General Assembly, association President Zorica Karakutovska, Vice President Elizabeta Ilievska, Public Relations Manager Anica Karakutovska and secretary Biljana Mladenovska provided an exciting array of activities including meetings, sightseeing, a reception with the Mayor of Skopje Mr. Trifun Kostovski, visits and meetings at the school and university, both with the Director (Principal) of the Music High School "Ilija Nikolovski-Luj" Skopje Mr. Zoran Dzorlev and the students, a formal concert of Prof. Karakutovska's students, as well as a Macedonian evening of entertainment.

During this first CIA function held in Macedonia, two new associations were accepted for CIA membership including the Associação dos Acordeonistas do Brasil (AAB) - President: Lauro Valerio, and the Italian Accordion Culture (IAC) - President: Federica Celesti.

The CIA Merit Award, in recognition of outstanding contributions to the International accordion movement were accepted to be awarded to renowned concert artist and teacher Friedrich Lips (Russia) and to Manfred Gäbler (Germany) the organizer of the Klingenthal International Accordion Competition for more than 40 years. The Honored Friend of the Accordion Award was accepted to be awarded to Friedl Preisl and Herwig Peychär (Austria), Silvio De Pra (New Zealand) andlifelong AFNA member and supporter of the accordion in the United States, Sylvia Prior (USA), recognizing their lifelong work on behalf of the accordion in their respective countries.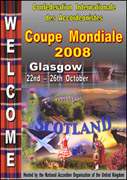 The 2008 Coupe Mondiale will be held in Glasgow, Scotland from the 22nd - 27th October, 2008 and all information regarding the various competitions offered, the CIA World Accordion Orchestra II, tentitive schedule of events, Hotel information and more, can be found at www.coupemondiale.org.

For a reivew of the Winter Congress held in Macedonia, please visit www.accordions.com/cia and select Winter Congress.


---
Dr. Schimmel Performs Sequenza XIII at NY Phil's Day of Berio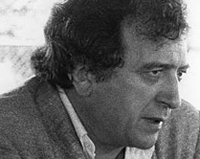 On February 2, 2008 the New York Philharmonic will sponsoring a performance of all Fourteen 'Sequenzas' composed by Luciano Berio. The performers will be made by members of the New York Philharmonic and Dr. William Schimmel will perform the Sequenza XIII (Chanson).

Luciano Berio was born in Oneglia, Italy. After studies with Ghedini at the Milan Conservatory, he worked for the Italian Broadcasting Corporation from 1953 until 1960, when he founded the Studio di Fonologia and directed a concert series under its name. He has taught in America at Tanglewood, Mills College and Harvard University, and in Europe at Darmstadt and Dartington; from 1965 to 1971 he was a member of the composition faculty of the Juilliard School in New York. He ran the electro-acoustic department of IRCAM in Paris until 1980; in 1981 he founded tempo Reale, an institute for new music, in Florence. In 1982 he became Musical Director of the newly founded Regional Orchestra of Tuscany. In 1984 he was Artistic Director of the Maggio Musicale in Florence. In 1988 he became an Honorary Member of the Royal Academy of Music, London. He has also been awarded the prestigious Siemens Prize.

The Performances will take place starting at 2 PM at Jazz at Lincoln Center's Rose Hall - in the Time Warner Building - Columbus Circle, New York.

Dr. Schimmel studied with Luciano Berio in the mid 1960's and attended many of the world premieres of the Sequenzas as well as other Berio works.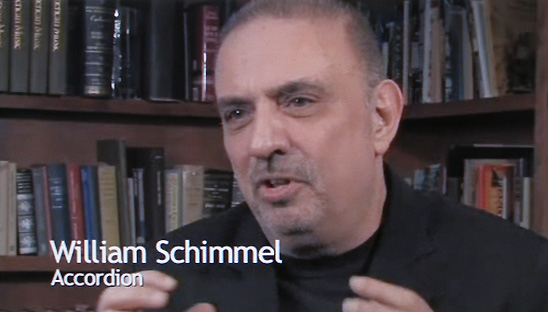 Dr. Schimmel (above) can be seen as well as heard on the New York Philharmonic Website: www.nyphil.org - (click Focus: Berio) - when he talks about his direct experiences with Berio and his music. He also performs and excerpt of the Sequenza as well.



---
Accordionist 'Coba' at Kennedy Center in Washington, DC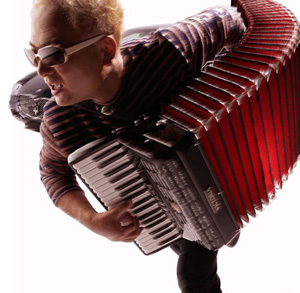 Renowned Japanese accordionist Yasuhiro "Coba" Kobayashim will perform on a special concert "A Tribute to Toru Takemitsu" on February 9th, 2008 at the famed Kennedy Center for the Performing Arts in Washington, DC.

One of Japan's most famous and celebrated composers, Toru Takemitsu (1930–1996) broke new ground by exploring principles of western classical music and his native Japanese tradition. Largely self-taught, he experienced a stroke of luck in the 1950s when Igor Stravinsky heard his work by accident, greatly admired it, and helped bring him international attention. Influenced by French music, particularly that of Debussy and Messiaen, some of Takemitsu's most well-known compositions encompass jazz and film music.

This special tribute concert, curated by his daughter Maki Takemitsu, features special guest instrumentalists Kazumi Watanabe and Daisuke Suzuki on guitar, Yasuhiro "Coba" Kobayashi on accordion, and Tomohiro Yahiro on percussion.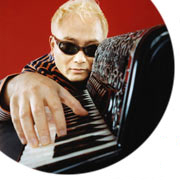 With his extremely unique, pop, accordion music, "Coba" has revolutionized the image of the instrument. In 1995, the Icelandic singer Bjork had seen his concert performance in London and was instantly attracted to his music. Immediately after the performance, he was asked to join her in world tour. coba thus performed in Bjork's world concert tour for 3 years, covering over 60 countries; more than 3 million audience worldwide enjoyed the collaboration of Bjork and coba 's innovative accordion sound. The tour also was an opportunity for coba to collaborate with many other internationally successful artists, including Goldie, 808 State, Underworld, Plaid and Howie B. He has been collaborating with Plaid and Howie B on many occasions since then.

Currently, Coba produces music for more than 10 regular nationwide TV and radio programs. He is also engaged in a variety of activities ranging from producing projects for various other artists to producing film music. He is certainly one of the busiest composers, players and producers in Japan. He released his 29th original album "Boy" from JVC Victor Entertainment in October 2006.

The concert will take place at the Kennedy Center Terrace Theater on February 9, 2008 at 7:30 PM with tickets ranging from $15.00 - $35.00.


---
---
Note: In order to provide as much information as possible for the United States National Accordion News stories, many different sources are often researched to gather additional information and pictures to complement what has been submitted. This information is then correlated to provide the news on www.accordionusa.com in the spirit of which it is intended, which is to provide a free news service to the Accordion Community, specifically in the United Sates. If you feel any copyright has been violated please advise www.accordionusa.com and the article will be removed immediately.