---
Stas Venglevski Commissions New Accordion Concerto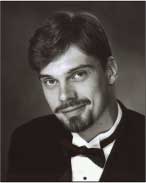 The new work commissioned by Stas Venglevski 'Concerto for Bayan and Orchestra' by Mark Petering (left) is a new work for soloist and orchestra featuring the bayan. The particular focus of this concerto is the evocation of both cooperation and tension elements between soloist and orchestra. All sides of the instrument are on display: the lyrical, the powerful, the agile, and the contemplative. Special performance techniques are featured: vibrato, cluster chords, rapid trilling of a single note, and glissandi.

The four-movement form reflects an interest in the symphonic piano concerti of Brahms and John Corigliano and the opinions of Christopher Rouse regarding the role of the featured instrumentalist. The soloist is an important leader in creating a meaningful musical statement; the work is not solely a vehicle for virtuosic display. The outer movements showcase rigorous compositional procedures that surround and contrast with the more intuitive music of movement three. Pictured below right is bayan artist Stas Venglevski who commissioned this new work.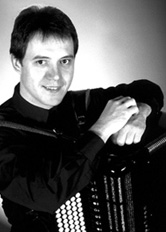 More specifically, a fast movement (Enigma) is followed by a scherzo (Danse Profane); both utilize fractal composition methods. The slow third movement (Into the Eternal Abyss) is based on improvised materials. The last movement (March) is a fugue celebrating the counterpoint of central and eastern European/Russian composers. Overall, the work can be described as a conflation of central European/Russian aesthetics of pitch development in the outer movements and a French/American perspective primarily concerned with texture in the third movement.

Composer Mark D. Petering (b. 1973, Milwaukee, WI) is a composer whose music has been described as "compelling... built of interesting textures... clever and vivid..." (Milwaukee Journal Sentinel). The recipient of honors and awards from organizations such as ASCAP, National Federation of Music Clubs, and National Guild of Community Schools of the Arts, he has won the Swan Composer Prize for wind ensemble – for The Swimming Pool, a work influenced by the Matisse mural – and the Music Festival of the Hamptons Composition Contest – for Train & Tower for chamber orchestra and tape. In July 2003, Mr. Petering and conductor Lukas Foss made music history as they coordinated the performance of this latter piece with a donated Long Island Rail Road train at the festival grounds in Bridgehampton, Long Island, New York, an event which was covered by The New York Times, NPR, and the BBC.
Performances of Petering's music have taken place across the United States, in Turkey and Eastern Europe. His acoustic works have been played by the Milwaukee Symphony Orchestra; Milwaukee Youth Symphony Orchestra; Seattle Philharmonic Orchestra; Czech National Symphony; Atlantic Chamber Orchestra; and Milwaukee Chamber Orchestra; University of Minnesota Wind Ensemble; and have been presented at the Washington Island and Aspen Music Festivals as well as the Music Festival of the Hamptons. His electronic compositions have been heard in Istanbul, Bucharest, Brooklyn, New York City, Minnesota, and Ohio. Commissions for Petering's work have come from organizations such as the Milwaukee Chamber Orchestra, Milwaukee Symphony Orchestra League, Washington Island Music Festival, PieperPower Foundation; and individuals, including first violinist of the Philadelphia Orchestra, Jason De Pue, Metropolitan Opera mezzo-soprano Malin Fritz, and pianist Jacob Surdell. Mark Petering's music is recorded on the Albany, Capstone, and Zebrina Records labels.
A member of ASCAP and Director of Music Theory/Composition and Technology at Carthage College, one hour north of Chicago, Mark Petering has served as guest composer of the Washington Island Music Festival and has participated in the Aspen Music Festival, where he studied with George Tsontakis. At the University of Minnesota, from which he received his Ph.D. in composition, he studied with Judith Lang Zaimont. A graduate of Luther College (B.A.) and Bowling Green State University (M.M.), Petering's teachers have included Samuel Adler, Burton Beerman Wallace Depue, John Downey, and Marilyn Shrude, among others. In his spare time, he enjoys watercolor and lithography, as well as swimming, basketball and golf.

The premiere performance of this new work will be performed by Stas Venglevski and the Concord Chamber Orchestra on October 25, 2008 - 8:00 PM at St. Matthew's ELCA, Wauwatosa, Wisconsin.


---
New Accordion Book by Bruce Bollerud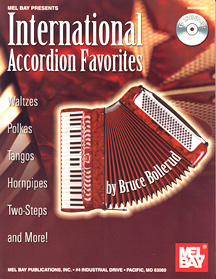 Accordionist Bruce Bollerud has released a new book of accordion solos titled 'International Accordion Favorites' a 74 page book and CD set.

Bruce Bollerud was born and raised on a farm in southwestern Wisconsin, where his parents were Norwegian-American. Bruce was introduced to music at an early age when he attended house parties in the neighborhood with his family. He began to play the bandoneon at age 10. Soon he was playing house parties with local old time fiddlers Herman Erickson and Johnny Homme. He took piano lessons and played trombone in the high school band.

He began to play piano accordion when he was 15 years old and during his career has played with area old time dance bands including The Rhythm Ramblers, Roger Bright, Verne Meisner, Simpson's Night Hawks, Dick Sherwood and The Goose Island Ramblers, and his own group The Good Time Band.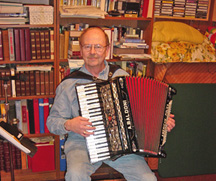 His new publication 'International Accordion Favorites' is a collection that contains a sampling of ethnic folk music from Europe and the Americas and forms the foundation of a basic folk accordion repertoire. The pieces are from many nations and guaranteed crowd pleasers and fun to play.

The selections in the book include:
Vagabond Waltz
Wir Gehen nach Lindenau
Kukavica Waltz
The Band Played On
Hank's Swiss Waltz in C
Redwing
La Golondrina
Helena Polka
Goldie's Waltz
Hava Nagila
Have Pity Waltz
Francuzka Polka
Cielito Lindo
Scratch Your Nose Polka
The Jolly Woodchopper
The Repaz Band
Forest Flower Waltz
El Rancho Grande

The Finska Waltz
La Paloma
Life in the Finnish Woods
Meet Me Tonight in Dreamland
Barbara Polka
Under the Double Eagle
Sakkijarven Polkka
The Saturday Night Waltz
El Choclo
Turkey in the Straw
Soldier's Joy
Selma's Waltz
Devil's Dream
Herman's Swiss Waltz in A
The Clarinet Polka

International Accordion Favorites 74 page book & CD set: $19.95. plus $2.13 Media Mail (ten days to two weeks or longer) $4.60 for Priority Mail (two to three business days). (Shipping to Canada: $3.76; to Europe: $8.80).

For more information, please contact Dix Bruce: musix@astound.net

---
Dr. Martín Cuéllar and Juha Silfverberg perform Piazzolla
Kansas City based accordionist Juha Silfverberg performed Piazzola's "Milonga sin Palabras" with pianist Dr. Martín Cuéllar on the recent concert 'Martín Cuéllar and Friends' at Emporia State University in Kansas.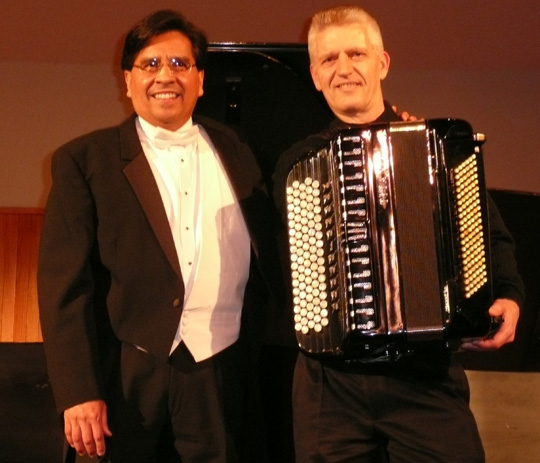 Pianist Martín Cuéllar is Assistant Professor of Piano at Emporia State University in Emporia, Kansas. He received his Doctor of Musical Arts and Master of Music degrees in Piano Performance from The University of Texas at Austin. As a Rotary Scholar, he studied at The Royal Conservatory of Music in Madrid, Spain, where he received the diploma in piano performance. Dr. Cuéllar has also done additional research and piano studies on the music of Enrique Granados at the Marshall Academy of Music in Barcelona, Spain.

An active performer, Dr. Cuéllar has played concerts in the United States, Mexico, Brazil, and Spain. He frequently serves as adjudicator and workshop clinician in piano competition and workshops throughout the Midwest and other parts of the United States. A member of the National Guild of Piano Teachers, Dr. Cuéllar has served as Chairman of its International Piano Composition Contest since 1995. Four of Dr. Cuéllar's piano compositions are currently in the required repertoire list of the National Federation of Music Clubs.

Accordionist Juha Silfverberg is regularly found entertaining professionally in the Kansas City area, where he freelances in a wide variety of ensembles. He has toured Finland, Estonia, New Zealand, Japan and throughout the USA with diverse musical groups ranging from Zydeco to Klezmer, from Classical to Pop. A native of Finland, Juha came to the USA to study accordion at the University of Missouri - Kansas City (UMKC) as their first international accordion student. He holds the titles of both Finnish and Scandinavian Champion. In addition to performing, Juha also keeps busy repairing and tuning accordions and pianos.

Pictured below are the performers on the piano and accordion concert, from left to right: Paul Moore (piano), Melinda Groves (piano), Juha Silfverberg (accordion), Janice DeBauge (piano)and Dr. Martín Cuéllar (piano).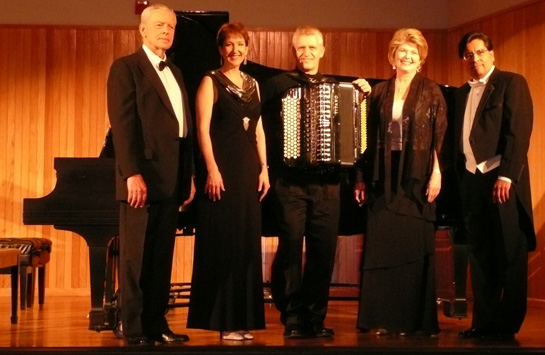 ---
ATG Festival to feature Alexander Shirunov

The 68th Annual Accordionists and Teachers Guild, International (ATG) Competition and Festival will be held in Nashville, Tennessee, from June 12th to 15th, at the Hotel Preston at 733 Briley Parkway, Nashville.

This year's festival will featured the outstanding young Hohner sponsored artist Alexander Shirunov, a recent winner of the CIA Coupe Mondiale International Competition for Piano Accordion as well as numerous other International awards.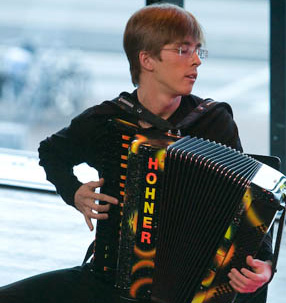 This dynamic and captivating young accordion sensation will present a concert as the featured International Guest Artist, as well as giving a Master Class. He will also be publicizing his CD titled "Absolute".

In addition to Alexander, the ATG festival will feature local accordionist and internationally renowned recording artist Jeff Lisenby in concert, as well as many activities such as workshops, concerts, the popular Festival Orchestra, various social events, and many other accordion activities of interest to everyone who likes the accordion.

For information, please contact ATG President Joan C. Sommers at: Sommersj@umkc.edu or visit www.accordions.com/atg



---
46th Annual ATAM Festival in Newton, MA
Battle of the Bands

ATAM Entertainment Competition

Competitions

Solos, Duos, Ensembles, Bands

Some Non Competitive Categories

Cash Awards

Over $3,000.00 in prizes

Awards Banquet
The ATAM was established in 1962. The founding father is Aldo DeRossi of New Bedford, MA. who is still active within the organization. The first President was the late Frank Gaviani, Sr.



The annual New England Music Competition and Festival is sponsored by the ATAM. All events are open to the public free of charge and over 1200 contestants take part in Accordion, Drum, Guitar, Keyboard, Piano, and Voice Competition. Solo, Duet, Ensemble, and Band Categories are offered for ages 6 through 22. Non Competitive Categories include Evaluation Solos and Festival Band Divisions.

On Friday evening a "Battle of the Bands" is held in the Ballroom. Cash awards are given to the first place winners in three divisions. The Accordion, Guitar, Drum, and Piano Championships are also held Friday evening with cash awards given to the First, Second and Third Place winners.

On Saturday and Sunday a continuous Accordion Ensemble and Band competition is held in the Ballroom. Solo and duet competition is ongoing. A $500.00 cash Award is presented to the first place winner in the Senior Orchestra Division. An Awards banquet is held on Saturday evening with over 500 in attendance. A $500.00 cash Scholarship is awarded to a contestant who has been accepted as a Music Major in college. Over $3,000 is awarded to winners throughout the weekend.



---
National Accordion Association Festival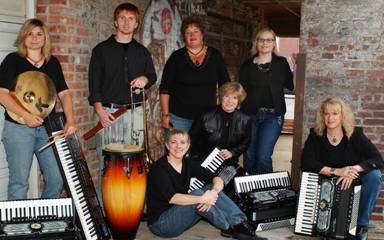 Final preparations have been made for the National Accordion Association festival which will feature a diverse array of artists covering many genres.

Featured performers and workshop presenters include: Danny Jerabek, Vivant! (pictured left), Patrick Harison (below), Bradley Williams, Carl Finch, Ginny Mac, Wesley Kucera, Sylvia Marie, Nick Ballarini, Dee Sligar, Julie Silfverberg, Karen Fremar, Shelia Lee, Debra Peters, Mary Wright, Gordon Kohl, ACCORD'S youth accordionists from Oklahoma City, Tony Lovello, Kay Hickman, Pete Nalda, Ian Blair Fries, Carol Widder Fayetteville, Thomas A. Visentin, Jerry Cornish and Sharon Seaton, Arlyn Visentin plus many others!


For a full list of presenters and artists and the times they will be appearing, please visit www.accordions.com/naa

The 2008 National Accordion Association Convention takes place at the Richardson Hotel, Dallas, from March 13th to 15th. The Convention covers a very wide spectrum of national and international accordion styles.

The schedule summary is as follows:
Wednesday evening (March 12, 2008)
A room will be reserved for those wanting to play in one of the accordion dance bands. A formal reception is not planned; however, various individuals will be partying somewhere!


Thursday evening (March 13, 2008)
The Thursday evening event will concentrate on an accordion-driven audience involvement program. Examples include using the accordion for dances (couple and singles), sing-a-longs, and folk dance music. A lighthearted, fun evening in includes MECA Party: Shelia Lee (Wijnberg and Witte), Carol & Debra's "Hank Williams" Gospel Sing-a-Long! Zydeco Stingrays, MECA: Debra's Accordion Band, Tangos by Tom Visentin, Tex/Mex music with Pancho Martinez & Eleanor Martinez, Polish Dance Music by Gene Neyer.


Friday evening (March 14, 2008)
"Polka Plus!" A four-hour dance program is being scheduled that will range from romantic waltzes through up-tempo polka bands performed with concertina, diatonic, chromatic, and piano accordion – all in one dance band! Accordion "All-Stars" featured include
Carl Finch of Brave Combo has assembled a most unique dance band for the Friday evening Polka Plus show featuring Carl Finch (Brave Combo), Danny Jerabek (Copper Box from Oshkosh, Wisconsin), Bradley Williams (PolkaSonics from Austin), Ginny Mac (Fort Worth, Texas), Patrick Harison (Minneapolis and New York City), and Wesley Kucera (Alpine Village Band, Dallas, Texas).


Saturday evening (March 15, 2008)
Concert artists who have a unique presentation including Kansas City based 'Vivant', Tony Lovello, Dee Langley, Nick Ballarini, Sylvia Marie and Jim Rommel


Sunday Morning (March 16, 2008)
During the checkout time, conventioneers often meet in the hotel restaurant, lobby, and local restaurants to discuss the convention and other accordion activities. When y'all come to Texas, ya just gotta be friendly!
For further information, and regular updates on workshop and performers, please visit www.accordions.com/naa or please e-mail NAA President Norman Seaton at: NatlAccordion@SBCGlobal.net


---
Las Vegas International Accordion Festival
The annual Las Vegas International Accordion Convention will be held from Monday September 29th to Thursday October 2nd, 2008.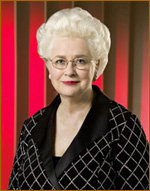 Paul Pasquali announces that the Las Vegas International Accordion Orchestra will be conducted by the grand maestro Joan Cochran Summers, pictured left. If you would like to be apart of this exciting accordion orchestra, please contact us, or look for more information online here in the coming weeks. A third ballroom has been rented to handle the daily orchestra rehearsals. The International Orchestra will perform for the grand finale at the Gala Concert (Thursday October 2, 2008)

Legends Dick Contino and Art Van Damme will join the 2008 festival plus from France Peter and Mady Soave and from England Gina Brannelli BUT wait there is more exciting news!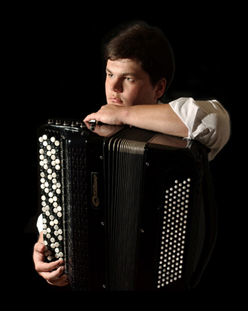 Alexander Sevastian will be the featured artist. Alexander is the winner the 2007 60th Anniversary CIA Coupe Mondiale Accordion World Cup Championships held in Washington DC, co-hosted by the American Accordionists' Association (AAA) and the Accordionists and Teachers Guild, International (ATG). Alexander was born in Belarus and began playing the accordion at age seven. After finishing musical school in 1991 he entered the Musical College in Minsk and upon completion entered the Gnessin Academy of Music in Moscow where he went on to work for five years in Russian TV and Radio. Since April of 2001, Alexander has been living in Toronto, Canada. He has been playing with the Toronto Woodwinds Ensemble. However his most noted gig is with the internationally recognized group "Quartetto Gelato". We are excited to have such a fine musician and world renowned accordionist join the 2008 Convention.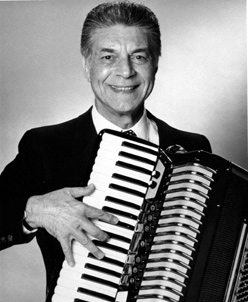 Carl Fortina will be our Honorary Conductor for 2008. Carl is known as the worlds most recorded accordionist. Carl for 35 years was the accordionist on first call for Hollywood. He played in some 600 motion picture and 25,000 television sound tracks. When Nino Rota, the composer who wrote the music for "The Godfather", heard Carl play the theme for the movies sound track, he told Carl "You don't play with your hands; you play with your heart". Carl went onto become musical director of Paramount Studios. We are honored to have such a great musician, friend, and recognized accordions perform and accept the 2008 Honorary Conductors Award!

The festival will be held at the Gold Coast Hotel in Las Vegas with basic pricing as follows:
Seven meals, seven concerts, all special events and classes are included!
Single Attendance $465
Couple Attendance $795
Evening-Only Options are available—contact us for details!Special Room
Rate ONLY $59 per night!
Call our HOT LINE TODAY TO REGISTER - 1-800-472-1695 (Outside the us +01-801-486-1695)

For more information, please visit: www.accordionstars.com



---
AAA Carmen Carrozza Scholarship Fund Sold Out
The first celebration event of the American Accordionists' Association (AAA) 70th Anniversary year, the 6th Annual Afternoon of Music, Food and Fun at the Winery to benefit the Carmen Carrozza Scholarship Fund, for the advancement of promising young accordionists, has completely sold out.



Other 70th Anniversary highlights will include:
For more information, please visit www.ameraccord.com



---
The Accordion and Kurt Weill's 'Lost in the Stars'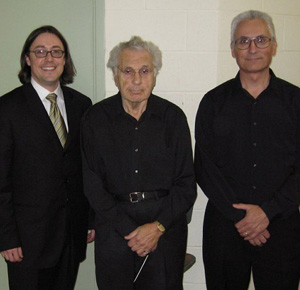 Henry Doktorski recently performed with the Pittsburgh Opera Theater Orchestra in four performances of Kurt Weill's Lost in the Stars at the Byham Theater in Pittsburgh, Pennsylvania. Pictured right are Assistant conductor and pianist Robert Frankenberry, conductor emeritus Julius Rudel, and accordionist Henry Doktorski.

This dramatic and thought-provoking musical theater tragedy in two acts was written in 1949 with music by Kurt Weill, and book and lyrics by Maxwell Anderson based on the novel Cry, the Beloved Country by Alan Paton. Set in apartheid-era South Africa, it tells the story of Absalom, the son of a Negro village preacher, who accidentally murders a white man in a desperate bid to provide for his wife and child. Arrested and condemned to hang he is visited by his father, who departs in despair. Before his son is executed, the murdered man's father comes to the preacher to offer compassion and understanding instead of hatred and retaliation.

Kurt Weill (1900-1950) was a leading German-American composer of music theater and concert pieces. His best-known work is The Threepenny Opera, which contains his most famous song: "Mack the Knife." He used the accordion (and sometimes the bandoneón) in five works: Mahagonny, The Threepenny Opera, Happy End, Marie Galante, and Lost in the Stars.

Lost in the Stars opened on Broadway at the Music Box Theatre on October 20, 1949 and closed on July 1, 1950 after 273 performances. Weill used African American musical idioms including negro spiritual melodies, blues and jazz to help create a suitable atmosphere. The chorus numbers are especially spectacular. The orchestration is scored for: 2 violas, 2 celli, double bass, flute, 2 clarinets, bass clarinet, 2 alto saxophones, tenor saxophone, oboe, English horn, trumpet, harp, percussion, piano and accordion.

Lost in the Stars was Weill's last Broadway musical play: he died in New York City less than a year after its première, on April 3, 1950. With Lost in the Stars Weill's career in the theatre had come full circle. He had begun his career in Germany by making opera into popular music; and he had ended his career in America by succeeding in making popular music into opera.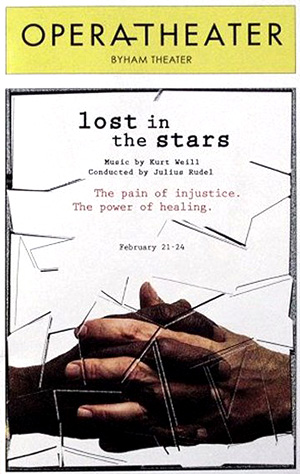 This production of Lost in the Stars by the Pittsburgh Opera Theater was directed by Jonathan Eaton and conducted by the legendary opera conductor Julius Rudel. Maestro Rudel, born in 1921 in Vienna, Austria, emigrated to the United States in 1938 at the age of 17 just as the Nazi army invaded his homeland and, after studying at the Mannes College of Music in New York City, established himself in America as a conductor of note. Among his more prestigious positions were his appointments as music director for the New York City Opera (from 1944 to
1979), and the Buffalo Philharmonic.

Maestro Rudel has won a Grammy Award and seven Grammy Nominations. His many opera recordings include Massenet's Manon and Cendrillon, Boito's Mefistofele, Verdi's Rigoletto, Bellini's Puritani, Weill's Silverlake, Ginastera's Bomarzo,and Handel's Giulio Cesare which won the Schwann Award for Best Opera Recording. Maestro Rudel was made a Chevalier des Arts et Lettres by France and has been decorated by the governments of Austria, Germany, and Israel. Moreover, he has received a variety of honorary doctorates from universities and colleges in the United States.

Maestro Rudel first conducted Lost in the Stars fifty years ago (in 1958) with the New York City Opera. He later recorded the work in 1993 with the Orchestra of St. Lukes and the Concert Chorale of New York. He explained, "Lost in the Stars" is a powerful piece. In fact, I must confess that I can never look on stage during the last scene of the opera because I break up if I do."

Maestro Rudel also explained one reason why Kurt Weill might have chosen to use the accordion in the orchestra: "The accordion is one of the instruments in Kurt Weill's palette, in his repertoire, as a composer. He sometimes uses it to evoke the sound of a German jazz band of the 1920s; the type of music the young Kurt Weill often heard in his native country, where the instrument was undoubtedly very popular."

Henry Doktorski also spoke about Kurt Weill's use of the accordion in Lost in the Stars: "Originally the pianist in the orchestra was expected to double on accordion; something which was undoubtedly quite common during the 1930s and 40s. Consequently, there is only one part for piano and accordion, and which instrument is to be played is clearly marked in the part. Composer Kurt Weill uses the accordion (1) sometimes like a reed section as played by jazz accordionists with full right-hand chords, (2) sometimes as a solo instrument (accordion) where it appears as itself, and (3) sometimes to imitate the organ or harmonium. The accordion appears in Lost in the Stars during a dozen different musical numbers, but it is especially prominent in three pieces in particular: "Train to Johannesburg," "Big Mole," and "A Bird of Passage."


During "Train to Johannesburg" Weill uses the accordion like a quartet of saxophones with a much lighter and brighter tone, naturally and sometimes to convey a solo melodic line. In "Big Mole," a humorous song written somewhat in the style of a polka and sung by the lead character's grandson, the accordion is used to double the melody carried by the boy alto, and also provides rhythmic accents. In "A Bird of Passage" the accordion is used to accompany the singing of a hymn (superb four-voice contrapuntal writing, I might add), and is even marked 'organ' in the accordion part, although no organ is specified in the score."

Doktorski continued, "No registrations are marked in the accordion part, but after consulting with maestro Rudel, we decided that the Master stop (one low, two middle, and one high reed) would be appropriate for most of the pieces, except for "Big Mole" where I used the Violin stop (two middle reeds) to make the accordion lighter and less likely to cover the sound of the boy alto, and "A Bird of Passage" where I used the so-called Organ stop (one low and one high reed) to suggest the sound of a harmonium; probably the instrument of choice in African village churches at the time. Maestro many times indicated to me during rehearsals that he wanted MORE SOUND from the
accordion. He even asked me to add accordion to the first nine measures of the opening number, because the accordion is an unusual and distinctive instrument in an opera orchestra, and he wanted the audience to be able to hear it clearly."

To read the review published in the Pittsburgh Tribune-Review
To read the review published in the Pittsburgh Post-Gazette


---
Johnny Vadnal Passes Away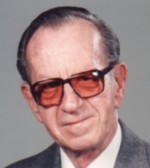 Well known accordionist and Polka Band leader Johnny Vadnal passed away On February 25th at the age of 84 in Ohio.

Johnny Vadnal was the first polka band leader to have his own major TV Show, performing every Sunday afternoon on WEWS Channel 5 in Cleveland from 1949 to 1961. In 1949, Vadnal won the title of 'Cleveland's Polka King' in a vote held by a local radio station.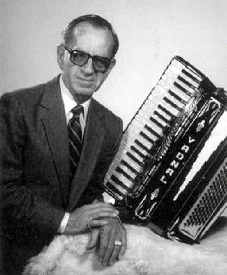 Johnny Vadnal's Orchestra had a unique sound, due to Vadnal's highly individual accordion style featured a contemporary, modern sound, rooted in the Slovenian style.

Johnny Vadnal was an extraordinary musician and composer. His musical career was the center of his life and lasted for over 60 years. At first with his siblings Valerie, Tony, Frank and Ritchie and later with a number of very talented sidemen. He brought music, especially the "Cleveland Style Polka" into the lives of thousands. He used the Mass-Media: RCA Records, Radio, TV from 1949 to 1965, tapes and finally CD'S.

Records show that his music was not only heard locally and nationally but also internationally. As a composer, he left a number of well known and often heard songs – Such as the "Slap-Happy Polka", his theme song "The Wayside Polka" and his last composition the "My Alice Waltz". The quality and excellence of his musical talent was recognized many times over through awards and recognition of his musical achievements.

He was inducted into the International Polka Music Hall of Fame, the National "Cleveland Style" Polka Hall of Fame, and the National Broadcasters Hall of Fame. But the highlights of his music career were experienced in his live performances and direct contact with his "Fans". A "Love Affair" with his fans began in 1949 when he was elected by popular vote and given the title of "Cleveland's Polka King" and for him this "Love Affair" never ended. As with his mother, arthritis forced him to retire. He was too much a musician to accept playing poorly or less than his best. He did have one final hope - to play just once again. This hope was fulfilled in April 2007. Johnny summed things best: "Words cannot express all the wonderful people I have met, the loyalty of my fans and the true enjoyment I have felt by making "Happy Memories".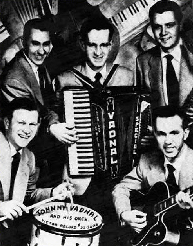 The Johnny Vadnal Orchestra really came into its stride after World War II with a unique, contemporary style that, probably more than any other Cleveland-Style Polka Orchestra, had universal appeal. In its heyday, the Johnny Vadnal Orchestra was a dance and show band teeming with personality. Smiling, singing, swinging, and swaying, Tony and Frankie Vadnal, along with a series of talented sidemen, filled the air with a contagious spirit of fun while Johnny Americanized the polka with jazz licks and the waltz with haunting sentiment.

Johnny's popular weekly television show ran continuously from 1949 through 1961 surpassing by far the longevity of any US polka television show anchored by one orchestra. Likewise, his weekly Bowl Ballroom performances were broadcast over the Mutual Radio Network.

In addition to their impressive broadcast career, the Vadnal Orchestra maintained a long and successful recording relationship with RCA Victor followed by releases on the Imperial and Mlay labels. The "Yes, Dear Waltz," which sold 50,000 copies in its first week, was Vadnal's biggest hit among many others including "Wayside Polka" (his theme), "Two-Timing You," "Slap Happy Polka," "Prairie Polka," "Mountain Climber," "No Beer on Sunday," "Blame It on the Waltz," "Clap Hands Polks," and, more recently, "My Alice Waltz" and "Jazz Time Polka."



---
Promoting Your Accordion Services Free at AWW

The Internet is changing the way your customers are searching for services. The days of lugging out a 12 lb. telephone book to find very limited and outdated business information are coming to an end. People are still letting their fingers do the walking, but they're doing it over a computer keyboard. Below are some revealing facts from the Kelsey Group.
74% of US households use the Internet as an information source when shopping.
Approximately 45% of searches had a buying intent.
The percentage of respondents who used yellow page directories decreased from 75% to 62%.
(If you have a printed yellow page ad, it is time to consider buying a smaller ad and shifting your marketing dollars to the Internet.) The off-line Yellow Pages see the writing on the wall and are scrambling to transfer their business model to the Internet.

Businesses can no longer ignore these facts. If you want to be successful, you must have a presence where your customers are searching. Being found on the Internet is vital to the future of your business.


The accordion-yellowpages.com offers free of charge listing for all accordion businesses, teachers and for every type of service for accordionists. On the Accordion Yellow Pages site, you do not need to have a website for accordionists find you and contact you.


The search-accordion.com site is also free of charge, being a listing service for every type of accordion service, but you must have a website. Viewers of search-accordion.com can click through to your website.


Very popular is the AccordionLinks.com site where those accordion service providers with a website, can attract accordionists free of charge to their website.

All it takes is a little effort, to make sure your information on these three popular and very effective accordion sites is up to date. Your future success may well be determined by your ability to effectively adapt to the Internet. Should it be your New Year's resolution for 2008?



---
Flogging Molly To Tour USA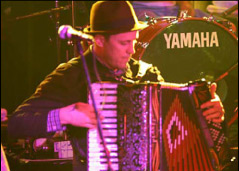 The popular USA based band Flogging Molly, featuring Matt Hemsley (pictured right) on accordion and concertina will set off on a world tour, which will begin with concerts throughout the USA before heading to Asia and the South Pacific and Euopre.

Concert dates for the USA portion of the tour are as follows:
February 29th, 7 PM - House of Blues, Atlantic City, New Jersey
March 1st, 7 PM - Ram's Head Live, Baltimore
March 2nd, 7 PM - The National, Richmond, Virginia
March 3rd, 7 PM - The Norva, Norfolk, Virginia
March 5th, 7 PM - Tremont Music Hall, Charlotte, North Carolina
March 6th, 7 PM - Tabernacle, Atlanta, Georgia
March 7th, 7 PM - House of Blues, Orlando, Florida
March 8th, 7 PM - Jannus Landing, St. Petersburg, Florida
March 9th, 8 PM - House of Blues, New Orleans
March 11th, 7 PM - Warehouse Live, Houston, Texas
March 13th, 8 PM - Crystal Ballroom, Portland, Oregon
March 14th and 15th, 5 PM - House of Blues, Las Vegas
March 16th, 7 PM - Marquee Theatre, Tempe, Arizona
March 17th, 5 PM - St Patrick's Day, Temple Town Lake, Arizona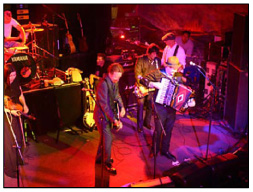 What makes a band truly remarkable? Insightful lyrics? Memorable melodies? Blow-your-mind live performances? The truth is that it takes all of those things along with a boundless enthusiasm, an infectious energy and a supreme devotion to the fans. With this rare combination, a band may ascend past "good," - or even the record industry's Holy Grail, "marketable" - and reach sublime. Drawing on the hardships and joys of their own lives and a musical history ranging from old world Celtic to modern day punk rock, the seven members of Flogging Molly do just that, and they do it with a charm and an ease that makes them one of the most accessible bands performing today.

"We're not a traditional band," explains Dublin born singer/songwriter, Dave King. "We are influenced by traditional music and inspired by it, and we put our own little twist on it."

Founded in Los Angeles in 1997 by the expatriate King, Flogging Molly got its start and its name from a local bar called Molly Malone's where the band played and grew and laid down the blueprint for its eventual success. As every member of Flogging Molly will emphatically explain, there were no predetermined expectations for the band's sound. From night to night playing to a packed house at Molly Malone's, the sound evolved organically. Traditional Celtic instruments like violin, mandolin and accordion blended seamlessly with grinding guitars and pounding drums. Without consciously attempting it, Flogging Molly merged the music of King's childhood in Dublin with the music of his adulthood in L.A.

"If it didn't have mandolin, accordion, fiddle and whistle, it would be punk rock, and if it didn't have guitar, bass and drums, it would be traditional Irish music," King admits, adding, "You can't be bothered being labeled."

With a sound anchored in such diverse influences and with band members ranging in age from their 20s to their 40s - a decidedly non-MTV-friendly demographical mix, Flogging Molly was not embraced by the mainstream music industry. The band simply didn't fit any preconceived notions of what a "successful" band was. Not deterred in the least, Flogging Molly embraced a DIY philosophy (that's "do-it-yourself" for those of you not in the know). Their amazing work ethic and rapidly growing fan base led them to DIY-style record label, Side One Dummy, and the two fit hand in glove.

In 2000, their Side One Dummy debut, Swagger, featuring the anthemic "The Likes of You Again" and "Black Friday Rule" along with the best ode to a hangover yet, "The Worst Day Since Yesterday" (which later found its way into the Angelina Jolie-Brad Pitt film, Mr. and Mrs. Smith), obliterated initial expectations and sold over 50,000 copies before Flogging Molly headed back into the studio to record their 2002 follow up, Drunken Lullabies, which included instant classics like the rousing "Rebels of the Sacred Heart" and the doleful "The Son Never Shines (on Closed Doors)." 2004's Within a Mile of Home once more showcased the band's ability to play driving rock and roll on one track then slide effortlessly into lilting, pastoral harmonies on the next and contained a beautiful duet between King and Lucinda Williams on "Factory Girls."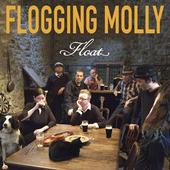 Flogging Molly's latest album, Float, recorded in King's native Ireland, delivers still another iteration of the band's sonic evolution. More mature yet retaining the immediacy that marks all of their work, Float may find the widest audience acceptance of any Flogging Molly album. Hard charging tunes "Paddy's Lament" and "You Won't Make a Fool Out of Me" give way, as listeners have come to expect, to more sober ruminations on tracks like "Float." The overall effect is a symphonic layering of sound that possesses a unique rhythmic flow from boisterous to bereaved and back again. Long time fans and new discoverers will be equally astounded.
First, last and always a live band, Flogging Molly tours quite a bit more than the average group. On the road seemingly at all times, the band is a regular on the Warped Tour. Even still, their fans can't get enough. People traveled from all over the country to catch them playing with another Celtic-rock powerhouse, Dropkick Murphys, in Philadelphia in September 2007. Flogging Molly's annual Green 17 Tour begins 2008's St. Patrick's Day celebration on February 1st - because you can never get an early enough start on St. Patrick's Day - and will take the band to 30 cities for a total of 34 shows before it's over. For Flogging Molly, a bar band at heart, the contact with their fans is essential.

"I feel as good about meeting [the fans] as they feel about meeting me," says bassist Nathen Maxwell, "because they're just as happy as I am. They're just people like everybody else, and that's how I look at myself."

Spend 10 minutes in a room with the members of Flogging Molly, and you will have no doubt about their passion for their music. As mandolin and banjo player Bob Schmidt describes it, "We're deadly serious about what we do. As much as it's a good time and a fun thing, it's no joke to us." Guitarist Dennis Casey echoes that sentiment, saying, "I just give it all I've got because I just believe in it that much."

Flogging Molly isn't a mere band, they're a seven member nuclear family. They are as devoted to one another as they are to the music they create. It's no wonder their extended family - the legion of loyal Flogging Molly fans - keeps growing every day.

Their new CD 'Float' will be available in stores on March 4, just in time for the upcoming world tour. Members of Flogging Molly include the following musicans: Dave King: Vocals, Acoustic Guitar, Electric Guitar, Bodhran, Dennis Casey: Electric Guitar, Acoustic Guitar, Vocals, Matthew Hensley: Accordion, Concertina, Piano, Vocals, Nathen Maxwell: Bass Guitar, Vocals, Bridget Regan: Violin, Tin Whistle, Classical Guitar, Uilleann Pipes, Vocals, Robert Schmidt: Mandolin, Mandola, Tenor Banjo, Five String Banjo, Vocals and George Schwindt: Drums, Percussion.

For further information e-mail: cara@pressherepublicity.com



---
Rik Kaplan to be honored at AAMS Festival in Pennsylvania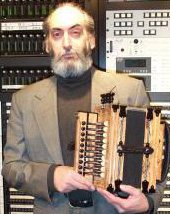 The annual festival and competition sponsored by the American Accordion Musicological Society (AAMS) takes place from March 7th to 9th, and once again held at the Dolce Valley Forge Hotel, King of Prussia, Pennsylvania.

The program of guest performers this year includes Mario Tacca, Mary Mancini, Stanley (pictured left) and Joanna Darrow Richard DiBlassio, Ron Onda, Ed Touchstone, Bobby Raye, Jim Vandelly, and Lenny Feldmann, (pictured right with Stanley Darrow) known as 'The CordeenMan'.

The festivities begin with a Cajun/Zydeco concert on the opening night. Saturday will feature the competitions and a range of accordion workshops.

The Annual Dinner takes place at 5:30 PM on Saturday evening where this year's Honoree, Rik Kaplan, will be recognized. From Washington, DC, Rik is being recognized not for a particularly distinguished musical career, but his enthusiastic support for this organization; cheerful volunteerism; and promoting respect for the "established" participants with inspiration for the younger.



An Accordion Spectacular Concert, featuring guest artistes Mario Tacca and Mary Mancini, and supporting acts, will follow the dinner.

On Sunday, the morning will continue with more competitions and more workshops. After lunch will be the Awards Concert featuring the Festival Massed Band, guest artists, and the presentation of awards and trophies. The festival also includes a trade display, accordion repair seminars, accordion memorabilia, recordings and sheet music.

For complete information, please visit: www.aamsaccordionfestival.com


---
Milwaukee Accordion Club Concert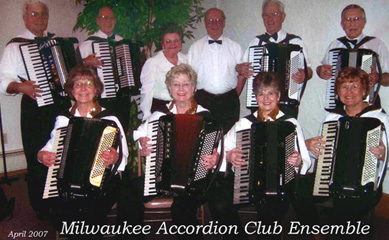 The Milwaukee Accordion Club will feature their own MAC Club Ensemble under the direction of Beverly White Persa as part of their monthly meetings and concerts on Monday, 24 March 2008.

The Ensemble began in 1995 and rehearses weekly. It performs at a variety of events including parades, parties, senior citizen functions, school activities, and other community functions.

Getting back to music is rewarding to the members, as is introducing the instrument to the younger generation. In addition to eight accordionists, the ensemble includes a bassist and drummer.

Pictured above are: Back row, (left to right) John Goelz, Joe Patterson, Director Beverly White-Persa, drummer John Kreiter, Ed Komorowski, John Kaczmarek. Front row, (left to right) Joan Sylvester, Shirl Barry, Dorothy Fennig, Joan Gapinski.

Pre-meeting entertainment will be provided by Lee Balistrieri & Friends and will have an Italian theme. The club will also be observing its 17th anniversary and special treats and beverages will be provided.

The concert will take place at the Root River Center, 7220 W. Rawson Ave, Franklin, WI. The doors open at 6:00 PM, with pre-meeting entertainment at 6:30 PM, the Business meeting at 7:30 PM and the main featured entertainment at 8:00 PM. Tickets are $3 for members and $5 for nonmembers.



---
Dr. Schimmel Appears in new Off-Broadway Show 'Paradise Park'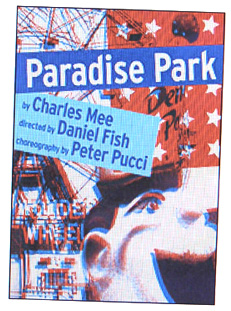 Dr. William Schimmel has provided and all-accordion solo score of original and adapted music for the new play, Paradise Park by Charles Mee, which will run at the Signature Theatre Company in New York from March 2 to April 6, 2008.

The play takes place in an abandoned amusement park and includes songs, square dances, fruit cake tosses and other amusements in a collage like multi media presentation complete with film and video.

Paradise Park is an amusement park that opens up into all of America and beyond. During the show, you will meet the inhabitants of this bizarre carnival of life, including a ventriloquist, his dummy, and a teenage girl on the run. From Futureworld to Londonland, the Grand Canyon to Fred's Polynesian Dive Shop, attendees will be taking on a wild ride of fruit cake tosses, underwater ballets, square dances, and star gazing, too!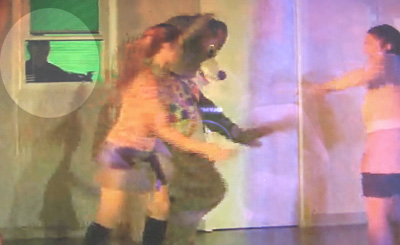 The play is directed by Daniel Fish with choreography by Peter Pucci and is jointly produced by The Signature Theatre Company in association with True Love Productions.

The show takes place Tuesday at 7 pm, Wednesday - Saturday at 8 PM,
Matinees Saturday & Sunday at 2 PM. The Theatre is located at 555 West 42nd Street (between 10th and 11th Avenues) in New York City.

For more information: www.signaturetheatre.org


---
AAA MasterClass and Concert Series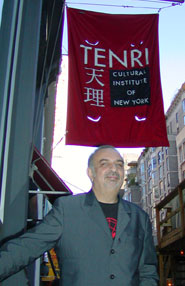 The American Accordionists' Association proudly announces its 14th annual Master Class and Concert Series titled "The Last Frontier" to be held July 25-27, 2008 at the Tenri Cultural Institute in New York city, located at 43A West 13th Street, between 5th and 6th Ave.

Part of the exciting exciting AAA 70th Anniversary Celebrations, the three day event will feature daily Master Classes at 3:00 PM and Concerts at 7:00 PM moderated by Dr. William Schimmel.

The Last Frontier highlights will include:

The Kid: Billy, a new Dance/Video work by eminent choreographer/director Micki Goodman - featuring Dr. Schimmel's music and silent movie footage of King Vidor's 1928 classic, The Sky Pilot.
A lecture on the music of Karel Strahala and his music for the Tango/Harmoniku - two volumes of Czech Tangos, Waltzes, Polkas and Foxtrots written all in 1942
A new accordion prototype for rock and roll accordionists in development by Benjamin Ickies.
A virtual wedding of two accordion souls, H and MK, who met a decade ago at The Seminars. Our resident Elvis will perform the ceremony in true blue Hawaiian fashion.
Uriah The Dead, a short opera about David and Bathsheba from Dead Uriah's point of view.
Club Parusia/Here's to Life, the club at the end of the world – an apocalyptic romp through time and space at the borderline – south of, that is.
Paul Stein's 911 Profiteers and other Scoundrels Suite – artfully defacing politicians, benevolent dictators and O.J.
The debut performance by Duality Wrecks, an anonymous accordion and piano duo designed to shift the focal point of any party or event to pogo-gear with its relentless chance/medleys of pretty much anything.
Ayn Rand and the Accordion will be looked at in the light of Liberation Theology, Libertarianism or Librarianisn – or Collectivism, Selectivism and Hoarding a lot of Crap.
Project BC – reducing everything in the world to two facets – BASS/CHORD/BASS/CHORD – covering the entire cultural array of Achtungs, ya yas, Octoberfests, bratwurst, beer, barf and beyond– declaring Yorkville as the new cultural world centre.
Deiro - Pietro! Guido - Mae West!
Is everything in life just one huge 12 tone set? Dr. Robert Young McMahan will tell us how it happened and how we never really got out of it despite today's tendency towards new music that chirps "Please love me"- also how it works with and against the mechanisms of various accordions.
Will Holshouser, jazz accordionist, composer – winning the "smirking competition" at last year's seminars. The smirk is just a un-necessary hook. His elegant playing and writing actually says it all.
A past Coupe Mondiale world champion, Beverly Roberts, will perform Liszt's Concerto No. 2 in A and recreate her appearance on game show To Tell the Truth. yes – THE TRUTH
Is life a baloney sandwich? The short Becket/like play: FZ /DA will give us a clue – featuring actress Kathleen Tipton.
Marni Rice will give us the last word on Kabaret. Brian Dewan will give us the last word on Chevrolet.
Rembert Block will rant till the end of time. Dr. Mark Birnbaum declairs Ragtime: Mine!
Seth Hogan will cover the Acadian dimension. Liam Robinson, no pretension. Godfrey, Lorraine and
Lauren – collidial (7) suspension. Lenny Feldmann, no detention. Rita Davidson will give us late Ettore and no more.
AAA commissions: The Paul Creston Concerto/dance-mix version, and what's left o'er.
An Alice Riff (in honor of David Del Tredici), Elliotude (in honor of Elliot Carter) – birthdays galore.
Domenic Frontiere's Branded Eldorado a Real Pro.) Uri Sharlin, Serge Stanley, Israeli to Aussie-back to the door.
Doug Makofka, not Franz Kafka. Cristina Speligene, the Nashville Mafka.
Ray Rue (Gospel and Elvis), never a chore, will not bore. "Dot" will be rotten to a core.
David Stoler, more/more/more. Stefan Curcic, classics to adore. The K duo, Saturday closer once more.
David First, drone until sore. Rachid Eladlouni, the cyberspace door. Dragica Banic/Curcic, Croatian lore.
John Foti, the Jersey shore. Art Bailey ,hard core. Lee Mc Clure, Eclextic, digital flute mit score.
Ken Laufer, Har! Har! Har! Balcones Fault – without the bar. #14 WE'VE COME THIS FAR!
Attendees will even be invited to join in and sing THE SEMINAR SONG
For more information, please visit www.ameraccord.com



---
Peter Soave performs with Lubbock Symphony Orchestra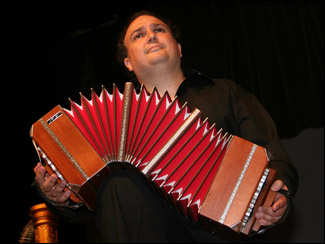 Renowned accordion and bandoneon artist Peter Soave will appear with the Lubbock Symphony Orchestra on a concert titled 'The Many Faces of the Americas' on Friday and Saturday, March 7 and 8, 2008 at 8:00 PM at the Civic Center Theatre in Lubbock.

Astor Piazzolla's Aconcagua featuring Peter Soave, tests the limits of the soulful bandoneon. See how Piazzolla combines passion and virtuosity in the greatest of all his tangos!

Of Italian descent, Pietro (Peter) Antonio Soave's earliest memories are of music played on an accordion, and he insists that by age three, he was certain of his life's work. At age sixteen, Soave began to enter international accordion competitions and quickly learned the limitations of the piano accordion. This instrument had been superceded by the chromatic button accordion developed in Russia for classical music--the bayan. This was the instrument used by most competitors. Recognizing that his piano accordion was not competitive in this arena, Soave returned to America and began a period of intense study to master the more complex bayan.

Returning to Europe, Soave swept first place in the four major international competitions in England, Germany, Italy, and East Germany, an unheard of feat for a virtuoso of any instrument. Deeply inspired by the music of Argentinean composer Astor Piazzolla, Soave began including the characteristic tango accordion, the bandoneón, in his performances.

Mr. Soave tours extensively in both Europe and the United States. His recent performance with the Brooklyn Philharmonic under Robert Spano was a critical success. His orchestral engagements this season include the Grand Rapids, Phoenix, Napa Valley, and Detroit Symphonies, and the Minneapolis, Indianapolis, and Ohio Chamber Orchestras. Internationally, Mr. Soave appeared this season with the Orquesta Sinfonica de Puerto Rico, the San Salvador Philharmonic, the Zagreb Soloists, the Belgrade Philharmonic, and the Romanian State Orchestra. Some of the conductors with whom Soave has worked are Duilio Dobrin, Guillermo Figueroa, Neeme Jarvi, Eri Klas, James Levine, Leone Magiera, Hermann Michael, Leo Najar, and Robert Spano. His most recent solo recital was at Georgetown University in Washington D.C. For the only North American appearance, in 1999, of the "Three Tenors" (Pavarotti, Domingo and Carreras), Soave performed as the featured bandoneónist. His latest appearance with Mr. Pavarotti was in September 2003.

Mr. Soave recently completed a recording of Piazzolla's Five Tango Sensations with the Rucner String Quartet of Zagreb, as well as a double CD of that composer's masterpieces. Most recently, he released a CD of works for Bandoneón and Accordion with Symphony Orchestras, featuring music of Astor Piazzolla and Carmine Coppola.

Since June of 2001, Mr. Soave has been touring with saxophonist James Carter. Their appearances have included the North Sea Jazz Festival, Montreal Jazz Festival, and the Library of Congress (May 2003) in Washington D.C.

On a creative level, Mr. Soave has collaborated with Aldermaro Romero, the foremost composer of Venezuela (senator as well), premiering many of his works. In 2001, Soave performed Romero's Piazzollana-Homàge à Piazzolla (written for Soave) at l'Accademia de Santa Cecilia in Rome. In 2003, Romero dedicated his latest compositions "Tango Furioso" and "Soavecito" for Accordion and Orchestra to Peter Soave.

In 2001, Peter Soave received the Detroit Music Award for Best Classical Recording (performing Carmine Coppola's Concerto for Accordion and Orchestra with the Emerald Sinfonietta) and in 2003 he received the Detroit Music Award for Best Classical Instrumentalist.

Peter Soave has been a Guest Faculty Member of the Conservatoire National de Marseille in France and is Adjunct Associate Professor of Bandoneón and Bayan at Detroit's Wayne State University


---
New Accordion Flash Cards
Like many accordion players, Bill Funkhouser came to the accordion from the piano and figured, "It has a piano keyboard… how hard could it be?" And then, like many accordion players, he struggled to master the layout of buttons on the bass side of his accordion.

So to help others making the same transition from piano to accordion, Bill came up with a novel study aid: Accordion Flashcards.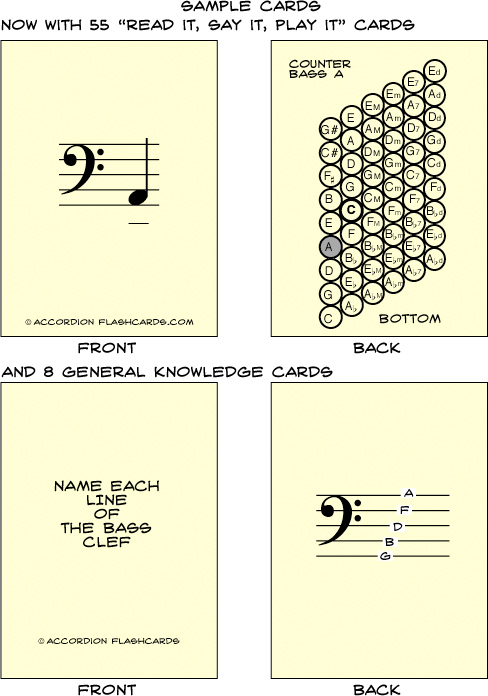 Lindy Mantova, accordion instructor from Fortuna, CA says "This is an outstanding idea and has proven very useful in helping new students of the accordion to learn the location of the various bass notes. I have seen dramatic increases in the sight reading skills of my students within a very short time of using the Accordion Flashcards. I can't recommend them highly enough to students or anyone having difficulty learning to read the bass clef and/or remember bass note locations."

Much like those old cards you used to cram for tests, these cards quiz you on the layout of basses and chords in the Stradella bass button system. The cards currently come in two varieties: a 12 bass set ($7.95) and a 64 card standard set ($12.95). For more information please visit www.accordionflashcards.com or for a sample page please visit http://homepage.mac.com/funkhouserb/filechute/SamplePage.pdf


---
Brett Gibson with the Longmont Symphony Orchestra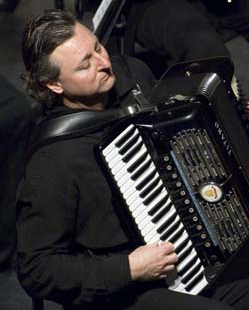 Kansas City based accordionist Brett Gibson performed several works, including Piazzolla's Concierto para Bandoneo y Orquesta, Tres Tangos para solo Bandoneon Y Orquesta and Gardel's Por Una Cabeza, under the direction of Michael Booneas guest soloist on the Tango Romantico Concert in Longmont, CO, with the Longmont Symphony.

Performing to a capacity audience, Brett received a standing ovation for his performances.

Brett was born in Auckland, New Zealand but now makes his home in the Kansas City area where he has established himself as one of the leading accordion specialists in the Celtic music scene having performed several seasons with The Elders, Gabriel's Gate and is a regular musician with Eddie Delahunt.

Brett began playing the accordion at age seven and at the age of 12 won his first New Zealand championship for that age category and continued to seriously perform and compete into his late teens as a soloist and with duet, trio, quartet, ensemble and orchestra. He went on to tour overseas with both the Air New Zealand Accordion Orchestra and also the UMKC Accordion Orchestra.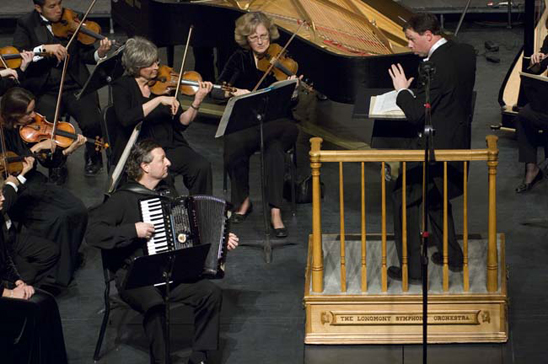 ---
Note: In order to provide as much information as possible for the United States National Accordion News stories, many different sources are often researched to gather additional information and pictures to complement what has been submitted. This information is then correlated to provide the news on www.accordionusa.com in the spirit of which it is intended, which is to provide a free news service to the Accordion Community, specifically in the United Sates. If you feel any copyright has been violated please advise www.accordionusa.com and the article will be removed immediately.