---
Divertimento by Viatcheslav Semionov Released in NY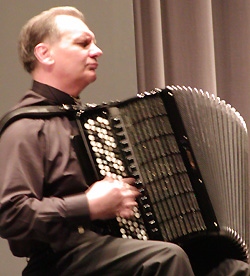 Divertimento,' a new composition by Viatcheslav Semionov of Moscow has been released by Ernest Deffner Publications of New York. This exciting work is written in three movements, (1) 'Legend' (2) 'Nostalgia' (3) 'Journey', is for instruments with both stradella and free bass. It is playable on either piano accordion (minimum 41 key) or chromatic accordion. The piece is available for US$29 plus shipping and handling from the publisher. See Music Sample of Each Movement (265kb)

This composition is a skillful written work adaptable to different systems. Semionov's broad knowledge of systems is apparent because he has distinguished himself as the teacher of prize-winning accordionists performing on either chromatic and piano accordions. The composer encourages accordionists to perform this work on various accordion systems. Stock No. ED306 $29.00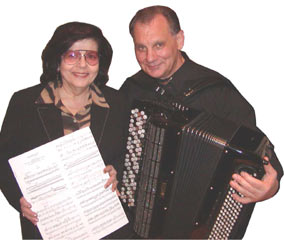 As one of Russia's foremost accordionists and composers, Viatcheslav Semionov is widely considered to be 'the founder of the modern performance school of bayan'. He was awarded the Silver Disk at the 1994 International Festival of Bayan and Bayanists and in 1995, he received Russia's highest performance distinction, "People's Artist of Russia", as decreed by President Boris Yeltsin.

The foreword of Semionov's new work is a dedication which reads: "Written for my colleague Faithe Deffner (right) in commemoration of her service to the accordion community as President of The American Accordionists' Association: 1985-1986, 1995-1996, 1997-1998 and 1999-2000".


---
Leavenworth International Accordion Celebration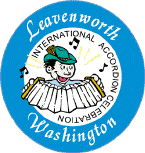 The Leavenworth International Accordion Celebration will be held from June 22-24. This year the LIAC will feature competitions, concerts, dances, jamming and an accordion parade and more!

A charming Bavarian town Leavenworth is located just a 2 l/2 hour drive from Seattle. The 2006 Leavenworth International Accordion Celebration will be an exciting event – full of talented musicians, enthusiastic music lovers, friendly competitors of all ages and lots of surprises including the Annual Accordion Parade down Front Street! Entertainment at the Gazebo in Front Street Park is free.

The Northwest Accordion Society organizes entertainment and Jam sessions in the Gazebo Thursday through Saturday. The Competitions and Concerts are held in Leavenworth's Festhalle on the corner of Front and Tenth Streets.

Featured performers this year include: Bernadette Conlon, Janet Todd and Murl Allen Sanders.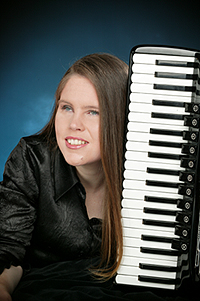 Bernadette Conlon is one of Australia's leading accordionists; her heartfelt renditions have earned her over 100 first-place awards in competitions. Bernadette has an amazing repertoire, which ranges from classical, to jazz, pop and various folk and ethnic music. She is famed for her own intricate orchestral arrangements, some of which appear on the six CD's she has released. Academically, Bernadette has won scholarships to study in the Ukraine, Russia, England and Germany, with some of the world's top accordionists. All this is even more remarkable, considering the fact that Bernadette has less than 1% eyesight. Her memory of thousands of pieces of music is internationally renowned, and she often gives concerts made up solely of audience requests.

It is not difficult to see why Australia's brilliantly shining star, Bernadette Conlon, often called the "Mona Lisa" of the Accordion, has won the hearts of audiences all around the world. Just like that famous masterpiece, Bernadette's vibrant charm and innate sensitivity, combined with her awesomely dazzling technique, haunt her listeners, leaving them spellbound.

Janet Todd is one of America's premier accordion performers. She has traveled over 250,000 miles playing in 22 countries throughout Europe, Middle East, Far East, and in 27 US states doing special shows, conventions, and prominent events. Janet has been a featured performer at major US accordion venues including the Texas Accordion Association's National Convention, where reviews called her a "World Class woman MIDI-accordionist," the Las Vegas International Accordion Convention, the American Accordionists' Association Competition/Festival in Boston, the Rocky Mountain Accordion Celebration at Philipsburg, Montana, the Florida Smash accordion festival in Orlando and at California's acclaimed Cotati Accordion Festival.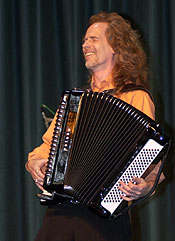 Janet plays to rave reviews: "Janet played with heart and soul with a special patriotic medley and included her fiery style of play that captivated the audience." Accordion USA News (New York City), "I sincerely believe that she may be the greatest accordionist in the world and certainly the most captivating. She played the classics and Turkish folk songs like a true genius. She stirred my soul very deeply," Hikmet Simsek, conductor, Ankara, Turkey Philharmonic Orchestra, Curtain Time USA.

Murl Allen Sanders (left) is a modern accordionist, pianist, composer and recording artist who plays pop, rock, zydeco, country, jazz, blues and various ethnic styles on piano and accordion. Murl's latest recording is the World Premiere of his Accordion Concerto #1 recorded live with Orchestra Seattle conducted by Maestro George Shangrow at Meany Hall on the University of Washington campus. Murl leads his own band, does solo work, composes, teaches and arranges music, sings, plays piano, harmonica and keyboards. He has worked with such diverse artists as Chuck Berry, Etta James, Leslie Gore, Peter Duchin, Theodore Bikel and a host of regional luminaries. Lenny Leto of the Chicago Accordion Club says "Murl Allen Sanders gave the Chicago Accordion Club a performance that will long be remembered. Murl is a gifted artist, performer and showman. Murl is a wonderful entertainer who possesses a truly unique talent..."

Recently Murl played accordion on the soundtrack of a feature film starring Eileen Brennan called "Moonglow" and a short film for the Seattle International Film Festival entitled "It's Only Temporary." His recording Can You Dance To It features his accordion and original tunes in a mix of styles Murl calls "Zyfusico" including pop, Zydeco, rock, country and blues influences.



A feature of the festival are the competitions, and this year they will include categories including: Old-time Music, Classical, Popular, Patriotic March, Jazz and Original Composition.

The tentative schedule for the festival is as follows:

Wednesday, June 21
1 - 4 PM Competitor Packets and Ticket sales at Festhalle
6 PM Welcomefest for Registered Competitors & Adjudicators
Thursday, June 22
8:00 AM Competitor Packets and Ticket Sales at Festhalle
9:00 AM Competition at Festhalle: Golden, Silver, Classical I, Popular I, Duets, Junior
9:00 AM Vendors' Hall Opens
11:00 AM Jam Sessions organized by NW Accordion Society at the Gazebo
11:30 AM Workshop with TBA
1:30 PM Competition at Festhalle: Popular II, Bands, Classical II, Patriotic March I
4:00 PM Workshop with TBA
5:30 PM Workshop with TBA
8:00 PM Festhalle Concert: Janet Todd
9:30 PM Festhalle Jam Session & Dancing
Friday, June 23
8:00 AM Competitor Packets and Ticket sales at Festhalle
9:00 AM Competition: Petosa, Patriotic March II, Classical III, Popular III
9:00 AM Vendors' Hall Opens
11:00 AM Jam Sessions organized by NW Accordion Society at the Gazebo
11:30 AM Workshop with TBA
1:30 PM Competition at Festhalle: Elementary, Primary, Diatonic
3:30 PM Workshop with TBA
5:00 PM Workshop with TBA
7:30 PM Festhalle Pre-Concert Show with the Edelweiss Tanz Gruppe
8:00 PM Festhalle Concert: Bernadette Conlon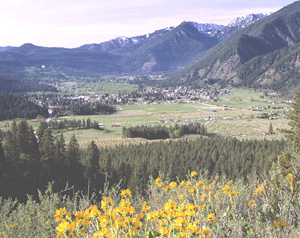 Saturday, June 24
8:00 AM Competitor Packets and Ticket sales at Festhalle
9:00 AM Competition at Festhalle: Senior, Original Compositions, Jazz
9:00 AM Vendors' Hall Opens
10:00 AM Outdoor Concert at the Gazebo with TBA
10:30 AM Workshop with TBA
11:30 PM Jam Sessions organized by NW Accordion Society at the Gazebo
12:00 PM Accordion Parade
1:00 PM Competitor Packets and Ticket Sales at Festhalle
2:00 PM Competition at Festhalle: LEAVENWORTH OPEN
5:00 PM Outdoor Concert at the Gazebo with TBA
7:00 PM LIAC Awards Ceremony
7:30 PM Festhalle Concert: Murl Allen Sanders followed by Janet Todd and Bernadette Conlon
For complete information and competition rules and guidelines and to purchase tickets, please visit: www.accordioncelebration.com or call Sherry Schweizer at the Leavenworth Chamber of Commerce at (509) 548-5807.


---
Lenny Feldmann Releases New CD '25 Great Jazz Standards'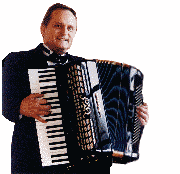 Accordionist Lenny Feldmann has just released a new CD entitled '25 Jazz Standards' which is available on e-bay.

Over one and a quarter hours (75:15:35) of light jazz stylings of twenty-five great standard tunes that everyone knows and loves. Each tune is tastefully done with full combo backing. This CD begins with the great "Fats" Waller tune - Ain't Misbehavin' and moves into one of the most played jazz standards of all time - Sweet Georgia Brown.

The CD then continues with the first - I've Got Rhythm - of nine George and Ira Gershwin tunes. The others: Someone To Watch Over Me - A Foggy Day - Nice Work If You Can Get It - Fascinatin' Rhythm - Embraceable You - But Not For Me - 'S Wonderful and Strike Up The Band! Lenny's rendition of the famous Erroll Garner tune - Misty - is soulful and inspiring.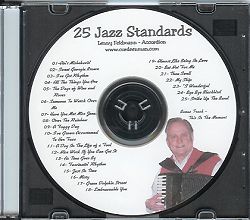 Henry Mancini's "The Days of Wine and Roses" and Harold Arlen's "Over The Rainbow" highlight several tunes that have become standard jazz classics from the idiom of Movies including Bye Bye Blackbird, As Time Goes By, A Day In The Life of a Fool, Green Dolphin Street, and Almost Like Being In Love. In addition to the 25 tracks on this CD, you will receive a BONUS TRACK - "This Is The Moment".

As a young protégé of the late Stephen Harer of Clifton, New Jersey, Lenny was a Virtuoso competition champion. At Vander Cook College of Music in Chicago, Illinois, Lenny received his Bachelor of Music Education Degree, using the accordion as his major instrument and studying with Mort Herold and the late Mario Moschino. A ten year career of teaching and playing professionally in the New York area followed. During this time, Lenny performed throughout the NY Metro Area with the famous Tony Cee Orchestra as the personal accompanist of Tony (Cee) Corsetto - Popular Vocalist and Orchestra leader.

Lenny then pursued a professional business career for the next 13 years, ending with his retirement in 1987. He returned to his first musical love, the accordion, and began a new professional career in Florida. The Lenny Feldmann Show performed regularly in Florida and for special accordion events - The Galla-Rini Honorary Concert and Festival of the Accordion Teachers Guild in Chicago - as guest soloist and adjudicator for the American Accordion Musicological Society in Valley Forge, PA - the Accordion Teachers Association of New Jersey - in Lake George, NY for the American Accordionists' Association.

In 1989 Lenny was the accordionist with the world-famous Mantovani Orchestra on their Midwest tour, as well as a nine week engagement performing in Yokohama, Japan at their World's Fair. Lenny performs with, and is the assistant conductor for the Accordion Pops Orchestra directed by Danny Desiderio. The APO, consisting of professional and semiprofessional accordionists from seven Northeast states, has presented concerts with various guest artists including Myron Floren and Dick Contino.

The CD is available online at: http://cgi.ebay.com/ws/eBayISAPI.dll?ViewItem&item=4850794113


---
39th Fundación Festival, Vallenata - Colombia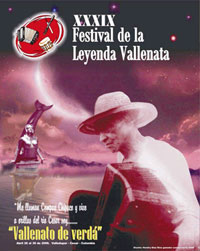 The annual Fundacion Festival takes place in Vallenata from April 26th to 30th. In Colombia, diatonic button instruments are the norm with accordionists, especially the 3-row, and are used extensively in the country's music, song and dance traditions. Visiting sailors introduced one and two row diatonic button accordions to Colombia in the late 19th Century from Europe, but three row accordions superseded these instruments by the 1930s.

The Fundacion Festival, held annually in Valleneta, Colombia, since 1968, is one of the largest accordion festivals in South America, and is part of a large-scale celebration of national music, song and dance. The festival includes a competition, with categories for amateur and professional players of various ages and styles. There are prizes of $15,000 - 1st place, $10,000 - 2nd place, and $7,000 - 3rd place for the Professional Accordionists' Section, and lesser monetary prizes for the various other sections. The closing date for entries is April 8th. This festival attracts large crowds, including many holidaymakers who are attracted by the colorful spectacle of the parades and outdoors events.

For further information e-mail prensa@festivalvallenato.com


---
The Mindless Tripod Experience CD Release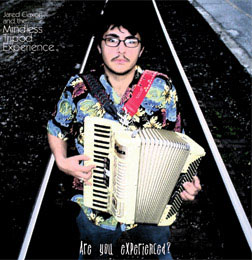 Accordionist Jared Claxon and 'The Mindless Tripod Experience' have released there first studio album with ROA Records. The Central Florida based band, headed up by lead accordionist Jared Claxon, focuses on bringing the world the greatest, and funniest accordion fueled rock in the world.

The album is a mix of classic rock, punk and good ol' fashioned Polka. The album, entitled "Are You Experienced" is sure to keep you entertained and wanting to hear more of The Mindless Tripod Experience.

Formed in 2004 by Jared Claxon, The Mindless Tripod Experience is a band like no other and has made great strides in comedy music where they have been played on both The Dr. Demento show and Freakin' Funny Music. Comprising Jared Claxon on accordion and guitar and Richmond Webb on the Drums, the next live performance is scheduled for the 20th of April at Matsuricon in Columbus, Ohio.

For more information, please contact Teresa Claxon at: tclaxon@hotmail.com

---
Accordion Concerto at Columbia University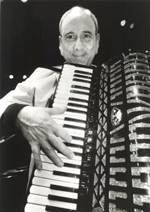 Miller Theatre at Columbia University in New York City, has launched a new three-year project to commission twelve world-class composers to write twelve new Pocket.

Concertos - works for soloist and sinfonietta - and to present the world premieres of four of these new works each season for the next three seasons.

The works will be played by a roster of outstanding musicians. The first, Accordion Concerto by Julia Wolfe, will be performed by the magician of the instrument, Guy Klucevsek, on Saturday, April 22, at 8:00 PM. It was written for accordion and chamber orchestra.

The Pocket Concerto Project is a major initiative of Miller Theatre's longstanding commitment to commissioning and presenting new works. The Theatre's goal to make lasting and substantial contributions to the repertoire now includes a work which features the accordion.


---
Ragin' Cajuns Revel on Stage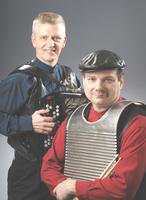 The Ragin' Cajuns, a Kansas City-based band conceived in 1996, took their authentic Cajun-Zydeco party music the Carlsen Center at the Johnson County Community College as part of their free spring Jazz Series.

Mike McKinley and Juha Silfverberg formed the band as it is known today utilizing accordion, drums, percussion, washboard, voice, bass, saxophone and, at times, fiddle and guitar. The other band members are Mark Cohick and James Albright. That the Ragin' Cajuns have fun while playing is clearly demonstrated whenever they perform for private functions, parties, festivals and special events including several fund-raisers for the hurricane victims last fall.

Kansas City area based accordionist Juha Silfverberg who co-leads the Ragin' Cajuns performs regularly as a soloist and freelance musician in several different ensembles covering a large musical genre. He is a member of an accordion trio that has performed concert tours in Europe, New Zealand and the United States and recorded a CD. A native of Finland, Juha holds the title of both Finnish and Scandinavian accordion champion.

Percussionist Mike McKinley has more than 25 years of professional experience as a freelance drummer, percussionist and vocalist. He earned a bachelor's degree in music education from the University of Missouri-Kansas City. He teaches percussion and has performed with such artists as Aretha Franklin, Bobby Vinton and Moureen McGovern. For Ragin' Cajun performances, the baritone-voiced McKinley sings and plays the drum set and washboard all at the same time.

The spring Jazz Series concerts are cosponsored by the JCCC humanities and music departments, Community Services and the Music Performance Trust Fund of the American Federation of Musicians, Local 34-627.


---
Arthur Metzler Passes Away in Florida
The accordion world is saddened to learn that ARTHUR R. METZLER aged 90, of St. Petersburg, passed away on March 18, 2006.

Born in 1915, Arthur moved to Florida in 1982 from his native Chicago. He played the accordion and oboe, and was a music composer and arranger. During World War II he served in the Army as a chaplain's assistant, and played his instruments for the wounded, for Army shows, for the royal family and for the prime minister of Belgium.

In 1939 appeared in concert at Kimball Hall in Chicago where he played the complete 31 pages of George Gershwin's Rhapsody in Blue with a symphony orchestra under the direction of his teacher Andy Rizzo. The performance was a tremendous success.

Arthur studied and majored in composition at Roosevelt University. He was first oboist with the Chicago Symphony Orchestra, and held first chair in the Rizzo Accordion Ensemble. He also had a passion for art, and was well known for his work as a cartoonist featuring the accordion.

Art is survived by his wife of 64 years, Jane; a son, Robert and a brother Martin.


---
Promoting Your Accordion Services Free at AWW

The Internet is changing the way your customers are searching for services. The days of lugging out a 12 lb. telephone book to find very limited and outdated business information are coming to an end. People are still letting their fingers do the walking, but they're doing it over a computer keyboard. Below are some revealing facts from the Kelsey Group.
74% of US households use the Internet as an information source when shopping.
Approximately 45% of searches had a buying intent.
The percentage of respondents who used yellow page directories decreased from 75% to 62%.
(If you have a printed yellow page ad, it is time to consider buying a smaller ad and shifting your marketing dollars to the Internet.) The off-line Yellow Pages see the writing on the wall and are scrambling to transfer their business model to the Internet.
Businesses can no longer ignore these facts. If you want to be successful, you must have a presence where your customers are searching. Being found on the Internet is vital to the future of your business.



The Accordion Yellow Pages offers free of charge listing for all accordion businesses, teachers and for every type of service for accordionists. On the Accordion Yellow Pages site, you do not need to have a website for accordionists find you and contact you.



The search-accordion.com site is also free of charge, being a listing service for every type of accordion service but you must have a website. Viewers of search-accordion.com can click to your website.



Very popular is the AccordionLinks.com site where those accordion service providers with a website, can attract accordionists free of charge to their website.

All it takes is a little effort, to make sure your information on these three popular and very effective accordion sites is up to date. Your future success may well be determined by your ability to effectively adapt to the Internet. Should it be your New Year's resolution for 2006?

---
Valentine Day Concert Rescheduled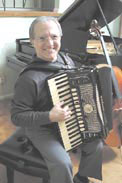 The Valentine Day concert which was canceled because of inclement weather has been rescheduled for Sunday, April 23, 2006, 3.00 PM at Our Mother of Good Counsel Church at 31 Pennswood Rd & Lancaster Pike (Route 30), Bryn Mawr, PA. 19010.

The Lansdowne Symphony Orchestra, under the direction of Maestro Irving Ludwig, former violinist with the Philadelphia Orchestra under Eugene Ormandy and Riccardo Muti for over 40 years will feature concert accordionist Joseph Soprani who recently performed for Peter Nero & the Philly Pops at the Kimmel Arts Center In Philadelphia. He will be featured in a show piece based on Bizet's Carmen and Three Old Viennese Dances by Fritz Kreisler arranged for accordion and orchestra.

The orchestra, celebrating their 60th season and one of the finest community orchestras in the region, will perform classic romantic melodies such as Tchaikowsky's Romeo & Juliet and selections by Faure, Puccini and others.

You won't want to miss this one. Pass this on to your family and friends! Tickets are available at the door. General admission $15. Seniors $12. Students $5. For individual concert, the LSO is offering discounts to members of WHYY who have a valid Member Card. For LSO information: 610 284 3718 or visit: www.lansdowneso.org


---
UMKC Accordion Orchestra Performs at 100th Anniversary Concert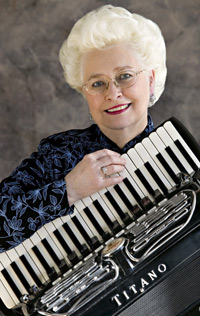 The University of Missour-Kansas City Community Accordion Orchestra directed by Joan C. Sommers will perform at UMKC's Conservatory of Music's 100th Anniversary Celebrations in Kansas City on April 22, 2006 at 11:00 AM. Featuring many alumni members of the UMKC Accordion Orchestra, the 40 member group will perform to an expected capacity audience free concert in Pierson Auditorium (Pierson Hall) on the UMKC Campus.

Joan C. Sommers has directed the world famous University of Missouri-Kansas City (UMKC) Accordion Orchestra since it formed over 45 years ago, when she established the accordion program at UMKC in 1961.

During its long history, the UMKC Accordion Orchestra has won many national titles in the USA, and toured to such places as Germany, Switzerland, Austria, England, Scotland, Sweden, Denmark, Russia, Estonia, New Zealand, Australia, Hungary, Czech Republic and Italy.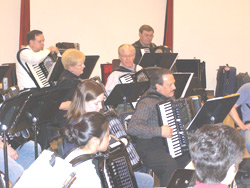 The orchestra presents regular concerts at the University and has made guest appearances at national festivals and other important engagements throughout the United States.

Highlights include appearances with the Kansas City Symphony, the Kansas City Civic Symphony Orchestra, and at the American Accordionists Association, the Accordionists and Teachers Guild, International, and the Accordion Federation of North America Annual Festivals.

With concert repertoire includes original accordion orchestra music, orchestral transcriptions, Broadway Music, Jazz and popular favorites, the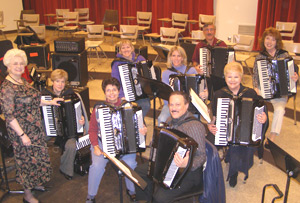 UMKC Accordion Orchestra members consist of UMKC students, graduates, alumni and special guests who accompany the orchestra when on tour. Picutred right is Joan with some of her alumni students performing on the April 22nd concert.

In conjunction with this 40th Anniversary Concert in 2001, the UMKC Accordion Orchestra released a set of six CD's highlighting the 40 years of accordion greatness.
The program for the 100th Anniversary Concert of the UMKC Conservatory of Music is:
Teufelstanz - Hellmesberger
Scherzo - Moussorgsky
Bugler's Holiday - Anderson
Fuga 9 - Piazzolla
Oblivion - Piazzolla
Libertango - Piazzolla
Chorale and Igra from Suite for Accordion Orchestra - Bruci
South Pacific Medley - Rodgers and Hammerstein
Radetzsky March - J. Strauss, Sr.
Everyone is invited to attend this Free Concert on Saturday, April 22, 11:00 AM at Pierson Auditorium (Pierson Hall) on the UMKC Campus.


---
La Bottine Souriante, Quebec
La Bottine Souriante, a nine-piece ensemble from Quebec featuring Pierre Belisle on piano accordion and Pierre-Luc Dupois on 3-row button accordion, have performed music from the French Canadian tradition since 1976. They perform at music festivals and concerts around the world, and have a loyal following in many countries.

La Bottine Souriante (whose name literally means 'The Smiling Boot') are to appear at the Festival International de Lafayette, Louisiana, USA, on April 28th and 30th. On April 29th, they appear at the Houston International Festival in Texas.

For further information e-mail: mp@millepattes.com

---
ATAM Sponsors Roland Event
The Roland Accordion Event sponsored by the Accordion Teachers Association of MA
Appeared in February 2006 issue of Musical Merchandise Review (MMR)

Providing the demonstration on the V-Accordion was Don McMahon, an accomplished musician and accordion instructor, and backing up McMahon on drums was none other than Vic Frith President Rick Drumm.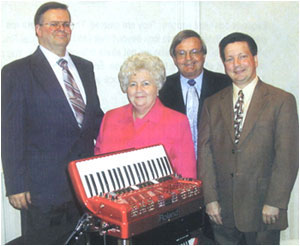 The 75 attendees were obviously impressed by the V-Accordion and its capability in reproducing different accordion types in various genres of music, and at one point even sounding like a bagpipe. Pictured from left to right: David Lewis - Immediate Past President of the ATAM, Peggy Falcetti - ATAM Treasurer, Sam Falcetti - ATAM Board of Director and Michael Falcetti - ATAM President.

The V-Accordion is lighter, more flexible, and has numerous combinations to customize the player's sounds and tailor their need and styles,"explained Sam Falcetti.

The V-Accordion can simulate up to 30 different accordion sound sets, each including 14 treble registers, seven bass and chord registers, and seven free bass registers. The engineers at Roland were able to reproduce various models of traditional accordions so the V-Accordion can instantly switch from an Italian jazz to a German folk, French Musette, or historic bandoneon.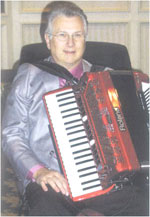 The V-Accordion is available in two models: the FR-7 and the FR-5. Both are offered in candy apple red, or charcoal gray. The FR-7 is an all-in-one portable instrument complete with internal speaker and amplification system.

The FR-7 does not contain the speakers and amplification system, but is more lightweight for stage performance. For more information on the V-Accordion, contact: Roland in the US at: (323) 890 3700 or visit www.rolandus.com

Pictured right - Don McMahon former Falcetti Music accordion instructor and ATAM Contestant.

---
Len Wallace Concerts, Ontario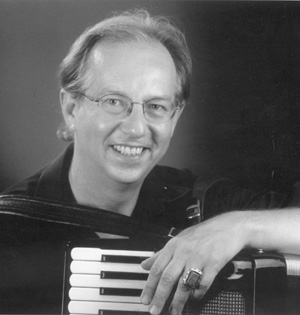 Canadian accordionist Len Wallace will be keeping a busy schedule in April and May as he performs in the USA and Canada.

At an early age he was trained classically, won many awards and by 15 won the Canadian National Accordion championship. His speed, versatility in style and power are amazing. Ask other performers and they'll tell you that Len's fingers work at unequaled lightening speed, but with a power and lightness of touch that make it all look and seem easy.

He turned his attention to folk music and away from a classical music scene which he came to view as increasingly abstract and divorced from people's lives. Music, he believes, has to have social meaning. Len calls the accordion "the people's instrument". Deemed socially inferior as "the poor man's piano" in the 19th century, it was the instrument of the working poor, the immigrant worker. It was considered the instrument of the gutter and Len has been a major voice in Canada and the United States promoting the squeezebox in its rightful place as the world and roots instrument.

For over twenty-five years he has been a notable performer of the Celtic Irish and Scottish music tradition. He started learning it from musicians in the Detroit, Michigan Irish music scene, singers, fiddlers steeped in the older traditions. More recently, Len brings a subtle new approach to Celtic music from other traditions including Slavic (Russian, Ukrainian, Serbo-Croatian), Yiddish klezmer, cajun, Tex-Mex, zydeco in a grandweave of his own creation.

Upcoming performances include:
April 14th, (with The Bowsies) - Dick O'Dow's, Birmingham, MI
April 21st, (with The Bowsies) - Fiddler's Hearth, South Bend, Indiana
April 28th - The Kildare House, Windsor, Ontario
April 29th - (with The Diggers), Scottish Club, Windsor
May 12th - (with The Bowsies) Dick O'Dow's, Birmingham, MI
May 13th - The Kildare House, Windsor, ON
May 19th - Lundy's Lane Folk Society, Midland, ON
May 26th - (with The Diggers), Baile Corcaigh, Detroit, MI
May 27th - (with The Bowsies) Fiddler's Hearth, South Bend, IN
Len Wallace also produces an interesting and amusing newsletter titled 'Squeezebox from Hell'. To receive this newsletter or for other information e-mail: lwallace@mnsi.net


---
ATAM Festival in Newton, MA

The Accordion Teachers' Association of Massachusetts (ATAM) will celebrate their 44th Annual Festival from April 7-9, 2006 at the Marriott Hotel, Newton, MA.

The Festival will feature:
Battle of the Bands
ATAM Entertainment Competition
Competitions
Solos, Duos, Ensembles, Bands
Some Non Competitive Categories
Cash Awards
Over $3,000.00 in prizes
Awards Banquet
For further information please contact: ATAM Contest Chairperson: Roger Latulippe, 136 Lowell Road, Hudson, NH 03051: Phone/Fax: 603/882-8940 and for additional information and Press Information, please contact Peggy Falcetti: peggy.falcetti@falcettimusic.com


---
Guido Deiro 1928 Sound Film Available on DVD
Guido Deiro (1886-1950) was the first accordionist to be featured in a sound film. 'Guido Deiro: The World's Foremost Piano-Accordionist' was filmed in Burbank, California, at the Warner Brothers studio in 1928 and shown in movie houses throughout the United States to critical acclaim.

In this film Guido Deiro performs two pieces (1) the Overture from 'I Capuleti ei Montechhi' by the Italian opera composer Vincenzo Bellini, and (2) the Serenade from 'Les Millions D'Arlequin' by the Italian composer and conductor Riccardo Drigo.

This black and white film, which lasts six minutes, has been restored and made available on DVD by accordionist and musicologist Henry Doktorski. The film displays the great virtuosity, musicianship and stage presence of the first great star of the piano accordion at the height of his fame.


---
Jeff Lisenby Makes Broadway Debut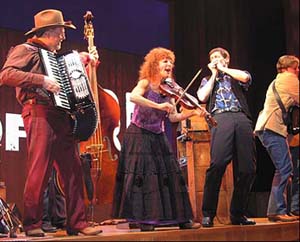 Accordionist Jeff Lisenby made his Broadway Debut as Musical director and performer for 'Ring of Fire', new Broadway musical that echoes with the songs of Johnny Cash. Ring of Fire is described as a theatrical and musical experience – and an adventure of love and faith, struggle and success. The show opened March 12 and is playing at The Ethel Barrymore Theatre located at 243 W. 47th Street, New York City.

Directed by Tony Award winner Richard Maltby, Jr. (Ain't Misbehavin', Fosse), Ring of Fire is billed as "a theatrical and musical experience that will lift your heart and stir your soul." The show is not a musical biography of the life of Cash, the Arkansas-born singer-songwriter who crooned about alienation, prison life, love, the Southland and more.

In Ring of Fire, "a remarkable cast of performers and musicians take us on a rousing adventure of love and faith, struggle and success all with the strength, humor and downright honesty that made Johnny Cash one of the greatest songwriters and most revered storytellers in American music."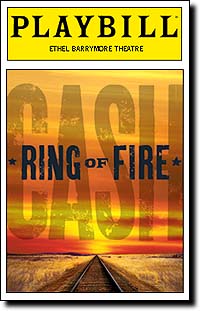 The musical features 38 of the music legend's songs, including "Country Boy," "A Thing Called Love," "Five Feet High and Rising," "Daddy Sang Bass," "Ring of Fire," "I Walk the Line," "I've Been Everywhere," "The Man in Black," and his final hit, "Hurt."

In addition to Jeff being the Musical Director of Ring of Fire, he also performs accordion on-stage in several of the numbers. Ring of Fire was created by Maltby and conceived by William Meade with choreography by Lisa Shriver.

Former ATG United States Champion and popular Nashville recording artist Jeff has twice won bronze medals for the ATG in the Confederation Internationale des Accordeonistes (CIA) Coupe Mondiale World Accordion Championships and was also won the silver medal in the international entertainment accordion championship.

He has been a keyboardist/accordionist for: Nashville's Grand Ole Opry, the Kansas City Chiefs' football games, USO European tours, shows in Switzerland with TexMex artist Rick Orozco, Norwegian Cruise Lines on Caribbean tours, and has toured extensively with artists Mills Brothers, Brenda Lee and Boots Randolph, including performances in Tokyo, Seoul, Hong Kong, and all over the United States.

Jeff has also performed with the Kansas City, Los Angeles, and Nashville Symphonies. He has accompanied many artists in live shows including: Luciano Pavarotti, Mel Torme, Blake Shelton, Roy Clark, Lee Greenwood, Tricia Yearwood, Jo Dee Messina, Dolly Parton, Three-Dog Night, Donner Summer, Jamie O'Neil, The Mills Brothers, and David Cassidy.

Jeff, with a Bachelor of Music degree in accordion performance (studying with Joan Cochran Sommers) and a Master of Arts from the University of Missouri at Kansas City, was also conductor/keyboardist for Tennessee Repertory Theatre's productions of Grease, Big River, A Chorus Line, Fiddler on the Roof, 1776; Tennessee Performing Arts Center's Chicago, Annie Get Your Gun, City of Angels.

About six years ago, Bill Meade got the idea for putting the music of Johnny Cash on the stage and Maltby wrote in productions notes. "Many people had approached Johnny, but only Bill's idea convinced him, and after about five years, just before he died, Johnny gave Bill the stage rights to this material.

Meade states "I have complete faith that although we do not dramatize Johnny Cash's life, by the end of the show the audience will feel that they have spent the evening in the presence of an extraordinary and real man. In many ways Johnny Cash wrote and sang about the lives we all lead, regardless of where we lead them. If, watching this show, you feel yourself being drawn back to your roots, it isn't accidental - even if you've forgotten what those roots are. I hope as we bring to life these wonderful songs, we will touch your heart, mind and soul as well, and take you too back to a part of your life you may want to return to."


Show Dates and General Information:
Performance Schedule:
Tuesday - Saturday at 8 PM
Wednesday, Saturday and Sunday at 2 PM
Tickets:
Pricing: $86.25 - $101.25
Box Office: Tele-charge (212) 239-6200 or (800) 432-7250
www.telecharge.com
Show Run Time:
Two hours and 15 minutes, including one 15 minute intermission
Theatre Information:
Ethel Barrymore Theatre
243 West 47th Street
New York, NY 10036
For more information about Ring of Fire, visit www.ringoffirethemusical.com

---
Accordion Pops Orchestra pays tribute to Myron Floren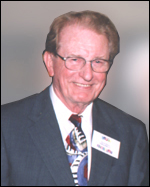 The Accordion Pops Orchestra conducted by Dan Desiderio will present a Memborial Tribute to the late Myron Floren on Sunday April 30, 2006 at the Hunterdon Hills Playhouse in Hampton, NJ. Dinner will commence at 1:00 PM and the concert will begin at 3:00 PM.

Admission to the function will be a $55.00 donation which will include dinner and the show, which will feature visits from the Floren and Welk Families.

For more information, please contact Rosemarie Cavanaugh at 732 257-8198.


---
AAA Open Meeting Features Peter Soave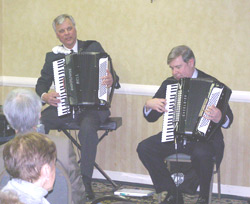 The American Accordionists' Association Sponsored an Open Meeting in Jamesburg, NJ on March 19th.

A chance for AAA members to share ideas and hear forthcoming plans for the AAA, the event also featured a workshop on The Music of the Valtaro, as well as a concert by World Champion Peter Soave.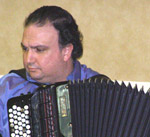 Dominic Karcic and Ray Oreggia (right) presented a fascinating history of the Valtaro Music both in the United States and the Borgotaro region of Italy, which included live performances, lectures and recordings of original artists of this genre.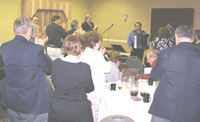 World Champion Peter Soave (left) presented a variety concert which included a performance of John Franceschina's "For Elsie" which was commissioned for the late Elsie M. Bennett, Chairman Emeritus of the AAA Composers Commissioning Committee, as well as a program of both Classical, Jazz and Entertainment Music.

Peter received several standing ovations for his performance.


---
Bill Schimmel Keeps Busy Schedule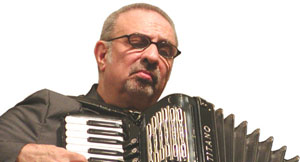 Dr. William Schimmel continues his busy schedule with a concert with King of Ragtime, Mark Birnbaum, in a private concert in Riverdale New York on April 8th. This concert is in preparation for a larger scale show that will make its first public presentation on July 28 at the AAA Master Class and Concert Series - The Seminars.
On April 22 at 8:00 pm, he will perform with the Brooklyn Philharmonic featuring singer Ute Lemper in music by Kurt Weill and Astor Piazzolla and on April 24 at 7:30 pm, he will perform at Symphony Space in a concert series entitled The Cello Project, performing new works that are written specifically utillize the cello and in this case, the accordion.
He will perform in three new works by Broadway composers most notabley Bill Brohn. On April 30 he will perform in Rossini's last work: Petite Messe Solemne Solennelle for chorus, piano and harmonium. Dr. Schimmel will do a realization of the harmonium part on the accordion. This two hour, rarely heard work will be performed at the Church of St. George at Stuyvesant Square in Manhattan, a New York City landmark. Needless to say, the use of the accordion adds an entirely new dimension to this solemne work making it a kind of world premiere.
Dr. Schimmel is currently preparing for the presentation of a vintage accordion concerto he will perform this summer with new orchestration and additional material by Dr. Schimmel. More information about this at a later date.
The AAA Master Class and Concert Series -The Seminars - moderated and curated by Dr. Schimmel will take place on July 28, 29 and 30 at the Tenri Cultural Institute of New York. The title of this years event is: HA HA! WA WA! The Accordion can kill you.
Dr. Schimmel would specifically like to note that he has added a new dimension to this years event: at the beginning of each afternoon master class, attendants will be invited to perform. They will receive comments from other attendants in the audience, the seminar participants and lastly, Dr. Schimmel. Dr. Schimmel calls this segment: The Electric Chair. This will be done on a first come, first serve basis and those interested should contact Dr. Schimmel directly.for more info on Dr. Schimmel;s events - www.billschimmel.comfor complete info on the Master Class and Concert Series.
The Seminars. For information, please visit: please visit:
www.ameraccord.com


---
AAA Sponsors Three International Competitions at Summer Festival
The
American Accordionists' Association
welcomes visitors to their 2006 Competition and Festival from July 12-16, 2006 in Buffalo, NY. The festival will be located at the Adam's Mark Hotel; 120 Church Street; Buffalo (Niagara Falls), NY 14202 and features a room rate of $89 (plus tax) per night (single, double, triple, quad). Attendees are requested to mention the AAA Festival to obtain discounted rate. Reservations can be made by calling: 716-545-5100 or (800) 444-ADAM (toll free).
The festival will feature Competitions, Workshops, Displays, Concerts and much more including Three International Competitions:
The 2006 Vivian Vivio Stolaruk International Entertainment Competition for Accordionists
First Prize: $10,000.00


2006 Polka Band Competition
First Prize: $1,500.00


Sing and Play - for the Accordionist who also Sings!
First Prize: $1,000.00
For complete festival information, please visit: www.ameraccord.com

---
Houston, Texas Meetings Join Forces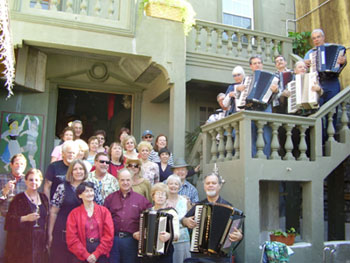 The Bay Area, Fort Bend County and Houston Accordion Clubs arranged an informal get together on Sunday, March 26 at the Courtyard Café in the historical section of Galveston, Texas to honor Norman and Sharon Seaton and their tireless work in promoting accordion music across Texas. It was perfect weather day with temperatures in the upper seventies and lots of sunshine; a great time was had by all.
Members of the three Houston area accordion clubs were in attendance (Houston, Fort Bend County and Bay Area Accordion Clubs). Mario Pedone was the main performer but all members that brought their accordions took their turn at the stage. Mario once again awed everyone for over an hour giving wonderful performance and mixture of music from all over the world and across two hundred years. His repertoire spanned from Von Suppe's Light Cavalry Overture and All My Exes Live In Texas to Norwegian Polkas, South American Tangos and Cumbias. Sharon Seaton and Shelia Lee, Joe Brikha and Ken Hanslick also provided great entertainment with their virtuosity, energy and enthusiasm.
The Houston area is geographically the largest city in the U.S., has 4.7 million people and continues to grow rapidly. To increase participation and facilitate attendance the 3 accordion clubs are far apart geographically but a couple times a year conduct joint meetings and socials. The visit of the Seatons was one of those special occasions.
The next meeting will be held on April 9 by the Fort Bend County Accordion Club, for more information see http://www.fbc-accordion-club.org. All meetings are free and visitors are always welcomed.

---
---
Note: In order to provide as much information as possible for the United States National Accordion News stories, many different sources are often researched to gather additional information and pictures to complement what has been submitted. This information is then correlated to provide the news on www.accordionusa.com in the spirit of which it is intended, which is to provide a free news service to the Accordion Community, specifically in the United Sates. If you feel any copyright has been violated please advise www.accordionusa.com and the article will be removed immediately.