---
John Moceo appears on The Ellen Degeneres Show
John Moceo, a 12 year-old accordion student of Frank Busso, of Staten Island, New York was a featured guest on the No. 1 NBC daytime talk show in the United States, the popular 'Ellen Degeneres Show.'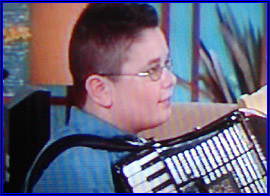 After the American Accordionists' Association was contacted last year to have an accordionist appear on the daytime talk show, John was chosen from a video submitted to the show. Ellen said his passion for the instrument impressed her and was delighted to have him appear on the show. When the comedian host asked John if he chose the accordion because the piano was too heavy to carry, John laughed and said that no, it was his teacher Frank Busso who inspired him to take up the instrument after a performance at his school.

Playing a piece from the popular group 'Green Day', Ellen presented John with a signed CD of his favorite group for his efforts. John also provided the musical interludes for the show's regular feature 'Celebrity Pets' and closed the show out with the audience on their feet clapping along to his performance of 'In the Mood.'
John has competed with much success in competitions around the United States, including those organized by the American Accordionists Association.

---
Joan C. Sommers on UK 70th Anniversary Jury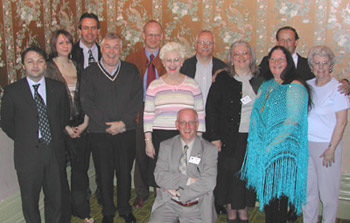 Joan C. Sommers (center) was one of several international jury members to be invited to the United Kingdom as the National Accordion Organization of the United Kingdom celebrated their 70th Anniversary of the National annual competition and festival from April 22nd to 24th, 2005 in the lovely northern seaside Spa resort in Scarborough, UK.
The weekend featured an official reception to celebrate the 70th Anniversary of the UK Championships, which began as the All-Britain Championships, known affectionately as 'Accordion Day', in London in November 1935.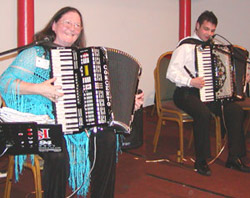 The festival began with a welcoming concert, hosted by NAO Chairperson and regular visitor to the United States, Gina Brannelli (pictured with student William Langton), followed by a weekend of competitions for all levels including solo, duo, ensemble and orchestra, as well as trade shows with music and instruments. A highlight of the weekend is the annual Ceilidh dance with accordionist Gary Blair and his Ceilidh Dance band.
Among the jury were international Jury members Mirco Patarini - Italy, Joan Cochran Sommers - USA, Kevin Friedrich - USA (President of the CIA), Ulrich Schmulling - Germany (Intermusik-Schmulling) and Sergei Tikanov - Belarus. Also on the Jury were Raymond Bodell (CIA Vice President), Karolyn Broadhead, Neil Copland, Sarah Diggens, Colin Hardy, Graham O'Connor and Margaret Venables.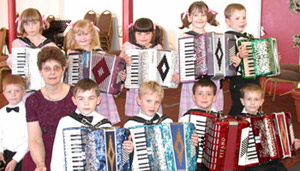 With over 400 entries in the various classes, the competition has established itself as the Premier Accordion Competitive Festival in the United Kingdom. It was particularly encouraging to see the numbers of beginning accordionists, such as those pictured here with the Colchester Tiny Tots conducted by Elaine Beecham, where the average age of the 10 accordionists is only 5 years old!

The accordion was featured with other instruments such as with the bagpipes and violin during a showband competition (below).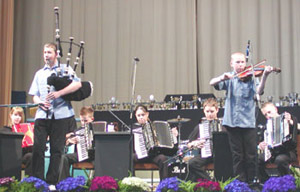 During the prize presentation, Gary Blair, a featured artist at the upcoming Las Vegas International Accordion Convention, was honored with the CIA Honored Friend of the Accordion Award for his outstanding work for the accordion both nationally and internationally, particularly in the field of promoting traditional Scottish Music.
At the Annual General Meeting at the conclusion of the festival, Raymond Bodell was elected as the new Chairperson of the NAO, with Graham Laurie as Deputy Chairperson.
For a complete list of results in all categories, please visit www.accordions.com/nao



---
Dr. Schimmel Resumes Busy Concert Schedule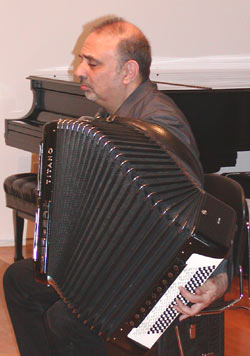 Dr. William Schimmel, who recently returned from his tour of the West Coast and Western Canada, performed with The New York Philharmonic, playing an accordion part that he initially created: 'Por Una Cabeza' (Gardel) from the film 'Scent of A Woman', starring Al Pacino. The concert took place on April 12th at Avery Fisher Hall, Lincoln Center New York, and was conducted by Leonard Slatkin and featured violin soloist Itzhak Perlman. It is Dr. Schimmel and his band, The Tango Project, that appears in the now famous Tango scene in 'Scent of a Woman', as well as performing it in the film 'True Lies'.

Dr. Schimmel has just finished a week's run at Dizzy's Club Coca Cola - Jazz at Lincoln Center, with Ted Nash and Odeon. This is to celebrate the release of their new CD 'La Espada de la Noche', on the Palmetto record label. Odeon received wonderful reviews from the New York Times as well as the Los Angeles Times (while they were on tour). Dr. Schimmel's new solo single CD 'Roadrage' - is also now available. Only seven minutes long, it is a 'Reality' on 'Seven Rock and Roll Homages', which include Canned Heat, Jethro Tull, Lalo Schifrin, Bjork, The Doors, Ginger Baker and Grace Slick. It was commissioned by the 'Punk Accordion Summit', which took place in September 2004 where Dr. Schimmel appeared as a Mystery Guest.

Other performances included an appearance with the S.E.M Ensemble on April 14 at Merkin Concert Hall and Ensemble Sospeso on April 16th. On April 18th, he gave a seminar on Accordion Culture to Microsoft. He is the accordion instructor for the Smash Off-Broadway hit 'Shock Headed Peter' as well as contributing arranger to the Smash Off-Broadway Hit 'Squeeze Box', written and starring Ann Randolph - soon to appear on HBO.

For further information e-mail billschimmel@billschimmel.com


---
ATAM Celebrates 43rd Festival in Boston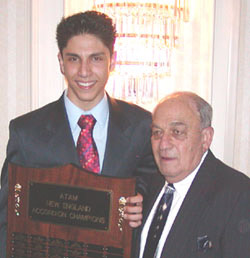 The Accordion Teachers' Association of Massachusetts (ATAM) celebrated their 43rd Annual New England Music Competition and Festival in Boston, MA, where ATAM President David Lewis welcomed hundreds of contestants who took part in competitions for all ages and levels in solos, duos, ensembles and orchestras.

During the awards banquet, 15-year-old accordionist Anthony Falco was awarded the premiere solo title of ATAM New England Accordion Champion. Additionally, he won the new ATAM Entertainment Championship title, a competition that attracted five outstanding accordionists from the New England area. Anthony is a student of Robert Paolo in Johnston, Rhode Island. Winners in the New England Championship were: 1st: Anthony Falco, 2nd: Derek Rollend, 3rd: Sylvia Tobin.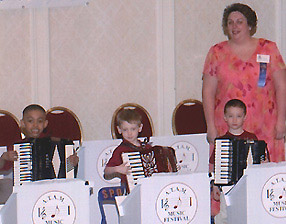 Approximately 500 hundred people attended the sold out Banquet, where the music was provided by the Donald McMahon performing on the new Roland V reedless accordion as part of the Leslie Alexandra Septet. The top orchestra division was won by the Arruda Accordion Orchestra, conducted by August Arruda, while the youngest ensemble credit went to the Falcetti Music Juniorette Ensemble, conducted by Kim Hawkins.

Each of the three members pictured: Michael O'Neal, Daniel Falcetti and Dominic Pereira are only 5 years old!

Co-festival Chairpersons Peggy Falcetti and Roger Latulippe report that next year's ATAM festival will take place from April 7th to 9th 2006 at the Newton Marriott in the Boston area.

---
Kimberley Festival to attempt World Record

On Thursday July 7, 2005 at 4:00 PM the Guiness World Record Attempt for the most accordions playing at the same time, will take place at the Civic Centre as part of a weeklong festival from July 4-9, 2005 in Kimberley.

The Kimberley Old Time Accordion Championships fell short of the record last year but they were close. In the end, they were short of accordions not players! Attendees this year are being requested to bring along extra accordions if they have them available, and are going to try once again to break the Guiness World Record for the most accordions playing at the same time.

The record is 566 accordions playing for 22 minutes, In 2004 KIOTAC organizers report that 527 players ultimately made the attempt; playing for just over 34 minutes (34:27). Organizers are confident they can do better and are hoping that at the same time, same place, one year later they can find 73 more accordionists to ultimately break the existing record.

The current Guiness World Record holder of the largest accordion ensemble was organized by the Stedeker Dansers, and consisted of 566 musicians playing the accordion for 22 minutes, during the International Folklore Festival in Diepenheim, The Netherlands, on June 1, 2000.

The Kimberley International Old Time Accordion Championships ( KIOTAC) has been designated by an elite tourism industry selection committee as one of the 1999 and 1993 Top 100 Events In North America by the American Bus Association. This prestigious designation is important recognition by the group tour and travel industry of the high level of quality that goes into planning and execution of KIOTAC, and the rich entertainment value it offers to both group bus tours and individual travelers from around the world.

In selecting KIOTAC, the committee considered the event's broad appeal, it's accessibility to motor coaches and other large groups, and a variety of other relevant quality criteria. We are elated that leaders of the group travel industry from all over the United States and Canada have recognized the outstanding entertainment value that KIOTAC has to offer the public.
October 1997, KIOTAC was awarded "The People's Choice Award", in recognition of KIOTAC'S contributions to the local tourism economy. The Award was presented by the Kimberley Restaurant Coalition at the Bavarian Society Chamber of Commerce Award Dinner.

For the Guiness World Record attempt music and other details, please visit: www.kiotac.ca


---
24th Tejano/Conjunto Festival in San Antonio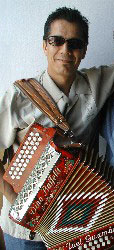 The Guadalupe Cultural Arts Centers will feature the 24th annual Tejano Conjunto Festival in San Antonio from May 4-7, 2005.

As part of this festival, Joel Guzman will present an accordion workshop on May 7, 2005. The workshop will include topics such as: (1) Scales, chord changes, pasaditas (2) Fundamentals; hand positions, strap adjustments, proper fingerings, elementary music theory etc. (3) Singing and playing songs. This will include discussions regarding song context and characterization of the lyrics plus standard accordion arranging for popular Tejano/Norteño styles and (4) Final hour will include performances by willing participants.:Joel will also be featured in concert on May 6th from 7:30 - 8:45 PM.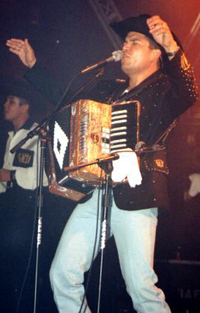 Among the many concerts during the festival, left handed accordionist Michael Salgado (right) will perform on May 5 from 9:00 - 10:15 PM.
In approximately late 1800's the Mexican population of South Texas and northern Mexico adopted the lively button accordion from the German settlers and combined it with the Spanish guitar, or bajo sexto (a 12-string bass guitar), to develop a new style of music known as conjunto. By synthesizing European rhythms, such as polkas, waltzes and schottisches, with indigenous Mexican musical forms, a highly stylized and unique expression of American music was born.

The first conjuntos, usually comprised of an accordion and guitar or bajo sexto duo, were formed in the 1920's. The first recordings of conjunto music were made in San Antonio in the late 20's to mid 30's at which time the radio industry popularized conjunto music among the Mexican-American people. To this day, San Antonio continues to be a hub of Tejano Conjunto music.

Considered, at one time, to be the music of the poor migrant worker, it has since then grown in popularity nationally and internationally. Though the basic four piece ensemble – diatonic accordion, bajo sexto, bass and drums - continues to be the basis of conjuntos, many additions and modifications have been made by various groups, which individualize their sound.

Some of these changes include the use of two accordions, added keyboards, synthesizers, chromatic accordions, saxophones, percussion, and substitution of guitars for bajo sextos. Vocal styles vary widely as well, from solos to very complex three and four-part harmonies. This new "modern" or "progressive" style, which is called " Tejano," shows a stronger rock or jazz influence and a more theatrical performance.

Tejano and Conjunto music have a widespread following, which until recently had been almost exclusively Mexican-American. But as mainstream America and the rest of the world have come into contact with the music, the legion of fans has grown to include substantial followings outside the Mexican-American community, with many fans in Europe and a growing following in Japan.

Presented by the Guadalupe Cultural Arts Center at San Antonio's Rosedale Park, the Tejano/Conjunto Festival features hours and hours of live music.

The Guadalupe's efforts began in the early 1980s, when San Antonian Juan Tejeda became head of the fledgling organization's Xicano Music Program. Tejeda, himself a conjunto accordionist, disturbed by community hostility toward the conjunto organized the first event in 1982, with free admission and 17 traditional conjunto bands playing over three days. The Festival has since grown to six days, with a cover charge, 32 Tejano-conjunto groups, and a total audience of about 40,000 diehard fans.

Conjunto, meaning literally "group" or "ensemble," may be as old and as folk-rooted as early blues or country music, but it resonates today because of its timeless and earthy sound.

The word "Tejano" in the festival's name originally meant "Texan." Conjunto, Tejeda paints out, was popular among farm laborers and other rural and small-town blue-collar workers. But after World War II, an increasingly urban and expanding Chicano middle class emerged; who often frowned on conjunto.

"Although their roots are Mexican and the lyrics are sung in Spanish, Tejano and conjunto are legitimate forms of American music, ranking right alongside Cajun/zydeco, the blues and bluegrass," added Rudy Trevino, producer/host of the weekly "Tejano Gold" national radio show.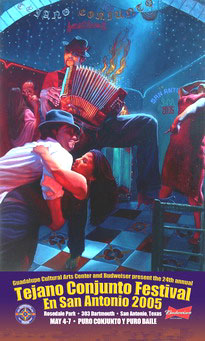 While the festival performances are the element that draw the attention, the festival includes much more. A Poster Contest, which is the means by which the official festival poster is selected, attracts larger numbers of entries each year. The contest offers prizes in junior high, high school, college, and open categories, with the overall winner receiving a cash award of $2000 and the winning entry being printed in a top quality limited edition.

Another important element of the Festival is the Conjunto Music Hall of Fame, which annually inducts notables in the field and honors their contributions. Thus far, 35 music luminaries have been inducted, among them Narciso Martinez, Valerio Longoria, Tony De La Rosa, Lydia Mendoza, Manuel Guerrero, Toby Torres, Esteban Jordan and Flaco Jimenez.

Other noteworthy festival activities include a recital by the students of the Guadalupe Cultural Arts Centers' accordion classes; symposiums and other special educational programs on conjunto music; food and beverage booths, games for the children, and plenty of dancing.

For more information on the Tejano/Conjunto Festival, contact the Guadalupe Cultural Arts Center, San Antonio, Texas at (210)351-7787. www.guadalupeculturalarts.org/xicanomusic/tcfsched.htm

For more information, on the Guzman workshop, please contact: jguzman4@austin.rr.com


---
Frank Marocco to appear in the United Kingdom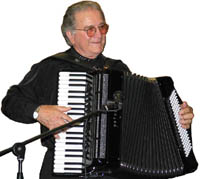 American jazz accordionist Frank Marocco is featured international guest artist at the Blackpool Accordion Festival, to be held at the Norbreck Castle Hotel, Blackpool, Lancashire, from May 13th to 16th, 2005. In addition to appearing in concert, Frank Marocco will conduct a master class - part of a series of activities for accordionists that include concerts, weekend orchestras, workshops, accordion auction, dancing and trade show.

Other guest artistes booked to date include Scottish dance accordionist David Bowen, jazz accordionist Harry Hussey, and former All-Scotland Champion Walter Perrie.

Chicago born jazz legend, Frank began the accordion at age seven, when his parents enrolled him in a six-week trial program on the accordion. Frank studied with George Stefani for nine years, a man who provided him with much inspiration. Studying classics, his teacher encouraged him to explore other areas. As a youngster Frank played piano and clarinet, he studied music theory, harmony, conducting and he was a member of his high school band.

Eventually settling in Los Angeles with his wife Anne, Frank found the proximity to Hollywood provided opportunities never available in the Midwest. He began a career which includes traveling with Bob Hope visiting the servicemen in many countries; being featured on the Les Brown Band, including six Love Boat cruises. He has also been very active doing studio work: movie soundtracks, TV movies, TV series, records and advertising jingles. Frank has also composed and arranged many accordion works in jazz and classical music.

For further information on the United Kingdom festival, e-mail thomasduncan@compuserve.com

---
ATG Festival in Richardson, Texas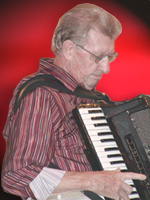 The annual Accordionists and Teachers Guild, International (ATG) festival will take place from June 15-19, 2005 in Richardson, Texas, just outside Dallas. The festival headquarters will be the Richardson Hotel (formerly the Omni) located at 701 East Campbell Road, Richardson, TX 75081. For reservations, please call: 1 972 231 9600 or 1 866 593 6300 and mention the ATG to receive the convention Rate of $69.00 single - quad.

Headliners for this years festival will include the Moscow Duo, Art Van Damme, Frank Marocco, the UMKC Community Accordion Orchestra and many more.

In addition to competitions for all ages and abilities, workshops, trade show displays, the festival will feature the 2005 Festival Orchestra under the direction of Joan Sommers.

This year the festival will feature 11 workshops, including:
Art Van Damme - Q/A: Art's Career and Music
Frank Marocco - Left-Hand Accompaniment Techniques
Ken Kotwitz - Enjoying the Journey
John Simkus - Accompanying Jazz Musicians
Ginny Mac - No Limitations!!
Jim Rommel - Musicality Workshop
Sharon Seaton - Accordionists' Tips for Performances
Gordon Kohl - Entering the Performance Arena
Jeff Crilley - Free Publicity
Russian Folk Instruments - Misha Litvin
Dan/Kim Christian - Musical Styles and Variety
For the festival schedule, workshop descriptions, Festival Orchestra information and on-line festival registration, please visit: www.accordions.com/atg



---
RMAC Festival in Montana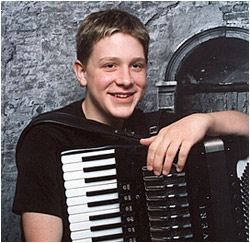 Should your travels take you to Montana from Friday August 5 - Sunday August 7 - 2005, a cultural surprise will await you in Philipsburg, Montana. We invite you to share with us and other accordion players and enthusiasts from around the world, our ninth annual celebration. In an ever ending effort to incorporate all aspects of the accordion, we are introducing new to RMAC:

Sammy Thomas (right)... you won't want to miss Sammy Thomas on stage at the RMAC festival. We have watched this young man become a premier concert accordionist.

The New Iberians (Zydeco) will be our featured Saturday night entertainers from Louisiana, via Portland, Oregon. Also this year Mike and Margie Aman from Denver, Colorado, with a display of Monarch accordions, will be offering two workshops daily. Thursday through Saturday. For a special treat, see them perform on the Platzl Friday evening.

New!! The fun, exciting, Awesome Polka Babes will open Friday on the Platzl.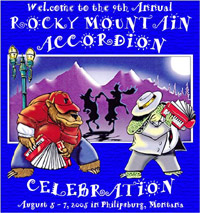 From its beginning in August of 1997, the Rocky Mountain Accordion Celebration has been a rousing weekend of dancing and listening to music, steak barbeques and outdoor pancake breakfasts, concerts in the 1892 Opera House and a parade of homemade pies.

With the platzl and the tented dance floors in the center of this picturesque 1890's town, visitors, residents and participants alike find fun, food and frolic. Dance or tap your toes to the music, in the sun or shade, by starlight or streetlight

Philipsburg lies in the Flint Creek Valley between Anaconda and Drummond. A quiet little village, Philipsburg has streets dressed in 1880 vintage paint and exterior. It is surrounded by ranches, the Pintler Mountain Range and superb fishing on Flint Creek and George Town Lake.

Accordion enthusiasts, players, and dancers come to strut their stuff. Concerts are held in the 1892 Opera House Theater. Accordions of all shapes and sizes perform on the streets, in the pubs, and all over the campgrounds. Waltz, Polka, Two-step, Fox-trot or Tango to Ethnic music as well as ragtime and jazz. If you sort of forgot how or have never danced, instruction is available. The Celebration is one of sharing dancing, apple pie and the love of accordion music.

RV parking and Full Service hook ups are limited. Open Parking available at Sunshine Station & the City Park, or anywhere else in Town. Residents will share space and even rooms if necessary. Free Dump Station, Gas & Water available at Sunshine Station. The area behind the museum is closed for construction.

Come early. Stay late. Fish, hike, explore the old mining towns or hunt for sapphires.

For the festival schedule and other information, please visit: www.accordions.com/rmac


---
Las Vegas Convention to Celebrate Legendary Birthdays!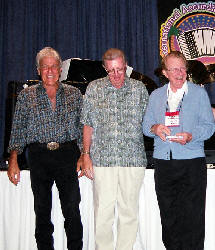 Las Vegas International Accordion Convention set to honor the three Accordion Legends - 2005 marks the 85th birthdays for Myron Floren and Art Van Damme - and the 75th birthday of Dick Contino.

This year the convention is celebrating its Sixth Anniversary, and our theme is "A World of Entertainment," focusing on the accordion's broad appeal. Artists and music from around the world will be highlighted,including Gary Blair from Scotland and Bernedette Conlon from Australia. Seven concerts and seven meals will be provided in one low registration fee. Early registration is recommended, as the convention expects to sell out.

Headliners for the 2005 Las Vegas International Accordion Convention include, Dick Contino, Art Van Damme, Peter Soave, plus Gary Blair, Mario Tacca & Mary Mancini. Featured artists include Tony Lovello, Stas Venglevski, Bernedette Conlon, and The "K" Trio. There will be Special Appearances by Pete Barbutti & Myron Floren, and our Honorary Conductor is Peter Soave. Also appearing will be Gina Brannelli, Mady Soave, Ron Borelli, Gordon Kohl, Julien Labro and many more

With a sell out attendance this year as the convention moves to its new home at the Gold Coast, attendees are invited to visit www.accordionstars.com for registration information.


---
Wayne Toups performs many May Concerts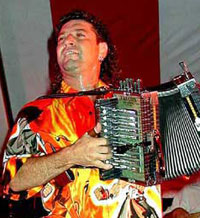 Cajun accordionist Wayne Toups is keeping a busy concert schedule with May performances as follows:
May 4 - Baton Rouge, LA Texas Club
May 6 - Alexandria, LA River Festival
May 7 - Kaplan, LA Louisiana Cajun Food Festival
May 8 - Lake Charles, LA Contraband Days
May 12 - Jasper, TX Lions Club Rodeo
May 26 - Shreveport, La Mud Bug Fest
May 27 - Alexandria, LA GG's
May 28 - Gonzales, LA Jambalaya Festival
Born to a French-speaking rice farmer in Crowley, LA. Wayne Toups was steeped in bayou music from boyhood. He learned to play Cajun accordion at age 13 and was soon on stage in local talent contests playing the tunes of Iry LaJeune and other heroes of his culture.

As time went on, Toups began incorporating the soul music of Otis Redding, Aretha Franklin, Percy Sledge and Wilson Pickett into his sound. By the 1980's he'd picked up influences from rock bands such as The Doobie Brothers. Lynard Skynyrd and The Allman Brothers. He decided he wanted to make music for "the younger generation," as he puts it, by stirring all of this into his musical stew.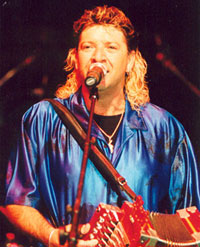 He debuted his fusion style on a 1987 album called ZydeCajun. And he's been crisscrossing musical genres ever since. Signed to Mercury Records, Toups became the first Cajun act to crack the Top Pop Albums chart when Blast From the Bayou appeared in 1989. He was tapped to sing the theme song for TV's Broken Badges series and his "Two Step Mamou" appeared on the soundtrack of the hit movie Steel Magnolias. Mercury issued Fish Out of Water in 1990. This time, Toups toured Southeast Asia. A year later he conquered Europe with a series of S.R.O. concerts.

Next, country stars began calling to request his sound on their records. Mark Chestnutt hired Toups and his accordion to back him on his No. 1 hits "Gonna Get a Life" and "It Sure is Monday." That's Toups on Clay Walker's chart-topper "Live Laugh Love." That's also Toups on the giant Alan Jackson hit "Little Bitty." Sammy Kershaw featured Toups in both his video and his recording of "Christmas Times A-Coming." George Jones, Mark Wills and others have requested the Toups touch on Music Row. So has British pop star Thomas Dolby, who hired Toups for his albums Astronauts & Heretics (1992) and Retrospective (1995).
"The most recent time I was up in Nashville it was to work with Garth Brooks and Ty England," Toups reports. "Garth was producing him, and I think he's the one who requested me. We had our pictures taken together. He even drove us back to our hotel room afterwards. Maybe it was because I'm a musician and he was infatuated by the sound of the accordion and the way that I played it, but he was really a sweetheart to me and my wife."
His own recording career has continued as well. His Back to The Bayou album of 1995 yielded a substantial regional hit, "Take My Hand" and other Toups tunes appeared on the soundtrack of the film Dirty Rice.
"This year it's more of the same," says the acclaimed stylist, "all the festivals we normally do, with sold-out shows everywhere we go. We'll be out there doing 100 or 125 shows and I'd like to get it even higher than that. I love to work. It's exciting. I'm still loving every minute of it."
Wayne Toups is a true American original. He has fused such styles as cajun, zydeco, rock, folk, R&B and country into his own unique and very popular brand of music he terms as 'zyde-cajun.' On "Little Wooden Box," Wayne returns to his Louisiana roots and performs many Cajun and Louisiana classics. Included in the mix is a version of the unofficial Louisiana state song "New Orleans Ladies" in French!!!

For more information, please visit www.waynetoups.com


---
Polka Dot Wizard in Concert in Portland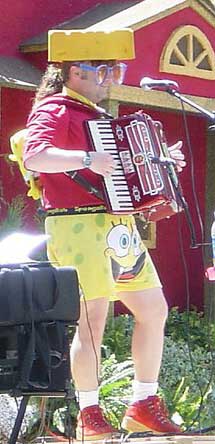 The Polka Dot Wizard will be performing on Monday, May 2, 2005 at the Portland Oregon Convention Center from 11:00 - 1:00 PM in a public concert.

Formerly known as "Samson & Delight-Ya", Botielus (aka Samson) has become a Wizard!

The Polka Dot Wizard plays wacky renditions of your favorite songs. He believes that corn and cheese are good, and boy, does he lay it on thick! His repertoire is filled with a wide range of songs ranging from Stairway To Heaven to The Chicken Dance, with TV theme songs and commercial jingles thrown in. He can perform anywhere from an acoustic, roaming accordionist all the way to a full stage show (with his own fog machine!).

And while usually performing solo, he can also add special guest guitarist "Steven St Cheese" when the schedule and conditions permit.

In the Wizard's performances, no only does he play FUN renditions of songs, but the Wizard's shows are very interactive, with "guess the song" quizzes, as well as handing out their own songbooks and lists for sing-a-longs, and FUN group dances. The Wizard is also available for 'squeez-a-grams'.

For more information, please visit: www.PolkaDotWizard.com or contact: The Polka Dot Wizard, PO Box 6714, Portland OR 97228-6714, USA or phone: (503)282-4058.



---
Cajun Zydeco Festival in Deerfield Beach, FL

From May 13-14, 2005 ( Friday– 5:30 pm – 11pm; Saturday – 11am – 11pm; Sunday 11am – 8 pm) the Broward County Parks and Recreation will hold the Cajun/Zydeco Festival at: Quiet Waters Park in the City of Deerfield Beach.

The festival aims to create an entertaining, cultural and educational opportunity by presenting authentic Cajun/Zydeco music and food representing the culture of Southern Louisiana.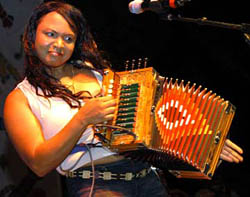 The festival will continue with all of the traditional activities of previous Cajun/Zydeco festivals such as: Gumbo cook-offs, daily Crawfish Eating Contests, the Crazee Kids Zone (full scale children's area), Crawfish races and arts and craft vendors. Live music will be continuous with three stages of authentic Cajun and zydeco music jam-packed with outstanding talented performers and ample dancing on four wooden dance floors. And of course, the festival would not be complete without the over 35,000 pounds of live crawfish and plenty of hot 'n' spicy Cajun/Creole food served by area restaurants.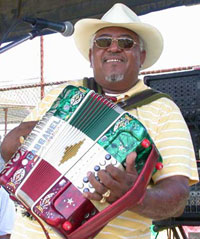 This years festival includes performers such as: Rosie Ledet (above), Roy Carrier (left), J.B.'s Zydeco Zoo, Curley Taylor, The Porchdogs, T-Sale, C. J. Chenier & The Red Hot Louisiana Band, Chubby Carrier & The Bayou Swamp Band, Dikki Du & The Zydeco Crew, Leroy Thomas & the Roadrunners, The Bluerunners and more.
Entertainers, crafters or vendors interested in participating in this year's event, please contact Bobby Rodriguez Productions at 954-771-7117.

For more information, please visit: www.cajun-fest.com

---
Ivano Battiston in IA Concert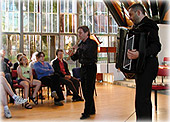 Accordionist Ivano Battiston gave a well received concert of chamber music in Des Moines, Iowa April 6, 2005 as part of his American concert tour.

This free concert hosted at Drake University, was a rare opportunity to here this refined musician in a program of Bach, Corelli, Piazzolla and others. He was joined by his colleague, David Bellugi, whose virtuosic recorder playing blended beautifully with Battiston's
accordion.

Battiston is professor of Accordion at the "Cherubini" Conservatory of Music in Florence, Italy. For more information, please visit: www.ivanobattiston.com


---
Showstoppers Accordion Orchestra and Dancers Concert

On Friday June 17 - 7:00PM, the Showstoppers Orchestra and Dancers will perform a free concert at the Greeley Park Outdoor Stage in Nashua, NH.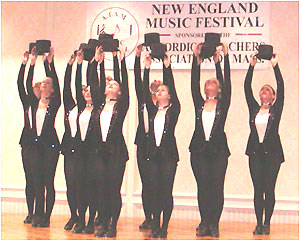 The 45 Showstoppers Orchestra and Dancers are students of the Rosita Lee Music & Dance Centers in Hudson, NH. Formed in 1970, the Showstoppers have toured the United States, Italy and Canada as well as all accross the United States including many shows at Walt Disney World in Florida. The orchestra is under the direction of Rosita Lee Latulippe and the dancers are under the direction of Shelly Latulippe-Klimas.

The show will include song and dance routines, audience participation selections, and is suited for family entertainment.

For information, please contact Roger Latulippe at 603/882-8940 or e-mail: info@rositalee.com
---

---
Note: In order to provide as much information as possible for the United States National Accordion News stories, many different sources are often researched to gather additional information and pictures to complement what has been submitted. This information is then correlated to provide the news on www.accordionusa.com in the spirit of which it is intended, which is to provide a free news service to the Accordion Community, specifically in the United Sates. If you feel any copyright has been violated please advise www.accordionusa.com and the article will be removed immediately.