Ha! Ha! Wa! Wa! The Accordion Can Kill You!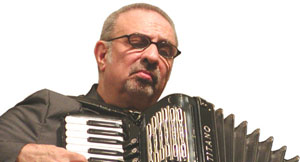 The American Accordionists' Association Annual Master Class and Concert Series will be moving into its 12th year. It is moderated and organized by Dr. William Schimmel, who received the Confederation Internationale des Accordeonistes (CIA) Merit Award in conjunction with the 10th anniversary of 'The Seminars' - the term used by participants and the New York artistic community, which it was initially designed for.

The three-day event will take place on July 28th, 29th and 30th at the Tenri Cultural Institute of New York, and this year's title is HA HA! WA WA! THE ACCORDION CAN KILL YOU!
For further information please visit the AAA website, or contact Dr. Schimmel via e-mail: billschimmel@billschimmel.com


---
Former US Champion William Samonek Passes Away

William M. Samonek, age 46, of Fairfield, died Wednesday, May 3, 2006 in Beacon Falls. Born in Bridgeport to John C. and Anastasia (Alice) Werchak Samonek, he was a Fairfield resident since 1961. He was a graduate of Roger Ludlowe High School and attended the University of Bridgeport.

An accomplished accordion player, he had placed first in United States Competition in 1977 and third in the CIA Coupe Mondiale World Competition later that year in Eindhoven, Netherlands.

Bill was also a keyboard player and was a freelance musician. In addition to his parents, he is survived by two sons, William Samonek of Bridgeport and Jonathan Samonek of Derby; one brother, Kenneth Samonek and his wife, Nancy, of Monroe; one sister, Carol Ann Fawver and her husband, Harlen, of New Hampshire; and several nieces, nephews and cousins.

The funeral is Saturday, May 6, 2006 at 9:00 AM in the Pistey Funeral Home, 2155 Main Street, Stratford, with the Rev. Vadim Pismenny officiating. Interment will follow in St. John's Cemetery, Monroe. Friends may call Friday from 4 to 6 p.m. Panikhida services will be at 4:30 PM.

To sign the guest book please click here.


---
UMKC Conservatory of Music Celebrates 100th Year


The University of Missour-Kansas City Community Accordion Orchestra directed by Joan C. Sommers performed a sensational concert at a program celebrating the UMKC Conservatory of Music's 100th Anniversary on April 22, 2006. The orchestra included many alumni members of the UMKC Accordion Orchestra, with members coming in from as far afield as New York, Los Angeles and Washington State, as well as Kansas and Oklahoma.

Joan C. Sommers has directed the world famous University of Missouri-Kansas City (UMKC) Accordion Orchestra since it formed over 45 years ago, when she established the accordion program at UMKC in 1961.

During its long history, the UMKC Accordion Orchestra has won many national titles in the USA, and toured to such places as Germany, Switzerland, Austria, England, Scotland, Sweden, Denmark, Russia, Estonia, New Zealand, Australia, Hungary, Czech Republic and Italy.

The orchestra presents regular concerts at the University and has made guest appearances at national festivals and other important engagements throughout the United States.

Highlights include appearances with the Kansas City Symphony, the Kansas City Civic Symphony Orchestra, and at the American Accordionists Association, the Accordionists and Teachers Guild, International, and the Accordion Federation of North America Annual Festivals.

With concert repertoire includes original accordion orchestra music, orchestral transcriptions, Broadway Music, Jazz and popular favorites, the UMKC Accordion Orchestra members consist of UMKC students, graduates, alumni and special guests who accompany the orchestra when on tour.

In conjunction with this 40th Anniversary Concert in 2001, the UMKC Accordion Orchestra released a set of six CD's highlighting the 40 years of accordion greatness.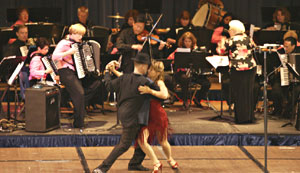 The orchestra performed several works by Piazzolla and featured violinist Benny Kim as well as the UMKC Accordion Orchestra concert master Karen Fremar, pianist Mark Lowery and Tango Dancers.

The program for the 100th Anniversary Concert of the UMKC Conservatory of Music was:
Teufelstanz - Hellmesberger
Scherzo - Moussorgsky
Bugler's Holiday - Anderson
Fuga 9 - Piazzolla
Oblivion - Piazzolla
Libertango - Piazzolla
Chorale and Igra from Suite for Accordion Orchestra - Bruci
South Pacific Medley - Rodgers and Hammerstein
Radetzsky March - J. Strauss, Sr.


---
Accordion Documentaries on Link TV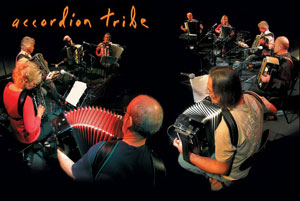 Link TV has recently acquired and begun broadcasting a documentary about "Accordion Tribe" a group which features Guy Klucevsek (USA), Maria Kalaniemi (Finland), Bratko Bibic (Slovenia), Lars Hollmer (Sweden), and Otto Lechner (Austria).

Another documentary appearing on Link TV is about Finnish accordionist Kimmo Pohjonen, a fascinating avant-garde accordionist who has worked in collaboration with the Kronos Quartet.

The man heavily involved in both of these documentaries is Phillip Page, who among other things is the manager of Varttina, the band that is doing the music for the theatrical version of "Lord of the Rings." An American who relocated to Finland many years ago, he runs the website www.hoedown.com and anyone interested in the documentaries should contact him through the www.hoedown.com website.


---
AAA to present Lifetime Achievement Award to Frank Marocco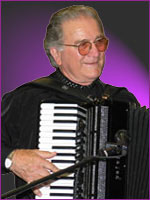 The American Accordionists' Association proudly presents their coveted "LIFETIME ACHIEVEMENT AWARD" event recognizing the contributions to the accordion world by performer extraordinaire, Frank Marocco. The function will take place Sunday, June 4th at 12:00 noon at LaFiesta Caterers o Route 17S - Wood-Ridge, New Jersey (201-939-5409).

Guest artists on this celebration day will include: Nick Ballarini, Tony Dannon and Joe Cerrito, The United States Army Strings featuring SGM Manny Bobenrieth on accordion, Eddie Monteiro and the maestro himself, Frank Marocco, plus several "surprise" guests!

Directions to La Fiesta, Route 17S, Wood-Ridge, NJ. Phone: 201-939-5409

Turnpike North - Exit 16 W to Rt. 3 West. Continue on 3 West to Rt. 17 North. Fiesta is 3 miles on left.
Parkway North - Exit 153A, Rt. 3 East. Continue on Rt. 3 East to Rt. 17 North. Fiesta is 3 miles on left.
Parkway South - Exit 163, Rt. 17 South. Fiesta is 5 miles on right.
GW Bridge - Take Rt. 80 or Rt. 46 West to Rt. 17 South. Fiesta is 3 miles on right.
Lincoln Tunnel - Take Rt. 3 West to Rt. 17 North. Fiesta is 3 miles on left.
Route 80 East - Exit 64, Rt. 17 South. Fiesta is 3 miles on right.
Special arrangements for hotel accommodations have been made at the Courtyard Marriott in Lyndhurst, New Jersey (a short distance from the Fiesta). Rate of $104 is valid until May 20, 2006. Please mention American Accordionists' Association to obtain discounted rate. For reservations, contact the Courtyard Marriott at 800-321-2211.

Tickets may be purchased for $70.00 per person includes complete dinner and entertainment. For Reservations and Information: AAA Executive Office (201) 991-2233 or e-mail: AAA1938@aol.com Please RSVP on or before May 19th, 2006.


---
Victor Prieto Announces Summer Concerts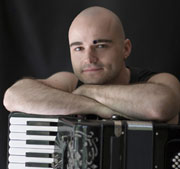 Accordionist Victor Prieto will be performing on May 1st at the Immigrant Sounds Festival in New York, and then on May 5th he will be performing with the Dan Garcia Quintet at the Queens Theater.

An accordionist and composer, Victor has been revolutionizing the way that the accordion is played by creating new sounds and techniques for this instrument. His music embraces different tendencies that come from jazz, Tango, Classical and Celtic roots enriched with new rhythms and colors. He is the creator of a new technique for the accordion called "chord approach on both hands," which creates rich and elaborate harmonies.

Victor Prieto was born in Orense (Spain) in 1975. At the age of nine influenced by his mother Victor begun to play the accordion. He pursued his studies in Classical accordion at the Orense Conservatory (Spain), while taking harmony, arranging and improvisation classes at Estudio Escola de Musica (Santiago de Compostela, Spain). After receiving the opportunity and award by the highly respected Jazz school- Berklee College of Music- Victor decided to pursue the performance major in Accordion under the direction of Joanne Brackeen. Victor is the first and only of his kind, to specialize and apply studies in Accordion at Berklee College of Music. During his stay at Berklee Victor becomes friends with one of his mentors, Oscar Stagnaro who introduces him to some of the people he will be playing with, Paquito D'Rivera, Diego Urcola, Carlo DeRosa, Mark Walker, David Sammuels, Allison Miller, Lionel Louke.

Victor graduated from Berklee and moved to New York City where he became the Jazz Accordion Professor at the Brooklyn Conservatory. In addition, he teaches Master Classes in Spain, Italy, Portugal, and USA. He is a recipient of more than twenty coveted awards such as the first prize at the Citta De Catelfidardo Jazz Competition (Italy), the Creative Performer award from the Spanish Association of Artists and Performers, and the first prize at CMZK's Concourse of Composition (Argentina).

He has performed at many prestigious venues and events such as Berklee Performance Center, Lincoln Center, Dizzy's Coca-Cola Club, New Jersey Performance Art Center, Three Rivers Musical Festival, Williamsburg Jazz Festival, Mary D'Angelo Performing Arts Center.

Victor now lives and performs in New York City and he has recently introduced his first CD, "Persistencia," which was produced by Foxhaven jazz records.

Coming up, Victor and his Trio will perform at The Blue Note in New York on June 25th and soon afterwards at the International Jazz festival of Vigo City "Imaxina Sons" Spain.

Victor Prieto will be featured in the May issue of the magazine 'All About Jazz NY', with a review of his April 1st performance at Dizzy's Coca-Cola Club at the Lincoln Center
For further information e-mail: victorprieto2001@yahoo.com


---
Charles Giordano plays Accordion on new Springsteen CD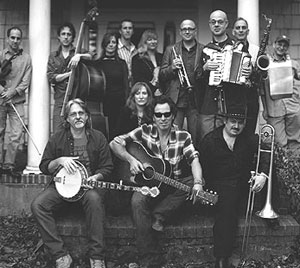 Rock singer Bruce Springsteen's new CD 'We Shall Overcome: The Seeger Sessions' features songs written or made famous by the legendary American folk singer Pete Seeger. This recording is a departure from Springsteen's usual style, and the accompanying band for the recording and forthcoming European tour includes Charles Giordano on piano accordion, whose contribution is to add a Cajun and Zydeco feel to the overall sound.
The new CD made its public debut when Springsteen appeared at the New Orleans Jazz & Heritage Festival on April 30th, 2006.

---
Classical Accordion Raises more than $300.00 on FM Station
The Classical Accordion was featured on Dayton Public FM Radio stations WDPR and WDPG on April 5th, from noon until 1:00 PM. Classical accordion aficionado (and mayor of Webster Station, Ohio) Charlie Campbell sponsored a $250 Challenge Grant during the station's Spring Fundraiser. He appeared on the air promoting the classical accordion and playing excerpts from Henry Doktorski's solo compact disc 'Classical Accordion Recital' in an effort to convince listeners to telephone the station and make a pledge. His theme was "Accordion, Yes!"
To make the broadcast more interesting, Campbell's partner on the show, Susie Weaver, acted as a foil and proclaimed "Accordion, No!" and played classical music without accordion.
However, Mr. Campbell had a slight edge, as the previous day he had sent an e-mail message to Henry Doktorski announcing the event, and requested that Mr. Doktorski send a message to the members of his classical accordion e-mail list (over 200 people), including many overseas classical accordion lovers.
Tone C. Hundére, from Norway, was so excited about the event, that she publicized it by putting a prominent notice on the homepage of www.trekkspill.no, the largest and most popular website devoted to the accordion in the Norwegian language. It is possible that hundreds of accordionists worldwide tuned in to hear the broadcast.
The "Accordions Yes!" camp secured seven pledges worth over $300.00 while the "Accordions No!" camp only secured two pledges worth $90.00.


---
16th San Francisco Accordion Festival
The 16th annual San Francisco Accordion Festival, a free event celebrating National Accordion Awareness Month as well as highlighting San Francisco's official musical instrument, will be held on June 4th in the Del Monte Square at the Cannery at Fisherman's Wharf. This event goes from 12 noon until 6:00 PM, featuring a wide variety of accordion-based bands and will include the San Francisco's Main Squeeze Pageant.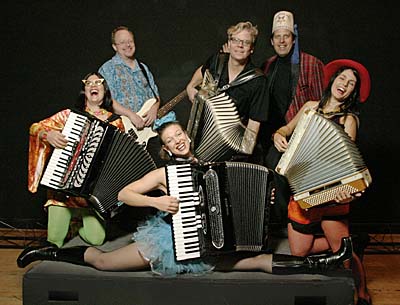 The San Francisco Accordion Festival, organized by Tom Torriglia, is also a fundraiser for 'Music in Schools Today' by selling raffle tickets for the chance to win fabulous prizes. Festival attendees may also drop off unwanted instruments at the Festival and Music in Schools Today will recycle the instruments into Bay Area schools.
Accordion-based artistes appearing at the festival include The San Francisco Accordion Band, Kielbasia - The Polish Lunch Lady, Culann's Hounds (Fired-up Irish music), Conjunto Romero, Big Lou's Polka Casserole, Bella Ciao (Italiano swing and pop) and Those Darn Accordions who are pictured above.
For further information e-mail: tom@ladyofspain.com


---
Accordion Marriage in Canada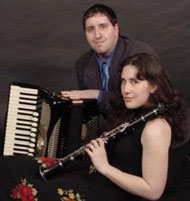 On May 27th, at 1.30 PM, Acclarion, Canada's premier classical accordion and clarinet duo, invites you to join them as they share their love for music and each other in a special Concert-Wedding to take place at the University of Toronto's Edward Johnson Building.
Becky Sajo and David Carovillano were two strangers with a common interest that would unite them in more ways than one. Having met at the University of Toronto, Faculty of Music, Becky with the clarinet, and David with the accordion, it was a chance opportunity to perform together in David's final year of his Master's degree that would change their lives forever.
"I asked Becky to perform Ray Leudeke's 'Serenity' for accordion and clarinet on my final recital based on someone's recommendation. She responded with a husky, business-like tone that she would 'think about it'. After agreeing to do it, we learned quickly in rehearsal that we had a lot more in common than just music. Soon, after school was complete, we were planning our future together, both musically and personally!" says David.
With their musical future looking bright, Becky and David are thrilled to share their special day with family, friends, and music enthusiasts. Joining them for the concert portion of the event will be harpist, Erica Goodman, and pianist, Angela Park debuting new compositions by David. Acclarion will perform a sixty-minute concert of 'ear tickling music' on stage at University of Toronto's Walter Hall, Edward Johnson Building, to be immediately followed by their wedding ceremony on the very same stage. A cocktail reception will follow and all are welcome to attend.
For further information e-mail: acclarion@yahoo.ca


---
Promoting Your Accordion Services Free at AWW

The Internet is changing the way your customers are searching for services. The days of lugging out a 12 lb. telephone book to find very limited and outdated business information are coming to an end. People are still letting their fingers do the walking, but they're doing it over a computer keyboard. Below are some revealing facts from the Kelsey Group.
74% of US households use the Internet as an information source when shopping.
Approximately 45% of searches had a buying intent.
The percentage of respondents who used yellow page directories decreased from 75% to 62%.
(If you have a printed yellow page ad, it is time to consider buying a smaller ad and shifting your marketing dollars to the Internet.) The off-line Yellow Pages see the writing on the wall and are scrambling to transfer their business model to the Internet.
Businesses can no longer ignore these facts. If you want to be successful, you must have a presence where your customers are searching. Being found on the Internet is vital to the future of your business.



The Accordion Yellow Pages offers free of charge listing for all accordion businesses, teachers and for every type of service for accordionists. On the Accordion Yellow Pages site, you do not need to have a website for accordionists find you and contact you.



The search-accordion.com site is also free of charge, being a listing service for every type of accordion service but you must have a website. Viewers of search-accordion.com can click to your website.



Very popular is the AccordionLinks.com site where those accordion service providers with a website, can attract accordionists free of charge to their website.

All it takes is a little effort, to make sure your information on these three popular and very effective accordion sites is up to date. Your future success may well be determined by your ability to effectively adapt to the Internet. Should it be your New Year's resolution for 2006?

---
Colombian Radio Show at Columbia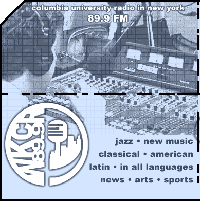 The radio program Sonidos Colombianos broadcasts on Friday nights from 10:00 PM - 11:00 PM on WKCR 89.9 FM WKCR 89.9 FM is Columbia University's student run, and listener-supported radio station presenting noncommercial programming to the New York metropolitan area. This station often showcases the accordion music of Colombia in its folkloric and popular forms with rarely heard recordings of accordion greats such as Alfredo Gutierrez, Alejandro Duran, and Emiliano Zuleta; and featuring some live recordings from the some of the Vallenato festivals held in Valledupar, Colombia.
Although WKCR 89.9 FM is based at Columbia University in New York City, listeners can tune in from all over the globe by logging on to our website or for further information e-mail: sr2@law.columbia.edu


---
US Delegation at Shanghai Spring International Accordion Festival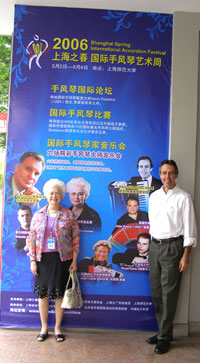 Peter Soave (pictured above with Symphony at the Shanghai Spring International Accordion Festival Opening Ceremony Concert) and Mady Soave, Joan Sommers and Kevin Friedrich make up the US based delegation attending the Shanghai Spring International Accordion Festival in Shanghai, China from May 2-6, 2006.

Peter and Mady Soave (pictured below) were invited as concert artists, while Joan Sommers is serving as a jury member, and Kevin Friedrich a VIP Guest as the President of the Confederation Internationale des Accordeonistes (CIA).

Attracting over 400 entries from around the world, the event also features some of the worlds most talented accordion artists in classical and entertainment performing solo, in duo and in the case of Peter Soave, also with Symphony Orchestra.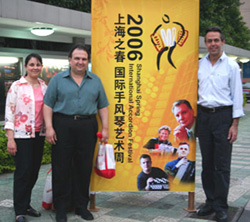 After the Shanghai Festival, Peter and Mady will continue to concertize performing in Beijing and Mongolia.

For comprehensive daily reports on the festival, please visit www.accordions.com/china


---
Blues Accordion DVD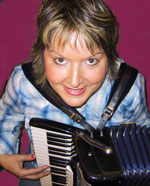 A DVD by Debra Peters, titled 'The ABCs of Accordion Basics Blues, Chords, & Chops (for Piano Accordion)' has recently become available. This DVD focuses on teaching and learning the blues on the piano accordion in a step-by-step play along tutorial.
Texas accordion teacher and performer Debra Peters includes such lessons as arpeggios, trills and chord patterns for the treble keyboard, and the 5 most common bass patterns for left hand playing. The viewer can play along 'by ear' while watching close-ups of the keys and buttons.
For further information e-mail: dpeters33472@sbcglobal.net

---
Shetland Island Accordionists to Tour USA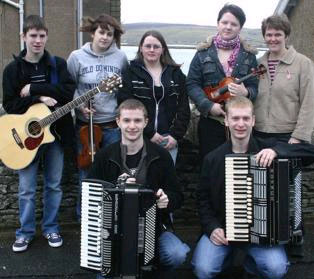 Eight of Shetland's top young traditional musicians, ranging in ages from 15 to 26, are due to leave the islands toward the end of April 2006 to undertake a two-week tour of America. While there they will make an appearance at a major American Celtic music festival, perform a number of high profile concerts in their own right (largely throughout New York State), undertake a range of performances and workshops in American schools and colleges and make appearances on national radio and possibly television.
The musicians involved are: James Leask (accordion) Darren Stewart (accordion and drums) Ross Couper (fiddle and guitar) Ryan Couper (guitar) Vicky Gray (fiddle) Gemma Donald (fiddle) Lois Nicol (fiddle) and Clair Laurenson (piano) (pictured above: back (from left): Ryan Couper, Lois Nicol, Claire Laurenson, Gemma Donald and Margaret Scollay. Front: Darren Stewart and James Leask.
The group, collectively known as 'Gaddery (a 'gathering' in Shetland dialect) especially for the visit, will be accompanied by local fiddle tutor, musician and composer Margaret Scollay. Margaret, who will act as musical director for the live appearances, will also lead workshops for American students, together with providing a wide range of information regarding Shetland's musical culture and history to concert audiences throughout the visit.
The group have been specially brought together by the new Arts Development Agency 'Shetland Arts' for the trip and while in the USA will deliver a wide variety of Shetland traditional music performances incorporating solo fiddle, fiddle group(s), a Shetland dance band and a full blown Shetland session band. The tour itinerary has been organised by Robyn Boyd of Wooden Ship Productions, who act as agents in the USA for 'Shetland Arts', while the visit also has the direct support of Congressman John Sweeney who will meet the party during the visit.
At one of the concerts in Hudson NY the musicians, and those accompanying them, will be granted the 'Freedom of the City of Hudson,
The group will also undertake concert performances in a number of American schools, followed by workshops involving the students there, which it is hoped will lead to ongoing contact, and possibly further exchanges, in the future. Among the 'schools' to be visited will be the world famous Rudolph Steiner School in Great Barrington MA and the Lehigh Charter High School for the Performing Arts in Bethlehem PA.
The tour will come to a close with the group making two major appearances at the acclaimed 'Celebration of the Celts' festival in New York State on Saturday 6th May 2006.
'Shetland Arts' music development officer Davie Gardner said "This is a very exciting and important visit for all concerned and strategically follows on from our successful visit to Austin in February with 'Fiddlers Bid' and 'Shoormal'. I'm certain it will be hugely beneficial in many ways for everyone concerned. Having an influential agent such as Wooden Ship Productions acting for our interests in the US is now opening all sorts of doors for us in this respect and making much higher impact visits a more regular reality.
The fact that high profile politicians, concert promoters, radio and television stations are also involved illustrates the potential our music and culture has in this particular region.
It's equally important to get the chance to visit a number of schools during the tour so that we can show young people in the States exactly where Shetland is in the world and what we are all about in a community sense and, of course, to get their young musicians directly involved with our music and culture.
The CELEBRATION OF CELTS festival will take place Saturday, May 6th, 2006 at the Columbia County Fair Grounds in Chatham, NY. For further information contact: Anne Macpherson: storm@mhcable.com or call 518 851-9670.

---
---
---
Note: In order to provide as much information as possible for the United States National Accordion News stories, many different sources are often researched to gather additional information and pictures to complement what has been submitted. This information is then correlated to provide the news on www.accordionusa.com in the spirit of which it is intended, which is to provide a free news service to the Accordion Community, specifically in the United Sates. If you feel any copyright has been violated please advise www.accordionusa.com and the article will be removed immediately.