---
Final Curtain Call for "Accordion Diva" Maddalena Belfiore-Greco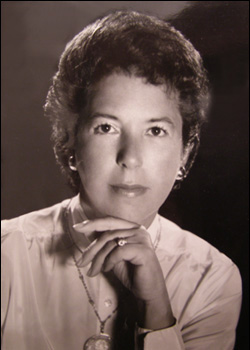 Accordionists from around the world are saddened to learn of the passing of Maddalena Belfiore.
Visitation will be held at the:
Armitage Funeral Home
596 Belgrove Drive, Kearny, NJ 07032.
Phone: 201-991-0657

Monday 21 May, 6-9 PM
Tuesday, 22 May, 4-9 PM

The funeral will be held on Wednesday at 10:30 AM at: St. Stephen's Church, 676 Kearny Avenue, Kearny, NJ 07032.

Messages of condolence, may be sent to:
58 W. Bennett Ave.
Kearny NJ 07032, USA

The family requests memorial donations to be sent to the Maddalena Belfiore-Greco Fund at the American Accordionists' Association
152 Home Fair Drive
Fairfield, CT 06825
USA
---
FINAL CURTAIN CALL FOR "ACCORDION DIVA," MADDALENA BELFIORE-GRECO
by Faithe Deffner, LONGTIME FRIEND AND FELLOW AAA BOARD MEMBER
On May 18, 2007, Maddalena Belfiore-Greco lost her battle with cancer when she succumbed to the illness, which claimed her life. She drifted off peacefully at home, with her family. Born in Kearny, New Jersey, Maddalena began accordion studies as a five-year-old, and went on to become the "Accordion Diva" of the twentieth century in a whirlwind career, which spanned decades and encompassed numerous aspects of the instrument's evolution.

The list of accordion teachers with whom Belfiore studied reads like a Who's Who of the accordion world: Sanford Hertz, Charles Nunzio, Eugene Ettore, Joe Biviano, Andy Arcari and the stellar Pietro Frosini whose protégé she became. While taking lessons with Frosini, Maddalena also studied at Juilliard in New York City, immersing herself in music theory, ear training, piano and conducting courses, while finishing high school so she could become a full time student at Juilliard. At 17, she had her Carnegie Hall recital.

Maddalena's friendship with Theresa Costello of O. Pagani & Bro., led to the venerated publishing firm commission for her to compose three "Bellows Shake" books, describing the specialized technique, which became synonymous with Belfiore's name. She also composed Valse Diane (written for her niece), Pan Polka (in tribute to the Pancordion which she played for more than 50 years) and Cavalier Waltz (Waltz Brilliante). She arranged Shake a Leg Polka, a Frosini composition. Most of this music is still available through Ernest Deffner Publications.

Maddalena concertised everywhere and met all the great accordionists of the period. Eventually, she met TV accordionist Myron Floren who was also a Pancordion artist. Together with Myron, she co-authored and edited the Myron Floren Method, "Let's Play Duets" and the Showstopper Series, all of which were published by Remick Music during the 1960s.

In 1958, she established her own accordion school in her hometown of Kearny and dedicated herself to teaching hundreds of youngsters to play the instrument she loved. This was the hey day of accordion popularity in the US and her students participated in American Accordionists' Association competitions throughout the ensuing years, winning significant numbers of prizes and distinctions. Eventually, Belfiore became an adjunct professor at Fairleigh Dickinson University in New Jersey.

In the midst of her whirlwind life in the music world, Maddalena met and married Mauro Greco, a real estate developer. Mauro accompanied Maddalena to accordion events all over the world and was a dedicated exponent of his wife's career in music. The couple had two sons, Nat and Frank.

Most of her teachers were past presidents of the American Accordionists' Association and it was inevitable that Maddalena would be drawn into this esteemed organization, which was making great strides in popularizing the instrument and advancing its curriculum.

She was elected to the AAA Board of Governors in 1955 and to the office of secretary a decade later. In 1971, she became the organization's first female president, breaking through the glass ceiling, which dictated that top posts were reserved for men. Her accomplishment facilitated other women to follow and in subsequent years, Elsie Bennett (1973), Addie Cere (1982), Faithe Deffner (1985) and Linda Reed (2005) became presidents.

Maddalena herself held the AAA presidency three different times and was contest chair on several occasions. Among her memorable feats, in 1980, she was hoisted up in a cherry picker to conduct a 1000-accordion massed group playing the Tennessee Waltz at an AAA competition in Nashville, resulting in tremendous publicity for the accordion.

In 1985, Belfiore was appointed Executive Secretary of the AAA and she held that post until very recently when illness caused her to relinquish it.

The American Accordionists' Association's national membership in the Confederation Internationale des Accordeonistes (CIA) became the platform for Maddalena to participate in this international organization which conducts the most prestigious annual accordion competition of world-wide scope. In 1974 she was elected vice president of CIA and held that office for 16 years, attending many international events and serving as one of the AAA delegates to the congresses.

She received the CIA Merit Award in 1995 for "outstanding contributions to the international accordion movement" in Avesta, Sweden, for her contribution of numerous documents to the Confederation's archives. In 2007, the Confederation awarded her its second Honorary Membership.

Belfiore was one of those who were instrumental in bringing the 2007 Coupe Mondiale to the US to be held in Alexandria, Virginia from August 13-19, 2007, in celebration of the CIA's
60th anniversary. At the same time as the Coupe takes place, the Maddalena Belfiore Entertainment Competition for Female Accordionists is being held on August 15, 2007. The event, sponsored by accordion dignitary Sylvia Prior of California, offers a $5,000 first place prize.

Few people can claim the many honors and achievements that were ordinary events in the life of Maddalena Belfiore-Greco. She leaves a great legacy within the accordion community. She received the International Golden Lady Award (1976); Massachusetts (1977) and Rhode Island (1978) presented her with Outstanding Achievement awards; Nashville, Tennessee honored her with the Golden Record Award for AAA's massed accordionist performance (1980); she was named "Woman of the Year" for New Jersey (1980); and was selected for the panel for US Life and the Family in Washington, DC (1980).

Maddalena was founder and director of the Arcari Foundation, a past president and director of the Accordion Teachers Association of New Jersey, AAA delegate to the National Music Council and a member of the All-Arts Society of New York.

On AAA's recent CD, titled "Extraordinary Performances by Extraordinary Performers," Belfiore plays La Muchacha de Fuego, Valse Diane, Rita Polka and Shake a Leg Polka.

She is survived by her husband, Mauro Greco, her sons, Nat and Frank and their respective wives, Joanne and Maryann, three grandchildren: Christopher, Adrianna and Alex, her sister Gina Belfiore and niece Diane Venezia.
---

This Celebrity interview with Maddalena Belfiore was conducted at her home in Kearny, New Jersey on March 26, 2006. It was saved to be published to cooincide with two impressive honors to be bestowed upon her at the forth coming CIA Coupe Mondiale in Alexandria, VA.

Now, after her sad passing, we publish this interview in great respect of her legacy in the accordion world.
---


---
Brett Gibson Peforms with Kansas City Civic Symphony


Kansas City based musician Brett Gibson received a rousing standing ovation and encore performance for his rendition of Piazzolla's Concerto when he made his debut with the Kansas City Civic Symphony Orchestra under the direction of Andy Anderson.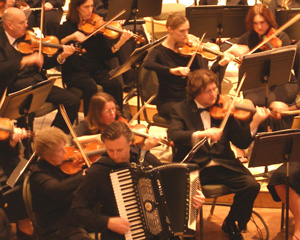 Brett was born in Auckland, New Zealand but now makes his home in the Kansas City area of the United States where he has established himself as one of the leading accordion specialists in the Celtic music scene having performed several seasons with The Elders, Gabriels Gate and is a regular musician with Eddie Delahunt.

Brett began playing the accordion at age seven and at the age of 12 won his first New Zealand championship for that age category and continued to seriously perform and compete into his late teens as a soloist and with duet, trio, quartet, ensemble and orchestra. He went on to tour overseas with both the Air New Zealand Accordion Orchestra and also the UMKC Accordion Orchestra.

The Kansas City Civic Orchestra focuses on community enrichment and interaction, drawing players from all walks of life and bringing music to people of all ages and interests, the Kansas City Civic Symphony's concert on Saturday was the last in the 48th season.


---
Hunter Hayes Video Clip Features in VOIP Ad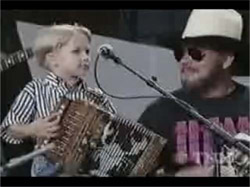 VOIP phone company 2cme featured a video clip of 4 year old Hunter Hayes from Breaux Bridge performing Jambalaya on his diatonic accordion, backed by Hank Williams Junior and his band.

The footage for this advertisement was filmed in 1997 and now Hunter is now 15 years old, but has continued his performing career to this day.

In the case of Hunter Hayes, the saying "He was born to play music" is not a cliche. This fifteen-year-old Cajun prodigy strolls on stage with a huge grin and the confidence of a pro who's been performing, quite literally, all his life, and starts playing. Soon you know it's true. He was born to play!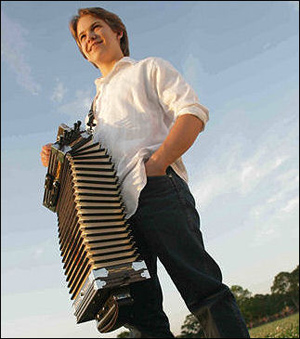 By the time Hunter was just two years old, the pint sized prodigy was sitting in with the house band at Mulate's, a famed Cajun restaurant near Breaux Bridge, Louisiana. Since then, he's performed on numerous television shows and movies, and played with the likes of Hank Williams Jr., Kenny Chesney, Brad Paisley, Charlie Daniels, Wayne Toups & Eddy Raven.

Upcoming performances in May include:
Friday, May 4: Crawfish Festival (7:30 PM) Breaux Bridge, LA
Saturday, May 26-28: Taste of Louisiana in Amana, IA

For more information, please visit www.hunterhayes.com


---
8th Annual Las Vegas International Accordion Convention

The eighth annual Las Vegas International Accordion Convention to be held June 18-21, 2007 at the Gold Coast Hotel in Las Vegas, Nevada will celebrate the first 100 years of the piano accordion in the United States. It was one hundred years ago that the famous accordionist Pietro Deiro professed he played the first piano accordion built in America in 1907, at the Washington Square Theatre in San Francisco.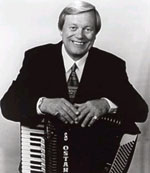 This years event will feature performances by Jazz Legend, Art Van Damme; Grammy Award Winner, Walter Ostanek (right); and four-time International Champion, Peter Soave (below) and others including Leo Aquino (Canada), Gary Blair (United Kingdom), Tony Lovello, Mario Pedone, Soundscape Trio, and young accordion star Sammy Thomas, Joe Domitrowich, Gina Brannelli (United Kingdom), Gordon Kohl, Ron Borelli and more.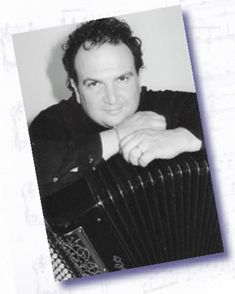 The Las Vegas International Accordion Convention has attracted over 500 participants annually and has attracted attendance from around the world as attendees enjoy concerts, workshops and friendship amongst fellow accordionists.

In exciting breaking news, Presenter Paul Pasquali has announced that the winner of this years 60th CIA Coupe Mondiale World Accordion Championships to be held in Alexandria, VA from August 13-18, 2007 will be sponsored to appear at the Las Vegas International Accordion Convention in 2008.

For more information please contact Paul Pasquali at (800) 472-1695, (801) 486-1695, e-mail paul@accordioninfo.com or to download registration forms and review convention information, please visit www.AccordionStars.com


---
A Weekend of Questionable, Useless & Far Fetched Information?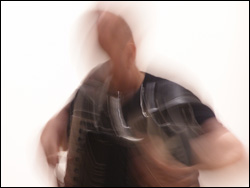 The 2007 American Accordionists' Association Master Class and Concert Series moderated by Dr. William Schimmel is entitled HOGUS/BOGUS - A WEEKEND OF QUESTIONABLE, USELESS AND FAR FETCHED INFORMATION and will be held from JULY 27-29, 2007.

The accordion has two reputations: A REAL ONE - and A BOGUS ONE. The real one is the one that we accordionists are all aware of - through our festivals, contests and fellowship among fellow accordionists. WE KNOW WHAT IT CAN DO! THE BOGUS ONE is the one that all of you out there know - the fact that the accordion can play Lady of Spain by itself (complete with bellows shake) - or in the midst of a classical or rock concert half of you in the audience are yearning to get back to your roots, screaming for polkas, helgatos, jigs and clogs complete with beer and urinal tents - ONE MAN'S REAL/ANOTHER MAN'S BOGUS (Marry, Sir, nose painting, sleep and urine - Macbeth -Act II scene III - Shakespeare).

Here are some starting points:
The Accordion as Magic Square:
Dr. Robert Young McMahan, an avid 12 tone composer, will present a much needed lecture that shows all of the "serial" aspects of the accordion - from original and retrograde bellowing to reed switching and dynamic control -
All within the dodecaphonic framework - including the chrome trimming on the grille.

A Culture if Mis-spelling and Mis-information:
Why can't Leonard Bernstien put accordeen stection in the New York City Sympathy?
Lenny is dead, in case you didn't know. Find out the real reason for no accordeen stections and learn to turn your own juicy blunders and misinformed declamations into culture - and liking it - without even having to go back to night school.

Delight in a Bogus rendition of Alexander Nevsky
Only 10 minutes long - no film - no social fuss - NO Stalin!
Carmina Burana meets the Kama Sutra in Karmina Sutrana - AND - Ben Whore!
A method book romp - from old home study courses that promise the "healing power of the accordion"
to transcriptions of Hanon, Czerney and Cramer - designed to lubricate your joints and get those fingers flying to the point of - well, thank God that the accordion came a bit after Robert Schumann.
Did the great American composer, Roger Sessions write for the accordion? Absolutely not - but thrill to the performance of his first sonata.
What about the myth of the free bass accordion? You know - unlimited possibilities. Does it go way back? Or did Richard Pryor start it?
And the Stradella bass "illusion"- certainly good enough for us - or do we need a new cultural revolution that destroys every one in or out of sight? And/or a new work: The Destruction of the World, by Mee - O?!
Can the accordion "de-camp" Broadway? We think it can - with new renditions of Fiorello, Pajama Game (Pajama Party), West Side Story (6th and Pike) and Fiddler. Using the process of Musical Reality, Dr.Schimmel will demonstrate how Broadway should be - UNBOUND and dominated with THE BUILT IN IRONIC DUALITY - and nothing over twelve minutes. Quick, and yer out! More time to get to Olive Garden for breadsticks and pasta and Leo Lindy's for cheese cake!
EVOLUTION IN THE REALM OF PERMANENT TRANSITION - appearing!/gone!/re-appearing!
And…. living with the discomfort of its "buzz": self-obliteration, "bogus suicide" and "being over there".
AND: Paul Stein as Rabbi Rabbitt singing and playing in Yiddish - yes playing in Yiddish! My Yiddisha Accordion! - also: Topical Squeeze - sucking the juice out of accordion-political satire.
Will Holshouser and Bach Shock - Morning (broken) becomes electroshock - Bach/Musette/Cat Stevens.
Sospeso's Kirk Noreen's The Magician - Ken Laufer's Every Piece Ever Written (in five minutes)

The event will take place at:

THE TENRI CULTURAL INSTITUTE OF NEW YORK
43A WEST 13TH ST. (between 5th and 6th Ave.)
New York City
July 27-29, 2007

Master Classes at 3:00 PM Concerts at 7:00 PM

$20 per master class - THOSE WHO WISH TO PLAY, CONTACT DR. SCHIMMEL
$25 per concert
$40 per entire day - includes master class and concert
$110 per entire weekend - includes three master classes and three concerts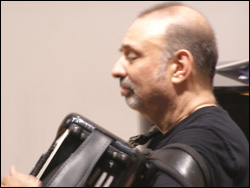 Each afternoon workshop will feature up to five performers who wish to receive advise, criticism and tools for improvement from the presenters, the audience and Dr. Schimmel. Reserve a place early.

Those wishing to play or needing further information are requested to contact Dr. Schimmel -212-876-0827. For further information e-mail: billschimmel@billschimmel.com or visit www.ameraccord.com


---
ATAM Festival in Newton (Boston) MA

The Accordion Teachers' Association of Massachusetts (ATAM) recently held their 45th New England Music Festival in Newton (Boston) Massachusetts.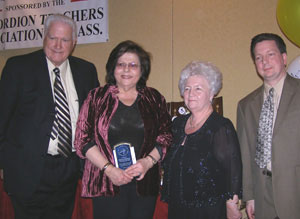 Competitions and festival performances took place during the weekend, ending with the spectacular performance by the Falcetti Music reunion accordion orchestra. The 50 piece orchestra (above) was formed from present and alumni members to celebrate the 50th Anniversary of the Falcetti family music business. With the current conductor Michael Falcetti as concert master, the founding conductor Sam Falcetti stepped back on the podium to conduct his former students, while wife Peggy performed in the orchestra and son Anthony coordinated the elaborate sound system. All four members of the family continue to make their full time living from Falcetti Music.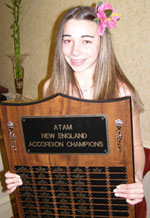 Several awards were given during the weekend, including to honorary ATAM member Faithe Deffner for her lifetime achievement in the advancement of the accordion worldwide. Picture above left, Roger Latulippe (ATAM Contest co-chair), Faithe Deffner, Peggy Falcetti, (ATAM contest co-chair) and Michael Falcetti (ATAM president) presenting the Lifetime Achievement Award to Faithe Deffner. In her acknowledgement speech, Mrs. Deffner applauded the effort of the students, parents and teachers for continuing to promote and support music education.

The New England Accordion Championship was won by 13 year old Danielle Renzi (right) and the Entertainment Solo championship was won by Anthony Falco, both students of Robert Paolo. Anthony also received the special ATAM scholarship award to assist in his upcoming University studies. The Senior Orchestra division was won by the Paolo Accordion Orchestra, under the direction of Robert Paolo.

The 46th Annual ATAM Festival will take place from 4-6 April 2008.

---
Frank Marocco Featured on Movie Sound Tracks

Frank Marocco's accordion work is featured throughout the sound track of two upcoming films, due to be released this year. "Pirates of the Caribbean 3 (music by Hans Zimmer) and "Ratatouille" (music by Michael Giacchini).

The Accordion is very prominent in the "Ratatouille" score with solos accompanied by full Symphony Orchestra. In this new Disney animated-adventure, RATATOUILLE, a rat named Remy dreams of becoming a great French chef despite his family's wishes and the obvious problem of being a rat in a decidedly rodent-phobic profession.

When fate places Remy in the sewers of Paris, he finds himself ideally situated beneath a restaurant made famous by his culinary hero, Auguste Gusteau. Despite the apparent dangers of being an unlikely - and certainly unwanted - visitor in the kitchen of a fine French restaurant, Remy's passion for cooking soon sets into motion a hilarious and exciting rat race that turns the culinary world of Paris upside down. Remy finds himself torn between his calling and passion in life or returning forever to his previous existence as a rat. He learns the truth about friendship, family and having no choice but to be who he really is, a rat who wants to be a chef.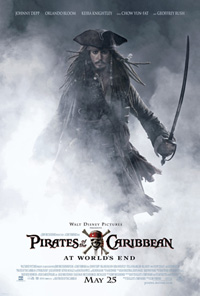 In Pirates of the Caribbean: At Worlds End, after Elizabeth (Keira Knightly), Will (Orlando Bloom), and Captain Barbossa (Geoffrey Rush) rescue Captain Jack Sparrow (Johnny Depp) from the clutches of the Kraken, they must face their foes, Davey Jones (Bill Nighy) and Lord Cutler Beckett (Tom Hollander). Beckett, now with control of Jones' heart, forms a dark alliance with him in order to rule the seas and wipe out the last of the Pirates. Now, Jack, Barbossa, Will, Elizabeth, Tia Delma, and crew must call the Pirate Lords from the four corners of the globe, including the infamous Sao Feng (Chow-Yun Fat), to a gathering that will make their final stand against Beckett, Jones, Norrington, the Flying Dutchman, and the entire East India Trading Company.

Using several different instruments, Frank used a dry tuned instrument for some Bandoneon like segments, a Musette for some segments and also the Bass Accordion for some drone like effects. Although almost all of the parts were written, Frank also had the opportunity to improvise some jazz solos. Frank has played on all three 'Pirates of the Caribbean' movie sound tracks.
During his outstanding career, Frank's career has seen him traveling with Bob Hope visiting the servicemen in many countries; being featured on the Les Brown Band, including six Love Boat cruises.

More recently, he has been very busy with studio work: movie soundtracks, TV movies, TV series , records and advertising jingles. Along the way, he has managed to find time to compose and arrange both jazz and classical music.


---
Accordion Pops Orchestra Concert Review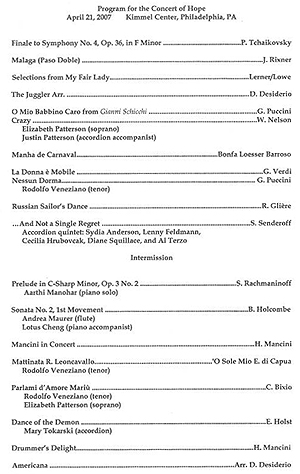 The Accordion Pops Orchestra under the direction of Dan Desiderio presented "A Concert of Hope" Saturday evening, April 21, 2007 in the Perelman Theatre at the Kimmel Center for the Performing Arts in Philadelphia, PA.
This is the third time that APO has performed at the Kimmel Center for this very important fund raiser for the ALS Hope Foundation. Last year the concert raised over $25,000 for the Hope Foundation and it is expected that this year's concert will do even better.
In addition to the full orchestra performing such great pieces as "Finale to Symphony No. 4, Opus 36 in F minor by P. Tchaikovsky," "Selections from My Fair Lady," "Russian's Sailor Dance," and "Mancini in Concert" to name a few, there were several soloists.
The orchestra accompanied Rodolfo Veneziano noted Tenor Soloist and Elizabeth Patterson Mezzo Soprano who performed both solo and as a duo with the beautiful aria "Parlami d'Amore Mariu". Ms. Patterson also sang "O Mio Babbino Caro" from Puccini's
Gianni Schnicchi
. She was accompanied on acoustic accordion by her brother, Justin Patterson and they also did a terrific change of pace with the ever popular song "Crazy" made famous by the late Patsy Cline.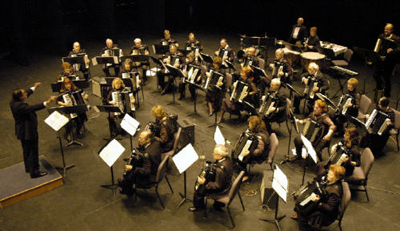 One of the APO members is not only a fine accordionist, but is also a concert flautist. Andrea Maurer thrilled the audience with a magnificent rendition of "Sonata No. 2, 1st Movement" by B. Holcombe ably accompanied by Lotus Cheng who is a concert pianist in her own right.
To begin the second half of the program, Aarthi Manohar, a high school senior and five year piano student of Mr. Desiderio, mesmerized the audience with Rachmaninoff's "Prelude in C-Sharp Minor, Op. 3 No. 2" accompanied by the Accordion Pops Orchestra with a special orchestral transcription by Maestro Desiderio.
Mary Tokarski world renowned concert accordionist, wowed the audience with a flawless rendition of "Dance of the Demon" by E. Holst, arr. D. Desiderio. The audience would not let her leave, and as an encore, and tribute to the late Frank Mucedola, she played his very exciting descriptive piece, composed especially for the accordion, "The Fox and the Hound".
A highlight of the concert featured the Accordion Quintet of Diano Squillace, Sydia Anderson, Al Terzo, Cecilia Hrubovcak and Lenny Feldmann presenting the world premier of "... And Not A Singe Regret" by composer Stephen Senderoff. Mr. Senderoff was present to introduce this new work to the audience and tell them a little about how he came to compose it.
Mr. Senderoff is currently exploring the application of computers to new areas of electronic music composition and sound design. He especially loves the way he can blend the tonal colors and ranges of the accordion to create note-accurate adaptations of traditional American fiddle tunes. "...And Not A Single Regret" is an impressionist arrangement of traditional melodies with names such as
Blackbird, Farewell to Whiskey, Dives and Lazarus,
and
A Firm Foundation
ingeniously entwined into the parts of the four acoustic accordion and acoustic bass accordion.
By the way, as Mr. Senderoff so eloquently expressed it during his opening remarks: "Good evening, my name is Stephen Senderoff and I am living with Amyotrophic Lateral Sclerosis, also known as Lou Gehrig's disease (ALS). This is the the third time I have had the opportunity to speak at this annual event and, in fact, I have been living with ALS since 1998. I consider the gift of time that has been granted to me the most precious gift I have ever received. My memories of this time, every minute, are among my most prized possessions."
After the performance of the piece by the Accordion Quintet, Mr. Senderoff received a five minute standing ovation in appreciation of the beautiful new piece of music he has composed and the deep emotions the music touches in everyone who heard it.
The concert concluded with the orchestra playing "Americana - A Tribute to America and our Armed Forces" - a stirring arrangement by Dan Desiderio that had the entire audience of over 250 attendees on their feet singing
God Bless America
.
by Lenny Feldmann


---
Accordions and Keyboards Moves To New Location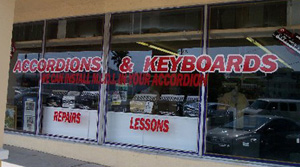 John Gaunt, owner and operator of the popular Florida accordion center has moved his business to a new location on Highland Ave.

NEW ADDRESS:

John Gaunt
ACCORDIONS & KEYBOARDS
1248 S. Highland Ave.
Clearwater, FL 33756
Phone: 727 443 4113
E-mail: Accordeon@aol.com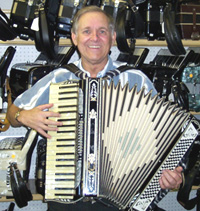 John Gaunt has been selling accordions in Clearwater Florida, Tampa Bay area for over 20 years where "Accordions & Keyboards" is your one stop shop for your accordion needs!

John said the coffee pot is always on and if it's accordions you want to see, this is the right place! John started the business in 1970, selling Iorio accordions from his home, then in 1984 he started "Accordions & Keyboards", which he has run ever since.

Accordions and Keyboards has an extensive stock on instruments of all sizes, accessories, electronics, t-shirts, recordings and a repair shop. Please visit www.accordionsandkeyboards.net for the latest stock and information.


---
Leavenworth International Accordion Celebration 21-23, June, 2007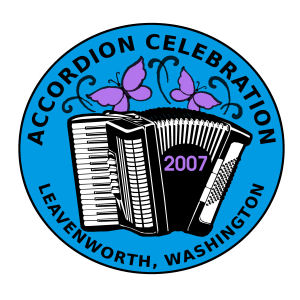 It has been said that there are no unemployed accordion players in Leavenworth . And why should there be? Accordions originated in Germany and now they're headed back to the Bavarian Village!
Frequently maligned, but as frequently beloved, the accordion has been adopted by musicians in every part of the world where it has been introduced since the first one was manufactured in Germany in the early 1800's. Small, large, often beautifully crafted - to pick one up and learn how it works has proven irresistible. From 21 - 23 June, Leavenworth will hold its annual celebration of accordions and the many people who play them.
The Leavenworth International Accordion Celebration, or LIAC, affords accordionists of all ages a chance to compete, attend w or kshops and jam sessions. LIAC also brings in world-class performers for concerts.

Competitions, Jamming, W or kshops, Concerts and More! The 2007 Leavenworth International Accordion Celebration will be an exciting event - full of talented musicians, enthusiastic music lovers, friendly competitors of all ages and lots of surprises including the Annual Accordion Parade down Front Street! Entertainment at the Gazebo in Front Street Park is free. The Northwest Accordion Society organizes entertainment and Jam sessions in the Gazebo Thursday through Sunday. The Competitions and Concerts are held in Leavenworth 's Festhalle on the corner of Front and Tenth Streets.

For more information and to purchase tickets to the concerts phone the Leavenworth Chamber of Commerce at (509) 548-5807, e-mail: media@leavenworth.org or visit www.accordioncelebration.com.

---
Illinois Boy Plays Largest Accordion in the World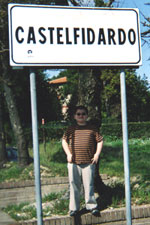 Imagine you're 8 years old...traveling to Italy with your parents...you've only been playing the accordion (seriously) for 4 months...and you find yourself in the "accordion manufacturing capital of the world" - Castelfidardo! Lucas Denney did just that in March, 2007, with his father and mother, Shawn and Mary Ann Denney.

The International Accordion Museum is located in the lower level of the City Hall of the Village of Castelfidardo Now, this would be worth the trip in itself. There is a large and varied collection of accordions, tracing the development of the instrument and its production techniques.

Then, there are around 40 Italian factories, mostly in the territory of Castelfidardo, where the instrument is produced. Most of these Italian brands are probably familiar: CEMEX/Excelsior, Pigini, Gabbanelli, Guerrini, Menghini,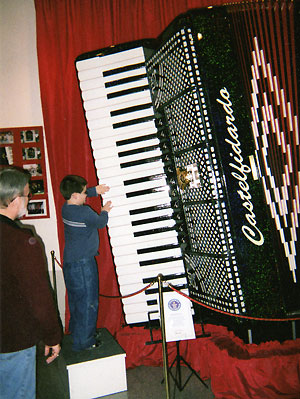 Ottavianelli, Piatanesi, SEM, Serenellini, Victoria, Zero Sette, Alessandrini, Beltuna, Bompezzo, Borsini, Brandoni, Bugari and Castagnari. But, you must arrange for a tour in advance through "connections".

However, there IS the "palazzo Soprani" with its fine display of accordions, and something even more amazing...the world's largest accordion and the man who made it. Featured in the Guinness Book of World Records, the largest playable acoustic accordion in the world is basically 8 ft. tall, 6 ft wide and nearly 3 ft deep and weighs approximately 440 pounds.

The instrument was built by Giancarlo Francenella, in Castelfidardo, who overseas the Soprani accordion display. It required over 1,000 hours to create this accordion, which features 45 treble piano keys, 120 bass buttons and 240 reeds. It's built on a 5-to-1 ratio from the original and is made of conventional materials including fir, cedar, mahogany, walnut, aluminum, steel, cardboard, cloth, celluloid and special varnishes. An electric pump at the base of the accordion pushes air through the bellows and it is possible for a person to actually play the accordion acoustically.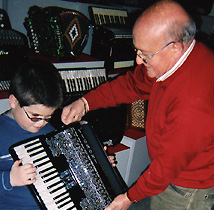 Pictured left are Lucas Denney and Giancarlo Francenella. Above, Lucas is pictured with the massive "Castelfidardo Accordion".

Lucas Denney is the youngest member of the Peoria Area Accordion Club, Peoria, Illinois. His teacher is Jay Landers, Past President of the club.

Note: Information for this article was supplied by Shawn Denney and the International Accordion Museum brochure and related materials and compiled by Jay Landers.


---
Henry Doktorski at the Heinz Chapel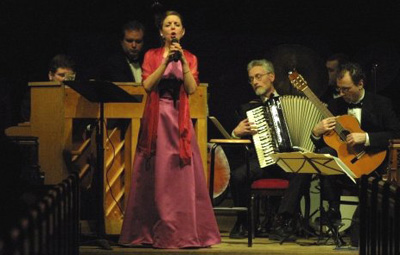 American Concert Accordionist Henry Doktorski performed with contralto Daphne Alderson and a quintet of five classical musicians in a concert titled "Songs for Dreamers" at the Heinz Memorial Chapel on the campus of the University of Pittsburgh.

The musicians in the ensemble consisted of: Daphne Alderson, contralto; Tom Roberts, director and pianist; Henry Doktorski, accordionist; Roy Sonne, violinist; Jeffrey T. Mangone, double bassist, and Albert J. Wrublesky, drums.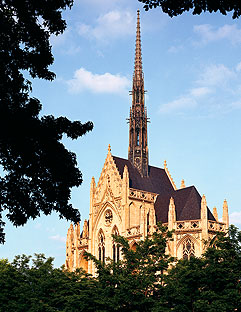 The program featured songs by Jerome Kern and Johnny Mercer, Richard Rodgers and Lorenz Hart, George and Ira Gershwin, Irving Berlin, Carlos Gardel and Alfredo Lepera, Joe Negri and Lou Tracy, Édith Piaf, and other song writers and composers. Doktorski was featured in the two tangos: Por una Cabeza and Mi Buenos Aires querido, along with Pittsburgh Symphony violinist Roy Sonne. The accordion was also featured in three French chansons popularized by Édith Piaf: Mon menage a moi, Hymn a l'amour and La vie en rose.

Daphne Alderson made her New York Cabaret debut in 1998, performing her show Songs and Chansons. She has appeared at Avery Fisher Hall and Merkin Hall in New York City, The Kennedy Center for the Performing Arts in Washington D.C., the Bach Aria Festival in Stoneybrook, New York, and at various arts organizations and churches throughout the United States, Canada and Italy. Her opera credits include performances in the roles of Hansel, Purcell's Dido, Nicklausse, Isabella, Rosina, Orefeo, Siebel, Suzuki, and Maddalena. She also serves on the music faculty at Seton-Hill University.

Doktorski said, "It is always a pleasure for me to perform with Daphne and her friends. Her voice is so dark and velvety and full of personality. And to top it off, she is one of the sweetest persons I have met!"

The Heinz Interdenominational Chapel, dedicated in 1938, stands as one of the foremost examples of French Gothic architecture in the United States.


---
US Accordionists head to Austria
President of the Accordionists and Teachers Guild, International (ATG) Joan Sommers and CIA President Kevin Friedrich have both been invited to Innsbruck Austria to attend World Accordion Orchestra Festival held as part of the 9th Annual World Music Festival from 17-20 May, 2007.

More than 300 accordion orchestras and accordionists from Germany, Austria, Switzerland, Netherlands, France, Italy, Spain, Ireland, Poland, Russia, China, Japan, Croatia, Slovakia, Senegal and more will attend to compete in the various competitions.


---
Guy Klucevsek to feature at the Spoleto Festival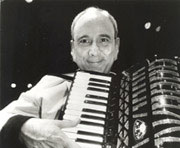 Spoleto Festival USA's 31st season will take place from May 25 through June 10, 2007 in Charleston, South Carolina. Spoleto's acclaimed contemporary music series, Music in Time, will begin with an appearance by the Bowed Piano Ensemble, followed by a concert of new music for accordion headlined by the renowned accordionist and composer Guy Klucevsek.

Described by The Wall Street Journal as "a trailblazing virtuoso," experimental composer and accordionist Guy Klucevsek has created a unique contemporary repertoire for the accordion. His solo program, The Well-Tampered Accordion, explores the possibilities that a new music virtuoso can achieve on an old world instrument, and will make you forget everything you thought you knew about the accordion.

Guy will be performing at 5:00 PM on June 1, 2007. Tickets are available for purchase starting today at www.spoletousa.org.

---
Daily Weblog Devoted to All Things Accordion

Let's Polka is a daily weblog devoted to all things accordion, including information about the latest accordion news and events, new music releases and reviews (any style as long as there's an accordion!), and much more.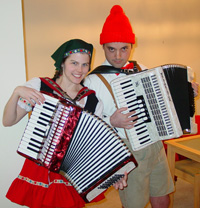 Anna and Chris Saccheri are the primary contributors to Let's Polka. They met through their mutual love for the accordion, and while they don't profess to be professional musicians, they love playing the accordion and look forward to learning more about their favorite instrument through their work in putting this site together.

Anna has been playing since 1992, after a friend's mom agreed to teach her everything she knew. Some early recordings of those songs can be found on her accordion site. Later, inspired by 'Weird' Al, she began composing silly songs. Her accordion playing appeared in a radio commercial and an album released by The Corner Laughers.

Chris has been playing since 1995, when he started playing with the (in)famous Stanford Band. He cites John Linnell of They Might Be Giants as his inspiration for learning to play, and shares the same hometown (Fresno, CA) as accordion legend Dick Contino.

http://www.letspolka.com


---
Promoting Your Accordion Services Free at AWW

The Internet is changing the way your customers are searching for services. The days of lugging out a 12 lb. telephone book to find very limited and outdated business information are coming to an end. People are still letting their fingers do the walking, but they're doing it over a computer keyboard. Below are some revealing facts from the Kelsey Group.
74% of US households use the Internet as an information source when shopping.
Approximately 45% of searches had a buying intent.
The percentage of respondents who used yellow page directories decreased from 75% to 62%.
(If you have a printed yellow page ad, it is time to consider buying a smaller ad and shifting your marketing dollars to the Internet.) The off-line Yellow Pages see the writing on the wall and are scrambling to transfer their business model to the Internet.

Businesses can no longer ignore these facts. If you want to be successful, you must have a presence where your customers are searching. Being found on the Internet is vital to the future of your business.



The Accordion Yellow Pages offers free of charge listing for all accordion businesses, teachers and for every type of service for accordionists. On the Accordion Yellow Pages site, you do not need to have a website for accordionists find you and contact you.



The search-accordion.com site is also free of charge, being a listing service for every type of accordion service but you must have a website. Viewers of search-accordion.com can click to your website.



Very popular is the AccordionLinks.com site where those accordion service providers with a website, can attract accordionists free of charge to their website.

All it takes is a little effort, to make sure your information on these three popular and very effective accordion sites is up to date. Your future success may well be determined by your ability to effectively adapt to the Internet. Should it be your New Year's resolution for 2006?


---
Dino Saluzzi and Anja Lechner make USA Debut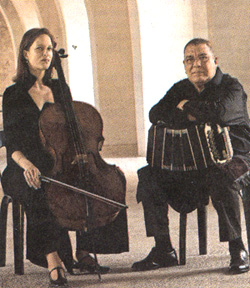 Bandoneon artist Dino Saluzzi (Argentina) and Cellist Anja Lechner (Germany) appeared at the Merkin Concert Hall in Manhattan, New York this month, as part of their first USA concert tour.

In addition to this debut tour in the USA, they have just released a CD entitled 'Ojos Negros' on ECM Records, which is described as "chamber music with inspirational roots in Argentinean traditions."

Saluzzi and Lechner say that when they play live, their pieces never sound the same twice. The interplay of instruments has been described as making sentimental and introspective music. Saluzzi says that Music is aimed to the spirit, and the spirit has no age.

Dino says "There's only one way of getting what you want". "When you want salt, you go and grab it. We'll never know if the taste that I feel from salt is the same as the one you feel."

During his career Dino was mostly self-taught, and he has wandered about the worlds of jazz, classical music, tango and Argentine folklore, from which traces of each can be found in his work.


---
Hindemith's Kammermusik with Accordion Performances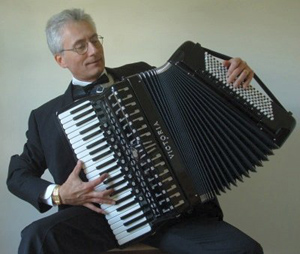 American Concert Accordionist Henry Doktorski will perform on accordion with the Carnegie Mellon Philharmonic under the direction of Juan Pablo Izquierdo in performances of Kammermusik No. 1 by Paul Hindemith on Tuesday May 1, 2007 at Carnegie Music Hall in Pittsburgh, Pennsylvania, and again on Thursday May 3 at Severance Hall in Cleveland Ohio.
The Philharmonic's program will include Hindemith's Symphonic Metamorphosis on Themes of Carl Maria von Weber, Kammermusik Number 1, Five Dances From der Daemon and Symphony Mathis der Maler.Paul Johnston, a faculty member in Carnegie Mellon's School of Music, will host a pre-concert talk at 7:00 PM.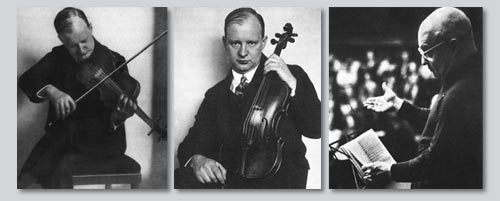 "The orchestral music of Paul Hindemith (above) is a rich legacy of early 20th century creativity and innovation," said Marilyn Taft Thomas, interim head of the School of Music. "Yet his symphonic works are seldom included in mainstream concert programming. This unique all-Hindemith concert, along with a pre-concert talk by Paul Johnston, provides a backdrop for the considerable performance abilities of the Carnegie Mellon Philharmonic and its renowned music director and conductor, Juan Pablo Izquierdo," Thomas said.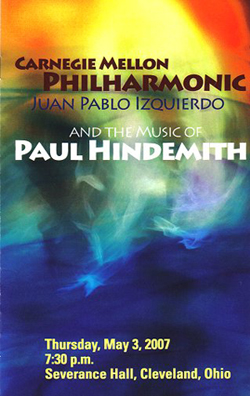 Maestro Izquierdo has conducted Chile's National and Philharmonic Orchestra and won first prize in the Dimitri Mitropoulos International Competition for Conductors in 1966. That same year, he was named assistant conductor to Leonard Bernstein of the New York Philharmonic. His international appearancesinclude conducting the Bavarian Radio and BBC orchestras, as well as other radio orchestras in Hamburg, Berlin, Frankfurt, Leipzig, Madrid, Glasgow, Paris and Brussels. He has conducted ensembles around the world, including the Vienna Symphony, the Holland Radio Philharmonic Orchestra, the Dresden Philharmonic, the Jerusalem Symphony and the Israel Chamber Orchestra. "Featuring an all-Hindemith program, the philharmonic will cover a retrospective of different periods of the work of this great master," Izquierdo said.
One of the main innovators of musical modernism, the German Neoclassical composer Paul Hindemith (1895-1963) was a composer, conductor, violist, educator, and theoretician. Of the four founders of modernism - Arnold Schönberg, Igor Stravinsky, Béla Bartók, and Hindemith - one can argue that Hindemith was by far the most scholarly and intellectual in temperament. His theoretic interests were both deep and wide-ranging and included medieval philosophy and the writings of the early church, as well as musical topics. He could play all the standard musical instruments at least passably and was a recognized virtuoso on the viola and viola d'amore. A sought-after educator, he taught such composers as Lukas Foss, Arnold Cooke, Franz Reizenstein, and Norman Dello Joio and wielded great influence in Europe and the United States between the two World Wars.
Regarding Hindemith's Kammermusik No. 1: The fifteen-minute work - in four movements - is scored for a string quintet with flute, clarinet, bassoon, trumpet, accordion, piano and a battery of percussion, including xylophone, a siren and a tin can filled with sand. It was written in 1921 and was the first of seven Kammermusik pieces - literally "Chamber Music" - which have been called "A twentieth-century equivalent of J. S. Bach's Brandenburg Concertos."
Kammermusik No. 1 is a cheerful, irreverent suite which manifests clear reference to Hindemith's early experience performing in dance bands and musical comedy orchestras in and around Frankfurt. Strong rhythms, sparkling instrumentation, and incorrigible impudence are the work's distinguishing features. Its first three movements are a boisterously dissonant prelude, a frivolous march, and a pastoral 'quartet' for the three woodwind instruments and a single note on a glockenspiel. The finale unleashes the whole ensemble in an obstreperous display of anarchic humor. The climax comes with the quotation, by the trumpet, of a contemporary fox trot in G major, accompanied by scales in all the other eleven major keys, and the end is a manic stretto worthy of any great comedy of the silent screen.
A concertgoer who attended a performance of Hindemith's Kammermusik No. 1 in Munich in 1923 wrote: "A few weeks earlier I had been involved in a concert by the American George Antheil . . . and witnessed a bombardment of tomatoes, eggs, and even stink bombs. I prepared myself for something similar on Hindemith's first appearance in Bavaria's conservative capitol. And I was right. Scarcely had the last measures of the fox-trot imbedded in the piece subsided than the hall turned into chaos. Whistles blew, boos resounded, chairs flew through the air -- a hellish noise filled the large room. Hindemith, in the meantime, had disappeared backstage with the other musicians. As the spectacle reached its height, he reappeared -- thoroughly calm -- seated himself at the percussion . . . beat with all his might on the drums, and let the slide whistle howl. The honest Münchener were so taken aback by this unexpected behaviour that Hindemith was the victor in an unequal battle."
Hindemith was surprised about the vehement reception which Kammermusik No. 1 received, and sixteen years later commented about it (and the overwhelming preponderance of old women in the audience during a recent American performance) in a letter to his wife dated March 3, 1938:
"Rehearsals occupied the whole morning. I began with the 'Dances,' which went very nicely from the start. Then we rehearsed 'Der Schwanendreher' thoroughly; the orchestra still remembered it quite well from last year, and Lange did his stuff respectably too. To end with, after Mozart's E-flat Major Symphony, they rehearsed that ancient old Kammermusik of mine with the siren. One wonders why people made such a fuss about his piece at the time. It is not at all badlywritten, and there is nothing, apart from a few harmonic and melodic teething troubles, to upset innocent souls. It is not exactly refined, and the extravagant use of percussion, etc., was certainly a concession to the prevailing (lack of) taste at that time. But, good Lord, one only needs to look at all the crap that is being produced today in this chemically pure cultural atmosphere of ours, to realize how thousand times worse in regard to technique, invention, musicality, and even character it all is, compared with this not very important piece. And someone who is bothered by a siren would find much wider scope for his indignation in wind machines and bleating sheep. People here [in America] are not so malicious. In the evening the piece was a great success (rightly so, for the performance was very good)--in spite of, or because of, the elderly female population from which concert audiences are recruited here as in all other American cities (in which connection it is open to doubt whether it is permissable to bring together two such differing conceptions as recruits and dolled-up crones). They probably felt themselves transported back to youthful times of unfulfilled desires: when the siren shrieked one could literally hear the rusted bones rattling. I played like an old violist who had gone through many fires unscathed, and the dances also went very well. Huge applause."
Doktorski explained that the accordion was not included in the orchestration until 1952, thirty years after the premier:
"In 1922 when Kammermusik No. 1 was first performed, the accordion did not appear in the orchestration; the work was originally scored with harmonium. The harmonium was a popular instrument in the nineteenth and early-twentieth centuries. Many classical composers wrote music for the harmonium, including: Hector Berlioz, Carl Maria von Weber, Franz Liszt,Camille Saint-Saëns, Charles Gounod, César Franck, Gioacchino Rossini, Bedrich Smetana, Leos Janácek, Anton Dvorák, Max Reger, Sigfrid Karg-Elert, Richard Strauss, and several of Hindemith's contemporaries, such as Arnold Schönberg, Kurt Weill, Arthur Honegger and Dmitri Shostakovich.

"However, by the mid-twentieth century the harmonium had lost so much popularity and become so scarce that Hindemith had to rewrite the part for accordion, an instrument at the peak of its popularity. The composer explained: 'Kammermusik has a part for a harmonium of a kind that no longer exists. I have rewritten it foran accordion. . . With it the piece will be easier to perform.' (from a letter to Hindemith's publisher Willy Strecker-- one of the directors of Schott's Söhne in Mainz--dated November 28, 1952.)"


"It is not clear exactly when Hindemith replaced the harmonium with accordion, but I suspect it may havebeen in the 1940s."
This is the fourth time Doktorski has performed Hindemith's Kammermusik No. 1: in 1995 with the Pittsburgh New Music Ensemble, in 2001 with the Duquesne University Contemporary Ensemble, and in 2003 with the Carnegie Mellon University Contemporary Ensemble.

---
---
Note: In order to provide as much information as possible for the United States National Accordion News stories, many different sources are often researched to gather additional information and pictures to complement what has been submitted. This information is then correlated to provide the news on www.accordionusa.com in the spirit of which it is intended, which is to provide a free news service to the Accordion Community, specifically in the United Sates. If you feel any copyright has been violated please advise www.accordionusa.com and the article will be removed immediately.