---
Accordionist Bobby Raye Passes Away May 12, 2008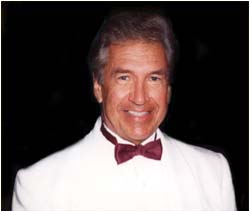 Remembering Robert R Lilarose - "BOBBY RAYE"

Robert R. Lilarose, 69, local musician and entertainer unexpectedly passed away on May 12, during an evening performance in Ocean City Maryland. He was the husband of Diane E. (Hoyer) Lilarose with whom they would have celebrated their 50th wedding anniversary on June 14, 2008.

Born December 7, 1938 in Reading, he was the son of the late Harold A. and Pearl E. (Hartman) Lilarose. He was a graduate of Reading High School, class of 1956, and served in the U.S. Army. Bobby began playing the accordion professionally at age fifteen at the Moose Home in Waynesboro, PA. He was also a prominent accordion, organ and piano teacher a major part of his life. Bobby played thousands of shows for all kinds of audiences and locations over his career, including conventions, fairs, trade shows, ethnic festivals, clubs and resorts throughout the U.S. and Canada. His "act" (a one man musical comedy show) was discovered by a talent scout for Royal Caribbean Cruise Line who thought he would be a perfect act for the ships and became one of the Line's "All Stars" for over fifteen years. Bobby played over 600 cruises which took him, and many times his family, all over the world.

An avid and active theater pipe organ enthusiast , he was a member of the Theater Organ Society of Delaware, the Susquehanna Valley Theater Organ Society and an honorary member of the Freestate Organ Society. He loved performing and his music enriched the lives of all who knew him. Bobby was an active member of Immanuel United Church of Christ, Shillington, PA.

He was also a member of Chandler Lodge 227 F. and A.M. Also surviving are two daughters: Robin R. Lilarose, Sinking Spring and Sherry L. Rust, wife of Wayne K. (Chip) Rust, Bethlehem, PA. There are also three grandchildren: Jordan M. Romero, Adam K. Rust and Courtney L. Rust.

A "Joyful Celebration of Life" memorial service will be held for Bobby on Saturday May 31, at 1:00 PM in Immanuel UCC, Shillington. Masonic services will be provided by Chandler Lodge 227 following the service.

Communications may be sent to:

the family of Bobby Raye
236 Balthaser Rd
Reading, PA 19608

---
Ludovic Beier Performs at Falcetti Music Center in Springfield
Roland accordion artist Ludovic Beier performed a magnificent concert in Springfield, Massachusetts at the Falcetti Music Center headquarters, which was packed with attendees eager to learn more about the family of digital technology accordions.

Performing a diverse selection of classics, pop music, jazz and French Musette, French accordionist Ludovic Beier incorporated traditional accordion sounds as well as a variety of instrumental sounds and effects while highlighting many of the Roland features. Utilizing Physical Behavior Modeling, the instrument technology uses complex algorithms to accurately recreate an acoustic accordion's sound characteristics and expressive nuances.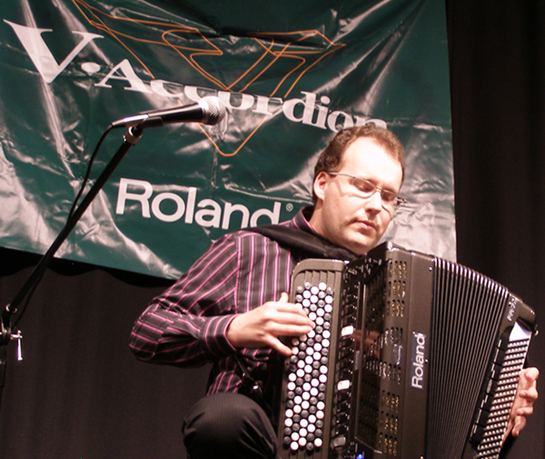 In attendance was the newly appointed point person for accordion at Roland, Los Angeles based Ron Lankford. To conclude the concert, Ludovic was joined by local musician and former Falcetti Music student Don McMahon in some dazzling duet work.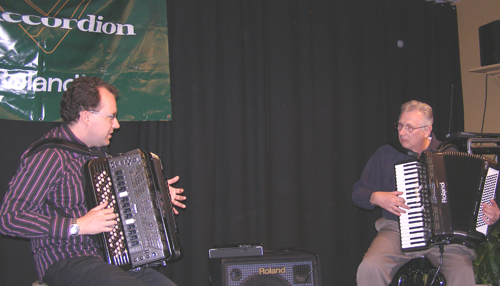 Ludovic Beier began studying accordion at the age of eight under the watchful eye of his accordionist father and his teacher. He was soon up on stage playing a varied repertoire extending from classical to jazz.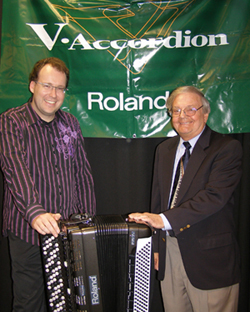 He went through his studies and training without any hitch, going on to participate successfully in national and international competitions, before turning to the stage and developing his own personality; where decisive encounters such as that with Arguyris Koulouris, James Carter, Joel Frahm, Romero Lubambo and Angelo Debarre.

Passionate about music and open to the world, he continues to develop his style according to the various influences he meets along the way, so watch out for his endless surprises! He recently performed at Carnegie Hall with Toots Thielemans among a prestigious line up included Herbie Hancock and Ivan Lins.

For more information on the members of the Roland digital accordion family, please visit www.rolandus.com

Pictured above are Ludovic Beier and concert organizer Sam Falcetti.

---
ATAM New England Accordion Champion
The Accordion Teachers' Association of Massachusetts (ATAM) celebrated their 46th Annual New England Music Competition and Festival at the Newton Marriott in Boston, MA.

ATAM President David Lewis welcomed hundreds of contestants who took part in competitions for all ages and levels in solos, duos, ensembles and orchestras in Accordion, Drums, Guitar, Keyboard, Piano and Voice.

During the awards banquet, for the second year in a row, 14 year old Danielle Renzi was awarded the premiere solo title of ATAM New England Accordion Champion. Danielle is a student of Robert Paolo at the Paolo Music School in Johnston, Rhode Island.

Winners in the New England Championship were as follows:
1st: Danielle Renzi (Paolo Music)
2nd: Lenore DelPonte (Paolo Music)
3rd: Matthew Freire (Arruda Music)
4th: Ken Parsons (Rosita Lee Music)
5th: Paul Yao (Rosita Lee Music)
In addition to the New England Accordion Championship, another exciting Premiere competition was held. Danielle Renzi, in addition to taking the New England Accordion Champion title, also won the third ATAM Entertainment competition.

ATAM Entertainment Championship Winners were as follows:
1st: Danielle Renzi (Paolo Music)
2nd: Jeff Moore (Rosita Lee Music)
3rd: Ken Parsons (Rosita Lee Music)
Winner of the Advanced Senior Ensemble Championship was:
Arruda Music of Rhode Island - August Arruda Jr. - Conductor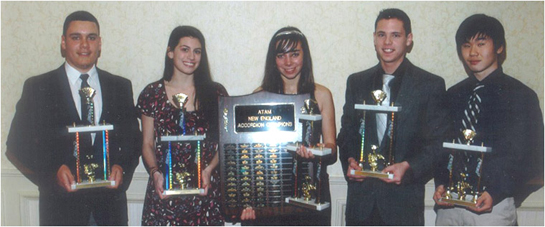 2008 ATAM New England Championship Winners
Pictured left to right: Matthew Freire, Lenore DelPonte, Danielle Renzi, Ken Parsons, Paul Yao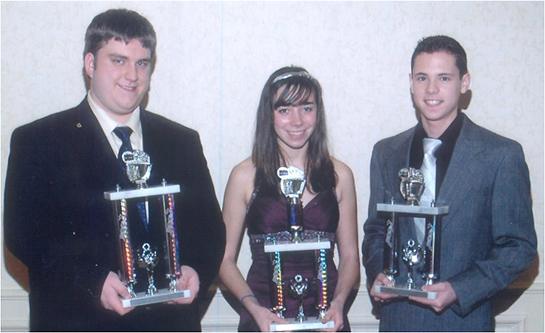 2008 ATAM New England Entertainment Winners
Pictured left to right: Jeff Moore, Danielle Renzi, Ken Parsons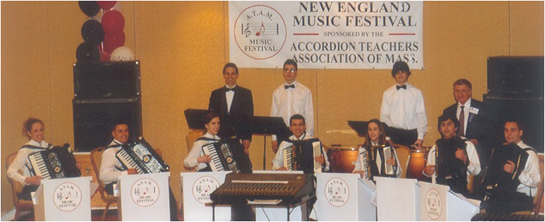 2008 ATAM Advanced Senior Ensemble Winner
Pictured Arruda Music Ensemble, August Arruda Jr. - Conductor

The 47th Annual ATAM Festival will be held at the Marriott Hotel in Newton, MA from April 3-5, 2009. For more information, please contact ATAM contest Co-chairperson Peggy Falcetti at: peggy.falcetti@falcettimusic.com

---
Dr. Schimmel's Work featured in Three Projects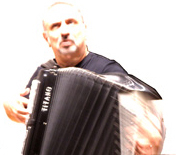 When not performing, Dr. Schimmel is busy teaching, writing, arranging, adapting and lecturing. From June 12-22, Dr. Schimmel's musical adaptations will be heard in the play Shmulnik's Waltz. The play is by Allan Knee, who rose to international fame with the movie Finding Neverland starring Jonny Depp where Mr. Knee wrote the story. The music for Shmulnik's Waltz is by David Shire, best known for his work in the movies Saturday Night Fever and The Conversation (Francis Ford Coppolla). Originally an New York Off Broadway production, it has toured in regional theatres across the country. Dr. Schimmel scored the work for accordion and violin and added incidental continuity. The Performances will take place at The Jewish Theatre of Grand Rapids/The Spectrum Theatre in Grand Rapids Michigan.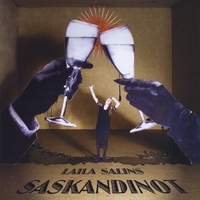 Dr. Schimmel is the featured accordionist in a new CD entitled Saskandinot, featuring the Latvian singer, Laila Sailins. It is a collection of Latvian drinking songs and can be purchased at CD Baby.

Dr. Schimmel's accordion arrangement can be heard in the one woman show, Squeezebox, by and starring Ann Randolph. Originally an off Broadway show, it too has been touring the country since 2004.

The next performances will be in San Francisco at The Marsh Theatre (Main Stage). The performances will take place between May 17 and June 19. The play was produced by Mel Brooks and the late Ann Bancroft.


---
Victor Prieto records with Cellist Yo Yo Ma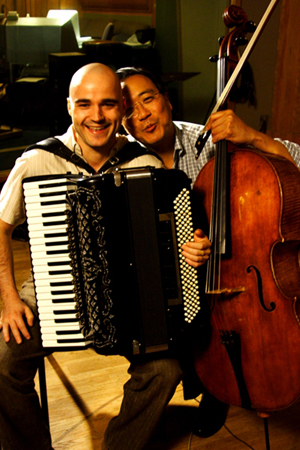 Accordionist Victor Prieto has recently completed work recording with renowned cellist Yo-Yo Ma for one of his upcoming CD.

The CD titled Yo-yo Ma "Songs of Joy" is due for release in December 2008 by Sony BMG Masterworks. The recording work with Yo Yo Ma included Victor recording on two tracks, with additional guest artists on the CD including Boby McFerrin, Cristina Pato, Paquito D'Rivera and others.

Victor Prieto was born in Orense (Spain) in 1975. At the age of nine encouraged by his mother Victor begun to play the accordion. He pursued his studies in Classical accordion at the Orense Conservatory (Spain), while taking harmony, arranging and improvisation classes at Estudio Escola de Musica (Santiago de Compostela, Spain). After receiving a scholarship by the highly respected Jazz school - Berklee College of Music- Victor decided to pursue the performance major under the direction of Joanne Brackeen. Victor is the first and only of his kind, to specialize and apply studies in Accordion at Berklee College of Music. During his stay at Berklee Victor becomes friends with one of his mentors, Oscar Stagnaro.

In 2002 Victor moved to New York where he quickly established himself as one of the most prolific and versatile accordionists on the music and Jazz scenes. As a leader Victor has performed at many prestigious venues and events such as Berklee Performance Center, Lincoln Center, Dizzy's Club Coca-Cola, Blue Note NY, New Jersey Performance Art Center, Three Rivers Musical Festival, Williamsburg Jazz Festival, Mary D'Angelo Performing Arts Center.

Victor has shared the stage with Yo-yo Ma, Jeff Ballard, Chris Cheek, Paquito D'Rivera, Donny McCaslin, Carlo DeRosa, Lionel Louke among others and is involved in projects such as Pablo Aslan's Avantango, Emilio Solla's NY Jazz Tango Project, Alexis Cuadrado's Trio Iberico and Fernando Otero X Tango.

He teaches Master Classes in Spain, Italy, Portugal, USA and has headed the jazz accordion studies at the Brooklyn Conservatory (2003 – 2004). He is a recipient of numerous awards and prizes for excellence in accordion performance and composition, among them are: the Creative Performer award from the Spanish Association of Artists and Performers, and the first prize at CMZK's Concourse of Composition (Argentina). Victor's music can be heard on his CD "PERSISTENCIA" which was released by Foxhaven Records.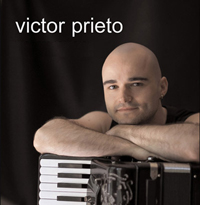 Keeping a busy performance schedule, The Victor Prieto Trio plus One will perform at La Lanterna the Bar Next Door, 29 MacDougal Street in New York City on May 16th. Musicians include Victor Prieto (accordion), Chris Cheek (sax), Carlo De Rosa (Bass) and E. J. Strickland (drums.)

After the New York concert, Victor will tour Spain from May 20 to June 4th where he will be performing on the National TV and Radio. During this time he will be performing with one of the top jazz guitarists in Spain, Joan Sanmarti as well as recording his new CD in Barcelona.

For a full concert schedule and more information, please visit www.victorprieto.net or e-mail: victorprieto2001@yahoo.com

---
Complete Works of Guido Deiro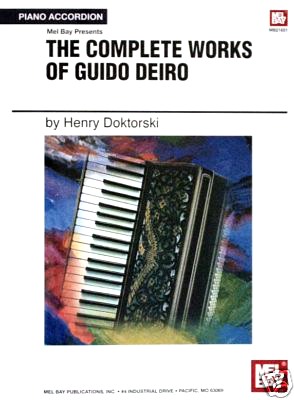 A 192-Page Music Book featuring the complete works of Guido Deiro has just been released.

A project five years in preparation, this book has been eagerly anticipated by accordionists around the globe!

Edited by Henry Doktorski and produced by Count Guido Roberto Deiro, The Complete Works of Guido Deiro highlights include:
Beautiful, handsome, scholarly urtext edition, edited exactly as Guido Deiro played in his records

45 pieces, including marches, waltzes, polkas, foxtrots, mazurkas, tangos, etc...

Book measures 11.75 tall x 8.75 wide x 0.5 inches thick

Handsome Engraving

Sturdy Perfect Binding

192 pages

54 historic photographs

8 historic sheet music covers

Facsimiles of two early Deiro pieces

11-page biography of Guido Deiro

Published April 2008
To order this item please visit: http://cgi.ebay.com/ws/eBayISAPI.dll?ViewItem&item=380018199337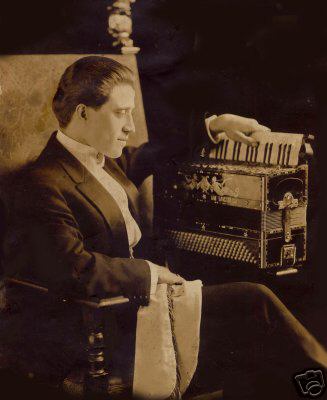 Count Guido Pietro Deiro (1886-1950), Italian-born composer and accordion virtuoso, was to the piano-accordion as Barrios was to the guitar, Sousa to the marching band, Joplin to ragtime, and Zez Confrey to novelty piano. Deiro was a major force in the popularization of the accordion in the early 20th century. A vaudeville star by 1910, he coined the name piano-accordion and was the first to play the instrument on the concert stage, make sound recordings, and appear in motion pictures and on radio broadcasts. For many years Deiro was a headline attraction at the great vaudeville houses throughout America and abroad, and made more than 100 recordings for the Columbia record company.

Concert accordionist and scholar Henry Doktorski has transcribed and edited all of Deiro's original music for accordion - 45 pieces including waltzes, rags, marches, polkas, fox trots, tangos, and popular Deiro favorites: My Florence Waltz, Egypto Fantasia, Sharpshooter's March, and the Broadway hit, Kismet.

Guido Deiro's delightful compositions are a window onto an era long past - an artist delighting audiences with soaring melodies, instrumental virtuosity, and abundant high spirits. Who can resist the effortless melodic invention and rhythmic verve of his waltzes, mazurkas, polkas, marches, rags, and semi-classical period pieces?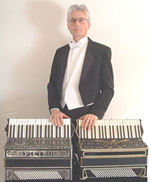 A lengthy essay by Doktorski and rare photos from the Deiro family archive complete the 192-page book which will be exuberantly received not only by accordion aficionados, but also by musicologists and lovers of early twentieth-century American popular music, much like the rediscovery of Scott Joplin's music, thirty years ago.

For more information, please contact Henry Doktorski at: henrydoktorski at gmail dot com.


---
AAA Master Class and Concert Series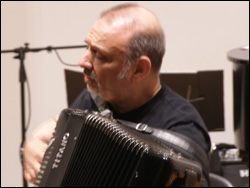 The American Accordionists' Association proudly announces its 14th annual Master Class and Concert Series titled "The Last Frontier" to be held July 25-27, 2008 at the Tenri Cultural Institute in New York city, located at 43A West 13th Street, between 5th and 6th Ave.

One of many events coinciding with the exciting AAA 70th Anniversary Celebrations, the three day event "The Last Frontier" will feature daily Master Classes at 3:00 PM and Concerts at 7:00 PM, all moderated by Dr. William Schimmel.

A sampling of the three day event topics include these and many many more:

The Kid: Billy, a new Dance/Video work by eminent choreographer/director Micki Goodman - featuring Dr. Schimmel's music and silent movie footage of King Vidor's 1928 classic, The Sky Pilot.
A lecture on the music of Karel Strahala and his music for the Tango/Harmoniku - two volumes of Czech Tangos, Waltzes, Polkas and Foxtrots written all in 1942
A new accordion prototype for rock and roll accordionists in development by Benjamin Ickies.
A virtual wedding of two accordion souls, H and MK, who met a decade ago at The Seminars. Our resident Elvis will perform the ceremony in true blue Hawaiian fashion.
Uriah The Dead, a short opera about David and Bathsheba from Dead Uriah's point of view.
Club Parusia/Here's to Life, the club at the end of the world – an apocalyptic romp through time and space at the borderline – south of, that is.
Paul Stein's 911 Profiteers and other Scoundrels Suite – artfully defacing politicians, benevolent dictators and O.J.
The debut performance by Duality Wrecks, an anonymous accordion and piano duo designed to shift the focal point of any party or event to pogo-gear with its relentless chance/medleys of pretty much anything.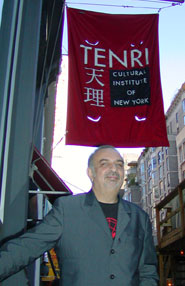 Pricing is as follows:

$20.00 per master class
Those who wish to play, should contact Dr. Schimmel
$25.00 per concert
$40.00 per entire day - includes master class and concert
$110.00 per entire weekend - includes three master classes and three concerts
For reservations and further information: 212-876-0827 or you can e-mail: billschimmel@billschimmel.com or please visit www.ameraccord.com


---
Pittsburg Accordionist Performs with Orchestra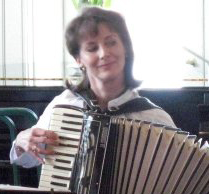 Pittsburgh accordionist and cellist Lilli Nieland performed two concerts with the Tuesday Musical Club String Ensemble, under the baton of conductor Paul Critser, on April 8 at Saint Andrews Episcopal Church in Highland Park, Pennsylvania, and on April 15 at the Allegheny Country Club in Sewickley, Pennsylvania.

The Tuesday Musical Club String Ensemble was organized in 1928. It is the only string orchestra in the Pittsburgh area and the only ensemble with daytime rehearsals and performances. It currently has 30 members and is directed by Paul Critser. The Ensemble presents public concerts each year as well as special community outreach programs at nursing homes and retirement centers.

Ms. Nieland is a regular member of the cello section in the orchestra, but for these concerts she delighted audiences by performing as guest accordionist for two pieces: La Vie en Rose by Roger Louiguy and I Love Paris by Cole Porter. Both audiences greatly appreciated Ms. Nieland's artistry and crowds of admirers surrounded her after each concert.

Ms. Nieland explained, "My mother was a professional accordionist and teacher, but while growing up I was not terribly interested in the instrument and studied the cello instead. Within the last few years, however, I have developed a keen interest in the accordion and have devoted much time and study to it, including receiving professional coaching from Mr. Henry Doktorski. He has really broadened my knowledge and abilities. Playing accordion is such a change from playing the cello, and I feel it has expanded my musical life."

Conductor Paul Critser said, "I didn't really know much about the accordion until I watched a show on Link TV called "Accordion Tribe." It was amazing. Such an eye-opening experience. I never knew how many different venues had been explored by accordionists. Then two months ago I performed with Henry with the Pittsburgh Opera Theater and really enjoyed his artistry. When I found that one of our cellists in the orchestra - Lilli - played accordion, I just had to program some concerts for her. The accordion is such an expressive instrument, and I'm looking forward to programming more pieces which feature the accordion!"

Other pieces on the program included works by Edvard Grieg, Peter I. Tchaikovsky, Josef Suk and Rodgers and Hammerstein.

Photos by Henry Doktorski.
Ms. Nieland and conductor Paul Critser
relax after a job well done

Ms. Nieland and proud coach
Henry Doktorski


---
Accordionists Featured in LA Times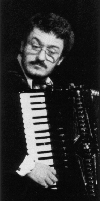 In the Classical Music section of the April 20, 2008 Los Angeles Times, writer Constance Meyer wrote an article, the latest in a series of occasional stories looking at orchestral musicians and their instruments. This lengthy and detailed accordion related article profiled Nick Ariondo (right), Samuel Zyman and Frank Marocco, as well as various aspects of the accordion.

Quotes from the article include:

....even Tchaikovsky used the concertina, a sort of hexagonal accordion, in one of his orchestral suites. Prokofiev included the accordion in his "Cantata for the Anniversary of the October Revolution." And a quick look at the list of the dozens of works commissioned by the other AAA - the American Accordionists' Assn. - reveals music by Henry Cowell, David Diamond, Lukas Foss, Virgil Thomson and Ernest Krenek.

.... among Los Angeles cognoscenti, by contrast, Marocco is considered a superb musician who just happens to play the accordion. In addition to his studio work, he plays in a group with L.A. Chamber Orchestra French hornist Richard Todd and with drummer Peter Erskine, bass player Michael Valerio and pianist Billy Childs. "I get a chance to have a lot of fun, besides making a living. Now it's no longer about the money."

.... Marocco enjoys the feeling of the instrument against him: "You're breathing when you use the bellows." He likens the player's control to that of a singer - which may help explain why the accordion has been used to provide accompaniment in a number of operas. With LA Opera, Ariondo has played for Kurt Weill's "The Threepenny Opera" and "Rise and Fall of the City of Mahagonny." In the company's production of Samuel Barber's "Vanessa," he was onstage with violinist Armen Anassian playing an atonal waltz.

To read the article in full, please visit: http://www.latimes.com/entertainment/la-ca-accordion20apr20,0,5438543.story


---
AAA 70th Anniversary Concert
On Saturday, June 21, 2008, at 2 PM the American Accordionists' Association is presenting an Accordion Extravaganza Concert in celebration of the 70th Anniversary of the AAA and to the memory of Maddalena Belfiore.

Frank Busso, Sr. will serve as Master of Ceremonies and the concert will feature: Mario Tacca & Mary Mancini (International Vocal Artist), The Amazing Accordion Kings, Frank Toscano, Angelo DiPippo and Manny Corallo, Mary Tokarski, CIA World Champion Beverly Roberts Curnow, Dr. William Schimmel, Dr. Robert McMahan, Eddie Monteiro, Tony Dannon & Joe Cerrito and The Accordion Pops Orchestra conducted by Daniel Desiderio.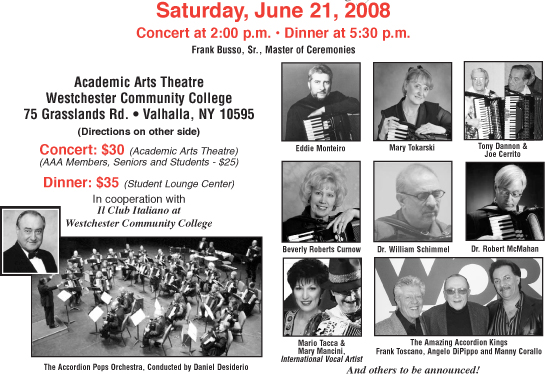 The concert will take place at the Academic Arts Theatre at the Westchester Community College, 75 Grasslands Road, Valhalla, NY 1059. Tickets for the concert are $30.00 (AAA Members, Seniors and Students - $25) with the Dinner: $35.00 (Student Lounge Center) in cooperation with Il Club Italiano at Westchester Community College.

For information, or to download the .pdf flyer and ticket order form, please visit: www.ameraccord.com

---
Promoting Your Accordion Services Free at AWW

The Internet is changing the way your customers are searching for services. The days of lugging out a 12 lb. telephone book to find very limited and outdated business information are coming to an end. People are still letting their fingers do the walking, but they're doing it over a computer keyboard. Below are some revealing facts from the Kelsey Group.
74% of US households use the Internet as an information source when shopping.
Approximately 45% of searches had a buying intent.
The percentage of respondents who used yellow page directories decreased from 75% to 62%.
(If you have a printed yellow page ad, it is time to consider buying a smaller ad and shifting your marketing dollars to the Internet.) The off-line Yellow Pages see the writing on the wall and are scrambling to transfer their business model to the Internet.

Businesses can no longer ignore these facts. If you want to be successful, you must have a presence where your customers are searching. Being found on the Internet is vital to the future of your business.


The accordion-yellowpages.com offers free of charge listing for all accordion businesses, teachers and for every type of service for accordionists. On the Accordion Yellow Pages site, you do not need to have a website for accordionists find you and contact you.


The search-accordion.com site is also free of charge, being a listing service for every type of accordion service, but you must have a website. Viewers of search-accordion.com can click through to your website.


Very popular is the AccordionLinks.com site where those accordion service providers with a website, can attract accordionists free of charge to their website.

All it takes is a little effort, to make sure your information on these three popular and very effective accordion sites is up to date. Your future success may well be determined by your ability to effectively adapt to the Internet. Should it be your New Year's resolution for 2008?



---
Frank Marocco to Appear in Italy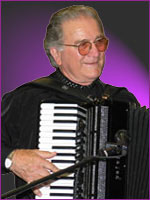 American accordionist Frank Marocco leads this year's Veneto jazz summer workshop. The jazz accordion workshop is organized with the support of Victoria Accordions, and takes place in Bassano del Grappa from July 21st to 25th.

The lessons include: general approach of using the accordion in different jazz styles; explanation of the various ways of combining the left and right hand, harmony/rhythm; advanced techniques for jazz chords; accompaniment techniques.

The musicians Massimo Tagliata, as teacher, and Andrea Dessì, as didactical assistant, Bassano del Grappa will assist in the workshops.

Frank Marocco is one of the most accomplished accordionists in the world, with soundtracks recorded for hundreds of Hollywood movies and television programs. He has performed with Frank Sinatra, Pink Floyd, Prince, Madonna, Luciano Pavarotti, Liza Minnelli, and many others.

There will be a maximum of 15 students, and the enrollment deadline is May 10th, 2008. For further information e-mail: ufficiostampa@venetojazz.com

---
American Accordionists' Association International Competitions

The American Accordionists' Association will hold three major International accordion competitions in addition to their annual national competitions during its upcoming 70th Anniversary Festival and Competition to be held in Arlington, VA, from August 13-17, 2008.

The three competitions offering $12,000 in prize money include:
AAA International Piano Accordion Competition, with prizes funded by the Carmen Carrozza Scholarship Fund:

First Prize - $3,500
Second Prize - $1,000
Third Prize - $500


The Annual Vivian Vivio Stolaruk International Entertainment Competition for Accordion:

First Prize - $3,000
Second Prize - $1,500
Third Prize - $500


The Maddalena Belfiore Entertainment Competition for Female Accordionists:

First Prize - $1,000
Second Prize - $500
Third Prize - $350
Fourth Prize - $150
All three International Competitions will be held at the festival headquarters, the Holiday Inn/Rosslyn, 1900 North Ft. Myer Drive, Arlington, VA.

For more information, including competition rules and entry forms, please visit www.ameraccord.com.


---
Quartetto Gelato to perform in Fairfield, CT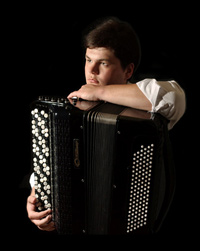 The popular Quartetto Gelato, featuring recent CIA World Champion Alexander Sevastian (right) will perform at Oneonta NY on the 9th of May, and on May 10 at Fairfield Universtiy in Fairfield, CT. at 8:00 PM.

For over a decade, this dazzling ensemble has enchanted audiences and critics worldwide with their exotic blend of musical virtuosity, artistic passion and charismatic presence. Quartetto Gelato established themselves as dominant forces on the emerging "new classical" scene early in their career by winning the coveted title of NPR Performance Today's Debut Artist of the Year in 1996. Today, Quartetto Gelato continues its reign as an international sensation with repeat sold-out performances throughout the globe.

Classical in intent, eclectic by design, Quartetto Gelato not only thrills its audiences with the mastery of six instruments, but offers the wonderfully unexpected bonus of a brilliant operatic tenor. With a performance repertoire that travels imaginatively between classical masterworks, operatic arias and the sizzling energy of tangos, gypsy and folk songs, the group's relaxed stage presence and delightful humor establishes an immediate rapport with traditional and nontraditional classical audiences alike. Performed without scores, their shows radiate a sense of spontaneity and excitement rarely seen on the classical stage.

The 2005-2006 and 2006-2007 seasons featured over 175 concerts in recital and with orchestras throughout the United States, Canada and Europe. In November 2005, the quartet returned to Sweden for a 14 concert tour and toured Estonia for the first time, performing 3 sold-out concerts. In addition, January 1, 2007 marked the debut broadcast of the group's first DVD on PBS stations throughout the US Filmed in High Definition, it is entitled Quartetto Gelato: A Concert in Wine Country!

Quartetto Gelato comprises Shalom Bard (clarinet), Peter DeSotto (tenor, violin and mandolin), Carina Reeves (cello) and 2007 CIA Coupe Mondiale World Accordion Champion Alexander Sevastian (accordion, bandoneon and piano.)

For further information e-mail: info@quartettogelato.ca

---
ATG Festival to be held in Nashville, TN

The 68th Annual Accordionists and Teachers Guild, International (ATG) Competition and Festival will be held in Nashville, Tennessee, from June 12th to 15th, at the Hotel Preston at 733 Briley Parkway, Nashville.

This year's festival will feature an outstanding array of virtuoso accordionists including those from the US as well as Russia and China.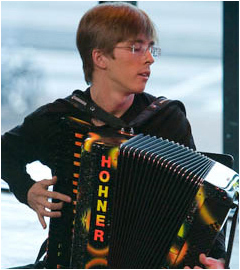 Young Hohner sponsored accordion sensation Alexander Shirunov, a recent winner of the CIA Coupe Mondiale International Competition for Piano Accordion will be one of the International guest artists. The festival will also feature Jeff Lisenby, Murl Allen Sanders, Xia Gang (China), Betty Jo Simon, Amy JO Sawyer, Mary Tokarski, Donna Ray and Karen Yatuzis & Die Musik Meisters.

For complete information such as advertising pricing, tourist information for Nashville, Festival Orchestra and competition information, guest artists, workshop presenters and ticket order forms please visit www.accordions.com/atg



---
Lidia Kaminska in the Philadelphia Inquirer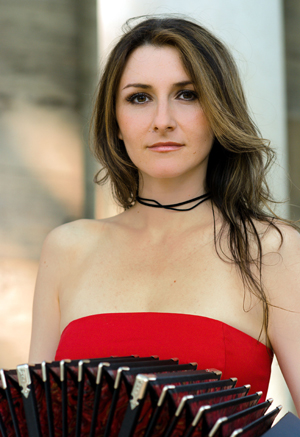 Accordionist and bandoneon artist Lidia Kaminska has been featured in the front page of the Philadelphia Inquirer on Sunday April 27th. The article is titled: "Roll in the barrel; roll out Beethoven" and it was written by Inquirer Music Critic Peter Dobrin.

Lidia's concert schedule will include several performances in May, including:
May 3, 2008, Concerto with the Haddonfield Symphony, Camden, NJ, Saturday, 8 PM. The Gordon Theater at Rutgers-Camden Center for the Arts, Rutgers University The program includes:
Rimsky-Korsakov: Cappriccio Espagnol
Piazzolla: Aconcagua Concerto for Bandoneon, String Orchestra & Percussion
Selection of Latin Tangos. Concert is SOLD OUT


May 16, 2008, Solo Recital with guest artist, guitarist Kasey Carmody. Las Vegas Chamber Music Society, Las Vegas, NV. Summerlin Library, 1771 Inner Circle, 7 PM. For more information: www.lvcms.org


May 22, 23, 24, 2008, Performances with the Owen/Cox Dance Group. Kansas City, MO, H&R Block City Stage Theater, Union Station, 30 W. Pershing Rd. For more information: http://www.owencoxdance.org
For more information on Lidia Kaminska, please visit: www.lidiakaminska.com or to read the newspaper article mentioned above, please visit: http://www.philly.com/philly/news/homepage/18308399.html


---
---
Note: In order to provide as much information as possible for the United States National Accordion News stories, many different sources are often researched to gather additional information and pictures to complement what has been submitted. This information is then correlated to provide the news on www.accordionusa.com in the spirit of which it is intended, which is to provide a free news service to the Accordion Community, specifically in the United Sates. If you feel any copyright has been violated please advise www.accordionusa.com and the article will be removed immediately.