Las Vegas International Accordion Festival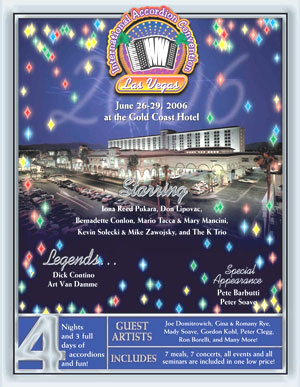 The Las Vegas International Accordion Convention will be held from June 26-29, 2006 at the Gold Coast Hotel and Casino in Las Vegas, and there are still some good seats available.

The Gold Coast Hotel and Casino has extended its registration deadline, so rooms are still available for $45.00!
This spectacular event will feature Dick Contino, Art Van Damme, Pete Barbutti and Peter Soave. Also staring at the event will be Iona Reed Pukara, Don Lipovac, Bernadette Conlon, Kevin Solecki & Mike Zawojsky, Mario Tacca & Mary Mancini and The K Trio.
In addition to this impressive lineup, the Las Vegas event will also offer performances by Joe Domitrowich, Gina Brannelli, Gordon Kohl, Ron Borelli, and Many More!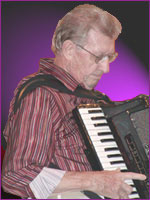 Four nights and three full days of unforgettable entertainment, inspiring workshops, special events, seven meals, seven concerts, all special events and classes and much, much more are available for:
Single Attendance $435.00, $60.00 Reservation/Deposit;
Couple Attendance $765.00, $85.00 Reservation/Deposit.
Evening only options are available - contact us for details!
Below please find our contact information. Out HOT LINE is a 24/7 messaging center that provides the latest up to date news and allows you to leave a message. You may also contact us via fax, e-mail or by post at: Toll Free Hotline: 1-800-472-1695, International: 01 801-486-1695 or Fax: 801-487-7707.

Las Vegas International Accordion Festival
1760 South 450 West
Salt Lake City, UT 84115, USA
General Information: lasvegas@accordioninfo.com


---
Frank Marocco to Perform in Silver Spring, MD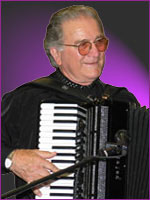 Frank Marocco will be appearing on June 2, 2006 at 8:00 PM at the Masonic Temple, 410 University Blvd. West, Silver Spring, MD. Tickets are $15.00.

Frank Marocco is considered to be one of the world's leading jazz accordionists. He has had a career spanning nearly 60 years and is one of the most recorded accordionists in the world.

Frank has recorded and/or worked with artists ranging from Luciano Pavarotti to Madonna. Other credits include nearly 300 movie tracks, well over 200 TV series, shows and specials, and over 150 commercials.

He has also composed and arranged jazz, classical, and other genres of music. Although he has performed extensively throughout Europe and the US, this will be Frank's first appearance ever in the Washington area. He will receive the coveted Lifetime Achievement Award from the American Accordionists' Association on June 4 in New Jersey.

A flyer which includes details and directions is available at http://roadtomarocco.com/pdf/fm_concert_flyer.pdf or call Joan Grauman at 301-806-5998.


---
HVH - Junior Orchestra from Germany to Tour the USA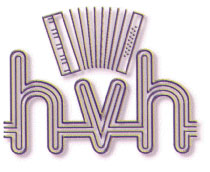 The German HVH - Junior Orchestra "Easy Listening" Concert Tour in the United States will take place from May 27 until June 5, 2006 and will be centered around Crystal Lake, Ill.

The 22 piece orchestra already had big success at national and international competitions. The junior orchestra of the HVH - Holzgerlingen, Germany, (some of the members of the group are pictured below) was founded in 1999, and will give five concerts while in the United States including: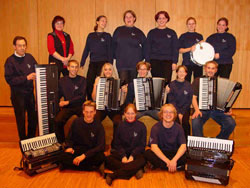 "Evening Concert at Crystal Lakes Main Beach", in the "Woodstock Square" Pavillon
"Cary United Methodist Church".
"Joint Concerts with the Community Jazz Band" in Crystal Lake.
Their wide repertoire consists of classical music of the last four centuries up to popular entertainment music.

Crystal Lake, Illinois, located 50 miles northwest of Chicago, is a short drive from O'Hare International Airport.


---
Accordion Concert in New Hampshire
The Accordion Connection located in Gilmanton, NH will host a concert featuring Michael Kaelin, Martin Stucki, Gerry Grimo, Fred Manzi.

The concert will take place on Saturday June 3, 2006 from 10:00 AM - 4:00 PM, and tickets are $15.00 at the door, or $12.00 if purchased in advance. (Children under 12 years of age are admitted free.)

Accordion Connection is located at 136 Route 106 Unit 1, Gilmanton NH 03237. For more information please call 1-800-328-5227 or visit: www.accordionconnection.com


---
HA HA! WA WA! The Accordion Can Kill You!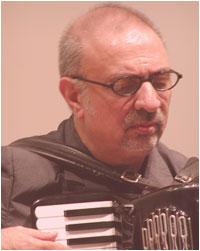 This years American Accordionists Association Master Class and Concert Series moderated by Dr. William Schimmel is entitled HA HA! WA WA!, THE ACCORDION CAN KILL YOU! and will be held from JULY 28-30, 2006.

WE KILLED THEM IN KALAMAZOO! HE TRIPPED OVER HIS ACCORDION AND LANDED ON A POISONOUS LIZARD - HA HA! LIFE WAS GOOD - NOW IT'S CRAP - WA WA! OUR 12th SMASH YEAR! A BIT OF WARNING! BETTER NOT ATTEND! YOUR HEART WILL BE BROKEN! YOUR SPIRIT CRUSHED! YOUR MIND……! IN ANY CASE, WELCOME TO THE SEMINARS!

WILDWOOD (circa 1953) , before Rock and Roll and Do Op architecture: a tribute to Danny DeCon - the icon of Jersey Shore point accordion-show bands. His motto: LET ME DECONSTRUCT YOU!

A fresh new look at the BELLOWS SHAKE as the ultimate TUMMY TICKLER.

An unauthorized reenactment of THE ACCORDION TEACHER, a performance that outraged everyone in the accordion community as the ULTIMATE SETBACK and was actually banned by this sponsoring organization back when it was introduced in the early 60's.

A seminar on the HA HA, the landscape architecture framing he 18th century English garden, inspiring the classical Sonata Allegro form.

Learn to turn a happy event into a living nightmare! - NO DEMON BARBERS NECESSARY! Just play that one sad, depressing song at the right moment - evoke a bad memory - perfectly timed - bring down the house….voila! …. Everyone goes home…..the party's over!

A new series of works composed specifically for the unaccompanied bass accordion: JOHN BROWN (the hanged man), WALTZING MATILDA (a tribute to the beheaded) and HAVA NAGILA - A LAMENT!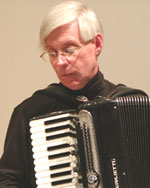 AND MORE…Dr. Robert Young McMahan will emerge as BOB MAND AND HIS 12 TONE RUBBER BLUES BAND. He will lecture on Leonard Feather's statement: "Rules are not made to be broken , but rubber bands to be extended to the point of infinity ". This is Bob's 12th year! He hasn't snapped yet.

Kamala Sankaram, accordionist/singer/composer/filmaker/sitar player - and clinical psycholgist will probe into the transitional psyche starting from HA HA! and ending with WA WA! - analyzing FREAK SHOWS - back to HA HA!, performing a variety of genres and her ontological video work INDO/NOIR.

Eminent choreographer, director/filmaker and fitness expert, Micki Goodman will teach us how to HOWL OUR WAY BACK TO HEALTH - as well as a new work that's …..well….TOTALLY OF THE SCALE! She will also present her new interactive video work, THE FOUR SEASONS.
Micki is Dr. Schimmel's dramatic director ---- and for the seminars in general. It's 12 years for Micki!

Godfrey Nelson / Lorraine Nelson-Wolf in the ontological "7", will close Friday night for the "12th" year. I/WANNA/BE/A/BABY/ALL/MY/LIFE (spoken quickly) - examines the accordion and it's intrinsic ability to facilitate age regression. Composer Stephen Dankner coined the initial phrase. BRING YOUR HUGGIES AND ENFAMIL - AND A REALLY GOOD NIPPLE!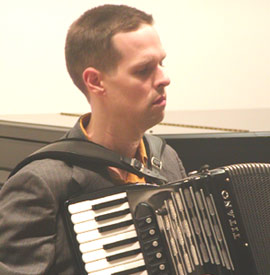 The young jazz great, Will Holshouser (right), will offer some SOOTHING JAZZ FOR BABIES - in the spirit of the late, great Raymond Scott and also take part in a discussion on "WHAT'S REALLY BEHIND THE MUSETTE"- exploring the devastating historical backdrops that made it happen. It's 11 years for Will!

R.D.RANTER AND CO., a duo comprised of writer/singer/accordionist Rembert Block and a young lady from the South Bronx, who she mentors. Blues, screams and rants will prevail. WAAAA! MAGAZINEwill be unveiled as well as a seminar on THE ACCORDION AS MEDIATOR.

Paul Stein will present his new song cycle: LOSS! This fascinating presentation deals with Personal loss, New Orleans, Getting Mugged and Surviving all of it. It's HA HA! and WA WA! - and he's still here to tell us about it - for the 12th year! -- also, don't miss his seminar on PLUG IN seminar (Amplification).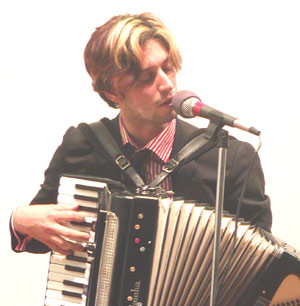 Benjamin Ickies, no stranger to ambition -hence the title of his Ambitious Orchestra, will give us the punk equivalent to HA HA! WA WA! in a short set: HAWA! Also, new works by David Stoler (STARTUNER), Liam Robinson (CHINA SHOP) and ONE LAST LOOK AT ACCORDION JOKES! Digital flutist, Lee McClure, will transform The Mother Goose suite into the FRACTURED tale that it was meant to be. AND.. NOTEKILLERS' David First will do what he does best…..kill all preconceptions…and ..notes!

King of Ragtime, Mark Birnbaum will give us the WA WA (WILD GOOSE) WAG. Always confrontational, Dr. Birnbaum will explore the highly structured HA HA, giving way to the Dionysion WA WA - ending with a no-headed WA WA in the spirit of Santeria.

Fearless Design CEO, Cristina Spelligene; ethnomusicologist, Maria Sonevytsky and stand up comic Lenny Feldman will give us THE THREE D'S: DESIGN, DIASPORA AND DERRIDA. Eric Salzman's Classic ACCORD will show the world that BIG BOYS DO CRY! Allyssa Lamb's instrumental vocals, melodica, glockenspiel and kazoo will CHARM, SEDUCE and STING at the same time. Composer, Richard Peaslee will have us consider the axiom: THE ACCORDION IS MOBY- DICK!

As a shark is a killing machine, The K Trio is a winning machine. Watch, listen and enjoy as they kill you with their MOJO and win you over at the same time.

Actress Kathleen Tipton, who has performed, hosted, stared and lectured for over a decade, cyber artist Rachid Eladlouni and performance artist Ray Rue (Elvis/Groucho) will show NO MERCY. Marni Rice will give us WAUX! -in French -NO REGRETS! Rita Davidson will give us MORE ETTORE! There will be AAA commissioned works by Schimmel, John Franchesina and Alexander Tcherepnin performed by Dr. McMahan and Dragica Banic-Curcic of Croatia. Walter Kuhr of MAIN SQUEEZE will give us BAVARIAN BLUES. Brian Dewan will have us drowning in the aisle over his TED KENNEDY RAG.

Dr. Schimmel, lecturer- in- residence of the AAA will resurrect a vintage concerto by ANDY ARCARI - one of America's great pioneers, as well as a new work, A BRIEF HISTORY OF PLAID- combining the HA! WA! qualities of Auld Lang Syne, Palliachi, Indian Madras and Fado (Portuegese)/ Fado (Gallic)-with an interactive video by Micki Goodman. Schimmel also composed the bloody bass accordion works. This is Dr. Schimmel's 12TH year as originator/moderator and curator of the Seminars. This Year he will also present THE ELECTRIC CHAIR to those who would like to perform in the afternoon workshops and receive his "CURRENT" comments -along with his executing executives. Limited to a few players only, those interested should contact Dr. Schimmel directly. HA!AND WA! encouraged -actually Mandatory!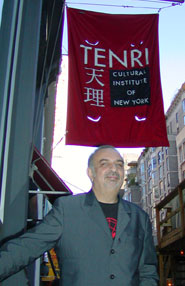 BROKEN HEART? The late alcoholic meditation master Chogyam Trungpa says: "It's the only way to become a decent human being." We say: NO CURES, NO SOCIO/ SPIRITUAL TRANSFORMATION, NO BOOZE - Just bring your frazzled, pained psyches and make it look like you're having a good time.

SEE YOU AT THE SEMINARS!

The event will be held at:
THE TENRI CULTURAL INSTITUTE OF NEW YORK
43 A West 13 St. (between 5th and 6th Ave.)

Master Classes at 3.00 PM Concerts at 7.00 PM

For further information e-mail: billschimmel@billschimmel.com


---
From the Top Radio Show Searches for Young Accordionists

For the first time 'From the Top' radio show featured an accordionist. Show 133 featured a performance by Ebilin Maruyama and can be heard on the internet at www.fromthetop.org.

From the Top is a not-for-profit multi-media organization whose mission is to encourage and celebrate the development of youth through music. From the Top provides information, entertainment, interaction and education for pre-college aged musicians, their parents and teachers.

The show is produced in association with WGBH Radio Boston and New England Conservatory of Music and is distributed by National Public Radio. Gerald Slavet is the Artistic Director.

The show is currently looking for young accordionists, between 8 and 18, who play classical music. Young classical accordionists are invited to visit the RUL listed below and complete the Application Page in order to be considered. The show does have scholarships available for musicians selected to be on the show.

http://www.fromthetop.org/Programs/BeOnTheShow.cfm


---
Dr. William Schimmel in the Czech Republic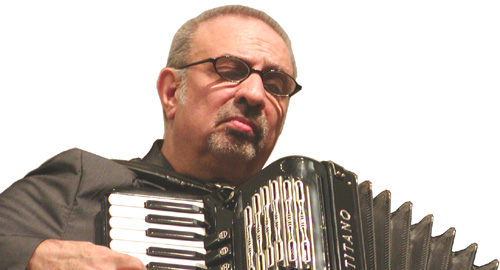 Dr. William Schimmel will be in Ostrava, Czech Republic from June 12 to the 18th. He will perform Alvin Singleton's Say You Have This Ball Of Meaning for Voice, Harp, Accordion and Strings.

The performance will take place on June 16th at Philharmonic Hall in Ostrava with the Janacek Philharmonic with Petr Kotik (Prague/New York) conducting. The soloists will be: Thomas Buckner (New York), Baritone; Ada Balova (Ostrava), Harp and Dr. Schimmel (New York), Accordion.

The work will be recorded the following day for international release (to be announced). Dr. Schimmel will also meet with the accordion students at the Conservatory.

---
National Accordion Awareness Month
National Accordion Awareness Month has been creating some high profile media coverage in the USA.

The Sunday Datebook section of the San Francisco Chronicle will feature coverage on Sunday (online at www.sfgate.com) and additional TV Coverage is being presented on KRON Channel 4 or Marine World in Vallejo.

The 16th annual San Francisco Accordion Festival, a free event celebrating National Accordion Awareness Month as well as highlighting San Francisco's official musical instrument, will be held on June 4th in the Del Monte Square at the Cannery at Fisherman's Wharf. This event goes from 12 noon until 6:00 PM, featuring a wide variety of accordion-based bands and will include the San Francisco's Main Squeeze Pageant.

For further information please contact: tom@ladyofspain.com


---
Mary Tokarski will Appear at the Powerhouse, CT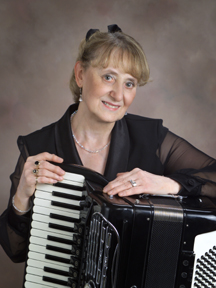 Accordionist Mary Tokarski will be appearing in "A Night on the Left Bank" on Saturday, June 10, 2006 at 8.00 PM at the Powerhouse in Waveny Park, South Avenue, New Canaan, CT (Exit 37 off the Merritt Parkway).

The show will feature Megan Owen, Soprano, Richard Danley, Musical Director/Piano, Avrom Berel, Director and Mary Tokarski, Accordion.

Mary began her music career at 7 with Michael Fernino of Ansonia, Connecticut, and performed and competed at local, state and national events throughout early adulthood . . . amassing over 185 trophies and awards, including two US Championship Titles, a 3rd place in the 1973 Confederation Internationale des Accordeonistes (CIA) Coupe Mondiale, and a 2nd place in that year's Coupe Mondiale Pop Category.

Tickets are $25, which includes a Champagne Reception. For information, please contact: 203-966-7371.


---
AAA Festival in Buffalo, NY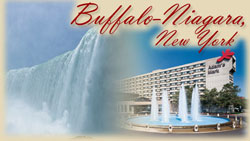 The American Accordionists' Association welcomes you to their 2006 Competition and Festival to be held in Buffalo, NY from July 12-16, 2006.

The competition will be held at the Adam's Mark Hotel; 120 Church Street, Buffalo (Niagara Falls), NY 14202 with the room rate being $89.00 (plus tax) per night (single, double, triple, quad). Attendees are reminded to please mention AAA Festival to obtain discounted rate
716-845-5100 or (800) 444-ADAM (toll free).



The festival will feature Competitions, Workshops, Displays, Concerts and much more including several International Competitions such as
The 2006 Vivian Vivio Stolaruk International Entertainment Competition for Accordionists
First Prize: $10,000.00

2006 Polka Band Competition
First Prize: $1,500.00

Sing and Play - for the Accordionist who also Sings!

Gary Daverne (New Zealand) Festival Orchestra Conductor

artists include The Busso Trio

visit to Niagara Falls including performance of the AAA Massed Band
For festival information, all registration and entry forms, please visit: www.ameraccord.com


---
Promoting Your Accordion Services Free at AWW

The Internet is changing the way your customers are searching for services. The days of lugging out a 12 lb. telephone book to find very limited and outdated business information are coming to an end. People are still letting their fingers do the walking, but they're doing it over a computer keyboard. Below are some revealing facts from the Kelsey Group.
74% of US households use the Internet as an information source when shopping.
Approximately 45% of searches had a buying intent.
The percentage of respondents who used yellow page directories decreased from 75% to 62%.
(If you have a printed yellow page ad, it is time to consider buying a smaller ad and shifting your marketing dollars to the Internet.) The off-line Yellow Pages see the writing on the wall and are scrambling to transfer their business model to the Internet.
Businesses can no longer ignore these facts. If you want to be successful, you must have a presence where your customers are searching. Being found on the Internet is vital to the future of your business.



The Accordion Yellow Pages offers free of charge listing for all accordion businesses, teachers and for every type of service for accordionists. On the Accordion Yellow Pages site, you do not need to have a website for accordionists find you and contact you.



The search-accordion.com site is also free of charge, being a listing service for every type of accordion service but you must have a website. Viewers of search-accordion.com can click to your website.



Very popular is the AccordionLinks.com site where those accordion service providers with a website, can attract accordionists free of charge to their website.

All it takes is a little effort, to make sure your information on these three popular and very effective accordion sites is up to date. Your future success may well be determined by your ability to effectively adapt to the Internet. Should it be your New Year's resolution for 2006?

---
Annual Bel-Aire Polka Days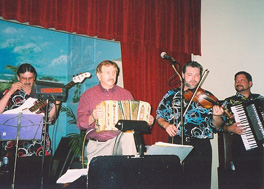 Eddie Blazonczyk Presents The Annual Bel-Aire Polka Days 41st Anniversary Celebration Friday & Saturday July 7th & 8th, 2006 at St. Joe's Park, 1312 W. Theodore Street, Joliet, IL, featuring The Finest In Polka Music!

Groups scheduled to perform include:
Eddie Blazonczyk's Versatones from IL (Fri-Sat)
Eddie Biegaj & Crusade from OH (Sat)
The Dynabrass from MI (Fri)
Darrel Weltin's New Brass Express from MI (Sat)
Roger Majewski's Harmony Kings from WI (Sat)
Touch of Brass from OH (Fri)
One More Tyme from IL (Sat)
The Polkia Days will feature outdoor Polka fun for the entire family come rain or shine!

Daily admission is $10.00 with attendees under 15 years of age admitted free of charge when accompanied by an adult.


---
Salomón Canelo Concert, San Miguel de Allende
On May 26th Salomón Canelo gave his first public performance with diatonic accordion in a neighborhood of San Miguel of Allende Guanajuato. His program was mainly Mexican music arranged especially for diatonic accordion, and the event began at 4.30 PM.

Salomón Canelo also participated on the same day in a documentary made for the national television of Venezuela, playing diatonic accordion. This program was transmitted in Venezuela and also in several other countries in South America.

For further information e-mail: salomoncanelo@yahoo.com.mx


---
How Many Musicians does it Take to Play A Gong? Nine!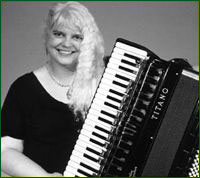 The gamelan (a collection of native Indonesian instrumental string, wind and percussion instruments) is called a 'gong' in its homeland.

Six members of the EDT Folk Orchestra, including accordionist Dee Langley, will collaborate with three guests from the Schubert Gamelan Ensemble to perform an Indonesian song from the 12th century during the production of Ethnic Dance Theatre's 'Beyond the Crescent Moon.'

This show takes place on June 2nd and 3rd at 8 PM; June 4th at 2 PM at the E.M. Pearson Theater, Concordia University, 312 N. Hamline Ave, St. Paul.

Indonesia is just one of the countries presented by Twin Cities based Ethnic Dance Theatre. The Ethnic Dance Theatre's mission is to foster understanding and awareness of world cultures through the re-creation and presentation of traditional ethnic dance and music.

For further information e-mail: squeezermn@yahoo.com

---
Viatcheslav Semionov to appear at the ATG Festival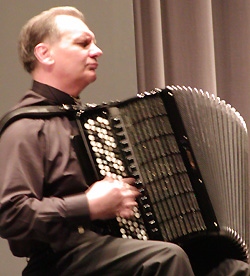 The Accordionists and Teachers Guild, International (ATG) will held its annual competition and festival to be held from June 29 - July 2nd, 2006 at the Ramada Mall of America and Thunderbird Convention Center, 2300 East American Boulevard in Bloomington, MN 55425-1228 located at I-494 At the 24th Avenue Exit between I-35 W and I-35 E on I-494. The cost per room is $89.00 (plus taxes) per night with single, double, triple or quad occupancy.

Headlining the 2006 Festival is renowned Russian artist, composer and teacher Viatcheslav Semionov from Russia.

Mr. Semionov was born in 1946 in the ancient city of Trubchevsk, Bryansk (about 300 KM south of Moscow). Following in the footsteps of his father and grandfather, he began playing the bayan (chromatic accordion) at the age of 7. After his father's initial tuition he continued his studies at the Rostov Art College and the Gnessins' Musical Pedagogical Institute in Moscow (now called the Russian Gnessins Academy of Music), one of the great musical centres in Russia.

At 21 years of age his international career began, when he started to take part in accordion competitions in Klingenthal, Germany (1967), Sofia, Bulgaria (1968) and Berlin, Germany (1973), in all of which he was placed Laureate of these competitions. As concert artist Viatcheslav Semionov has given concerts in more than 30 countries.

Viatcheslav Semionov (who may rightly be called, one of the founders of the modern school of the bayan) began teaching in 1968 at the Rostov Musical Pedagogical Institute. In 1988, Semionov was invited to be a Professor of Gnessins Russian Academy of Music. Over fifty of his students have been competition winners at international level and many others of his students have won national competitions. Youri Shishkin, Anatoli Zaikin, Youri Dranga, Yuri Medianik, Alexander Pouliev, Alexander Selivanov have received their education from Prof. Semionov.

In addition to his intensive teaching schedule, he pursued his career on the concert stage, for which he received the following accolades:
1977 Awarded the title "Honored Artist of Russia"
1982 Vice - President of the Music Committee of the Confederation Internationale Des Accordeonistes
1983 Granted degree of Professor
1988 Professor at the Gnessins Russian Academy of Music, Moscow.
1994 Awarded the Silver Disk at the Intern. Festival "Bayan and Bayanists" in Moscow
1995 Awarded the highest possible honor"People's Artist of Russia" by President Boris Yeltsin
2000 Laureate awarded at the International Competition of Composers in Moscow
2002 Elected to the Confederation Internationale Des Accordeonistes Music Committee
2004 Awarded the Merit Award of the Confederation Internationale Des Accordeonistes
2005 Order of Friendship presented by the President of Russia, Vladimir Putin
As well as often being invited to give master classes at conservatories in Russia and abroad, he is frequently asked to judge at international competitions. Since 1991 he has been playing duo with his wife Natalya Semionov who plays the domra (a traditional Russian folk instrument). They have given concerts in the USA, China, and extensively throughout Europe.

Viatcheslav is well known as a composer for the bayan. His compositions, "First Sonata", "Basquriad - Second Sonata" "Four Rhapsody: Ukraine, Belarus, Lithuania and Estonia", "Don Rhapsody", "Frescos - Concert for Bayan and Chamber Orchestra in 3 movements", "Divertemento for Accordion or Bayan", "Caprice No. 1", "Caprice No. 2", and others, are considered standard repertoire by many accordionists in the world and his works are compulsory pieces for many international accordion competitions. His compositions have been published in both Russia and Germany. He has recorded several LPs and cassettes and in 1996 his first CD "Semionov plays his Transcriptions" was released.

Other guest artists at the ATG Festival will include: Murl Sanders, Stas Venglevski, Amy Jo Sawyer, Minnesota Accordion Quintet, Mike Alongi and Larry Malmberg, John Scaffeo, Dan Newton and the Café Accordion Orchestra, Dee Langley and Orkestar Bez Ime and The ATG Festival Orchestra under the direction of Joan C. Sommers.

For further information, please visit www.accordions.com/atg


---
Rocky Mountain Accordion Celebration
Should your travels take you to Montana from Friday August 4 - Sunday August 6 - 2006, a cultural surprise will await you in Philipsburg, Montana.

The guests at this years Rocky Mountain Accordion Celebration include: Lidia Kaminska... you won't want to miss Lidia Kaminska in concert at the Opera House Theatre. Lidia Kaminska has been thrilling audiences in Europe and the US, with her charismatic exploratory performances.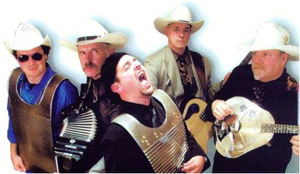 The King Bees of The Bayau (Zydeco) from Bellingham, Washington will be our featured Saturday night dance entertainers. The King Bees play the fiery Zydeco sounds of Louisiana and the ecstatic big beat of New Orleans.

Returning this year are Mike and Margie Aman from Denver, Colorado, with a display of Monarch accordions. The will be offering two workshops daily, Thursday through Saturday.

The fun, exciting, Awesome Polka Babes will open Friday evening on the Platzl. The Friday night dance will feature Toby Hanson and The Smilin Scandinavians.

Thank you for sharing and we look forward to seeing you smiling faces as you dance, tap your feet, feast and frolic, play your music, in home town America - Philipsburg.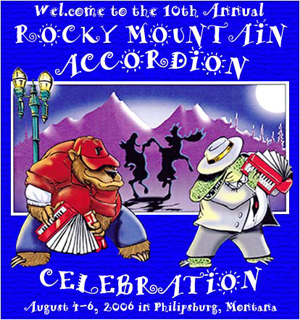 From its beginning in August of 1997, the Rocky Mountain Accordion Celebration has been a rousing weekend of dancing and listening to music, steak barbecues and outdoor pancake breakfasts, concerts in the 1892 Opera House and a parade of homemade pies.

With the platzl and the tented dance floors in the center of this picturesque 1890's town, visitors, residents and participants alike find fun, food and frolic. Dance or tap your toes to the music, in the sun or shade, by starlight or streetlight

Philipsburg lies in the Flint Creek Valley between Anaconda and Drummond. A quiet little village, Philipsburg has streets dressed in 1880 vintage paint and exterior. It is surrounded by ranches, the Pintler Mountain Range and superb fishing on Flint Creek and George Town Lake and the renowned Rock Creek.

Accordion enthusiasts, players, and dancers come to strut their stuff. Concerts are held in the 1892 Opera House Theater. Accordions of all shapes and sizes perform on the streets, in the pubs, and all over the campgrounds. Waltz, Polka, Two-step, Fox-trot or Tango to Ethnic music as well as ragtime and jazz. If you sort of forgot how or have never danced, instruction is available. The Celebration is one of sharing dancing, apple pie and the love of accordion music.

RV parking and Full Service hook ups are limited. Open Parking available at Sunshine Station & the City Park, or anywhere else in Town. Residents will share space and even rooms if necessary. Free Dump Station, Gas & Water available at Sunshine Station. The area behind the museum is closed for construction.

Come early. Stay late. Fish, hike, explore the old mining towns or hunt for sapphires.

For a complete schedule please visit: www.accordions.com/rmac
---
---
Note: In order to provide as much information as possible for the United States National Accordion News stories, many different sources are often researched to gather additional information and pictures to complement what has been submitted. This information is then correlated to provide the news on www.accordionusa.com in the spirit of which it is intended, which is to provide a free news service to the Accordion Community, specifically in the United Sates. If you feel any copyright has been violated please advise www.accordionusa.com and the article will be removed immediately.