---
Final Curtain Call for "Accordion Diva" Maddalena Belfiore-Greco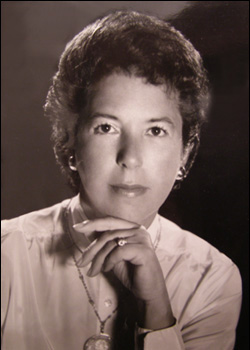 Accordionists from around the world are saddened to learn of the passing of Maddalena Belfiore.
Messages of condolence, may be sent to:
58 W. Bennett Ave.
Kearny, NJ 07032, USA

The family requests memorial donations to be sent to the Maddalena Belfiore-Greco Fund at the:

American Accordionists' Association
152 Home Fair Drive
Fairfield, CT 06825
USA
---
FINAL CURTAIN CALL FOR "ACCORDION DIVA," MADDALENA BELFIORE-GRECO
by Faithe Deffner, LONGTIME FRIEND AND FELLOW AAA BOARD MEMBER
On May 18, 2007, Maddalena Belfiore-Greco lost her battle with cancer when she succumbed to the illness, which claimed her life. She drifted off peacefully at home, with her family. Born in Kearny, New Jersey, Maddalena began accordion studies as a five-year-old, and went on to become the "Accordion Diva" of the twentieth century in a whirlwind career, which spanned decades and encompassed numerous aspects of the instrument's evolution.

The list of accordion teachers with whom Belfiore studied reads like a Who's Who of the accordion world: Sanford Hertz, Charles Nunzio, Eugene Ettore, Joe Biviano, Andy Arcari and the stellar Pietro Frosini whose protégé she became. While taking lessons with Frosini, Maddalena also studied at Juilliard in New York City, immersing herself in music theory, ear training, piano and conducting courses, while finishing high school so she could become a full time student at Juilliard. At 17, she had her Carnegie Hall recital.

Maddalena's friendship with Theresa Costello of O. Pagani & Bro., led to the venerated publishing firm commission for her to compose three "Bellows Shake" books, describing the specialized technique, which became synonymous with Belfiore's name. She also composed Valse Diane (written for her niece), Pan Polka (in tribute to the Pancordion which she played for more than 50 years) and Cavalier Waltz (Waltz Brilliante). She arranged Shake a Leg Polka, a Frosini composition. Most of this music is still available through Ernest Deffner Publications.

Maddalena concertised everywhere and met all the great accordionists of the period. Eventually, she met TV accordionist Myron Floren who was also a Pancordion artist. Together with Myron, she co-authored and edited the Myron Floren Method, "Let's Play Duets" and the Showstopper Series, all of which were published by Remick Music during the 1960s.

In 1958, she established her own accordion school in her hometown of Kearny and dedicated herself to teaching hundreds of youngsters to play the instrument she loved. This was the hey day of accordion popularity in the US and her students participated in American Accordionists' Association competitions throughout the ensuing years, winning significant numbers of prizes and distinctions. Eventually, Belfiore became an adjunct professor at Fairleigh Dickinson University in New Jersey.

In the midst of her whirlwind life in the music world, Maddalena met and married Mauro Greco, a real estate developer. Mauro accompanied Maddalena to accordion events all over the world and was a dedicated exponent of his wife's career in music. The couple had two sons, Nat and Frank.

Most of her teachers were past presidents of the American Accordionists' Association and it was inevitable that Maddalena would be drawn into this esteemed organization, which was making great strides in popularizing the instrument and advancing its curriculum.

She was elected to the AAA Board of Governors in 1955 and to the office of secretary a decade later. In 1971, she became the organization's first female president, breaking through the glass ceiling, which dictated that top posts were reserved for men. Her accomplishment facilitated other women to follow and in subsequent years, Elsie Bennett (1973), Addie Cere (1982), Faithe Deffner (1985) and Linda Reed (2005) became presidents.

Maddalena herself held the AAA presidency three different times and was contest chair on several occasions. Among her memorable feats, in 1980, she was hoisted up in a cherry picker to conduct a 1000-accordion massed group playing the Tennessee Waltz at an AAA competition in Nashville, resulting in tremendous publicity for the accordion.

In 1985, Belfiore was appointed Executive Secretary of the AAA and she held that post until very recently when illness caused her to relinquish it.

The American Accordionists' Association's national membership in the Confederation Internationale des Accordeonistes (CIA) became the platform for Maddalena to participate in this international organization which conducts the most prestigious annual accordion competition of world-wide scope. In 1974 she was elected vice president of CIA and held that office for 16 years, attending many international events and serving as one of the AAA delegates to the congresses.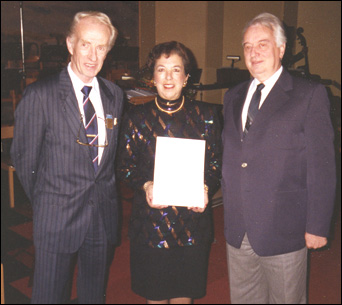 She received the CIA Merit Award in 1995 for "outstanding contributions to the international accordion movement" in Avesta, Sweden, for her contribution of numerous documents to the Confederation's archives. In 2007, the Confederation awarded her its second Honorary Membership. (pictured right are Maddalena with CIA President at the time Mr. Ove Hahn from Sweden, and now retired CIA General Secretary Professor Walter Maurer from Austria. Maddalena and Prof. Maurer are the only two accordion personalities to ever be awarded CIA Honorary Membership.)

Belfiore was one of those who were instrumental in bringing the 2007 Coupe Mondiale to the US to be held in Alexandria, Virginia from August 13-19, 2007, in celebration of the CIA's 60th anniversary. At the same time as the Coupe takes place, the Maddalena Belfiore Entertainment Competition for Female Accordionists is being held on August 15, 2007. The event, sponsored by accordion dignitary Sylvia Prior of California, offers a $5,000 first place prize.

Few people can claim the many honors and achievements that were ordinary events in the life of Maddalena Belfiore-Greco. She leaves a great legacy within the accordion community. She received the International Golden Lady Award (1976); Massachusetts (1977) and Rhode Island (1978) presented her with Outstanding Achievement awards; Nashville, Tennessee honored her with the Golden Record Award for AAA's massed accordionist performance (1980); she was named "Woman of the Year" for New Jersey (1980); and was selected for the panel for US Life and the Family in Washington, DC (1980).

Maddalena was founder and director of the Arcari Foundation, a past president and director of the Accordion Teachers Association of New Jersey, AAA delegate to the National Music Council and a member of the All-Arts Society of New York.

On AAA's recent CD, titled "Extraordinary Performances by Extraordinary Performers," Belfiore plays La Muchacha de Fuego, Valse Diane, Rita Polka and Shake a Leg Polka.

She is survived by her husband, Mauro Greco, her sons, Nat and Frank and their respective wives, Joanne and Maryann, three grandchildren: Christopher, Adrianna and Alex, her sister Gina Belfiore and niece Diane Venezia.
---

This Celebrity interview with Maddalena Belfiore was conducted at her home in Kearny, New Jersey on March 26, 2006. It was saved to be published to coincide with two impressive honors to be bestowed upon her at the forth coming CIA Coupe Mondiale in Alexandria, VA.

Now, after her sad passing, we publish this interview in great respect of her legacy in the accordion world.
---


---
Frances Brougher Passes Away in Texas
Frances Davis Brougher, age 89, of Austin, Texas, died on Monday, May 28, 2007. She was born to Luther Jefferson Davis and Lois Taylor Davis on February 28, 1918, in Bethany, Louisiana.

Frances received her Bachelor's degree in 1939 from Louisiana State University and went on to receive her Masters degree in 1949 from The University of Texas at Austin. She retired in 1979, after 38 years in the public school system.

Frances was an active member of University Methodist Church. Her life was a wonderful example of dedicated service through teaching and playing the accordion for the joy of others. Her love of music included playing the accordion, piano, organ, and singing. Frances maintained an interest in genealogy, writing, and traveling.

She was a member of the LSU Alumni Association, Austin Chapter, National and Central Texas Accordion Association, RSVP volunteer for 23 years, The Longhorn Foundation at the University of Texas, Austin Retired Teacher's Association, and numerous other social and service organizations.

Frances received a Distinguished Alumni Award from Louisiana State University and special recognition for her organization and dedication to the Blue Brigade.

Frances is survived by her extended family, including cousins, nephews, nieces, grandnephews, grandnieces and others, who loved her greatly. She was preceded in death by her husband of 49 years, Stephen F. Brougher; her parents, Luther and Lois Davis, and sister, Mary Davis.

She was very instrumental in starting the Central Texas Accordion Association (NAA), and has sponsored touring groups such as the International Trio, Jason, Betty Jo Simon, Leo Aquino, Gary Daverne, and others.

Frances was buried at Panola Mt. Zion Cemetery in Panola, Texas. Memorial contributions may be made to the University Methodist Church or to a charity of your choice.


---
Motion Trio in the USA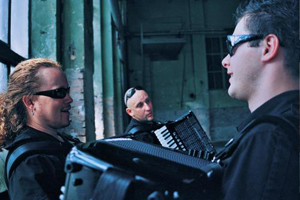 The Polish Cultural Institute brings Motion Trio, the internationally acclaimed innovative accordion trio, back to the US on a tour with the following concerts: at the Skirball Cultural Center in Los Angeles on Thursday, May 31, at 8:00 PM as part of the "Compressing the World" festival of international accordion music, where Motion Trio will perform the world premiere of Krzysztof Penderecki's "De Profundis" from "Seven Gates of Jerusalem" (Symphony No.7), arranged for three accordions by the composer; then at New York's Joe's Pub on Saturday, June 2, at 9:30; and finally at The Chicago Cultural Center on Sunday June 3, at 3:00 PM.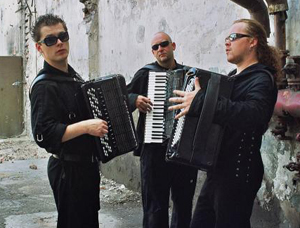 PLEASE NOTE THAT WHEN ORIGINALLY ANNOUNCED, THIS WAS TO HAVE BEEN A DOUBLE BILL WITH THE BESTER QUARTET (formerly known as the Cracow Klezmer Band), WHO HAVE HAD TO CANCEL FOR PERSONAL REASONS BEYOND THEIR CONTROL. Please note also that the performance time at Joe's Pub in New York that was previously announced has been changed to 9:30 PM.

Motion Trio was founded in 1996 with a mission to redefine the accordion and explore soundscapes far beyond what one associates with this instrument. Manfred Horak from Jazzeit writes "To achieve similar effects, a group like Pink Floyd required enormous equipment, whereas Motion Trio, only three accordions." The Pigini Sirius Millenium accordions, considered to be the finest in the world, are used by the musicians to produce an extensive gamut of innovative timbres through the use of a variety of unconventional accordion techniques, all strictly acoustic-created. In their music they draw from a wide range of musical styles including minimal music, jazz, rock, techno and classical music. Motion Trio has worked with many prominent artists, such as Bobby McFerrin, Trilok Gurtu, Joe Zawinul, Tomasz Stanko, Michal Urbaniak, Wojciech Kilar, Krzysztof Penderecki and Sinfonietta Cracovia. The group has performed in 28 countries and recorded 4 CD's.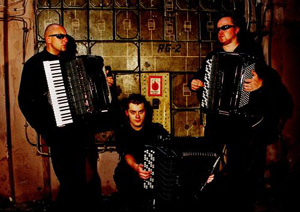 New York City Concert:
WHAT: A concert by Motion, one of Poland's most innovative bands
WHEN: Saturday, June 2, 9:30 PM
WHERE: Joe's Pub, 425 Lafayette Street (bet'n East 4th and Astor Place), New York, NY 10003
TRANSPORTATION: Subway: 6 to Astor Place; N, R to 8th Street/NYU
ADMISSION: $20, 212-967-7555 or online at http://tickets.publictheater.org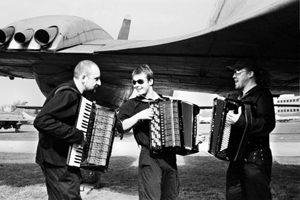 Chicago Concert:
WHAT: A concert by Motion Trio, one of Poland's most innovative bands
WHEN: Sunday, June 3, 3:00 PM
WHERE: Chicago Cultural Center, Preston Bradley Hall, 78 E Washington Street, wheelchair accessible at 77 E Randolph
TRANSPORTATION: Easily accessible by public transportation, CTA buses, rapid transit, and Metra trains
ADMISSION: Free

Motion Trio is an accordion trio founded in 1996 by Janusz Wojtarowicz, leader and composer of most of the music. A unique entity on the European and world music scenes, the Motion Trio is changing the face of the accordion while performing its own, original music. Its concerts are musical events, full of action and drama. Motion Trio plays Pigini Super Sirius Bayan accordions, considered to be the finest in the world, and provided through a grant from the government of the Republic of Poland.

In their music one can hear the influence of a diversity of musical styles: from rock, to jazz, to classical music. Despite their relative youth, the Motion Trio has already worked with such artists as Bobby McFerrin, Trilok Gurtu, Joe Zawinul, Tomasz Stanko, and Michal Urbaniak, as well as Krzysztof Penderecki, Wojciech Kilar, Marta Ptaszynska, Sinfonietta Cracovia, and Deutsches Filmorchester Babelsberg. October 2006 saw the premiere of the "Motion Symphony" in Pottsdam, performed with the Deutsches Filmorchester. The next performances of the "Motion Symphony" will take place in Rio de Janeiro, Buenos Aires, Riga and in Cologne with WDR Rundfunkorchester Köln in 2007. Motion Trio is the Grand Prix laureate of the 4th Edition of the Krzysztof Penderecki International Contemporary Chamber Music Competition (2000). They have also given master classes at the University of Chicago and the National Conservatory in Paris.

The Motion Trio has recorded four CD's – "Cry," "Play-Station," "Live in Vienna Sacrum & Profanum," and "Pictures of the Streets." "Pictures" became a hit and was awarded the following honors: Deutsche Shallplaten Kritik, the Polish Music Industry's Grand Prix, Best Polish Recording of 2000, Top 2000, and Jazzi Magazine's critics' Album of the Year Award. Polish music critics recognized the Motion Trio's debut as the best in Poland for 2000, which is borne out by their taking second place (after Tomasz Stanko) in Jazzi magazine's musician/group category.

Motion Trio has performed in 28 countries, participating in a great number of prestigious festivals and musical events: the Montreal Jazz Fest, the Alternativa Festival in Moscow, the Migration Music Festival in Taipei, Fest Der Kontinente in Berlin, the Gaudeamus Festival in Amsterdam, the Reykjavik Arts Festival, the Festival d'Ile de France in Paris and many others.

In 2004, by invitation from Joe Zawinul, the group appeared at the Vienna club "Birdland" where, over the course of five evenings, they presented 5 different stylistic programs (from contemporary, through jazz to world music).

In 2005 Motion Trio has been honored with the "Prix Gus Viseur," the renowned French music award, in the category "Musical Discovery of the Year."
On May 31st, 2007 in Los Angeles, Motion Trio performed the world premiere of Krzysztof Penderecki's "De Profundis" from "Seven Gates of Jerusalem" (Symphony No. 7) arranged for three accordions by the composer.
"Their music is amazing" – Joe Zawinul about Motion Trio
"This is an exceptional accordion trio" – Krzysztof Penderecki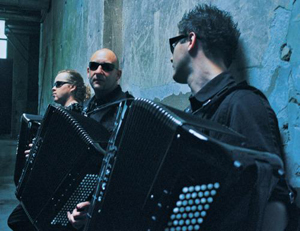 The performers in the Motion Trio are:

Janusz Wojtarowicz (b.1971): Composer, accordionist, founder and leader of Motion Trio, he began studying piano and accordion under his father Eugeniusz at the age of seven. After completing the Music High School in Krakow, he went on to study accordion at the Academy of Music in Krakow. Wojtarowicz has won numerous prizes at many chamber music competitions in Poland and abroad. He also composes music for theatre. In 2001 he received a scholarship from the president of the City of Krakow.
Pawel Baranek (b.1978): Began studying accordion and organ at the age of nine, under Professor Wieslaw Kusion. After Completing the Music High School in Tarnow, he went on to study at the Academy of Music in Krakow. He has won several accordion competitions in Germany and Italy among others. He is one of Europe's finest accordionists of the younger generation.
Marcin Galazyn (b.1975): Began studying accordion at the age of seven, under Professor Eugeniusz Ajdmach. After completing the Music High School in Bialystok, he went on to study accordion at the Music Academy in Krakow. Winner of many national accordion competitions, he also performs flamenco music.

For more information, please see: www.motion-trio.art.pl


---
Gary Dahl releases New Book with Mel Bay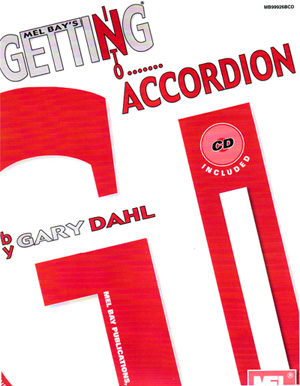 Accordionists familiar with Mel Bay Publications are aware of their primary author for the accordion. Gary Dahl has his own author's web site within the main Mel Bay web site. Click on any book listed to visit that book's page. A new book, 'Getting Into Accordion,' has been released as of April 07. This book features an instructional CD and two sound files of same that can be downloaded. Also, please visit: www.accordions.com/garydahl for a list of all books, 20+ sample arrangements, e-mail for contact and how to purchase.

How did Mel Bay and Gary Dahl meet? Gary knew Mel Bay had very few Accordion Books and simply wrote to Bill Bay with samples, suggestions and a tape. Bill Bay was impressed and promptly wrote back that included a contract for the first book, 'Jazz Accordion Solos' with CD. This book quickly became a 'best seller' with over 4,000 copies sold to date world wide. Similar successes have been realized with all of the books written and recorded by Gary Dahl.

Gary's instructional books and song books contain critical fundamentals for playing the accordion that have never been addressed in books before. These tips have never been taught by most teachers. Both the First Lessons and Getting Into Accordion Books teach all of these critical fundamentals; from when to 'lift off of a note to the 'correct sitting position.'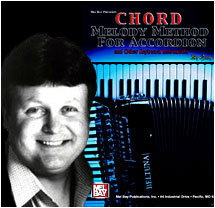 Gary grew up in Seattle and started lessons with Joe Spano at age 12. Professional work started at age 16 playing dance casuals. The US Army was next for two years as a radio teletype morse code operator and then college at the University of Washington majoring in Business Administration with a minor in music composition and theory graduating in 1966. During college, Gary started teaching at Joe Spano studios from 1960 through 1974 and during that period gained his commercial pilot rating, flight instructor and instrument flight instructor ratings with multi-engine. Gary met his wife Eloise during this time; she was a flight student. Gary entered the corporate sales and marketing world in 1974 because of the accordion's decline and retiring from same in 1990. Gary led various trios and quartets during this time period that always featuring an attractive, talented vocalist. Gary currently plays light background acoustic solo gigs.

Gary is very proud of his daughter Leesa who is a professional accordionist and pianist based in New York City. She has a masters in opera coaching and collaborative pianist degrees from the San Francisco Conservatory of Music. Currently based in New York City, Ms. Dahl has performed and coached at the Juilliard School, Manhattan School of Music, Hunter College, and the Opera Studio at Yale University to name a few.

Today Gary continues to write for Mel Bay as well as arranging those coveted and famous solo arrangements. Private teaching is conducted as well as teaching a very large correspondence group of students world wide. The computer enables this to be as effective as private in-person lessons plus a few more advantages via clear, digital mp3 recording. For more information, please visit www.accordions.com/garydahl


---
A Weekend of Questionable, Useless & Far Fetched Information?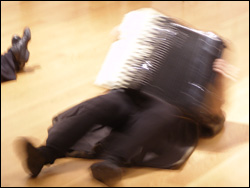 The 2007 American Accordionists' Association Master Class and Concert Series moderated by Dr. William Schimmel is entitled HOGUS/BOGUS - A WEEKEND OF QUESTIONABLE, USELESS AND FAR FETCHED INFORMATION and will be held from JULY 27-29, 2007.

The accordion has two reputations: A REAL ONE - and A BOGUS ONE. The real one is the one that we accordionists are all aware of - through our festivals, contests and fellowship among fellow accordionists. WE KNOW WHAT IT CAN DO! THE BOGUS ONE is the one that all of you out there know - the fact that the accordion can play Lady of Spain by itself (complete with bellows shake) - or in the midst of a classical or rock concert half of you in the audience are yearning to get back to your roots, screaming for polkas, helgatos, jigs and clogs complete with beer and urinal tents - ONE MAN'S REAL/ANOTHER MAN'S BOGUS (Marry, Sir, nose painting, sleep and urine - Macbeth -Act II scene III - Shakespeare).

Here are some starting points:
The Accordion as Magic Square:
Dr. Robert Young McMahan, an avid 12 tone composer, will present a much needed lecture that shows all of the "serial" aspects of the accordion - from original and retrograde bellowing to reed switching and dynamic control -
All within the dodecaphonic framework - including the chrome trimming on the grille.

A Culture if Mis-spelling and Mis-information:
Why can't Leonard Bernstien put accordeen stection in the New York City Sympathy?
Lenny is dead, in case you didn't know. Find out the real reason for no accordeen stections and learn to turn your own juicy blunders and misinformed declamations into culture - and liking it - without even having to go back to night school.

Delight in a Bogus rendition of Alexander Nevsky
Only 10 minutes long - no film - no social fuss - NO Stalin!
Carmina Burana meets the Kama Sutra in Karmina Sutrana - AND - Ben Whore!
A method book romp - from old home study courses that promise the "healing power of the accordion"
to transcriptions of Hanon, Czerney and Cramer - designed to lubricate your joints and get those fingers flying to the point of - well, thank God that the accordion came a bit after Robert Schumann.
Did the great American composer, Roger Sessions write for the accordion? Absolutely not - but thrill to the performance of his first sonata.
What about the myth of the free bass accordion? You know - unlimited possibilities. Does it go way back? Or did Richard Pryor start it?
And the Stradella bass "illusion"- certainly good enough for us - or do we need a new cultural revolution that destroys every one in or out of sight? And/or a new work: The Destruction of the World, by Mee - O?!
Can the accordion "de-camp" Broadway? We think it can - with new renditions of Fiorello, Pajama Game (Pajama Party), West Side Story (6th and Pike) and Fiddler. Using the process of Musical Reality, Dr.Schimmel will demonstrate how Broadway should be - UNBOUND and dominated with THE BUILT IN IRONIC DUALITY - and nothing over twelve minutes. Quick, and yer out! More time to get to Olive Garden for breadsticks and pasta and Leo Lindy's for cheese cake!
EVOLUTION IN THE REALM OF PERMANENT TRANSITION - appearing!/gone!/re-appearing!
And…. living with the discomfort of its "buzz": self-obliteration, "bogus suicide" and "being over there".
AND: Paul Stein as Rabbi Rabbitt singing and playing in Yiddish - yes playing in Yiddish! My Yiddisha Accordion! - also: Topical Squeeze - sucking the juice out of accordion-political satire.
Will Holshouser and Bach Shock - Morning (broken) becomes electroshock - Bach/Musette/Cat Stevens.
Sospeso's Kirk Noreen's The Magician - Ken Laufer's Every Piece Ever Written (in five minutes)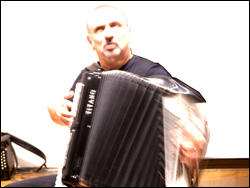 plus... The K Duo -Magic! - Dr. Neupauer's Magic Fingers - Ray Rue's Groucho's Back - Marni Rice's All the World's a Stage and We are Stooges - Alexander's Rag of Ecstasy/ The Mark of Cain by King of Ragtime Dr. Mark Birnbaum - Rembrants by ranter Rembert Block -Indi-trio Balcones Fault - Scriabin's White Funeral (a black mass alternative), Ethnomusicologist Maria Sonevytsky 's Ukrainian Diasopora in Argentina - Godfrey and Lorraine with their ontological "7" (glad it's not "13") - Rita Davidson performing "real" and "bogus " Eugene Ettore - Kamala Sankaram continuing her Indo-Noir music and video works a well as her psychordion lectures - Russian bass, Walter Gerasimonicz, singing and playing Old Man River and American Spirituals - standup artist Lenny Feldman performing Pink Floyd - Benjamin Ickies showing the virtuosity of punk - composer David Stoler who tunes pianos for celebrities -Liam Robinson who enjoys smashing precious China - Chinese artist Vivian Chou - David First who specializes in drones and "Notekillers" - AussieRocker Serge Stanley - an Israeli groove by Uri Shardin - Croation flavors by Dragica Banic-Curcic and her 10 year old son, Stefan - digital flutist Lee McClure, one of the starters of modernism goes eclectic, hence "Eclectix" - German bluesmann Walter Kuhr - actress Kathleen Tipton who has hosted, acted, sang and lectured with us for more than a decade - cyber-artist Rachid Eladlouni from Morrocco - Branding expert, accordionist and Cajun singer Cristina Speligene - singer/melodica /glockenspiel/Fado artist Allyssa Lamb - AAA commissioned works by Robert Baska and Joel Brickman and the irreverent, useful and far-fetched Brian Dewan.
Eminent choreographer, director, video artist and fitness expert Micki Goodman will present a new work as well as a lecture on what's "real" and "bogus" in the world of fitness. Canon Law, based upon the Catholic Mass and Creole culture will feature Dr. Schimmel's reality dimension music.
Dr. William Schimmel will present a Collary and Theorum depicting accordio - velocity in time, space and high school. He will also cover: The Genius of Sloth; Chanta, meaning "line shooting" or "BS" and an analysis of Borges' own "REAL AND BOGUS" reputation and how it applies to the accordion -much inspired by the story by V.S. Naipal: Borges and the Bogus Past.
Dr.Schimmel will close the weekend with a demonstration of the "proper smirk" mandatory for all artists, living and dead. And yes, he will be wearing wing tips, fedora and rather natty tweeds (weather pending).
THE ACCORDION HAS COME FAR! LET'S FETCH IT BACK! TO IT'S HOGUS ROOTS!

The event will take place at:

THE TENRI CULTURAL INSTITUTE OF NEW YORK
43A WEST 13TH ST. (between 5th and 6th Ave.)
New York City
July 27-29, 2007

Master Classes at 3:00 PM Concerts at 7:00 PM

$20 per master class - THOSE WHO WISH TO PLAY, CONTACT DR. SCHIMMEL
$25 per concert
$40 per entire day - includes master class and concert
$110 per entire weekend - includes three master classes and three concerts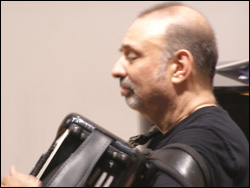 Each afternoon workshop will feature up to five performers who wish to receive advise, criticism and tools for improvement from the presenters, the audience and Dr. Schimmel. Reserve a place early.

Those wishing to play or needing further information are requested to contact Dr. Schimmel -212-876-0827. For further information e-mail: billschimmel@billschimmel.com or visit www.ameraccord.com


---
Coupe Mondiale in US Attracts Record Numbers of Attendees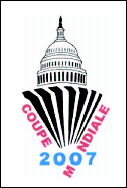 Final preparations for the 60th Anniversary Confédération Internationale Des Accordéonistes (CIA) Coupe Mondiale in Alexandria, VA (Washington DC) from August 13-18, 2007 are now underway. Visitors from many different countries around the world have registered and the event promises to be one of the largest accordion events ever held in the United States.
The Coupe Mondiale, the 60th Anniversary of this International World Accordion Championships will be held in six different categories, including the Coupe Mondiale International Competition for Accordion Soloists, the Junior Coupe Mondiale, the International Competition for Virtuoso Entertainment Music (both Senior and Junior), the International Competition for Piano Accordion and the International Competition for Ensemble Music which includes either multiple accordionists or accordion with other instruments.

The event will include these CIA competitions, the Maddalena Belfiore International Competition for Female Accordionists, the AAA/ATG festival competitions, concerts at both the competition venue as well as the famed Kennedy Center for the Performing Arts, displays and trade show exhibits, historical exhibits, concerts, a Gala 60th Anniversary banquet, jam sessions in the various hotel lounges and the much anticipated World Accordion Orchestra under the direction of Joan C. Sommers.

For complete information, timetable, ticket ordering and more, please visit www.accordions.com/coupeusa

---
Gypsy Djazz featuring Julien Labro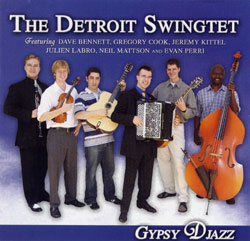 A glance at the title of the tunes on this album 'Gypsy Djazz' is enough to give one an idea of the scope of the Detroit Swingtet, a US based group under the direction of the French accordionist Julien Labro - we are in the Django Reinhardt/Stephane Grappelli zone, and also some Benny Goodman and Hoagy Carmicheal, from whom comes the wonderful 'Stardust' included in this album.
Having described the content we should mention the formation, as it is here that there is a difference. The young musicians interpret all the tunes in an excellent manner, with passion and gusto both as a group and when called for, as soloists: the result is that this CD can be played over and over without becoming tiresome. Certainly this is classic music, in some way transformed and yet this group has the effect of an open window in springtime, and it is very nice to listen to these musicians whose delicate manner still manages to add a swing to every note keeping the tunes fresh even though they are 100 years old.
Labro cuts himself some space on the CD with his own composition 'Valse a Lafayette', which holds up well in the company of the other famous songs.
Every soloist, Labro on accordion, Dave Bennet on clarinet, Jeremy Kittel on violin and Evan Perry on solo guitar is given a way of expressing himself against the rhythmic backing provided by Neil Mattson (rhythm guitar) and Gregory Cook (bass).
Of the ten tracks the one that stands out the most is the second 'Air Mail Special' in which Bennett works well, whereas interpretation of 'Nuages' remains somewhat stiff. This is just a personal observation and the overall positive nature of the project is not adversely affected.
For further information e-mail: julien@detroitswingtet.com


---
National Button Accordion Festival

The National Button Accordion Festival, a 'first' for the
National Accordion Association
, had attendees' from young children to 90 years plus, over 250 people!
Saturday visitors included the Alaska Polka Chips, the Alaska Button Box Band, the Fontana Button Accordion Band, from California, and the St. Louis Button Box Club, from Missouri. When not playing or dancing, festival participants feasted on Czech food, Oklahoma barbecue, and/or fish with all the trimmings.
A unique feature of this festival under the leadership of Ron Pivovar, Dick Albreski, and Michele Young, was the "You Are the Entertainer" philosophy. Two large stages were available for participants to perform during 30-minute intervals.
Sunday morning started with a Polka Mass, followed with a Memorial Day concert. Norman Seaton (President, National Accordion Association, Inc. - picture left) served as the Master of Ceremonies, performers included the Bohemian Knights, Bob Ohnoutka, Pancho and Eleanor Martinez, Sharon Seaton, Leonard Trinka, the Alaska Polka Chips (Marge Ford and Patti Gersich), Nick Ballarini, Ed and Bev Neubaum, Jonathan Conner, the Fontana Slovene Button Box Club, Josef Villager, Jim Loncar, Mike Stoops, the Alaska Button Box Gang, Bohumil Knittich, Micaiah Elliot, Tim Laine, Joshua Pelton, Jameson Pelton, and the Pivovar Trio.
At approximately 4pm, the regularly scheduled "open mike" and dance floor opened again and continued until midnight.
For further information e-mail:
natlaccordion@sbcglobal.net


---
New Hampshire Accordion Association features Tony Lovello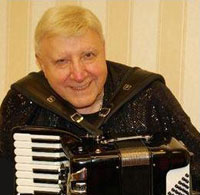 Donna Maria Regis, Music Director of the New Hampshire Accordion Association reports of the highly successful concert featuring Tony Lovello.

"Wow!" exclaimed a clearly awed young man as Tony Lovello, the "Liberace of the Accordion," exited through the enthusiastic sold-out audience at his recent appearance in Gilmanton, New Hampshire. Lovello, 74, exuding the energy of a man half his age, earned three standing ovations for his impressive, knock-your-socks-off performance.

Outside, a fierce Nor'easter was raging, fully visible to performer and audience alike, "but inside," commented a pleased Lovello, "we were rocking and rolling." The internationally acclaimed showman held the hardy New Englanders in thrall with his consummate musicianship, humor, and flair. Formerly a member of the legendary "Three Suns" (Twilight Time, Peg 'o My Heart), Lovello performed a powerful program including Cumana, Malaguena, and many of his other hits. The event was sponsored by New Hampshire Accordion Association in conjunction with venue host Accordion Connection LLC in Gilmanton.

At an educational seminar following the concert, Lovello generously shared his special techniques - among them his multi-fingered glissandi, three-note basses, and, of course, his signature bellow shake, for which the great maestro Galla-Rini anointed him "King and Master of the Bellow Shake." After demonstrating each accordion "trick" separately, Lovello then combined them all in a Phantom of the Opera medley, bringing the afternoon's program to a rousing finale and the warmly appreciative audience once again to its feet.

To echo the awed young man in the audience: "Wow!"

Post-concert audience reaction to Tony Lovello:
"…the best I've seen…"
"I am amazed that one can do what you can do on this instrument!"
"…wonderful show you put on…"
"I attended your concert... and I really enjoyed it…I learned a few things, too."
"… [he] certainly has my admiration…"
"…you'll be amazed at how he can make the accordion sing!"
"…he's the best there is"

The New Hampshire Accordion Association usually meets the 3rd Sunday of the month from 1 - 4 PM at the Accordion Connection, 136 Route 106, Gilmanton NH 03237. (Phone: 1-800-328-5227.)

Monthly meetings feature soloists, group playing, workshops, and guest artists, all to enjoy accordion music and the company of fellow accordionists. Friends and family are welcome!

For information, please contact: Sue Welch, Executive Secretary, E-mail: accman@accordionconnection.com or Donna Maria Regis, Music Director, E-mail: regisdonna@yahoo.com. For meeting schedule call Sue: 1-800-328-5227 or visit http://www.accordionconnection.com/Home.htm


---
Accordions Rule at New Orleans Jazz Festival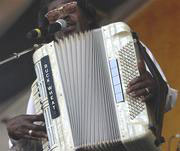 The mid-afternoon sun was beating down, wisps of steam rose from the soggy ground and Buckwheat Zydeco (picture right) danced his way to the edge of the stage, accordion wailing, moving his shoulders with the music. Forget the heat - this guy was cool. He'd shed the jacket to his black suit, but still wore the vest. His high-collared white shirt was still crisp, his ivory boots matched his accordion.

The accordions cranking out tunes on the stages of the New Orleans Jazz and Heritage Festival are popular, prolific and downright sexy. They were not only a constant on the Fais Do Do stage where Cajun and Zydeco music plays all day, they were showing up this year on the big stages and even in some of the big bands. Calexico, an alternative country band based in Tucson, Arizona, used an accordion in several numbers it played. And The New Orleans Klezmer Allstars could not crank out their funky Jewish music without one.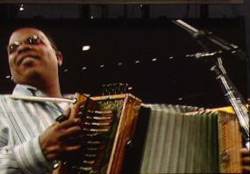 "I'm surprised how much the accordion has caught on," said Brian Jack (picture left), who had eight of them with him for his gig with the Zydeco Gamblers. "I've even seen them with country-and-western bands." In Cajun and zydeco, the Cajun accordion is the main ingredient, said Bruce Daigrepont, who has been playing Jazz Fest for 27 years, accordion for 30. "In our music it starts and finishes the song," Daigrepont said. "In rock and pop people are adding it for background and texture."

Buckwheat Zydeco, also known as Stanley Dural, plays a piano accordion that he had made in Dusseldorf, Germany in 1982 for $10,000. Originally an organist, Dural never expected to find himself wowing the fans on accordion. "It was not a cool instrument," he said. "My father played an accordion all the time and I hated it. I was into rhythm and blues." That changed when Dural took a job playing backup for Clifton Chenier, the late king of Zydeco. It wasn't easy, though. "Man, the keyboard was OK, but those 120 buttons on the other side really gave me the blues," he said. Not anymore. His brand of Creole Zydeco had them rocking out on Saturday. "It's a lot of fun," he said. "But that thing weighs 45 pounds. When I'm dealing with that instrument, believe me, I'm not thinking about looking sexy."

---
Arizona Accordion Festival in Phoenix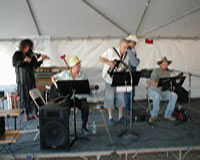 The Arizona Accordion Festival takes place in Phoenix, Arizona, on October 20th. This year two top jazz accordionists entertain nonstop from noon to 6:00 PM, and 6:00 PM to 10 PM. This event is free, offering family entertainment, food, beverages and a lighted, wooden dance floor. All variety of accordions and styles will be profiled in 15-minute segments.

For further information contact Leigh Dechaine: laneind@aol.com


---
Dr. Lynda Griffith Circulating Questionnaire for Accordionists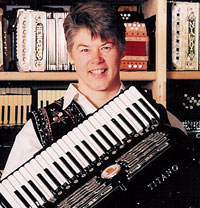 Dr. Lynda Griffith is collecting research data (Questionnaire) about accordionists, concertinists and bandoneonists etc. and their practice habits, skill levels, and possible injuries. Information gathered will be included in an upcoming book about the mechanics of playing different types of accordions, and prevention and treatment of injuries to players.

To date, Lynda Griffith has collected responses from over 400 players from more than 25 countries. The book will be written as a reference for the player, for teachers, and for medical practitioners who treat injuries.

Lynda Griffith has unique qualifications as a Doctor of Physical Therapy, Licensed Physical Therapist, a Certified Accordion, Concertina and Bandoneon Repair Technician, who plays all seven of the major instruments of the accordion family. Lynda Griffith is also a member of the Performing Arts Medicine Association and the Performing Arts Special Interest Group of the American Physical Therapy Association.

Most respondents in the study are from the USA because these have been the easiest for Lynda Griffith to contact, and now, citizens of Europe, Asia, Russia, Africa and China need to be better represented in the study, to improve the world significance. Please help by participating and by asking your friends, colleagues, students and teachers to complete the Questionnaire.


---
Chicago Debut for Australian Accordionist Bernadette Conlon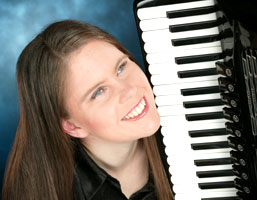 Australian-born, visually impaired accordionist, Bernadette Conlon, who is now residing in Rockford, Illinois, gave her debut performance for the Chicago Accordion Club.
Picture from left to right: Lenny Leto, Bernadette Conlon, and jazz accordionist, Mike Alongi. The new look Bernadette delighted the audience, with her charm and versatility, playing her own dazzling arrangements, which ranged from Tchaikovsky's Waltz of the Flowers, to an ABBA medley, selections from West Side Story, to traditional accordion selections, to her boogie version of Under the Boardwalk, to a warm standing ovation.
Bernadette is delighted to play for such groups, which keep the accordion alive and allow and encourage such artistes as herself to perform, encouraging new work and allowing artistes to lure the instrument into the realms of popularity.
The enthusiastic Chicago Accordion Club meets on the third Monday of the month, at the beautiful American Legion's Club in Elmhurst, with pre-meeting music from 6.30 PM, general business meeting at 7:30 PM and the featured artist at approximately 8:00 PM.
Next month's program will feature Seattle's wonderfully talented Zydeco and jazz accordionist Murl Allen Sanders.


---
Former NY Resident Passes Away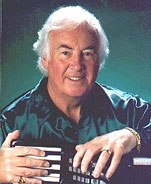 Dermot O'Brien (1932-2007) passed away on May 22nd in his hometown of Ardee, County Louth, in the Republic of Ireland, following a long battle with cancer. For many years he had lived in New York, but had returned to Ireland following the death of his wife Rosemarie in January 2005.

A legend of Irish show business, Dermot O'Brien was a many faceted individual, well known not only as an accordionist and singer, but also a multi-instrumentalist, songwriter, arranger, producer and sportsman (captaining County Louth at Gaelic football). After becoming All Ireland Champion in 1954 and 1959, O'Brien turned professional, fronting Dermot O'Brien and the Clubmen, a show band whose repertoire ranged from pop music to traditional jazz. In 1966, O'Brien's vocal/accordion single The Merry Ploughboy went straight to number one in the Irish charts, a feat only otherwise achieved by Elvis Presley and the Beatles.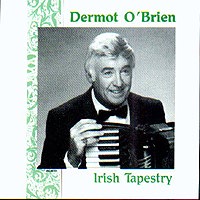 Dermot O'Brien was the most accomplished and commercially successful accordionist Ireland has produced to date, and his recordings sold in large quantities throughout Ireland, Britain, the USA, and other parts of the English speaking world. He was the first Irish accordionist to make recordings of non-Irish music, and his LPs The Laughing Accordion, Dancing Fingers and The Three Dimensions of Dermot O'Brien popularized a broad range of accordion specialties music to a wide audience. His was, in fact, a very individual style of playing that influenced a whole generation of accordionists in Ireland and the UK. Although a product of the Irish traditional music scene, O'Brien's accordion style was not 'mainstream', and reflected his interest in Continental music, jazz and swing bands.

Few accordionists worldwide could match Dermot O'Brien's stage presence, and his ability to entertain was second to none. He had a huge personal following, and performed in every major theatre in Ireland and the UK, including several top of the bill appearances at the Royal Albert Hall, London.

In the middle and late 1960s, Dermot O'Brien and his band were one of the biggest draws in Ireland and were regularly featured on records, radio and numerous TV shows. They toured regularly in England, Scotland, the USA, Canada, Germany, and even in the United Arab Emirates. In Scotland, where Dermot was especially popular, he was known as the 'King of the Accordion'. His 1974 LP Tribute to Scotland was dedicated to his many Scottish fans.

Dermot O'Brien had his own show Irish television for many years, and his guests included Bing Crosby and Jimmy Shand. He has also appeared as guest on many other shows, including Irish language programs, as he was a keen Gaelic speaker. O'Brien wrote several pieces for accordion, including Alpine Ski Run, The Laughing Accordion, and Alpine Slopes. Alpine Slopes has been performed and recorded by countless accordionists in many countries. He also wrote many songs, including Connemara Rose, Farewell to Galway, Dublin '62, There Has To Be an End, etc. One of his compositions in Irish, Neansai, won the International Pan-Celtic Song Contest in 1980. Other artistes including Paddy Reilly, Brendan Shine, Dermot Hegarty, Bridie Gallagher, and Daniel O'Donnell have recorded many of his songs.

O'Brien moved to New York in 1983. He was already well known on the American Country & Western circuit, having toured and performed with Jim Reeves, Johnny Cash, Buddy Herman, Hank Snow, and Bill Haley and the Comets. O'Brien quickly established himself as a favorite on the Irish American club and festival circuit, where his ability to transform any gig into a carnival atmosphere was especially welcomed. He recorded a St. Patrick's Day Special for television with Bing Crosby in Dublin, which was shown coast to coast in the United States.

In later years, O'Brien inherited the family home in Ardee, and thereafter divided his time between America and Ireland, making frequent short tours of the UK, appearing as a guest at accordion clubs and festivals. In 1991 he was, with Finland's Veikko Ahvenainen, chief guest at Malcolm Gee's Caister Accordion Festival. He also memorably shared the concert stage at The Wyre Accordion Festival in Fleetwood with Italy's Gervasio Marcosignori, and with fellow Irish accordionist Fintan Stanley at the Bolton Irish Centre.

Dermot O'Brien made a large number of recordings, from the 1950s to 2005, and many of these are available on CD. There is also a DVD of a concert in Dublin in 1992. Fortunately, Dermot O'Brien's name, reputation and music will live on through his many superb recordings and compositions.

Author Rob Howard, AWW News Coordinator

---
Bryant Park to Feature the Sounds of French Accordion Music
Bryant Part in New York City will come alive with the sounds of French accordion music on Thursday, June 7th at 5:00 - 6:00 PM when the show entitled 'Sounds of Paris' takes place.

The one hour concert will feature the accordion music of Joe Kay and Vinnie Gyles and take place on the Upper Terrace.


---
Promoting Your Accordion Services Free at AWW

The Internet is changing the way your customers are searching for services. The days of lugging out a 12 lb. telephone book to find very limited and outdated business information are coming to an end. People are still letting their fingers do the walking, but they're doing it over a computer keyboard. Below are some revealing facts from the Kelsey Group.
74% of US households use the Internet as an information source when shopping.
Approximately 45% of searches had a buying intent.
The percentage of respondents who used yellow page directories decreased from 75% to 62%.
(If you have a printed yellow page ad, it is time to consider buying a smaller ad and shifting your marketing dollars to the Internet.) The off-line Yellow Pages see the writing on the wall and are scrambling to transfer their business model to the Internet.

Businesses can no longer ignore these facts. If you want to be successful, you must have a presence where your customers are searching. Being found on the Internet is vital to the future of your business.



The Accordion Yellow Pages offers free of charge listing for all accordion businesses, teachers and for every type of service for accordionists. On the Accordion Yellow Pages site, you do not need to have a website for accordionists find you and contact you.



The search-accordion.com site is also free of charge, being a listing service for every type of accordion service but you must have a website. Viewers of search-accordion.com can click to your website.



Very popular is the AccordionLinks.com site where those accordion service providers with a website, can attract accordionists free of charge to their website.

All it takes is a little effort, to make sure your information on these three popular and very effective accordion sites is up to date. Your future success may well be determined by your ability to effectively adapt to the Internet. Should it be your New Year's resolution for 2006?


---
Mary Tokarski CD Release Concert in CT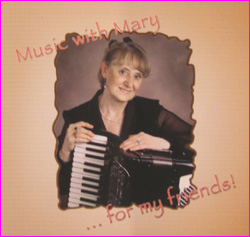 Accordionist Mary Tokarski has released a new CD, which will be premiered at a concert on June 15th, 7:30 PM, at the Blackstone Memorial Library, 758 Main Street, Branford, CT 06405. Admission is free.

Included on the CD are: 'Musical Party' (Daverne) recorded with the Moravian Symphony Orchestra, 'Rondo, from Concerto in E' (Deiro), 'Remembering A Legend: Charles Magnante' (Schimmel), 'Gentilezza' (Tacca), 'Pioneer Concerto' (Ettore), 'Dance of the Demon' (Holst), 'Three Songs Without Words' (Daverne) recorded with the New Zealand Symphony Orchestra, 'Flat The Fifth' (Mucedola), 'Concerto in E flat Major, excerpts' (Liszt), recorded in 1963!, 'Mexican Carnival' (Desiderio), and 'The Fox & The Hound' (Mucedola) recorded 'live' with the Auckland Symphony Orchestra.

What people are saying: "Congratulations on a terrific, terrific performance." . . . "This CD has it all -- it has a great music selection with lots of variety; it has been executed with unimaginable perfection; and, it has perfect choreography, with attention to the smallest details. I finally found the 'Perfect CD' " . . . "You are sooooooo talented!" . . . "DY-NO-MITE!!! WOW!!!!!" . . . "You did a great job with the whole CD . . . very nice, and very musical"

Review of recent ALS Concert with the Accordion Pops Orchestra at the Kimmel Center in Philadelphia, PA -- Mary Tokarski, world renowned concert accordionist, wowed the audience with a flawless rendition of "Dance of the Demon" by E. Holst, arr. D. Desiderio. The audience would not let her leave, and as an encore, and tribute to the late Frank Mucedola, she played his very exciting descriptive piece, composed especially for the accordion, "The Fox and The Hound".

For further information e-mail: mary.tokarski@comcast.net


---
Victor Prieto Keeps Busy Performance Schedule in NY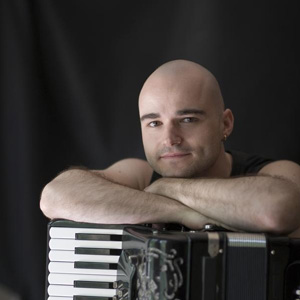 New York based accordionist Victor Prieto is keeping a busy schedule performing in New York City both as a soloist and in collaboration with many of the world's most well known jazz artists.

Victor Prieto is revolutionizing the way that the accordion is played by creating new sounds and techniques for this instrument. His music embraces different tendencies that come from jazz, Tango, Classical and Celtic roots enriched with new rhythms and colors. He is the creator of a new technique for the accordion called "chord approach on both hands," which creates rich and elaborate harmonies. Victor Prieto was born in Orense (Spain) in 1975.

At the age of nine influenced by his mother Victor begun to play the accordion. He pursued his studies in Classical accordion at the Orense Conservatory (Spain), while taking harmony, arranging and improvisation classes at Estudio Escola de Musica (Santiago de Compostela, Spain). After receiving the opportunity and award by the highly respected Jazz school- Berklee College of Music- Victor decided to pursue the performance major in Accordion under the direction of Joanne Brackeen. Victor is the first and only of his kind, to specialize and apply studies in Accordion at Berklee College of Music. During his stay at Berklee Victor becomes friends with one of his mentors, Oscar Stagnaro who introduces him to some of the people he will be playing with, Paquito D'Rivera, Jeff Ballard, Chris Cheek, Donny McCaslin , Pablo Aslan, Emilio Solla, Carlo DeRosa, Lionel Louke, Vince Cherico. Victor graduates from Berklee and moves to New York City where he becomes the Jazz Accordion Professor at the Brooklyn Conservatory.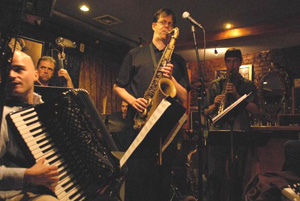 He teaches Master Classes in Spain, Italy, Portugal, and USA. He is a recipient of numerous awards such as the first prize at the Citta De Catelfidardo Jazz Competition (Italy), the Creative Performer award from the Spanish Association of Artists and Performers, and the first prize at CMZK's Concourse of Composition (Argentina).

He has performed at many prestigious venues and events such as Berklee Performance Center, Lincoln Center, Dizzy's Coca-Cola Club, Blue Note NY, New Jersey Performance Art Center, Three Rivers Musical Festival, Williamsburg Jazz Festival, Mary D'Angelo Performing Arts Center.

Victor now lives and performs in New York City and he has recently introduced his first CD, "Persistencia," Foxhaven Records.

Upcoming performances include:

Speranto
06.05.07 | 8:30 PM
New York, USA
Daniela Aphalo Trio
Olea
06.06.07 | 8:00 PM
Brooklyn, USA
Victor Prieto solo
Speranto
06.12.07 | 8:30 PM
New York, USA
Daniela Aphalo Trio
Olea
06.13.07 | 8:00 PM
Brooklyn, USA
Victor Prieto solo
directions
Museo del Barrio
06.14.07 | 7:30 PM
New York, USA
Pablo Aslan and Avantango

For further information e-mail: victorprieto2001@yahoo.com


---
Complete Recorded Works of Guido Deiro, Vol 1 Released
The Complete Recorded Works of Guido Deiro, Vol. 1 Released on CD by Archeophone Records.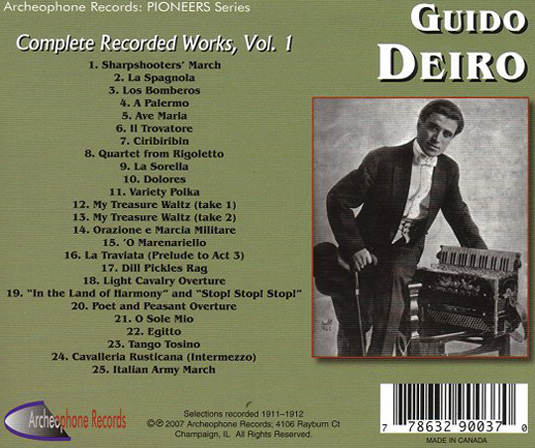 Count Guido Pietro Deiro (1886-1950) was, without doubt, the first star of the piano-accordion. Born in Italy, he immigrated to the United States in 1908 and became a vaudeville headliner in 1910. For two decades he was the premier piano-accordionist in America and a trailblazer in the field. Deiro was the first piano-accordionist to perform a solo concert in America, play on the vaudeville stage, perform as a soloist in vaudeville, use the name "piano-accordion," make sound recordings of the piano-accordion, write a hit song (his Kismet was the theme song of a successful Broadway musical), play on a radio broadcast, and star in a sound motion picture featuring the accordion. Furthermore, Deiro was one of the highest paid musicians on the vaudeville circuit, commanding an incredible salary of $600 per week. And at the same time—though few people realize it today—he was married to the beautiful actress Mae West.

Maestro of the Piano-Accordion

There has been much confusion about the origins and popularization of the piano-accordion, and this first volume of Guido Deiro's works will begin to dispel the myths and demonstrate that Guido was the one to introduce the instrument to a wide audience in America. After coming to the US, Guido settled with family in the Pacific Northwest and gradually made his way, playing at the World's Fair in Seattle in 1909 and creating quite a stir. By 1910, Guido had made a name for himself, performing Sharpshooters' March and My Treasure Waltz, and turning what had been an ethnic instrument into a virtuosic crowd-pleaser. Volume 1 of Guido's Complete Recorded Works witnesses approximately a year and a half of Deiro's rise to stardom (1911-1912).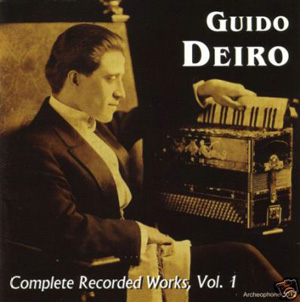 An Expert at Different Styles

Guido shows here that he could play anything. He succeeds equally at marches (Los Bomberos), waltzes (La Spagnola and Ciribiribin), devotionals (Gounod's Ave Maria), operatic arias (Prelude to Act 3 of La Traviata and Quartet from Rigoletto), rags (Dill Pickles Rag), and popular songs (In the Land of Harmony and Stop! Stop! Stop!). Two other pieces, Variety Polka and Egitto, are Deiro originals showing off the composer's skills with the polka and with a classical fantasia. Guido could produce multiple voices from his instrument in the same performance, thereby giving his playing an orchestral quality.

Original Research and Illustrations from Guido's Family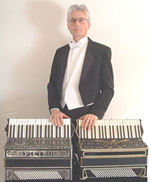 Notes are provided by noted accordionist and free-reed scholar, Henry Doktorski, and Count Guido Roberto Deiro, the son of Guido Deiro. Count Deiro has also provided photos and illustrations from his own family's collection in helping us achieve a top-notch
product of stunning visual beauty. Together, Doktorski and Deiro are telling Guido's story for the first time and restoring him to his rightful place in the history of the piano-accordion.

Accolades from Guido Deiro's Son

It has been our privilege to work with Count Guido Roberto Deiro in assembling this musical and historical tribute to his father, Guido Deiro. He writes:
"I was brought to tears as I reviewed the material and realized how proud my father would have been to see and hear his works and his early successes published. It has taken me over fifty years to accomplish what my father had asked me to do just before he passed away; forever remember his musical contributions and somehow correct the early history of the introduction and popularization of the instrument. This work could not have been accomplished without the collaboration of a number of brilliant, talented people, not the least of whom are Henry Doktorski, Richard Martin and Meagan Hennessey. My heartfelt thanks to you, and be assured to know what a relief and a joy it is to me to have been able to live up to the promise I made to my father so many years ago."
This CD can be purchased from The Classical Free-Reed, Inc. eBay Store, URL address listed below. It is the first of a four-volume series.

---
Dr. William Schimmel and Allyssa Lamb at AT I-Park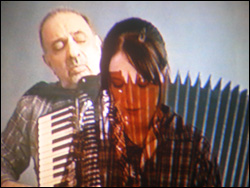 Two works composed by Dr. William Schimmel will be performed at I-PARK, an artist residence program in East Haddam CT. on June 23rd: Zen and the Art of the Foxtrot for Interactive Video and Live performer (Video by Micki Goodman - edited by Deborah Magocsi) and Olde Yorke (premiere), a site work to be performed in its natural surroundings.

Dr. Schimmel appears in Zen and the Art of the Foxtrot performing on the 12 bass accordion dancing the foxtrot. The audience will move from the video site to the new site in a natural rural setting for Olde Yorke. Joining him live in both works is Allyssa Lamb performing as a vocalist, melodica and glockenspiel player. For more information: billschimmel@billschimmel.com


---
US Guests in Austria and Germany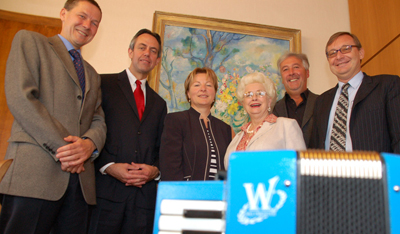 President of the Accordionists and Teachers Guild, International (ATG) Joan Sommers and CIA President Kevin Friedrich recently traveled to Innsbruck Austria to attend World Accordion Orchestra Festival held as part of the 9th Annual World Music Festival from 17-20 May, 2007.

Traveling with the Akkordeonorchester Hof, Kevin and Joan were VIP guests of the festival that attracted more than 300 accordion orchestras and accordionists from Germany, Austria, Switzerland, Netherlands, France, Italy, Spain, Ireland, Poland, Russia, China, Japan, Croatia, Slovakia, Senegal who attended to compete in the various competitions.

While guests in Hof, Kevin and Joan met with various city officials including the Mayor of Hof, Mayor Pechstein (above left) and director of the Hof Symphony Orchestra Mrs. Schrader (above center). They also conducted a historical meeting between the CIA and Klingenthal, two of the most well known of several international competitions for accordionists. For a review of this visit to Germany, please visit: http://www.accordions.com/index/squ/archives/0705/hof/

While in Austria, the CIA presented the festival organizer and German DHV Association Vice President Mr. Arnold Kutzli with the CIA Merit Award in appreciation for his outstanding contributions to the International Accordion Movement, and Mr. Walter Maurer, retired CIA General Secretary, with his CIA Honorary Membership, the first one ever awarded. (Maddalena Belfiore was awarded the 2nd ever honorary membership in appreciation for her work on behalf of the CIA.)

For a review of the event, please visit: http://www.accordions.com/innsbruck/2007

---

Dale Wise featured in Washington Post Magazine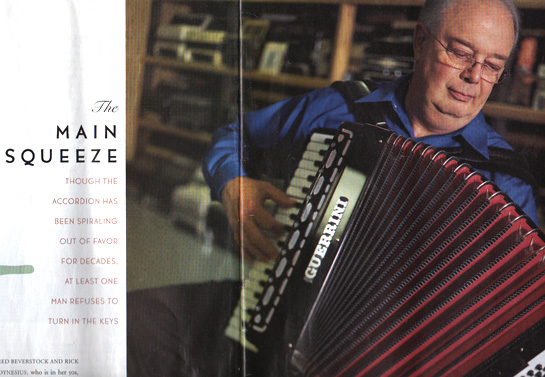 Accordionist Dale Wise was recently the subject of a wonderful multi-page article in the Washington Post Magainze (May 6, 2007) written by Genevieve Rajewski.

To read this interesting article profiling the long and interesting career, please visit the online article found at:

http://www.washingtonpost.com/wp-dyn/content/article/2007/05/03/AR2007050301234.html?referrer=emailarticle

---
---
Note: In order to provide as much information as possible for the United States National Accordion News stories, many different sources are often researched to gather additional information and pictures to complement what has been submitted. This information is then correlated to provide the news on www.accordionusa.com in the spirit of which it is intended, which is to provide a free news service to the Accordion Community, specifically in the United Sates. If you feel any copyright has been violated please advise www.accordionusa.com and the article will be removed immediately.