Henry Doktorksi to tour California
American concert accordionist Henry Doktorski will perform four solo recitals in California during late July, 2002. The concerts are sponsored by Major Accordion Productions (MAP) and tickets are $10.

The schedule is as follows:
Friday, July 26: Herman Songs Hall, Petaluma; 7:30 PM
Saturday, July 27: Colma Moose Club (south of San Francisco); 8:00 PM
Sunday, July 28: Seventh Day Adventist Church, San Jose; 2:00 PM
Monday, July 29: Community Center, Escalon (near Modesto); 6:00 PM.
His program will consist of the following transcriptions and original works for accordion:
Johann Ludwig Krebs: Prelude on "Christ lag in Todesbanden"
George Friedrich Handel: Suite for a Musical Clock
Robert Schumann: Traumerei (from Kinderscenen)
Johannes Brahms: Hungarian Dance No. 5
Bela Bartok: Rumanian Folk Dances
Vittorio Monti: Czardas
Alan Hovhaness: Suite for Accordion
Alan Hovhaness: Hymn (written for H. Doktorski)
Astor Piazzolla: Oblivion
Stanley & David Darrow: Meteor Showers
Willard A. Palmer: Chorale on "Old Hundreth"
Henry Doktorski: Rondo Polska
Intermission
Works by Pietro Frosini
Rag in Dm
Florette
Omaggio a Pietro Guido Deiro
Deiro Rag
Muskateers
Deirina Mazurka
I Don't Care Polka
Lido Tango
Queen of the Air
Valse Caprice No. 1
Neapolitan Polka
My Florence
Egypto
A compact disc titled "California Accordion Recitals" will be released to coincide with the tour.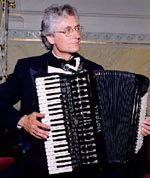 Doktorski said, "It is especially appropriate that nearly half of my program consists of works by the great Italian-American accordion pioneer of the early twentieth-century: Guido Deiro, as he spent much of his life in Northern California. He was the greatest exponent of the piano-accordion on the vaudeville stage; he traveled across the United States dozens of times between 1910 and 1930 and also performed in vaudeville houses in Australia and Europe. During this time Guido was actually more popular than his younger brother Pietro, who learned how to play the piano-accordion from his older brother Guido.

"When the age of vaudeville ended during the Great Depression, Guido settled in San Francisco. Although Deiro continued to play vaudeville shows until at least 1935, after 1929 he traveled less and focused his career on the West Coast. He always had an affinity for the Northwest, spending his vacations in the rugged Northern California and Southern Oregon forests hunting and fishing. Britenbush Hot Springs in Oregon was one of his favorite haunts. He even wrote a march of the same name. Another composition, Under Western Stars, was written while camping."

Doktorski continued, "In the late Twenties Deiro opened a studio and accordion distributorship on Columbus Avenue in San Francisco and from there branched out into Northern California, Nevada, Oregon and Washington, at one time having over two dozen franchised studios. Some of the older residents of San Francisco still remember hearing Guido play. It gives me great pleasure to present ten classic Guido Deiro compositions during my 2002 California tour."

To purchase tickets, go to the MAP website at http://128.242.36.49/mapacc.htm

ATG Festival Success despite Challenges
The ATG festival in Orlando was held the last weekend in June in Orlando and managed to stay on top of last minute challenges.



Both headliners Myron Floren and Frederic Baldo were unable to attend, and at the last minute were replaced by outstanding artists Frank Marocco (pictured left) and Peter Soave.

Myron was forced to cancel all of his appearances due to unforeseen health problems, however we are pleased to report that he is now fit and well again, and ready to resume his concert agenda. Frederic Baldo was mugged enroute to the airport in Paris, where his travel documents were stolen, including his passport. Unfortunately, he was unable to replace them in time to attend the ATG convention. While extremely disappointing, the ATG is happy to announce that he was not harmed, and that they will proceed with plans to have him as their feature artist at the 2003 ATG Convention in Chicago, July 25-29, 2003.

The ATG was also happy to have a surprise appearnace by Italian concert accordionist and owner of the Paolo Soprani Accordion Factory from Castelfidardo, Mirco Patarini. Receiving a great ovation from the audience, Mirco had just performed at the Las Vegas International Accordion Festival and decided to visit the ATG in Orlando before heading back to Italy.

In a separate incident, the ATG Guest clinician from India, Prahlada Rao Ravindra and his travel companions were held up at gunpoint in the city of Orlando, where they had all their belongings stolen. Once again, the ATG is happy to announce that no-one was hurt, and Mr. Ravindra went on to present an outstanding workshop, and was a valuable member of the 122 piece orchestra that performed in concert at Epcot Center, in Orlando.

The annual ATG Festival Orchestra was a feature of this years festival, and provided 84 accordionists and 38 singers, chimers and dancers the fantastic opportunity to perform in concert at the Epcot center in the heart of Walt Disney World. The orchestra was conducted by Brian Laurie from Paisley, Scotland and Joan Sommers, ATG President.



The 2002 ATG Festival Orchestra orchestra members performing at Disney included guests such as jazz legend Frank Marocco, the Chair of the National Accordion Organization of the United Kingdom and CIA Vice President - Raymond Bodell, members of the Paisley Accordion Orchestra from Scotland, members of the UMKC Accordion Orchestra from Kansas City, CIA President Kevin Friedrich, members of the Puerto Rican Accordion Orchestra, plus members from India, UK as well as throughout the United States, making this a truly international event.

Singers, Dancers and Chimers and vocal soloist Chelsea Turbin from Ormond Beach, FL were featured with the orchestra on three numbers, providing a full range of world class entertainment during the Disney show.

Several competitions were held during the course of the weekend including the ATG United States Junior National Championship won by Andrea Caruso, (student of Lana Gore in Michigan), the ATG Piano Accordion Competition won by Jason Stephen from Everett, MA). Both candidates will now represent the United States and the ATG in their respective categories at the Coupe Mondiale World Accordion Championships in Copenhagen, from October 16-20, 2002.

On the international scene, the ATG hosted the Myron Floren International Competition for Virtuoso Entertainment Music and the Anthony Galla-Rini International Competition for Classical Accordion, both of which were won by Lidia Kaminska. Lidia, although a citizen of Poland, lives in Kansas City where she is studying for a Doctorate in Music in Accordion Peformance at UMKC.

For a complete review of the ATG Festival, including pictures, competition results and scores for the International Competitions, please visit the ATG website at www.accordions.com/atg.

(Projected availability of review: July 12, 2002).

Music for Accordion features music by Gary Dahl

While many publishers are in the process of making the appropriate arrangements to publish their music online at www.musicforaccordion.com, composer and arranger Gary Dahl has become the first person to fully utilize the wonders of the new site.

The aim of the site MusicForAccordion.com is to empower accordion composers, arrangers and teachers to become their own publishers. MusicForAccordion.com aims to utilize modern technologies to provide music immediately and at good prices to accordionists.

Visitors can search the site using many criterias, and once the desired composition is found, you can preview the work in a simple .pdf format. Mr Dahl has dozens of compositions on-line for review and purchase.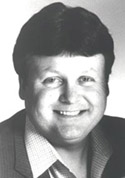 Gary Dahl, a former commercial pilot and flight instructor, is currently active as an accordionist, composer, arranger, recording artist and educator residing in Puyallup, Washington (near Seattle) in the USA. He is certified by the American Accordionist's Association and received a BA degree from the University of Washington with a minor in music theory, composition and harmony. Mr. Dahl's students have been consistent winners in National/State competitions and many have achieved professional status.

The Gary Dahl Trio plus vocalist performed regularly at private clubs, hotels and lounges (1960 - 1991). Gary currently performs as a single for private functions. The numerous requests from students and friends searching for high level professional accordion arrangements inspired Gary Dahl to create arrangements with the following goals: Creativity, good taste, harmonically/melodically correct. Music with a sensible degree of difficulty, such that any additional difficulty would not improve the overall sound of the arrangement.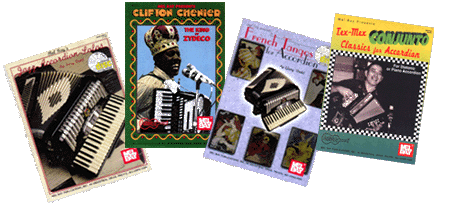 Guaranteed audience appeal and playing enjoyment Gary utilizes the orchestral capabilities of the accordion providing music that will excite and challenge accordionists of intermediate through professional level.

Gary's music has been prepared by Ron Ostromecki in the PDF format.

MusicforAccordion.com offers sales in both Euro and US Dollars, and delivers your sheet music via the Internet to your computer. The site is easy to use, and you may purchase via secure credit card transactions 24 hours a day, 7 days a week.

For more information, please contact: Harley Jones, Director
E-mail: harley@accordions.com
USA Fax: +1 240-358 7511
Phone: +679 315774
P.O. Box 12
Vunisea Kadavu
FIJI

Eye For Talent sees Accordion Acts
Music promotional agency Eye For Talent is presenting accordionist Kepa Junkera on their roster of upcoming concerts.



Kepa Junkera is a Basque accordion master. According to the Boston Globe, "One of the most impressive world music debuts in years comes from a Basque accordionist, Kepa Junkera…Junkera is a dazzling master of the two-row diatonic button accordion."

Playing with his sextet on the mandolin, cuatro, double bass, drums, and txalaparta, Kepa's trikitixas ".The Rocket of Seattle said "..something of a revelation...Not only a remarkable accordionist, but a true master of many styles...a tour de force...

Please visit www.eyefortalent.com and select the artist of interest to find a concert near you!

Jimmy Bubaloni in Concert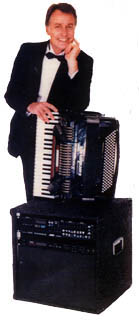 Entertainer Jimmy Bubaloni was featured in Orlando recently performing at the Walt Disney World Swan Hotel during the month of June.

With many years as a full time musician/entertainer at MGM-Disney plus several years tenure at the Hyatt in Orlando, Christini's Ristorante, Stouffers Hotel, plus lots and lots of Private parties, Jimmy is a regular entertainer throughout the state of Florida.
For more information, please visit: www.accordions.com/jimmyb

Looking for a Picnic!
Mr. Karl Kraus has been trying to find a copy of the Charles Magnante arrangement entitled "Picnic".

Anyone with any information is kindly requested to contact Karl Kraus at: Karle5555@aol.com

TDA at a city near YOU!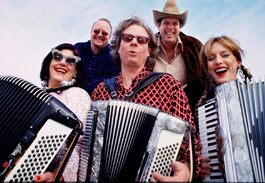 Here they come! Those Darn Accordions is hitting the road harder than ever this summer, rolling in our new (to us) conversion van through almost 20 states, including many we've never been to over the past 13 years of extreme squeezeboxing.
We hope to see you all once (or twice) in 2002, so check out the complete list below to see if we're visiting your neck of the woods. (And if we're heading to your music-loving friends' or relatives' hometowns, it would be great if you could forward this harmless little e-mail to clue them in to the TDA experience.)
Those Darn Accordions is San Francisco's accordion-fueled rock 'n' roll band that pumps out quirky, catchy originals chronicling life in the weird lane. The five-piece group fronted by lead singer/squeezebox wizard Paul Rogers and bellows-pumping babes Patty Brady and Suzanne Garramone promises to forever rearrange your understanding of the accordion. Behind the wall of wheeze, drummer Bill Schwartz and bass player Lewis Wallace anchor the band, providing a firm foundation upon which the manic TDA accordionists can layer huge slabs of sonic mayhem. With distortion boxes cranked to 11, the one-of-a-kind band blazes through a variety of musical genres and torches timeless classic rock tunes. You won't believe your ears!

Get on Those Darn Accordions' e-mail list now: tda@thosedarnaccordions.com

JULY
5 Champaign, IL Mike 'n Molly's
7 St. Louis, MO Compton Heights Concert Series
8 St. Louis, MO Compton Heights Concert Series
9 Columbia, MO The Music Café
10 TBD
11 Iowa City, IA Gabe's Oasis
12 Rock Island, IL Rock Island Brewery
13 Beloit, WI Beloit Riverfest
26 Kalamazoo, MI Taste of Kalamazoo
27 Union, MI Zimmy's Tavern
28 Manistee, MI Little River Casino
29 Manistee, MI Little River Casino
31 Cadillac, MI TBD

AUGUST
1 West Allis, WI Wisconsin State Fair
2 Berwyn, IL Fitzgerald's
3 Wisconsin State Fair
4 Watertown, WI Waterfest
5 Milwaukee, WI Rainbow Summer
8 Bethlehem, PA Musikfest
9 New York, NY The Cutting Room
10 TBD
13 Asbury Park, NJ The Saint
14 TBD
15 TBD
16 Arlington, VA Iota Club & Cafe
17 Rehoboth Beach, DE Dogfish Head Brewery
18 Richmond, VA Poe's Pub
21 Kettering, OH Fraze Pavillion
23 Cleveland, OH Beachland Ballroom
24 Akron, OH The Lime Spider
25 Pittsburgh, PA The New Club Café
27 St. Louis, MO Frederick's Music Lounge
28 Kansas City, MO Grand Emporium
29 Lawrence, KS Jazzhaus
31 Denver, CO TBD

SEPTEMBER
13 Portland, OR MacTarnahan's Uncle Otto Oktoberfest
14 Portland, OR MacTarnahan's Uncle Otto Oktoberfest
20 Indianapolis, IN Melody Inn
21 Cincinnati, OH Zinzinnati Oktoberfest
22 Bardstown, KY Kentucky Bourbon Festival
29 Dublin, OH Dublin Arts & Music Festival

OCTOBER
Extreme Squeezeboxing continues....Stay tuned.

For more info, remember to check out our website at www.thosedarnaccordions.com

Great Review for Empty World
Dr William Schimmel's piece "Empty World" received a great review by Allan Kozinn in the New York Times on June 10th. The piece was premiered last week at Christ and St. Stephen's Church at the close of the North/South Consonance players 22nd season.

Allan Kozinn wrote: "The most fascinating of the pieces, and the one that lingered longest after the program ended, was the quirkiest, William Schimmel's "Empty World" (2001). Mr. Schimmel is a virtuoso accordionist whose own concerts and recordings can be both entertaining and provocative, not least because the musical connections he makes are surprising and fresh. "Empty World," an accordion concerto, is well within that tradition.

Some of the thematic material in "Empty World" comes from the old Supremes hit, "My World Is Empty Without You," but there are also references to Elton John's "Sixty Years On" and broader allusions to the styles of Bach, Scarlatti and Brahms. Often, the allusions are either included within longer melodies or rendered in an odd stylistic context that veils the source material.

Mostly, Mr. Schimmel's agility on the accordion, and the interplay between his instrument and arching solo lines for cello and violin, create a constantly shifting musical ground."

Jodie Mikula in Fredericksburg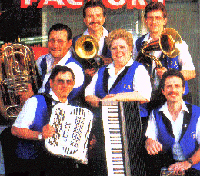 The Jodie Mikula Orchestra featuring accordion in this lively six piece Czech band will be playing at the "Night in Old Fredericksburg" festival on Friday, July 19.

Also playing will be the Sourkrauts from Fredericksburg. For more info e-mail Charlie at: cpbox@aol.com

Matt Nozzolio in Concert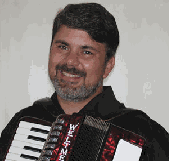 Accordionist Matt Nozzolio will be performing July 19 from 12:30-1:30 PM in a free concert at the New London Farmers Market located on the corner of Pearl and O'Neill in New London, CT.

Matt Nozzolio was born in Seneca Falls, NY, an upstate factory village. Music filled his home. His father, who emigrated to the United States from Italy, played Neapolitan melodies on his 1912 Gibson A-1 mandolin.

For 10 years, Matt played dobro with Amy Gallatin and Stillwaters, who recorded four albums (and were represented on several compilations) and toured throughout the Northeast. The group also conducted two European tours, performing in The Netherlands, Germany, Belgium, Switzerland and Denmark. During his travels to Europe, Matt became enchanted with the accordion and the tradition of "busking" or street performing.

He proceeded to learn to play the instrument; to search out accordion music in its many forms; and seek places in which to practice his art. His repertoire consists primarily of songs from the Italian, Italian-American, Mexican and Tex-Mex styles, and include romantic ballads, boleros, waltzes and Tex-Mex polkas. When not playing solo, Matt performs Mexican music with Tierra Mestiza and Fiesta del Norte.

He also has played accordion in the world premiere of the play Over There at Wesleyan University; The Oddfellows Theater production of Cabaret and in the Youth Circus of Middletown, CT.

For further information, please visit http://members.cox.net/matt-nozzolio or contact Matt Nozzolio e-mail: matt-nozzoloi@cox.net or phone 203-237-3966

Showstoppers at Disney Magic Kingdom/Epcot Center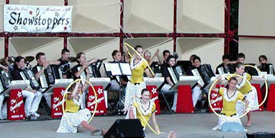 Hot on the heals of the 122 piece ATG 2002 International Festival Orchestra performing at the Epcot Center as part of their 2002 Competition and Festival, the 45 member Showstoppers Accordion Orchestra & Dancers will present two concerts at Walt Disney World this month, presenting concerts in both the Magic Kingdom and the Epcot Center.

The concerts will take place:
Friday July 18 - Epcot's Future West Stage - 11:30 AM
Saturday July 20 - Magic Kingdom Tomorrowland Stage - 2:15 PM
The group was formed in 1970 and the members range in age from 12 years to 21 years old. They are students of the Rosita Lee Music and Dance Centers in Hudson, New Hampshire.

Their program will consist of a variety of song and dance routines. Audience participation is included and their program is family entertainment. The orchestra is under the direction of Rosita Lee and the dancers are under the direction of Shelly Latulipe-Klimas.

For further information, please contact Roger LaTulippe 603/882-894 or e-mail: roger@rositalee.com

New Mile-Hi Accordion Festival in Denver
Accordionists will gather from August 16-18, 2002 in Denver CO, to celebrate the Mile-Hi Accordion Festival and Rocky Mountain Accordion Society Festival.

Offering Adult Clubs, Workshops, Massed Bands, Concerts, Jam Sessions plus competitions for Adults and Kids ages 3-98, the events will be held at the Embassy Suites Hotel, Denver South (I-25/Araphoe Road.)

For further information, please contact Alice Aman at: 719/597-7668

July Dates at a Glance
For important dates in July, please refer to the Future Events page located on this site, by selecting from the menu to the right, or by clicking here.


---

Note: In order to provide as much information as possible for the United States National Accordion News stories, many different sources are often researched to gather additional information and pictures to complement what has been submitted. This information is then correlated to provide the news on www.accordionusa.com in the spirit of which it is intended, which is to provide a free news service to the Accordion Community, specifically in the United Sates. If you feel any copyright has been violated please advise www.accordionusa.com and the article will be removed immediately.