Tokyo Disney searching for Accordionist
Tokyo Disney is looking for an accordionist to accompany a female vocalist in Japan's Disney theme park for six months.

The weekly salary will range form $600-800 with a daily stipend of approximately $55.00.

Anyone interested to Betty Dyson at: betty@eventmusic. http://www.eventmusic.com
Phone: 407-239-1336 (Orlando, FL)


2002 AFNA Festival in Los Angeles
During the weekend of August 10-11, accordionists will gather to take part in the 47th annual Accordion Federation of North America (AFNA) Festival.

Activities will take place at the Radison Hotel at LAX airport, located at 6225 W. Century Blvd., Los Angeles, CA 90045

Come enjoy an Evening Concert consisting of Accordion groups, solos, etc. from the 3 day Music Festival/Competition organized by the Accordion Federation of North America, Inc. The concert begins at 6:30pm in the Ballroom (2nd floor) of the Radisson at LAX. The concert is free, but there is a hotel parking fee. Please come and introduce yourself to the people you see performing - we'd love to know more "squeezers".

AFNA history dates back to October 30, 1955 when Anthony Aretta and Andrew Ferraro called a special meeting to discuss the formation of a new accordion organization. There was a great number of subjects discussed and a great deal of work accomplished.

The purpose of this new organization was to stimulate the general public's interest in the accordion and the improvement of teaching methods. Four categories of membership were designed:
Writers and arrangers
Music store owners
Accordion school owners
Instrument wholesalers
The "Accordion Association of Southern California" (AASC) was chosen as the name for this new group.

The AASC's members included George Howell, Anthony Aretta, Andrew Ferraro, and Peggy Milne; ATG (Accordionists and Teachers Guild) members were Sidney Dawson, PhD., Nik Nevel, Sylvia Prior and Ann Randall.

While the ATG members had experience in structuring the competitions, the AASC members had experience participating and judging in several nationwide competitions.

The very first festival was scheduled for April 21 - 22, 1956 at the Long Beach Municipal Auditorium.

As attendance and membership grew to include states other than California, as well as contact with organizations in Mexico and Canada the AASC changed its name to Accordion Federation of North America (AFNA) in 1972.

For further information regarding the AFNA organization and the August Festival, please contact Sandra Martin e-mail: AFNA@Musicion.org or call: 714/447-9163.


2002 International Accordion Festival in San Antonio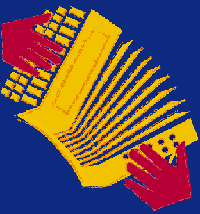 The International Accordion Festival (IAF) is returning to San Antonio on the 19-20 October 2002!

Two days, three stages, more than twenty ensembles, the 2002 International Accordion Festival will feature more than twenty ensembles playing music from around the globe. The artists are regionally, nationally and internationally-noted performers.

In addition to spectacular performances, the festival will host workshops with musicians, dancers and instrument makers. Great food, drink, and of course dancing will also be a part of this family-oriented event.

The festival takes place at the beautiful La Villita Plaza in downtown San Antonio on the beautiful banks of the San Antonio River and spans the world's accordion-driven music traditions: French Canadian, Cajun, Zydeco, Argentinean Tango, Colombian Vallenato, Merengue from the Dominican Republic, Tejano Conjunto, Mexican Norteno, Klezmer, Polish, Texas Czech, German, Irish, and much more.

The series is for everyone, and includes films, talks, a photo exhibit, literary reading, and more! The IAF is a collaborative production of Texas Folklife Resources, the City of San Antonio Office of Cultural Affairs, and the Guadalupe Cultural Arts Center.

The International Accordion Festival, brought to you by the IAF Partners is made possible with funding from their Sponsors: AT&T, The National Endowment for the Arts, Texas Commission on the Arts, Texas Council for the Humanities, the John F. Kennedy Center for the Performing Arts, and more.

For more information, please contact: info@internationalaccordionfestival.org or visit: www.InternationalAccordionFestival.org


Cotati Accordion Festival in California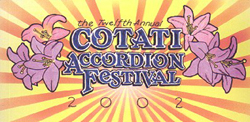 The annual Cotati Accordion Festival will take place in Cotati on Saturday/Sunday August 24 and 25, 2002. The gates open at 9:30 AM and the music starts: 9:45 AM on both days.

One day admission is $10.00 Admission or 2 days admission is $18.00 and children under 15 are FREE!

For more information on this annual festival which has drawn in excess of 10,000 people, please visit the official website at www.cotatifest.com


USA to have three entries in CIA Coupe Mondiale
This year the United States has entered three contestants representing both the Accordionists and Teachers Guild, International (ATG) and the American Accordionists Association (AAA into the annual Coupe Mondiale World Accordion Championships.

Two contestants who won their respective categories at the recent Accordionists and Teachers Guild, International (ATG) competition and festival in Orlando and the American Accordionists Association (AAA) competition and festival in Minneapolis, Jason Stephen (ATG) and Cory Pesaturo (AAA) will enter the International Competition for Piano Accordion.

Andrea Caruso (ATG) will enter the Junior Coupe Mondiale after winning her event at the ATG competition in Orlando.

Another competitor residing in the United States, Lidia Kaminska will represent her native Poland in the Coupe Mondiale World Accordion Championships.

This years festival held in Copenhagen, Denmark from October 16-20, 2002, has drawn over 100 contestants in the six categories offered by the Confederation Internationale des Accordeonistes (CIA), making it the largest competition ever for the annual Coupe Mondiale World Accordion Championships.


New Book offered by Gary Dahl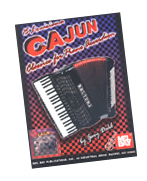 Gary Dahl has released a new book published by Mel Bay Publications, entitled "15 Louisiana Cajun Classics."

This Cajun book (recording CD is available) transcribed/arranged by Gary Dahl is graded at an Intermediate Level and includes: Le Jig Francais, Chere Te Mon, Port Arthur Blues, J'ai Passe devant ta porte, Two Step D'Amede, Bernadette, Bosco Stomp, La Robe Barree, Basile Breakdown, Grand Tasso, Flames De'enfer.

The book sells for $9.95 plus shipping and for more information, please www.accordions.com/garydahl

You may also preview and purchase the music of Gary Dahl on-line at www.musicforaccordion.com


Stas Venglevski releases new CD entitled 'Seasoning'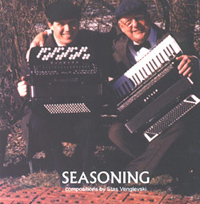 After the recent release of Adagio, Romance and Beyond, accordionists Stas Venglevski has just released a new CD entitled "Seasoning."

His keyboard artistry, dazzling technical command, and sensitivity have brought 'Stas' Venglevski, a native of the Republic of Moldova, part of the former Soviet Union, increasing acclaim as a virtuoso of the bayan.

A two-time first prize winner of bayan competition in the Republic of Moldova, Stas is a graduate of the Russian Academy of Music in Moscow where he received his masters Degree in Music under the tutelage of the famed Russian bayanist, Friedrich Lips. In 1992 he emigrated to the United States.

Showcasing original compositions, this new CD features both solo works and duo works, which Stas performs with popular Chicago based accordionist John Simkus.

For more information, please visit www.accordions.com/stas


Ooo La La! The Existential Accordion and Dr. Schimmel

The Existential Accordion!!

Ooo La La! Let them eat cake! Je suis l'accordion! Pass the sponge cake, please! And....Le Boogie on down to our eighth annual Master Class and Concert Series sponsored by the American Accordionists' Association. Le accordion philosopher and distinguished Lecturer-in-Residence, Dr. William Schimmel will act as Moderator/Curator.

Bring your own beret, but don't take it off! Le Grand Prix will be awarded to the winner who refuses to take it off despite much pressure. The goal of the weekend is to find (within the accordion cultural dimension) moments of philosophy - existential that is! Enjoy, along with your Cafe au Lait, some Fromage Dangereux (William Schimmel), a tango that promises royale overtones.

Dr. Schimmel will also unveil his new book, The Existential Accordion, which contains the essay: Evolution in the Realm of Permanent Transition. Also, pick up a copy of his new method book: Useless Studies. Eminent choreographer, Director and Fitness Expert, Micki Goodman will present a cranial sacral workshop to promote alignment in the subtlest ways, facilitating correct posture, heightened awareness and energy.

And...don't miss Micki's performance of It Is, a vocal/ movement performance work that promises to be a homage to the late great accordionist, Phil Baker (who was also famous for his 1930s Barbasol endorsements).

And...don't miss Paul Stein's Yiddish song collection: It Was, presenting a kind of nostalgia that goes a big (down the path of Genet and Sartre) to the left - Marx - not the brothers. And...of course there'll be a seminar on Jerry Lewis and Mickey Rourke...applied to L'Accordeon - of course.

There will be a Piaf Concerto; performances of AAA commissioned works such as Lamentations by Virgil Thompson and Prelude and Sarabande by George Kleinsinger (Tubby the Tuba) performed by Eero Richmond and/or Robert Young McMahan; a French chanson set by Marni Rice; a Gainsbourg Tribute and ...Gasp! The El Choclo Seminar will make a return after a six-year hiatus playing the classics in an improvisatory manner looking for (in the words of Jaques Derrida) their proper voice - let's hope they find it.

Performance artist/Elvis/Groucho impersonator will deconstruct himself. Rembert Block will play, sing and channel goddesses of the past; a demonstration of Nortech, a Tijuana Brash Technopop giving sampling a new chic. Dragica Banic-Curcic, from former Yugoslavia will demonstrate "The Transferred Harpsichord."

Is there a musette Americain? Many may ask. We will demonstrate the answer perhaps in the form of new questions, but nonetheless we will answer.

Guests will also include: Elsie M. Bennett, Faithe Deffner, Dr. Carmelo Pino, Frank Busso, Linda Reed, the digital flute of Lee McClure, Michael Schimmel (Age 22/Down Syndrome); Allyssa Lamb will discuss Hip music for kids; Will Holshouser will play spontaneous versions of Urban Cajun, Messian, Chamame, Henri Sauget and Hard Bop; Dr. Schimmel will discuss the Malaguena II philosophy in arts and worship; he'll revisit the Politics of the Third Banana (as well as the First and Second) as well as new prosumers in the accordion cross-cultural society and, of course, the built-in-ironic duality. Famous baritone, Andre Solomon-Glover will also bring his accordion; there'll be new takes on Claire de Lune by Debussy (W.C.), Carnival of the Animals and Faure (4-A), a family that plays together stays together. The K Trio (brother and sisters) give new existential meaning to that old zealot phrase. The great Carmen Carrozza will make a return engagement; the Estonian bassoonist Martin Kuuskman will join Dr. Schimmel; the Housewives are back again intact; Main Squeeze's Walter Kuhr will join double reed with free reed; Godfrey Nelson and Lorraine Nelson-Wolf will give new meaning to the word "Grunge"; Dr. Thomas Massucci will challenge the word "existential"; or Mark Birnbaum will challenge the term, Ragtime and David First and David Stoler will challenge the notion of composer in society.

The weekend will take a new turn with a performance of But You Hope! (W.S.) which features actress Kathleen Goodman - exploring the missed opportunity, the lost moment, the wasted breath and the ability to hope; Rita Davidson will give us a patriotic music lady; Dr. Robert Young McMahan will give a talk on the "novelty" as art form as well as a performance of a new original work. Dr. Schimmel will perform the clandestine music of Princeton University composer, Colby Leider.

Finally, as the berets come off and the Grand Prix is presented, all ideas will be presented again at a cafe/salon reception giving new meaning to the words open ended - no answers, only questions, questions and more questions: "What is this thing called the accordion?" Why do we play at all?"; "Is it love (as in tennis) or love/hate?"; "Is Le Metro a Safe Place of Accordionists?"; "Should Accordionists Promote Safe Sex in Condominiums?"; Does anyone know?

The event will take place at the
Tenri Cultural Institute of New York,
43 West 13th St (Between 5th & 6th Avenues)

Master Classes 3:00 p.m. Concerts 7:00 p.m.
Reservations & Information (212) 876-0827 or the AAA Office (201) 991-2233


Cybelvis at the Cyrstal Ballroom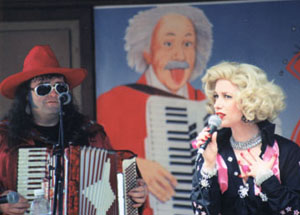 It is now possible to witness electrifying and comedic live performances by Elvis & Marilyn together again for the very first time - in the same body!

Backed by the irrepressible Botielus on accordion & sequencer, this is one show like no other!

Marvel at the wonder, as Marilyn's sultry voice breathes out Elvis' hit songs, complete with pelvic gyrations, crimson lip curls, and giddy "Boop-boop-ee-doos"!

You can her Miss Cybelvis Monroe on Friday August 16, 2002 in at the Cyrstal Ballroom, 1332 W. Burnside City, Portland OR. Doors open at 8:00 PM and the show begins at 9:00 PM. Admission is $12.00 in purchased in advance or $15.00 at the door.

For future bookings or more information, please contact
Miss Cybelvis Monroe
Graceful Land
PO Box 6714
Portland OR 97228-6714
E-mail: Cybele@funduo.com or visit http://www.cybelvis.com


NY Accordionist to tour China with NZ Orchestra
NY based accordionist Kevin Friedrich will tour China with the "Musicale" accordion orchestra from Auckland, New Zealand from August 13 - 26, 2002.

Rehearsals have taken place on a 'virtual' level, with a video camera positioned in the orchestra, allowing the perspective of the orchestra and conductor that will be seen when joining up with the orchestra in Hong Kong.

Performing in Putian, Xiamen and Shanghai, the orchestra will also visit Hong Kong and Quanchou.


Those Darn Accordions are still on the Loose!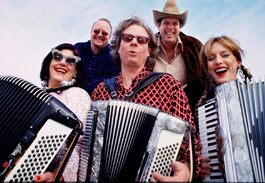 Those Darn Accordions are on the road and might be appearing at a venue near you!
Those Darn Accordions is San Francisco's accordion-fueled rock 'n' roll band that pumps out quirky, catchy originals chronicling life in the weird lane. The five-piece group fronted by lead singer/squeezebox wizard Paul Rogers and bellows-pumping babes Patty Brady and Suzanne Garramone promises to forever rearrange your understanding of the accordion. Behind the wall of wheeze, drummer Bill Schwartz and bass player Lewis Wallace anchor the band, providing a firm foundation upon which the manic TDA accordionists can layer huge slabs of sonic mayhem. With distortion boxes cranked to 11, the one-of-a-kind band blazes through a variety of musical genres and torches timeless classic rock tunes. You won't believe your ears!

Get on Those Darn Accordions' e-mail list now: tda@thosedarnaccordions.com

AUGUST
1 West Allis, WI Wisconsin State Fair
2 Berwyn, IL Fitzgerald's
3 Wisconsin State Fair
4 Watertown, WI Waterfest
5 Milwaukee, WI Rainbow Summer
8 Bethlehem, PA Musikfest
9 New York, NY The Cutting Room
10 TBD
13 Asbury Park, NJ The Saint
14 TBD
15 TBD
16 Arlington, VA Iota Club & Cafe
17 Rehoboth Beach, DE Dogfish Head Brewery
18 Richmond, VA Poe's Pub
21 Kettering, OH Fraze Pavillion
23 Cleveland, OH Beachland Ballroom
24 Akron, OH The Lime Spider
25 Pittsburgh, PA The New Club Café
27 St. Louis, MO Frederick's Music Lounge
28 Kansas City, MO Grand Emporium
29 Lawrence, KS Jazzhaus
31 Denver, CO TBD

For more info, remember to check out our website at www.thosedarnaccordions.com


Milen Slavov receives Arts Fellowship

The Mississippi Arts Commission recently honored Bulgarian accordionist Milen Slavov with a Performing Arts Fellowship in Music Composition from their Arts Industry Program.

Accordionist/composer Slavov will use the grant to create new works, expand and educate audiences, and pursue collaborative efforts with other musicians. The fellowship selection involves evaluation by a panel made up of artists and arts professionals from outside the state of Mississippi.

This shows that the work of Slavov has been recognized on a truly national level. For full details on the announcement e-mail: agency@msaccordion.com


Canadian Festival in Newfoundland
The 26th Annual Newfoundland and Labrador Folk Festival will be held in Bannerman Park, downtown, St. John's from August 2nd to 4th, presented by the St. John's Folk Arts Council. Their mandate is to "Promote and preserve the folk arts in Newfoundland and Labrador and throughout Canada".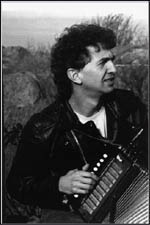 Performers include accordionists Allan Ricketts, Vince & Glen Collins, "Crowd of Bold Sharemen" (includes Fergus O'Byrne - concertina, Jim Payne - accordion & concertina, and Graham Wells - accordion & and vocals), "Shanneyganock" (includes accordionist Mark Hiscock), and Nicole and Sarah Squires (violin and accordion).

The event will also include an "Accordion Session" with Dave Penny, Stan Pickett, Art Stoyles, & Bob Rutherford who will take turns demonstrating their unique brand of accordion playing. For further details e-mail: bridget@sjfac.nf.net


Battlefield Band in the USA
On August 7, 2002 the Battlefield Band will perform at the Philadelphia Museum of Art as part of their 2002 USA tour.

The Battlefield Band plays Scottish music of rare passion and joy. Inspired by their rich heritage of Celtic music and fired by the strength of today's Scottish cultural scene (which they themselves have done much to create and fuel), they mix the old songs with their own material, performing on a unique fusion of ancient and modern instruments: bagpipe, fiddle, synthesizer, guitar, cittern, flute, bodhran, and accordion.

Named after the Glasgow suburb of Battlefield, where the group was formed by four student friends, Battlefield Band have been on the world''s roads for just on 30 years now, distilling their own unique form of the Scottish spirit and bottling it in concert and onto disc - Germany, Hong Kong, Australia, New Zealand, Italy, Austria, Switzerland, Holland, Syria, Jordan, India, Sri Lanka, Egypt, U.S.A., Canada and the U.K. They have broken down barriers and pioneered many new directions which others have followed. Angry, joyful, raucous, contemplative, their music is most importantly - accessible to all.

The Edinburgh Evening News says, "The Battlefield Band is turning into a national treasure, and exemplifies the ongoing nature of Scottish musical tradition.

The concert will be held at the Philadelphia Museum of Art, Benjamin Franklin Parkway and 26th Street in Philadelphia, PA 19130

For further information please call: (215) 763-8100 or visit http://www.battlefieldband.co.uk


Cafe Accordion Orchestra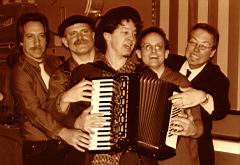 Café Accordion Orchestra (photos by Sheralyn Deyoung) performs an eclectic mix of French Musette, vintage swing, Latin and European dance music styles. Their repertoire is that of the "Bal Musette" orchestra, through which they recreate the music that was popular in Parisian dance halls, cafés and bistros in the 1920's through 1950's. It includes a healthy dose of "Musette", the gypsy-influenced romantic dance music that filled the cafes and dance halls of Paris in the 1920's, 30's & 40's.

Besides these waltz, valse-musette, java and swing-valse styles, CAO's repertoire also includes foxtrot, swing, tango, paso doble, polka, bolero and rhumba selections. CAO injects their music with good humor and expressive abandon and plays it for what it truly is - dance party music.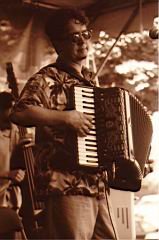 Cafe Accordion Orchestra accordionist Dan Newton grew up listening to big band, classical and Broadway records, and to his mom playing hymns on the piano. Along the way, he learned to express his "inner Dan" through the piano, tin whistle, hammered dulcimer and guitar (and belly dancing - more about that later).

While playing piano in one of his earlier bands, the other members increasingly booked gigs at bars that didn't have a piano. Dan was oblivious to this not-so-subtle hint, and instead decided the solution lie in the accordion.

Since then, Dan has won the 1987 Nebraska Accordion Contest at the Wilber Czech Festival. Dan has taught at Lark in the Morning (Mendocino, CA), Augusta Heritage Institute (Elkins, W.Va.), and Ashokan Fiddle & Dance Camp (Ashokan, NY). He has performed at Freight & Salvage (Berkeley, CA), Winnipeg Folk Festival, Prairie Home Companion, Montmagny Accordion Festival (Canada) and at over 1,500 nursing homes and senior centers in Minnesota, Nebraska, Kansas and Colorado.

Dan's professional bands include Paddywhack, North Wynd, Boys of Blue Hill, Fat City, Last Call, Daddy Squeeze & The Doctor, Vooju Rockin' Tango Club, Irish Brigade, Rockin' Pinecones, Group du Jour, Jumbo Ya Ya, Swamp Sextet, Café Accordion Orchestra, Art Carnage and Guys Can Talk. His 1993 solo release "Café Accordion" spawned Café Accordion Orchestra.

Upcoming concerts include appearances in Wisconsin, Minnesota, Rhode Island, Iowa. For booking info or further information, please call (612) 782-8488 or (651) 488-1174 or visit www.cafeaccordionorchestra.com


August Dates at a Glance
For important dates in August, please refer to the Future Events page located on this site, by selecting from the menu to the right, or by clicking here.



---

---

Note: In order to provide as much information as possible for the United States National Accordion News stories, many different sources are often researched to gather additional information and pictures to complement what has been submitted. This information is then correlated to provide the news on www.accordionusa.com in the spirit of which it is intended, which is to provide a free news service to the Accordion Community, specifically in the United Sates. If you feel any copyright has been violated please advise www.accordionusa.com and the article will be removed immediately.