---
2007 CIA Coupe Mondiale Accordion Competition Squeezes into DC
THE 60TH ANNIVERSARY COUPE MONDIALE 2007 INTERNATIONAL ACCORDION COMPETITIONS AND FESTIVAL, August 13-18, 2007
Musical Guests/Performers from the Four Corners of the World – All Styles & Genres – Available for Radio & Television Spots and Interviews
Be There August 13 - 18 for the Most Fun News Opportunity of the Summer
Prestigious International Competition returns to the US after 26 Years
2007 Event Celebrates 60th Anniversary of the Coupe Mondiale
Massed Accordion Band Performance at the Grant Memorial opposite the US Capitol, August 17
Special Concert Performances All Week at the Kennedy Center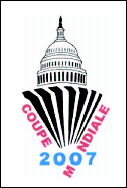 Washington, DC will become the "accordion capitol of the world" as accordionists and accordion aficionados from all over the globe converge on the nation's capitol to attend the 2007 Coupe Mondiale – the "world cup" of accordion championships – from August 13 through 18 at the Holiday Inn in Alexandria, Virginia.

The Coupe Mondiale, recognized as the most prestigious annual accordion competition of international scope, takes place in a different country every year, under the auspices of the Confederation International des Accordionistes, which is currently celebrating its 60th anniversary since the first such event, in 1938 in Paris. The Confederation is affiliated with the International Music Council and UNESCO. The Coupe is back in the United States after more than 25 years since it was last held in this country in Kansas City, Missouri in 1981, and more than 30 years since it took place in Washington, DC in 1976.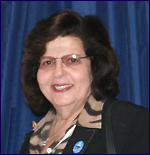 "The Coupe Mondiale attracts accordionists and accordion music lovers from all over the world and across the US because the instrument is particularly significant to so many cultures and music styles," says 2007 Coupe Mondiale Organizer and Confederation Vice President Faithe Deffner. "We are pleased to have this awesome array of accordion talent return to the US and to again host the Coupe Mondiale after so many years. We are delighted to be "headquartered" for the week in nearby Alexandria, a city of great charm, beauty and historic significance."

Highlights of the Coupe Mondiale whirlwind week include:
Six evenings of accordion entertainment and concerts at the Kennedy Center's Millennium Stage and at the Holiday Inn Ballroom
The premier performance of the World Accordion Orchestra
Massed band accordion performance in front of the US Capitol
Instrument exhibits plus an historic display of accordions from Dr. Helmi Harrington's World of Accordions Museum in Superior, Wisconsin
The Coupe Mondiale banquet gala celebrating 60 years of international accordion achievement
Plus a series of social receptions with endless entertainment, and late-evening performances in a lounge setting with open mike for participating accordionists.
A 2007 Coupe Mondiale spectacular is the lunchtime Massed Band performance at the Grant Memorial on First Street, 12:00 Noon Friday, August 17. Scores of international accordion players will join in performing John Philip Sousa's "Stars & Stripes Forever" in full view of the US Capitol Building - a wondrous auditory and visual spectacle!

In addition, The Kennedy Center in Washington, DC will feature accordionists in six evening concerts at the Millennium Stage from 6:00 PM - 7:00 PM each day. All the concerts will be broadcast live simultaneously on the Internet at www.kennedy-center.com/millennium. They can be viewed subsequently in the Millennium Stage Performance Archives.

Coupe Mondiale excitement is skyrocketing due to the attendance of several renowned national and international accordion orchestras from California, Missouri, New Hampshire, Puerto Rico and Texas, as well as Canada, China, Denmark, Germany and New Zealand. A number of these accordion orchestras will perform at Kennedy Center's Millennium Stage during the week of August 13.

Joint sponsors of the 2007 Coupe Mondiale are the Accordionists and Teachers Guild (ATG) and the American Accordionists' Association (AAA) founded in 1939 and 1938 respectively, whose combined funding of approximately $75,000 will make this event a reality. Both are US member organizations of the Confederation.

Nearly $25,000 in cash prizes will be awarded to the winners of the six international categories, which include:
• 60th Anniversary Coupe Mondiale
• International Competition for Piano Accordion
• Junior Coupe Mondiale
• International Competition for Virtuoso Entertainment Music
• Junior International Competition for Virtuoso Entertainment Music
• International Competition for Ensemble Music
In addition to cash prizes, each first place winner will be featured in a gala finale concert at the Millennium Stage of the Kennedy Center on Saturday evening, August 18.



Competitions for soloists and groups of all levels of accomplishment, playing all styles of music, will also take place under AAA/ATG sponsorship. $10,000 in cash prizes, donated by Sylvia Prior, an accordion teacher from the Los Angeles area, will be awarded to the winners of The Maddalena Belfiore Entertainment Competition for Female Accordionists. (Ms. Belfiore, recently deceased, was a noted accordionist, educator and composer, long associated with the American Accordionists' Association and recently appointed as an honorary member of the CIA.)



"Accordion Central" is the Holiday Inn at 625 First Ave. in Alexandria, VA where most of the activities take place. More information about the Coupe Mondiale and the AAA/ATG competitions and festival can be found on the website www.accordions.com/coupeusa

CONTACT for the Public for Coupe Mondiale Information: Linda Reed (203) 556-0002.

---
2007 COUPE MONDIALE AT A GLANCE
---
Participants from all over the Globe
A THUNDERING AUDITORY EXPERIENCE!
A SPECTACULAR VISUAL PANORAMA!
There are 79 candidates competing in the CIA World Championship categories
Attendees including contestants, judges and delegates hail from Austria, Bosnia, Canada, China, Croatia, Denmark, Finland, France, Fiji, Germany, Italy, Kazakhstan, Macedonia, New Zealand, Netherlands, Norway, Poland, Russia, USA, Serbia, Spain, Sweden, Switzerland, United Kingdom, Ukraine and the USA.
There will be about 40 hours of grueling competition in six different international categories.
Concerts every night from Tuesday, August 14 to Saturday, August 18, 2007. Admission $10 per person daily and $20 on Saturday.
Accordionist Manny Bobenreith and the US Army Strings will be playing at the Luncheon Concert on Thursday at 12:15
166 piece World Accordion Orchestra comprising musicians from all over the world, will premiere new music
There is literally accordion action and competitions going on all the time!

Major event suggestions for Press coverage follow:
(all events at the Holiday Inn in Alexandria, Virginia unless specified otherwise)

Tuesday, August 14 - 8:00 – 10:00 PM
Opening Concert, Commonwealth Ballroom

Wednesday, August 15 - 7:30 – 10:30 PM
Coupe Mondiale - Sr. Virtuoso Entertainment Competition Round 1, Commonwealth Ballroom

Thursday, August 16 - 12:15 – 2:00 PM
Luncheon Concert, Ballroom C

Thursday, August 16 - 7:30 – 10:30 PM
Coupe Mondiale - Sr. Virtuoso Entertainment Competition Round 2, Commonwealth Ballroom

Friday, August 17 - 11:00 AM
"MASSED BAND PERFORMANCE" at the Grant Memorial/1st Street in front of the US Capitol Building. The sight and sound of over 100 international accordion players performing John Philip Sousa's "Stars & Stripes Forever" in one place at one time is guaranteed to lift your spirits!

Friday, August 17 - 9:00 – 11:00 PM
60th Annual Coupe Mondiale Banquet Concert, Commonwealth Ballroom

Saturday, August 18 - 9:00 – 11:00 PM
166 piece World Accordion Orchestra in Concert, including a World Premiere
Awards Ceremony Concert, Ballroom

PLUS The Kennedy Center in Washington, DC will feature accordionists in six evening concerts at the Millennium Stage from 6:00 PM - 7:00 PM each day.

Be there for a Terrific Summer Fun News Opportunity.

For full details on the 2007 Coupe Mondiale and the AAA/ATG competitions and festival, please visit www.accordions.com/coupeusa

---
2007 USA CONTESTANTS
---
The USA announced representatives from both the American Accordionists Association and the Accordionists and Teachers Guild, International.

Contestants are as follows:

CIA Junior Coupe Mondiale
Samatha Jarquio (USA-ATG)

CIA nternational Competition for Virtuoso Entertainment Music
Sam Thomas (USA-AAA)

CIA Junior International Competition for Virtuoso Entertainment Music
Samatha Jarquio (USA-ATG)
Anthony Falco (USA-AAA)
John Maceo (USA-AAA)

CIA International Competition for Piano Accordion
Sam Thomas (USA-AAA)
Christopher Gorton (USA-AAA)

CIA International Competition for Ensemble Music
Lidia Kaminska (accordion) and Doug O'Connor (Sax)
(NB: Lidia, although lives in the United States, she will be entering representing her native Poland, however with many fans in the United States where she resides, she is sure to have a keen following in the competition.)

Watch the www.coupemondiale.org site during the festival for daily updates and competition results as they become available.

---
MILLENNIUM STAGE PERFORMANCES
---

A series of accordion concerts will be held at the Millennium Stage at the famed Kennedy Center for the Performing Arts, during the 2007 CIA Coupe Mondiale World Accordion Championships. The 'Performing Arts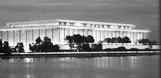 for Everyone' on the Millennium Stage program is designed to introduce the Kennedy Center, and make music available from a variety of artists from around the world to all, by providing a performance open to the public and free of charge 365 days a year.

The performers for the Coupe Mondiale Millennium Stage Concerts are as follows: (Note: These orchestras will also be performing at the Coupe Mondiale Concerts)
---
August 14th
Jerosh Accordion Orchestra (Canada), Maureen Jerosh, Director
Akkordeonorchester Hof (Germany), Günther Zeilinger, Director (pictured below)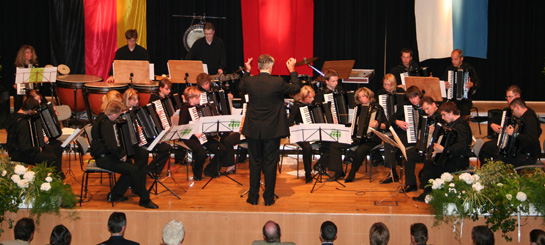 ---
August 15th
University of Missouri-Kansas City Accordion Orchestra, Joan Sommers, Director (pictured below)
Martin Music Center Accordion Orchestra (CA), Randall Martin, Director


---
August 16th
Showstoppers Acc. Orchestra & Dancers (NH), Rosita Lee Latulippe, Director (pictured below)
North Shore Accordion Orchestra (New Zealand), Lionel Reekie, Director (pictured 2nd below)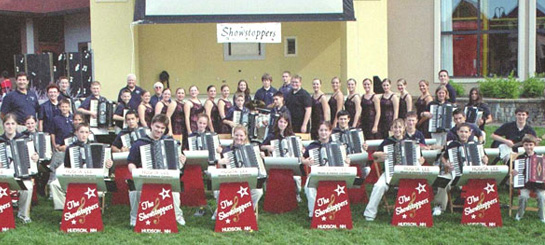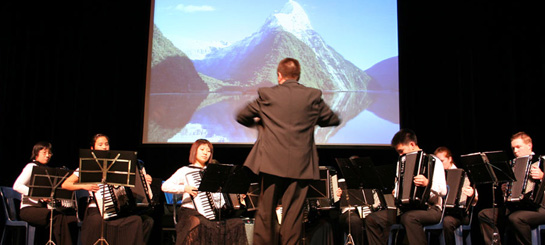 ---
August 17th
Accordeonova (Denmark), Peter Anders, Director (pictured below)
Beijing Children's Palace Baidi Accordion Orchestra (China), Chen Weilang, Director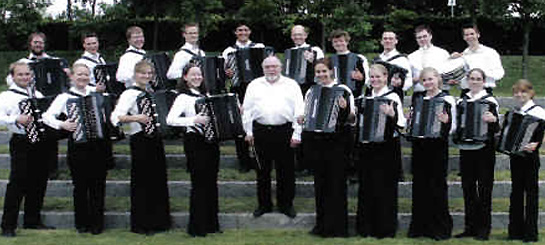 ---
August 18th
Winners of the six CIA Coupe Mondiale Categories

The concerts are held at 6:00 PM each night (US East Coast Time), and broadcast live around the world on the Internet at the time of the performance, as well as archived for viewing at anytime in the future.

Please visit www.kennedy-center.org/programs/millennium to view these exciting concerts as they happen.

---
INTERESTING CIA USA HIGHLIGHTS - CHAMPIONS
---
The Coupe Mondiale has taken place in North America five times since its inception. It was held in the United States, in New York City in 1959 (winner Marianne Probst) and in 1969 (winner Valeri Petrov); in Washington, DC in 1976 (winner Victor Filtchev); in Kansas City, Missouri in 1981 (winner Alain Musichini); in Toronto, Canada in 1964 (winner Stephen Dominko).

In addition to our North American Coupe Mondiale Champions, many contestants have placed very highly in the extremely competitive competitions. High placings include:

Coupe Mondiale World Accordion Championships
1984 - Folkstone, UNITED KINGDOM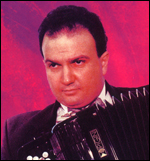 1st: Peter SOAVE, USA (right)

1981 - Kansas City, USA
3rd: Peter SOAVE, USA

1979 - Cannes, FRANCE
3rd: Monica SLOMSKI, USA

1977 - Eindhoven, NETHERLANDS
3rd: William SAMONEK, USA

1975 - Helsinki, FINLAND
3rd: Monica SLOMSKI, USA

1974 - Stockholm, SWEDEN
3rd: Karen FREMAR, USA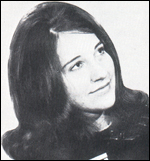 1972 - Caracas, VENEZEULA
1st: John TORCELLO, USA
2nd: Joeseph NATOLI, USA

1971 - Bruges, BELGIUM
3rd: John TORCELLO, USA

1970 - Salzburg, AUSTRIA
1st: Diane SCHMIDT, USA (right)

1969 - New York, USA
2nd: Pam BARKER, USA

1968 - Leicester, UNITED KINGDOM
2nd: Julie Ann KASPRZYK, USA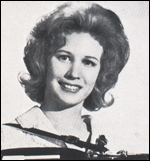 1967 - Leiden, HOLLAND
3rd: Julie Ann KASPRZYK, USA

1966 - Versailles, FRANCE
2nd: Jaqueline HOFTO, USA

1965 - Valetta, MALTA
1st: Beverly ROBERTS, USA (right)
3rd: William COSBY, USA

1964 - Toronto, CANADA
1st: Stephen DOMINKO, USA
2nd: William COSBY, USA

1963 - Baden Baden, GERMANY
1st: Leonard LANGLEY, USA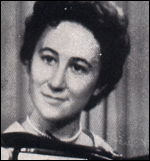 1962 - Prague, CZECHOSLOVAKIA
1st: Iona REED, Canada
2nd: Leonard LANGLEY, USA

1961 - Pallanza, ITALY
1st: Donald HULME, USA (right)
3rd: Iona REED, Canada

1960 - Vienna, AUSTRIA
2nd: Donald E. HULME, USA

1957 -Saarbrucken, GERMANY
1st: Ronald SWEETZ, USA

1956 - Bienne, SWITZERLAND
1st: John LA PADULA, USA
3rd: Joan COCHRAN, USA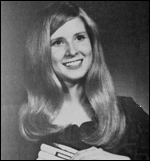 International Competition for Virtuoso Entertainment Music
1974 - Stockholm, SWEDEN
1st: Karen FREMAR, USA (right)
3rd: Jeff LISENBY, USA

Junior International Competition for Virtuoso Entertainment Music
2006 - Asker, NORWAY
4th: Sammy THOMAS, USA

---
INTERESTING CIA USA HIGHLIGHTS - TEST PIECES
---
Seven Coupe Mondiale test pieces were written by American composers over the years:
Concert Etude No.2 by Eugene Ettore (1961)
Holiday Caprice by Eugene Ettore (1962)
Suite for Accordion by Carmelo Pino (1969)
Scaramouche by John Franceschina (1975)
Spring Street Ritual by William Schimmel (1979)
Reflections by Karen Fremar (1981)
Rondo-Caprice by Larry Bailey (1982)
Fantasy Op. 67 by Karen Fremar (2007)
---
INTERESTING CIA USA HIGHLIGHTS - AWARDS
---
CIA Merit Award Recipients:
Joe BIVIANO (USA) 1972
Carmen CARROZZA (USA) 1972
Pietro DEIRO Jr. (USA) 1972
Anthony GALLA-RINI (USA) 1972
Lari HOLZHAUER (USA) 1972
Eugene ETTORE (USA) 1985
Charles MAGNANTE (USA) 1988
Dr. Willard PALMER (USA) 1992
Myron FLOREN (USA) 1992
Maddalena BELFIORE (USA) 1994
Joan SOMMERS (USA) 1995
Elsie BENNETT (USA) 1996
Arlene BODDICKER (USA) 1996
Gerald BODDICKER (USA) 1998
Faithe DEFFNER (USA) 2000
UMKC Accordion Orchestra (USA) 2001
Dr. William SCHIMMEL (USA) 2003

CIA Honored Friend of the Accordion Recipients:

Vivian & Steve STORALUK (USA) (2003)
Dr. Helmi HARRINGON (USA) 2006
For more information, please visit www.accordions.com/cia


---
Ladies Day Concert in New Hampshire
A 'Ladies Day Concert' was held recently in New Hampshire, featuring Scottish, French, Classical, and popular music. The concert featured four artists including:

Sylvia Miskoe: Renowned for her participation in the Strathspey and Reel Society as well as the group "The White Cockade" Sylvia excels in performing Scottish music. She is a recording artist in not only Scottish but in contra, Irish, and Quebecois music as well. She is also highly acclaimed as a caller on the folk dance circuit.

Mary Tokarski: Teacher and concert accordionist, Mary performs both nationally and internationally as a soloist, with Symphony Orchestra and as a member of The 'K' Trio. Included in the concert were works from her first solo CD "Music with Mary...for my Friends!"

Anita Siarkowski: As an accordionist, Anita's claims to fame are her theme-oriented repertoires and outfits to fit every occasion - plus her sense of humor! Aside from solo engagements, Anita also plays duet with her husband, Bob, (in coordinated apparel) for private parties, organizations, etc...

Donna Maria Regis: Performer, arranger, composer and conductor, Donna is an accomplished accordionist in every way. She enjoys performing famous accordion pieces by Deiro and Magnante plus classical and popular music. Donna's concerts are always a delight at the New Hampshire Accordion Association monthly meetings.

Concerts were held in the "Wall of Fame" Music Room along with a mid day Brunch buffet. For more information on other activities, please visit: www.accordionconnection.com

---
New Work for Accordion Available to US Accordionists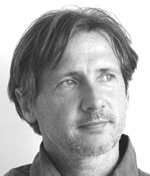 A recent work entitled "Lines and Waves in Blue Deep" for five accordions is now available to accordionists in the United States from Musica Slovaca in Bratislava. This 10 minute contemporary tonal music piece for accordion, composed in 2007, was commissioned by the Deutscher Harmonika Verband in Trossingen, Germany.

Born in 1961, Peter Machajdík grew up in Bratislava, Slovakia but he has been living in Germany for the past 15 years.

At six, Machajdík began music lessons and at seven, took up the piano. In the 1980's he was not accepted into the Music Academy of Bratislava because his concept of music, at that time, was heavily influenced by the Western avant-garde. At 27, Machajdík graduated from the University of Economics in Bratislava, Slovakia.

Machajdík has received commissions and awards from, among others, the Kulturfonds Foundation, the Luigi Russolo Foundation, the Slovak Music Fund and the Pro Helvetia Foundation. In 1992 he was invited to live and work in Berlin as a guest of the DAAD Künstlerprogramm. Machajdík was also the composer in residence at the Schloss Wiepersdorf, Germany, at the Künstlerhäuser Worpswede, Germany, and at the Künstlerhaus Lukas in Ahrenshoop on the German Baltic coast.

Machajdík´s works have been performed widely, including at Hörgänge, Vienna; young.euro.classic, Berlin; Nuovi Spazi Musicali, Rome; Melos-Ethos, Bratislava; Inventionen, Berlin; New Work Festival, Calgary; Musica Nova, Sofia; Festival de Jazz et Musiques d'Aujourd'hui, Mulhouse; Review of Composers, Belgrade; Audio Art Festival, Cracow, as well as at venues in the Netherlands, Belgium, Denmark, Switzerland, Portugal, Italy, the Czech and Slovak Republics, and the U.S.A.

Performers of Machajdík´s music have included artists such as Guido Arbonelli, David Moss, Natalia Pshenichnikova, Michael Davenport, Floraleda Sacchi, Juan Maria Solare, Piet Van Bockstal, Julie Hanson-Geist, Darry Dolezal, Peter Henderson, Boris Lenko, Gertie Bruin, conductors Anu Tali, Peter Breiner and Karol Kevicky, the ARTE Quartett, the Veni Ensemble, the Slovenian Clarinet Quartet, and others.

Machajdík has lectured on new music, led workshops, and curated festivals of contemporary music. His music has been broadcast many times on radio and TV all over the world.

Anyone interested in the score of "Lines and Waves in Blue Deep" should e-mail info@machajdik.de or visit: www.machajdik.de


---
Jeff Lisenby releases new CD 'A Spy in Tortuga'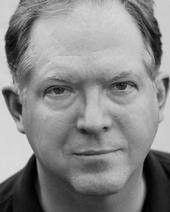 Jeff Lisenby's new jazz accordion album, A SPY IN TORTUGA, is slated for official release August 30, 2007, however advance copies will be available at the Coupe Mondiale in Washington, DC August 13-18, where Jeff will perform selections from the album.|

A SPY IN TORTUGA is Jeff Lisenby's first independent jazz accordion album, and features several brand-new original compositions by Lisenby as well as new arrangements of familiar jazz standards.

Jeff, holds a master's degree from The Conservatory of Music of the University of Missouri-Kansas City, is no stranger to musical oxymorons. His experience runs the gamut of styles. He has twice been the national accordion champion and a bronze medalist in the Coupe Mondiale International classical accordion competitions, but classical music was not the only style he practiced.

"When I was a kid," Lisenby said, "my goal was to win the world accordion championship, which was for 'serious' music. So I was practicing 7-8 hours a day when I was a teenager. I would get tired of practicing the 'heavy' music, and then I would start playing pop or jazz standard tunes and improvising on them. It was a good musical mix for me."

Jeff used his genius on the accordion and keyboards to carve a niche market for himself, and gained performances with the Nashville, Kansas City, and Los Angeles Symphonies, the Palm Beach Pops Orchestra, and a gig accompanying Luciano Pavarotti during part of his recent US tour.

Certainly not limited to classical music, Lisenby toured extensively with the Mills Brothers, Boots Randolph, and Brenda Lee, and has accompanied Lee Greenwood, Donna Summer, Tricia Yearwood, Three-Dog Night, the Coasters, David Cassidy, Marty Stuart, Jo Dee Messina, Pam Tillis, Loretta Lynn, Roy Clark, and Dolly Parton, to name a few. Apparently the accordion has a place in American popular music after all.

Most recently, Lisenby was honored to be the music director for the Broadway smash hit RING OF FIRE: The Music of Johnny Cash, for which he pulled from his extensive experience backing country artists in Nashville.

Jeff is also one of the first-call accordionists for recording sessions in Nashville. Projects he has worked on include the Grammy-winning album: "Songs from the Neighborhood; the Music of Mister Rogers", and jingles for Budweiser and Sutherland's Lumber (which he also wrote and produced).

When he's not on the road performing around the country, Lisenby teaches for Belmont University's School of Music and is active in the Nashville recording scene.

To learn more, please visit: www.myspace.com/jefflisenby


---
Accordion by the Sea Festival in Canada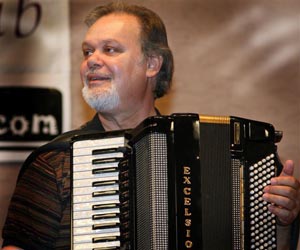 Mario Pedone will perform at ACCORDION BY THE SEA FESTIVAL in Victoria, British Columbia, Canada. An accomplished musician, Mario lives with his wife and family in Texas. He performs locally and internationally, and at the festival he will perform and conduct workshops on how to dress up a song, and take listeners on a journey into Latin American styles.

Mr. Pedone has his own recording studio in Sugar Land, Texas where he has arranged and recorded hundreds of tunes including many of his own compositions. His musical range includes, but is not limited to Classical, Latin, European, and American Standards. He also produces CDs and cassettes for other musicians.

The festival will take place from Friday, August 10, 2007 – Sunday, August 12, 2007 at the
Victoria Edelweiss Club, 108 Niagara Street in Victoria, BC, Canada where it promises to be an exciting and entertaining weekend of great music.

Attendees are invited to come and enjoy well-known guest artists, open stage, jamming sessions, workshops, concerts and dancing!

Workshops ($15.00) and demonstrations include a Tango workshop, Freestyle playing workshop, Midi workshop, Dressing Up A Song workshop, Latin Styles workshop.

You can find more information at: www.victoriaaccordionclub.com.


---
Fintan Stanley Concerts in Massachusetts
Boston based Irish accordionist performed at Cape Cod Irish Villagein W. Yarmouth, Massachusetts, on July 29 and 30, and will perform again on August 5, 6, 22, 23 and 30.

In 1955 Fintan Stanley was the first to win an All Ireland title using the Continental chromatic button accordion, and has since pursued a career as a versatile entertainer.

Now residing in the United States, Fintan was born in County Louth, Ireland. He is considered by many as a master of the five row button accordion. Performing in Germany, England, Ireland, Scotland, Italy, the United States and many others.

The Cape Cod Irish Village is located at 512 Main Street, W. Yarmouth, MA 02673 and for further information or reservations, please call: (508) 771-0100.

---
Celtic Celebration in Maine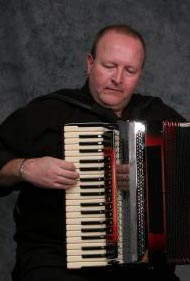 The Maine Celtic Celebration took place from July 19-22 in Belfast, Maine. This festival of Irish music, song and dance included informal concerts, dances, displays of Irish dancing and informal music sessions. Performers included Bohola featuring accordionist Jimmy Keane, Ladies of the Lake featuring button accordionist Maggie Ericson, the Napper Tandies featuring accordionist Randy Billings, and the Stillson School of Irish Dancing. During the festival Jimmy Keane, five times All Ireland Senior Piano Accordion Champion and member of the Irish American band bohola, held a piano accordion workshop.

In 1765, John Mitchell was making a voyage from Boston to points east and was captivated by the wilderness at the head of Penobscot Bay. He decided the area would be ideal for a settlement. Mitchell, a resident of Londonderry, New Hampshire along with 35 friends, decided to relocate to the area. Many of the founding fathers wanted to name this new settlement Londonderry, but a strong-willed settler, John Miller of Belfast, Ireland, made a protest and a coin was flipped and Belfast won. The festival aims to renew the rich Celtic history, culture and hospitality found along the coast of Maine.

The Maine Celtic Celebration is a non profit organization and for further information on other activities, please e-mail: dtowle@mdibl.org.


---
US Based Soloists featured on new CD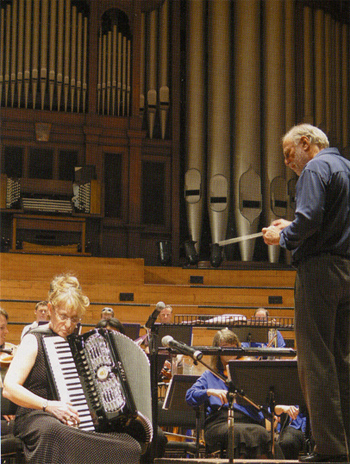 A New CD featuring works for Accordion and Symphony Orchestra by New Zealand composer Gary Daverne has been released. Profiling several soloists, including US based accordionists Mary Tokarski, Kevin Friedrich and Bernadette Conlon, the CD called "Rhapsody" features works with the Moravian Philharmonic and New Zealand Symphony Orchestra.

New Zealand's most prolific accordion composer, Gary was born in Auckland, New Zealand. He was appointed an Officer of the New Zealand Order of Merit (O.N.Z.M.) in the 1996 Queen's Birthday Honors in recognition of his services to music.

Since 1975 Gary has held the position of Musical Director of the Auckland Symphony Orchestra. On the international scene, he has conducted a number of major orchestras including London's Royal Philharmonic Orchestra, the Taiwan Symphony Orchestra in Taiwan, the National Symphony Orchestra of Malaysia, the Royal Belgian Guides Orchestra in Brussels and in August 1999 he was the first New Zealander to be invited to China to conduct the prestigious Shanghai Symphony Orchestra.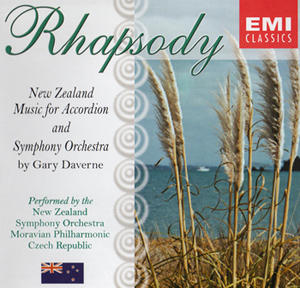 In 2002 he conducted in Stuttgart, Germany, and was the first New Zealander to be invited to conduct in Korea, where he was guest conductor of the Incheon City Symphony Orchestra. Gary is a frequent guest conductor of orchestras in the USA. In 2003 he traveled to Turkey to conduct the Turkish State Symphony Orchestra of Bursa, premièring his new commission, Gallipoli - Rhapsody for Trumpet and Orchestra.

Gary is well known in television, radio and the recording industry as a composer, arranger and musical director. He is highly regarded in the advertising and film industry for his writing and production of over 600 advertising jingles and film sound tracks.

The CD "Rhapsody" contains the following tracks:

A Musical Party
Mary Tokarski with the Moravian Philharmonic (Czech Republic)

Concert Waltz
Bernadette Conlon (Australia) with the Moravian Philharmonic (Czech Republic)

Rhapsody for Accordion and Orchestra
Mary Tokarski with the Moravian Philharmonic (Czech Republic)

Gem of the Kaipara
Kevin Friedrich with the Moravian Philharmonic (Czech Republic)

Three Songs Without Words

Mary Tokarski with the New Zealand Symphony Orchestra (New Zealand)

Fireside Fantasies

The Awakening

Waltz for Stephanie
Stephanie Poole with Studio Strings (New Zealand)

Bonus Tracks:
Mary Tokarski, solo

Shopping Center Suite

Come Shopping

In the Bookstore

Supermarket

Play Station



---
Portraits in Music Released by Stas Venglevski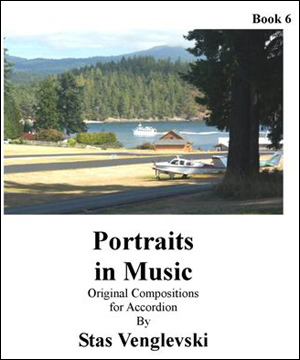 A new CD & Published Musical Score 'Portraits in Music', a collection of Original compositions for the Accordion by Stas Venglevski has been released.

Stas has been attending the Blakely Island Accordion Camp since 2004. It's a summer endeavor that has been devotedly organized by John and Ellen Bonica and was inspired by their years of involvement with the Galla-Rini Summer Accordion Camps. The island offers a beautiful setting off the coast of Portland, Oregon and the people who gather there are special in their love and appreciation of the instrument. On the occasion of Summer 2006 Stas asked the participants to suggest titles to him and he combined their suggestions with creative snapshots of their personalities and composed these original pieces.
The present collection has a suggestion of unity that begins with a hymn-like prelude (for Joe Baccellieri) and closes with a poignant piece dedicated to the late Joe Petosa, Sr. Both pieces begin with the sound of the sea and so there is a sense of experiencing the sixteen inclusive selections as discrete, lyrical moments within a parenthesis of eternity.
A Beautiful Waltz (for Paula Yankopoulos) has the flavor of a Viennese waltz with its stateliness undercut by some lively interplay between the bayan and cello (Roza Borisova). It suggests a classic skater's waltz (with spins) and loses nothing in comparison with the best of them.
Musette Manouche (for Anne Metais) has a bittersweet, graceful melody. Stas plays it with a fluid rubato. However, I wished at times it was a tad slower with interpolated silences to extract all its inherent emotion.
Valse Victoria (for Vicky Eriquat) is played by Misha Litvin on domra and Irinia Yanovskaya on guitar. It was beautifully rendered by both artists. Misha has performed on other albums of Stas' and he never fails to deliver taste, control and heartfelt feeling. Valse Victoria has an Italian flavor that is evocative of a summer's romance in Venice.
Polka Blakeski (for Jim Tobler) is played solo by Stas and generates a Weill/Brecht Dreigroschenoper feeling that I liked.
For Ellen (for Ellen Bonica) is a dazzling French waltz combining a soaring melodic line with interesting contradictions of sweetness and tartness.
The Big Chuich Tarantella (for John Bonica) is a rousing tarantella that needs no further (or better) description (Stas on bayan, Misha Litvin on mandolin, John Simkus on bass accordion, Terry Smirl on percussion and John Babbitt on bass).
Patty's Waltz (for Dick Carlson) has the slightly dark (call it burnt sienna) mood of a Russian waltz combining a D minor key, whirling rhythm and vivid interplay between Stas and John Simkus on accordions (with John Babbitt on Bass, Terry Smirl on drums). The main theme is haunting. Love Comes Softly presents Misha and Irina in what could be a companion piece to Valse Victoria representing a later, reflective moment in the Venetian romance I've imagined. Again, the two musicians are superb with Misha displaying an elegant sense of expression and legato.

Generation Relation Waltz (for Stella Allison & Joan Grauman) is a beautifully done duet by Stas and John Simkus. The waltz is very much a French experience, contrasting an expressive, emotional C minor main theme with ironic gaiety and a return to the reflective opening theme and some excellent interplay between the two accordions. Money Bags is a syncopated, bluesy comic turn with a honky-tonk ethos, a surprising and solid addition to Stas' musical vocabulary.
Jana's Joy (for Jana Mass) is a complicated little waltz full of sweetness, dissonance and a great deal of chiaroscuro in a short time.

My Friend (for John Simkus) offers a solid basis for John to do what he's a master of, improvisation, and he never disappoints. John is accompanied by Stas with John Babbitt on bass and Stas solos as well. At the end they join forces and bounce off each other for a solid finish.
Mt. Tam Sunset (for Gwyn Lister) opens with a melancholic Russian waltz, a bit darker than Patty's Waltz, and it suggests a sense of loss and remembrance.
Stella's Sound (for Stella Allison) is moody, dirge-like and insistent suggesting an unrelieved interlude with hints of arpeggios that would escape if they could. After repeats and by measure 17, I would have liked a change of rhythm, maybe something Latin, to accentuate the quasi-antiphonal syncopation that's an interesting part of the composition before it returns to a committed, somber 4/4 enclosure, and slowly fades away.
Twilight Reflections (for Ron Griffin) is an introspective waltz with a fine A theme and effective variations in the B part (especially nice) and C part, all of which support a mood that's eventually countered by the cheerful D section and fused later with variations of A and a surprising return to B's outburst. It's a complex little waltz and something of a story.
Fig Newtons in the Morning (for Sharon and Gus Grehosky) has a slightly humorous, off-center theme with piquant dissonances and nice interplay between Stas and John playing variations prior to a cadenced reprise and a final restatement.
Serentiy (for Joe Petosa, Sr.) begins with the sound of the sea and a theme that's suggestive of an air. It's nicely performed by Stas and John (on bass accordion) and evokes a timeless elegiac mood that offers a heartfelt and uplifting tribute to a man in a time and place devoted to the instrument he dedicated his life to and loved.

Stas continues to grow as a composer. He's certainly mastered the waltz and he's a talented melodist, which is a born talent. This collection is mostly waltzes, but displays solid variety within the form and Stas always creates a sense of time, place and story, notwithstanding program notes or interpolations by me. His music speaks to our senses and weaves a spell. It will be interesting to see if he expands his talent to longer forms. Some of the works here interrelate in such a way that they become more than a sum of their parts, which seems to be leading towards a sonata or suite.

This is an excellent CD. All eighteen original compositions are memorable (and well played), so much so that it's impossible not to have them replay in your mind long after listening to them. It's unusual to achieve eighteen for eighteen in aesthetic reach and accomplishment. CDs by world famous artists rarely have more than one decent tune out of ten, which explains the phenomenon of downloading specific songs. You'll enjoy all of these works and the music is available in book form.

For more information and an order form, please visit www.accordions.com/stas
review by Dr. Paul Allan Magistretti

---
New Zealand Accordion Orchestra to Perform in Mt. Vernon, NY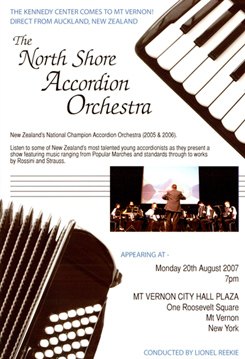 From Auckland, New Zealand the national champion North Shore Accordion Orchestra will present a concert in Mt. Vernon, New York on Monday, 20th August at 7:00 PM. The concert will be held at the Mt. Vernon city Hall Plaza, One Roosevelt Square in Mt. Vernon.

The 2005 and 2006 New Zealand National Champion Accordion Orchestra under the direction of Lionel Reekie, features some of New Zealand's most talented young accordionists, as they present a show featuring music ranging from Popular Marches and standards through to works by Rossini and Strauss.

The orchestra is traveling first to Washington DC to take part in the 60th Coupe Mondiale celebrations where they will be featured as an international guest at both the Coupe Mondiale Concerts and the famed Kennedy Center for the Performing Arts in Washington DC. Many of the members of the orchestra will be competing in both the CIA Coupe Mondiale World Championships as well as the USA National Championships hosted by the Accordionists and Teachers Guild, International (ATG) and the American Accordionists' Association (AAA).

---
Those Darn Accordions to appear at Indiana State Fair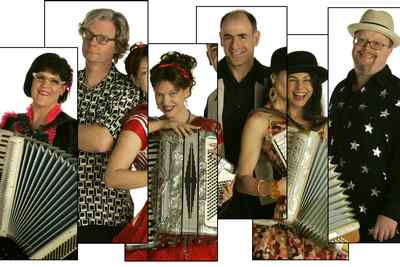 Those Darn Accordions will be presenting two shows at the Indiana State Fair on Wednesday, August 15th at 2:00 PM and 4:00 PM on the AT&T Main Street Stage.

Those Darn Accordions, San Francisco's accordion-fueled rock 'n' roll band, pumps out quirky, catchy originals chronicling life in the weird lane. The six-piece group fronted by lead singer/squeezebox wizard Paul Rogers and bellows-pumping babes Carri Abrahms, Susie Davis and Suzanne Garramone promises to forever rearrange your understanding of the accordion. TDA's four extreme squeezeboxers mix solid keyboard chops with a groundbreaking use of guitar effects pedals and amps to produce a super-cool sound like nothing you've ever heard emanating from an accordion.

Behind the amazing wall of wheeze, drummer Michael Messer and bass player Lewis Wallace anchor the band, providing a firm foundation upon which the manic TDA accordionists can layer huge slabs of sonic mayhem.

With sterling vocal harmonies and a sense of humor that just won't quit, the one-of-a-kind band blazes through a variety of musical genres -- from rock and funk to polka and even swing -- and torches timeless classic rock tunes along the way. You won't believe your ears.

For more information, please visit: www.thosedarnaccordions.com


---
Annual Carrefour Mondial de l'Accordeon

From 30th of August to the 3rd of September 2007, the Carrefour Mondial de l'Accordéon will offer five days of accordion festivities. In this musical universe where the accordion is king, the artistic program will masterfully unveil the charm, versatility and character of this beautiful instrument.

Each year, artists from around the world come together in Montmagny to share their passion for the accordion, in all it's many forms. The Carrefour Mondial de l'Accordéon is a beautiful harmony of cultures where different styles, genres and repertoires unite to form a magical song for a public of all ages. Montmagny (Québec) has been a proud host of this event since its creation in 1989.

For more information, please visit: www.accordeon.montmagny.com


---
Frank Marocco in Santa Barbara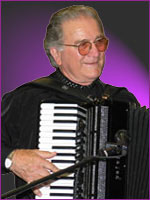 Frank Marocco will be appearing in Santa Barbara on Monday, August 13th. He will be performing with his trio at SOHO, at 1221 State St., Santa Barbara at 8:00 PM. Tickets are $10 and may be purchased at the door. It is also possible to have dinner there before the show.

Frank is recognized as one of the great accordionists of our time, and organizers are hoping that if the event is successful, that they will be able to invite other great accordionists to Santa Barbara.

To learn more about Frank and to hear some of his music, visit his website at www.roadtomarocco.com. For more concert information, please contact Helena at 687-1097, Roy at 682-5143, or Heinz at 685-2260.


---
Annual Cotati Accordion Festival in California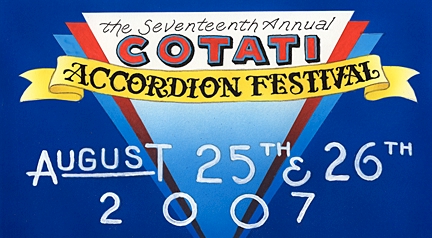 Soon Cotati will once again come alive with thousands of accordion enthusiasts gathered at La Plaza Park in Downtown for a breath taking Nonstop Multicultural Extravaganza.
Bands this year include Brian Jack and The Zydeco Gamblers, Culann's Hounds, The Mad Maggies, Those Darn Accordions, The Brave Combo, Bella Ciao, Sammy Thomas....and more!

This years schedule is as follows:

Saturday, August 25th, 2007
9:45 - 10:15 AM - Golden State Accordion Club
10:20 - 10:50 AM - The Pickpocket Ensemble
10:55 - 11:25 AM - Ramon Trujillo and His Mariachi Los Caporales
11:30 - 12:05 PM - The Trucco's
12:10 - 12:45 PM - Big Lou's Polka Casserole
12:50 - 1:05 PM - The Great Morgani
1:10 - 1:45 PM - Alex Meixner
1:50 - 2:10 PM - Lady of Spain
2:15 - 2:55 PM - Tony Lovello
3:00 - 3:40 PM - Rob Curto's Forro for All
3:45 - 4:25 PM - Ginny Mac
4:30 - 5:10 PM - Limpopo
5:15 - 5:25 PM - The Great Morgani
5:30 - 6:10 PM - Brave Combo
6:15 - 6:25 PM - Sammy Thomas
6:30 - 7:30 PM - Brian Jack and the Zydeco Gamblers
7:30 - 8:00 PM - encore

In the Polka Tent;

1:00 - 5:00 PM - The Steve Balich Polka Party
5:05 - 6:30 PM - The Tri Tip Trio zydeco dance party
At Spancky's;

1:00 - 5:00 - Motor Dude Zydeco

Sunday, August 26th, 2007

9:45 - 10:15 AM - Golden State Accordion Club
10:20 - 10:50 AM - Out of the Blue
10:55 - 11:30 AM - The Freilachmakers Klezmer String Band
11:35 - 12:15 PM - Sourdough Slim
12:20 - 12:35 PM - The Great Morgani
12:40 - 1:20 PM - Alex Meixner
1:25 - 1:45 PM - Lady of Spain
1:50 - 2:25 PM - Bela Ciao
2:30 - 3:10 PM - Tony Lovello
3:15 - 3:55 PM - Ginny Mac
4:00 - 4:35 PM - Culann's Hounds
4:40 - 5:15 PM - The Mad Maggies
5:20 - 5:30 PM - The Great Morgani
5:35 - 6:20 PM - Those Darn Accordions
6:25 - 6:35 PM - Sammy Thomas
6:40 - 7:30 PM - Brave Combo
7:35 - 8:00 PM - encore

In the Polka Tent;

1:00 - 5:00 PM - The Steve Balich Polka Party
5:05 - 6:25 PM - The Trip Tip Trio zydeco dance party

At Spancky's;

1:00 - 5:00 PM - Mark St. Mary's

For further information please visit www.cotatifest.com

---
Concertina Millie is Featured Artist at Milwaukee Accordion Club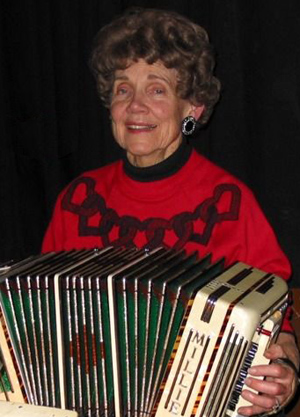 On August 27th, 2007, the Milwaukee Accordion Club will present Concertina Millie and (Mildred Kaminski) and friends as their featured guest artists. The pre-meeting Entertainment will be provided by Vern Tretow. The Concert will take place at the regular meeting place, the Root River Center, 7220 W. Rawson Avenue, Franklin, WI 53132 and admission is $3.00 for members and $5.00 for guests.

Millie was 12 when her mother passed away, and she dropped out of school to take care of her father and two brothers. Her father had a bandoneon, and Millie taught herself to play. She was 16 when she started playing professionally. One Sunday afternoon, she was playing in a tavern when a gentleman came in, fresh home from the war. She was taking requests and he wanted to hear " 'Till the End of Time." The gentleman named Edmund was suitably impressed, and they ended up being married for 42 years until he passed away.
Concertina Millie, who was elected to the Concertina Congress Hall of Fame in 1982, performed on the radio and on television playing with Joe Szot and the Hot Shots on a show hosted by Gordon Hinkley. She still plays around town to this day, and you can find her most Saturday nights at Ritter's in Brookfield. She is also a regular at the Milwaukee Accordion Club (MAC) gatherings.

---
Promoting Your Accordion Services Free at AWW

The Internet is changing the way your customers are searching for services. The days of lugging out a 12 lb. telephone book to find very limited and outdated business information are coming to an end. People are still letting their fingers do the walking, but they're doing it over a computer keyboard. Below are some revealing facts from the Kelsey Group.
74% of US households use the Internet as an information source when shopping.
Approximately 45% of searches had a buying intent.
The percentage of respondents who used yellow page directories decreased from 75% to 62%.
(If you have a printed yellow page ad, it is time to consider buying a smaller ad and shifting your marketing dollars to the Internet.) The off-line Yellow Pages see the writing on the wall and are scrambling to transfer their business model to the Internet.

Businesses can no longer ignore these facts. If you want to be successful, you must have a presence where your customers are searching. Being found on the Internet is vital to the future of your business.



The Accordion Yellow Pages offers free of charge listing for all accordion businesses, teachers and for every type of service for accordionists. On the Accordion Yellow Pages site, you do not need to have a website for accordionists find you and contact you.



The search-accordion.com site is also free of charge, being a listing service for every type of accordion service but you must have a website. Viewers of search-accordion.com can click to your website.



Very popular is the AccordionLinks.com site where those accordion service providers with a website, can attract accordionists free of charge to their website.

All it takes is a little effort, to make sure your information on these three popular and very effective accordion sites is up to date. Your future success may well be determined by your ability to effectively adapt to the Internet. Should it be your New Year's resolution for 2006?


---
Monsters of Accordion 2007
A series billed as "Monsters of Accordion 2007" will take place in August featuring performances by Corn Mo (New York, NY), Jason Webley (Seattle), Duckmandu (Oakland, CA) and Geoff Berner (Vancouver, BC), with special guests invited in each town. Concert dates are as follows:

August 21 - Seattle, WA - at Atlas (All Ages)
August 22 - Portland, OR
August 23 - Eugene, OR - Sam Bond's Garage (age 21+ with early all ages show)
August 24 - San Francisco, CA - 12 Galaxies - (age 21+)
August 25 - Oakland, CA - 21 Grand - All Ages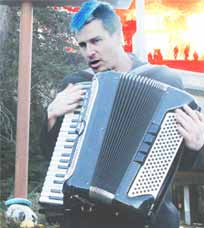 Artists include Corn MO (New York, NY) who use this quirky soundscape to compose mini-anthems, heroic passages and chaotic polkas. If his spiritual father is Freddie Mercury, then his spiritual uncle is Tiny Tim.

Seattle's Jason Webley is a consummate performer. He appears like a back alley prophet in layers of baggy clothes, a trench coat and an old porkpie hat; he leaps onto stages, window ledges and bartops, feverishly pumping the bellows of his accordion and stomping out the beat while roaring and whispering in his passionate, gravely baritone. His music - a mix of gypsy, folk and punk - traverses age and social background, drawing grandparents, children, punks, drunks, and lovers into the fold.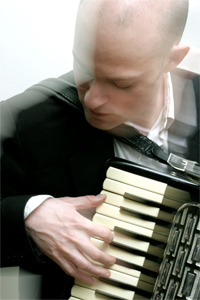 He likes to sing about death, carousing, and vegetables.

Duckmandu (aka Aaron Seeman), (pictured above left) accordionist, pianist, and old school punk, does an impressive Jello Biafra imitation, which he will treat you to tonight, as well as familiar songs of other genres that have never occurred to you to be performed on accordion.

It has been said that it would be tempting paint Geoff Berner (right) (Vancouver BC) as a kind of klezmer rebel, but he maintains that he is working firmly in the true tradition. "When we went to Romania, we found musicians who are masterful, but can also play so loud and passionately that pitch and meter don't matter.


---
A Fun Time in a Fun Place in Philipsburg, MT
Should your travels take you to Montana from Friday August 3 - Sunday August 5 - 2007, a cultural surprise will await you in Philipsburg, Montana.

You are invited to share with other accordion players and enthusiasts from around the world, our 11th annual celebration.

From its beginning in August of 1997, the Rocky Mountain Accordion Celebration has been a rousing weekend of dancing and listening to music, steak barbecues and outdoor pancake breakfasts, concerts in the 1892 Opera House and a parade of homemade pies.

With the platzl and the tented dance floors in the center of this picturesque 1890's town, visitors, residents and participants alike find fun, food and frolic. Dance or tap your toes to the music, in the sun or shade, by starlight or streetlight

Philipsburg lies in the Flint Creek Valley between Anaconda and Drummond. A quiet little village, Philipsburg has streets dressed in 1880 vintage paint and exterior. It is surrounded by ranches, the Pintler Mountain Range and superb fishing on Flint Creek and George Town Lake and the renowned Rock Creek.

Accordion enthusiasts, players, and dancers come to strut their stuff. Concerts are held in the 1892 Opera House Theater. Accordions of all shapes and sizes perform on the streets, in the pubs, and all over the campgrounds. Waltz, Polka, Two-step, Fox-trot or Tango to Ethnic music as well as ragtime and jazz. If you sort of forgot how or have never danced, instruction is available. The Celebration is one of sharing dancing, apple pie and the love of accordion music.
This years festival will be very informal, with no fixed schedule, although you will find Sammy Thomas performing at the "Sweet Palace" over the weekend. Sammy Thomas, student prodigy extraordinaire, picked up his first accordion at age ten. Sammy plays in the style of Nick Ballarini, with fast flowing fingers and targeted expression. At age fourteen, his repertoire includes difficult numbers, such as Bach to the Future, Roumanian Rhapsody, and Mosaico Espanol. He has been a featured performer with the Accordia Nova Diamonds, RMAC concert performers, 2002, and Platzl Entertainment RMAC weekend 2003 as well as 2004.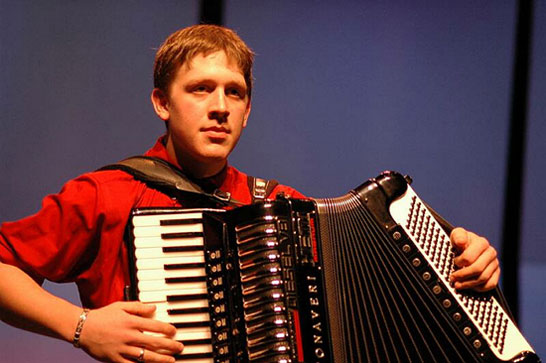 Classically trained, Sammy has focused his energies on competition's; most recently the AAA US Nationals in Texas and Michigan where he placed very well. Sammy is the only student in Accordia-Nova's 50-plus-year history to compete at the national level. He has consistently 'swept' the small, local contests in his region including Kimberly. Calgary, Edmonton and Leavenworth. Sammy recently placed 4th in the Junior Virtuoso Entertainment Division at the 59th Annual CIA Coupe Mondiale World Accordion Championships held in Asker, Norway and this year will be competing in the Coupe Mondiale Virtuoso Entertainment Competition and International Competition for Piano Accordion in Washington DC from August 13-18, 2007.

Enthusiasts are invited to enjoy a weekend of jam sessions and fun. Come early. Stay late. Fish, hike, explore the old mining towns or hunt for sapphires

For further information please contact RMAC, PO Box 661, Philipsburg, MT 59858 USA or call Toll Free: +1 (888) 680-1344, or e-mail: sapphire@sapphire-gallery.com

---
---
Note: In order to provide as much information as possible for the United States National Accordion News stories, many different sources are often researched to gather additional information and pictures to complement what has been submitted. This information is then correlated to provide the news on www.accordionusa.com in the spirit of which it is intended, which is to provide a free news service to the Accordion Community, specifically in the United Sates. If you feel any copyright has been violated please advise www.accordionusa.com and the article will be removed immediately.