---
American Accordionists' Association 70th Anniversary Festival
The American Accordionists' Association 70th Anniversary Festival and Competition in takes place on August 13th, from 5pm, at the Holiday Inn, 1900 N. Fort Myer Dr., Arlington, VA (Washington DC).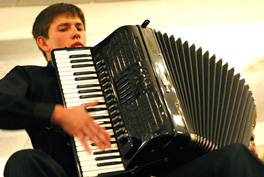 This year's festival features the highly accomplished accordionist Alexander Poeluev, from Russia, as well as featured guests including Mary Tokarski with pianist Dessie Vaughan, jazz accordionist Joe Cerrito, and guest conductor Dan Desiderio conducting the festival's orchestra and massed band.

This year's festival features the highly accomplished accordionist Alexander Poeluev (Russia) plus featured guests Mary Tokarski with pianist Dessie Vaughan, jazz accordionist Joe Cerrito, and guest conductor Dan Desiderio conducting the festival's orchestra and massed band.



There will be three international competitions with over $12,000 in prizes at stake: the AAA International Piano Accordion Competition, the annual Vivian Vivio Stolaruk International Entertainment Competition for Accordionists, and the Maddalena Belfiore Entertainment Competition for Female Accordionists.

Workshops at this year's festival include:
Magnante - His Life and Recordings - Ray Oreggia
Music of the Valtaro Musette - Dominic Karcic and Ray Oreggia
Master Class with Alex Poeluev
AAA 70th Anniversary Exhibit - Joan Grauman
The Accordion In the Symphony Orchestra from Tchaikovsky to the Present - Dr. Robert McMahan
For further information e-mail: aaa1938@aol.com


---
Main Squeeze Accordion Festival in New York City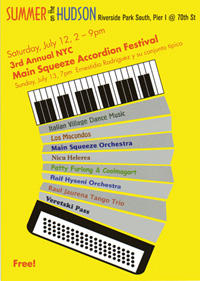 The 3rd Annual Main Squeeze Accordion Festival was held on Saturday, July 12, 2008 at Riverside Park in New York City featuring various genres of music including traditional, contemporary, and eclectic music from around the globe.

A new feature this year was the Accordion Kids Corner which was a hit with the young children. The Accordion Kids Corner offered some hands on fun for children of all ages. (below)

Being held for the third year, this free afternoon of accordion music proved popular with attendees who gathered to enjoy the beautiful afternoon of music while enjoying the sunny skies and cool breeze.


This years Main Squeeze Accordion Festival Lineup included:
Nicu Helerea
Italian Dance Village Music (top right)
Main Squeeze Orchestra
Raul Jaurena Tango Trio
Veretski Pass
Patty Furlong Coolmargot
Raif Hyseni Orchestra
Los Mocandos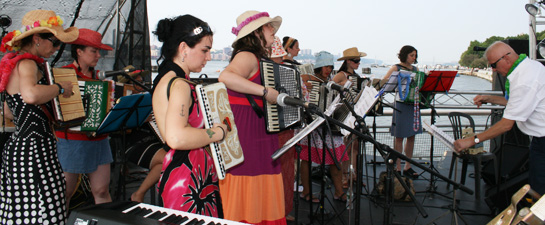 The all-female accordion Main Squeeze Orchestra conducted by Walter Kuhr provided a variety program from Piazzola to pop, with members of the orchestra taking turns at vocals.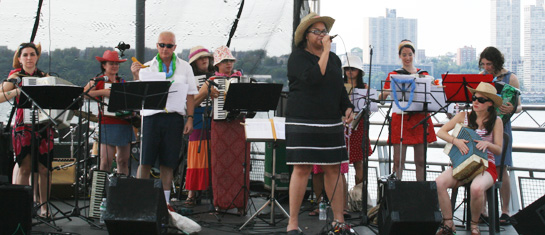 The wind gusts proved to be challenging for the Main Squeeze Accordion Orchestra, with one member's music flying off the stage and into the Hudson River, never to be seen again!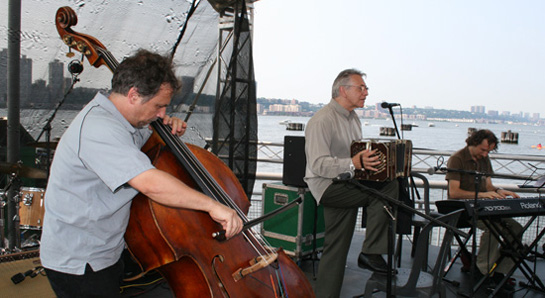 Argentinean born bandoneon player Raul Jaurena with his trio comprising double bass and piano presented a beautiful program of airy and melodic music, reminiscent of the rich romantic bandoneon style of his native Argentina.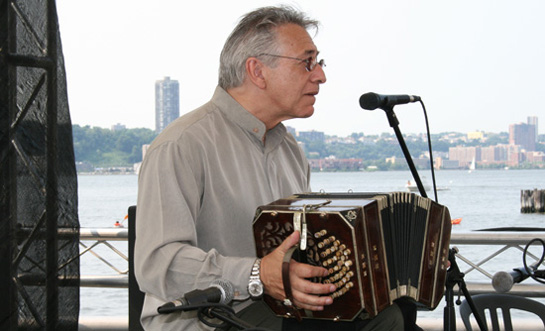 ---
Julien Labro featured on New CD - Night Town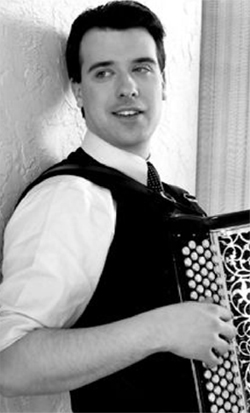 More than seven decades after the innovations of the Quintette du Hot Club de France, featuring guitar virtuoso Django Reinhardt, combos called Hot Clubs carry on the gypsy jazz sound around the globe-in Tokyo, San Francisco, Seattle, Sweden, Norway, Austria, and many other locales. None, however, offers a fresher take on the tradition than does the Hot Club of Detroit, led by fast-fingered Reinhardt disciple Evan Perri.

Unlike the instrumentation of original Paris-based quintet, comprising Reinhardt, violinist Stephane Grappelli, two rhythm guitarists, and a bassist, the current Hot Club of Detroit is made of guitarist Perri, accordionist Julien Labro, soprano and tenor saxophonist Carl Cafagna, rhythm guitarist Paul Brady and bassist Shannon Wade. The fibrous accordion tones of Labro, a native of Marseilles, France, links the Detroit quintet to the French musette style from which gypsy jazz partially sprung, while Cafagna's robust saxophone work introduces bop and post-bop elements to gypsy jazz.

"We kinda use the gypsy jazz thing as a springboard for all these wonderful ideas we have in our heads that we've grown up with here in Detroit," Perri explains. "In the future, I'd even like to incorporate some Motown stuff into this type of music."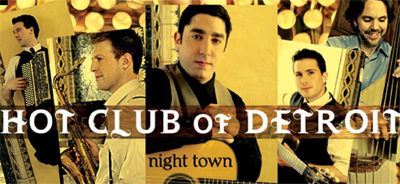 Although Night Town, the follow-up to the group's widely acclaimed 2006 debut CD, Hot Club of Detroit, does not include any Motown tunes, it nevertheless finds Perri and company giving a New Orleans boogaloo twist to "Django's Monkey," a number inspired by the Reinhardt composition "Django's Tiger," which utilized "Tiger Rag" chord changes. "Blues Up and Down," the hit 1950 tenor saxophone battle by Gene Ammons and Sonny Stitt, is transformed into a tenor/accordion battle between Cafagna and Labro. And "Seven Steps to Heaven," the classic 1963 Victor Feldman/Miles Davis composition, enters the gypsy jazz realm through the Hot Club of Detroit's swinging rendition.

The disc also includes the Detroit combo's distinctive takes on the Reinhardt tunes "Speevy" and "Melodie au Crepuscule;" the venerable French songs "J'Attendrai" and "Valse a Rosenthal;" Maurice Ravel's "Tzigane;" contemporary French guitarist Romane's "Pour Parler;" Vincent Youmans' "I Want to Be Happy;" John Green and Carmen Lombardo's "Coquette" and Jelly Roll Morton's "Sweet Substitute;" plus the Evan Perri compositions "Night Town, " "Swing 05" and "Two Weeks" (co-written with Julien Labro).

Accordionist Julien Labro, a winner of numerous International accordion competitions, recent jazz activities include performances at numerous jazz venues and festivals. As one of the winners of the 2004 Heineken Jazz Starquest, Labro took the spotlight at the 2004 Ford Detroit International Jazz Festival. Labro's performance with the ensemble The Hot Club of Detroit drew rave reviews and garnered a rating of "Best Newcomers" to the festival by Detroit Free Press Music Critic Mark Stryker. In an article reviewing the highlights of the weekend's musical offerings, Stryker noted the "jaw dropping virtuosity" of Labro's solos played with "vibrant joy and disciplined musicianship." In 2005, Labro grabbed 1st prizes in the Art Van Damme Intl. Jazz Accordion Competition (Dallas, TX), the Vivian Stolaruk Intl. Entertainment Award (Detroit, MI), and the 2005 Heineken Jazz Starquest as a member of the eclectic sounds of the Jonathan Dixon Quintet.

Labro has made numerous radio and television appearances in the United States and Europe, and has played and been interviewed on Radio France, WDET-Detroit's Ed Love and Martin BanDycke Shows, WFJ-AM's Mitch Albom Show and Fox-Detroit News.

The track list for the new CD 'Night Town' includes:

1. I Want to Be Happy
2. J'Attendrai
3. Valse a Rosenthal
4. Seven Steps to Heaven
5. Speevy
6. Coquette
7. Sweet Substitute
8. Blues Up and Down
9. Pour Parler
10. Melodie au Crepuscule
11. Two Weeks
12. Tzigane
13. Django's Monkey
14. Night Town
15. Swing

The CD (Label: MACK AVENUE, UPC: 673203104129) is currently available in music stores across the country, or from the producer MACK AVENUE at: www.mackavenue.com


---
Las Vegas International Accordion Orchestra Proves Popular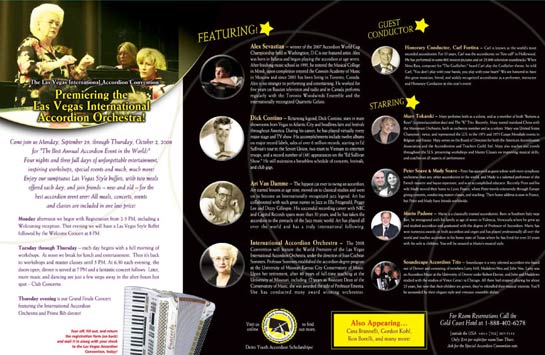 The 1st Las Vegas International Accordion Orchestra directed by Joan C. Sommers, is proving extremely popular with 45 members already registered, with more phone calls and e-mails arriving daily from interested participants. The orchestra, complete with full percussion/timpani, will perform as the grand finale of the 2008 Las Vegas International Accordion Convention. As a surprise conclusion to the 40 minutes program, a famous tenor will join the orchestra to sing the closing number which will promise to be a very moving experience for both attendees and orchestra members alike!

The orchestra will rehearse daily during the festival, and those still wishing to join this exciting event, should sign up as soon as possible, so they can begin learning their parts.

The 2008 Las Vegas International Accordion Convention will be held September 29 - October 2, 2008 at the Gold Coast Hotel, in Las Vegas, NV.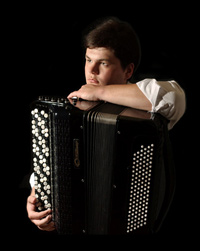 The 2008 Honorary Conductor will be Carl Fortina with featured guest artists including Alexander Sevastian, Dick Contino , Art Van Damme. Alexander Sevastian (below) is appearing as a special guest as a prize donated by the Las Vegas International Accordion Convention to the winner of the 60th Anniversary CIA Coupe Mondiale World Accordion Championships held in Alexandria, VA in 2007.

Other guest artists include Mary Tokarski, Peter Soave, Mady Soave, Mario Pedone, Soundscape Accordion Trio, Steve Albini, Gina Brannelli, Gordon Kohl, Ron Borelli, and more!

The Las Vegas International Accordion Convention will be held Monday, September 29 thru Thursday, October 2, 2008 at the Gold Coast Hotel located at 4000 West Flamingo Blvd. in Las Vegas! Come join Dick Contino, Art Van Damme, and the worlds biggest line up of accordion stars!

The convention includes:
Monday afternoon we begin with Registration from 2-5 PM, including a Welcoming reception. That evening we will have a Las Vegas Style Buffet followed by the Welcome Dinner Concert at 8 PM.
Tuesday through Thursday – each day begins with a full morning of workshops. At noon we break for lunch and entertainment. Then it's back to workshops and master classes until 5 PM. At 6:30 each evening, the doors open, Dinner is served at 7 PM, and a fantastic concert follows. Later, more music and dancing are just a few steps away in the after- hours hot spot – Club Concerto.
Thursday evening is our Grand Finale Concert featuring the International Accordion Orchestra with Prime Rib dinner!
Seven meals, seven concerts, all special events and classes are included, with Single Attendance priced at $465 and Couple Attendance at $795. Evening-Only Options are available - contact us for details! The convention offers a special Room Rate ONLY $59 per night!

Attendees can enjoy the reasonable convention hotel rate of just $59 per night per room if reservations are made before August 29. Reservations can be made by calling 1-888-402-6278 and saying you are with the Accordion Convention (outside the USA +01-702-367-7111).

For more information or to register for the event call 1-800-472-1695 (outside the USA +01 801-486-1695) or visit our website at www.AccordionStars.com where you may make room reservations directly online and also download registration forms.

---
Accordions Now! Festival in New Hampshire
ACCORDIONS NOW! Festival, a festival co-sponsored by the New Hampshire Accordion Association and Accordion Connection LLC will be held on Saturday, August 2, 2008 from 9:00 AM - 6:00 PM at the Radisson Hotel Manchester, 700 Elm Street, Manchester, NH.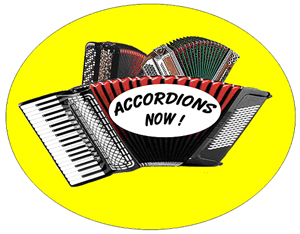 ACCORDIONS NOW! Festival events include: concerts on chromatic, diatonic, and piano accordions; MIDI and other workshops, Scandi-Dance demonstration, door prizes, vendor displays, accordions for sale, plus open jam session for all registered attendees.

Concerts and workshops by Tony Lovello, Nils Lundin, Gary Morin, Mary Tokarski, Chad Huval, John Leeman, and the ACCORDIONS NOW! Festival Orchestra conducted by Donna Maria Regis will be interspersed with performances of various styles of music on different types of accordions by Bob Abrams, Joe Maciejowski, Frank Padula & Jerry Tramontozzi, Anita & Bob Siarkowski, Carmen Vitanza, and perhaps a surprise guest or two. Laurie Widmark, in traditional Swedish dress, will emcee the demonstration by the Scandi-Dancers, while Peter Widmark and Donna Maria Regis join Nils Lundin in accompanying them.

The admission price structure has been simplified to $25/$10 age 12 and under. To register, please contact Sue Welch toll-free at 1.800.328.5227.

For hotel reservations please contact the Radisson Hotel directly at 1.888.201.1718 or 1.603.625.1000.


---
Cafe Accordion Orchestra in Concert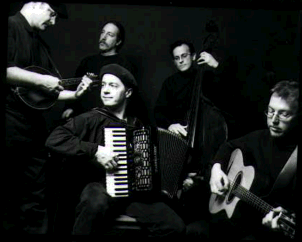 The Café Accordion Orchestra will be featured in concert several times during the month of August.
Café Accordion Orchestra (CAO) performs an eclectic mix of vintage Swing, Latin, American, and French Café Music. Their music evokes the repertoire of the
Bal Musette
orchestras, the bands that were popular in Parisian cafés and bistros in the 1920's through 1950's. The heart of this repertoire is the romantic, gypsy-influenced
valse-musette
or
swing waltz
. CAO complements the musettes with swing, ballads, tangos, paso dobles, boleros, rumbas, and cumbias to create a wonderfully varied show. While they inject their music with good humor and expressive abandon, their high level of musicianship and passion for performance makes them an entertaining concert act as well as a great dance band.
Café Accordion Orchestra is led by DAN NEWTON on accordion and vocals with BRIAN BARNES on guitar and vocals, ERIC MOHRING on mandolin, fiddle and vocals, ERIK LILLESTOL on bass and JOE STEINGER on percussion. The members have a combined total of over a century of experience with the likes of Prairie Home Companion, Stoney Lonesome, Bone Tones, The Nationals, Jumbo Ya Ya, Ethnic Dance Theater and the Laketown Buskers. And they have a combined height of over 28 feet!
Upcoming concerts include:
August 1: 5:30-7:30 pm & 9:45-11:45 pm
Peavey Plaza, Orchestra Hall, Minneapolis

August 7: 7-10 pm
The Towers, Narragansett, RI (info: 401-782-2597)

August 25: 4:00, 5:15 & 6:30 pm
MN State Fair (info: 651-288-4400)

August 26: 4:00, 5:15 & 6:30 pm
MN State Fair (info: 651-288-4400)

August 30: 7:30 pm
STAGENORTH, Washburn, WI (info: 715-373-1194)

August 31: 3-5 pm & 6-7 pm
Lavatannsit-Dance and BBQ, Covington, MI (info: 906-355-2459)
On July 15th the Cafe Accordion Orchestra released their 7th recording 'Germaine'. For further information email:
daddysqueeze@yahoo.com


---
Guy Klucevsek on Tour with Accordion Tribe
New York based accordionist Guy Klucevsek took take part in a tour with The Accordion Tribe during the month of July.

The international Accordion collective 'Accordion Tribe' makes their sixth tour of Europe in July 2008 with four concerts. A 2009 European tour is also confirmed for April. Members of the Accordion Tribe include: Bratko Bibic (Slovenia), Amy Denio (USA) , Maria Kalaniemi (Finland), Guy Klucevsek (USA) and Otto Lechner (Austria).



In May 1996, five of the world's most innovative contemporary accordionists converged in Europe for a three week tour. Each of these players is recognized in classical, jazz, folk or avant-garde music circles as being not only technically skilled but having profound compositional ability as well as an unquenchable thirst for adventure.

Individually, they are uncompromising and driven by a deep passion for breaking down musical barriers. Collectively, they make the challenge to integrate these forces into a whole, of which the combined energy is greater than the sum of its parts.

Concerts for their 2008 tour included performances in Karlsruhe, Kassel, Wurzburg in Germany and Bochoet, Belgium.

For more information, please visit: www.hoedown.com


---
1st Roland V-Accordion Festival in USA
Roland announces the first Roland US V-Accordion Festival to be held In conjunction with the 2nd Roland International V-Accordion Festival. The US Competition will be held Saturday, September 20, 2008 in Los Angeles, CA at Roland USA Headquarters

One lucky participant will win a trip to Rome, Italy to perform in the International Accordion Festival held in November 7 & 8, 2008. In addition, the first prize winner will receive the world renowned Roland FR-7 or FR-7b V-Accordion. Be a part of the growing number of accordion enthusiasts in the US and around the world by participating in a one of a kind event sponsored by Roland Corporation.

How to enter:

Pick up an entry form from your local authorized Roland V-Accordion dealer or download form from www.rolandus.com/v-accordion to be eligible for the pre selection process.

Participants must be 18 or older to enter - amateur or professional players.
Submit a videotaped audition (no longer than 5 minutes) to Roland Corporation US by August 1, 2008 by mail.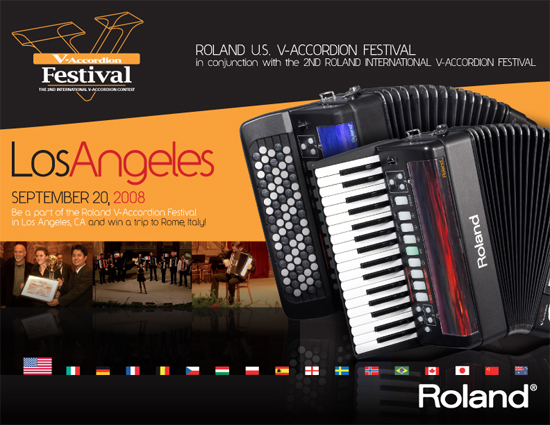 All videos submitted to Roland US for the V-Accordion Festival National Finals' pre selection process will become the sole property of Roland US and will not be returned.

General guidelines for pre selection and video entries:

Participants will perform in the Senior Soloist Division. (This is the only division available in the US).
All persons entering the festival must be 18 years of age or older. (Born before April 1, 1990).
Performance selection must be no longer than 5 minutes in length and can be from any musical genre; no backing tracks are allowed (this includes SMF, Audio files, CD or MP3 player, etc.).
For the pre selection process only, the audition can be performed on any acoustic or digital accordion
(please note the National Finalists must use an FR-7 or FR-7b)
No vocal performances are to accompany the accordion performance submitted on this video tape.
A panel of judges (closed to the public) will determine the winners of this event and notify them by August 15th, 2008

Finalists' guidelines for US National Finals in Los Angeles, CA:

Finalists for the US National Finals in Los Angeles, CA will be selected by Roland Corporation US from submitted video entries.
Roland Corporation US shall for pay for transportation (to Los Angeles, CA), lodging and food for each finalist and one guest per finalist to be held at the Roland Corporation US headquarters on September 20, 2008.
All finalists will perform on an FR-7 or FR7b without external module at the National Finals in Los Angeles, CA.
If the participant does not own an FR-7/b, Roland Corporation US will loan an FR-7/b to the finalist for preparation and performance at the National finals; and shall be returned to Roland after the competition is complete
One winner will be chosen by a panel of professional judges at the US National Finals in Los Angeles, CA.
The first prize winner will be awarded an FR-7/b and an all expense paid trip to Rome, Italy to perform at the International Festival on November 7 – 8, 2008.
The winner must have a valid US Passport prior to November 6, 2008 obtained at the participant's expense.

For further details and competition regulations please go to:

ww.rolandus.com/v-accordion or contact Ron Lankford (Festival Coordinator) at 323-890-3700 extension 2353 or e-mail at Ron.Lankford@rolandus.com.

Please send your video audition and entry form by August 1st, 2008 to:

Roland Corporation US
attn: Virginia Harmon
5100 S. Eastern Avenue
Los Angeles, CA 90040-2938

Entry Form: http://www.rolandus.com/whats_new/contests_sweepstakes.aspx

---
Cotati Accordion Festival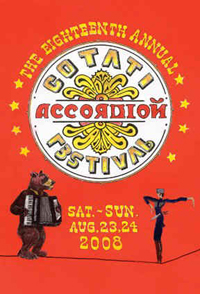 The annual Cotati Accordion Festival will take place from August 23 and 24, 2008. Admission for one day is $17.00 if purchased at the gate, or $15.00 in advance.

Featuring a diverse variety of performers, the scheduled program for the 2008 festival includes:

Saturday;

9:45-10:15 - The Golden State Accordion Club (stage one)
10:20-10:50 - Amber Lee and the Anomalies (Stage two)
10:55-11:25 - The Hurricane (stage one)
11:30-12:00 - Hugh Morrison (stage two)
12:05-12:45 - Alex Meixner (stage one)
12:50-1:05 - The Great Morgani (stage two)
1:10-1:55 - Limpopo (stage one)
2:00-2:25 - Lady of Spain
2:30-3:05 - Simka (stage two)
3:10-4:00 - Dick Contino (stage one)
4:05-4:20 - The Great Morgani (stage two)
4:25-5:15 - Polka Freakout (stage one)
5:20-5:30 - Hugh Morrison (stage two)
5:35-6:25 - Vagabond Opera (stage one)
6:30-8:00 - Brian Jack (right) and the Zydeco Gamblers (stage one)

Sunday show:

9:45-10:15 - The Golden State Accordion Club (stage one)
10:20-10:50 - Tango #9 (stage two)
10:55-11:30 - The Internationals
11:35-12:15 - Monterey International with guest tenor Oracio Aiello
12:20-12:35 - The Great Morgani (stage two)
12:40-1:20 - The Georges Lammam Ensemble (stage one)
1:25-1:50 - Lady of Spain
1:55-2:25 - Joe Domitrowich/Capricious Accordion (stage two)
2:30-3:20 - Dick Contino (stage one)
3:25-3:40 - The Great Morgani (stage two)
3:45-4;30 - Polka Freakout (stage one)
4:35-4:45 - Big Lou (stage two)
4:50-5:45 - Vagabond Opera (stage one)
5:50-6:00 - guest soloist (stage two)
6:00-7:00 - Limpopo (stage one)


---
Emily Smith to Perform in USA and Canada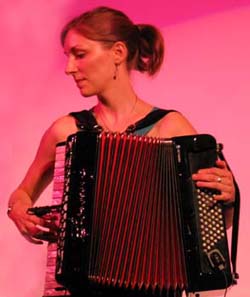 Scottish singer/accordionist Emily Smith will be performing in Canada and New York State in August. Though only in her mid twenties, award winning Scottish singer and songwriter Emily Smith has firmly established herself as one of Scotland's leading lights in folk music.
Since becoming BBC Young Traditional Musician of the Year in 2002 Smith has gone on to gain further accolades of 'Up and Coming Artist of the Year' nominee (Scots Traditional music Awards, 2003) and 'Scots singer of the Year' nominee (Scots Traditional Music Awards 2005). She gained an Honors degree in Scottish Music at the Royal Scottish Academy of Music and Drama and is now not only a respected interpreter of traditional songs but is also gathering interest with her own compelling songwriting. Smith became the first ever winner from Scotland in the USA Songwriting Competition in 2005 after winning the folk section with her song 'Edward of Morton', another of her songs 'Always a Smile' was short listed in the final ten. To date she has released two studio albums 'A Day Like Today' (Footstompin' Records, 2002) and 'A Different Life' (White Fall Records, 2005) both to critical acclaim. Her third album 'Too Long Away' is due for release in 2008.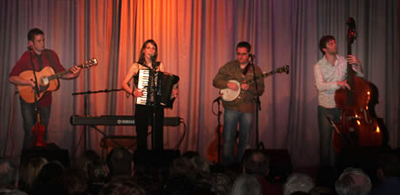 Raised in rural Dumfriesshire in the South West of Scotland, Smith has always held a passion for local history and a keen sense of belonging, which shines through in her music and the enthusiasm she displays when talking of her home region. "Dumfries and Galloway is often a forgotten part of Scotland and through my material, whether traditional or my own songs, I try to portray the beauty and diversity of where I come from. I love being able to sing a song and picture the exact setting of where the event took place, or to sing some of Robert Burns' material and know that he traveled the same roads and admired the same landscapes as I do today."
Many of the traditional ballads in her repertoire are sourced in Dumfriesshire. On stage, Smith's manner is relaxed and informative. Her show is song based with a few upbeat instrumental sets thrown in for good measure. Audiences can be assured of an energetic and varied performance. An accomplished accordionist, she is joined by her band on guitar, fiddle, banjo and double bass.
Her appearances in the USA and Canada are as follows:
August 4th to 9th - Celtic Roots Festival, Goderich, Ontario, Canada
August 12th, 7.30pm - Rum Runner, Kitchener, Ontario
August 14th, 7.00 pm - Emmanuel Howard Park United Church, 214 Wright Ave, Roncesvalles, Toronto
August 16th, all day event - Amherst Museum Scottish Festival & Highland Games, Amherst, New York, USA

For further information e-mail: info@emilysmith.org

---
Promoting Your Accordion Services Free at AWW

The Internet is changing the way your customers are searching for services. The days of lugging out a 12 lb. telephone book to find very limited and outdated business information are coming to an end. People are still letting their fingers do the walking, but they're doing it over a computer keyboard. Below are some revealing facts from the Kelsey Group.
74% of US households use the Internet as an information source when shopping.
Approximately 45% of searches had a buying intent.
The percentage of respondents who used yellow page directories decreased from 75% to 62%.
(If you have a printed yellow page ad, it is time to consider buying a smaller ad and shifting your marketing dollars to the Internet.) The off-line Yellow Pages see the writing on the wall and are scrambling to transfer their business model to the Internet.

Businesses can no longer ignore these facts. If you want to be successful, you must have a presence where your customers are searching. Being found on the Internet is vital to the future of your business.


The accordion-yellowpages.com offers free of charge listing for all accordion businesses, teachers and for every type of service for accordionists. On the Accordion Yellow Pages site, you do not need to have a website for accordionists find you and contact you.


The search-accordion.com site is also free of charge, being a listing service for every type of accordion service, but you must have a website. Viewers of search-accordion.com can click through to your website.


Very popular is the AccordionLinks.com site where those accordion service providers with a website, can attract accordionists free of charge to their website.

All it takes is a little effort, to make sure your information on these three popular and very effective accordion sites is up to date. Your future success may well be determined by your ability to effectively adapt to the Internet. Should it be your New Year's resolution for 2008?


---
Annual Galla-Rini Accordion Camp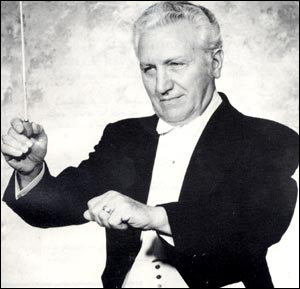 The annual Galla-Rini Accordion Camp takes place from July 27th to August 1st, at the Dominican University, 50 Acacia Ave, San Rafael, California.

The late Anthony Galla-Rini (pictured right) was truly a legend of the music world devoted to the serious and classical study of the accordion. He produced hundreds of original works and arrangements, published his own tutorial method books, and in 1941, composed his first accordion concerto which he performed with the Oklahoma Symphony Orchestra.

A recognized virtuoso, Galla-Rini toured the world, giving concerts and solo recitals, and played on numerous movie soundtracks such as 'High Noon' and 'Laura'.

At the annual Galla-Rini Accordion Camp, attendees perform in the ensemble conducted by the camp Musical Director Joe Smiell. In addition, Ester Lanting served as guest conductor for two selections. Music performed in this popular ensemble ranged from classical, light classical, American Musicals and more. Emphasis at the camp is on learning to play musically, and learning to play in an ensemble, a different experience from performing solo.

---
World Accordion Orchestra II to give World Premiere of USA Work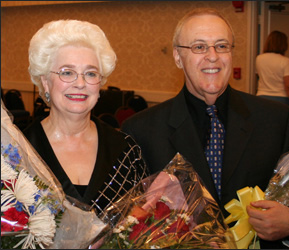 Renowned Los Angeles composer Leonard (Lenny) Stack's new composition Film Noir: City of Night will be a feature World Premiere at the upcoming CIA Coupe Mondiale to be held in Glasgow, Scotland from 21st - 26th October. The work will be performed by the World Accordion Orchestra II under the direction of the World Accordion Orchestra founder Joan C. Sommers. (pictured right are Joan C. Sommers and Leonard Stack after their success World Premiere Performance of 'Lest We Forget' at the 60th Coupe Mondiale in Alexandria, VA last year.

Leonard (Lenny) Stack, a native of Los Angeles, is a highly successful composer, arranger, musical director and conductor. He won an Emmy for arranging and an Emmy nomination as musical director for his work in television specials. He is a member of ASCAP and the Television Academy and holds a Bachelor of Music in Composition. Artists such as Diana Ross and Dionne Warwick have recorded his songs and his musical scores have been used in many feature films and movies made for TV. The lengthy list of Leonard Stack's publications includes classical compositions for various ensembles as well as his Big Band Jazz originals; all have been performed frequently.

Stack's first accordion orchestra composition Lest We Forget, for the highly successful World Accordion Orchestra I was commissioned by the UMKC Accordion Orchestra especially for the 2007 60th Anniversary CIA Coupe Mondiale performance in Alexandria, VA on August 18, 2007.

This World Accordion Orchestra II will feature three works:
Springtime Symphony - Graham Romani
I Movement: conducted by Elaine Beecham
II Movement: conducted by Ronnie Brown
III Movement: conducted by Brian Laurie
IV Movement: conducted by Elaine Beecham



2. Film Noir: City of Night - Leonard (Lenny) Stack (World Premiere)
conducted by the organizer of the inaugural World Accordion Orchestra
Joan C. Sommers (USA)


3. A Scottish March Selection - Traditional, arranged by Graham Laurie
conducted by Graham Laurie


Players in the orchestra will include all members of the CIA Executive Committees, many of the NAO Executive, CIA international delegates, the Colchester Accordion Orchestra (under the direction of Elaine Beecham), the Graham Laurie Paisley Orchestra, the Brian Laurie Academy Orchestra and the Dutch Accordion Project Orchestra to make the performance a really grand event.

All accordionists attending the Coupe Mondiale are invited to join the World Accordion Orchestra II to be part of this exciting musical event (minimum playing level is approximately Grade 5).

To register please visit: http://www.coupemondiale.org/2008/sc_world_orchestra.htm


---
Pawnshop Accordions by Jonathan Wallace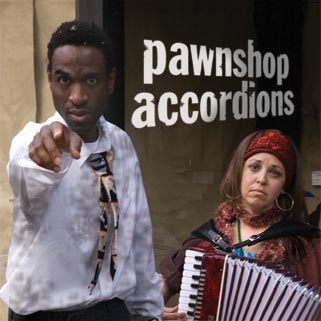 PAWNSHOP ACCORDIONS, the latest play from Jonathan Wallace, will be presented as part of The New York International Fringe Festival (Fringe NYC). Aaron Gonzalez will direct. Performances will be at the Theatre at 45 Bleecker Street, and will begin on August 9th and will continue through August 16th.

PAWNSHOP ACCORDIONS tells the story of a cynical EMT, a mute accordionist, a sinister Albanian, and a prophetic schizophrenic struggle to protect one another. This latest play from Jonathan Wallace is a hallucinatory drama of community and violence in New York's netherworld. Professional accordionist and clown Gina Samardge will play Zaida, the mute accordionist, and will perform live accordion music during the play, including traditional Eastern European and klezmer songs and original compositions.

The cast for PAWNSHOP ACCORDIONS includes Tim Cain, Henry Caplan, Brian D. Coats, David Tawal, Gina Samardge, and Shpend Xani. The design team will be Miguel Angel Valderrama (Lighting), Michael Hetzer (Sets), and Ren Ladassor (Costumes).

Director Aaron Gonzalez's previous credits include Save My Brother and Saving Carmella for Howling Moon Cab Company, and The New Quixote at the Lincoln Center Institute. He is a graduate of the North Carolina School of the Arts, along with the designers Ren Ladassor and Michael Hetzer.

Jonathan Wallace has had several plays produced in New York City and the Hamptons. Full-length plays include Shapeshifter, The Shadow-Pier, Waves and Beaches and The Turtle Tattoo. His short plays have been performed at The Flea Theatre, The Lark Theatre, The Stephen Talkhouse (Amagansett, NY), the Civic Center in Valdez, Alaska, John Drew Theatre in East Hampton, 13th Street Repertory, and outdoors in Brooklyn Bridge Park and the Avenue B Gardens. Wallace's short play, Rockettes, is included in a 2007 anthology edited by Roger Ellis, published by Meriwether. Wallace lives in Amagansett, NY with his playwright wife, Meri, and their elderly box turtle, Berryman.

Accordionist Gina Samardge has been performing and teaching music in NYC since her arrival in 2002. An Ohio native, she grew up in the local theaters, singing and dancing in numerous productions. After college and a short stint in Cleveland, OH, she spent nearly a year traveling around the world to such places as Germany, Japan, Thailand, Kenya, Zimbabwe and Mozambique.

Upon her return to the States, she began working in schools and before long was teaching music in a rural school in Central Ohio. It wasn't long before she felt the need to finally venture out East to the city that stole her heart when she was 16.

Since Gina has moved to New York she has performed with VOICE Theatre, The Soon-To-Be-World-Famous Female Clown Troupe, Main Squeeze Orchestra and numerous other short films and theatrical productions.

Gina currently teaches for the Brooklyn Queens Conservatory of Music and directs the Children's Chorus there. She also leads her own sing-a-longs at various locations in Brooklyn and has started her own toddler music and movement classes, Musical Stew.

PAWNSHOP ACCORDIONS will play the following schedule at the 'Theatre' at 45 Bleecker Street, New York City:
Saturday - August 9 @ 2:15 pm
Sunday - August 10 @ 5:15 pm
Wednesday - August 13 @ 7:15 pm
Thursday - August 14 @ 3:15 pm
Saturday - August 16 @ 9:30 pm

Tickets will be $15.00 for all performances. Tickets may be purchased by calling 866-468-7619, or online at www.fringenyc.org

For more information about the play, please visit www.howlingmooncabcompany.com

---
Festa Coloniale Italiana in San Francisco
The Festa Coloniale Italiana takes place on August 16th, 3:00 PM, at San Francisco Italian Athletic Club, 1630 Stockton St, San Francisco.

This event celebrates the San Francisco Italian Athletic Club's 90th anniversary with music and dancing from the sextet Bella Ciao, singer/guitarist Steve Albini, and Trio Amore. Bella Ciao (below) is a San Francisco based six-piece band, featuring accordionist Tom Torriglia, that plays and sings Italian favorites old and new.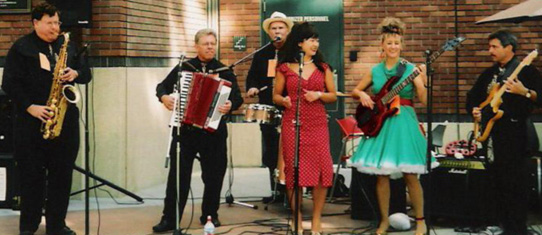 Trio Amore is present traditional Italian music and opera for the public's enjoyment. The trio features the voices of soprano Maria Fassio Pignati, tenor Peter Girardot, and accompanist Ron Borelli on accordion and keyboard.

For further information e-mail: administration@sfiac.org


---
Uncovering the Beauty in the Accordion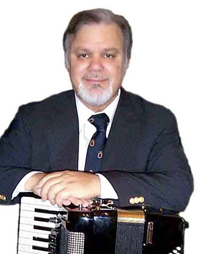 Uncovering the Beauty in Accordion - A Musician's Request-Based Workshop with accordion virtuoso Mario Pedone will take place on Wednesday August 27, 2008 from 5:00 - 9:00 pm. The workshop participant fee will be $60.00 with a $40.00 ticket price for observers.

This intimate 3 hour Request-Based Workshop is uniquely customized to registrants' requests. When participants register, they will be asked about their desired learning objectives. A list of participant learning objectives will be compiled and forwarded to Mario, who will prepare a special workshop covering the topics that address the learning objectives on the registration list. At the conclusion of the 3-hour workshop, Mario will offer a 1-hour performance of beautiful music featuring his unique style. This promises to be a beautiful evening, offering new musical insights and new friends.

Mario's expertise as a musician and mastery of the accordion will be valuable to anyone studying the accordion. His unique style as a performance artist who aspires only to create and present beautiful music will also be of interest to other musicians who do not play the accordion, but who would like to learn unique insights about the instrument while watching Mario work with accordionists and their unique challenges. Non-accordionist participants will glean insights that will be beneficial when they work with accordionists in ensemble settings.

Mario has recorded more than 800 songs spanning over 60 CDs, all of them his own arrangements, and in his own recording studio. He is also a composer of beautiful music, inspired by his Italian and Venezuelan roots. He produces sheet music of musical arrangements of popular songs, technical studies, and his own compositions. His background includes working with orchestras and ensembles, and he helps musicians record CDs.

The workshop will take place in a private residence in Victoria, BC, Canada and will be followed by a one hour performance.

For more information, please contact: iqbrite@shaw.ca or phone (250) 721-1101 or visit: http://members.shaw.ca/iqbrite/index.html

Jeff Lisenby CD Special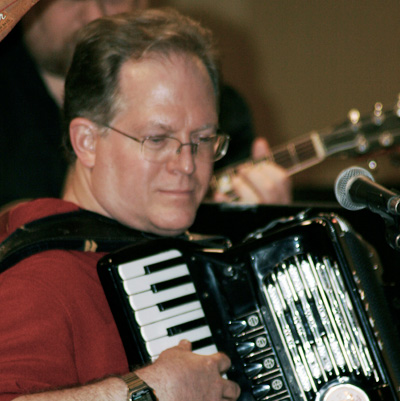 In celebration of the one-year anniversary of the release of "A Spy In Tortuga", Jeff Lisenby's jazz accordion CD, Silver Nitrate Music is offering a half price discount on purchases of two or more CDs through Jeff's website! That's $6.49 per CD, folks. And free shipping!

So if you've been wanting a copy for yourself or a jazz-loving friend, this is the time to get it! It's not too early to start thinking about holiday gifts. Click here to purchase now: http://cdbaby.com/cd/lisenbyj
photo of Jeff Lisenby by Dan Brown

If a CD just won't satisfy your need for jazz accordion music, don't worry. You can hear Jeff live across the globe:
SATURDAY, AUGUST 9TH
7:00 - 10:00 pm
TPAC Gala @ Tennessee Performing Arts Center
With the Jeff Lisenby Quintet, his group of A-list session players
FRIDAY, AUGUST 15TH
6:30 - 9:30 pm
Wild Ginger Restaurant, Franklin TN
With the Walter Hartman Trio
SUNDAY, AUGUST 31ST
6:30 - 9:30 pm
Wild Ginger Restaurant, Franklin TN
With the Walter Hartman Trio
FRIDAY & SATURDAY, SEPTEMBER 5TH & 6TH
Penticton Jazz Festival - Penticton BC, Canada
With the Jerry Krahn Quartet
SEPTEMBER, 2008
Mediterranean Tour - Greece, Turkey, Italy
Aboard the NCL Jade and Celebrity Summit
SATURDAY, OCTOBER 18TH, 2008
6:30-10:30 pm
kool 103 oldies show
Jackson Civic Center, Jackson TN
with Billy Joe Royal, Bo Donaldson & The Heywoods, Roy Head, and
more

For more information, please visit www.jefflisenby.com


Northern California Accordion Society Meetings

The Northern California Accordion Society has announced their current meeting and contact information. The club meets on the first Wednesday of each month at the Lutheran Church Hall located at 6365 Douglas Boulevard, Granite Bay, CA. Music starts at 6:30 p.m. and there is a $3.00 entrance fee.
For more information, contact President Vince Cukar at 916 791-3041 or e-mail:
sugar3@surewest.net
or Vice President Jim Shoemaker at 916 443-0974 or e-mail
jimshoemaker@msn.com
.
The Northern California Accordion Society will hold their Good Old Summertime Accordion Festival on Saturday, Sept. 6th, at the church hall (outdoors) from 11 a.m. to 4:00 p.m., with their special guest accordionist to be announced soon. There will be $5.00 cover charge and a potluck lunch.
For more information, please visit: http://www.ncasonline.org

Accordionists in Hour of Charm Orchestra
In a little glimpse back into history, buyers of the sheet music "Madelaine", a piano/vocal sheet music by Phil Spitalny with lyrics by Joe Capwell, published in 1941 by Santly-Joy-Select, Inc. 1619 Broadway, New York will see the picture of Phil Spitalny and his all-female "Hour of Charm Orchestra" including two accordionists.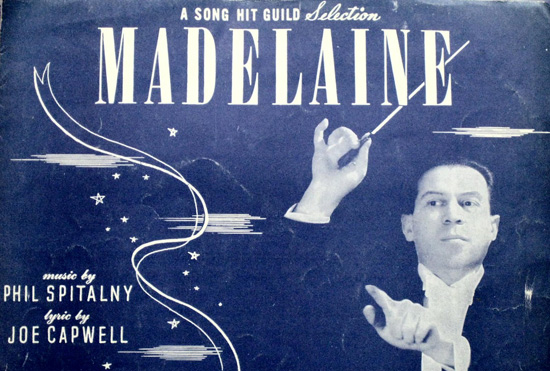 The Hour of Charm, challenged the common thinking that women were too competitive to work together, even to create music. The Hour of Charm Radio Show featured the first even all-girl radio orchestra. Each member was a serious musician who could read music fluently, however talent was not the only qualification to become a member of the orchestra.

The man who created the orchestra in 1934 as a radio gimmick was Phil Spitalny. He auditioned women not only for their musical ability but also for their 'sweetness and charm'. The requirements included that they be unmarried and weigh no more than 122 pounds (55 kilograms). Spitalny also determined how the musicians would dress - in a type of uniform rather than evening gowns, and how they wore their hair.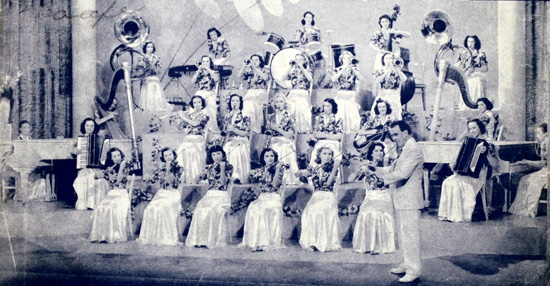 He even controlled their social lives when not performing in the orchestra. Radioland, a fan magazine, reported that the orchestra had a committee of five girls who settled all 'backstage disputes'. This included dating. The article stated: "Whenever a girl wants to go out, she goes to the committee and says, "I want a date with Mr. So-and-so." They ask her who the man is, what he does, and for references. If he passes muster, she gets her date. But if the committee feels that it would hurt the orchestra for a member to be seen with that man, the engagement doesn't materialize!

One of the features of the Phil Spitalny orchestra was "'Evelyn and her Magic Violin". Phil's radio show was called the "Hour of Charm" and the Mistress of Ceremonies was Arlene Francis. Phil had a decent enough Radio and Dance orchestra when he started, but this "all girl" orchestra never went any place, being billed more of just a novelty of the times. In time, Phil married his 'magic violinist' and retired to Miami Beach where he spent his retirement years as a music critic for a local Miami newspaper. He passed away in 1970.

The University of Miami offers two academic awards in his honor, The Evelyn and Phil Spitalny Music Achievement Award and The Evelyn and Phil Spitalny Scholarship.


14th Accordion Master Class & Concert Series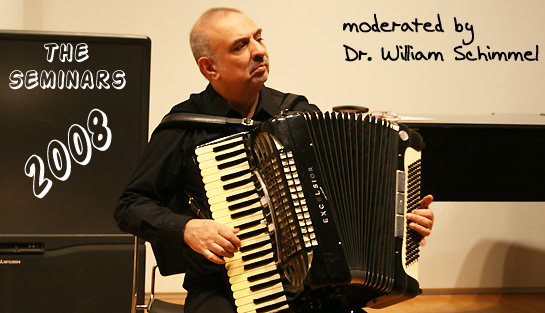 The 14th annual 'The Seminars' a three day event of master classes and concert held in New York City was a great success.

Held under the auspices of the American Accordionists' Association (AAA), the event was organized and moderated by New York accordionist and composer Dr. William Schimmel. The daily seminars included a cross section of topics such as Performing for the Elderly (presented by Paul Stein), 15 Minutes of Fame (Micheline Malosh), A new prototype for the Rock accordionist (Benjamin Ickies), Custard's Last Stand, Mr. Softee, Dairy Queen and Carvel (William Schimmel), the Art of Recording an accordion (Mary Tokarski) to name just a few.

Below is a pictorial review of several of the diverse events held over the three day session.
---

Some of the workshops from the Seminar sessions:

15 Minutes of Fame (Micheline Malosh)

Performing for the Elderly (presented by Paul Stein)
left: Custard's Last Stand, Mr. Softee, Dairy Queen and Carvel (William Schimmel)

right: the Art of Recording an accordion (Mary Tokarski)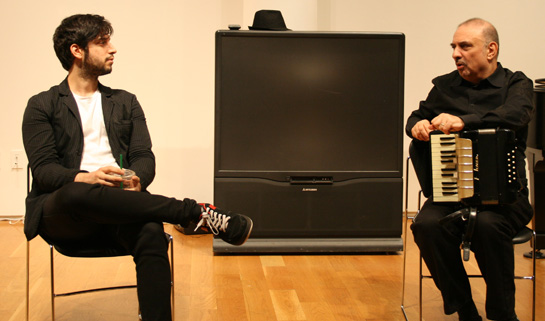 Seminar - A new prototype for the Rock accordionist (Benjamin Ickies)
---

Some of the many performances during the weekend:

911 Profiteers and other Scoundrels by Mr. Stein
Performed by Paul Stein and Dr. William Schimmel


9FZ/DA - A Short Opera by William Schimmel
Performed by Kathleen Tipton (Actress), Dr. Schimmel (Melodica)
Directed by Micki Goodman

left: Excerpt from Songs of an Immigrant by Marni Rice
Performed by Marni Rice

right: To Spike Jones in Heaven (accordion and electronics) by Dave Soldier
Performed by Dr. Schimmel

left: Sonata For Accordion by Robert Baska
Performed by Dr. Robert Young McMahan

right: Fish Hook at the End of the Line - a Monologue by Dr. William Schimmel
Performed by Dr. William Schimmel

. (dot)

Exigent Circumstance by William Schimmel, Scherzo by Maddalena Belfiore,
Ritual Fire Dance by De Falla
Performed by Mary Tokarski

Manhattan Concert by Eugene Ettore in duo with the
New Manhattan Concert by Dr. William Schimmel
Performed by Mary Tokarski and Dr. William Schimmel

Past AAA President and current AAA Executive Secretary Faithe Deffner,
Seminar Moderator Dr. William Schimmel and AAA President Linda Soley Reed

Flames d'Enfer (Flames of Hell), Blues de Bosco and Big Red Sun Blues
Performed by Julie Winterbottom (cajun accordion), Ricardo Heald (fiddle), Cristina Speligene (guitar & vocals), Frank Luschinsky (bass) and Charles Perkalis (drums)

left: Wah Wah for Accordion and Electric Mandolin by David Stoler
Performed by Sal Azzarelli (electric Mandolin) and David Stoler (accordion)

right: Lines and Waves in Deep Blue by Peter Machadjik
Performed by Rocco Anthony Jerry (accordion and tape)

left: Glassworks by Philip Glass
Performed by Carl Riehl (accordion)

right: Two Songs on Texts by Walt Whitman by Robert Young McMahan
Performed by Suzanne Hickman (soprano) Dr. Mc Mahan (accordion)

left: Sonata in C (1949) (II). by E. von Knorr & Goodbye Yellow Brick Road by Elton John
Performed by Doug Makovka (accordion)

right: Royal Telephone, the Devil Made Texas and Why Go Up There?
performed by Mr. Dewan (accordion and vocals)

The White Buffallo by Dr. William Schimmel
Performed by Dr. William Schimmel

Accordion Show Finishes 15 Month Run in Branson
Accordionists Kim and Dan Christian, the first to feature a full time accordion Show in Branson have finished up a 15 month run of their 'Music Makes the World Go Round' musical adventure show in Branson, Missouri.

After years of preparation, the Christian family took an incredible leap of faith when they debuted their 'Branson Dream' when their show became reality on opening day on Tuesday April 24, 2007 at the Tower Theater. Kim and Dan took their positions on their unique accordion stage, surrounded by their two daughters and fellow cast members to make accordion history!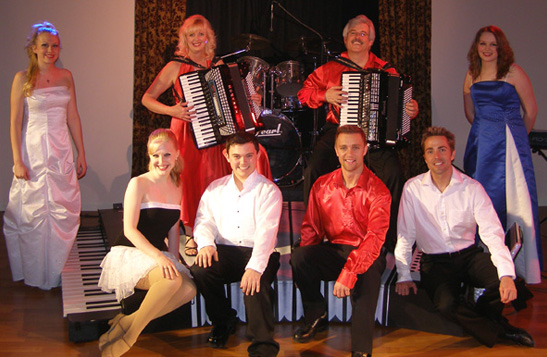 Show Cast members included Camille, Kim and Dan and their daughters Camille and Cerissa Christian along with April Christine, Mathew Mattney, Travis Lantz and Sott Sartain.

In the extremely competitive Show Biz environment, the overall costs of production prove prohibitive for most shows to continue on a lengthy engagement. Most of the 136 shows in Branson suffer the same obstacles with even the mid size ones are averaging $500,000 a year in marketing campaigns and hefty ticket company commissions necessary to push and secure ticket sales. This combined with venue rental and staff costs have proven challenging for many shows.

Kim and Dan and their family and fellow cast members realized their dream of producing a full time accordion show by establishing their production in Branson, and now hope to take their show on the road, as well as to venues such as cruise ships and resorts.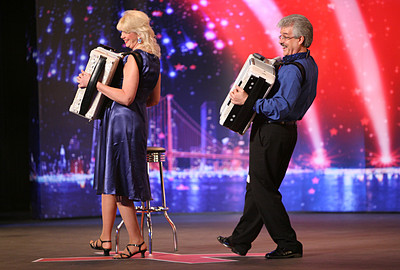 Showing their diversity in the entertainment industry, Kim and Dan recently appeared on the popular TV Show 'America's Got Talent', (left) and even though their performance was not appreciated by the panel of judges, their efforts show their continual desire to popularize the accordion in the entertainment industry.

Anyone interested in hosting the popular Music Makes the World Go Round show, should contact Kim and Dan at: kdchristian@adelphia.net


---
---
Note: In order to provide as much information as possible for the United States National Accordion News stories, many different sources are often researched to gather additional information and pictures to complement what has been submitted. This information is then correlated to provide the news on www.accordionusa.com in the spirit of which it is intended, which is to provide a free news service to the Accordion Community, specifically in the United Sates. If you feel any copyright has been violated please advise www.accordionusa.com and the article will be removed immediately.