Las Vegas Accordion Convention by Jane Christison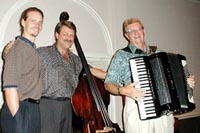 The first International Accordion Convention was held in Las Vegas, Nevada, August 6 - 10, 2000. The convention was such a success that plans for the second annual event are already in the works. It was truly an international event with over 248 accordionists from all over the United States, Europe and Australia.

Accordion enthusiasts had many choices of workshops, masterclasses and demonstrations to attend during the day - sometimes as many as three sessions going on at the same time. Workshops and demonstrations were presented by Gina Brannelli, Gordon Kohl, Larry Pino, Peter Soave, Jane Christison, Paul Pasquali, Arlene Boddicker, Dennis Classick, Steve Albini, Tony Lovello, John Simkus, and Steve Balich.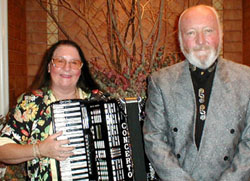 Masterclasses were given by Peter Soave, Jane Christison, Art Van Damme (pictured above with his Trio) and Gina Brannelli.

Luncheon concerts featured Dan and Kim Christian and their daughters, and Mike and Margie Aman and their sons. Herbi of Cafe Ole, an exciting young performer, was also spotlighted during a noon hour concert.

After-dinner concerts were filled with an array of outstanding accordion performers featuring Peter Soave, Julian Labro, Gina & Romany Rye, (pictured on the right) Murl Allen Sanders, Steve Balich, Tony Lovello, Jane Christison, Gordon Kohl, Steve Albini and Max Carl.

The Crystal Frosini Award, recognizing outstanding achievement by an accordion club, was won by the Texas Accordion Association. The award was accepted by Barbara Scott, President of the San Antonio chapter of the T.A.A., on behalf of Norman Seaton, president of the Texas Accordion Association.

Congratulations to two convention attendees, Darrell and Denise Collard from California. They skipped dinner one night, hopped in a limo, got married at a wedding chapel and were back in time to attend the evening concert.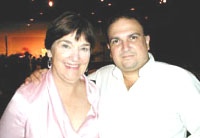 Kudos to Paul Pasquali and his capable team of assistants for organizing and hosting this outstanding event! (Pictured here are Frosini Award coordinator Marian Kelly and guest artist Peter Soave)

Be sure to mark your calendar to attend next year's convention. For more information, and the latest in 2001 plans, please visit www.accordioninfo.com/convention

Did you know...
...a hundred new pages are being added to the
world wide web every second!!!!
Texas Accordion Association Wins First Frosini Award

The TAA was the first winner of the Frosini Award. Fifteen clubs and accordion organizations competed in this years Frosini Award which was presented to the club/organization deemed by the adjudicators to be the most outstanding.

The Prestigious Crystal Frosini Award was presented to the Texas Accordion Association (TAA). Barbara Scott (President of the San Antonio chapter) accepted the award in the absence of TAA President Norman Seaton. The judges for this years award were; Art Van Damme, Peter Soave, Arlene Boddicker and Marian Kelly.

The judges stated that the choice was difficult several of the clubs were very close. Honorable mentions goes to the Santa Barbara Accordion Club. Norman Seaton has stated that TAA will encourage its individual chapters to run for the award next year and he encourages all clubs to compete in the awards process.

Pietro Frosini came to America a century ago and promoted the instrument he loved, the accordion. We encourage all clubs to help promote the image and cause of the accordion. For more information on next years award and how your club may enter please contact either Marian Kelly or Paul Pasquali.

The Frosini Award
Marian Kelly
31 Aliso Way Portola Valley, CA 94028

The Las Vegas Accordion Convention
Paul Pasquali
2330 South Main Street #15
Salt Lake City, UT 84115
801-485-5840 voice - 801-486-1695 recorder
e-mail: paul@accordioninfo.com


Piazzolla Soloists Perform in Pittsburgh
The Piazzolla Soloists from the Czech Republic (guitar, accordion & flute) will perform a concert in Pittsburgh, PA on September 14, 2000 at 8 PM.

Members (who teach at the Conservatory of Prague) are Petr Paulu, guitar; Ladislav Horak, accordion and Jana Kholova, flute. Horak is a graduate of the Prague Conservatory and the University of Pilsen. He presently teaches at the Prague Conservatory and gives lessons also in Germany. He is a president of the Czech Accordionist's Association and represents the Czech Republic as a member of international juries of the world organization CIA.

Paulua is a graduate of the Conservatory and the Academy of Music and Dramatic Arts in Prague. Since 1983 he has been teaching guitar at the Prague Conservatory and giving courses in Germany. He has performed in Europe, North and South America. He has given guitar masterclasses in Brazil and has recorded four CDs.

Their concert will include pieces by the following composers:
Astor Piazzolla (1921-1992)
Ferdinando Carulli (1770-1841)
Fernando Sor (1778-1839)
Enrique Granados (1867-1916)
Federico Moreno-Torroba (1891-1982)
Hector Villa-Lobos (1887-1959)
Joaqun Rodrigo (1902-1999)
Abel Carlevaro (1918-)

For more information, call Joe Cepicka at 412-795-4183 or e-mail him at joe_j_cepicka@yahoo.com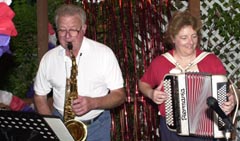 About 75 people braved the Texas heat on July l4th, 2000, to celebrate the French Bastille Day Holiday at the home of Texas based French accordionist Frederique Benavidez (pictured to the left.)

To have a taste of a "real" French atmosphere a had few natives were imported to Texas! The music, the singing, the language, the waterfall, the soft party lights, the nice breeze (thanks to strategically positioned fans), transferred all to the Rive Gauche of the Seine! Guests were treated to a great show!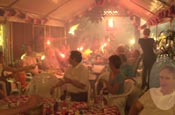 While Bobby played solo the all American Patriotic Medley, sparklers were lit (pictured right) and guests broke confetti eggs all over the backyard. This created quite a clean up project the next day! (Can anyone recognize the highlighted figure on the lower right?)

We also acknowledged all performing accordionists by giving medals.

The winners were:
Group Category:
1st place: The New Trick Band
2nd place: Greg and Alvaro duo
3rd place: Mary, Michael, Didier trio
Solo category:
1st place: Barbara Scott from San Antonio
2nd place: Greg
3rd place: Janine (Louis' cousin from France)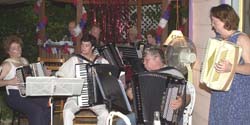 So much fun was had, that everyone is planning on a repeat performance next year!

Pictured here are members of the New Trick Accordion Ensemble, Mary Medrick - Director.

Why not advertise your web site on accordionusa.com?
Reasonable monthly rates available!
remember... a banner here... can take you there!
Closet Accordion Players of America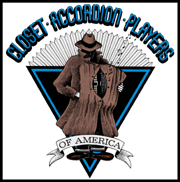 Closet Accordion Players of America (CAPA) is an organization of good sports. They believe that accordionists who can laugh at themselves are more likely to be taken seriously when they go on to point out what a wonderful instrument the accordion really is.

CAPA uses humor to get attention, and, once they have people's attention, they go on to make serious points about the accordion. With a lighthearted approach to "accordion abuse," they hope to help improve the image of the accordionist.

Membership in Closet Accordion Players of America (CAPA) is open to anyone who plays the accordion or whose life has been affected by an accordion player. Codependent spouses are welcome, as are adult children of accordion players. A basic membership to CAPA is $12.95.

You might also be interested to know that the official mascot is none other than Lawrence Elk!

To contact the CAPA, please visit their website at: www.venus.cottonwoodpress.com/CAPA

or contact Susan at:
107 Cameron Drive
Fort Collins, CO 80525
Phone: +1 970-204-0715
E-mail us: capa@cottonwoodpress.com

Bon Tee Cajun Accordions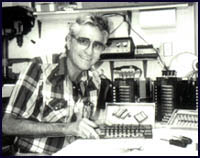 Larry Miller of Bon Tee Cajun Accordions was born of predominately Acadian ancestry near Iota in the heart of the Prairie Cajun region. He grew up speaking only Cajun French and like most of his age group in the late 30's and 40's, and had to learn English upon entering school.

His father Abraham played accordion well, while his older brother James Calvin played guitar and later accordion with Larry on the triangle and spoons. Later, after spending 22 years in the Acadia Parish School system as a science & math teacher and eventually principal, retired to enter business, then retired from business to devote full time to preservation of Cajun Culture.

Among his endeavors in this area as a charter member of the Cajun French Music Association, he worked for 10 years as various officers to become the National Gov. Body President for 1989-91.

In addition he plays in a Cajun Band and has helped to organize several ongoing jam sessions where new comers are helped along.

Before Larry retired from the school system he began to build accordions as a hobby just because the thought of his people producing these machines by hand was intriguing.

Subsequently, he has grown his line of cajun instruments to include five beautiful instruments including: Honduras Rosewood, Zebra Wood, Curley Maple, Purple Heart and Curley Walnut.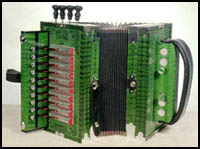 A small percentage of the North American Maple (used for the Curley Maple Green, pictured here) has curley figures in the grain (more like bars across). This maple came from a mill in Elkins, WV. Some accordionists like bright color stains like this green but it also comes in red and blue. Curley Maple is very popular for Cajun handmade accordions. For more information about these instruments, please contact:

Larry G. Miller
886 McMillian
Iota, LA, 70543

Phone: +1 (337) 779-2456
Fax: +1 (337) 779-3080
E-mail: boncajun@akool.com

Anthony Galla-Rini and his career 'FIRSTS'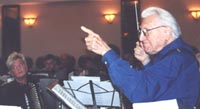 During his lifelong career, Anthony Galla-Rini has had a number of "Firsts"

1. First to eliminate the Perfect 5th interval from the Dominant 7th chord button in the Stradella system by opening up the bass board of his instrument and filing off the pin causing that interval to respond. This occurred in 1924.

2. First to adopt the practice of playing two chord buttons simultaneously in the left hand and, consequently, explained in his Accordion Method Book published in 1931.

3. First to write an article with a chart revealing the actual pitch of the five sets of reeds responding for the bass and chord buttons of the Stradella system. This article was included in the Accordion magazine published in New York City in 1936.

4. First to write the chord inversions in FULL-CHORD NOTATION as actually sounding in the Stradella system chord buttons. This was adopted in his Accordion Concerto in G minor and published by Carl Fischer in 1941. Galla-Rini was also the first to perform an accordion concerto as soloist with two major symphony orchestras, namely, Detroit (twice) and Denver.

5. First to give formal solo concerts in halls such as Philharmonic Auditorium, Los Angeles -1945 and 1946 Shrine Auditorium, Detroit - 1947 Civic Opera House, Chicago - 1947 Temple Sholom, Chicago - 1949 Town Hall, New York City - 1949

6. First American accordionist to be presented in concerts in Europe, i.e. England, Scotland, Sweden, Norway and Italy (1950). Adrian Dante, Empressario from London, organized the tour.

7. First to conceive converting the chord buttons in the Stradella system into single tones in order to achieve a Free-bass system, Titano - 1953.

8. First to recommend the circle and dots as the logical register symbols for both keyboards. Presented at joint meeting of the ATG and AAA committee and accepted as the standard in Chicago in 1955.

9. First to present an Annual Accordion Camp, consisting of workshops and a concert, starting in Silver Falls, Oregon, in 1990. It has already been presented ten times.

10. To date, it has been practically confirmed that, of all accordion concerti composed by anyone, his has been given the most number of performances with various soloists and orchestras forty four times, in Canada, England, Finland, Sweden, Norway, Spain and the USA.

UMKC Accordion Orchestra begins 40th Anniversary Countdown

This year marks the 40th Anniversary of the University of Missouri - Kansas City Accordion Orchestra, under the direction of Joan Cochran Sommers. It also marks a milestone in the accordion at UMKC as Joan Sommers is retiring as Professor of Accordion, a position she has held since the inception of the accordion program at UMKC in 1961.

Several concerts will be held during the year at the University including fundraising concerts for the University, the Annual American Family Christmas Concert (celebrating its 25th Anniversary) and of course the 40th Anniversary Concert to be held on April 29th, 2001.

This summer, the UMKC Accordion Orchestra performed the World Premiere of the Commissioned Piece "Out of Crooked Timber..." for Accordion Orchestra and Solo by Paul Rudy.


Champion accordionist Mario Tacca and his wife, Internationally acclaimed singer Mary Mancini, will host the Annual Accordion Extravaganza at 2:30 PM at the Paramount Theater, in Peekskill, NY on Sunday October 15, 2000.

Mary is known and acclaimed for her vocal versatility and command of International Music. Her repertoire includes seven languages and she consistently brings audiences to their feet with her musical interpretations of international favorites to Broadway to opera to the classics and to pop.

Mario dazzles audiences with his unmatched virtuosity on the accordion and his consistently exciting interpretation of music from the International repertoire to the classics to pop. Having won the World Cup of Italy, the Grand Prix of Paris, Mario was also the US National Champion, a title he won while competing in Carnegie Hall, in New York.

In addition to these two world class musicians, the Accordion Extravaganza will showcase The "K" Trio, concert accordionist Carmen Carrozza, and Virtuoso Mandolinist Barry Mitterhoff!

An event not to be missed . . . an afternoon of great accordion entertainment!
Call 203-239-2232 for reservations or visit www.gioiaprod.com for more information.
(Check under the Past News to find a review on their trip to China)

Just for fun try visiting...
www.egosurf.com
to see how many times you can be found on the Internet!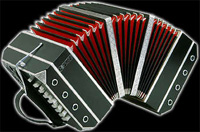 With the increasing popularity in the music of Piazzolla, the Bandoneon has made quite a come back. Many of today's top accordion soloists such as Peter Soave - USA, Max Bonnay - France and Mika Vayrynen - Finland are doubling on Bandoneon.

This skill has opened the door to perform with some of the worlds finest orchestras.

Pigini Accordions has unveiled its new Bandoneon, and you can see this on-line at: www.bandoneon-pigini.com. The model L41-33 has 41 reeds in the right hand, 33 in the left hand, measures 25 x 33 cm and weighs in at 5 kg. For more information please contact:

PIGINI srl, via CARLO MARX, 127
P.O. Box 64 - 60022 CASTELFIDARDO (AN) - ITALY
Tel. +39 071 7820301 Fax +39 071-78230
e-mail: pigini@tin.it
http://www.pigini-accordions.com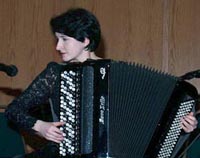 'The Polish Princess' is how Milwaukee Accordion Club Entertainment Reviewer Jerry Smeiska described Lidia Kaminska and her Milwaukee recital!

Presenting a program ranging in style from classical to original accordion works, from Bach to Piazzolla, Lidia presented an outstanding concert which both dazzled and captivated the audience.

In a surprise performance, Lidia even played a duet with Stas Venglevski, who composed the work entitled Autumn Illusions.

Lidia, a graduate of the Chopin Academy of Music, in Warsaw, Poland, is currently a Doctoral candidate in Accordion Performance at the University of Missouri - Kansas City, where she is studying with Joan C. Sommers.

This summer, Lidia won the ATG Virtuoso Entertainment Competition, which offered a $1,000.00 First Prize.

Petosa Worldwide News Forum - sharing your views... on-line!

Visitors to the website www.petosa.com will find an interesting means of sharing ideas, and are invited to join in via the Petosa News Forum.

The forum is very easy to use. All messages are posted, as well as follow up remarks, so you can easily follow ideas and feedback.

So far over 1,000 people have visited the news forum, so why not join in and share your ideas. It is a forum designed to discuss accordion news, trends, likes and dislikes... everything accordion!

An Accordion Magazine which is a MUST!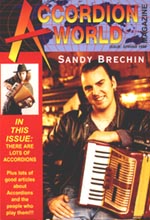 Accordion World Magazine
Accordion World is an exciting magazine launched in 1993 with four quarterly editions, and this year, it has grown to bimonthly.

The aim of the magazine is to bring together accordion news from around the world and to provide advanced information about forthcoming events before they happen. It is read in 14 countries and extensively throughout the USA now!

The magazine reviews accordion CD's, Videos, Cassettes, Books and of course new Music.

Starting soon will be a six part series called... "The A-Z of Accordion'... everything you ever wanted to know about your favorite instrument, - definitions, photos etc...

Accordion World is produced by accordion guru David Keen, the Four times Chairman of the National Accordion Organization of the United Kingdom.

To subscribe, simply send (cash - dollar bills) either $15.00 for 3 magazines (to December 2000) or $40.00 for 9 magazines (to December 2001) to:
Accordion World - David Keen
86 Brookdene Ave, Watford, Herts.
WD1 4LF, England

Don't forget to include your name and address and phone/fax or e-mail if applicable.
NB: If you have a new composition or recording or item that you would like to let our readers know about, please use the submit form on this site, to provide the relevant information.

What piece does this excerpt come from?
Can you identify where this excerpt comes from? If so, name the piece and composer.

All correct entries will go into a drawing and the winner will receive a 'Lucky Grab Bag' of accordion music.

To submit your answer, please click on 'Submit Form' heading (located under the Clubs/Associations section on the left hand index) to submit your entry. Please don't forget to include your name, address and e-mail address, and tell us which piece of music you think this came from.

Good Luck!



Congratulations go to Sandy Bednarek who was drawn from all those entries which correctly identified our last mystery picture as being Friedrich Lips, from Moscow.

Lips, is the head of the accordion program at the Gnessin Institute of Music in Moscow. Sandy has won a copy of the CD entitled 'Twighlight Time' by William Schimmel.

Accordion of the Month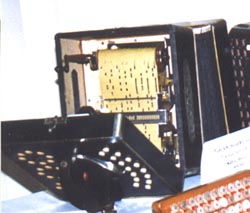 This 'player' accordion is part of the incredible collection entitled 'A World of Accordions', located in Duluth, Minnesota. To learn more about this museum, please see the information on the website: www.ameraccord.com.

Just for fun...

Music Lessons
Music lessons have lifelong value for children. Learning to play an instrument helps improve fine-motor skills and hand-eye coordination. Practicing music requires students to organize their days to make time for practice... improves abstract thinking ability.... helps children learn to focus... and enhances aural, tactile, visual and analytical memory.

Music improves academic performance, too. Both verbal and math SAT scores for students who studied music for four or more years through high school tend to be significantly above average!

from... Keys to Successful Music Lessons by NIKKE LANDRE, PHD (Barron's / $6.95)

Cajun On-line at J Paul Jr's!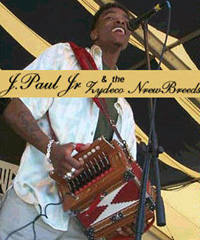 J. Paul Jr. & the Zydeco NewBreeds has changed the sound of modern day zydeco music. They have been called the architect for a new wave of sounds within the genre. J. Paul can be credited for bringing new audiences to the music and at the same time keeping traditionalist satisfied with a groove that is right on time.

Recently, J. Paul Jr., has signed with a new record label. Skyy Productions CEO Derwin Fisher has confirmed the NewBreeds have a new address within the zydeco kingdom. J. Paulís new deal with Skyy Productions will facilitate marketing, production and distribution of NewBreeds recordings including coordination, and promotion of special events and talent buyer communication.

Winners of the National Zydeco Societyís, 1998 Clifton Chenier Music Award for Best Newcomer of the Year, J. Paul Jr. & the Zydeco NewBreeds has been creating quite a stir in the world of zydeco. The group will be celebrating its fifth year of performing together this summer.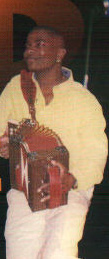 Skyy Productions and the NewBreeds hope to build on the success of the groupís last two releases, "Use Me Up" and Another Level. The "Another Level" CD was the first zydeco release to receive continuous airplay in one of the largest radio markets in the United States. The first project titled, "Phenomenon" was released in April of 2000 and delivers on displaying the NewBreeds trademark, hard driving rhythms, and Sunday morning vocals to give zydeco dancers the workout they show up for.

The band is booked to perform at most major festivals along the Gulf Coast this year including East and West Coast tours to promote their new release.

For more information J. Paul Jr., and Skyy Productions can be reached toll free at (877) 684-2600 ext. 050 or (281) 798-2096. Douggie Doucet of Amaku Management at (281) 473-2088

For an on-line sound sample and upcoming concert appearances, please visit: jpauljr.com.


We invite you to submit your
News, Concert, Club Listing, CD or Article!
---
www.accordionusa.com
is a free service to the accordion community made possible by the kind sponsorship of our advertisers such as:

and the generous support by
'Accordions Worldwide' found at:
www.accordions.com