Cavan at Brookside Irish Festival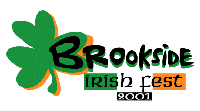 Kansas City accordionist Brett Gibson will be among the three members of Cavan performing at the Brookside Irish Festival on September 1 and 2 in Kansas City, Missouri

A native of New Zealand, Brett took up the accordion at the age of seven and soon began competing, and performing in accordion orchestras. He was awarded numerous titles in the New Zealand National Championships over the years as well as lending his talents to train several other national champions.

Brett's studies eventually led him to join the Accordion Ensemble at the University of Missouri Conservatory of Music in Kansas City, with which he toured Russia and Scandinavia. Recently, he won the 2000 Accordionists and Teachers Guild Open Duet Championship Class.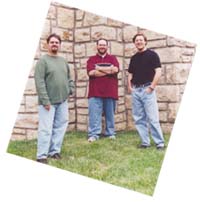 With Cavan, Brett (pictured right) provides virtuoso performances on both piano accordion and bayan, a button accordion of Russian origin. Fellow band members include Frank Blair (pictured center - Lead vocals, guitar, cittern, bouzouki, composition) and Sean Patrick Hayes (pictured left - guitar, backing vocals.)

Cavan performs an astonishing variety of music drawn from and inspired by the ancient Celtic traditions of Ireland, Scotland, Brittany, and Galicia, to which they add a little spice from the Middle East. Their concerts combine the compelling Celtic dance rhythms: Jigs, Reels, Waltzes, and Strathspeys, with songs telling stories from past and present. Since three of the members are composers, they perform an unusual number of original songs and tunes for a Celtic band.

Enjoy all the charm and excitement of Ireland in beautiful Brookside. The Brookside Irish Fest 2001 is a fund raising event for the planned Irish Cultural Center of Kansas City. The not-for-profit Cultural Center will not only provide a home for the current nine Kansas City area Irish organizations, but also be a show place for the rich history and continuing story of the Irish in Kansas City.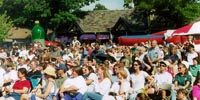 The 2001 Brookside Irish Fest offers something for everyone, whether Irish by birth or Irish at heart. From traditional music and dance to the excitement of today's best contemporary Celtic bands. The Brookside Fest is a family event and offers fun for all ages, a children's area with crafts, games and clowns, shopping for fine Irish jewelry, clothes, china, and crystal. Representatives from the various local Irish groups will be on hand and a wide variety of food and drink will please even the fussiest appetites. And don't miss your chance to win two round trip tickets to Ireland, as well as other great prizes to be raffled off.

Brookside is located in the heart of Kansas City, Missouri at approximately 63rd Street and Wornall - only a short distance from the famous Country Club Plaza and Westport. The festival grounds are located in the center of the Brookside Shops - directly behind the shops on the east side of Brookside Boulevard just to the north of 63rd Street.

For out of town festival guests, many hotels and motels are located a short distance to the north in the Plaza and Westport Area.

Contact the Festival direct with questions at brooksideirishfest@hotmail.com



Also in September, Cavan will be performing on September 15 at the Green Man Pub at Hawkwood in Roanoke, Texas. Roanoke is located north of Fort Worth, west of Dallas, and south of Denton; in the southeast corner of two major highways, I-35W and Hwy 114; about one mile from the new Texas Motor Speedway. For information on this performance, please call 1 800 782-3629.

For information on booking Cavan or to inquire about their recordings, please contact:
Cavan
6550 West 91st Street, #114
Overland Park, Kansas 66212
Phone: (913) 385-2330
E-mail: cavan_info@yahoo.com
Website: http://www.bakerstreet.org/cavan

Texas Accordion Legacy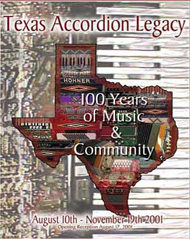 Over 40 instruments will be displayed to show the evolution of the accordion in the past 100 years. The accordion is a truly unique instrument that ties Texan cultures together. This exhibit will highlight German and Hispanic music and cultures using the accordion as the common thread.

The New Braunfels Museum of Art & Music will be presenting performances, workshops, and educational programs that will excite and inform Texans on the history of the accordion in American genres of music.

New Braunfels Museum of Art & Music 199 Main Plaza New Braunfels, Texas 78131 Tel: (830) 625-5636 Fax (830) 625-5966 Email: nbma@nbtx.com

For more information on any of these events:
www.nbtx.com/nbma/accordion or call (830) 625-5636.
Advanced tickets available at the museum and the Chamber of Commerce (830-625-2385).

Thousands enjoy 11th Cotati Accordion Festival
The theme of this year's 11th Annual Cotati Accordion Festival was "2001: an Accordion Odyssey". The festival took place on August 25th and 26th in Plaza Park, Cotati and at the entrance to the park is a life-size statue of deceased local accordion hero, Jim Boggio, to whom the festival is dedicated.

This year the Honarary Director of the festival was Joe Smiell, who performed with his son, Joe Jnr. and daughter-in-law who accompanied him on his button accordion which dates back to the 1800's. An entertaining performance was given by Sourdough Slim who made accordion history by being the first known accordionist to simultaneously twirl a lariette, play the accordion, do a jig, and yodel! Sourdough Slim also entertained with Blackwood Tom and this is the 7th consecutive year they have played at the Festival.

Over 2,000 people enjoyed their renditions of old cowpoke favorites such as, "Ding Dong Daddy from Dumas" and a Cole Porter composition, "Don't Fence Me In". Other performers included Rene Pena-Govea with her family band-Los Campas, the Balkan folk dance group, Anoush, and the father and son duo of Steve & Michael Trucco.

Henry Doktorski with Cleveland Chamber Orchestra

American concert accordionist Henry Doktorski will perform with the Cleveland Chamber Symphony on Monday September 24, 2001 in a performance of "Final Alice" by the American Pulitzer Prize-winning composer David Del Tredici (b. 1937).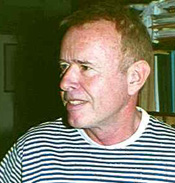 Del Tredici's fascination with the Alice in Wonderland books has yielded a surprising diversity of compositions -- from the spiky, witty settings of Pop- Pourri and Adventures Underground (which include folk and rock ensembles) to the extravagant, theatrical opera-cantata, Final Alice, and the lush, neo-romantic Child Alice.

His music has been commissioned and performed by nearly every major American and European orchestral ensemble. Both Final Alice and In Memory of a Summer Day (part one of Child Alice) generated best-selling recordings; the latter work earned Del Tredici the Pulitzer Prize.

The 28-minute work 'Final Alice', scored for orchestra and a folk group consisting of two saxophones, mandolin, banjo and accordion, is based on text drawn from Lewis Carroll's Alice in Wonderland. Del Tredici's music draws life from the tension between simple, childlike innocence and the freakish world of dream and imagination. . . .

Ebullience and boisterous humor is typical of the entire work, which fluctuates continually between unadorned diatonic harmony and tonal chaos as chord sequences start out simply and then blur, collide, or unravel, either gradually or unexpectedly -- all in keeping with the sometimes charming, sometimes frightening, sometimes outrageous character of Carroll's words and pictures.

The composer spoke about the accordion in his oeuvre: "When I began writing my musical setting of Alice In Wonderland for orchestra, I wanted to include a second group of instruments which would sound completely different from a symphony orchestra; something totally UN-orchestral. After some consideration, I decided that the saxophone, mandolin, banjo and accordion would be perfect because those instruments -- due to their cultural identity and distinctive tonal qualities -- were rarely used with symphony orchestras."

He continued, "Believe it or not, I actually love the accordion; to me at least, it always sounds funky in an orchestral setting. It's sound is quite unique. In my Alice pieces, I write for the accordion as a solo instrument and never try to blend it with the other instruments. Early in my composing career I wrote mostly atonal works. But when I discovered the accordion I developed a desire to use its left-hand chord buttons -- the major, minor, seventh and diminished buttons -- in my Alice In Wonderland piece. This was a turning point for me: it caused me to consider using tonality in my compositions. I suppose for this then, I am indebted to the accordion for opening my eyes to the possibilities of tonality."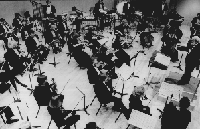 The concert will be held at the Drinko Recital Hall in Cleveland State University's Music and Communication Building located on the Northeast corner of Euclid Avenue and East 21st Street in Cleveland, Ohio.

Samsonite & Delight-Ya
Samsonite & Delight-Ya http://Y2Kymca.com performed at the Lake Oswego Farmers' Market http://www.ci.oswego.or.us/farmersmarket/farmmart.htm on Saturday August 25, 2001.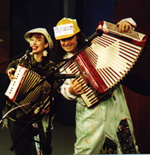 SAMSONITE & DELIGHT-YA is the self proclaimed cheesy accordion duo of Botielus & Cybele. They have a good time with songs not usually expected to come out of accordions, like "Godzilla", "Hocus Pocus", "Tubthumper", "Pretty Fly (For A Polka Guy)", as well as TV theme songs, kiddie songs like "Old MacDonald", plus some requisite squeezebox standards like "The Chicken Dance".

Goofy prize giveaways, "guess the song" games, colorful costuming, and audience interaction are de rigueur. They have been featured multiple times on "Good Day Oregon" & "AM Northwest", National Public Radio awarded them "Best Y2K Song of the Millennium" for their danceable ditty "Y2Kymca.com", and OPB will run a feature on these two nutty characters in a future edition of "Oregon Art Beat".

The duo was featured at the Lake Oswego Farmers Market in late August, and you can find further information on this fun and lively do at:

http://Y2Kymca.com or contact:

Cybele@funduo.com 503-282-4058
PO Box 6714
Portland OR 97228-6714
http://funduo.com

Joe Soprani and Russell Watson in Concert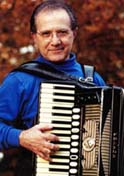 Accordionist Joe Soprani recently performed in the RUSSELL WATSON CONCERT at Trump's Taj Mahal in Atlantic City, NJ. Soprani made a special appearance with England's famous operatic tenor, Russell Watson in his America debut and played Pelagia's song from the soon to be released movie "Captain Corelli's Mandolin."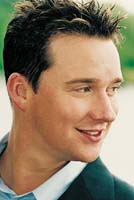 Russell Watson, a popular young artist from Salford, England, often compared to Pavarotti, captured the hearts of the capacity crowd of over 3,000 who heard him sing. His many standing ovations were a fitting tribute to his artistry and appeal. Donald Trump was so impressed with his talent and quality and power of his voice that he is promoting him in the US. Watson's first CD is already a huge hit in Europe.

Also, on the program were two special guests who sang a duet with Russell Watson followed by a solo of their own: Lea Salonga, star of Miss Saigon and recording artist and entertainer, Natalie Cole.

The RUSSELL WATSON CONCERT which was taped for Public Television will be shown throughout the country starting in August. Check local newspapers for day and time. The program is called "RUSSELL WATSON - THE VOICE."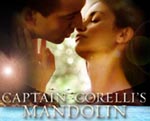 As part of the on-going promotion, Russell Watson appeared on Good Morning America in New York on August 17 and invited Joe Soprani to join him in a repeat performance of "Pelagia's Song" from "Captain Corelli's Mandolin," which was scheduled to be released the same day.

A Russell Watson tour is planned for early 2002.

New Accordion Directory
Karen Gerlovich will be publishing the first ever "2001 International Directory of Accordionists, Dance and Polka Bands, Boosters and Fans." This directory will be listed state by state and country by country including the following:

Names, Address, Phone Numbers, e-mail addresses, website addresses.

The deadline to be included in this directory is September 15, and the directory should be available in October, and will sell for $15.00.

For those interested in advertising in this directory, or being included, please contact:

KAREN GERLOVICH
Accordiona Music Sales
3957 Guilder Street
Sarasota, FL 34234 USA
PHONE (941) 351-7850
Internet: POLKA-STORE.COM AND ACCORDION-STORE.COM
e-mail: GERLOVICH-ABC@WEBTV.NET

Bandoneons Bandoneons Bandoneons
Sebastian Soler is an antique dealer from Argentina and collector of Bandoneons.

He has several Bandoneons in stock, and if anyone is interested, please email him and he will provide pictures and further information.

e-mail: sebaso@mixmail.com

Why not advertise your web site on accordionusa.com?
TELL THE USA WHAT YOU HAVE TO OFFER!
Those Darn Accordions on CD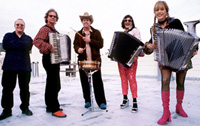 Get ready to hear Those Darn Accordions like you've never heard them before. Running a variety of effects (wah-wah pedals, ring modulators, Leslie rotary speaker simulators, etc.) through good, old-fashioned cranked-up tube amplifiers, TDA's three accordion players build a remarkable sonic wall on the San Francisco-based band's new CD, appropriately titled "Amped."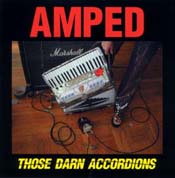 The four new songs on "Amped" capture TDA's newfound sound for the first time: Harder-rocking and yet more accessible, the amplified accordions stretch the already versatile squeezebox's sonic possibilities, mimicking electric guitars, Hammond B3 organs, horns, and even UFOs.

As always, bass guitar and drums anchor the musically eclectic band as it careens from pop to hard rock to polka and back again. A pair of cover songs -- late '60s psychedelic "Magic Carpet Ride" by Steppenwolf and television theme "Making Our Dreams Come True" (from "Laverne & Shirley") -- round out the six-song CD.

Joel Jaffe and the band co-produced "Amped," which was recorded at Studio D Recording in Sausalito, Calif. "Amped" is available on Globe Records (GLO-803).

"Amped" track listing:
1. Serious World
2. Mr. Slagle's Revenge
3. Magic Carpet Ride
4. Enter the Douse
5. Making Our Dreams Come True
6. Meaning of Life

Amped is available at the TDA online boutique (see BUY STUFF link at www.thosedarnaccordions.com) for $14.50 (postpaid) for all U.S.A. and Canada destinations and for $18.50 (postpaid) for destinations other than the USA and Canada. California residents please add 7% sales tax.

If you prefer, you can fax your order to 707-765-1985 (credit cards accepted online or by fax) or you can snail mail your order with check or money order, to:
Those Darn Accordions!
C/O Globe Records
PO Box 5523
Mill Valley, CA 94942 USA

Paul Rodgers: tda@thosedarnaccordions.com

100 Accordions in Concert

For those accordion fans passing through the Denver area on September 16, be sure to catch the annual Oktoberfest "YMA 100 Accordions in Concert".

The concert will be held at Larimer Square, 15th and Larimer in Downtown Denver, CO at 3:30 pm.

For further information, please contact Alice Aman e-mail: YMAMusic@aol.com
phone number: (303) 452-0716 or (719) 597-7668

"The Unforgivable Sin - Evidence"
New York accordionist Dr. William Schimmel's wife Micki Goodman has produced a new film entitled "The Unforgivable Sin - Evidence".

It was completed earlier this year and is based on the theatre collaborations of accordionist/composer Dr. William Schimmel and his wife dancer/choreographer Micki Goodman.

The film received its first preview performance at the American Accordionists' Association master class and concert series in July and is the first in a series of films concerning the work of Schimmel and Goodman.

It will be shown at various film and video festivals throughout the world. For further details email: GWILLIAMANDMICKI@aol.com

Puerto Rico Accordion Association Orchestra
The Accordion Association Orchestra of Puerto Rico has been evaluated and accepted by the Puerto Rico Institute of Culture. This is a prestigious acknowledgment that the Orchestra is an official representative of the organization which represents and guards the culture of Puerto Rico.

The orchestra has been invited to perform on September 23rd at the Conservatory of Music which hosts a monthly concert that has become an acclaimed family event. Their repertoire will include classical and popular pieces which will give the public the opportunity to appreciate the versatility of the accordion.

For further details email: janeberkovitz@msn.com

Ivan Milev with Yuri Yunakov Ensemble

Yuri Yunakov Ensemble Concert - USA Contributed by Joyce Clyde The Yuri Yunakov Ensemble will perform two concerts of Bulgarian and Romani music with Bulgarian accordionist Ivan Milev during September. The ensemble includes saxophone, accordion, clarinet, trumpet, vocals, synthesizer and drums. Their first performance will be held at the Slavonic Center in San Francisco on September 14th and the second will be held at the Custom House Plaza, Monterey World Music Festival in Monterey, California on September 16th. For further details phone: +1 510 841-0934

Ivan Milev (accordion), a recent immigrant, is one of Bulgaria's most inventive accordionists, drawing inspiration from classical, jazz, and Eastern Orthodox church music. In the 1970s, Ivan founded the famous wedding band Mladost (Youth), based in Haskovo.

The Yuri Yunakov Ensemble The Yuri Yunakov Ensemble, based in New York City, plays dazzling, yet soulful Rom and wedding music from Bulgaria. Featuring the Bulgarian virtuosi Yuri Yunakov on saxophone and Ivan Milev on accordion, the band is renowned for its bold improvisations, tight arrangements and tradition-bending Roma, Bulgarian and Turkish fusion. The Ensemble also includes George Petrov, drums, Catherine Foster, clarinet, Lauren Brody synthesizer and vocals, and Carol Silverman, vocals. For more information, e-mail Yuri at: yunakarch@aol.com

San Antonio International Accordion Festival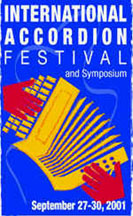 The First International Accordion Festival (IAF) is scheduled for September 27-30, 2001, in San Antonio, Texas. The music festival part of the event will take place on Saturday and Sunday, September 29-30, at historic La Villita (three separate stages at Maverick and Juarez Plazas, and the Arneson River Theatre).

The all-day event will feature the music of approximately eleven ensembles that represent the rich and diverse international accordion musical traditions, including, Irish, Polish, Czech, and French Canadian music, as well as Mexican (conjunto/Tejano), Colombian (vallenato), Dominican Republic (merengue), Argentinian (tango), and from Louisiana, the French-Creole mix that is cajun/Zydeco music.

A two-day symposium preceding the music festival, on September 27-28, will present workshops and seminars (including demonstrations) on accordion-related topics conducted by prominent scholars, musicians, journalists, record producers, festival organizers, etc.

The symposium will contextualize (historically, socially, culturally, and artistically) these distinct accordion traditions and the people who produce it. Symposium Schedule The entire event is free and open to the public.

Make plans now to attend this unique multicultural accordion celebration. For information, call (210) 207-6966. Questions and comments oca1@ci.sat.tx.us

Accordion Dreams - On a PBS Station near YOU!

ACCORDION DREAMS is a musical journey into the heart and soul of conjunto, a unique musical tradition born in the 19th century that continues to thrive today.

Conjunto, like jazz, blues, and rock and roll, is a distinct American musical genre that has had a major impact on the Mexican American community of the United states and one that is gaining fans around the world.

The PBS has constructed a website specific to this documentary, and includes information and screening times. Please visit at:
http://www.pbs.org/accordiondreams/main/index.html