---
2007 CIA Coupe Mondiale in Washington DC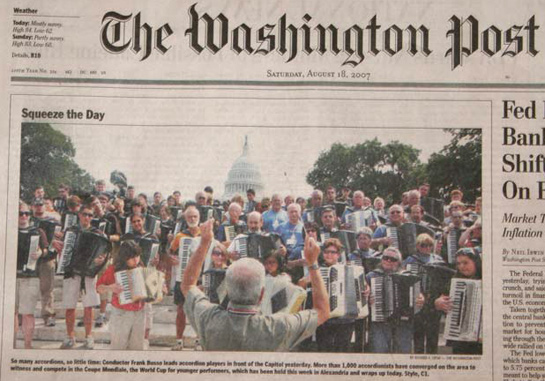 ---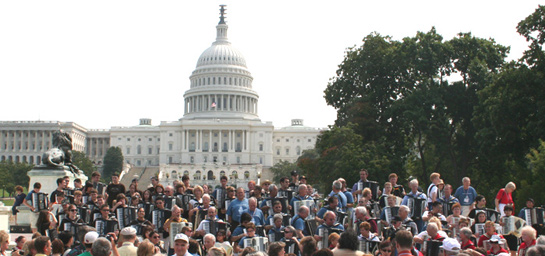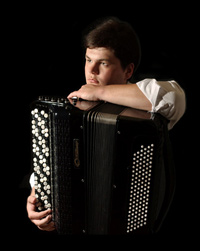 After a 26 year absence, the CIA Coupe Mondiale returned to the United States to hold their 60th Anniversary Coupe Mondiale.

The winner of the 2007 CIA Coupe Mondiale in Alexandria, VA was Alexander Sevastian of Canada. Born in Belarus, and a student of Friedrich Lips in Moscow, Alexander has resided in Canada since 2001 where he became a Canadian citizen.

Alexander won $5,000.00 in cash, donated by the CO-host the ATG in honor of the late Anthony Galla-Rini and he will also receive a concert tour to Portugal compliments of the CIA member, the Conservatorio Regional de Castelo Branco, and also a trip to Las Vegas as a guest of the Las Vegas International Accordion Convention in October, 2008.

Other prize winners include:

Coupe Mondiale
1st: Alexander SEVASTIAN - CANADA
($5000 - Cash Award)
Note: Cash Award from the ATG in honor of the late Anthony Galla-Rini
2008 Concert Tour to Portugal hosted by the Conservatorio Regional de Castelo Branco
2008 Concert Tour to Las Vegas hosted by the Las Vegas International Accordion Convention
2nd: Li LONG - CHINA ($1500 - Cash Award)
3rd: Linar DAVLETBAEV - RUSSIA ($500 - Cash Award)


Junior Coupe Mondiale
1st: Ruslan OSIPOV - RUSSIA ($1500 - Cash Award)
2nd: Barbara SLAVINSKA - POLAND ($800 - Cash Award)
3rd: Robi SIMONELLI - CROATIA ($500 - Cash Award)


International Competition for Piano Accordion
1st: Stanislav JUSUFOVIC - SERBIA ($5000 - Cash Award)
Note: Cash Award from the AAA Carmen Carozza Fund
2008 Concert Tour to New Zealand and Australia hosted by CIA Member the New Zealand Accordion Association)
2nd: Goran STEVANOVIC - BOSNIA, ($1500 - Cash Award)
3rd: Grayson MASEFIELD ($500 - Cash Award), NEW ZEALAND


International Competition for Ensemble Music
1st: Art of Accordion Quintet - GERMANY ($1000 - Cash Award)
Alexander CARGNELLI, Clemens TSCHALLEIER, Sarah STAIGER, Michaela HEPP and Ralf BRENDLE
2nd: International Duo - POLAND ($500 - Cash Award)
Lidia KAMINSKA (accordion) and Doug O'CONNOR (saxophone - USA)
3rd: Accordion Quintet Hof - GERMANY ($350 - Cash Award)
Florian WEICHERT, Delia ZEILINGER, Sarah SMITH, Nicole RAUH and Silvia THUROFF


International Competition for Virtuoso Entertainment Music
Jeremie BUIRETTE - FRANCE ($1500 - Cash Award)
Felicien BRUT - FRANCE ($800 - Cash Award)
Benoit CHABOD - FRANCE ($500 - Cash Award)


Junior International Competition for Virtuoso Entertainment Music
Eric ALLARD-JACQUIN - FRANCE ($1000 - Cash Award)
Sarah VONAU - FRANCE ($500 - Cash Award)
Pierre LAVAL - FRANCE ($350 - Cash Award)
In addition to the CIA Competitions, the AAA and ATG also hosted a competition called the 'Maddalena Belfiore International Competition for Female Accordionists.' This exciting competition offering a first prize of $5,000.00 was won by Kansas City based accordionist Betty Jo Simon, pictured right.




The Coupe Mondiale Festival, organized by the 2007 CIA Honorary Vice President Faithe Deffner and hosted by joint USA CIA Members the American Accordionists' Association (AAA) and the Accordionists and Teachers Guild, International (ATG) was attended by delegates and contestants representing more than 25 countries as they gathered at the first Coupe Mondiale in the USA in more than 25 years. Each of the concerts and competitions attracted standing room only audiences as guests enjoyed a diverse variety of musical styles.
Performances took place throughout Washington including nightly concerts at the famed Kennedy Center for the Performing Arts, an outdoor appearance on the Washington Mall with the backdrop of the US Capitol Building, outdoor performances in front of City Hall in historical Alexandria as well as numerous daily concerts at the Holiday Inn and Crowne Plaza Hotels in Alexandria featuring soloists, duos, ensembles and orchestras. (Pictured below are the Martin Music Accordion Orchestra from Los Angeles, directed by Randy Martin.)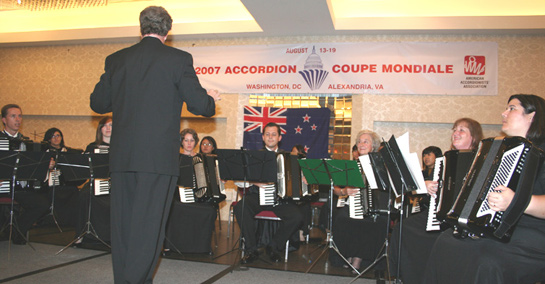 The festival featured festival competitions of both the AAA and ATG, trade show displays, an exhibit from the World of Accordions Museum as well as several workshops. Pictured here are the Accordion Orchestra of Puerto Rico during their performance.

The event concluded with the spectacular World Accordion Orchestra under the direction of Joan C. Sommers. The 166 strong accordion orchestra performed 3 works, including the World Premiere of Lest We Forget by Lenny Stack, well known Los Angeles based composer.
For more information, full results and daily reviews, please visit www.coupemondiale.org
---
WORLD ACCORDION ORCHESTRA
---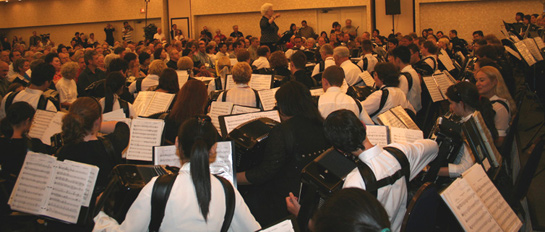 This is the first time an accordion orchestra has been organized with members from many different nations. There are 13 nations (Austria, Canada, China, Croatia, Denmark, Germany, Fiji, Finland, France, Italy, New Zealand, United Kingdom, and the USA) with the USA represented by 19 different states (CA, CT, FL, IL, IN, KS, MO, MN, NH, NJ, NY, OR, PA, RI, TN, TX, UT, VT, WI). Included among the players are members of the Confédération Internationale des Accordéonistes President Kevin L. Friedrich in the position of Concertmaster along with other members of the CIA Executive Committee. The World Accordion Orchestra was conducted by the Vice Chairperson of the CIA Music Committee Joan C. Sommers.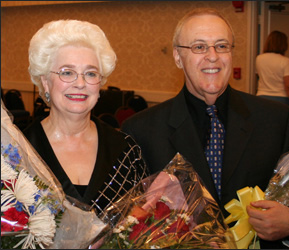 One of the most exciting aspects of this prestigious event, other than the fact that there were a great number of players from throughout the world, was the inclusion of 'Lest We Forget', written especially for the occasion and given its World Premiere Performance at the Closing Ceremony concert. When approached by WAO member, Liz Finch, to write something for the orchestra, the highly successful and Emmy award-winning composer, Leonard (Lenny) Stack of Los Angeles, CA, waived his usual commission fee but requested he be present to hear the initial performance. With the financial assistance of the UMKC Accordion Orchestra, Leonard Stack was in Washington DC in attendance at the magnificent World Premiere Performance by the World Accordion Orchestra. (pictured are Conductor Joan Sommers and composer Lenny Stack.)

The other two pieces were especially selected because of their titles. Hands Across the Sea, epitomizes the natural friendship shown in this orchestra and among accordionists everywhere, and Let There Be Peace On Earth, expresses the innate desire shared by all of us, no matter where we live in the world. The conductor, Joan C. Sommers, arranged them for this particular group of musicians the finale performance of the 60th Coupe Mondiale.

Sound files of the three pieces performed by the World Accordion Orchestra under the direction of Joan C. Sommers:

Hands Across the Sea March
Lest We Forget
Let There Be Peace on Earth


---
MILLENNIUM STAGE PERFORMANCES
---

A series of accordion concerts were held at the Millennium Stage at the famed Kennedy Center for the Performing Arts, during the 2007 CIA Coupe Mondiale World Accordion Championships. The 'Performing Arts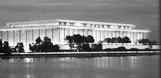 for Everyone' on the Millennium Stage program is designed to introduce the Kennedy Center, and make music available from a variety of artists from around the world to all, by providing a performance open to the public and free of charge 365 days a year.

The North American groups that performed at the Kennedy Center were as follows:
---
August 14th
Jerosh Accordion Orchestra (Canada), Maureen Jerosh, Director


---
August 15th
University of Missouri-Kansas City Accordion Orchestra, Joan Sommers, Director (below)
Martin Music Center Accordion Orchestra (CA), Randall Martin, Director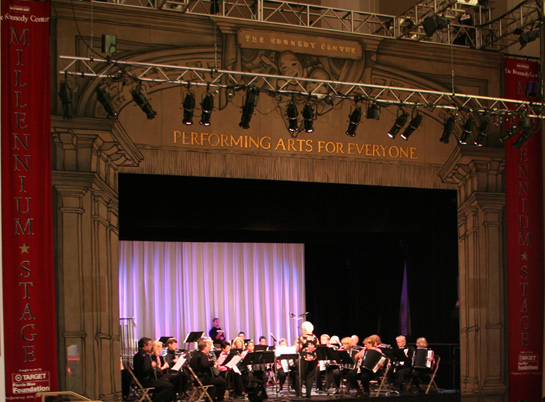 ---
August 16th
Showstoppers Accordion Orchestra & Dancers (NH), Rosita Lee Latulippe, Director (below)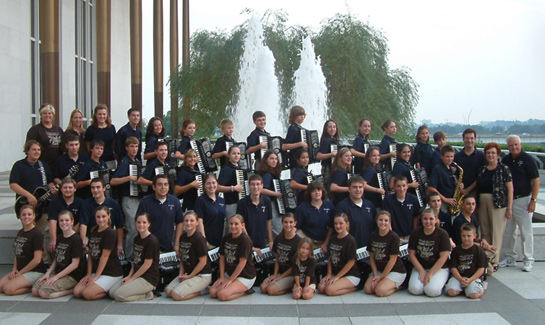 Due to popular request, the following sections featuring CIA USA highlights, has been included again from last months publication.

---
INTERESTING CIA USA HIGHLIGHTS - CHAMPIONS
---
The Coupe Mondiale has taken place in North America five times since its inception. It was held in the United States, in New York City in 1959 (winner Marianne Probst) and in 1969 (winner Valeri Petrov); in Washington, DC in 1976 (winner Victor Filtchev); in Kansas City, Missouri in 1981 (winner Alain Musichini); in Toronto, Canada in 1964 (winner Stephen Dominko).

In addition to our North American Coupe Mondiale Champions, many contestants have placed very highly in the extremely competitive competitions. High placings include:

Coupe Mondiale World Accordion Championships
1984 - Folkstone, UNITED KINGDOM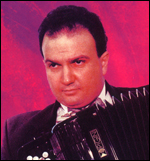 1st: Peter SOAVE, USA (right)

1981 - Kansas City, USA
3rd: Peter SOAVE, USA

1979 - Cannes, FRANCE
3rd: Monica SLOMSKI, USA

1977 - Eindhoven, NETHERLANDS
3rd: William SAMONEK, USA

1975 - Helsinki, FINLAND
3rd: Monica SLOMSKI, USA

1974 - Stockholm, SWEDEN
3rd: Karen FREMAR, USA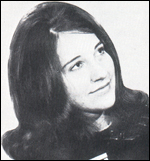 1972 - Caracas, VENEZEULA
1st: John TORCELLO, USA
2nd: Joeseph NATOLI, USA

1971 - Bruges, BELGIUM
3rd: John TORCELLO, USA

1970 - Salzburg, AUSTRIA
1st: Diane SCHMIDT, USA (right)

1969 - New York, USA
2nd: Pam BARKER, USA

1968 - Leicester, UNITED KINGDOM
2nd: Julie Ann KASPRZYK, USA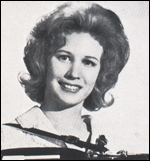 1967 - Leiden, HOLLAND
3rd: Julie Ann KASPRZYK, USA

1966 - Versailles, FRANCE
2nd: Jaqueline HOFTO, USA

1965 - Valetta, MALTA
1st: Beverly ROBERTS, USA (right)
3rd: William COSBY, USA

1964 - Toronto, CANADA
1st: Stephen DOMINKO, USA
2nd: William COSBY, USA

1963 - Baden Baden, GERMANY
1st: Leonard LANGLEY, USA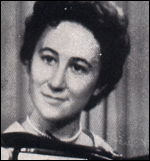 1962 - Prague, CZECHOSLOVAKIA
1st: Iona REED, Canada
2nd: Leonard LANGLEY, USA

1961 - Pallanza, ITALY
1st: Donald HULME, USA (right)
3rd: Iona REED, Canada

1960 - Vienna, AUSTRIA
2nd: Donald E. HULME, USA

1957 -Saarbrucken, GERMANY
1st: Ronald SWEETZ, USA

1956 - Bienne, SWITZERLAND
1st: John LA PADULA, USA
3rd: Joan COCHRAN (Sommers), USA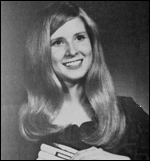 International Competition for Virtuoso Entertainment Music
1974 - Stockholm, SWEDEN
1st: Karen FREMAR, USA (right)
3rd: Jeff LISENBY, USA

Junior International Competition for Virtuoso Entertainment Music
2006 - Asker, NORWAY
4th: Sammy THOMAS, USA

---
INTERESTING CIA USA HIGHLIGHTS - TEST PIECES
---
Seven Coupe Mondiale test pieces were written by American composers over the years:
Concert Etude No. 2 by Eugene Ettore (1961)
Holiday Caprice by Eugene Ettore (1962)
Suite for Accordion by Dr. Carmelo Pino (1969)
Scaramouche by John Franceschina (1975)
Spring Street Ritual by Dr. William Schimmel (1979)
Reflections by Dr. Karen Fremar (1981)
Rondo-Caprice by Larry Bailey (1982)
Fantasy Op. 67 by Dr. Karen Fremar (2007)
---
INTERESTING CIA USA HIGHLIGHTS - AWARDS
---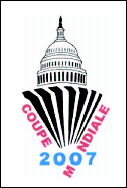 CIA Merit Award Recipients:
Joe BIVIANO (USA) 1972
Carmen CARROZZA (USA) 1972
Pietro DEIRO Jr. (USA) 1972
Anthony GALLA-RINI (USA) 1972
Lari HOLZHAUER (USA) 1972
Eugene ETTORE (USA) 1985
Charles MAGNANTE (USA) 1988
Dr. Willard PALMER (USA) 1992
Myron FLOREN (USA) 1992
Maddalena BELFIORE (USA) 1994
Joan SOMMERS (USA) 1995
Elsie BENNETT (USA) 1996
Arlene BODDICKER (USA) 1996
Gerald BODDICKER (USA) 1998
Faithe DEFFNER (USA) 2000
UMKC Accordion Orchestra (USA) 2001
Dr. William SCHIMMEL (USA) 2003

CIA Honored Friend of the Accordion Recipients:

Vivian & Steve STORALUK (USA) 2003
Dr. Helmi HARRINGON (USA) 2006
For more information and pictures from the Coupe Mondiale please visit www.coupemondiale.org


---
Vivant! Celebrates the Diversity of the Accordion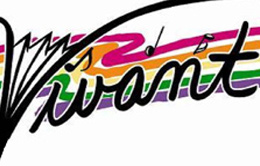 Although the accordion is a very technical instrument with many parts including the bellows, reeds and keys, it creates unimaginable, energetic sounds when played by skilled musicians. Vivant! utilizes two keyboard instruments, the accordion and synthesizer, along with trombone and percussion. This combination of sound mimics the meaning of the name Vivant!, which is French for 'alive.'

The members of Vivant! have all had exciting musical opportunities in the past through competitions, performances, education, travels and careers over a majority of their lives. Most began playing the accordion at a young age and were members of musical groups which participated in national and international tours, with all their experience combined, performing in 28 countries and most of the United States. The musicians came together recently to form Vivant!
In January 2007, Karen Fremar, the resident composer, completed a new piece and various arrangements of favorite tunes. She invited her accordion colleagues to her home for a read through and, after a wonderful time, they all decided to continue the musical get-togethers. Through further discussions, it was realized they all wanted to keep the diverse tradition of the accordion alive. Thus, Vivant! was born. The goals of the project are to educate musicians and non-musicians alike to the versatility and excitement of the accordion and to create new sounds utilizing the rich tones of the accordion reeds in combination with electronic and other acoustical instruments. Their plan is to increase exposure of the accordion and its variety of music through performance, including working with school-aged children to increase interest in the future.
In an effort to expose the instrument to a large audience, the group strapped on their accordions and entertained the waiting public at the casting call of the game show, Deal or No Deal! To everyone's surprise, they were called back for a taped audition and hope to hear from the show's producers that they will have a chance to appear in California on this popular show. Imagine the public exposure that will provide the group! In addition, Vivant! played live on the morning show of KKFI 90.1, Kansas City's community radio station, in July 2007. They have also played at various private events around Kansas City in the past 3 months and have numerous other appearances planned for the fall.

Members of the group include Gail Overly (accordion/tenor), Karen Fremar (accordion/synthesizer), Julie Silfverberg (accordion/synthesizer), Sarrah Cantrell (percussion), Erica Van de Voort (accordion/synthesizer), Dee Sligar (bass/synthesizer), Janne Silfverberg (trombone/Latin percussion).

For further information, please contact: vivantmusic@hotmail.com or visit http://www.myspace.com/vivantsound

---
Mary Tokarski to Perform in Washington DC Area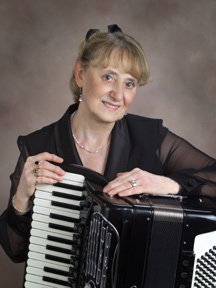 The Washington Metropolitan Accordion Society (WMAS) presents accordionist Mary Tokarski, from Connecticut, on September 16th in concert, followed by a hands-on workshop titled "Getting Your Fingers to Work." Her workshops are always filled with great, helpful hints, and always a lot of fun, and visitors are advised to bring their accordions!

In addition to the concert and workshop, Mary Tokarski will be available on Saturday, September 15th, and Sunday morning, September 16th, for master classes. Mary can help design a warm-up program for you, she can assist in correcting posture problems as well as problems with technique (and she's wonderful at diagnosing what you're doing that's causing pain while playing!). Bring along sheet music you are working on for some helpful hints. This is a great opportunity to work with one of the finest accordionists one on one!

Mary began her music career at 7 with Michael Fernino of Ansonia, Connecticut, and performed and competed at local, state and national events throughout early adulthood . . . amassing over 185 trophies and awards, including two US Championship Titles, a 3rd place in the 1973 Confederation Internationale Des Accordeonistes (CIA) Coupe Mondiale, and a 2nd place in that year's Coupe Mondiale Pop Category.

In 1983, Mary founded Tokarski Music Center, where she served as owner and Director of Music Education. Her students have also compiled an impressive list of awards in competition.

Mary's teaching started at an early age (before finishing high school) . . . and over the years has fine-tuned her teaching skills by taking all sorts of music and education courses, and studied Early Childhood Education through Kindermusik International at Princeton University and Boston University at Lowell. She is currently a music teacher in the North Haven Department of Education Early Childhood Development Program at Green Acres Elementary School, where she teaches music for the 3 and 4 year old programs. Her students have included many "special needs" children over the years, and she developed a successful Kindermusik program at Tokarski Music Center.

Holding memberships in the Music Teachers National Association, the Connecticut State Music Teachers Association, the New Haven Chapter of CSMTA, the North Haven Rotary Club, and the Arts Council of Greater New Haven, Mary is a Board of Directors member for the American Accordionists' Association (AAA) as well as the Accordionists and Teachers Guild, International (ATG).

A member of The "K" Trio, Mary performs in concert throughout the United States and internationally with her sister Julie and brother Walter. The trio performs a wide variety of musical genres, and has been acclaimed as one of the world's finest accordion ensembles.

Mary is a "regular" on the workshop circuit and for further information, please visit: www.accordions.com/mary, and for information on the upcoming Washington DC area activities please e-mail: mcherkasky@verizon.net


---
Those Darn Accordions Release a New CD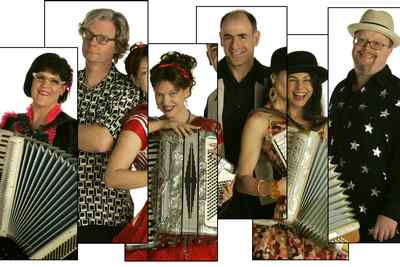 On September 18th, Those Darn Accordions release a new CD 'Squeeze Machine'.

TDA's publicity says: "We squeezed 15 songs onto the CD, some of which you'll recognize if you've seen our recent live shows: 'Tandem Bike', 'Heads and Horns', and a cover of AC/DC's 'Back in Black'. Paul sings a polka duet with America's funnyman Drew Carey ('Glass of Beer Polka'), obviously a highlight. Long time fans will likely remember 'Bob and the Office People', which we finally managed to capture for posterity, and there will be plenty of other musical surprises as well. We think it was worth the wait."

Those Darn Accordions, San Francisco's accordion-fueled rock 'n' roll band, pumps out quirky, catchy originals chronicling life in the weird lane. The six-piece group fronted by lead singer/squeezebox wizard Paul Rogers and bellows-pumping babes Carri Abrahms, Susie Davis and Suzanne Garramone promises to forever rearrange your understanding of the accordion. TDA's four extreme squeezeboxers mix solid keyboard chops with a groundbreaking use of guitar effects pedals and amps to produce a super-cool sound like nothing you've ever heard emanating from an accordion.

Behind the amazing wall of wheeze, drummer Michael Messer and bass player Lewis Wallace anchor the band, providing a firm foundation upon which the manic TDA accordionists can layer huge slabs of sonic mayhem.

With sterling vocal harmonies and a sense of humor that just won't quit, the one-of-a-kind band blazes through a variety of musical genres -- from rock and funk to polka and even swing -- and torches timeless classic rock tunes along the way. You won't believe your ears.

Upcoming performances include:
September 8
Widmer Oktoberfest, Portland, Oregon
September 10-13
Puyallup Fair, Washington

September 28-29
Columbia County Oktoberfest, St. Helens, Oregon
For more information, please visit: www.thosedarnaccordions.com or contact: tdapublicity@yahoo.com


---
Still Looking for an Accordion or Two or Three
The newly established Accordion Museum exhibit... 'Accordion Gems - A Master Collection of Accordions Through Time' is still searching for some additional instruments to compliment the existing collection.

Housed in New Zealand, and the only accordion specific exhibition in the Southern Hemisphere, the instruments will be proudly displayed in the new wing of the Dargaville Museum, New Zealand which will open on October 21, 2007.

Currently featuring more than 100 representatives of the accordion family dating back to the early 1800's, the collection is still looking for some specific examples of members of the accordion family that were found in the United States including:
Reuther Uniform Keyboard accordion
Three Piano Keyboard accordion
TANZBAR (Tanzbaer) roll playing instrument ("the Dancing Bear") - 28 keys
TANZBAR disc playing instrument

TANZBAR Concertina shaped roll playing instrument - 16 keys

Any leads that might help secure examples of these instruments, or others that might be of historical interest would be greatly appreciated.

Please contact kevinfriedrich@hotmail.com or visit: www.accordions.com/kevin/museum.htm for more further details.

Examples of instruments needed for Dargaville Museum:

TANZBAR (Tanzbaer) roll playing instrument ("the Dancing Bear") - 28 key


TANZBAR disc playing instrument (left)
TANZBAR Concertina shaped roll playing instrument - 16 keys (right)


Three Piano Keyboard accordion (left)
Reuther Uniform Keyboard accordion (right)



---
La Vie En Rose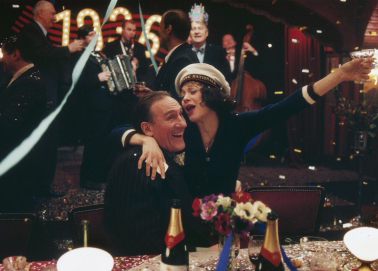 The movie 'La Vie En Rose', released worldwide in June 2007, tells the story of the legendary French singer Edith Piaf (1915-63), played by Marion Cotillard. Piaf's recordings and performances often featured accordion accompaniment, and the film is no different featuring accordionist Eric Dahan. A soundtrack CD, featuring music from the film, includes 'La Vie En Rose', 'Milord', 'Je Ne Regrette, Rien', 'L'Hymne à l'Amour', 'Les Mômes de La Cloche', and incidental music.

'La Vie En Rose' (released in France as La Môme) has received excellent reviews in many countries, and also serves as a good advertisement for the accordion. One of the reviews says: "a provocative and loving biopic featuring a commanding performance from Marion Cotillard as the famous performer. Her journey from reluctant street singer to international star is littered with personal problems that make her most famous song, 'Non, Je Ne Regrette Rien', ring out as a cry of defiance in the face of adversity".

---
Jimmy Zambrano in San Francisco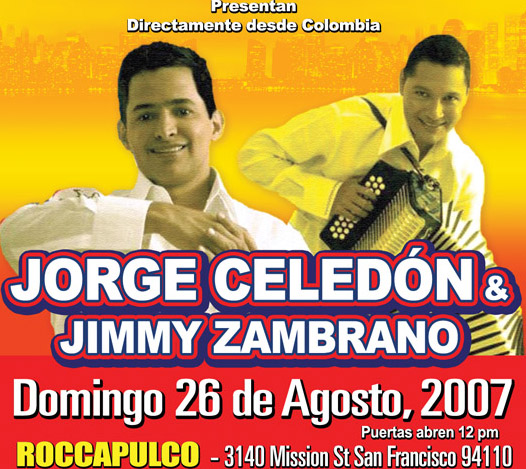 Colombian accordionist Jimmy Zambrano was featured with Jorge Celedón in the Vallenato Concert in San Francisco. Other artists included Tambores de Colombia, Aluna and Los Primos de Davis.

Born in Colombia, and graduated from a Venezuelan music school, multi-instrumentalist Jimmy Zambrano began his career after teaming up with Omar Geles in Los Diablitos. Before joining singer Jorge Celedon, Zambrano had the opportunity to work for Latin pop artist Adriana Lucia and local band Los Emigrantes.


---
Accordion Cocktail Concert in Miami, Florida
The second Accordion Cocktail Concert in Miami, Florida will take place on September 16, 2007 at 1.00 PM at the Renaissance Ballroom, 5910 SW 8th Street in Miami.

The event is organized for the Cuban American accordionist Maricarmen Vazquez. Some of her invited guests from different countries are: Antonio Barberena, Tony Lovello, Karen Adam (president of the FAA), Mario Pedone, Walter Martinez, Eduardo Reyes, Walter Kasprzyk (from the 'K' Trio), Pepe Lara, Billi Quintana and Mora Arriaga.

For further information e-mail: Akordion@aol.com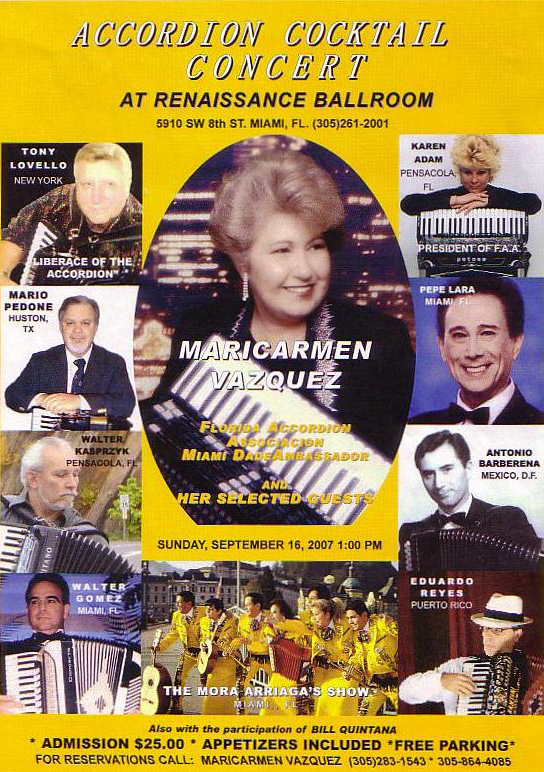 ---
Ocho Bajos Music Artist Rob Curto in Concert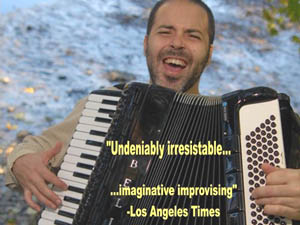 Rob Curto, is a musician who both respects and transcends idioms, mixing elements of jazz with a language and feel that is distinctly Brazilian. At times his playing betrays a passion for rock and North American popular music of all kinds, showing always a great love for the bellows, buttons and keys of the accordion, the principal instrument of forró.

A native New Yorker and important member of that city's world music and jazz scene, Rob has also spent years intimately involved with the music and culture of the Brazilian Northeast. He studied with great accordionists from Pernambuco, Brazil such as Arlindo dos Oito Baixos, Camarão and Silveirinha, and with guitarist and master of harmony Alencar 7-Cordas from Paraíba. Rob keeps as his bible the work of Dominguinhos (with whom he has performed), Sivuca, Oswaldinho, Hermeto Pascoal and of course the great innovator of forró, Luiz Gonzaga. He has spent years working as a musician in Brazil, and developed a reputation there as an extremely skillful and artistic forró accordionist. In addition his work includes playing and collaboration with heavyweights of world music such as Lila Downs, David Krakauer, Cyro Baptista, Frank London and Omar Faruk Tekbilek.

Represented by Ocho Bajos Music, Ocho Bajos refers to the traditional "acordeón de ocho bajos" (8 bass button accordion) which arrived to the Americas from Europe in the 19th century. In the hands of musicians of all races and languages it came to be an integral part of traditional music in many countries including: Canada, the USA, Mexico, Colombia, the Dominican Republic, Brazil, Uruguay, and Argentina.

Ocho Bajos Music introduces a hole new world of music featuring Chamamé, Forró, Polca, Maxixa, Tango, Milonga… Rhythms and styles from the rich and vast continent of South America. Music and sounds born out of the cultural mix of native people, Africans, Spanish, Portugese, and other European immigrants. Ocho Bajos Music specializes in music from Uruguay, Argentina, and Brazil. If you like Zydeco, Tex-Mex, Celtic, or Colombian Vallenato Ocho Bajos Music will push your buttons, bringing you music and dance rarely seen in North America.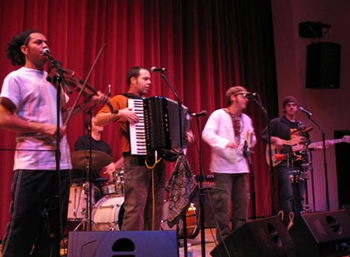 Ocho Bajos Music has been presenting artists for four years, sharing these rich traditions from South America with audiences all over the USA and Canada at festivals, universities, and clubs. Ocho Bajos Music artists have performed at venues such as the Chicago World Music Festival, The John F. Kennedy Center for the Performing Arts, the International Accordion Festival (San Antonio, Texas), the Lowell Folk Festival (Lowell, Massachusetts) produced the National Association for the Traditional Arts, the Lotus World Music and Arts Festival (Bloomington, Indiana), and the Carrefour mondial de l'accordeón (Quebec, Canada).

Ocho Bajos Music artists not only make their audiences get up and dance but also are knowledgeable in the culture and history of their music, and give their audience an insight into the soul of their traditions. Selected upcoming performances by 'Rob Curto's Forró For All' (pictured above) include:
September 02 to September 03, 2007
Minnesota State Fair Bandshell
1:00 PM and 4:30 PM
Saint Paul, MN, USA
September 06, 2007
Showcase at Midwest Arts Conference
8:30 PM 9:30 PM 10:30 PM 11:30 PM
Columbus, OH, USA
September 08, 2007
Hispanic Center of Western Michigan Hispanic Festival
Grand Rapids, MI, USA
September 20, 2007
San Joaquin Delta College
12 Noon
Stockton, CA, USA
September 23, 2007
Chico World Music Festival
12:30 PM and 2:30 PM
Chico, CA, USA
September 27, 2007
Independent Showcase at the 2007 Performing Arts Exchange Conference
6:40 PM-7:00 PM and 9:40 PM to 10:00 PM
Louisville, KY, USA
September 27, 2007
Juried Showcase at the 2007 Performing Arts Exchange Conference
10:25 PM-10:40 PM
Louisville, KY

---
Motion Trio to Perform in Carnegie Hall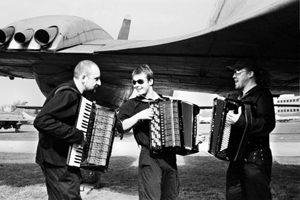 On January 13th, 2008, the Motion Trio will appear in Carnegie Hall, New York City.

An accordion trio founded in 1996 by Janusz Wojtarowicz, leader and composer of most of the group's repertoire, Motion Trio is a unique phenomenon on the European and worldwide music scene. Performing their own music, the group is changing the way the accordion is perceived as an instrument.

Motion Trio has worked with artists like Krzysztof Penderecki, Bobby McFerrin, Wojciech Kilar, Krzesimir Debski, Marta Ptaszynska, Trilok Gurtu, Michal Urbaniak ("From the first moment, they appealed to me in everything that they do"), Tomasz Stanko ("After just one, brief rehearsal I'm fascinated by them"), the Sinfonietta Cracovia, and the Deutsches Filmorchester Babelsberg. In the year 2000, they were Grand Prix laureates at the IV Krzysztof Penderecki Modern Chamber Music Competition. They have also given master classes at the University of Chicago and the National Conservatory in Paris. On the music of Motion Trio: Joe Zawinul – "Their music is amazing"; Krzysztof Penderecki – "This is an exceptional accordion trio"; the Frankfurter Allgemeine Zeitung writes "... the Trio plays masterfully, utilizing suggestive timbral textures(...)"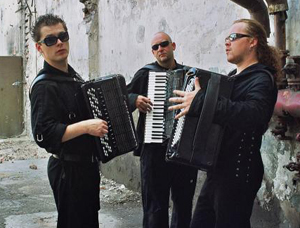 They are the grand prix laureates of the 4th Edition of the Krzysztof Penderecki International Contemporary Chamber Music Competition.

Motion Trio has recorded four albums - "Cry", "Pictures", "Play-station" and "Live in Vienna - Sacrum & Profanum". "Pictures" became a hit and received the following distinctions: Deutsche Shallplatten Kritik, the Polish Music Industry Grand Prix, Best Polish Recording 2000, Top 2000 and Jazzi Magazine's critics' Album of the Year Award. Polish music critics recognized Motion Trio as the finest debut of the year 2000 in Poland. The group was honored in France with the "Gus Viseur" award, in the "Musical Discovery of the Year 2005", and has performed in 28 of the world's countries: Austria, Belgium, the Czech Republic, Estonia, France, Greece, Spain, the Netherlands, Ireland, Iceland, Japan, Canada, Lithuania, Luxemburg, Latvia, Germany, Poland, Portugal, Russia, Slovakia, Switzerland, Sweden, Taiwan, Turkey, Ukraine, the USA, Hungary and Italy.

Motion Trio has participated in a great number of prestigious festivals and musical events: the Montreal Jazz Fest, the Alternativa Festival in Moscow, the Migration Music Festival in Taipei, Fest Der Kontinente in Berlin, the Gaudeamus Festival in Amsterdam, the Reykjavik Arts Festival, the Festival d'Ile de France in Paris and many others.

In 2004, by invitation from Joe Zawinul, the group appeared at the Vienna club "Birdland" where, over the course of five evenings, they presented 5 different stylistic programs (from contemporary, through jazz to world music).

October 2006 saw the premiere of the Motion Symphony, in Pottsdam, performed with the Deutsche Filmorchester. The nearest performances of the Motion Symphony will take place in Rio de Janeiro, Moscow, Cologne, Riga and Kiev.

Motion Trio plays on Pigini Super Sirius Bayan instruments, provided through a grant from the government of the Republic of Poland

---
Copper Box to Appear at Milwaukee Accordion Club Meeting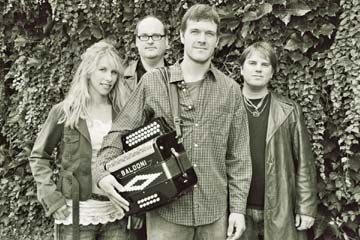 On September 24th, 2007 the Milwaukee Accordion Club will feature Bill Proeber as their pre-meeting entertainment followed by the featured artist Copper Box. Admission is $3.00 for members and $5.00 for guests.

Fronted by accordion virtuoso, Danny Jerabek (pictured below), and Michelle Jerabek (saxophones and vocals), Copper Box has been stirring up excitement in their audiences with their upbeat show and unique arrangements (both original and cover songs).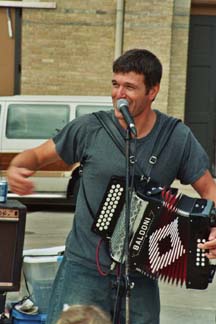 Fueled by raw emotion and talent, Copper Box has received 3 WAMI nominations in 2005. Copper Box filmed a music video for Sony, which received great response at the NAB (National Association for Broadcasting) in Las Vegas, NV and at many other Sony conventions worldwide. Copper Box has had 3 songs off their 1st CD (Roots) in the TOP 10 and 4 songs off their 2nd CD (Sunny Days) in the TOP 10 on www.garageband.com, voted by internet users worldwide. They have shared the mainstage at festivals across the nation with artists like, The Little River Band, Buckwheat Zydeco, Little Feat, Brave Combo, The Radiators, Lou Gramm, Marcia Ball, C.J. Chenier, W.C. Clark and The Clumsy Lovers. They have also received regular rotations on countless college radio station.

Copper Box is one of America's distinctive and original bands. Their most requested song, "The Pink Floyd Polka (Comfortably Numb)" just scratches the surface of their eclectic talents. While they draw from rock, Tex-Mex, polka, country, blues and Zydeco music, their music comes across real and raw and all of their influences become one graceful, gritty sound. Throughout their earliest recordings they have found ways to redefine and expand their sound. As one music journalist commented, "(Copper Box)...as refreshing as a cool spring breeze blowing new life into a stuffy room...worth checking out!"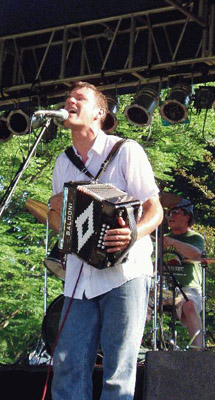 Their first CD release in 2003, ROOTS, has received a "3-star" rating on an AMG review. Roots features several songs written by Danny Jerabek and Michelle Jerabek (Daze (country polka), Apple of Your Eye (polka rocker), Racing (easy listening rock), Gimme That Oldtyme Music (polka rocker), Nothing Else Should Matter (country), Zydeco Party (Zydeco shuffle), Garden (rock), Southern Belle (polka rocker), Don't You Wait (mellow polka), and One Night (Spanish waltz). Amoung these, Racing recieved the most attention with Michelle's sultry voice and Danny's amazing arrangement that compliments the song so well. Three of their songs have been voted in the TOP 10 among millions of songs in the country category on www.garageband.com, voted by Internet users worldwide.

SUNNY DAYS, their 2nd recording released in 2005 was a spin closer to pop-sounding songs and featured their most requested song and unique arrangement of Pink Floyd's hit "Comfortably Numb," which they call "The Pink Floyd Polka." Founder of The Cover Song Podcast (www.coverville.com) Brian Ibbott commented, "Wow! I got more positive feedback about your "Comfortably Numb/The Pink Floyd Polka" cover than I've gotten about an individual song in a long time! - it truly is something great!"

Also on SUNNY DAYS are songs written by former guitarist, Nate Grier, which include Last Cigarette (polka rocker), One by One (pop rocker), I Remember (pop love song), and Fresh Start (pop). Danny Jerabek originals include the title track, Sunny Days (funky pop rocker), Adios Baby (a Latin rocker featuring the baritone sax), Sure Fire (Zydeco rocker), and Tell Me (Latin sing-a-long). David Jerabek contributed Finally Found You (pop rocker) and Miracle (easy listening bluegrass love song). Also featured on this disc, was John Fogerty's famous, Born on the Bayou, with a rockin' accordion, of course.

Copper Box recieved 3 WAMI (Wisconsin Area Music Industry) nominations in 2005, and 1 WAMI nomination in 2006. Copper Box filmed a music video for Sony, which received great response at the NAB (National Association for Broadcasting) in Las Vegas, NV and at many other Sony conventions worldwide. Copper Box had 4 songs off Sunny Days appear in the TOP 10 on www.garageband.com .

Traveling around the US, playing festivals and music clubs, Copper Box's live show and spontaneous combustions on stage started to make the headlines and ignited the "fire" for Copper Box to keep pushing on.

Wisconsin Blues Society describes Copper Box as "…one of the favorites of the Fox Valley Blues Festival 2004. This hot Zydeco Swamp/Blues Rock outfit with a great baritone and tenor sax gal and a hot accordion man. This group cooks and swings with some of the best Zydeco-influenced groups I've seen anywhere in the country."

They have shared the mainstage at festivals across the nation with artists like, The Little River Band, Buckwheat Zydeco, Little Feat, Brave Combo, The Radiators, Little Big Town, Little Texas, Lou Gramm, Marcia Ball, CJ Chenier, W.C. Clark, and Brave Combo. They have also received regular rotations on countless college radio stations and public radio and continue to win faithful fans that will travel hours to see them perform.

Their 3rd recording, BACKYARD PARTY, is by far, the most "live" sounding of all their recordings. The tracks were all recorded without a click track and with a "live as possible" feeling. The song selection is another step closer to the "party" atmosphere. Featuring songs written by Danny, Lovin' Tonight (Zydeco shuffle), Won't You Love Me Like That (Zydeco jazz rocker), All Because of You (accordion surf rock), Irish Jig (Irish Rocker). Michelle Jerabek also contributes her 2nd Wind (bluesy rocker) and then tears it up on Marcia Ball's classic, That's Enough of That Stuff (New Orleans style). David Jerabek (former bass player of Copper Box) also contributes his slammin' boogaloo, Spider & the Fly, where Danny & Michelle share the lead vocals in a rockin' duet. And for the diehard polka fans out there, included on BACKYARD PARTY is the traditional polka, Hopscotch Polka, but overhauled the Copper Box way.

For more information on their upcoming performance at the Milwaukee Accordion Club, please visit www.accordions.com/mac


---
Chango Spasiuk: The Art of the Chamame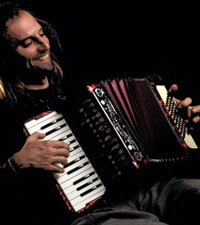 On Sunday, September 23, 2007 at 7:00 PM, the Skirball Cultural Center in Los Angeles will feature a LA. premiere not to be missed!

Of Ukrainian heritage, Argentina 's Chango Spasiuk is a virtuoso of the accordion and a leading performer of chamamé. This powerful, accordion-based folk genre of northeast Argentina blends complex African and Creole-Spanish rhythms with the sounds and styles of the indigenous Mbya-Guaraní Indians and of Central and Eastern European immigrants.

The award-winning Spasiuk has revitalized chamamé, much in the way that fellow Argentine Astor Piazzolla bred new life into the tango.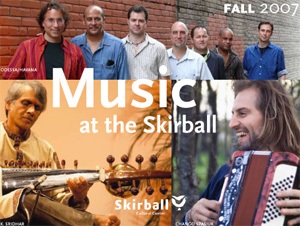 Tickets are $25.00 for General Admission, $20.00 for Members and $15.00 Full-time Students.

Advance tickets are available on site at the Skirball Admissions Desk, online at www.skirball.org, or by phone at (800) 595-4TIX.

The Skirball Cultural Center is located at 2701 N. Sepulveda Blvd, Los Angeles, CA 90049.


---
Guy Klucevsek to appear at The Stone in New York City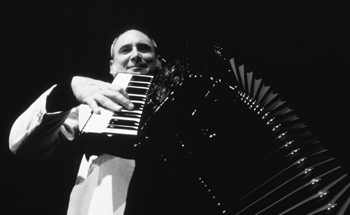 Accordionist Guy Klucevsek will appear on September 16, 2007 at 8.00 PM performing Solos, duos, and trios with guests Steve Elson, clarinet/sax, Nurit Tilles, piano and Theo Bleckmann, voice.

The appearance will take place at the 'The Stone' in New York City located at the corner of 2nd Street and Avenue C. Tickets are $10.00, students half price and under 12 free, with all tickets being door sales only. The Stone is a 'New Artists' Space in the East Village dedicated to experimental and avant-garde music.

Guy Klucevsek has created a unique repertoire for accordion through his own composing and by commissioning over 50 works from composers including John Zorn, Aaron Jay Kernis, Lois V Vierk, Fred Frith, Alvin Lucier, Mary Ellen Childs, William Duckworth, Jerome Kitzke, Stephen Montague and Somei Satoh.

His music/theatre pieces include Squeezeplay - collaborations with Mary Ellen Childs, David Dorfman and Dan Froot, Dan Hurlin, Victoria Marks and Claire Porter - which The Village Voice called "delicious"; Hard Coal, with The Bloomsburg Theatre Ensemble, and Chinoiserie, with Ping Chong and Company,which was featured on the 1995 Next Wave Festival at BAM.

Solo performances include the Ten Days on the Island and Adelaide Festivals in Australia, the Berlin Jazz Festival, New Music America, Serious Fun! at Lincoln Center, Bang on a Can, and the children's television show Mr. Rogers' Neighborhood. He has also performed and/or recorded with Laurie Anderson, Anthony Braxton, Anthony Coleman, Bill Frisell, Fred Frith, Robin Holcomb, the Kronos Quartet, Natalie Merchant, Pauline Oliveros, Present Music, Bobby Previte, Relâche, Jubilant Sykes, and John Zorn. Other artists who have recorded his compositions include Dave Douglas, Carol Emanuel, Relache, Aki Takahashi, Margaret Leng Tan, and Twisted Tutu.

He was an original member of Dave Douglas's band, Charms of the Night Sky, with whom he recorded two albums and toured throughout North America and Europe.

In 1987, Klucevsek commissioned Polka From the Fringe, a collection of 32 postmodern two-steps by such composers as Carl Finch, Fred Frith, Christian Marclay and Elliott Sharp, which he presented at the 1988 Next Wave Festival, and has performed around the world with his group, Ain't Nothin' But A Polka Band.

In 1996, Klucevsek formed The Accordion Tribe, an international lineup of composer and accordionists Maria Kalaniemi (Finland), Lars Hollmer (Sweden), Bratko Bibic (Slovenia), Otto Lechner (Austria), and Klucevsek (USA). They have released two recordings on the Intuition label, and are the subjects of the Stefan Schwietert documentary film, Accordion Tribe: Music Travels , which was released in theaters across Europe in 2004-2005, and featured at film festivals in North America.

Klucevsek has released 17 recordings as soloist/leader, including Polka Dots & Laser Beams and Who Stole the Polka?, which were chosen as the best recordings of 1992 by John Schaefer on the nationally-syndicated radio program New Sounds, and Transylvanian Softwear, which was cited as a 1995 Recording of Special Merit in Stereo Review. You can also hear him on John Williams's scores for the Steven Spielberg films The Terminal and Munich. He has performed on Broadway in Fiddler on the Roof, Victor/Victoria and Piaf.



---
Mario Tacca and Mary Mancini in Concert


Husband and wife duo Mario Tacca (accordion) and Mary Mancini (Soprano) will keep a busy performance schedule in September in NY and PA after having recently appeared as guest artists at the 60th Coupe Mondiale World Accordion Championships in Washington DC. Some of the shows Mario will perform solo, and others in duo with his wife Mary.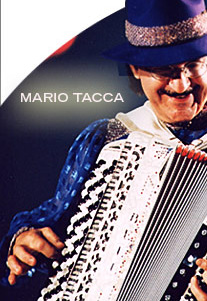 Mario was born in Italy, however later during his childhood, moved to the Alsace Lorraine region of France where he began his musical studies. While in France, he was the winner of many regional and national accordion competitions. He went on to become a World Champion, winning the World Cup of Italy, the Grand Prix of Paris, the US National competition and the International Accordion competition held at Carnegie Hall in New York City. Mario dazzles audiences across the US and around the world with his unmatched virtuosity on the Accordion and his consistently exciting interpretations of music from the International repertoire to the classics to pop.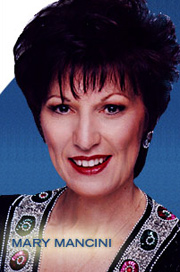 Mary Mancini is known and acclaimed Nationally and Internationally for her vocal versatility and command of all styles of music. Her repertoire includes eight languages. From performing our National Anthem for the NY Yankees and the Milwaukee Brewers, to concert halls and theaters across the US and around the world, Mary Mancini consistently brings audiences to their feet with her musical interpretations of International favorites, Broadway music, opera, to the classics, to pop.

In addition, her inspiring renditions of music from the Sacred music repertoire have touched the hearts of people around the world. She has been called "the woman with the golden voice." Her continuing list of achievements and honorary recognition awards include: The International Festival of the Arts (Canada), The Chinese Government, The American Song Festival, The American Cancer Society, Guardia Lombardi Society, Circolo da Vinci Society, Westchester Community College- Il Club Italiano, and recently the Lifetime Award for Achievement in the Arts presented by the Order of the Sons of Italy in America, NYS Grand Lodge Foundation.

Upcoming performances include:
Saturday, September 1, '07
Mario
Magnanini Winery, Wallkill, NY
7:00 PM - 11:00 PM
Sunday, September 2, '07
Mario
Magnanini Winery, Wallkill, NY
1:00 PM- 5:00 PM
Wednesday, September 5, '07
Mary & Mario
Bella Italia, Lunch & Show
Ehrhardt's, Lake Wallenpaupack, PA
12:00 PM
Thursday, September 6, '07
Mary & Mario
Bella Italia, Lunch & Show
Ehrhardt's, Lake Wallenpaupack, PA
12:00 PM
Saturday, September 8, '07
Mario
Magnanini Winery, Wallkill, NY
Wednesday, September 12, '07
Mary & Mario
Bella Italia, Lunch & Show
Ehrhardt's, Lawk Wallenpaupack, PA
12:00 PM
Thursday, September 13, '07
Mary & Mario
Bella Italia, Lunch & Show
Ehrhardt's, Lake Wallenpaupack, PA
12:00 PM
Saturday, September 15, '07
Mary & Mario
Heritage Hills Clubhouse Concert
Somers, NY
7:30 PM
Sunday, September 16, '07
Mary & Mario
Magnanini Winery, Wallkill, NY
1:00 PM -5:00 PM
Wednesday, September 19, '07
Mary & Mario
Bella Italia, Lunch & Show
Ehrhardt's, Lake Wallenpaupack, PA
12:00 PM
Thursday, September 17, '07
Mary & Mario
Bella Italia, Lunch & Show
Ehrhardt's, Lake Wallenpaupack, PA
12:00 PM
Saturday, September 22, '07
Mario
Magnanini Winery, Wallkill, NY
7:00 PM - 11:00 PM
Sunday, September 23, '07
Mario
Magnanini Winery, Wallkill, NY
1:00 PM -5:00 PM
Saturday, September 29, '07
Mario
Magnanini Winery, Wallkill, NY
7:00 PM - 11:00 PM

---
Promoting Your Accordion Services Free at AWW

The Internet is changing the way your customers are searching for services. The days of lugging out a 12 lb. telephone book to find very limited and outdated business information are coming to an end. People are still letting their fingers do the walking, but they're doing it over a computer keyboard. Below are some revealing facts from the Kelsey Group.
74% of US households use the Internet as an information source when shopping.
Approximately 45% of searches had a buying intent.
The percentage of respondents who used yellow page directories decreased from 75% to 62%.
(If you have a printed yellow page ad, it is time to consider buying a smaller ad and shifting your marketing dollars to the Internet.) The off-line Yellow Pages see the writing on the wall and are scrambling to transfer their business model to the Internet.

Businesses can no longer ignore these facts. If you want to be successful, you must have a presence where your customers are searching. Being found on the Internet is vital to the future of your business.



The Accordion Yellow Pages offers free of charge listing for all accordion businesses, teachers and for every type of service for accordionists. On the Accordion Yellow Pages site, you do not need to have a website for accordionists find you and contact you.



The search-accordion.com site is also free of charge, being a listing service for every type of accordion service but you must have a website. Viewers of search-accordion.com can click to your website.



Very popular is the AccordionLinks.com site where those accordion service providers with a website, can attract accordionists free of charge to their website.

All it takes is a little effort, to make sure your information on these three popular and very effective accordion sites is up to date. Your future success may well be determined by your ability to effectively adapt to the Internet. Should it be your New Year's resolution for 2006?


---
Hougs/Bogus Weekend AGreat Success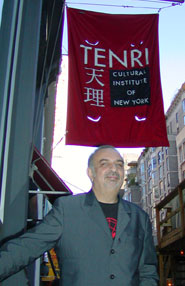 For the thirteenth year, Dr. William Schimmel presented again his Master Class and Concert Series which is now universally known as THE SEMINARS. Once again to six capacity audiences on three consecutive days, a staggering array of accordion topics, lectures, workshops, discussions and performances took place at the Tenri Cultural Institute in New York. The event, as always, was sponsored by the American Accordionists' Association. It took place on July 27, 28 and 29, 2007.
.
One of the many highlights to the weekends was after the Saturday evening performance: a CELEBRATION Reception was prepared by his wife, choreographer/dancer/director/video artist, Micki Goodman in honor of his fifty years of accordion activity. Flowers were presented to him by his niece, actress Kathleen Tipton and a special AMERICAN ACCORDIONISTS' ASSOCIATION DISTINGUISHED SERVICE AWARD was presented to him by Linda Reed, president of the A.A.A. Dr. Schimmel dedicated this award to his mentor, Dr. Jacob C. Neupauer, who could not attend to recovery from a broken ankle.

Dr. Schimmel thanks the American Accordionists' Association and everyone who participated in this yearly significant event. He looks forward to next year's event (No. 14): THE LAST FRONTIER/FINAL NICHE.


---
Final Alice Reviewed in New York Times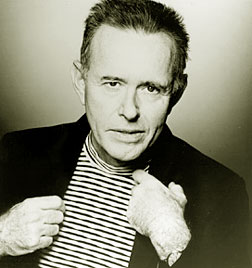 Dr. William Schimmel recently performed the Woodstock, NY premier of the work 'Final Alice' by David Del Tredici (right).

Dr. Schimmel also performed on the original recordings this work in the 1970's with the New York Philharmonic, The Philadelphia Orchestra and the Chicago Symphony Orchestra.

Originally commissioned by the Chicago Symphony Orchestra, Final Alice was premiered in 1976. The work is a musical setting of Alice's Adventures in Wonderland by Lewis Carroll. In addition to the regular orchestra, the work calls for soprano, accordion, two saxophones, banjo and madolin.

In a recent NY Times review of the Woodstock concert, it was stated that the orchestra .....featured impressive contributions from the accordionist William Schimmel....

To read the full review of the Woodstock premier, please visit:

What a Curious Feeling! Making a Big Idea Small
By STEVE SMITH
Published: September 3, 2007

http://www.nytimes.com/2007/09/03/arts/music/03alic.html

---
---
Note: In order to provide as much information as possible for the United States National Accordion News stories, many different sources are often researched to gather additional information and pictures to complement what has been submitted. This information is then correlated to provide the news on www.accordionusa.com in the spirit of which it is intended, which is to provide a free news service to the Accordion Community, specifically in the United Sates. If you feel any copyright has been violated please advise www.accordionusa.com and the article will be removed immediately.