---
Louise Gabbanelli (of Gabbanelli Accordions) Passes Away
LOUISE ANN GABBANELLI, passed away September 1, 2008 at age 68 from liver and kidney failure. She is survived by her three children; Joey, Michael, and Mary Gabbanelli; beloved sister Joan Morales; devoted best friend of 50 years Margaret Mandola; three grandchildren; and many dearly loved friends who will miss her. Together with her late husband, John Gabbanelli (1937 - 2003), Louise dedicated over thirty years to initiate a family owned business for her children.

Louise was a role model for others through her courage, her willingness to try new things, and her fortitude. Anyone who knew Louise was blessed as there was no one more selfless, loving, fun, and a loyal protector until the end.



Visitation will be held from 5:00 pm to 8:00 pm on Wednesday, September 3, 2008 at Forest Park Westheimer Funeral home with a Rosary at 7:00 pm.

Mass of Christian Burial will be at 11:00 am on Thursday, September 4, 2008 at Holy Family Catholic Church, 1510 Fifth St., Missouri City, TX, 77489 with Rev. Sonny Joseph celebrant. Rite of Committal will follow at Forest Park Westheimer Cemetery.

Accordion USA Recruiting New Producer/Editor
After more than nine years of producing the Accordion USA United States National Accordion News, my last publication will be the January 2009 edition, coinciding with my new increased work based commitments in other areas.

We hope that someone will be able to continue this free service to the accordion community, which will be entering its 10th Anniversary year, and interested persons should contact the Owner and Manager of Accordions Worldwide Mr. Harley Jones (e-mail listed below) to express interest.

Various tasks involved include, but are not limited to:
News Items: gathering, soliciting, researching, coordinating and editing all news items
Pictures: taking, finding and requesting all pictures, including formatting, resizing and editing such graphics. Assistance from AWW staff can be provided with graphics and web page making if necessary
Articles: researching and publishing articles
Upkeep: keeping information on longstanding items such as contact details for Clubs and Associations across the USA as current as possible
General: inserting links as appropriate, as well as various other duties, while publishing the USA News on a monthly basis

We will offer as much assistance as possible to ensure that a transition to a new producer will run smoothly, and if you have any queries regarding the possibility of taking over this news site or are interested in taking on this job, please e-mail: harleyaccordion @yahoo.com



---
AAA 70th Anniversary Festival a Tremendous Success
The 70th Anniversary American Accordionists' Association (AAA) Competition and Festival held in Alexandria, VA (Washington DC) attracted participants from as far away as China and France as well as throughout the United States.

The festival began with an impressive "Press and Squeeze" Party welcoming reporters and photographers from such prestigious publications as the New York Times, The Los Angeles Times and the Associated Press. Reporters were extremely interested in talking with the young performers and spent time discussing their accordion activities as well as dreams for the future.
Above: International guest artist Alexander Poeluev (Russia) pictured at the Press and Squeeze Party, while Executive Secretary Faithe Deffner talks to the Press. Below Alexander is pictured with AAA President Linda Soley Reed and talking with the Press.

Above: Anthony Falco from Rhode Island talks to the Press, while below father and son Busso duo Frank and Frank Jnr. entertain members of the press.

Above: Frank Busso from the Staten Island Music School entertaining with one of his students - John Moceo and also with Anthony Falco from Rhode Island. Below John Moceo talks with the Los Angeles Times and right, Cory Pesaturo and Anthony Falco entertaining on the Roland Digital instruments.

Accordionist John Moceo (Staten Island, NY) poses for a Los Angeles Times Photographer
Three International Competitions were held during the festival with results as follows:
AAA International Piano Accordion Competition
1st Prize - $3,500.00: Not Awarded
2nd Prize - $1,000.00: Nie Qian (China)
3rd Prize - $500.00: Anthony Falco (USA)


AAA Vivian Vivio Stolaruk International Entertainment Competition
1st Prize - $3,000.00: Jeremie Buirette (France)
2nd Prize - $1,500.00: Nie Qian (China)
3rd Prize - $500.00: Anthony Falco (USA)


AAA Maddalena Belfiore Entertainment Competition for Female Accordionists
1st Prize - $1,000.00: Nie Qian (China)
2nd Prize - $500.00: Danielle Renzi (USA)
3rd Prize - $350.00: Sun Liqin (China)
4th Prize - $150.00: no entrant
In addition to the competitions and workshops, the festival featured several artists including AAA Board Member and concert artist Mary Tokarski with pianist Dessie Vaughan, jazz artist Joe Cerrito as well as the AAA Board of Directors Ensemble and the AAA 70th Anniversary Festival Orchestra. International guest artist Alexander Poeluev from Russia received several standing ovations and encores for his spectacular performance.

Workshops included: Charles Magnante - His Life and Recordings by Ray Oreggia, Music of the Val Taro Musette by Dominic Karcic, A Multi-Media Presentation of Accordion and AAA Memorabilia by Joan Grauman, The Accordion in the Symphony Orchestra from Tchaikovsky to the Present by Dr. Robert Young McMahan.


A highlight of the event was a performance by the United States Air Force Strolling Strings featuring accordionist Frank Busso Jnr. The Air Force Strings is one of the most diverse and flexible units of the US Air Force Band.This wide-ranging flexibility allows the ensemble to musically respond to the requirements of almost any occasion and provide an enjoyable experience for everyone. A key element of its mission is to entertain audiences at high-level protocol events in a formation known as the Strolling Strings.
Appearing as the US Air Force Strolling Strings since 1954, they have had the honor of performing at the White House for every president from Eisenhower to today.

Originally from Staten Island, New York, Technical Sergeant Frank John Busso, Jnr., accordionist with The United States Air Force Strings, Bolling Air Force Base, Washington, D.C. began his Air Force career in 2005.

Frank attended Boston University and received a Bachelor of Science degree in Business Administration in 2001. He studied accordion with Frank Busso, Sr. at the Staten Island Music School in New York. Prior to joining the Air Force, Sergeant Busso was an instructor and arranger with the Boston University Athletic Bands. He was also an instructor at the Staten Island Music School, where his students earned many regional and national titles in competition.
Frank with his parents Carmela and Frank Busso Snr.
As a competitive accordionist, Sergeant Busso received numerous regional titles from the Accordion Teachers Association of New Jersey, including the organization's virtuoso championship in 1995. He also earned multiple national titles from the American Accordionists' Association in classical, popular, and ethnic competitions. Since 2001, Sergeant Busso has performed in concert as a member of The Busso Trio at numerous summer festivals hosted by the American Accordionists' Association and the Accordionists & Teachers Guild. Sergeant Busso's military awards and decorations include the National Defense Medal and the Global War on Terrorism Medal.
Above left: sample of picture featured in the Los Angeles Times article
Brian Aucoin and Mathew Barrette taken by Tyrone Turner for the Los Angeles Times


Above right: sample of image featured in the New York Times article of Anthony Falcotaken by Susana Raab for The New York Times

The festival attracted much press coverage from coast to coast with lengthy newspaper reports being featured in both the New York Times and Los Angeles Times, The Washington Post, The USA Today and many more.

For more information on the AAA, please visit www.ameraccord.com

---
19th Accordion Reunion of Valtaro Music at the Magnanini Winery
The 19th annual Valtaro Accordion Reunion featured a spectacular afternoon of accordion and vocal music, food and dancing in the beautiful setting of The Magnanini Winery in New York State.

Attracting a sold out crowd, the afternoon hosted by Dominic Karcic served as a tribute to some of the founders of the Valtaro Music Scene including John "Scudlein" Brugnoli, the founder of Val-Taro Musette Orchestra.

Accordion participants included from left to right: Manny Corallo, Frank Toscano, Dominic Karcic, Frank Carozza, Mike Zeppetella, Linda Soley Reed, Kevin Friedrich, Ray Oreggia and Aldo Bruschi.

The play list for the Accordion Reunion participants included: Valzer della Gioventu, Parisienne Polka, Cesarina Mazurka, Valtaro Polka, Bionda, Bella Bionda, Il Galletto Medley, L'allegria, La Donna Mora Medley, Fantasia Waltz, Aldo's Polka and Tutti Mi Chiamano Bionda Medley with the grand finale for the accordionists being the traditional Jolly Caballero. Several of the pieces include the beautiful vocals by Vicki Atwater, Bruce Reed, Aldo Bruschi, Marino Nicolich and more.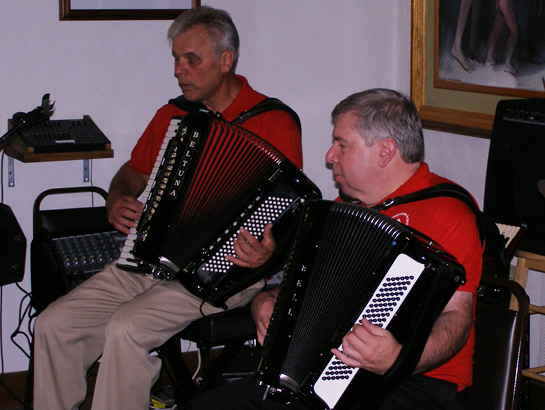 Dominic Karcic and Ray Oreggia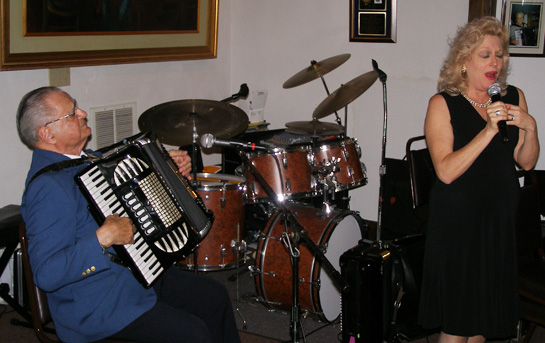 Aldo Bruschi and Vicki Atwater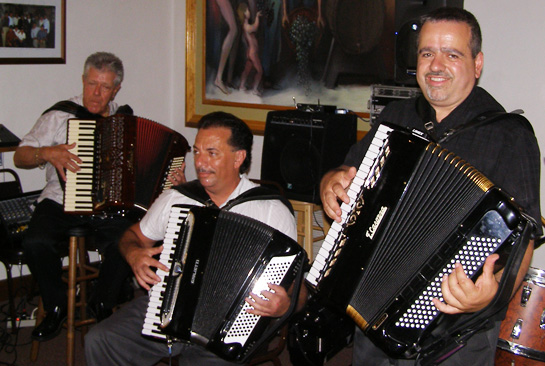 Frank Toscano, Manny Corallo and Frank Carozza - The Amazing Accordion Kings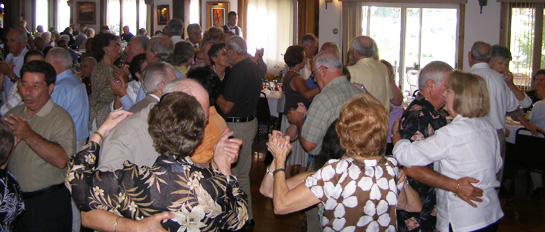 The sold out event featured a wonderful afternoon of accordion music with dancing and fun!

John Brugnoli was born in Borgo Val di Taro on November 29, 1898 and migrated to New York in 1928 where he established himself in the New York area as a noted accordionist and composer. He eventually joined forces with Pete Delgrosso, also from Borgo Val di Taro to establish the Val-Taro Restaurant and the Val-Taro Musette Orchestra. Val-Taro, located on 869 Second Ave. between 46 and 47th Street opened on December 24, 1936.

Along with guitarist Joe Cerina, John and Pete created a dynamic musical style based on their traditional Northern Italian folk melodies and their arrangement of Tutti Mi Chiamano Bionda became their signature theme song.

Val Taro became a Mecca for people who loved good dance music, good times and above all the accordion, and over time Val-Taro became synonymous with the accordion.

John Brugnoli and Pete Delgrosso were honored by the American Accordionists' Association for their outstanding career achievements and contributions to the accordion and accordion music in 1973.

Specializing in Valtaro music and maintaining the tradition, Dominic Karcic has continued to promote and perform this beautiful music and was recently presented many of John Brugnoli's original compositions which he will include in his performances.

Several family members of these outstanding pioneers of Valtaro music were in attendance at the Magnanini Winery event and were recognized at the event in honor of their families contributions.

For more information please contact Dominic at accordionman@optonline.net


---
Las Vegas International Accordion Convention
Last minute plans are being made for the 2008 Las Vegas International Accordion Convention to be held in Las Vegas at the Gold Coast Hotel from September 29 - October 2.

The convention includes:
Monday afternoon we begin with Registration from 2-5 PM, including a Welcoming reception. That evening we will have a Las Vegas Style Buffet followed by the Welcome Dinner Concert at 8 PM.
Tuesday through Thursday – each day begins with a full morning of workshops. At noon we break for lunch and entertainment. Then it's back to workshops and master classes until 5 PM. At 6:30 each evening, the doors open, Dinner is served at 7 PM, and a fantastic concert follows. Later, more music and dancing are just a few steps away in the after- hours hot spot – Club Concerto.
Thursday evening is our Grand Finale Concert featuring the International Accordion Orchestra with Prime Rib dinner!
Seven meals, seven concerts, all special events and classes are included, with Single Attendance priced at $465 and Couple Attendance at $795. Evening-Only Options are available - contact us for details! The convention offers a special Room Rate ONLY $59 per night!

Attendees can enjoy the reasonable convention hotel rate of just $59 per night per room if reservations are made before August 29. Reservations can be made by calling 1-888-402-6278 and saying you are with the Accordion Convention (outside the USA +01-702-367-7111).

For more information or to register for the event call 1-800-472-1695 (outside the USA +01 801-486-1695) or visit our website at www.AccordionStars.com where you may make room reservations directly online and also download registration forms.

---
Dr. Schimmel to perform with the Nashville Symphony Orchestra
Dr. William Schimmel will perform Domenic Argento's Valentino Dances with the Nashville Symphony on September 11, 12 and 13 at the new Schermerhorn Center under the direction of their newly appointed musical director, Giancarlo Guerrero.

Dr. Schimmel is no stranger to this piece, having performed it on tour with the Minnesota Orchestra and recorded it with them on Reference Records. He also performed this work with the Grand Teton Festival Orchestra in Jackson Hole, Wyoming and the Eugene Symphony in Eugene, Oregon.

Valentino Dances is a ten minute showpiece - adapted from his full length opera, The Dream of Valentino - about Rudolph Valentino, the movie star and tango dancer of 1920's Hollywood. Brilliantly conceived and elegantly orchestrated, it leaves plenty of room for Dr. Schimmel's tango expertise through embellishment, phrasing, ornamentation and cadenzas.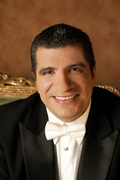 Domenic Argento grew up in Baltimore, Md - but later became the official composer of the state of Minnesota. He won the Pulitzer prize in 1975. Although Argento is twenty years Schimmel's senior - they both share two common traits: they both studied composition with the great opera composer Hugo Weisgall and ear training with Mme. Rene Longy. Argento was also an accordionist in his early years. Also on the same program as the main feature with be flutist Sir James Galway.

Concert Billing on the Nashville Symphony Orchestra website is as follows: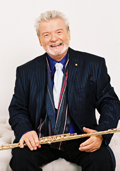 Nashville Symphony
Giancarlo Guerrero, conductor (above right)
Sir James Galway, flute (right)
William Schimmel, accordion (below right)

Dominick Argento - Valentino Dances
Ibert - Concerto for Flute
Bizet/Borne - Carmen Fantasy
Respighi - Roman Festivals

Flute-legend James Galway's golden tone has enthralled audiences across the world. He showcases two French flute masterpieces: Ibert's cherished Concerto and Bizet's beloved Carmen Fantasy. Seductive tangos in Valentino Dances evoke the magnetic charisma of film star Rudolph Valentino while the kaleidoscopic finale of Respighi's Roman Festivals brings the concert to a glorious finish.



Featured Instruments:
Accordion
Flute

For more information on tickets and location, please visit the: www.nashvillesymphony.org


---
Florida Smash and a Wedding?
The Florida Accordion Association - Southeast Accordion Association announce their 8th Annual SMASH to be held from November 14, 15, 16, 2008 at the Holiday Inn International Drive Resort, 6515 International Drive, Orlando, FL 32819.
|
Included in the lineup will be: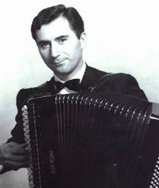 Antonio Barberena - Mexico City, Mexico - One of the finest accordionists from the country of Mexico, performing a light classical repertoire. You won't want to miss his performance of "Libertango"!!!

Tony Lovello - "Liberace of the Accordion" to open the evening concert - watch him wow the crowd, and don't forget to bring a seatbelt for a performance that will knock you out of your chair! There will also be 30-minute private lessons by Tony, available on Saturday. You will need a music stand. See him at the event for his availability.

K-Duo - Walt Kasprzyk and Mary Tokarski, of the internationally-famous "K" Trio, performing world-class duets!

Eduardo Reyes - accordion icon from San Juan, Puerto Rico - performing some of his impressionistic jazz selections as well as Alex Chudolij, Doris Allen, Ron Jaxon, John Lobosco, Smokin' Joe Zalewski, Amazing Al Ulle, Super Dick Albreski, Carmen Vitanza with Mike Lavoe, Jerry Tramontozzi, Maricarmen Vazquez with violinist, Mary Tokarski, Walt Kasprzyk, Vince Aleandri, Lenny Feldmann, and the 2008 SMASH accordion orchestra, conducted by Mary Tokarski.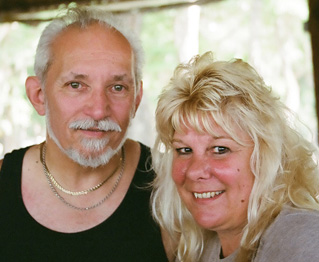 Plus - the wedding of the century - after the evening concert - Karen Adam, President of the Accordion Association, to wed Walt Kasprzyk, of the famed "K" Trio. All SMASH attendees are invited to witness the ceremony, as well as attend a grand dessert reception, complete with Accordion cake & Viennese table. Best man, Antonio Barberena will attend Matron of Honor, Mary Tokarski; "Super Dick" Albreski will attend 9 year old ring-bearer/accordionist, Jamie Migagawa. Tony Lovello will honor the bride & groom by providing the processional & recessional music, and perform "Through the Eyes of Love" during the ceremony.

For additional information, please visit www.accordions.com/florida or contact flaccassoc@bellsouth.net.


---
First Accordions Now Festival in New Hampshire
Extra chairs were needed to accommodate the larger-than-anticipated crowd that turned out for the 1st annual "Accordions Now!" Festival held on Saturday August 2nd at the Radisson Manchester Hotel, New Hampshire.

Intended to highlight the versatility of the accordion, this inaugural event was co-sponsored by the New Hampshire Accordion Association and Accordion Connection LLC of Gilmanton. The action-packed, music-filled day included concerts, workshops, an accordion orchestra, demonstrations, an open jam session, door prizes, vendor displays and more.

Special guest artist Tony Lovello widely known as "The Liberace of the Accordion," received multiple standing ovations with the audience's warm enthusiasm extending to the other featured performers: Mary Tokarski, Gary Morin, Nils Lundin, Chad Huval, John Leeman, and the "Accordions Now!" Festival Orchestra, conducted by Donna Maria Regis.

The latter, along with Peter Widmark, accompanied Nils Lundin in playing for the Scandi-Dancers', emceed by Laurie Widmark. During the day, guest accordionists Mary Gail Duffy, Joe Maciejowski, Bob & Anita Siarkowski, Jerry Tramontozzi, and Carmen Vitanza entertained in the public assembly area, where they drew favorable media coverage to the festival.

For further information e-mail: regisdonna@yahoo.com

---
Rocky Mountain Accordion Celebration
The town of Philipsburg, Montana again played host to the Rocky Mountain Accordion Celebration. The event took place on August 1st and 2nd. An international collection of accomplished accordion musicians came from all over the US and Canada to share their music and benefit the local schools music department.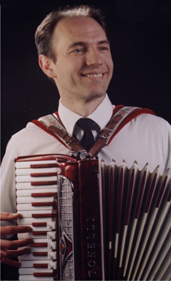 Headlining the event was Mario Padone, of Sugarland, Texas, and Richard Theiss (right) of Vancouver, BC, with guest performances by Bev Fess of Alberta, Canada, and Sam Thomas of Cheney, Washington. Musicians of all kinds and levels of expertise jammed together throughout the two-day event. All who attended had a good time, and a generous donation was given to inspire and motivate young musicians.

In summation, this was a thrilling , engaging, moving accordion event that brought people together to share the music they love, renew old acquaintances and make new ones. The event will be held again next year the first weekend in August 2009.

For further information e-mail: quigleybb@yahoo.com


---
Victor Prieto Trio performs in New York City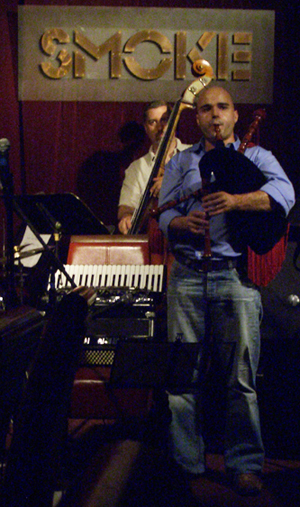 The Victor Prieto Trio + One performed at Smoke in New York City on August 20th with Chris Cheek - sax, Carlo de Rosa - bass, and Henry Cole - drums and Victor Prieto - accordion and gaita Gallega (Galician bagpipe).

Victor will be performing at OLEA in Brooklyn, New York on September 3 and 10 at 8:00 PM, and at Bates College in Maine on the 26th of September.

Victor Prieto was born in Orense (Spain) in 1975. At the age of nine encouraged by his mother Victor begun to play the accordion. He pursued his studies in Classical accordion at the Orense Conservatory (Spain), while taking harmony, arranging and improvisation classes at Estudio Escola de Musica (Santiago de Compostela, Spain). After receiving a scholarship by the highly respected Jazz school- Berklee College of Music- Victor decided to pursue the performance major under the direction of Joanne Brackeen. Victor is the first and only of his kind, to specialize and apply studies in Accordion at Berklee College of Music. During his stay at Berklee Victor becomes friends with one of his mentors, Oscar Stagnaro.

In 2002 Victor moved to New York where he quickly established himself as one of the most prolific and versatile accordionists on the music and Jazz scenes. As a leader Victor has performed at many prestigious venues and events such as Berklee Performance Center, Lincoln Center, Dizzy's Club Coca-Cola, Blue Note NY, New Jersey Performance Art Center, Three Rivers Musical Festival, Williamsburg Jazz Festival, Mary D'Angelo Performing Arts Center.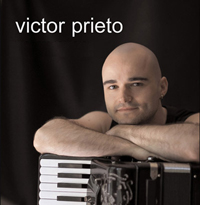 Victor has shared the stage with Yo-Yo Ma, Jeff Ballard, Chris Cheek, Paquito D'Rivera, Donny McCaslin, Carlo DeRosa, Lionel Louke among others and is involved in projects such as Pablo Aslan's Avantango, Emilio Solla's NY Jazz Tango Project, Alexis Cuadrado's Trio Iberico and Fernando Otero X Tango.

He teaches Master Classes in Spain, Italy, Portugal, USA and has headed the jazz accordion studies at the Brooklyn Conservatory (2003 – 2004). He is a recipient of numerous awards and prizes for excellence in accordion performance and composition, among them are: the Creative Performer award from the Spanish Association of Artists and Performers, and the first prize at CMZK's Concourse of Composition (Argentina).

Victor now lives in New York City dividing his time between performing, teaching and recording. He has recently introduced his new CD, "PERSISTENCIA", Foxhaven Records.

For further information please contact Victor Prieto at: e-mail: vpcruz@gmail.com


---
Keyboard Magazine Article pays Tribute to Danny Federici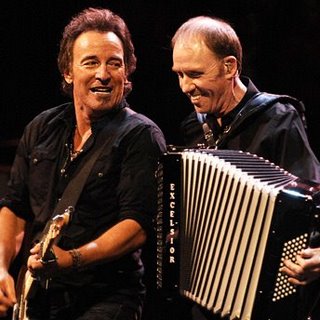 A recent article in Keyboard Magazine (August 2008) pays tribute to accordionist and keyboard artist, the late Danny Federici, who performed as Bruce Springsteen's right hand man in the E Street Band for for more than 40 years, the longest tenure of any member.

"Danny and I worked together for 40 years - he was the most wonderfully fluid keyboard player and a pure natural musician. I loved him very much...we grew up together."
- Bruce Springsteen. Danny, an avid accordionist who often used it in addition to his various keyboards in his career of performances Bruce Springsteen passed away on April 17, 2008.

In a lengthy article titled "The Phantom of E Street", Ernie Rideout profiles The musical legacy of Danny Federici which concluded with his last performance on March 20th, 2008 before he succumbed to cancer in April.
Rideout says "When Danny Federici passed away this April at the age of 58 of melanoma, Bruce Springsteen lost a life-long friend, the E Street Band lost a beloved family member, the Keyboard Community lost a hero - and rock 'n' roll lost a legend."
to read the entire article, please visit: http://www.keyboardmag.com/article/phantom-e-street/aug-08/86739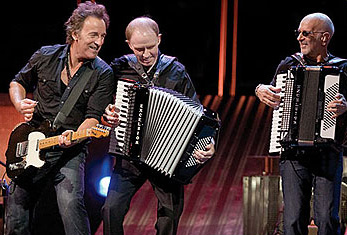 Pictured right are Bruce Springsteen with Danny Federici and Roy Bittan from a concert in Boston in 2007.

In an interview with Josh Davidson in Chorus and Verse, Danny talked of his accordion beginnings....
....I started off as a classical accordion player when I was seven years old. And, my mother basically pulled me around by my ear and showed me off to the neighbors. I had a whole little career going. I think she wanted me to be friends with Wayne Newton and play the Vegas thing, you know? And be the snazzy accordion virtuoso kind of guy. But I was real good at a real young age...

...Then, I bought this thing called the Cordovox. Which was way back when they had an accordion that sounded like an organ. You didn't have to squeeze it. You could just turn it on its side and play the keys like an organ. And I use to turn it over on my amp. And then I could stand up and I could move around. And that was definitely a big hit with the ladies, that made it a whole lot better...
...so that's pretty much how the transition happened. But, as I say, I studied probably eight or ten years classical accordion. Reading and writing and going to a conservatory in Philadelphia. I was pretty much on my way to do this classical accordion thing, until the Beatles and Rolling Stones and all that stuff just hit. I ended up having a professor come into my school, who was sitting in for another professor. He said, 'Just sit back, I wanna play something for you.' And he played me jazz and blues on the accordion...
...some of my favorite accordion music I play with a band in LA every once in a while, Zydeco. That's very, very bluesy rock n' roll, jazzy, you know, Tex-Mex kind of stuff. It's really great...
To read the complete article by Josh Davidson, please visit: http://www.chorusandverse.com/content/200206/20020616 DannyFederici01.htm

---
Promoting Your Accordion Services Free at AWW

The Internet is changing the way your customers are searching for services. The days of lugging out a 12 lb. telephone book to find very limited and outdated business information are coming to an end. People are still letting their fingers do the walking, but they're doing it over a computer keyboard. Below are some revealing facts from the Kelsey Group.
74% of US households use the Internet as an information source when shopping.
Approximately 45% of searches had a buying intent.
The percentage of respondents who used yellow page directories decreased from 75% to 62%.
(If you have a printed yellow page ad, it is time to consider buying a smaller ad and shifting your marketing dollars to the Internet.) The off-line Yellow Pages see the writing on the wall and are scrambling to transfer their business model to the Internet.

Businesses can no longer ignore these facts. If you want to be successful, you must have a presence where your customers are searching. Being found on the Internet is vital to the future of your business.


The accordion-yellowpages.com offers free of charge listing for all accordion businesses, teachers and for every type of service for accordionists. On the Accordion Yellow Pages site, you do not need to have a website for accordionists find you and contact you.


The search-accordion.com site is also free of charge, being a listing service for every type of accordion service, but you must have a website. Viewers of search-accordion.com can click through to your website.


Very popular is the AccordionLinks.com site where those accordion service providers with a website, can attract accordionists free of charge to their website.

All it takes is a little effort, to make sure your information on these three popular and very effective accordion sites is up to date. Your future success may well be determined by your ability to effectively adapt to the Internet. Should it be your New Year's resolution for 2008?


---
Accordion Trio with American Symphony Orchestra
Recently, an a trio of accordionists had the opportunity to appear with the

American Symphony Orchestra at the Bard Music Festival

in a rarely performed work by

Prokofiev

.

When Robert McMahan was asked by the American Symphony Orchestra to form an accordion orchestra for a performance of Prokofiev's rarely heard Cantata for the 20th Anniversary of the

October Revolution

, he was concerned that the concert was to take place during the week of the American Accordionists' Association Festival in Northern Virginia, thus limiting the number of available and capable accordionists for this task.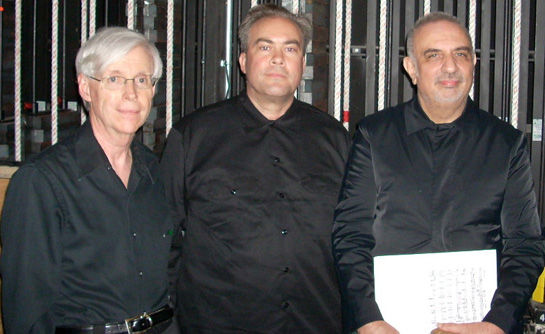 Fortunately, he found that William Schimmel was free. Dr. Schimmel in turn found yet a third willing accordionist, Brian Dewan. Dr. McMahan arranged the five parts for three accordionists and persuaded ASO conductor Leon Botstein that three players would adequately replace a full accordion orchestra if well miked. In fact, Dr. Schimmel and only two other accordionists had successfully played in the same work with the Kirov Orchestra and Chorus at Lincoln Center a number of years ago.

In addition to the accordion orchestra, this massive, ten-movement, forty-minute work, completed in 1937, requires a full orchestra, chorus, vocal soloists, percussion ensemble, and off-stage military band. Its would-be premiere, intended for the same year, was suppressed by the Soviet Committee for Artistic Affairs on the grounds that it did not meet the criteria of "socialist realism". It was first performed, with significant cuts, fifteen years after the composer's death and has had very few revivals since then. The accordions have a conspicuous and highly virtuosic entrance midway through the sixth movement as well as considerably important roles in the final three movements.

The Cantata was the last work on the last program (August 17) of the prestigious annual, two-week Bard College Music Festival at the Fisher Center for the Performing Arts, located on the campus. When the accordionists were acknowledged by the conductor during the applause following the performance, the audience cheered wildly. The program was reviewed in the New York Times.

Photo caption: Robert Young McMahan, Brian Dewan, William Schimmel backstage at the Fisher Center, Bard College.

---
US Delegation to 61st Coupe Mondiale in Glasgow, Scotland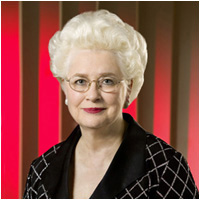 Several delegates and guests will attend the upcoming 61st CIA Coupe Mondiale in Glasgow, Scotland to be held from the 21-26, October, 2008.

CIA Music Committee and Advancement and Development Committee Vice Chairperson Joan C. Sommers (left) will represent the Accordionists and Teachers Guild, International (ATG) in addition to her work on the CIA Committees.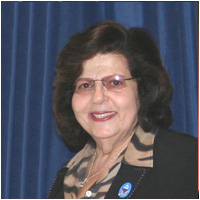 Faithe Deffner (right), the organizer of the 2007 Coupe Mondiale in the United States, the largest International accordion event ever staged in the USA will attend as VIP guest in honor of her work in preparing the 60th Anniversary Coupe Mondiale. A CIA delegate for more than 35 years, Mrs. Deffner will be representing the American Accordionists Association (AAA).


Former Coupe Mondiale Contestant Mary Tokarski (left) will also attend as a delegate for the United States. In an interesting side note, Faithe Deffner, Mary Tokarski and CIA President Kevin Friedrich serve as members of the Board of Directors for both the AAA and the ATG, and with Joan Sommers, represent the interest of the accordion in general for the AAA and ATG combined, the two national USA members of the CIA. It is anticipated that several guests from the United States will also be in attendance to enjoy the wide variety of talent from the young accordionists gathering in Glasgow to compete in the various International competitions.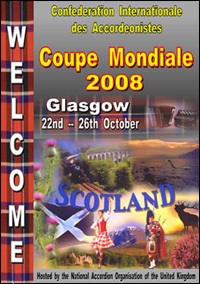 The 61st International Competition for Accordionists "COUPE MONDIALE" is held by the Confédération Internationale des Accordéonistes (CIA) and this year will be hosted by our CIA member, the National Accordion Organization of the United Kingdom (NAO).

This spectacular event has already attracted competitors and International delegates from 30 nations, including: France, Germany, Finland, China, Croatia, Serbia, Denmark, Switzerland, Slovakia, New Zealand, Belgium, Italy, Austria, Norway, Macedonia, Brazil, United Kingdom, Netherlands, Portugal, Bosnia, Russia, Ukraine, Belarus, Latvia, Kazakhstan, Poland, Bulgaria, USA, Spain and Sweden.

Although this year there are no entrants from the United States, overall, the number of competitors has reached record levels. As with the 60th Anniversary Coupe Mondiale held in the USA last year, competitions will be held in the Coupe Mondiale, the Junior Coupe Mondiale, both Senior and Junior International Competitions for Virtuoso Entertainment Music, International Competition for Piano Accordion and International Competition for Ensemble Music.

This year, the CIA Music Committee enhanced the requirements to enter the Coupe Mondiale by eliminating the age old tradition of the Test Piece. This has proven a tremendous success among contestants, evident in the fact that we have the highest number of entries ever for this elite and prestigious competition. Recognizing that many contestants desire to enter multiple international competitions, by eliminating the Test Piece, the Music Committee has allowed competitors to utilize their programs in multiple competitions, rather than being forced to choose between events, based on required repertoire.

While acknowledging the needs of the contestants, the Music Committee also recognizes the importance of promoting new and original works for accordion, and therefore will be presenting awards to the best new works presented at the Coupe Mondiale in both classical and entertainment genres. Contestants entering the various solo Coupe Mondiale categories have the opportunity to nominate original works for consideration for this new and important prize, and it is hoped that this popular addition will help promote many new works for the accordion, rather than only one new work per year that was submitted as the Test Piece.

After the tremendous success of the World Accordion Orchestra instituted by CIA Music Committee Vice Chairperson Joan C. Sommers at our 60th Anniversary Coupe Mondiale in the United States, the World Accordion Orchestra II will be held in Glasgow. Three works will be performed with four guest conductors including the founding conductor Joan C. Sommers (USA), as well as conductors Elaine Beecham (United Kingdom), Ronnie Brown, Brian Laurie and Graham Laurie all from Scotland.

The program for the World Accordion Orchestra II will be as follows:

1. Springtime Symphony - Graham Romani
Dedicated to the B.C.A. Orchestra in memory of Matyas Seiber (1905-60)

I Movement: conducted by Elaine Beecham
II Movement: conducted by Ronnie Brown
III Movement: conducted by Brian Laurie
IV Movement: conducted by Elaine Beecham

Program notes: This work, which was given its world premiere performance by the National Accordion Orchestra, conducted by Francis Wright, on the occasion of the 21st CIA Coupe Mondiale held in the De Montfort Hall, Leicester, and is the first full-scale Symphony written for the medium of the Accordion Orchestra. In the usual four-movement symphonic form, the work is an expression of the composer's thoughts on the season of Spring. The first movement, in Sonata Form, expresses the gradual burgeoning of Spring over the earth, the bursting of the buds and flowers, and the songs of the birds and all the other signs of Nature of the coming of spring. The second movement is a slow-moving expressive elegy for the passing of Winter, while the third movement, in contrast, is a gaily rhythmic scherzo with a hint of mediaeval May songs and dances. The final movement is a paean in praise of Spring, interspersed with rustic peasant dances, and embodies fresh versions of the themes heard in the previous movements. The Symphony is dedicated to the B.C.A. Orchestra in memory of the late Matyas Seiber (1905-60) whose tone-poem "Spring" (1937) was the first original work in symphonic idiom for the Accordion Orchestra.

2. Film Noir: City at Night - Leonard (Lenny) Stack (World Premiere)
conducted by the organizer of the inaugural World Accordion Orchestra - Joan C. Sommers (USA)
Program notes: The programmatic idea is of a dark deserted street at night where menace lurks anywhere. The second theme announces a "floozy" sauntering in. The middle section increases in tension and violence as all sorts of mayhem occurs. Finally the main theme is recapitulated and it ends with a quiet ominousness. This music is reminiscent of the film noir movies of the late 1940's and early 1950's.s
3. A Scottish March Selection - Traditional, arranged by Graham Laurie
conducted by Graham Laurie
All attendees should visit www.coupemondiale.org for complete information including registration for the General Assembly, last minute contestant entries, Hotel Accommodation and participation in the World Accordion Orchestra II as soon as possible in order to assist the organizers with their final preparations and numbers of attendees. Additional information is available from:

Anna Bodell – Coupe Mondiale Organizer
Les Jardins D'Alizarine 121
1416 Avenue H Guillaume
Tamaris, 83500 La Seyne Sur Mer, FRANCE
Phone: +44 (0) 7770 450 840

E-mail: Ray.anna@btinternet.com

---
---
Note: In order to provide as much information as possible for the United States National Accordion News stories, many different sources are often researched to gather additional information and pictures to complement what has been submitted. This information is then correlated to provide the news on www.accordionusa.com in the spirit of which it is intended, which is to provide a free news service to the Accordion Community, specifically in the United Sates. If you feel any copyright has been violated please advise www.accordionusa.com and the article will be removed immediately.