Remembering Christian DiMaccio 1941-1993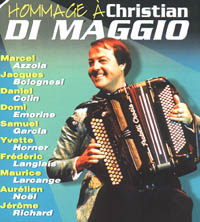 Well known international accordionist who resided in the USA, Christian DiMaccio 1941-1993 was remembered during a special tribute evening held at the trendy "New Morning" in Paris on September 23.

Christian DiMaccio was born in 1941 in Algiers to an Italian father and Spanish mother and he was already playing the accordion by age of three years old. He demonstrated an outstanding predisposition for music from his early years and at the age of six he could already sight ready and complete scores on his accordion.

Christian competed in the CIA Coupe Mondiale in 1955 in Brighton - UK, 1957 in Saarbrucken - Germany where he placed 3rd and also in 1959 in New York where he also placed 3rd. He led a very successful musical life which included a performance for Igor Stravinsky who afterwards declared that "The accordion has found its genius at last!" Christian was considered by many to be "the accordionist of the century!"

After emigrating to the USA in the late 60's, he soon attracted many successful composers into what would become lasting working partnerships. First with John Williams with whom he worked on the score to the film Home Alone and then Michel Legrand for the compositions of the Barbara Streisand Album.

Christian appeared throughout the USA and during a tour of Canada Tommy Dorsey proposed that he should do the first part of the Frank Sinatra show at New York's Carnegie Hall.

After spending time in Canada, Christian returned to Los Angeles where he gave many concerts and was involved in recording a number of film scores including Star Wars. Considered by the finest musicians on both sides of the Atlantic as the best technician of the accordion ever, Christian DiMaccio deployed his great sensitivity and his immense talent in the service of all forms of music.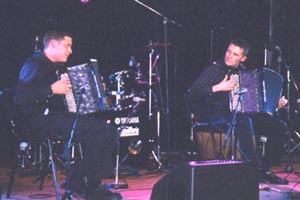 Several CIA Coupe Mondiale World Accordion Champions were among the star lineup of talent who paid tribute to accordion legend DiMaccio including:
Aurélien NOEL - Winner: CIA Virtuoso Entertainment (far right)
Nicolas MASSOUTIE - Winner: CIA Virtuoso Entertainment (left)
Frédéric LANGLAIS - Winner: CIA Virtuoso Entertainment (below)
Domi EMORINE - Winner: CIA Virtuoso Entertainment/ III Place: CIA Coupe Mondiale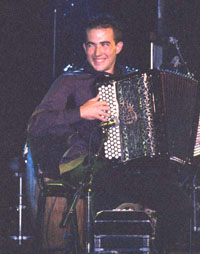 Other accordionists paying tribute to Christian were Jacques Bolognesi, Daniel Colin, Maurice Larcange, Samuel Garcia, Roman Jbanov and Marcel Azzola. Yvette Horner was scheduled to appear, but unfortunately it conflicted with other engagements elsewhere in France. She did send a tribute message that was read.

Christian's son Robin (percussion) and daughter Karolle (vocalist) pictured below, both performed on the concert in honor of their father. Robin performed a solo tribute on the Paris concert which can only be described as "out of this world". One of the most spectacular parts of the exhibition was the finale where the entire drum set was doused in water and as Robin continued his awesome tribute performance the spray in the spotlights made for spectacular visuals! Robin is one of America's most famous pop drummers of today, playing for Jennifer Lopez, Ray Charles, John McCartney and many more.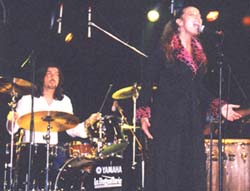 After most of Christian's recordings were destroyed in the Los Angeles earthquake, Robin invited other talented accordionists such as those listed above to join with him to make a tribute CD in honor of his Dad which includes recordings by Christian, Robin as well as some of Christian's well known friends from France such as Marcel Azzola and Yvette Horner as well as from the new, up and coming artists.

The CD entitled "Hommage a Christian DiMaccio released by '7Music.' For info: django.anc@wanadoo.fr


Friedrich Lips Tours USA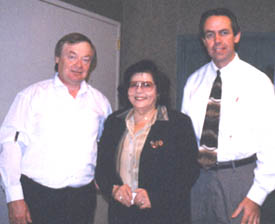 Bayan artist Friedrich Lips has just completed his United States concert tour to much critical acclaim!

Appearing in New Jersey as a guest of the American Accordionists Association, Lips presented a varied and challenging program.

He is pictured after his AAA concert with past President Faithe Deffner and CIA President Kevin Friedrich.


One of the most outstanding and important bayan-accoridnists in the world, Friedrich Lips has distinguished himself as a legendary virtuoso, author, music professor at the world famous Gnessin Institute for Music Education in Moscow, educator and musicologist. He is esteemed as one of the most significant accordionists of our time.

He has been active as international speaker at seminars, workshops, and master courses as well as juror at competitions. He is furthermore found and artistic director of the annual Moscow Bayan Festival, initiator if international symposiums, and either mentor or advisor to international associations.

In his continual efforts to foster new literature for the accordion, Lips is constantly in contact with outstanding composers and has inspired them to create new pieces, thus paving the way for numerous compositions, many of which in the meantime have already achieved historical value.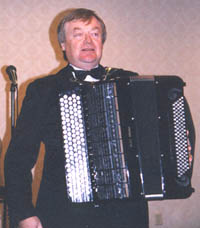 Lips performed the following program for the American Accordionists Association:
Gothic Suite - L. Boellman
Fantasie in Memory of Schnittke - E. Podgaitz
De Profundis - S. Gubaidulina
Children's Suite - E. Derbenko


Toccata - Katschaturan
Musical Moment - F. Schubert
Sentido Unico Tango - A. Piazzolla
Three Preludes - George Gershwin
Perpetual Mobile - Strauss
Trisch Trasch Polka - Strauss
Pizacato Polka - Strauss
Polka - A. Schnittke
Russian Dance - G. Schenderov
Figaro - Rossini
Friedrich also performed several concerts in the midwestern US with former student Stas Venglevski.


Musici Allegri

Musici Allegri will present a special tribute concert to charismatic and brilliant Italian tenor - Sergio Franchi. The concert will take place on Saturday October 5, 2002 at 8:00 PM at the Stadium Theatre Performing Arts Center.

Among the star lineup will be international accordionist Mario Tacca and his wife - acclaimed soprano Mary Mancini (pictured left.) In addition Dino Valle (Baritone) Peter Soave (bayan-bandoneon), Aron Caruso and the AAA representitve to the CIA Coupe Mondiale Cory Pesaturo will also appear on the concert.

The Stadium Theatre Performing Arts Center is located at 28 Main Street at Monument Square, Woonsocket, Rhode Island. For tickets, please call 401-762-4545 or 914 737 8872.

Proceeds of the concert are to benefit the Sergio Franchi Scholarship Funds and The American Accordionists Association.


Florida Accordion Association Smash
The Florida Accordion Association announces its second annual "Smash" which will be held from November 15 - 16, 2002 at the
Holiday Inn Express
12125 High Tech Ave
Orlando, FL 32817 (UCF area)
Phone (407) 275 9000
The festival program includes:
Friday, 15th November: 4:30 PM - 10:00 PM
Cash bar and free appetizers. Members will provide non stop accordion entertainment during this time.

Saturday 16th November 8:30 AM - 10:00 PM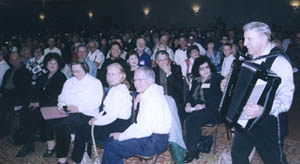 Featuring: Tony Lovello (pictured left, entertaining at a recent festival) "Liberace of the Accordion", formerly of The Three Suns, Twilight Time and Peg o' My Heart fame, Tony will be headlining the Second Annual Smash.

Tony's flying his camera crew to Orlando to professionally video tape this live performance and we're very excited about it. As a fun fact: Tony has been coined the "King of the Bellow Shake" by the true pioneer of the accordion... Maestro Anthony Galla-Rini

You have to hear and see this powerhouse! Hold on to your seats as Tony will WOW you. Tony will also be teaching a workshop for us that you won't want to miss. Come hear and see a performance of Malaguena that you will never ever forget.. Instead of bringing the house down, you'll see him bring the HOTEL down!!

In addition, other performers include Tony Dannon and Joe Cerrito (Famous International Jazz accordion duo), Jimmy Bubaloni (Mr. Versatility), Vince Aleandri, Carmen Vitanza, Maricarmen Vazquez, Jess 'n Joan, Mirko Roknich, Tony Klepec and more!

In addition to the nonstop accordion music, there will also be an accordion exhibit or two at the SMASH. Videos, CD's and cassettes will be for sale. To direct the accordion band, none other than Her Majesty Linda Soley Reed, herself, Vice President of the American Accordionists Association will be attending to conduct those who would like some hands-on performing.

Admission: $65.00 per person for members and spouses and includes two huge feasts (lunch and dinner) plus band music. Non member admission is $75.00 per person. Registration is due by October 25, 2002. Late registration will be charged an additional $5.00 per person.

ALL WELCOME!!!


New Accordion Method by Jody Latulippe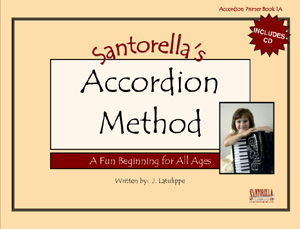 Santorella's is please to announce the new Accordion Method Book 1A by Jody Latulippe. The method, which includes an accompaniment CD, is $12.95 and is available at www.letsplaymusic.com. Discounts are available for multiple book orders and more information can be obtained by writing to: orders@letsplaymusic.

Santorella's Accordion Course 1A introduces theory and composition, a variety of musical styles, and performance techniques. The accompaniment CD makes the music come alive by transforming a beginner song into a fully arranged piece complete with accordion, drum, bass, and keyboard accompaniment. The CD also helps the student develop rhythmically and stylistically.

Pieces were chosen to satisfy the students desire to play in many genres of music such as blues, rock, country, modern polka, and waltz. Classical pieces as well as popular standards are also in the repertoire. Santorella' s Accordion Method 1A offers a truly comprehensive introduction to accordion performance as well as underlying concepts and lends itself to either private or group lessons.


Galla-Rini 99th Countdown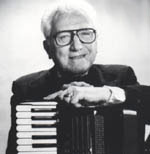 The Accordionists and Teachers Guild, International plans are well underway to honor their President Emeritus Anthony Galla-Rini's 99th Birthday Celebration which will be held in San Diego from 17-19 January 2003.

This momentous weekend will begin the grand countdown to his 100th Birthday in 2004.

The ATG and Mr. Galla-Rini (who is the ATG President Emeritus) are inviting all accordionists to participate in this Birthday Orchestra which will perform at the concert on Saturday January 18th in San Diego.

The first rehearsal will take place on Friday evening, January 17th at 7:00 PM, with another rehearsal Saturday morning at 9:00 AM. The day time will be free for visits to local attractions such as the San Diego Zoo, or a quick visit to the NAAM convention up in Los Angeles, with guests reconvening later that evening for a Birthday Banquet and evening concert.

Anyone interested in performing in the orchestra should contact ATG President Joan Sommers at sommersj@umkc.edu.


CD "Reed Song" Release Party at NY Knitting Factory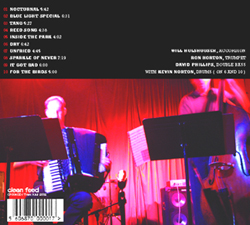 Accordionist Will Holshouser performed at New York's Knitting Factory "Old Office" as part of the official release of his new CD entitled "Reed Song." which was released under the "Clean Feed" Label of Portugal.

Deep down in the basement of this esteemed New York establishment, the dark and crowded "Old Office" was the perfect venue for this live concert for the unveiling of this new CD.

Inspired by styles such as folk, jazz , klezmer and cajun as well as composers such as Piazzolla, Will's uses his experience in jazz, new music, and traditional accordion styles to forge his own sound resulting in this CD which features an array of 10 original accordion pieces with fellow artist Ron Horton - Trumpet, David Phillips - Bass and Kevin Norton on Drums.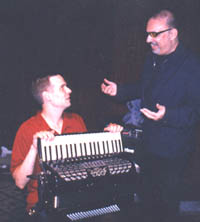 A student of well-known NY accordionist Dr. William Schimmel, (Will is pictured left with Dr. Schimmel standing to the right) he is a very active accordionist in the New York City area, The Village Voice in New York says "Will Holshouser plays as much accordion as there is to be played." while the New York Times has said that "[Will's music] successfully showcased the range and beauty of the accordion . . . This could be music for some fantastical Fellini film."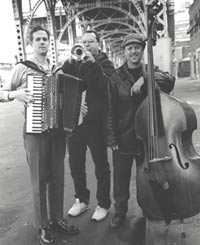 Will Holshouser (accordion) works as a sideman with artists that span the range of jazz, experimental, and folk styles. He plays in David Krakauer's band Klezmer Madness, whose new CD is on Label Bleu (France). He has also worked with Dave Douglas, Phillip Johnston, Michael Hashim, David Garland, Andy Statman, and Lenny Pickett. He is a member of popular NY band Brock Mumford, and also the Raymond Scott Orchestrette (named for the late composer). In 1990 he received a grant to study Cajun and Creole music in Louisiana.

The CD can be found online at www.cadencebuilding.com (for USA orders) or soon at www.tremazul.com for orders outside the USA. For more information, you can contact Will directly at willhols@aol.com or 718-765-1545

The CD RELEASE Show on September 9th at Knitting Factory's Old Office will include two sessions at 8.00 PM & 9:30 PM, with an $8.00 entry fee. The Knitting Factory is located at
74 Leonard Street, NYC, 212/219-3055


USA Work "Out of Crooked Timber" in Helsinki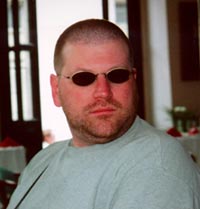 The new work for Accordion Orchestra by Dr. Paul Rudy (pictured right) entitled "Out of Crooked Timber" will be featured on the final concert which will conclude the 25th Anniversary celebrations of the classical accordion program at the Sibelius Academy in Helsinki.

During the 25th Anniversary, there will be many concerts, premiers, contemporary music, baroque music, chamber music. Performers will include professors of the Academy, former and current students as well as guests.

Although there is no accordion orchestra at the Sibelius Academy, they will put one together for this performance which will be conducted by Mr. Jani Telaranta who received his degree at the Sibelius-Academy and is an active accordionist.

The work "Out of Crooked Timber" was premiered by the University of Missouri-Kansas City Accordion Orchestra under the direction of Joan C. Sommers at the 60th Anniversary of the Accordionists and Teachers Guild, International 60th Anniversary in Chicago in 2000.

Dr. Rudy writes: I was immediately struck by the phrase from Immanual Kant's idee zu einer allgemeinen Geschichte in weltbürgerlicher Absicht (1784): "Out of the crooked timber of humanity no straight thing can ever be made." My hope was (and is) that humanity pass from its adolescence marked with violence, trauma, and moody tantrums into a more stable adulthood of diplomacy, compassion, and kindness.

Sound mass becomes a metaphor for the unhewn timber out of which I try to mill something straight. In the end, straightness becomes a matter of relativity balanced between the pessimism of Kant's view and my hopeless romantic optimism.

This piece came in a lightning flash after a conversation with Joan Sommers. I began hearing great masses of sounds which the accordion produces so easily. I was hearing the sound coming from all different directions, with static planes at times, while at others, swarming masses of intricate sounds.

Out of these blocks, a melody eventually protrudes toward the end, when it is swallowed by a single thunderous chord. These sound worlds are a metaphor for the psychological idea of the work: trying to mold something straight (a melody), out of hopelessly crooked material (chromatic sound mass).

Paul Rudy (1962) was born in South Bend, Indiana. He is Assistant Professor of Composition and director of the Music Production and Computer Technology Center at the Conservatory of Music, University of Missouri, Kansas City. Since 1995 he has been teaching at the Aspen Music School. In 1996 he launched the Amplified Music Performance Series (AMPS) and has since produced concerts of electroacoustic works each summer at the Aspen Music Festival. He is the creator, producer, and host of "The Virtual Concert Hall" a program of contemporary electroacoustic music for public radio.

He has received awards from the Fulbright Foundation, the National Music Teachers Association, and the Missouri Music Teachers Association, and was a finalist in the 1999 Hultgren Biennial Solo Cello Competition. His works have been performed throughout the US and the world, and are published by Twisted Trail Music. He holds degrees from Bethel College (B.A. 1984), The University of Colorado, Boulder (M.M. 1992) and The University of Texas at Austin (D.M.A. 1997).

In addition to composing he has an avid interest in bicycling, hiking, camping, and mountaineering. In 1994 he completed the Colorado Grand Slam after climbing all 54 of Colorado's 14,000 ft peaks.

For further information on the Helsinki performance, please contact mrantane@siba.fi or for more information from Dr. Rudy, please e-mail: rudyp@umkc.edu



Matt Nozzolio celebrates Mexican Independence Day
Accordionist Matt Nozzolio appeared in concert in celebration of Mexican Independence Day on September 13. in Hartford CT.

Matt will also played with Tierra Mestiza and also Fiesta, performing music from Mexico and the Americas.

For information on upcoming concerts, please contact: Matt Nozzolio: matt-nozzolio@cox.net


Piazzolla Music Award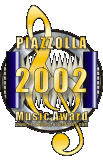 Aldo Pagani (producer and publisher of Astor Piazzolla) , in collaboration with Argentinean consulate of Italy is pleased to announce the 9th Edition of the International "Astor Piazzolla Award", dedicated to the performance of the works of this great Argentinean Composer.

The International Astor Piazzolla Award consists of two sections: section one dedicated to the participation of instrumental groups (with the possible participation of a singer) and section two dedicated to solo instruments and orchestra.

The competition will be held in Udine, Italy, on the 30 October - 1 November 2002. For more information, please contact Aldo Pagan E-mail: aldopagani@libero.it or visit www.piazzollamusicaward.com.


2002 CIA Coupe Mondiale Largest Ever
One hundred and eight of the worlds finest accordionists will converge on the city of Copenhagen, Denmark to take part in the annual Confederation Internationale des Accordeonistes (CIA) Coupe Mondiale World Accordion Championships from October 16th to 20th.

Attending the CIA as an American delegate will be past president of the American Accordionists Association Faithe Deffner and international adjudicators Maddalena Belfiore (USA-AAA) and Joan C. Sommers (USA-ATG).

Organized by the CIA member association Danske Harmonikaspilleres Landsforbund (DHL), the World Championships will include competition in six categories. During the festival the DHL will celebrate its 25th Anniversary with a special Jubilee Concert featuring many outstanding performances. The Allerød Accordion Orchestra conducted by Peter Anders has prepared great performances with internationally known soloists such as the Semionov Duo, trumpet virtuoso Gorm Hovalt and violinists Christian Ellegaard and Lousinne Azizian. (Christian is the son of the late accordion virtuoso Mogens Ellegaard).

Peter Anders, CIA 2002 Honorary Vice President for the Denmark Coupe Mondiale As with all competitions, the CIA will operate their categories under their respective published guidelines, therefore candidates entering the Coupe Mondiale are reminded to review the competition rules extremely closely to avoid any unnecessary mark penalties.

For further information on these rules and penalties for non compliance, please see the CIA website under both General Competition Guidelines and the published guidelines for the various categories. AWW readers will be able to follow the Coupe Mondiale on-line during the festival in Copenhagen where the site will feature daily reports, up to the minute results and other information.

We wish all the candidates well in both their preparations and competition performances and in particular from the United States, we wish our representatives Cory Pesaturo representing the American Accordionists Association and Jason Stehpen representing the Accordionists and Teachers Guild, International a most successful and inspiring competition experience.


Oktober Fest Fun in Emerson, NJ

Accordionist Lenny Feldmann will be appearing every Friday night (4th, 11th, 18th and 25th) in October at Fricke's OLD HOOK INN, 422 Old Hook Road, Emerson, NJ - Phone: (201) 262-2888 - reservations suggested

As a young protegé of the late Stephen Harer of Clifton, New Jersey, Lenny was a Virtuoso competition champion. At Vander-Cook College of Music in Chicago, Illinois, Lenny received his Bachelor of Music Education Degree, using the accordion as his major instrument and studying with Mort Herold and the late Mario Moschino.

He is a regular entertainer and clinician at major accordion festivals around the United States.

The famed Oktoberfest began with a royal Bavarian wedding in 1810. The groom, King Ludwig I, wanted to celebrate his marriage to Maria Teresa of Saxonia by proclaiming a state fair, in Munich. The festival was dedicated to the fall harvest and to the Regions most famous product, beer. Tradesman and merchants came throughout Germany to join in the merrymaking. They examined the crops, sang songs, danced and sampled the first beer of the season.

The celebration was such a success that Ludwig issued a Royal Decree making Oktober festival time in Munich. Oktoberfest has been held annually ever since and has found its Way to Emerson, New Jersey at the Old Hook Inn where they have been celebrating the Oktoberfest for many years.

For more information on Lenny's performances at the Oktoberfest, please contact: cordeenman@yahoo.com


October Dates at a Glance
For important dates in October, please refer to the Future Events page located on this site, by selecting from the menu to the right, or by clicking here.



---

---

Note: In order to provide as much information as possible for the United States National Accordion News stories, many different sources are often researched to gather additional information and pictures to complement what has been submitted. This information is then correlated to provide the news on www.accordionusa.com in the spirit of which it is intended, which is to provide a free news service to the Accordion Community, specifically in the United Sates. If you feel any copyright has been violated please advise www.accordionusa.com and the article will be removed immediately.