---
New Arrangements Available from Gary Dahl
Accordionist, teacher and arranger Gary Dahl announces a selection of new arrangements available through his website including high quality rock/pop arrangements that are available with lessons via .mp3 files. Selections previewed on his website include 'Adios Muchachos', 'Angel Eyes', 'California Dreamin', 'Champagne Polka', 'Indifference', 'Lara's Theme', 'Misty', 'Under Paris Skies', and many more.

In a recent testimonial received from Armand Dion, he says that he "…recently returned to the accordion and could not find a local teacher. Then I found Gary Dahl's web site and the impressive mp3 system. I have never been happier with my progress and my playing ability is starting to inspire standing ovations! We are 2000 miles apart but Gary's system is very easy to use and is actually more efficient and more fun than any one on one lesson... plus, you get Gary Dahl's expertise from 47 years of teaching, professional playing and publishing notoriety."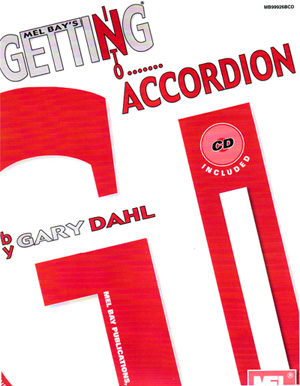 Accordionists familiar with Mel Bay Publications are aware of their primary author for the accordion. Gary Dahl has his own author's web site within the main Mel Bay web site. Click on any book listed to visit that book's page. A new book, 'Getting Into Accordion,' has been released as of April 07. This book features an instructional CD and two sound files of same that can be downloaded. Also, please visit: www.accordions.com/garydahl for a list of all books, 20+ sample arrangements and contact information and details on how to purchase.

How did Mel Bay and Gary Dahl meet? Gary knew Mel Bay had very few Accordion Books and simply wrote to Bill Bay with samples, suggestions and a tape. Bill Bay was impressed and promptly wrote back that included a contract for the first book, 'Jazz Accordion Solos' with CD. This book quickly became a 'best seller' with over 4,000 copies sold to date world wide. Similar successes have been realized with all of the books written and recorded by Gary Dahl.

Gary's instructional books and song books contain critical fundamentals for playing the accordion that have never been addressed in books before. These tips have never been taught by most teachers. Both the First Lessons and Getting Into Accordion Books teach all of these critical fundamentals; from when to 'lift off of a note to the 'correct sitting position.'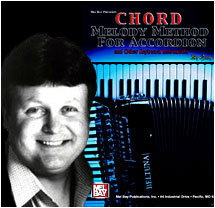 Gary grew up in Seattle and started lessons with Joe Spano at age 12. Professional work started at age 16 playing dance casuals. The US Army was next for two years as a radio teletype morse code operator and then college at the University of Washington majoring in Business Administration with a minor in music composition and theory graduating in 1966. During college, Gary started teaching at Joe Spano studios from 1960 through 1974 and during that period gained his commercial pilot rating, flight instructor and instrument flight instructor ratings with multi-engine. Gary met his wife Eloise during this time; she was a flight student. Gary entered the corporate sales and marketing world in 1974 because of the accordion's decline and retiring from same in 1990. Gary led various trios and quartets during this time period that always featuring an attractive, talented vocalist. Gary currently plays light background acoustic solo gigs.

Gary is very proud of his daughter Leesa who is a professional accordionist and pianist based in New York City. She has a masters in opera coaching and collaborative pianist degrees from the San Francisco Conservatory of Music. Currently based in New York City, Ms. Dahl has performed and coached at the Juilliard School, Manhattan School of Music, Hunter College, and the Opera Studio at Yale University to name a few.

For complete details of lessons, new arrangements (including sample pages of each) and his various books available, please visit www.accordions.com/garydahl or e-mail Gary at: garydahlmusic@msn.com


---
Henry Doktorski performs at World of Accordions Museum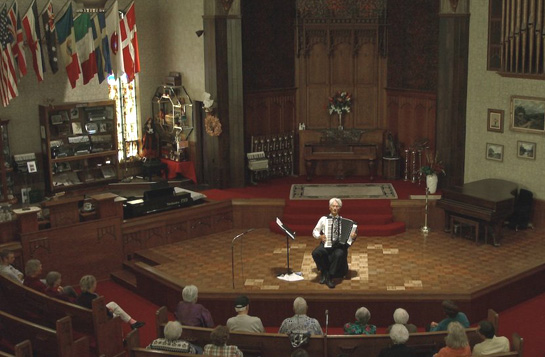 Henry Doktorski presented a lecture and performed a solo accordion recital at the Hanni Strahl Concert Hall at A World of Accordions Museum in Superior, Wisconsin on Sunday, September 16, 2007.

Doktorski's 2:00 PM lecture focused on the accordion in classical music, and his 3 PM recital included classical and popular original works and transcriptions for accordion. He performed on one of Helmi Harrington's historic instruments.

His program included:
J. Brahms: Hungarian Dance No. 5
H. Doktorski: Theme and Variation on Richard Rodgers' "Edelweiss"
Traditional: Clarinet Polka
A. Piazzolla: Oblivion
Works by Guido Deiro:
My Florence Waltz
Deiro Rag
Deirina Mazurka
Sharpshooters March
Works by Pietro Deiro:
Beautiful Days Waltz
Celestina Polka
Quick Silver Novelette
Imperia Overture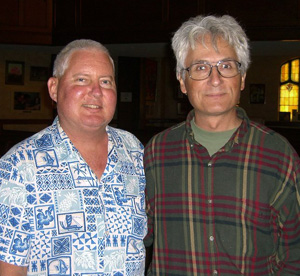 Audience members attended from several states, including Wisconsin, Minnesota, Indiana, Texas, New Jersey and California.

Cinemetographer Steve Mobia was on hand from San Francisco to film the concert and interview Doktorski for *Behind the Bellows*, a forthcoming documentary movie on the accordion. Henry's brother John also attended.

A reception and dinner followed the concert.

For more information about A World of Accordions Museum, contact Dr. Helmi Strahl Harrington at 218-393-0245 or accordion@sprynet.com. Photographs courtesy Steve Mobia.

---
Annual Florida Accordion "Smash"
The South East and Florida Accordion Associations are proud to announce their 7th Annual SMASH from November 9, 10, 11, 2007 in Orlando, FL.

Featured performers include:

Lidia Kaminska - the only person in the USA to ever receive a Doctorate of Musical Arts in Accordion Performance, and winner of the Astral Artistic Services 2007 National Auditions.
Sammy Thomas - age 18 - a favorite featured performer & honorary member of accordion clubs throughout the Western United States.
Tony Lovello - "Liberace of the Accordion" to open the evening concert - watch him WOW the crowd! Bring your instrument and join Tony as he leads the 2007 Beer Barrel Polkathon. There will be optional, private evaluations by Tony on Saturday. See registration form for more info.
PLUS, Mercedes Mendive, Mary Tokarski, Vince Aleandri, Al Ulle, John Kolbrich, Dick Albreski, Carmen Vitanza, Walt "K", Jerry Tramontozzi, Maricarmen Vazquez, Nick Ballarini, and more!
The 2007 event will be held at the Holiday Inn International Drive Resort, 6515 International Drive, Orlando, FL 32819. Phone: 800-206-2747 for Reservations (mention FL Acc Association for discounted rates of $89.00 + tax, single to quad). DEADLINE FOR HOTEL RESERVATIONS AT THIS RATE: October 19, 2007.
General SMASH information:
Friday, November 9th, famous Café Accordeon, hosted by Alvaro "Beaver" Barsi, 4:30 PM - 2:00 AM in the hotel's Front Street Café. Anyone may play. Food is available for purchase until 9 PM, beverages available for purchase until 2:00 a.m. Popcorn, chips, & salsa will be provided. There will be an accordion orchestra rehearsal, and dealer displays are open.
Saturday, November 10th, constant accordion entertainment, commencing 8:30 a.m. when the registration desk opens. The day includes: lunch & dinner (NEW … we will all be sitting in one room!), dealer displays, professional performances, accordion orchestra performance, optional 15-minute private evaluations by Tony Lovello, optional 30-minute accordion lessons with Walter Kasprzyk (private evaluations & lessons are prepaid& pre-scheduled ONLY). See registration form. After the close of the concert, we will congregate in the Front Street Café for more accordion music & jamming up until 2:00 a.m.

For more info: FLACCASSOC@bellsouth.net, or call (850) 936-8722 CST, or visit our website: http://www.accordions.com/florida


---
Lidia Kaminska to appear in World Premiere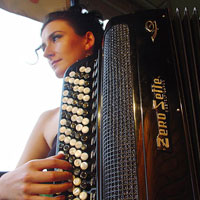 Accordionist Lidia Kaminska will perform in the World Premiere of 'A Night in the Old Marketplace' at the Prince Music Theatre, Philadelphia, PA from September 28th to October 22nd, 2007.

A Night in the Old Marketplace is a 1907 Yiddish play by I.L. Peretz (1852-1915), a well known Yiddish language author and playwright, born in Warsaw, Poland. New York City trumpeter and Klezmer specialist (and Klezmatics member) Frank London, scores the play with the book provided by Glen Berger for Alexandra Aron's theatrical adaptation. The result is Frank London's A Night in the Old Marketplace which can best be described as prewar Berlin condensed, placed in a time machine and blasted into the 21st Century.

This Klezmer musical spins a magical tale of men who wrestle with ghosts in order to right a past wrong, in a fantastic journey to rediscover the meaning of faith. A brilliant score by Frank London known for his Grammy award winning performances with The Klezmatics; Book and Lyrics by Emmy-winner Glen Berger.

For more information go to www.princemusictheatre.org


---
Still Looking for an Accordion or Two or Three
The newly established Accordion Museum exhibit... 'Accordion Gems - A Master Collection of Accordions Through Time' is still searching for some additional instruments to compliment the existing collection.

Housed in New Zealand, and the only accordion specific exhibition in the Southern Hemisphere, the instruments will be proudly displayed in the new wing of the Dargaville Museum, New Zealand which will open on October 21, 2007.

Currently featuring more than 100 representatives of the accordion family dating back to the early 1800's, the collection is still looking for some specific examples of members of the accordion family that were found in the United States including:
Reuther Uniform Keyboard accordion
Three Piano Keyboard accordion
TANZBAR (Tanzbaer) roll playing instrument ("the Dancing Bear") - 28 keys
TANZBAR disc playing instrument

TANZBAR Concertina shaped roll playing instrument - 16 keys

Any leads that might help secure examples of these instruments, or others that might be of historical interest would be greatly appreciated.

Please contact kevinfriedrich@hotmail.com or visit: www.accordions.com/kevin/museum.htm for more further details.

Examples of instruments needed for Dargaville Museum:

TANZBAR (Tanzbaer) roll playing instrument ("the Dancing Bear") - 28 key


TANZBAR disc playing instrument (left)
TANZBAR Concertina shaped roll playing instrument - 16 keys (right)


Three Piano Keyboard accordion (left)
Reuther Uniform Keyboard accordion (right)



---
Will Holshouser Trio in New York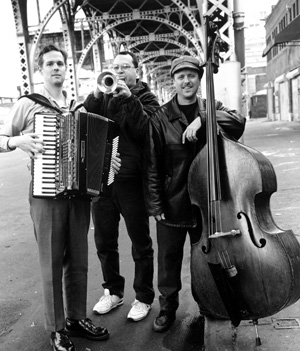 The WILL HOLSHOUSER TRIO (Will Holshouser, accordion & compositions, Ron Horton, trumpet, Dave Phillips, bass) plus special guest Scott Robinson, clarinet, will perform on Wednesday October 10th, at 10:00 PM at The Stone in New York City.

The Stone is located at Avenue C and 2nd Street in NY. Admission for this performance is $10.00.

What they are saying about Will Holshouser:
As a composer, he's broken out of the format." Bill Beuttler, Boston Globe
Will Holshouser's utterly unconventional accordion-led chamber trio . . .
is a beautiful thing." Jeff Stockton, All About Jazz New York
Will Holshouser plays as much accordion as there is to be played." David Wondrich, Village Voice
Accordionist Will Holshouser is the secret weapon in several of the scene's
most inventive and engaging bands." - K. Leander Williams, Time Out New York
Holshouser's latest trio effort [Singing to a Bee] is a lyrically
gratifying set, awash with linearly designed motifs and a gently rolling
flow . . . these compositions have staying power, where quaintness attains a
happy medium with the respective artists' praiseworthy chops and overall,
group-based sensitivity. Holshouser has orchestrated yet another winner
here!" Glenn Astarita, Ejazznews
photo credit: Lannis Delatolas
For more information, please contact: will@willholshouser.com

---
Dr. William Schimmel Announces Fall and Winter Schedule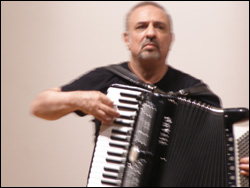 New York accordionist Dr. William Schimmel continues to keep a busy concert schedule in his usual diverse menu:
October 21 - A Musical Journey - featuring the works of Weill, Brel and Aznavour - a concert for an invited audience in Long Island, New York
November 4, 6, 8, 10, 14 and 17 - Vanessa by Samuel Barber - New York City Opera - Lincoln Center, NY - 8:00 PM
December 15 - Peoples Symphony Concerts - appearing with Windscape (Woodwind Quintet) performing the American Music of Kurt Weill and premiering a new work by Dr. Schimmel written especially for Windscape: Elgar has Hands like Scissors - for Accordion and Woodwind Quintet - Washington Irving High School - Union Square - New York - 8 PM
January 24, 2008 - Valentino Dances by Domenic Argento - The Eugene Symphony - Hult Center for the Performing Arts -Eugene, Oregon - 7:30 PM
January 25 - Same concert as above - Jacoby Auditorium - Roseburg, Oregon - 8:00 PM
January 28, 2008 - same concert as December 15 - except at The Manhattan School of Music - New York - 7:30 PM
February 2, 2008 - Sequenza XIII (Chanson) by Luciano Berio - Rose Hall Jazz at Lincoln Center - sponsored by The New York Philharmonic - Day of Berio - All fourteen Sequenzas will be performed by New York Philharmonic musicians

Recording and Book Projects include:

Pinsk and Blue for Accordion and Piano by Alla Borzova - released on Albany Records
A Portrait in Seven Shades by Ted Nash - Jazz at Lincoln Center Orchestra - Dr. Schimmel, guest artist along with Wycliffe Gordon, Nathalie Bonin and Yola Nash - release date to be announced
Andy Arcari: A Concerto (1942) - A new realization by Dr. William Schimmel - released on IPS/Studio Muse Records
Scarlatti was Here - a Video/DVD by Micki Goodman - music composed and performed by Dr. Schimmel - choreographed and danced by Ms Goodman - release date to be announced
Accordion Culture - Time, Space and High School - a book of essays, drawings and scores with an included CD containing Neer Beginning/Neer Ending and other works composed and performed by Dr. Schimmel and guests
Broadway Decamped - CyberSymphony No. 3 - composed and performed by Dr. Schimmel - release date - December 2007 - IPS/Studio Muse Records - available only for downloading
Gregorsphere - for a New Art Installation by Paul Lincoln - will be shown in Chelsea, New York and Trieste - Spring 2008 - exact dates to be announced - music composed and performed by Dr. Schimmel
Eight Pieces composed by Dr. Schimmel for Grade 1 level - available for download at Music for Accordion
A Brief History of Plaid - a video/DVD By Micki Goodman - Music composed and performed by Dr. Schimmel - available for free viewing on www.billschimmel.com and Daily Motion
For more information, please contact: billschimmel@billschimmel.com


---
The Legend of Merv Conn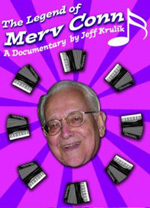 Merv Conn is often described as the 'King of the Strolling Accordionists,' and has spent over 70 years entertaining audiences large and small. On February 18th 2007, his 87th birthday, Merv Conn performed to a sell out audience at the AFI Theater in Silver Spring, Maryland.

This concert, with almost two hours of music, including the AFI Birthday Gala, featuring the World's First Ever 21 Accordion Salute, is now available on DVD as 'The Legend of Merv Conn'.
For further information e-mail: squeezinart@comcast.net


---
Accordions By the Sea Festival in Canada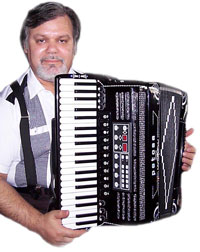 Accordionist Mario Pedone has just returned from performing in a spectacular concert in Victoria, British Colombia, Canada. 'Accordions by the Sea', an outdoor accordion festival, featured some of the of the best accordionists in the USA and Canada in an outdoor theater with beautiful scenery. Other artistes appearing included S-Bahn, Marc Wald, Bertram Levy, Ron Lankford, Victoria Accordion Club Band, Mary Ross, and Irv Lang. Next year's festival takes place from July 27th to 29th 2008.

Born in Italy in 1951, but raised in Venezuela where he graduated as a 'concertista' from music school, Mario Pedone is one of his adopted country's most accomplished accordionists and organists. Now resident in Texas, Mario arranges, composes and performs music across a wide variety of styles.

Mario will be the guest artist at the San Antonio Accordion Club on October 30th, as guest artist for their monthly meeting.

For further information e-mail: mario_accordion@yahoo.com

---
Hohner Seeks Product Manager for the Accordion

Vacancy. The Hohner subsidiary Hohner Inc. in Richmond, Virginia, USA, is seeking to appoint an Accordion Product Manager. Requirements for this position are a familiarity with the Accordion and the retail music products market.

LOCATION: Richmond, VA
DEPARTMENT: Marketing
HOURS: 8:00 – 4:30
SUPERVISOR: Director of Marketing and Sales

DATE: 9/18/07
SALARY RANGE - $50 – 60,000 salary per year plus up to $20,000 potential bonus if incentive targets are met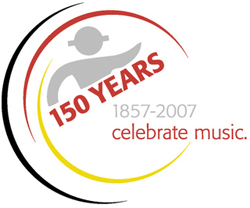 SUMMARY Responsible for all aspects of sales, promotion, product development and marketing in the US. Responsibilities include: P&L management, forecasting, inventory control, building and strengthening relationships with current dealers as well as developing relationships with potential new dealers, traveling to and interfacing with key dealers and players, creating presentations, presenting strategy to corporate management, acting as a liaison between all of our manufacturing partners, creating sales promotions, and coordinating product launches, pr, and all marketing and sales efforts related to the brand.


ESSENTIAL DUTIES AND RESPONSIBILITIES include the following:

Travel to trade show events and visit major dealer accounts.
Manage and develop sales budgets and strategies
Regularly analyze sales budgets against performance and recommend strategies for improvement.
Develop and manage product pricing for the US market.
Establish product projections for purchasing.
Coordinate new product development efforts.
Serve as liaison between manufacturers and company
Serve as liaison with customers
Work with sales to support brand positioning.
Management of all promotional and event driven marketing
Serve as industry identified focus person (industry voice)
Develop and implement market expansion programs and initiatives.
Manage special projects, and perform other duties as assigned by management.
QUALIFICATION REQUIREMENTS: A keen understanding of management, people and customer's needs is essential. Must possess strong interpersonal communication and leadership skills, as well as strong team skills, to work on group projects and other collaborative efforts. Ability to understand and guide the work of others, as well as coordinate activities and resources of business units. Should possess sound judgment and decision-making skills in order to choose appropriate solutions relative to costs and benefits. Must have related experience in brand management, purchasing, marketing or selling musical instruments. Familiarity with Accordion playing and knowledge of US Accordion market is a definite plus.

Education and/or Experience: Experience in sales, marketing or brand management on a national level preferred. Extensive familiarity with accordion instruments required. Extensive domestic and international travel required. Ability to effectively multi-task. Music industry experience preferred. Experience in working with an independent or corporate sales force. Excellent computer skills required (Microsoft Office Suite including Power Point).

Language Skills: Ability to read, analyze and interpret business and technical documents. Must possess exceptional communications skills to effectively present information verbally, in written form, and in person, to customers, vendors and co-workers. Must have a positive and proactive attitude and demeanor.

Mathematical Skills: Ability to calculate figures and amounts such as discounts, interest, percentages, etc.

PHYSICAL DEMANDS: The physical demands described here are representative of those that must be met by an employee to successfully perform the essential functions of this job. Reasonable accommodations may be made to enable individuals with disabilities to perform the essential functions.

While performing the duties of this job, the employee is frequently required to sit and talk or hear. The employee is frequently required to use hands to handle objects or controls, and reach with hands and arms. The employee must occasionally lift and/or move up to 10 pounds. Specific vision abilities required by this job include close vision.

WORK ENVIRONMENT: The work environment characteristics described here are representative of those an employee encounters while performing the essential functions of this job. Reasonable accommodations may be made to enable individuals with disabilities to perform the essential functions.The noise level in the work environment is usually moderate.

Please e-mail resume to: semmerman@hohnerusa.com

---
Promoting Your Accordion Services Free at AWW

The Internet is changing the way your customers are searching for services. The days of lugging out a 12 lb. telephone book to find very limited and outdated business information are coming to an end. People are still letting their fingers do the walking, but they're doing it over a computer keyboard. Below are some revealing facts from the Kelsey Group.
74% of US households use the Internet as an information source when shopping.
Approximately 45% of searches had a buying intent.
The percentage of respondents who used yellow page directories decreased from 75% to 62%.
(If you have a printed yellow page ad, it is time to consider buying a smaller ad and shifting your marketing dollars to the Internet.) The off-line Yellow Pages see the writing on the wall and are scrambling to transfer their business model to the Internet.

Businesses can no longer ignore these facts. If you want to be successful, you must have a presence where your customers are searching. Being found on the Internet is vital to the future of your business.



The Accordion Yellow Pages offers free of charge listing for all accordion businesses, teachers and for every type of service for accordionists. On the Accordion Yellow Pages site, you do not need to have a website for accordionists find you and contact you.



The search-accordion.com site is also free of charge, being a listing service for every type of accordion service but you must have a website. Viewers of search-accordion.com can click to your website.



Very popular is the AccordionLinks.com site where those accordion service providers with a website, can attract accordionists free of charge to their website.

All it takes is a little effort, to make sure your information on these three popular and very effective accordion sites is up to date. Your future success may well be determined by your ability to effectively adapt to the Internet. Should it be your New Year's resolution for 2006?


---
Hank Thunander to Appear at MAC Concert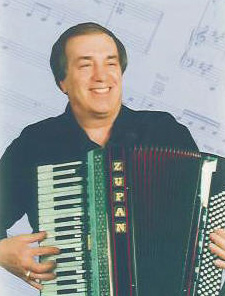 On October 22nd, 2007 accordionist Hank Thunander will be the feature artist at the Milwaukee Accordion Association's monthly gathering.

Hank began his musical career at the age of 9 in a small town in Bessemer, Michigan. Taught by Zenda DeRubeis and inspired by his Godfather, Frankie Yankovic ("America's Polka King", the accordion became Hank's passion.

Early on, Hank played many musical jobs and formed a band. He has backed popular artists including the late Frankie Yankovic while establishing his own identity in the music industry.

Recognized for his achievements, Hank was awarded the Army commendation Medal for his outstanding leadership and performances in Special Services Entertainment, he has received numerous press credits in local newspapers all over the country, and was inducted into the Ironworld Polka Hall of Fame in Chisholm, Minnesota in 1993.

Hank has repeatedly awestruck crowds with his various styles of music at night clubs, festivals, casinos, ballrooms and theme parks throughout the USA. His extraordinary talent includes a vast number of ethnic themes, big band, polkas, old-time, country, 50's, 60's and 70's, standards, light rock, classical melodies, spiritual, patriotic and holiday tunes.

With seven of his own recordings, new releases in the making, ongoing performances, and a mailing list of his loyal following in excess of 2200 - demonstrates that Hanks special fight will continue to be enjoyed by audiences for many years to come

The concert will take place at the Root River Center, 7220 W. Rawson Avenue, Franklin, WI 53132, phone: (414) 425-7225. The Admission is $5.00 for MAC members and $10.00 for guests. The pre-meeting entertainment will be provided by Joe Bastian, John Kreiter and Rich Regent.

For more information, please visit: www.accordions.com/mac


---
NE ACCORDIONFEST 2007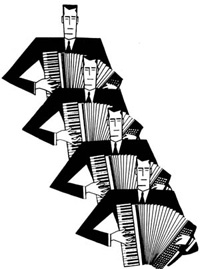 The NE Accordionfest 2007, the 10th Anniversary Celebration, will be held from November 9, 10, 11, 2007 in Minneapolis, MN.

The program is scheduled as follows:

Friday, November 9th
5:00 Dan Turpening
6:00 Finn Hall
7:00 Joanna Darrow, New Jersey
8:00 Dan Newton **2007 Accordion Achievement Honoree**
Daddy Squeeze Trio, Dan Newton (accordion)
Bob Ekstrand (guitar), Tom Lewis (bass)
9-11:00 Larry Malmberg & Mike Alongi, Illinois
Saturday, November 10th

9:00 Jazz Symposium / Workshop with Mike Alongi and others
11:00 Workshop by Joanna Darrow: Choosing the right accordion & practice tips
12:00 Mark Stillman
1:00 Machinery Hill, Datta (accordion), Bill Lee (sax, whistles,harp,clarinet, perc)
John Gwin (drums/percussion), Melisa Mathews (violin, fiddle)
Steve Zimmerman (guitars, vocals)
2:00 Orkestar Bez Ime (OBI), Dee Langley (accordion, vocals)
Colleen Bertsch (violin, bass, vocals), Katrina Mundinger (clarinet, vocals)
Natalie Nowytski (vocals, percussion, bass), Tim Wahl (tambura, kaval)
3:00 Dee Langley
4:00 Hank Thunander
5:30-8:00 dinner on your own and travel to the Walker Art Center
8:00 Walker Art Center / Frode Haltli, Norway (additional charge)
Sunday, November 11th
10-12:00 Massed Accordion Band rehearsal, Wendy Tangen-Foster conducting
12:00 John Scaffeo, Canada
1:00 Jerry Minar and friends
2-3:30 NEAF National Accordion Month Ensemble Concert
6:00 Midwestern Potluck at Pilgrim Lutheran Church
(bring a dish to share and your accordion)
Helping Celebrate National Accordion Month, the festival features 20 plus hours of accordion (and related instruments) music. For a complete schedule and more information please visit: www.airaccordion.com/neaf2007.htm or contact Dee Langley (612) 781-8192 or e-mail: dlangley@airaccordion.com


---
Joan Sommers Invited to Conduct in Scotland

Following the very successful World Accordion Orchestra debut performance at the Coupe Mondiale 2007 under the direction of Joan C. Sommers, the hosts of the 2008 CIA Coupe Mondiale, the National Accordion Organization of the United Kingdom (NA) are delighted to announce that the "CIA World Accordion Orchestra II" is to be held during the 61st Coupe Mondiale in Glasgow, Scotland from 21st - 26th October, 2008.

The members of the 'CIA World Accordion Orchestra II' will again include musicians from many different countries, including many officers of the Confédération Internationale des Accordéonistes (CIA) and delegates attending the 120th CIA Congress. The concertmaster will again be New York City resident CIA President Kevin Friedrich.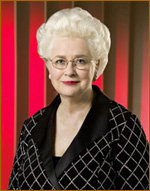 It is planned that there will be four pieces each conducted by a different Musical Director - they are three well known Scottish Conductors - Brian Laurie, Graham Laurie and Ronnie Brown – together with special International Guest Conductor and founder of the World Accordion Orchestra and Vice President of the CIA Music Committee, Joan Cochran Sommers (right).

The CIA World Accordion Orchestra II schedule will be as follows:

Mandatory Rehearsal: Friday, October 24, 2008 - time to be announced
Mandatory Rehearsal: Saturday, October 25, 2008 - time to be announced

Performance: Saturday, October 25, 2008 - time to be announced

Stay informed about the CIA World Accordion Orchestra II and all events by checking this website. Full information on program and rehearsal schedule on February 1, 2008, please check back.

---
---
Note: In order to provide as much information as possible for the United States National Accordion News stories, many different sources are often researched to gather additional information and pictures to complement what has been submitted. This information is then correlated to provide the news on www.accordionusa.com in the spirit of which it is intended, which is to provide a free news service to the Accordion Community, specifically in the United Sates. If you feel any copyright has been violated please advise www.accordionusa.com and the article will be removed immediately.