---
Roland USA Announces First Winner
In celebration of one of the world's most historic instruments, the accordion, Roland Corporation U.S. held the first ever Roland V-Accordion Festival in Los Angeles on September 20, 2008. Contestants hailed from all over the U.S., and played in styles ranging from Jazz to Celtic. Each contestant was given an FR-7 V-Accordion to play during their five-minute performance.

A panel of five judges including Frank Marocco, Joan Cochran Sommers and Eddie Monteiro awarded top honors to Joseph Natoli. As the Grand Prize winner, Natoli will fly to Rome, Italy on November 7, 2008 to participate in the International Accordion Festival and compete against 15 other countries, courtesy of Roland.
| | |
| --- | --- |
| | |
| Grand Prize Winner - Joe Natoli | First Runner Up - Mark Kenneth |
Joseph Natoli lives in Central Ohio with his wife Giovanna, and has been a performer and advocate of the accordion since age seven. Joe started his studies with prominent Ohio accordion teacher, the late Mickey Bisilia of Youngstown, Ohio and continued studies with Joseph Macerollo at the University of Toronto in Canada. Joe has written many pieces for the accordion in all compositional styles and also maintains a music publishing web site, where he supports and distributes the works of other composers as well. Joe has worked in the IT industry for the last 25 years and is currently employed as a IT Director in the financial industry. His program for the competition was as follows: Die Spieluhr – Carl Hines, Someone to Watch Over Me – George Gershwin and Donkey Serenade – Rudolf Friml.

Roland V-Accordion Festival event coordinator Ron Lankford relates, "Roland was proud to promote accordion music at its finest, and we were very excited about the number of participants and great quality of musicianship."

First runner up for the competition was Mark Kenneth - born and bred in Dundee, Scotland, Mark started learning the accordion at six years of age. Classically trained, he passed all of the British College of Accordionist Exams in playing and theory, and won championships at both the All Scotland and All Britain level. He started playing traditional Scottish music at twelve years of age, developing an ear for his own style of driving, foot tapping , yet heartfelt playing. He performed regularly around Scotland with leading TV musicians and comedians in touring shows and led his own dance band at weddings and parties throughout Scotland, Europe and the Middle East. His program included: The Sound of Mull, Cleveland Park, Traditional Reel and The Glasgow Reel.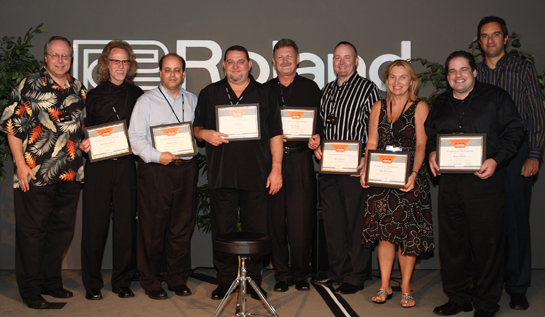 Dennis Houlihan, Murl Allen Sanders, Grand Prize Winner - Joseph Natoli, Ivan Milev, Alex Lavruk, First Runner Up - Mark Kenneth, Alex Alexandrov, Steve Albini, Roberto Gaetani - Roland Europe
Other contestants included:

Steve Albini: Steve's love of music began at an early age with his father's record collection. Steve eventually learned to play numerous instruments including trumpet, guitar and accordion. His love of the accordion developed after hearing both his cousin and sister perform. Steve later discovered his fathers Charles Magnante records which made him want to play the accordion even more. Steven is currently married and has a 3 year old son. Music is his career as he performs regularly and teaches at a northern California music academy. Program: Domenico and Guido.

Alex Alexandrov: Alex was born and raised in Bulgaria and moved to the USA in 1986. She received a High School Valedictorian- gold medal award for achievement and received numerous accordion awards in Bulgaria, including four individual gold medals and three gold medals as a concertmaster for the National Accordion Orchestra. She was also the concertmaster for the Palace of the Pioneers Accordion Orchestra for three years and concertmaster for the National Accordion Orchestra of Bulgaria for twelve years. Most recently Alex is now the Director of Broadcast Operations for the College of Brockport State University of New York. Program: Excerpts from Zigeunerweisen P.Saraste.

Alex Lavruk: Alex Lavruk was born in the former Soviet Union. By his 5th birthday he started to beg his parents to buy an accordion for him to play. By the time he was eight years old, he was performing in local and state competition as well as talent shows. At age fourteen he was awarded a scholarship to the College of Music where he earned a Bachelor of Music in Accordion Performance with Distinction. Alex successfully continues to teach and perform in this country that has become his home. Currently he is a faculty member at San Bernardino Valley College, where he teaches classical guitar, piano and accordion. He also continues his study with music at California Baptist University, Riverside and works as a studio musician. Program: Eine Kleine Nachtmusic – 1st Movement – by Mozart and Libertango – by A.Piazzola.

Ivan Milev: Bulgarian accordionist extraordinaire, is a legendary figure in contemporary Balkan folk music, both in his native land and in the US. An internationally acclaimed artist, Milev has also performed in Germany, Turkey, Greece, Canada and the former Yugoslavia. Throughout his 40-year career he has established the rules of the genre, yet expanding it's musical potential through incorporation of jazz, Classical, Eastern European and Middle Eastern elements. The result is a fusion of breath-taking technical prowess, dizzying key changes, electrifying Balkan rhythms and many delightful musical jokes and surprises along the road. Milev moved to the U.S. in 1999, where he has been in high demand as a performer and teacher at numerous ethnic festivals. Program: Bulgarian Suite.

Murl Allen Sanders: Murl Allen Sanders is a free-lance musician and recording artist who has been active in the Seattle area music scene and across the United States for over twenty five years. He performs and records regularly with his own bands, as a soloist and with numerous bands in the Northwest. Murl plays piano, accordion, organ, electronic keyboards, harmonica, sings and teaches and composes music. Murl has worked with such diverse artists as Chuck Berry, Etta James, Leslie Gore, Barbara Lamb, and Kelly Harland, among many others. He is in demand as a recording musician for film scores, advertisements and CD's. Murl was a featured artist and instructor at the Accordionist' and Teachers Guild convention in Nashville, Tennessee in June 2008. Program: Andante from Accordion Concerto # 2 and Samba En Preludio – Baden Powell.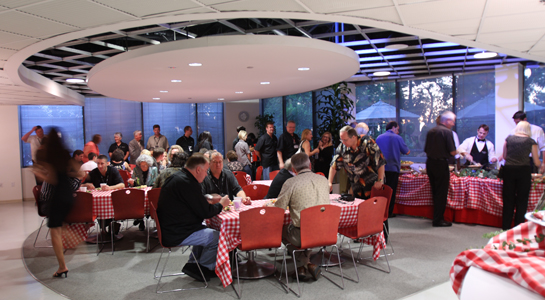 A number of guests enjoying the buffet at Roland Headquarters


---
Milwaukee Accordion Club October Concert
The Milwaukee Accordion Club (MAC) will hold their October monthly meeting on October 27, 2008 featuring Ed Smolen and Marek Lichota.

Enthusiasts are invited to come and enjoy the music of Ed Smolen playing accordion and Marek Lichota on bayan, from

Chicago's Polish American Accordion

Association!

Both have received classical training in Poland and have played in various venues throughout the world and will play music from

Germany

,

Russia

, Poland, Bavaria, Slovenia, etc. . . . but don't expect to hear an evening of stiff classical music as these talented artists can be expected to mix is up with tangos, polkas, sambas, rumbas, waltzes - you name it.

Come early and from 6:30 to 7:30 PM enjoy the happy music of Vern Tretow's trio, featuring Vern on concertina, son, Tom on tuba and bass, and John Kreiter on drums.
All Milwaukee Accordion Club concerts feature pre-meeting entertainment - 6:30 PM, a business meeting at 7:30 PM with the featured entertainment concert beginning at 8:00 PM. Concerts take place at the Root River Center, 7220 W. Rawson Avenue in Franklin, WI 53132, phone: (414) 425-7225.

---
Accordionist in Residency and Concert with Iowa Orchestra

From November 9-14, 2008, Henry Doktorski will serve as Artist-in-residence for the Ames Iowa High School Orchestra, and also perform as guest soloist with the orchestra in a concert on Friday, November 14, 2008, under the direction of Maestra Mary Kay Polashek.

Concert program will include:
Suite on Four Polish Carols by Henry Doktorski
Jazz Fantasia on Carol of the Bells by Doktorski
Adios nonino by Astor Piazzolla
Tres Tangos for accordion, piano, harp, percussion & strings by Astor Piazzolla
Concerto for Accordion and Strings by Charles Camilleri
A surprise encore piece by Pietro Frosini in an accordion duet arrangement with Emil Polashek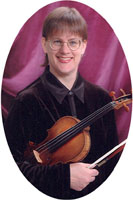 The Ames High School Orchestra, under the direction of Mary Kay Polashek for the last twenty-one years, has become, under her guidance, one of the premier high school orchestras in the United States. For the last nine years, the orchestra has had celebrated guest artists perform with them during their annual Fall Festival Concert. The first Ames High School Fall Festival concert was held on November 11, 2000, and featured the internationally renowned harpsichordist Igor Kipnis. Since then the Ames High School Orchestra has had the privilege of collaborating for the Fall Festival with the Pioneer String Quartet, harpsichordist George Lucktenburg and pianist Paula Helmuth, pianist William David, and trumpeter James Bovinette. Festival Artists spend a week at Ames High School rehearsing with the string orchestra, they give presentations at area schools, and some have also performed a solo recital. The variety of artists and music has provided a truly outstanding experience for the students and the community.

Maestra Polashek, who is also a distinguished violinist and violist in her own right, explained how she came to invite Doktorski to be the 2008 Fall Festival Artist: "The Ames High School Fall Festival artist in 2006, James Bovinette, was interested in playing the Prayer of St. Gregory by the American composer, Alan Hovhaness. As I googled for information on that piece, the web site for Henry Doktorski was included in the list of hits. I visited his site, and discovered that Hovhaness had written a piece for him. I also listened to some sound files and found out that Henry was a superb accordionist. As the wife of an accordionist (a romantic tale), I e-mailed Mr. Doktorski and introduced myself and the Festival. I asked him about the availability of repertoire for orchestra and accordion. Mr. Doktorski kindly responded that indeed there is a good and growing repertoire. Many e-mails and one phone call later, Ames High School orchestra is very excited to have Henry Doktorski as our guest artist this November. It will be a musical experience like none other. Imagine a high school string group performing Piazzolla!"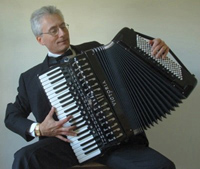 Doktorski will be assisted by Maestra Polashek's husband, accordionist Emil Polashek. Emil began accordion lessons at age 12 with the Boddicker School of Music in Cedar Rapids, Iowa. He played with a series of accordion bands there, touring nationally and internationally with the Accordion Aces, and competed in state and regional contests. He continued playing accordion as an avocation in college and as an adult, and has performed with the St. Olaf College Norseman Band, the Central Iowa Symphony, the Des Moines Symphony, and the Iowa State University Wind Ensemble. Emil enjoys performing accordion and violin duets at various events with his wife, who never imagined growing up that she would ever do anything of the sort.


---
Lidia Kaminska to Perform with the Delaware Symphony Orchestra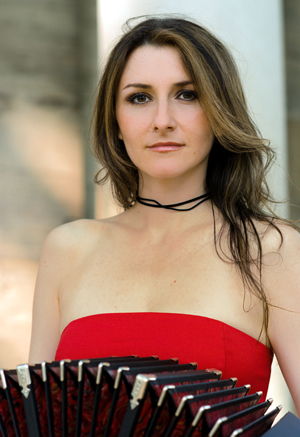 Accordionist Lidia Kaminska will perform Astor Piazzolla 's Aconcagua Concerto for bandoneon with Delaware Symphony on October 17 and 18 at the Grand Opera House in Wilmington under the direction of David Amado.

A winner of Astral Artists' 2007 National Auditions, Lidia Kaminska has performed extensively in both the U.S. and Europe. Astral presents her in recital in its 2008-2009 concert season. Ms. Kaminska's chamber music, concerto, and solo performances explore the complex and expressive range of the accordion as a classical instrument, and her repertoire includes a broad range of classical, contemporary, and avant-garde music. She conceived her first album, Breaking Boundaries, as part of her mission to change the perception of the accordion from parlor entertainment to a serious classical instrument; Philadelphia Magazine claims "she transforms the accordion into a massive force – more pipe organ than squeezebox – and burns through [classical repertoire] with virtuosic speed and technique."

Ms. Kaminska began playing the accordion at the age of eight. By eleven she was competing in international competitions in Bulgaria and Germany, and just a year later gave solo performances in Holland, Austria, and Germany, as well as in her native Poland. Upon receiving a Master's degree from the Chopin Academy of Music in Warsaw, she came to the U.S. to study at the University of Missouri/Kansas City; at 25 she became the first (and only) person in the U.S. to receive a Doctorate in Accordion Performance.
|
Symphony in C recently featured Ms. Kaminska in a sold-out performance, as soloist in Piazzolla's Aconcagua concerto for bandoneón; she returns to Symphony in C this season. She has also been a featured soloist with the Kielce Philharmonic Orchestra of Poland, the Strings of Lodz, the Concord Chamber Orchestra, the North Arkansas Symphony Orchestra, and the Kansas City Chamber Orchestra. She has also been presented at Philadelphia's Kimmel Center for the Performing Arts. Philadelphia Magazine featured her in its 2006 "Best of Philly" issue, and her interview with Marty Moss-Coane was recently broadcast on WHYY and NPR.

For more information on tickets and location, please visit the: www.desymphony.org or www.lidiakaminska.com

---
Jane Christison hosts fundraiser Dinner-Show in Kansas City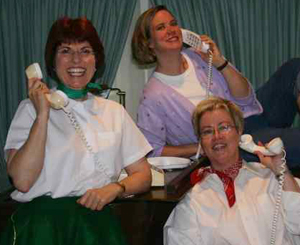 Jane Christison (accordionist) and the Kansas City Alumnae Chapter of Sigma Alpha Iota (SAI) invite you to attend The Fabulous Fifties - Our Hit Parade! on Sunday, October 19, 2008 at the Village Presbyterian Church, 67th & Mission Road, Prairie Village, Kansas.

The event begins at 5:00 PM with a Silent Auction, 6:00 PM Dinner followed by a Music Show. This is the fourth annual Dinner-Show fundraiser. All money raised goes toward college-level music scholarships.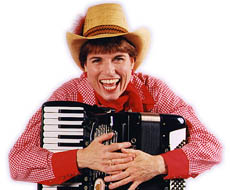 Jane will be the emcee for the evening's show in addition to performing on the accordion. Other music for the event will be a string quartet during the Silent Auction, pianists providing dinner music, followed by a variety of instrumental musicians and vocalists performing music from the 1950's.

The deadline for ordering tickets is Friday, October 10, 2008. Tickets are $25.00.

For additional information, please contact Jane Christison at 913-492-3883 or by e-mail at: janec@musicwithasmile.com


---
Florida Smash and a Wedding?
The Florida Accordion Association - Southeast Accordion Association announce their 8th Annual SMASH to be held from November 14, 15, 16, 2008 at the Holiday Inn International Drive Resort, 6515 International Drive, Orlando, FL 32819.
|
Included in the lineup will be: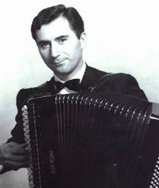 Antonio Barberena - Mexico City, Mexico - One of the finest accordionists from the country of Mexico, performing a light classical repertoire. You won't want to miss his performance of "Libertango"!!!

Tony Lovello - "Liberace of the Accordion" to open the evening concert - watch him wow the crowd, and don't forget to bring a seatbelt for a performance that will knock you out of your chair! There will also be 30-minute private lessons by Tony, available on Saturday. You will need a music stand. See him at the event for his availability.

K-Duo - Walt Kasprzyk and Mary Tokarski, of the internationally-famous "K" Trio, performing world-class duets!

Eduardo Reyes - accordion icon from San Juan, Puerto Rico - performing some of his impressionistic jazz selections as well as Alex Chudolij, Doris Allen, Ron Jaxon, John Lobosco, Smokin' Joe Zalewski, Amazing Al Ulle, Super Dick Albreski, Carmen Vitanza with Mike Lavoe, Jerry Tramontozzi, Maricarmen Vazquez with violinist, Mary Tokarski, Walt Kasprzyk, Vince Aleandri, Lenny Feldmann, and the 2008 SMASH accordion orchestra, conducted by Mary Tokarski.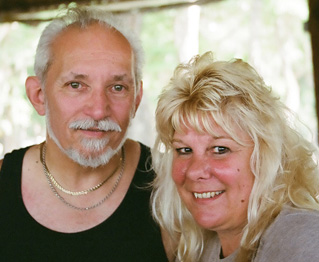 Plus - the wedding of the century - after the evening concert - Karen Adam, President of the Accordion Association, to wed Walt Kasprzyk, of the famed "K" Trio. All SMASH attendees are invited to witness the ceremony, as well as attend a grand dessert reception, complete with Accordion cake & Viennese table. Best man, Antonio Barberena will attend Matron of Honor, Mary Tokarski; "Super Dick" Albreski will attend 9 year old ring-bearer/accordionist, Jamie Migagawa. Tony Lovello will honor the bride & groom by providing the processional & recessional music, and perform "Through the Eyes of Love" during the ceremony.

For additional information, please visit www.accordions.com/florida or contact flaccassoc@bellsouth.net.


---
Mario Pedone's Concert Schedule in October and November
Accordion "It's not just an instrument that you play," "You have to give your soul. You have to melt with the music, give life to the music. You need to transmit everything you feel to the minds of the people that are listening." Mario Pedone.

Whenever Mario Pedone's older brother was away from the house, the eight-year-old would sneak into his room and play his accordion. The young boy loved the way the instrument sounded and the intricate way the sounds were formed with the bellows and keys.

One day, his father came home early and discovered his young son trying to play the accordion that was almost as big as he was. The boy was afraid, thinking he'd be in trouble, but his father said he was better than his brother, promptly canceled his brother's lessons and enrolled Pedone in accordion playing classes.

Those lessons paid off as Pedone, 55, is a gifted accordionist, performing all over the world in a variety of musical genres, from country and western to classical pieces.

Pedone's gentle demeanor is reflected in the soulful manner in which he plays the accordion that requires dexterity and practice.

Born in southern Italy, the Pedones moved to Venezuela after World War II to escape the ravages of the war. Music was an important part of their lives, and it soon became apparent that Pedone was a gifted accordionist.

Mario's upcoming concerts include:
October 19 - 2008 San Francisco Accordion Club
October 20 - 2008 Accordion of the Redwoods - Petaluma
October 22 - 2008 Golden State Accordion Club - Sacramento
November 2 - 2008 Silicon Valley Accordion Club - San Jose
November 9 - 2008 Santa Barbara Accordion Club
November 12 - 2008 - Good Time Accordion Club - Escalon
November 16 - 2008 Accordion Concert at Zin in Houston TX

---
Gene Van Celebrating 50 Years of Teaching the Accordion
If you teach them, they will come. This may not be the original intentions, but that is exactly what happened in July when Gene Van decided to celebrate his golden anniversary by having a concert to benefit autism.

Over forty of his former students responded to this call and also two world class accordionists to also participate and be a part of the Gene Van accordion family. Amy Jo Sawyer, former U.S. Champion and Mr. Joe Natoli 1972 AAA U.S. Champion.

The weekend was a celebration that gave his students, now grown with families and careers of their own an opportunity to let Gene know how influential he was on their lives and how the accordion made an impact that continues to be felt today. "Other than my parents, Gene was by far the most influential person in my childhood," said Rebecca Hums Ratliff Winnsboro Texas and former South Bend IN resident. Ratliff is only one of many former students of Gene Van's Accordion Conservatory who traveled hundreds of miles to South Bend in order to take part in the Golden Anniversary Concert and tribute.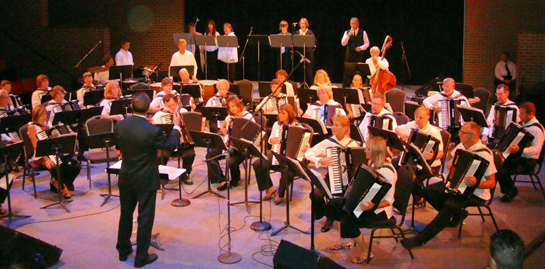 Gene Van leading Gene Van Studio 50th Anniversary Orchestra Performance
There were former students who returned just to listen once again as the concert orchestra, made up of former state champions, former teachers as well as students and special guests took on the challenges of playing a full concert performance after years of not having played.

Thursday night's first full rehearsal was the first chance to see if this group still had the heart and talent to make this concert come together. Not without it's rough spots, new arrangements, old arrangements showed promise but were a far cry from where we knew they needed to be. By the next rehearsal, the magic of the moment began to affect everyone as the group came together, the new arrangements grew more comfortable and the tempo's came closer to what they would be Saturday night.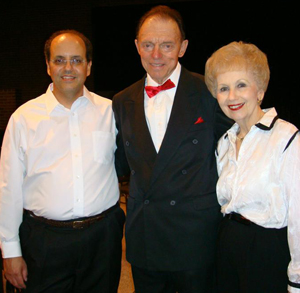 The concert, titled "One Voice" featured classical pieces, show tunes and original arrangements by Van. Among the songs played in the first half of the concert were selections such as Buglers Holiday, The Holy City, Sound of Music Medley all arrangements by Palmer Hughes, in addition to Danse De Bouffons arranged by Charles Magnante - a tribute Gene Van wanted to make as a way to honor these talented musicians who had done so much for the accordion world. The second half of the concert featured several songs selected by former students, MacArthur Park, Young American Medley - songs that were played by students in the Gene Van Symphony of the 70's. Featured was a new arrangement by Gene Van called Patriotic Medley that was done for this anniversary benefit concert. Pictured above left are Mr. Joe Natoli 1972 AAA U.S. Champion, Gene Van and former U. S. Champion Amy Jo Sawyer.

---
Mary Tokarski Releases New CD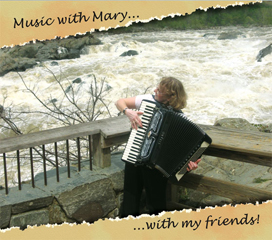 Accordionist Mary Tokarski has released a new CD titled "Music with Mary... for my friends!". The music included on this CD showcases the accordion in numerous settings such as accordion with Symphony, String Quartet, Guitar, Percussion and Piano, in addition to several accordion solos in a variety of genres such as Classical, Ethnic, Accordion Classic, Novelty, Tango and more.

Mary Tokarski performs both nationally and internationally as a soloist, with Symphony Orchestra and as a member of The 'K' Trio. For 20 years Mary served as Director of Music Education at Tokarski Music Center in North Haven, Connecticut, where she taught piano and accordion, as well as conducted the choral & ensemble programs, and supervised the pre-school programs. Mary currently teaches piano and accordion at her home in Northford, Connecticut.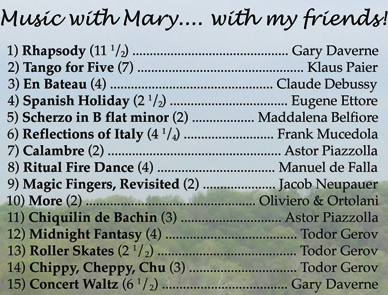 She also serves as a Music Educator in the North Haven Department of Education's Early Childhood Development Program at Green Acres Elementary School. Currently, Mary serves as a Board of Director with both The American Accordionists' Association (AAA) and the Accordionists and Teachers Guild, International (ATG) which are the two national member organizations of the Confédération Internationale des Accordéonistes (CIA)

For more information, please visit www.accordions.com/mary or contact e-mail: mary.tokarski@comcast.net

---
American Accordionists Association Concert in New York
The American Accordionists' Association (AAA) will hold a Panel Discussion at 6:30 PM followed by a concert on Friday, October 10, 2008 at 7:30 PM, the fourth in a Series of Concerts featuring original Concert Music for or including the accordion. The concert will be held at the Elebash Recital Hall at the Graduate Center of the City University of New York, 365 Fifth Avenue, New York, NY (opposite the Empire State Building).

This year the program will feature 20th and 21st Century works of a more "conservative" nature, adhering to many past principles of "vintage" "traditional" music while in many instances updating the harmony, rhythm, and counterpoint in many varied and arresting ways.
| | |
| --- | --- |
| | |
| William Schimmel & Micki Goodman | Robert Young McMahan |
Returning to our stage will be accordionists Beverly Roberts Curnow, Robert Young McMahan, William Schimmel, Mary Tokarski, and choreographer /dancer/video artist Micki Goodman. New artists in the series will include violinist Ruotao Mao, pianists Dessie Vassileva Vaughn and Tomoko Kanamaru, and accordionists Frank Busso, Julie Cardona, Marilyn O'Neil, and Linda Soley Reed, all of whom will join Beverly Curnow, Robert McMahan, and Mary Tokarski in a climactic ensemble finale number that will feature Ms. Tokarski as a soloist.

Some pieces will lean a bit more towards the modern "neoclassical" mold (the Adler, Bennett, and Cowell selections), while others will be more strictly 19th century and derivative in quality (such as Frosini's Rhapsodie No. 3) or post-romantic, and slightly more modern (Daverne and Gerov). The remaining works by Pietro Deiro, Robert McMahan, and William Schimmel will offer more recent trends in music, which is particularly surprising in the case of Deiro's rarely performed "Atonal Studies."

A highlight of the program will be the world premiere of the original free-bass version of renowned composer Samuel Adler's Canto XVIII, for accordion solo (following the world premiere of the stradella edition by Ms. Curnow at the recent AAA 70th Anniversary Concert). This is the most recently commissioned work by the AAA. A second highlight will be another world premiere, Todor Gerov's Retrospection, for accordion and piano, performed by Mary Tokarski and the composer's daughter, pianist Dessie Vaughan.
| | |
| --- | --- |
| | |
| Beverly Roberts Curnow | Mary Tokarski & Dessie Vaughan |
As has been the custom in the past, there will be a panel discussion before the concert in which composers present (or their representatives) whose works are on the program will discuss their music and answer questions from the audience. This season's panel will consist of Samuel Adler, Beverly Roberts Curnow, Micki Goodman, Robert Young McMahan (moderator), William Schimmel, Mary Tokarski, and Dessie Vassileva Vaughan.

Come and enjoy this mid-autumn program which promises to be as full of delightful variety and color as the fall leaves of the season.

Seating is limited and attendees are advised to reserve their seats early. Tickets are $25.00 per person or $20.00 for AAA Members. To download the reservation form, please visit www.ameraccord.com or contact AAA President Linda Soley Reed (203) 335-2045 or e-mail: aaa1938@aol.com

---
Promoting Your Accordion Services Free at AWW

The Internet is changing the way your customers are searching for services. The days of lugging out a 12 lb. telephone book to find very limited and outdated business information are coming to an end. People are still letting their fingers do the walking, but they're doing it over a computer keyboard. Below are some revealing facts from the Kelsey Group.
74% of US households use the Internet as an information source when shopping.
Approximately 45% of searches had a buying intent.
The percentage of respondents who used yellow page directories decreased from 75% to 62%.
(If you have a printed yellow page ad, it is time to consider buying a smaller ad and shifting your marketing dollars to the Internet.) The off-line Yellow Pages see the writing on the wall and are scrambling to transfer their business model to the Internet.

Businesses can no longer ignore these facts. If you want to be successful, you must have a presence where your customers are searching. Being found on the Internet is vital to the future of your business.


The accordion-yellowpages.com offers free of charge listing for all accordion businesses, teachers and for every type of service for accordionists. On the Accordion Yellow Pages site, you do not need to have a website for accordionists find you and contact you.


The search-accordion.com site is also free of charge, being a listing service for every type of accordion service, but you must have a website. Viewers of search-accordion.com can click through to your website.


Very popular is the AccordionLinks.com site where those accordion service providers with a website, can attract accordionists free of charge to their website.

All it takes is a little effort, to make sure your information on these three popular and very effective accordion sites is up to date. Your future success may well be determined by your ability to effectively adapt to the Internet. Should it be your New Year's resolution for 2008?


---
Serbian Based 'Kal' Tours the USA
Kal, a young Serbian based Gypsy band, whose self-titled album topped the European world music charts in April 2006, will be making its second tour of the United States in October 2008.

Kal are a young band, rock'n'roll in attitude, fueled on dance beats and rooted in the Balkan blues. In their wit, imagination, ability to throw disparate sounds together and refusal to play by "folkloric" rules Kal mark themselves as both part of Balkan Gypsy tradition and 21st Century Roma cultural activists.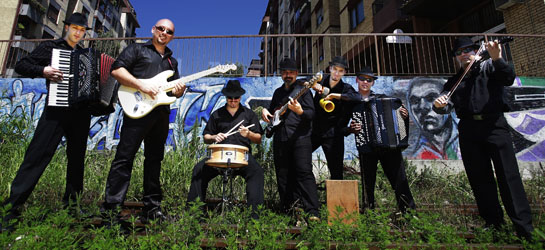 Kal ­ the word is Romani for "black" ­ were formed by the Ristic brothers, Dushan and Dragan. Dragan, a theatre producer who has set up Romani theatre groups in Budapest and Belgrade, and Dushan, a painter, aimed to use Kal to blend influences from traditional Balkan Gypsy music with the contemporary music they heard whilst living in Belgrade and Budapest.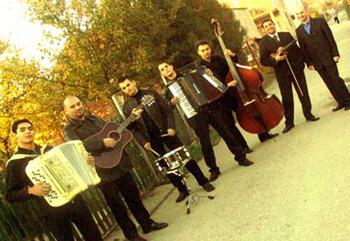 The members of Kal are Dragan Ristic - guitar and lead vocal, Dragan Mitrovic - accordion, Jovica Maric - accordion and vocals, Djordje Belkic - violin, Aleksandar Cvejic - electric bass, Goran Savic – drums, and Aleksandar Radojicic - percussion.
Kal's October tour dates include:
1st, 8 PM - 4th and B Club, 345 B Street, San Diego
2nd, 8 PM - Grove of Anaheim, 2200 East Katella Ave, Anaheim, CA
3rd, 8 PM - EMU Ballroom, University of Oregon
4th - Euphoria Studios, Portland, Oregon
5th, 7.30 PM - Triple Door Theatre, Seattle, Washington
7th, 8 PM - McDonald Theatre, Eugene, Oregon
8th, 9 PM - Roseland Theater, Portland, OR
9th, 8 PM - Showbox SoDo, Seattle, WA
10th - The Blue Danube European Restaurant & Cafe, Alington, Texas
11th and 12th - La Villita, San Antonio International Accordion Festival, Texas
13th, 8 PM – Cactus Café, Austin, Texas
14th, 7 PM Your Inner Vagabond, Pittsburgh, Pennsylvania
16th, 7.30 PM - Arab American Museum, Dearborn, Michigan
17th, 7.30 PM and 10 PM – Old Town School of Folk Music, Chicago
19th, 9.30 PM – Joe's Pub at Public Theater, New York
20th - International Action Center, New York
For further information e-mail: voiceofroma@comcast.net

---
Matt Van Brink performs 'Agak Agak' in NY and Boston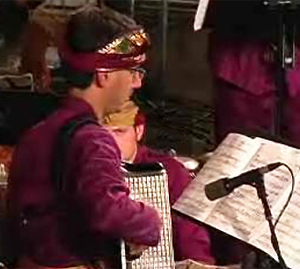 New York based composer, pianist and accordionist Matt Van Brink performs Ramon Castillo's 'Agak, Agak' on accordion twice during October:
October 18th, 8:00 PM - with Gamelan Galak Tica & Ensemble Robot, at the Experimental Media and Performing Arts Center (EMPAC), Troy, New York


October 30th, 7:30 PM - with Gamelan Galak Tica & Ensemble Robot, at the David Friend Recital Hall, Berklee College of Music, Boston
Matt is a composer, pianist and accordionist living in New York City. During high school, he studied composition with Bruce Adolphe at the Chamber Music Society of Lincoln Center and later studied with David Dzubay, Samuel Adler and Don Freund at Indiana University (B.Mus 2000), and with John Harbison and Lukas Foss at Boston University (DMA 2005). Matt currently composing a short musical for children commissioned by Concordia Conservatory (Bronxville, NY), where he also serves as a faculty member.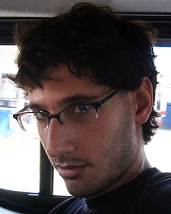 As a performer, he is foremost a pianist but also plays accordion, such as this past summer with the Tanglewood Music Center Orchestra in Kurt Weill's The Rise and Fall of the City of Mahagonny.

His compositions are published by Tenuto Press, a division of Presser Music, and two arrangements are published by Schott Music.

For further information e-mail: mvanbrin@alumni.indiana.edu


Eighth International Accordion Festival in San Antonio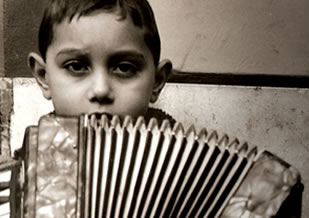 Texas will host the eighth International Accordion Festival from October 11 - 12, 2008, in San Antonio, TX.

Held every year in the beautiful downtown Riverwalk area on the historic grounds of La Villita (3 blocks south of the Alamo) the International Accordion Festival features performances, workshops, open mic session and accordion jam sessions.

On three stages, enjoy ensembles from around the globe playing everything from Panamanian pinhin to Parisian musette, from Balkan to Basque, from Czech Polka to Creole Zydeco, from Americana to Acadiana and much, much more. In our workshops area, find informal sessions and performances featuring up-close and personal interactions with master artists and their music.

It's big, it's outdoors, it's two days. It's dancing and fun for the whole family. The festival boasts ethnic foods, beverage and merchandise booths throughout the weekend. Best of all, Saturday and Sunday admission is FREE all day!

Among the many featured performers are: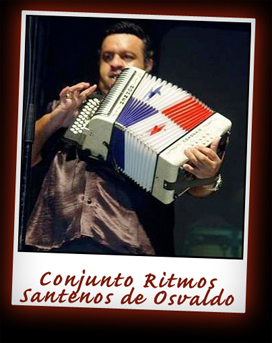 Conjunto Ritmos Santenos de Osvaldo: Accordionist Osvaldo Ayala began playing his instrument at the age of 7. Born in the town of Paritilla, in the Santos region of Panama, Ayala's music combines the traditions of Panamanian pindin with a range of Latin styles including salza, cumbia and vallenato. His group, Conjunto Ritmos Santeños, is known for their driving dance sound, hot vocals and percussive force. His stinging accordion attack has earned him the name El Escorpión de Paritilla.

A Grammy award winning artist, Ayala has spread his music far and wide with an active performance schedule and a long and impressive discography. In the 1990's, he was a contributor to Ruben Blades' successful album La Rosa de Los Vientos and during that project worked with other legendary Latin artists - including Celia Cruz, Wilfrido Vargas and Tito Nieves. In recognition of his renown, his government has named him a Cultural Ambassador for the republic, representing the finest expression of music and culture from Panama.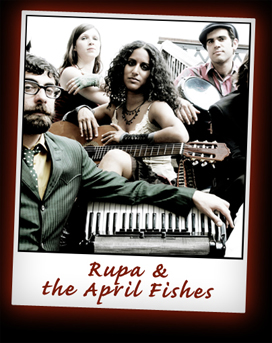 Rupa & the April Fishes: Rupa & the April Fishes create music that is lively, romantic and instantaneously appealing. Based in San Francisco, the band's accessible and multicultural sound has earned them a reputation as one of the most exciting new groups on the alternative and World music scenes nationwide. With influences that include Indian music, French chanson, tango, Latin alternative and beyond, their repertoire defies categorization. Their broad appeal has earned them comparisons to everyone from Manu Chao and Pink Martini to Dengue Fever, and Gogol Bordello.

Rupa & the April Fishes is led by a young woman of Indian heritage whose nomadic upbringing and dual life as a musician and doctor has led her to explore issues of identity, borders, and the vagaries of life, love and death. Rupa's nomadic upbringing in Indian, the U.S. and France has led her to write songs in a multitude of languages, including French, Spanish, Hindi and English. The band's informal, acoustic lineup includes Rupa on guitar and vocals backed by upright bass, cello, percussion, trumpet and, of course, accordion.

Other performers include:
Conjunto Ritmos Santeños de Osvaldo Ayala
Curtis Poullard and The Creole Zydeco Band
Jeremías Martín & Group
Charles Thibodeaux and the Austin Cajun Aces
Mexican Roots Trio
Kal
Vrazels' Polka Band
Amuma Says No
Rupa & the April Fishes
Paulino Bernal
The Daddy Squeeze Trio
Neshko Neshev and Kalin Kirilov
Andrei Mihalache
Trio Roi Maceda
Joe Ely and Joel Guzman

For more information including a complete line-up and schedule, please visit www.InternationalAccordionFestival.org or to volunteer, call 210.865.8578 or e- mail us at: staff@internationalaccordionfestival.org

Vivant! perform at 77th Annual Plaza Art Fair in Kansas City
Popular Kansas City based accordion ensemble Vivant performed at the recent Plaza Art Fair in Kansas City.

Each autumn, the streets of the Country Club Plaza become a beautiful outdoor art gallery as the nation's top artists display their work and attract art enthusiasts from all over the country. Celebrating its 77th year, this annual event rich with tradition, the Plaza Art Fair has become one of Kansas City's most popular attractions and autumn traditions.

The three-day event annually attracts an estimated 300,000 art enthusiasts, which features more than 200 artists from 36 states. The celebration of the arts extends 9-blocks into the streets of the Plaza, and showcases the finest works in ceramics, digital art, fiber, glass, graphics and printmaking, jewelry, metal, mixed media, painting, pastels, photography, sculpture and wood, while showcasing Kansas City's finest musical talents performing live on the several stages throughout the festival.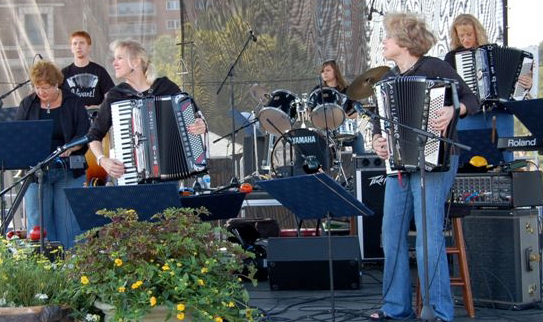 The sound of Vivant! combines the richness of the acoustic accordion and bass accordion reeds with the electronic sounds of synthesizers, trombone, and various percussion instruments. Their style combines the art of virtuoso concert accordion with jazz, pop, Latin and tango. Vivant! explores original music written for the accordion, Baroque and other classical works suitable for the instrument, as well as tango, jazz and other popular works. Above all, their music is exciting, captivating, and alive!

For more information on Vivant! including upcoming performances please visit: www.vivantsound.com

---
---
Note: In order to provide as much information as possible for the United States National Accordion News stories, many different sources are often researched to gather additional information and pictures to complement what has been submitted. This information is then correlated to provide the news on www.accordionusa.com in the spirit of which it is intended, which is to provide a free news service to the Accordion Community, specifically in the United Sates. If you feel any copyright has been violated please advise www.accordionusa.com and the article will be removed immediately.