Main Squeeze Dream Orchestra
The 16 women accordionists of the Main Squeeze Dream Orchestra will give their world premiere performance in New York City at 8 p.m. Wednesday, Nov. 13 at The Cutting Room music club on 19 W. 24th Street in New York.
The orchestra was formed by New York accordionist Walter Kuehr, whose band ``The Last of the International Playboys'' has performed at The Rainbow Room, Fez and other top clubs throughout Manhattan.
The Main Squeeze Dream Orchestra includes several musicians who study with Kuehr in his shop, Main Squeeze, on Manhattan's Lower East Side. The orchestra performs an eclectic mix from classical to flamenco to blues on their rhinestone-studded instruments. And yes, they play polkas.
For more information contact Walter Kuehr at 1-212-614-3109 Msqueeze19@aol.com


Dolly Galla-Rini Passes Away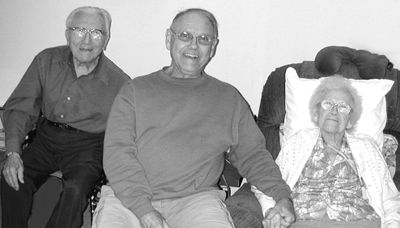 The accordion world is saddened by the recent passing of Dolly Galla-Rini, the loved wife of Maestro Anthony Galla-Rini. Dolly passed away on October 29th, 2002 at the age of 101.

Dolly is pictured here with husband Maestro Anthony Galla-Rini and son Bud during a recent visit from Val Keisser from San Francisco. Val stopped in to visit Tony and Dolly only days earlier and at Dolly's request, brought in her accordion and entertained the family for quite some time.


The family is kindly requesting NO FLOWERS please, but cards may be sent to:

Anthony Galla-Rini
500 East Valley Parkway
Escondido, CA 92025

For many of us in the accordion family, the love story of Tony and Dolly has been the inspiration of a lifetime.

Our sincere condolences, thoughts and prayers are with the Maestro and his family.


Calling all USA Pigini 'Sirius' Owners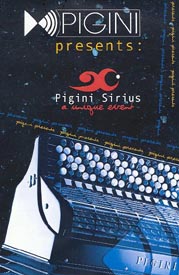 As a thank you to all Sirius players, The Pigini Factory in Castelfidardo is putting on a celebration for all owners of the "Sirius" model as they prepare to celebrate the manufacture of the 1000th instrument in the "Sirius" series.

Do you own a Pigini Sirius?

If so, then this event definitely is for you! Make plans to visit Castelfidardo from June 20-21, 2003 for a weekend of music, workshops and performances. All owners (or those with a confirmed order for one) present at the weekend will qualify for entry to a draw for the Pigini Sirius No. 1001, which will be an accordion made especially for this event.

Pigini is also looking for Sirius No. 1, the first instrument in the series. It is thought to have gone to Denmark in conjunction with the late Mogens Ellegaard, but has likely changed hands several times since then. You can find out the number of your Sirius by carefully removing the plastic grill over the treble keyboard, and the number should be stenciled around the center of the instrument, on the frame, near the bellows.

Do you have a special project involving a Sirius? It can be any art form, just mail your CD or photos, Video, Curriculum to Pigini at the address listed below, and the best project will be included in the Gala concert.

All Sirius owners are encouraged to submit their contact information and the Serial Number of their instrument to be included in the master catalogue of Sirius owners. To register your instrument or for those interested in registering for this event in Italy may request an enrollment form. Just e-mail the AccordionUSA News with your name, address, e-mail and Sirius Serial Number, and the registration form will be mailed to you. You can use the submit form on this site, or simply e-mail kevinfriedrich@hotmail.com


Joan Sommers Elected to CIA Music Committee

Renowned teacher and accordionist Joan C. Sommers was elected to the position of Vice President of the Confederation Internationale des Accordeonistes (CIA) Music Committee at their recent elections held in Copenhagen, Denmark.

Elections were held at the 108th General Assembly for CIA Executive Committee and the CIA Music Committee. Elected officers will hold their position for a term of 4 years.

The results of the CIA Elections are as follows:

CIA Executive Committee

President: Kevin Friedrich
(election for office of the President was held last year)

Vice President: Raymond Bodell, United Kingdom
Vice President: Kimmo Mattila, Finland
Vice President: Tibor Racz, Slovakia
Public Relations Manager: Harley Jones, New Zealand
President of the Music Committee: Frederic Deschamps, France
Honorary Vice President for 2003: Panna Grigoncza, Hungary

Music Committee

President: Frederic Deschamps, France
Vice President: Joan C. Sommers, USA
Member: Max Bonnay, France
Member: Viatchislav Semionov, Russia
Member: Jacques Mornet, France
Member: John Leslie, United Kingdom
Member: Harley Jones, New Zealand
Secretary of the Music Committee: Raymond Bodell, United Kingdom


Henry Doktorski Releases New CD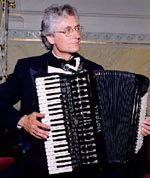 American concert accordionist, Henry Doktorski, has released a solo accordion compact disc featuring 1. classical favorites for accordion and 2. vaudeville classics by Guido Deiro.
The first half of the 74-minute CD (titled California Accordion Recitals) features compositions by Handel, Schumann, Brahms, Gershwin, Hovhaness & Doktorski. The second half features ten compositions by Guido Deiro.
The Italian-American Guido Deiro (1886-1950) was one of the great pioneers of the accordion. Discovered by a talent scout in San Francisco in 1910, he was a big hit on the vaudeville circuit as a headliner for twenty years. He made one hundred records on Columbia and other major labels, and composed his own music. Doktorski plays ten Deiro compositions exhibiting great stylistic diversity: rags, marches, mazurkas, polkas, tangos and waltzes.
The CD contains the following Guido Deiro pieces:
Deiro Rag, Muskateers March, Deirina Mazurka, I Don't Care Polka, Lido Tango, Queen of the Air March, Valse Caprice No. 1, Neapolitan Polka, My Florence Waltz, Egypto Fantasia.
The following paragraphs describe the classical compositions on the CD.
Transcriptions include a polyphonic Baroque six-movement Suite for a Musical Clock by G.F. Handel, in which Doktorski shows the versatility and charm of the free-bass concert accordion, in which both right and left hands are melodically independent.
Robert Schumann's Träumerei (from Kinderscenen ) is a Romantic favorite in which Doktorski reproduces the same voicings that the composer specified originally for piano. The tonal quality of this piece is similar to the sound of a fine European harmonium.
Johannes Brahms' Hungarian Dance No. 5 is a show-stopping tour de force which Doktorski performs with vigor and passion.
George Gershwin's Three Preludes (like the Schumann and Brahms pieces above) were originally written for piano, but transcribe superbly for the concert accordion. Gershwin was no stranger to the accordion, as his publisher in 1931 gave the great jazz accordionist Cornell Smelser permission to play Rhapsody In Blue on the radio. This was no small honor; at that time only the organist Jesse Crawford and Gershwin himself were permitted to play it. In addition, Doktorski is no stranger to Gershwin, as his second CD featured Gershwin's Rhapsody In Blue along with ten other Gershwin pieces.
The American composer, Alan Hovhaness (1911-2000) who wrote about 400 works, including ten operas, sixty-three symphonies (best known are Mysterious Mountain, op. 132, And God Created Whales, op. 229 and Mount St. Helens Symphony, op. 360), a hundred choral works, plus dozens of vocal, chamber and instrumental pieces, wrote several pieces for accordion. Doktorski plays the Suite for Accordion (1959) which consists of three movements. The Solene movement is like a chant, almost Gregorian at times, with a hint of dissonance in the introduction and bridge. The Presto is quasi-baroque and mostly in a natural minor scale. The Allegro Vivo seems to intentionally evoke a bagpipe with a hint of Middle Eastern quarter tones.
Hovhaness composed a piece for Henry Doktorski titled Hymn. In a letter dated February 26, 1990, he wrote, "I improvised a hymn for you in 7/4 time a sacred rhythm three beats for heaven plus four beats for earth, as you are a religious man." This is the world- premiere CD recording of Hymn by Hovhaness.
Astor Piazzolla (1921-1992), Argentinean by birth, is famous for his tangos, which were inspired by both classical music and jazz. He wrote over 750 compositions, including concerti, operas, film and theater scores, and made over seventy records. His ballad Oblivion was nominated for a Grammy Award for best instrumental composition in 1995.
In addition to being a virtuoso accordionist, Henry Doktorski is also a composer, having studied with David Stock and Joseph Wilcox Jenkins at Duquesne University where he received a Master of Music degree. Doktorski's Rondo Polska (2002) is a light piece, a humorous polka based on a motif comprised of three repeated notes. The introduction mimics a classical style adagio, similar to the flavor of Clementi or Hadyn.

For further information, please contact: Henry Doktorski webmaster@henrydoktorski.com


US Accordionist takes 6th Place at World Champs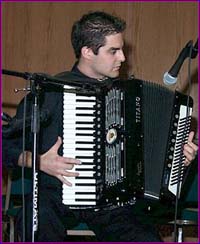 US accordionist Jason Stephen took a credible 6th place at the recent Coupe Mondiale World Accordion Championships held in Copenhagen, Denmark while representing the Accordionists and Teachers Guild, International. Just three places behind was fellow US accordionist Cory Pesaturo representing the American Accordionists' Association.

Top 10 Placings
1st - Alexander Poeluev - Russia
2nd - Nadejda Guseva - Russia
3rd - Campbell Bettridge - New Zealand
4th - Ruslan Gondyuk - Ukraine
5th - Predrag Jankovic - Yugoslavia
6th - Jason Stephen - USA-ATG
7th - Ruslan Maslennikov - Belarus
8th - Filip Stamevski - Macedonia
9th - Cory Pesaturo - USA-AAA
10th - Hilary Thwaites - New Zealand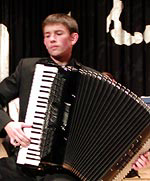 The competition was won by Russian Alexander Poeluev (right) from Russia, who also captured the first prize in the Coupe Mondiale World Accordion Championships. This is the first time ever that an accordionist has won two seperate categories at the Coupe Mondiale World Accordion Championships.

As part of his prize, Alexander will appear as the guest artist at the New Zealand Accordion Association National Festival, the Australian Accordion Teachers Association Festival and the American Accordionists Association Festival all to be held next June-July in Auckland - New Zealand, Sydney - Australia and Philadelphia, PA - USA.

The competitions were held as part of the 55th Coupe Mondiale World Accordion Championships (held from October 16th to 20th) began with an "Opening Ceremony Concert" presented by the DHL at the National Museum in Copenhagen. After the official welcome, the concert featured the Allerod Accordion Orchestra (directed by Peter Anders) and the Duo Modus; Marta Libalova (violin) and Jytte von Ruden (accordion).

International jury members included Maddalena Belfiore (USA - Chairperson of the Senior Virtuoso Entertainment Jury), Milan Blejetic (Yugoslavia), Raymond Bodell (Secretary to all juries), Gina Branelli (UK), Alexander Dmitriev (Russia), Paolo Jorge Ferreira (Portugal), Zorica Karakutovska (Macedonia), John Leslie (UK - Chairman of the Coupe Mondiale Jury), Marta Libalova (Denmark), Kimmo Mattila (Finland), Lisse Petersen (Denmark), Gianluca Pica (Italy), Joachim Pichura (Poland), Tibor Racz (Slovakia), Guillaume Rollet (France), Jytte von Ruden (Denmark), Herbert Scheibenreif (Austria), Viacheslav Semionov (Russia), Oleg Sharov (Russia), Joan Sommers (USA - Chairperson of the Junior Coupe Mondiale jury and the International Chamber Music Competition Jury), Bruno Teruel (France), Vojan Vasovic (Yugoslavia) and Stephen Vincent (New Zealand).

The final Gala concert and prizegiving were held in "The Queen Hall" of the Black Diamond", which houses the Royal Library. Under the baton of Peter Anders, the capacity audience were treated to entertainment by the Allerod Accordion Orchestra, who performed with trumpet and violin players, including Christian Ellegaard, son of the famous Danish accordionist Mogens Ellegaard.

This years event saw the initiation of the International Competition for Chamber Music, which proved very popular with the audience and saw a variety of ensembles taking part. It therefore seemed fitting that most of the performances at this evening were the accordion with other instrumentalists. Performers included Duo Semionov, Swedish jazz accordionist Lars Holm together with Inge Petersson (saxophone), and prizewinners from the various categories including Russian Alexander Poeluev, who won both the Coupe Mondiale and the International Piano Accordion competitions.
Results:

Coupe Mondiale:
1st: Alexander Poeluev (Russia)
Junior Coupe Mondiale
1st: Rade Mijatovic (Yugoslavia)
International Piano Accordion Competition :
1st: Alexander Poeluev (Russia)
Virtuoso Entertainment Competition
1st: Joao Carlos Frade (Portugal)
Junior Virtuoso Entertainment Music Competition:
1st: Jérémy Lafon (France)
International Chamber Music Competition:
1st: Leszek Kokodziejski - accordion and Pawek Cieslak - clarinet (Poland)




Birthday Celebrations for Myron Floren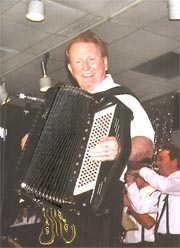 Myron Floren will celebrate his birthday at Wurstfest in New Braunfels on November 3rd. All accordionists are invited to come play "Happy Birthday" (in the key of F Major) for Myron, jam with him, reminisce a little, and have a piece of cake.

Myron Floren and Floren Band will be performing at 8:00 PM at the Wursthalle, where over 50 accordionists are expected on stage to join in the fun.

During the 10-day festival, attendees will find a variety of entertainment, food and fun on the Wurstfest Grounds in Landa Park and many special events throughout New Braunfels and Comal County.

Wurstfest opens on weekdays at 5 PM, and Saturdays and Sundays at 11 am. Wurstfest closes at 12 Midnight on Thursday and Fridays, 11 PM Sunday through Wednesday, 1 am on Saturdays and at 10 PM on the last Sunday.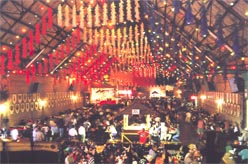 Festival admission is $8.00 and includes access to all entertainment areas including the Wursthalle. Children 12 and under are admitted free. For group rate information and special day discounts, call 830/625-9167 or 1-800-221-4369. Admission is for the entire day. If you wish to leave the grounds and return later that same day, please be sure to have your hand stamped at the gate.

From I-35 take the Walnut Street exit. Drive north on Walnut approximately 2 miles to Landa Street. Turn right on Landa. Festival grounds will be just past the 2nd light (at the entrance to Landa Park) on the left. Parking is on the right

Due to current construction on IH 35 in New Braunfels, an alternative route is:

From IH 35 North (Austin) - Take Exit 189 (Hwy 46 & Loop 337)
at light turn right onto Loop 337. Exit Loop 337 at the Hwy. 46 (Boerne exit) turning left onto Hwy 46 (Walnut Ave.). Turn left off Walnut at light onto Landa Street.

From IH 35 South (San Antonio) - Take Exit 184 (Hwy 46 & Loop 337) turn left onto Loop 337. Exit Loop 337 at the Hwy. 46 (Boerne exit) turning right onto Hwy 46 (Walnut Ave.). Turn left off Walnut at light onto Landa Street.

Additional information can be obtained from the Wurstfest Association, Post Office Box 310309, New Braunfels, Texas 78131-0309. Call 830/625-9167, or toll free 1-800-221-4369 from anywhere in the United States.


Opera "Larmes" features US Accordionist

Dr. William Schimmel will be featured as an accordionist and actor in Bohuslav Martinu's (1890 - 1959) during the performance of the opera "Larmes" which will be performed at the Guggenheim Museum in New York on October 27 and 28 as part of the "Works in Progress" series.

The 1927 Dada opera 'Les Larmes du Couteau' will also be performed at the Henry Street Settlement Theatre from November 10th to 25th.

One of the most prolific composers of the 20th.century, ironically, Martinu was actually considered incompetent during his studies at the Prague Conservatory. Bohuslav Martinu is the most important Czech composer after Janacek, though most of his compositions, including his 14 operas, were written while he was away from what was then Czechoslovakia.

Martinu's works cover a variety of styles, including the one-act jazz opera Les larmes de couteau, three radio operas, and several full serious works. His most well known work is the 1937 radio opera Comedy on a Bridge. Based on the play of the same name by Vaclav Klicpera, the opera has been successfully transferred to the stage. A comedy about the absurdities of war, it remains a favorite for student performance.

For further details e-mail: GWILLIAMANDMICKI@aol.com


The "K" Trio in Concert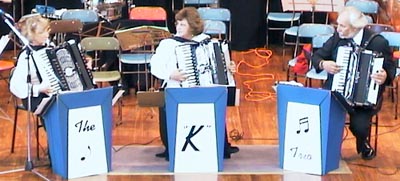 The "K" Trio will perform at the New Haven Chapter of the Connecticut State Music Teachers Association Ensemble Festival. Held on November 2nd at the Whitney Center in Hamden, Connecticut, the Trio will perform with Professor Emeritus Ward Davenny from Yale University.

Their program will include Mozart's Piano Quartet No. 2 in E Flat. Admission is free. For further details e-mail: mary.tokarski@snet.net


Pickpocket Ensemble Entertain
The Pickpocket Ensemble will be featured in two concerts in November in the San Francisco area. They will appear:

Saturday, 9 November
Rock Soup Cafe
7:30-10:30 PM
3299 Mission Street at 29th
San Francisco
www.rocksoupcafe.com
Saturday, 16 November
Bazaar Cafe
5927 California Street
San Francisco
415-831-5620
www.bazaarcafe.com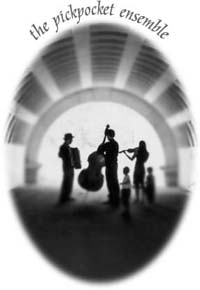 Comprising Rick Corrigan (accordion), Marguerite Ostrovski (violin), Tim Fox (guitar) and Will High (bass) the pickPocket ensemble was formed early in 1998 to make a music equally at home in the concert hall and on the street corner.

Inspired by the many European folk and cafe musics they set out to compose and perform a music that responded to these older styles, but with a modern sensibility and a street-wise edge. In their music you can hear echoes of Parisian bal musette, as well as many of the Eastern European styles that they have devoured over the years. You will also detect in the mix other flavors: American folk, early jazz and swing, even rock. What they have forged in this blend is a unique music that is truly their own, familiar and inviting, and at the same time fresh and new.

From the beginning, they have performed a lot and have held down several regular "house gigs" throughout the San Francisco Bay Area. They have performed at venues as diverse as the Luggage Store Gallery and Teatro ZinZanni in San Francisco. In addition, they have also been invited to perform for numerous special cultural events in the area, and their music has been featured in Paul Kwan and Arnold Iger's film A Wok in Progress, seen recently on PBS.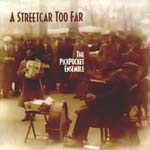 This past summer they traveled to Spain where they performed in Barcelona and at the Etnosur Festival in Alcala La Real. Closer to home, they have been featured at the Cotati Accordion Festival, as well as at Smythe's Accordion Festival in Oakland, CA.

With two CD's already to their credit (International House of Dreams, and A Streetcar Too Far) they are currently working on their third which is due for release in the Fall of 2002.

For information, please contact: rickcorrigan@earthlink.net


"The Well-Tampered Accordion" Premiere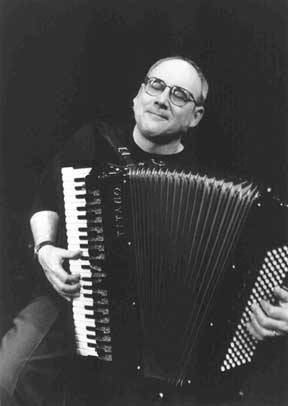 Accordionist Guy Klucevsek will perform the premiere of "The Well-Tampered Accordion" at the Veteran's Memorial Hall, Snug Harbor Cultural Center, Staten Island on October 12th. This new work is a 12-piece, 30-minute collection of etudes, preludes, dances, songs-without-words and a chorale or three. The concert will also include selections from Klucevsek's new solo recording, "The Heart of the Andes" (Winter & Winter). This program will be repeated at the "Tonic" in New York City on October 16th.

Guy has created a unique repertoire for accordion through his own composing and by commissioning over 50 works from composers including John Zorn, Aaron Jay Kernis, Lois V Vierk, Fred Frith, Alvin Lucier, Mary Ellen Childs, William Duckworth, Jerome Kitzke, Stephen Montague and Somei Satoh.

His music/theatre pieces include Squeezeplay -- collaborations with Mary Ellen Childs, David Dorfman and Dan Froot, Dan Hurlin, Victoria Marks and Claire Porter -- which The Village Voice called "delicious"; Hard Coal, with The Bloomsburg Theatre Ensemble, and Chinoiserie, with Ping Chong and Company,which was featured on the 1995 Next Wave Festival at BAM.

Solo performances include the 1998 Adelaide Festival in Australia, the Berlin Jazz Festival, New Music America, Serious Fun! at Lincoln Center, Bang on a Can, and the children's television show Mr. Rogers' Neighborhood. He has also performed and/or recorded with Laurie Anderson, Anthony Braxton, Bill Frisell, Fred Frith, Robin Holcomb, the Kronos Quartet, Pauline Oliveros, Bobby Previte, Relâche and John Zorn.

He is currently a member of Dave Douglas's band, Charms of the Night Sky, whose new release, A Thousand Evenings, is now available on BMG.

In 1987, Klucevsek commissioned Polka From the Fringe, a collection of 32 postmodern two-steps by such composers as Carl Finch, Fred Frith, Christian Marclay and Elliott Sharp, which he presented at the 1988 Next Wave Festival, and has performed around the world with his group, Ain't Nothin' But A Polka Band.

In 1996, Klucevsek formed The Accordion Tribe, an international line-up of composer/accordionists Maria Kalaniemi (Finland), Lars Hollmer (Sweden), Bratko Bibic (Slovenia), Otto Lechner (Austria), and Klucevsek (USA). Following a highly successful, 18-concert, 3-week European tour, Intuition (Germany) released Accordion Tribe, a CD made up of live recordings from the tour.

Klucevsek has released twelve recordings as soloist/leader, including Polka Dots & Laser Beams and Who Stole the Polka?, which were chosen as the best recordings of 1992 by John Schaefer on the nationally-syndicated radio program New Sounds, and Transylvanian Softwear, which was cited as a 1995 Recording of Special Merit in Stereo Review. He can also be heard on the compilations Planet Squeezebox on Ellipsis Arts and Great Jewish Music: Burt Bacharach on Tzadik.

For details e-mail: guy@guyklucevsek.com


Second Annual FAA Smash
The Florida Accordion Association will hold its 2nd annual "Smash" on November 15-16, 2002 at the Holiday Inn Select, 12125 High Tech Avenue, Orlando, Florida.

Performers include Tony Lovello, Tony Dannon/Joe Cerrito, Jimmy Bubaloni, Mirko Roknich, Carmen Vitanza, Jess 'n Joan, Maricarmen, Tony Klepec, Vince Aleandri and MORE.

For further information, please contact Karen Adam Phone: +1 850-936-8722 or e-mail: ibqueen@bellsouth.net


Acme Accordion School Celebrates 50 Years!
The Acme Accordion School will celebrate 50 years on Sunday November 3rd. The program will be as follows:

9:30 AM - John Opiela, Joe Grum and Tom Groeber
10:00 AM - Stanley and JOanna Arnold Darrow
10:30 AM - Polka Dash Returns
11:00 AM - All Acme student ensembles
12:00 Noon - Mass Photograph Assembly
1:00 PM - Westmont and Pitmand Accordion Clubs, Acme Jr, Clkubs 1, 2 and 3

Guest Accordionists including Joe Axsmith & Michael Koren, Ed Touchstone, Darrin Krug and the Irish Ensemble.

Tor further information, please contact Joanna Arnold Darrow at 856 854 6628


Julius Tupa of The Texas Polka News Passes Away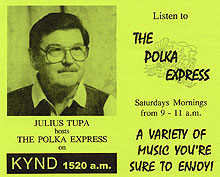 Julius Tupa, founder and publisher of "The Texas Polka News," died on October 5, 2002, due to esophageal cancer. He was 71 years old. He was born in Moravia, Texas on July 22, 1931 to Frank and Julie Tupa.

He also owned and operated a recording and video studio, continued to broadcast his "Polka Express" radio show until his death. Julius was also known for creating and managing the "Texas Polka and Music Association (TPMA) and he co-founded the polka band "Sound Connection Band" and he was instrumental in promoting the Po.L.K. of A (Polka Lovers Klub of America) in Texas.

Julius also served as an advisor to the Texas Accordion Association. This high-energy,
accordion-loving, promoter will be missed by all. He is survived by his dedicated wife of 48 years, Marie, and a loving family that includes daughter Gayle Boney and husband Tom, daughter Tina Stankus and husband Erik; 4 grandchildren, Jason, Lindsay, Stephen and Kendall; mother Julie; brother Willie and wife Veronica.


New Accordion Method Book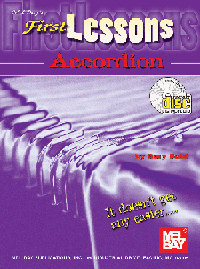 FIRST LESSONS ACCORDION METHOD by Gary Dahl.

This new method book by accordionist Gary Dahl, is designed for the person who may know nothing about music and has had no previous accordion training. Included with the book to facilitate the learning process is an instructional recording by the author!

This effective exceptional teaching tool will motivate and guide the beginner student from basic accordion familiarization and music theory to quickly achieving results by playing songs such as Scarborough Fair and Ode to Joy!

The minimum size instrument for this breakthrough teaching book is an 80 bass piano accordion. No lyrics included.

$7.95 plus shipping. For more information, please visit www.accordions.com/garydahl

November Dates at a Glance
For important dates in November, please refer to the Future Events page located on this site, by selecting from the menu to the right, or by clicking here.



---

---

Note: In order to provide as much information as possible for the United States National Accordion News stories, many different sources are often researched to gather additional information and pictures to complement what has been submitted. This information is then correlated to provide the news on www.accordionusa.com in the spirit of which it is intended, which is to provide a free news service to the Accordion Community, specifically in the United Sates. If you feel any copyright has been violated please advise www.accordionusa.com and the article will be removed immediately.