---
Guy Klusevcek releases CD "Song of Remembrance"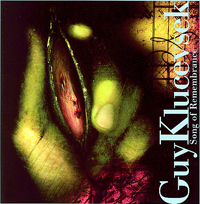 Accordionist Guy's Klucevsek's new recording, "Song of Remembrance," was released on the Tzadik label on Oct. 23. It contains his compositions "Fallen Shadows" for voice, violin, accordion and piano, and "My Walk with Ligeti," for solo accordion.

On the concert scene, Guy Klucevsek's November activities include solo concerts at Sarah Lawrence College, Bronxville, NY, on November 6, The Scottish Rite Center in Santa Fe, on November 9, and at the Outpost in Albuquerque, on November 10.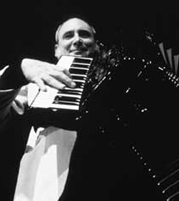 Repertoire for these concerts will include his own compositions, plus pieces written for him by John Zorn, Jerome Kitzke, Mary Ellen Childs, Alvin Lucier and Fred Frith.

On November 8, Guy will introduce a screening of Stephen Scwietert's documentary film, "Accordion Tribe: Music Travels," at the Santa Fe Film Center.

For more information, please visit: http://www.guyklucevsek.com or www.myspace.com/guyklucevsekaccordion


---
Jeff Lisenby Eligible for Five Grammy Nominations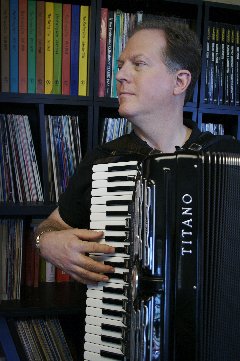 Members of the National Academy of Recording Arts & Sciences (NARAS) are currently voting for the latest Grammy Award Nominations and among those being considered is Nashville accordionist Jeff Lisenby.

Jeff is eligible for nomination in five categories including:
Best Jazz Instrumental Album (Field 10, Category 48)
117. "A Spy In Tortuga"
Best Jazz Instrumental Solo (Field 10, Category 47)
139. "Twelve"
Best Instrumental Composition (Field 23, Category 85)
244. "Solina"
Best Instrumental Arrangement (Field 23, Category 86)
137. "Ring Of Fire"
Best Instrumental Arrangement Accompanying A Vocalist (Field 23, Category 87)
017. "Bill Bailey" featuring Abby Burke
You can listen to tracks from Jeff's myspace page:
www.myspace.com/jefflisenby

On Tuesday November 27 at 6:00 PM, Jeff will give a FREE CD release concert at Belmont University's Curb Cafe. For more information, please visit www.jefflisenby.com

---
Annual Florida Accordion "Smash" in Orlando
The South East and Florida Accordion Associations are proud to announce their 7th Annual SMASH from November 9, 10, 11, 2007 in Orlando, FL.

Featured performers include:

Lidia Kaminska - the only person in the USA to ever receive a Doctorate of Musical Arts in Accordion Performance, and winner of the Astral Artistic Services 2007 National Auditions.
Mary Tokarski - Concert Accordionist, Mary Tokarski performs both nationally and internationally as a soloist, with Symphony Orchestra and as a member of The 'K' Trio. For 20 years Mary served as Director of Music Education at Tokarski Music Center in North Haven, Connecticut, where she taught piano and accordion, as well as conducted the choral & ensemble programs, and supervised the pre-school programs. Mary currently teaches piano and accordion at her home in Northford, Connecticut. She also serves as a Music Educator in the North Haven Department of Education's Early Childhood Development Program at Green Acres Elementary School. Currently, Mary serves as a Board of Director with both The American Accordionists' Association (AAA) and the Accordionists and Teachers Guild, International (ATG) which are the two national member organizations of the Confederation Interntaionale des Accordeonistes, (IMC-UNESCO).
Tony Lovello - "Liberace of the Accordion" to open the evening concert - watch him WOW the crowd! Bring your instrument and join Tony as he leads the 2007 Beer Barrel Polkathon. There will be optional, private evaluations by Tony on Saturday. See registration form for more info.
PLUS, Mercedes Mendive, Mary Tokarski, Vince Aleandri, Al Ulle, John Kolbrich, Dick Albreski, Carmen Vitanza, Walt "K", Jerry Tramontozzi, Maricarmen Vazquez, Nick Ballarini, and more!
The 2007 event will be held at the Holiday Inn International Drive Resort, 6515 International Drive, Orlando, FL 32819. Phone: 800-206-2747 for Reservations (mention FL Accordion Association for discounted rates of $89.00 + tax, single to quad). DEADLINE FOR HOTEL RESERVATIONS AT THIS RATE: October 19, 2007.
General SMASH information:
Friday, November 9th, famous Café Accordeon, hosted by Alvaro "Beaver" Barsi, 4:30 PM - 2:00 AM in the hotel's Front Street Café. Anyone may play. Food is available for purchase until 9 PM, beverages available for purchase until 2:00 a.m. Popcorn, chips, & salsa will be provided. There will be an accordion orchestra rehearsal, and dealer displays are open.
Saturday, November 10th, constant accordion entertainment, commencing 8:30 a.m. when the registration desk opens. The day includes: lunch & dinner (NEW … we will all be sitting in one room!), dealer displays, professional performances, accordion orchestra performance, optional 15-minute private evaluations by Tony Lovello, optional 30-minute accordion lessons with Walter Kasprzyk (private evaluations & lessons are prepaid& pre-scheduled ONLY). See registration form. After the close of the concert, we will congregate in the Front Street Café for more accordion music & jamming up until 2:00 a.m.

For more info: FLACCASSOC@bellsouth.net, or call (850) 936-8722 CST, or visit our website: http://www.accordions.com/florida


---
14th New York Series is "The Last Frontier"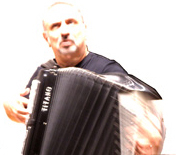 The American Accordionists' Association proudly announces its 14th annual Master Class and Concert Series titled "The Last Frontier" to be held July 25-27, 2008 at the Tenri Cultural Institute in New York city, located at 43A West 13th Street, between 5th and 6th Ave.

Moderated by Dr. William Schimmel, highlights of the three day series include:
The Kid: Billy, a new Dance/Video work by eminent choreographer/director Micki Goodman - featuring Dr. Schimmel's music and silent movie footage of King Vidor's 1928 classic, The Sky Pilot.
A lecture on the music of Karel Strahala and his music for the Tango/Harmoniku - two volumes of Czech Tangos, Waltzes, Polkas and Foxtrots written all in 1942
A new accordion prototype for rock and roll accordionists in development by Benjamin Ickies.
A virtual wedding of two accordion souls, H and MK, who met a decade ago at The Seminars. Our resident Elvis will perform the ceremony in true blue Hawaiian fashion.
Uriah The Dead, a short opera about David and Bathsheba from Dead Uriah's point of view.
Club Parusia/Here's to Life, the club at the end of the world – an apocalyptic romp through time and space at the borderline – south of, that is.
Paul Stein's 911 Profiteers and other Scoundrels Suite – artfully defacing politicians, benevolent dictators and O.J.
The debut performance by Duality Wrecks, an anonymous accordion and piano duo designed to shift the focal point of any party or event to pogo-gear with its relentless chance/medleys of pretty much anything.
Ayn Rand and the Accordion will be looked at in the light of Liberation Theology, Libertarianism or Librarianisn – or Collectivism, Selectivism and Hoarding a lot of Crap.
Project BC – reducing everything in the world to two facets – BASS/CHORD/BASS/CHORD – covering the entire cultural array of Achtungs, ya yas, Octoberfests, bratwurst, beer, barf and beyond– declaring Yorkville as the new cultural world centre.
Deiro – Pietro! Guido -Mae West!
Is everything in life just one huge 12 tone set? Dr. Robert Young McMahan will tell us how it happened and how we never really got out of it despite today's tendency towards new music that chirps "Please love me"- also how it works with and against the mechanisms of various accordions.
Will Holshouser (right), jazz accordionist, composer – winning the "smirking competition" at last year's seminars. The smirk is just a un-necessary hook. His elegant playing and writing actually says it all.
A past Coupe Mondiale world champion, Beverly Roberts, will perform Liszt's Concerto No. 2 in A and recreate her appearance on game show To Tell the Truth. yes – THE TRUTH
Is life a baloney sandwich? The short Becket/like play: FZ /DA will give us a clue – featuring actress Kathleen Tipton.
Marni Rice will give us the last word on Kabaret. Brian Dewan will give us the last word on Chevrolet.
Rembert Block will rant till the end of time. Dr. Mark Birnbaum declairs Ragtime: Mine!
Seth Hogan will cover the Acadian dimension. Liam Robinson, no pretension. Godfrey, Lorraine and
Lauren – collidial( 7) suspension. Lenny Feldmann, no detention. Rita Davidson will give us late Ettore and no more.
AAA commissions: The Paul Creston Concerto/dance-mix version, and what's left o'er.
An Alice Riff (in honor of David Del Tredici), Elliotude (in honor of Elliot Carter) – birthdays galore.
Domenic Frontiere's Branded Eldorado a Real Pro.) Uri Sharlin, Serge Stanley, Israeli to Aussie-back to the door.
Doug Makofka, not Franz Kafka. Cristina Speligene, the Nashville Mafka.
Ray Rue (Gospel and Elvis), never a chore, will not bore. "Dot" will be rotten to a core.
David Stoler, more/more/more. Stefan Curcic, classics to adore. The K duo, Saturday closer once more.
David First, drone until sore. Rachid Eladlouni, the cyberspace door. Dragica Banic/Curcic, Croatian lore.
John Foti, the Jersey shore. Art Bailey ,hard core. Lee Mc Clure, Eclextic, digital flute mit score.
Ken Laufer, Har! Har! Har! Balcones Fault – without the bar. #14 WE'VE COME THIS FAR!
Attendees will even be invited to join in and sing THE SEMINAR SONG
COME TO THE SEMINARS (3X) THE SEMINARS ONCE MORE – LEARN AT THE SEMINARS/YEARN AT THE SEMINARS/JEROME KERN AT THE SEMINARS/THE SEMINARS WON'T BORE

VEN SEMINAR KOM UND SEMINAR GO UND SEMINAR, SEMINAR, HO! HO! HO!
Seminars at a glance: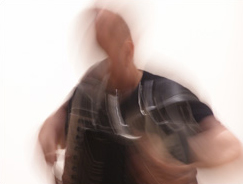 Where: The Tenri Cultural Institute
13th Street between 5th and 6th Ave,
New York, NY

When: July 25, 26 AND 27 - Master Classes 3:00 PM and Concerts 7:00 PM

How Much? $20 per Master Class and $25 per concert or $40 per day for both, or $110.00 for entire weekend.

How? For reservations and information, please phone 212-876-0827


---
Kansas City's 'Vivant!' in Concert at KSU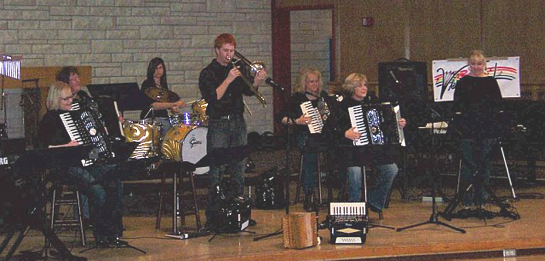 Vivant! appeared in concert recently on the campus of Kansas State University in Manhattan, Kansas. The full recital on October 21st was a part of the University's recital series.

This was the first time that many of the university students and members of the community were able to see and hear the accordion in a concert setting, and they were both excited and intrigued with this dynamic project. In addition to presenting some brief history about the accordion and information on the mechanics of the instrument, the varied program included works by Bach, Corelli, Fremar, and Piazzolla, as well as several jazz and popular works.

Members of Vivant! include Sarrah Cantrell, Percussion/Synthesizer; Karen Fremar, Accordion/Composer/Arranger; Gail Overly, Accordion/Tenor Accordion; Janne Silfverberg, Trombone/Latin Percussion/ Synthesizer; Julie Silfverberg, Accordion/Synthesizer; Dee Sligar, Bass Accordion/ Synthesizer; and Erica VandeVoort, Accordion/Synthesizer.

For further information about Vivant! visit http://www.vivantsound.com or http://www.myspace.com/vivantsound


---
Jane Christison hosts SAI International Gathering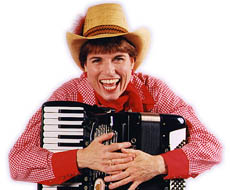 Popular Kansas City accordionist and entertainer Jane Christison, of Music With A Smile, recently hosted the Kansas City Alumnae Chapter of Sigma Alpha Iota (SAI) International Music Fraternity's Gala Dinner and Show on Sunday, October 28, 2007.

Jane served as the emcee host as well as program performer for the show themed for "Musical Memories from the Silver Screen". All funds raised will be used to provide scholarships for college level music students.

Jane Christison is an accomplished accordionist and entertainer, playing many styles of music, including pop, old standards, sing-along songs, polkas and music for special seasons and holidays. Once described by a talk show host as "like a ray of sunshine on stage," it does not take long to notice that Jane loves entertaining and meeting people.

As a member of USO Shows, she toured the Far East and entertained at military bases in Korea, Japan, Okinawa, Taiwan, the Philippines and Guam. A second USO tour took her to American bases in the Azores and Europe, bringing a touch of home to thousands of US military personnel. In addition, she has performed in other parts of the world such as Australia and New Zealand, the former Soviet Union, Scandinavia, and South America.

Jane studied serious accordion literature with Joan Cochran Sommers at the University of Missouri - Kansas City Conservatory of Music and graduated with a Bachelor of Music degree in accordion performance. Since graduating from college, Jane has kept very busy performing for corporate functions, country clubs, restaurants, casinos, trade shows, anniversary and birthday celebrations, and other special occasions. Jane has also been featured as a guest artist at accordion festivals around the country, where she has presented her workshops, "Playing the Accordion for Fun and Fame!" and "Squeezing Money Out of Your Accordion." Video versions of these workshops and other accordion videos are available through her company, Music With A Smile Productions, L.L.C.

---
Marian Hymns on Accordion CD Released
Henry Doktorski, one of America's leading concert accordionists, performs beautiful and artistic arrangements of 25 beloved Marian hymns from the 11th through the 20th centuries, including five different settings of Ave Maria. This CD will truly be a treasure for classical accordion lovers, sacred music connoisseurs and devotees of our Blessed Mother.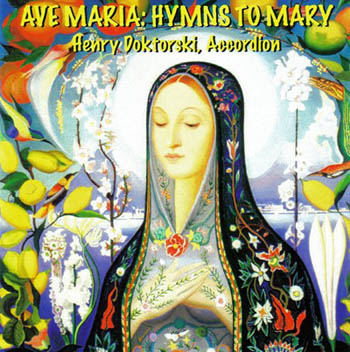 Put aside any prejudice you may have about the accordion, and carefully listen to this compilation of Marian music assembled by master accordionist Henry Doktorski.
"With the skill of a poet, Doktorski has arranged 25 hymns and presented them with varied textures, in every imaginable genre from simple melodic chant, to melody with accompaniment, to all out accordion panache. In the fingers and hands of Doktorski, the cherished melodies soar with lyric fluidity, all the time keeping sight of the reason for their existence - to honor of the Mother of God." - Kenneth G. Danchik, Associate Organist, Saint Paul Cathedral of the Diocese of Pittsburgh, Pennsylvania
Tracks on the CD are:
1 - Sing of Mary

2 - Hail, Holy Queen

3 - Immaculate Mary

4 - Alma Redemptoris Mater

5 - Serdeczna Matko

6 - O Sanctissima

7 - Ave Maria (Franz Schubert)

8 - Ave Regina Cælorum

9 - Hail, Queen Of Heav'n

10 - Star Upon The Ocean

11 - At The Cross Her Station Keeping

12 - Regina Cæli

13 - Virgin Great And Glorious

14 - Joyously We Sing To Mary

15 - Blessed Virgin Mother

16 - Salve Regina

17 - On This Day, O Beautiful Mother

18 - Mother Dear, O Pray For Me

19 - Mother, At Your Feet Is Kneeling

20 - Ave Maria (Latin chant)

21 - Hail Mary, Gentle Woman

22 - Ave Maria, As I Kneel Before You

23 - Magnificat

24 - Bogurodzica Dziewica

25 - Ave Maria (Bach/Gounod)
Total Time: 72:40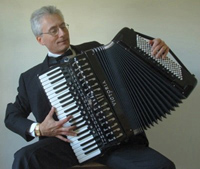 Henry Doktorski writes: This CD is the fruit of my dear wife, Mary Kay, who suddenly decided one day in February 2007 that I should record an album of Marian hymns to help raise funds for the proposed Prayer Garden with grotto and statue of our Lady of Lourdes at our local parish, Saint Columbkille in Imperial, Pennsylvania.

At first I resisted, knowing too well the vast amount of time and energy and funding needed to see such a project to completion, and the likelihood that it probably would not be financially profitable. However Mary Kay was stubborn and her enthusiasm contagious, so like the proverbial fool who leaps where angels fear to tread, I began choosing hymns, writing arrangements, practicing many hours, rewriting arrangements, recording, editing the recorded tracks, researching and writing liner notes, and trusting that our Lady, if she was pleased with our endeavor, would provide the necessary means required to complete this ambitious undertaking. I am grateful for the opportunity to create an album of music dedicated to our blessed mother.


---
Victor Prieto to Perform in New York City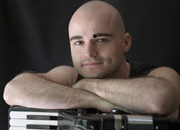 Accordionist Victor Prieto will perform in New York on November 3rd with his trio including Carlo DeRosa on Bass and John Davis on Drums. There will be two sets beginning at 9:00 PM and 11:15 PM. The performance will take place at La Lanterna The Bar Next Door located at 129 MacDougal Street, New York, NY.
"All About Jazz by Budd Kopman" says: Prieto plays accordion the way Toots Thielmans plays harmonica or Dino Saluzzi plays bandoneon. He transcends the instrument and just plays music. The key features of Prieto's music are lyricism and drama. He writes fine, memorable melodies, then works with the band to create tracks with a very clear dramatic arch, sometimes more than one, engaging and carrying the listener forward... he tells stories and paints pictures with music.


---
Kevin Solecki announces "Solecktive Sounds!"
Kevin Solecki announces the release of his second polka album showcasing the accordion, "Solecktive Sounds!" This new CD travels the globe musically featuring Polish, Slovenian, French, Italian, Irish, Eastern & Standard style polkas/waltzes, two accordion novelties and a tango over 19 tracks and one hour of music.

Solecktive Sounds features 14 talented guest musicians performing on drums, bass, guitar, banjo, violin, vocals, trumpet, saxophone, clarinet, flute, accordion, concertina and piano including Jack Beachly (Ethnic Jazz), Mollie Busta (Squeeze Box), Glenn Dydak (Polka Family Band), Ed Klancnik (Klancnik & Friends Band), Richie Kois (Crusade), Frank Kolodzieski (former Polka Family Band clarinetist), Paul Krywy (Dynabrass), Julien Labro (1st place winner at multiple international accordion competitions), Brian O'Boyle (Klancnik & Friends Band), Matt Rosinski (Lenny Gomulka & The Chicago Push), Mark Stafura (Duquesne Tamburitzan Alumni), Josh Szymczak (Polka Family Band), Jerry Zagar (Klancnik & Friends Band), Mike Zawojsky (Grammy Nominated Accordionist on Solecktions album)... and myself (former Polka Family Band accordionist for 10 years).

Tracks include:
1. ACCORDION A GO GO - (Polish)
2. JOLLY CABALLERO - (Novelty)
3. GOOD LOOKIN' - (Slovenian)
4. FIORE D'ABRUZZO - (Italian)
5. POLKA JAMBOREE - (Polish)
6. ACCORDEON PRINTANIER - (French)
7. SCOTT JOPLIN - (Slovenian)
8. LA CUMPARSITA - (Tango)
9. EASTERN DELIGHT - (Eastern)
10. TELL ME YOU'RE MINE TODAY - (Polish)
11. IRISH POLKA MEDLEY - (Irish)
12. ROSEY POSEY POLKA - (Slovenian)/
13. ROLLER SKATING - (Polish)
14. CORNALINE WALTZ - (French)
15. BARBARA POLKA - (Standard)
16. FORAY POLKA - (Italian)
17. JUNE NIGHT WALTZ - (Slovenian)
18. HOT POINTS - (Novelty)
19. POLISH POLKA MEDLEY - (Polish)

Available on CD only, select 30 second audio clips from the CD can be heard on www.kevinsolecki.com and the CD can be purchased at this site, or from Kevin Solecki 1208 Pennsbury Blvd. Pittsburgh, PA, 15205. Solecktive Sounds CDs are $15 each including shipping/postage.

---
Eddie Monteiro CD "The Trio Album"
Popular Jazz accordionist Eddie Monteiro has released a new CD: 'The Trio Album' with fellow musicians Joe Cocuzzo on drums and Lenny Argese on guitar.
The Trio Album tracks include:
Skylark
It Might As Well Be Spring
Did It Really Happen
Velas
The Man In The Moon
Only Trust Your Heart
Secret Love
Blusette
Agua De Beber
Corcovado
For further information e-mail: don@chordguy.com

---
Promoting Your Accordion Services Free at AWW

The Internet is changing the way your customers are searching for services. The days of lugging out a 12 lb. telephone book to find very limited and outdated business information are coming to an end. People are still letting their fingers do the walking, but they're doing it over a computer keyboard. Below are some revealing facts from the Kelsey Group.
74% of US households use the Internet as an information source when shopping.
Approximately 45% of searches had a buying intent.
The percentage of respondents who used yellow page directories decreased from 75% to 62%.
(If you have a printed yellow page ad, it is time to consider buying a smaller ad and shifting your marketing dollars to the Internet.) The off-line Yellow Pages see the writing on the wall and are scrambling to transfer their business model to the Internet.

Businesses can no longer ignore these facts. If you want to be successful, you must have a presence where your customers are searching. Being found on the Internet is vital to the future of your business.



The Accordion Yellow Pages offers free of charge listing for all accordion businesses, teachers and for every type of service for accordionists. On the Accordion Yellow Pages site, you do not need to have a website for accordionists find you and contact you.



The search-accordion.com site is also free of charge, being a listing service for every type of accordion service but you must have a website. Viewers of search-accordion.com can click to your website.



Very popular is the AccordionLinks.com site where those accordion service providers with a website, can attract accordionists free of charge to their website.

All it takes is a little effort, to make sure your information on these three popular and very effective accordion sites is up to date. Your future success may well be determined by your ability to effectively adapt to the Internet. Should it be your New Year's resolution for 2008?


---
Frode Haltli to Perform in Los Angeles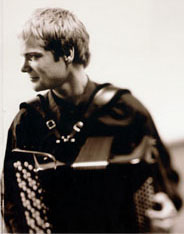 Norwegian accordionist Frode Haltli will appear in a free concert at the Getty Center, Harold M. Williams Auditorium, Los Angeles, on November 9th, 7:30 PM.

32 year old Frode Haltli studied the accordion at The Norwegian State Academy of Music and The Royal Danish Conservatory of Music. He ended his studies in 2000 and currently lives near Oslo, Norway.

According to BBC Music Magazine "Frode Haltli is a brilliant interpreter of both contemporary and traditional Scandinavian music. His astonishing virtuosity has inspired many composers, and his kaleidoscopic improvisations that draw upon the Norwegian folk tradition explore the furthest sonic regions of the instrument"


---
Solas Celtic Concerts
Popular Celtic Band Solas including accordionist Mick McAuley, will perform at the Victoria Theatre in Dayton, Ohio and at the Overture Center in Madison, Wisconsin in November.

Since its birth in 1996, Solas has been proclaimed as one of the most popular and exciting Celtic bands to emerge from the United States. Even before the release of its first Shanachie CD, the Boston Herald trumpeted the quartet as "the first truly great Irish band to arise from America and the Irish Echo ranked Solas among the "most exciting bands anywhere in the world." The Philadelphia Inquirer said they make "mind-blowing Irish folk music, maybe the world's best". The New York Times praised their "unbridled vitality", the Washington Post dubbed them one of the "world's finest Celtic-folk ensembles" and the Austin American-Statesman called them "the standard by which contemporary Celtic groups are judged."

With such proclaim, Solas is virtually unique in the new territory it has opened up for Celtic music. It has performed at all the major Celtic and folk festivals, including Philadelphia, Edmonton, the legendary National Folk Festival, and Milwaukee's Irish Fest; but also at Telluride Bluegrass Festival, and the chamber music summer series at Steamboat Springs, Colorado. It has performed at Symphony Hall, Wolf Trap, the Ford Amphitheater, and Queens Hall in Edinburgh, Scotland. In New York City, where the band was based in its early years, it has played at the legendary Bottom Line folk club, but also at vaunted classical venues Town Hall and Symphony Space.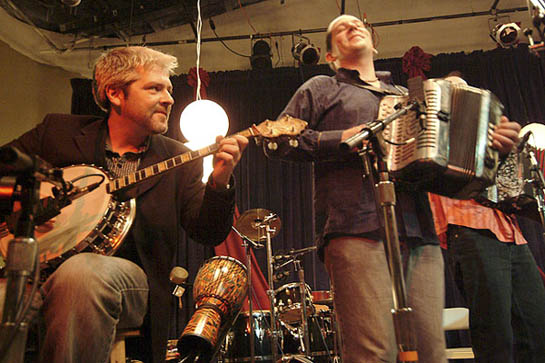 The Solas sound today is anchored by founders Seamus Egan, who plays flute, tenor banjo, mandolin, whistle, guitar and bodhran, and fiddler Winifred Horan. Mick McAuley from Kilkenny plays accordion and concertina and Eamon McElholm from Tyrone plays guitar and keyboards. Deirdre Scanlan is the band's latest vocal discovery taking over from founding vocalist Karan Casey.



Accordionist Mick McAuley from Kilkenny was born into the well-known musical McAuley family and has been playing Irish Music from a very early age. In fact, his first public performance was when he was featured on tin whistle by the late great Irish tenor, Frank Patterson at the tender age of five. Mick took up accordion at the age of nine and has since become one of the leading exponents on this instrument in Irish Music.

During his teenage years he mastered several other instruments and competed successfully in numerous competitions. By his late teens he had toured extensively throughout Europe at concerts and various cultural festivals as part of the family group and other ensembles, and also as a solo artist.

Mick moved to London in 1991 and recorded and toured regularly with the London- based Ron Kavana Alias band and was part of "The Bucks" with Ron, Terry Woods and piper Paddy Keenan. Returning home for a while in 1994, Mick recorded and toured with Niamh Parsons' Loose Connections, Karan Casey, Paul Brennan of Clannad, and eurovision winner Eimear Quinn.It was while spending time in New York during the mid to late nineties that he joined the band SOLAS and has recorded and toured with them during the years since.

2003 saw the release of Mick's debut solo album, "An Ocean's Breadth" which received rave reviews and was heralded by the Washington Post as " Celtic Album of the Year". While the album re-affirmed him as one of the best accordionists in Irish music, it also established him as one of the finest and most unique singers in Ireland.

In 2005 Mick recorded a duet album with Winifred Horan titled "Serenade" which was also well received by listeners and critics alike, and has been described as " …a classic that should be part of any Irish Music fan's collection.

Solas's November concert details are as follows:
November 16th, 2007 8:00 PM
Victoria Theatre
138 North Main Street Dayton, OH 45402
937-228-7591
www.victoriatheatre.com


November 24th, 2007
Overture Centre
201 State St., Madison, WI 53703
608.258.4141
www.overturecenter.com


---
Polish Accordion Duo in Richardson, Texas

The Polish American Foundation of Texas presents "Dances of the World" at the Eiseman Center in Richardson, TX on November 3, 2007 at 8:00 PM.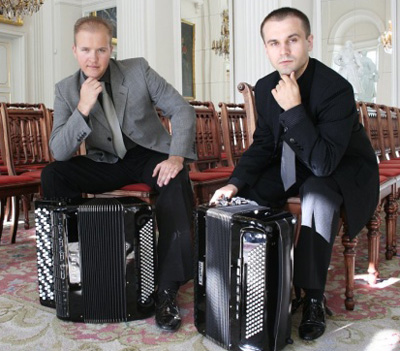 Two very talented and accomplished accordionists bring to Eisemann Center their critically acclaimed "Dances of the World", with pieces like Vaclav Trojan's "Tarantella" and Victorio Monti's "Chardash". Jeffrey James, Editor International Composer, described Duo Giziewski-Sulej well after their 2006 concert at Carnegie Hall: "Anyone, who thinks the accordion is either dull or not really an instrument fit for classical music hasn't heard these boys tear up. Performance like this leave little room for anything other than superlatives...I cannot say enough about the high quality of their musicianship and almost inhumanly good integration of sound, so I'll just leave things at hopping to hear them again very soon".

Challenging all preconceptions on what an accordion is capable of is the classical accordion duo of Hubert Giziewski and Pawel Sulej. Their concert at the Eisemann Center is a part of their second US tour, with recitals including the Arizona Chamber Music Festival in Tucson, the Walt Disney Hall in Los Angeles, the "Musica Viva" concert series in Blacksburg as well as performances in New York and Denver.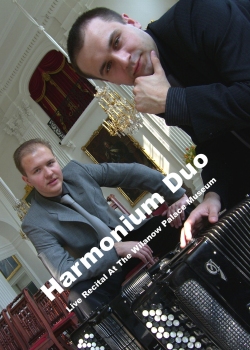 Hubert Giziewski and Pawel Sulej completed their music studies at Poland's most important music institution of higher education, the Fryderyk Chopin Academy of Music in Warsaw and already belong among the most distinguished Polish musicians of their generation.
During the many years of their artistic education, they have worked with such prominent artists as Wlodzimierz Lech Puchnowski, Jerzy Jurek, Jerzy Lukasiewicz, Friedrich Lips, Yuri Shishkin, and received numerous honors and prizes at prestigious festivals and music competitions, both in Poland and abroad. Their most important prizes include awards from festivals in Stalowa Wola (1993), Chelm (2001), Mlawa (2005) in Poland, as well as from competitions in Castelfidardo (2005) and Ibla-Ragusa in Italy (2005).
As soloists and chamber music players, Hubert Giziewski and Pawel Sulej have appeared at the most famous concert halls and artistic centers in Poland (including the National Philharmonic in Warsaw, and the Witold Lutoslawski Concert Studio S1 of the Polish Radio) and around the world (the Suntory Hall in Japan, the Carnegie Hall in New York, to mention just these two). In addition, they performed in concert in many countries around the world, including: Bulgaria, Morocco, Germany, Italy and Lithuania.
The repertoire of the eminent Polish accordion duo of Hubert Giziewski and Pawel Sulej includes several ongoing artistic explorations: "Grand Transcriptions", "Polish & European Contemporary Music," "Musica Sacra," "Dances of the World," and "Sacrum & Profanum", with musical compositions written by such masters and eminent composers as: Johann Sebastian Bach, Leon Boëllmann, Cesar Franck, Modest Mussorgsky, Aram Khachaturian, Witold Lutoslawski, Astor Piazzolla, George Enescu, and reveals a whole palette of artistic and stylistic possibilities provided by the contemporary concert accordion.
The artistic works of the above mentioned composers and others, thanks to the extraordinary coloristic palette, technical and sonic qualities of the modern accordions gain truly exceptional and unique values in the somewhat unusual setting of two accordions. This music performed by the accordion duo immediately absorbs the attention of the listeners and is always received with a great enthusiasm by the audiences on all the continents.

USA concert dates for November include:
2 November, 2007 - San Diego La Jolla, 1353 Caminito Acento, Polish Art and Culture Society, 7:00 PM
3 November, 2007 - Dallas Eisemann Center, 2351 Performance Drive, Richardson, 8:00 PM - Eisemann Center Ticket Office - Phone: 972-744-4650
4 November, 2007 - Dallas St. Peter the Apostle Church, 2907 Woodall Rodgers Freeway, 2:00 PM
5 - 12 November, 2007 - Denver

---
Buckwheat Zydeco in NY's Beacon Theater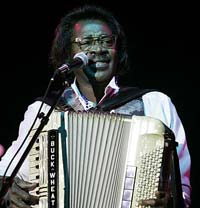 Well known Zydeco accordionist Buckwheat Zydeco will perform in a concert titled "I'm Not There: In Concert a live celebration of Haynes' Bob Dylan film I'm Not There. The one night only concert will feature an eclectic lineup of 16 artists will perform Dylan's songs at a benefit concert November 7, 2007 at New York's Beacon Theater, 2124 Broadway, New York, NY. (Phone: 212.465.6500).

All net proceeds from the Dylan-inspired concert will go to benefit 826 National and 826 Valencia, non-profit groups that help students ages 6-18 with expository and creative writing skills, organizers of the event said.
The concert is sponsored by The Weinstein Company, Wolfgang's Vault, WFUV Radio and Search Party Music. I'm Not There," the film, will be released in theaters nationwide by The Weinstein Company November 21, 2007.


---
They Might Be Giants in Concert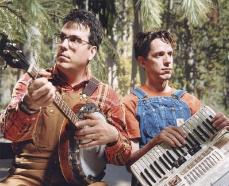 They Might Be Giants including accordionist John Linnell, will appear in concert throughout November, 2007 as follows:
1 - Athens, GA - Georgia Theatre
2 - Atlanta, GA - Variety Playhouse
3 - Nashville, TN - Exit In
4 - Memphis, TN - Newby's
6 - Newport, KY - Southgate House
7 - Columbus, OH - Newport Music Hall
8 - Indianapolis, IN - The Vogue
9 - Milwaukee, WI - Turner Hall
10 - Chicago, IL - Vic Theatre
13 - Grand Rapids, MI - The Intersection 18+
14 - Ann Arbor, MI - Michigan Theater
15 - Pittsburgh, PA - Mr. Smalls
16 - Buffalo, NY- Town Ballroom
17 - Cleveland, OH - Case Western Univ.
23 - Washington, DC - 9:30 Club
24 - Philadelphia, PA - TLA (Fillmore)
In addition, they will perform at the Beacon Theatre in New York on February 2, 2008.

Combining a knack for infectious melodies with a quirky, bizarre sense of humor and a vaguely avant-garde aesthetic borrowed from the New York post-punk underground, They Might Be Giants became one of the most unlikely alternative success stories of the late '80s and early '90s.

Musically, the duo of John Flansburgh and accordionist John Linnell borrowed from everywhere, but their freewheeling eclecticism was enhanced by their arcane, geeky sense of humor. They would reference everything from British Invasion to Tin Pan Alley, while making allusion to pulp fiction and President Polk.

Through their string of indie releases and constant touring as a duo, They Might Be Giants built up a huge following on college campuses during the late '80s, switching to a major label in the early '90s and focusing on their cult following in recent years. More recently, They Might Be Giants released a series of podcasts and contributed to various film soundtracks, including Disney's "Meet the Robinsons" and the film adaptation of Neil Gaiman's "Coraline." The band's 14th studio release, The Else, hit stores in the summer of 2007.

Although TMBG began in the early '80s with their first studio album, "They Might be Giants," the two Johns first met in high school. Later, John Flansburgh and John Linnell started playing in New York City with Flansburgh on guitar and Linnell on saxophone and accordion. Today, TMBG have sold over 4 million records and have created an extensive artist owned-and-operated download site with live shows, free .MP3s, free monthly podcasts and new music.


---
Stas Venglevski to appear with Sheboygan Symphony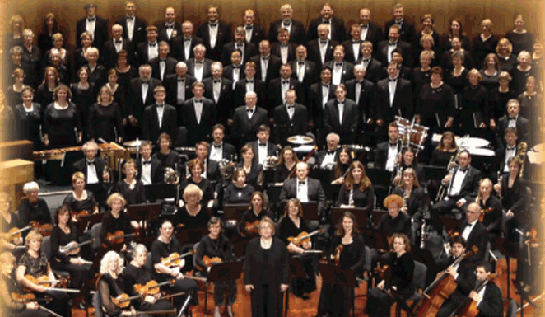 Milwaukee accordionist Stas Venglevski, whose keyboard artistry and dazzling technical command have brought him increasing acclaim as a virtuoso of the accordion will join forces with Andrews Sill and the Sheboygan Symphony Orchestra on an out-of-the-ordinary musical adventure at 7:30 PM, Saturday, November 10, 2007 at the Stefanie H. Weill Center for the Performing Arts, 826 N. Eighth Street, Sheboygan, WI 53081.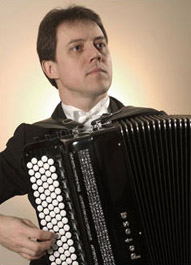 Works included on the program include "Norwegian Dances" by Grieg, "Thunder and Lightening Polka" by Strauss, "Flight of the Bumblebee" from "Tsar Sultan" by Rimsky-Korsakov, "Hungarian Dance No. 5" by Brahms and Fanfare from the "William Tell" Overture by Rossini. The Symphony Singers will join the Symphony to perform a selection of spirituals by Rutter.

Stas is a native of the Republic of Moldova, part of the former Soviet Union, and a two-time first-prize winner of the prestigious bayan competition in Moldova. He is a graduate of the Russian Academy of Music in Moscow, where he received his master's degree in music under the tutelage of the famed Russian bayanist Friedrich Lips.

Stas has toured extensively throughout the former Soviet Union, Europe and the United States. He performs frequently in Milwaukee, his home, and is a regular participant in the Milwaukee Symphony Orchestra's Arts in Community education program and in theater productions.

---
---
Note: In order to provide as much information as possible for the United States National Accordion News stories, many different sources are often researched to gather additional information and pictures to complement what has been submitted. This information is then correlated to provide the news on www.accordionusa.com in the spirit of which it is intended, which is to provide a free news service to the Accordion Community, specifically in the United Sates. If you feel any copyright has been violated please advise www.accordionusa.com and the article will be removed immediately.