---
Coupe Mondiale Picture featured in Spot the Difference
The picture from the front page of the Washington Post during the 2007 CIA Coupe Mondiale in Alexandria, VA was used in the recent Washington Post Sunday Magazine as part of its weekly spot the difference puzzle.

American Accordionists' Association Board of Director Frank Busso conducted the Massed Band with the backdrop of the United States Capitol Building in central Washington DC, attracting much media attention.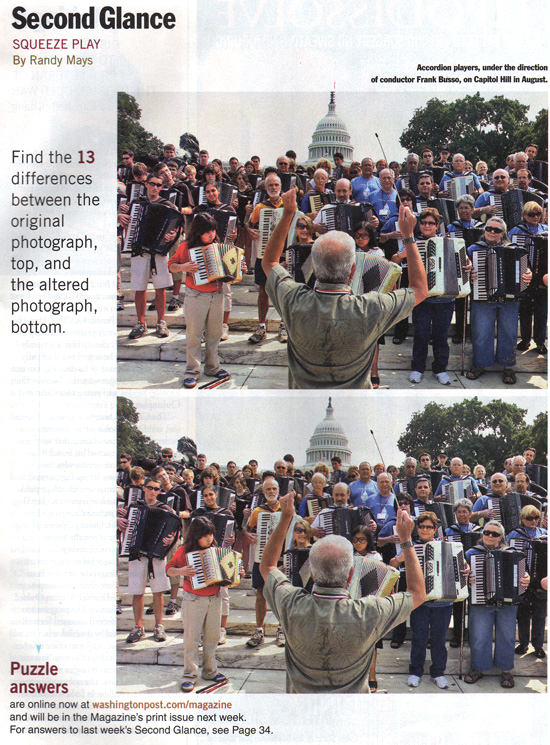 ---
Accordionist Brett Gibson features on new CD Release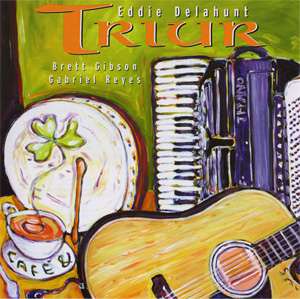 "An Irishman, a Kiwi and a Mexican walk into a bar and a session breaks out! These are some of the songs and tunes that we play regularly at the clubs and pubs of Midwest America. Hopefully we have captured the atmosphere."

This is the enticing intro to the new CD featuring Kansas City accordionist Brett Gibson, vocalist Eddie Delahunt and Gabriel Reyes on Bodhran. Regulars on the Midwest Celtic music circuit, this CD contains both traditional and original Celtic music.

Brett was born in Auckland, New Zealand but now makes his home in the Kansas City area of the United States where he has established himself as one of the leading accordion specialists in the Celtic music scene having performed several seasons with The Elders, Gabriel's Gate and is a regular musician with Eddie Delahunt.

Brett began playing the accordion at age seven and at the age of 12 won his first New Zealand championship for that age category and continued to seriously perform and compete into his late teens as a soloist and with duet, trio, quartet, ensemble and orchestra. He went on to tour overseas with both the Air New Zealand Accordion Orchestra and also the UMKC Accordion Orchestra.

In addition to his work in the Celtic Music field, Brett recently performed Astor Piazzolla's Concerto in his debut with the Kansas City Civic Symphony Orchestra under the direction of Andy Anderson. Brett will perform this again in February with the Longmont Symphony in Longmont, Colorado.

Kansas City artist Mike Savage painted the beautiful painting on the cover of the CD (above). To purchase this new CD and more information, please visit www.eddiedelahunt.com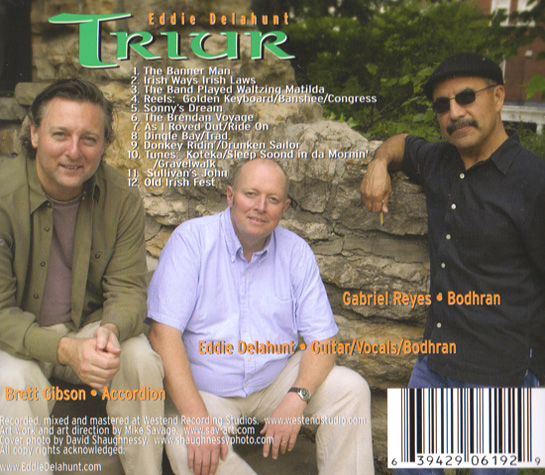 ---
'Carmelo, Celebrating the Accordion' a new CD by Carmelo Pino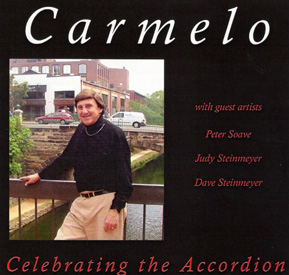 Joan Grauman reports that the newly released accordion CD by Carmelo Pino is a true masterpiece. Four years in the making, this magnificent compilation celebrates not only a technically and musically flawless accordion performance, it also showcases the amazing composing and arranging skills of this accomplished and acclaimed accordionist, Dr. Carmelo Pino.

The album features twenty-one musicians considered by Carmelo to be among the finest, and includes his award-winning composition, "Concertino for Accordion and Strings", which has been performed by several symphony orchestras. There are a number of beautifully arranged jazz pieces featuring the accordion with solos by the well-known trombonist, Dave Steinmayer, plus Carmelo's celebrated medley of Gershwin tunes, "Gershwiniana", and David Diamond's "Night Music", a composition for accordion and string quartet commissioned by the American Accordionists' Association.

The CD also includes three very lovely and uniquely different Italian dance tunes, which were composed by Carmelo for the Italian film, "54 Roses". Accordion great, Peter Soave, is featured in Carmelo's jazz arrangement of J.S. Bach's "Two Part Invention in A Minor". which Joan describes as wonderful.

The entire CD is truly a gem. It flows seamlessly from one mood and musical style to another. Dr. Carmelo Pino has taken our beloved instrument to a new level. His new CD is a real masterpiece. BRAVO!

Joan Grauman is on the governing board of the American Accordionists' Association, is vice president of the Washington Metropolitan Accordion Society, and performs nationally with accordion duet partner, Stella Allison.

To obtain a CD, please contact Carmelo by phone (202)342-0669, or by mail at:
Carmelo Pino
1066 Papermill Ct., NW
Washington, DC 20007

CDs are $20 each, plus $2 shipping (within the US)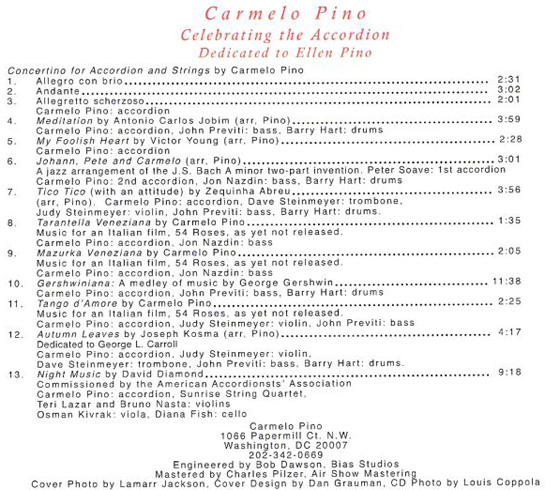 ---
Motion Trio to appear in Carnegie Hall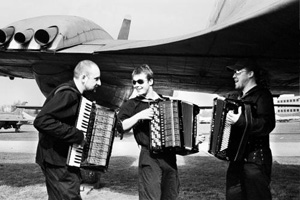 Famed accordionists the 'Motion Trio' from Poland will perform in Carnegie Hall on Sunday, January 13th, 2008 at 7:30 PM.

Motion Trio - an accordion trio founded in 1996 by Janusz Wojtarowicz – leader and composer of most of the group's repertoire. Motion Trio is a unique phenomenon on the European and worldwide music scene. Performing their own music, the group is changing the way the accordion is perceived as an instrument.
Motion Trio has worked with artists like Krzysztof Penderecki, Bobby McFerrin, Wojciech Kilar, Krzesimir Debski, Marta Ptaszynska, Trilok Gurtu, Michal Urbaniak ("From the first moment, they appealed to me in everything that they do"), Tomasz Stanko ("After just one, brief rehearsal I'm fascinated by them"), WDR Rundfunkorchester Köln, Deutsches Filmorchester Babelsberg,Sinfoniett Riga , Sinfonietta Cracovia, Rio de Janeiro Orquestra do Teatro Municipal. In the year 2000, they were Grand Prix laureates at the IV Krzysztof Penderecki Modern Chamber Music Competition. They have also given master classes at the University of Chicago and the National Conservatory in Paris. On the music of Motion Trio: Joe Zawinul – "Their music is amazing"; Krzysztof Penderecki – "This is an exceptional accordion trio"; the Frankfurter Allgemeine Zeitung writes "... the Trio plays masterfully, utilizing suggestive timbral textures(...)"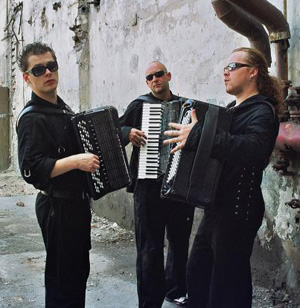 They are the grand prix laureates of the 4th Edition of the Krzysztof Penderecki International Contemporary Chamber Music Competition. Motion Trio has recorded five albums - "Cry", "Pictures", "Play-station", "Live in Vienna - Sacrum & Profanum" and "METROPOLIS". "Pictures" became a hit and received the following distinctions: Deutsche Shallplatten Kritik, the Polish Music Industry Grand Prix, Best Polish Recording 2000, Top2000 and Jazzi Magazine's critics' Album of the Year Award. Polish music critics recognized Motion Trio as the finest debut of the year 2000 in Poland. The group was honored in France with the "Gus Viseur" award, in the "Musical Discovery of the Year 2005", and has performed in 28 of the world's countries: Austria, Belgium, the Czech Republic, Estonia, France, Greece, Spain, the Netherlands, Ireland, Iceland, Japan, Canada, Lithuania, Luxemburg, Latvia, Germany, Poland, Portugal, Russia, Slovakia, Switzerland, Sweden, Taiwan, Turkey, Ukraine, the USA, Hungary and Italy.

Motion Trio has participated in a great number of prestigious festivals and musical events: the Montreal Jazz Fest, the Alternativa Festival in Moscow, the Migration Music Festival in Taipei, Fest Der Kontinente in Berlin, the Gaudeamus Festival in Amsterdam, the Reykjavik Arts Festival, the Festival d'Ile de France in Paris and many others.

In 2004, by invitation from Joe Zawinul, the group appeared at the Vienna club "Birdland" where, over the course of five evenings, they presented 5 different stylistic programs (from contemporary, through jazz to world music). October 2006 saw the premiere of the Motion Symphony, in Pottsdam, performed with the Deutsche Filmorchester. The nearest performances of the Motion Symphony will take place in Rio de Janeiro, Moscow, Cologne, Riga and Kiev.

The Trio consists of: Janusz Wojtarowicz (1971) Composer, accordionist, founder and leader of the Motion Trio. Began piano and accordion studies at the age of seven, under his father Eugeniusz. Completed the Public Secondary School of Music in Krakow and studied the accordion at the Krakow Academy of Music. Winner of many chamber music competitions in Poland and abroad. Composer of theatrical music. Received a scholarship from the president of the city of Krakow in 2001. Pawel Baranek (1978) Began learning to play the accordion and organ when nine years old, under professor Wieslaw Kusion. Completed the Public Secondary School of Music in Tarnów. Winner of Polish and international competitions, in Germany and Italy among others. Currently one of Europe's finest accordionists of the younger generation. Currently studies the accordion at the Academy of Music in Krakow. Marcin Galazyn (1975) Began accordion studies seven, under professor Eugeniusz Ajdmach. Completed the Public Secondary School of Music in Bialystok, after which he studied accordion at the Academy of Music in Krakow. Winner of many national accordion competitions in Poland.


---
Accordionist's Last Dance with Alacartoona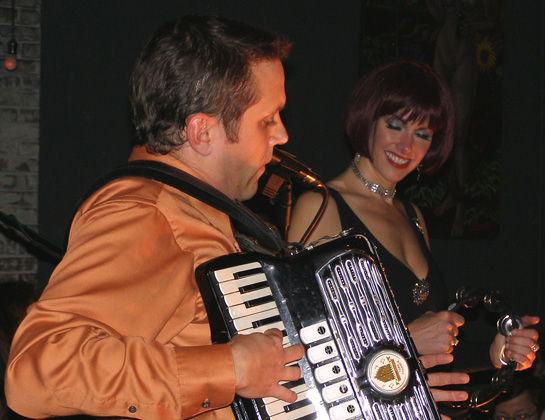 Accordionist Steve Morse, (Archibald Drexel), will perform his grand finale show with the popular Kansas City based Cabaret show 'Alacartoona.'

Alacartoona is a modern cabaret act inspired by the European cabaret movement that arose in Berlin and Paris at the turn of the last century. Comprised of accordion, bass, drums and guitar, this unusual quartet brings to life songs of love gone wrong, of cafe life and revolving lovers, of brief joy and extended tragedy. Raunchy, bawdy numbers, lusty sing-alongs and tearful ballads comprise the alacartoona songbook. All of the songs are original and are evocative of the style and mood of this fascinating era yet are infused with the energy of our modern life.

The show is headed by the master of ceremonies, who cajoles the audience members to prove their love to alacartoona, while the heart of the show is the chanteuse, who utilizes both raw emotion and exposed garter to enthrall them. Both will leave the stage to bring the action directly to the individual (and to sit on a lap or two in the process). The experience is one part musical theater and three parts theatrical music, with a generous helping of titillation on the side. No one leaves an alacartoona show unmoved, be it to tears or libidinous conquest. Or both. Words pale in the face of experience. Come to the cabaret and see for yourself...


The Kansas City Star writes: "willkommen to the wild side" "the sound of alacartoona jumps around the big music buffet: gypsy-folk and folk-rock and show-tune pop and lounge jazz and free-form jazz, all performed by a quartet that is so portable and organic it could stage itself on a street corner if it wanted."

Archibald Drexel's final accordion show with Alacartoona will take place Thursday, December 6th, 2007 5:30 PM. Reservations recommended.

Archibald's Last Dance with Alacartoona
Jardine's
4536 Main Street
816.561.6480
http://www.jardines4jazz.com
Price: $6.00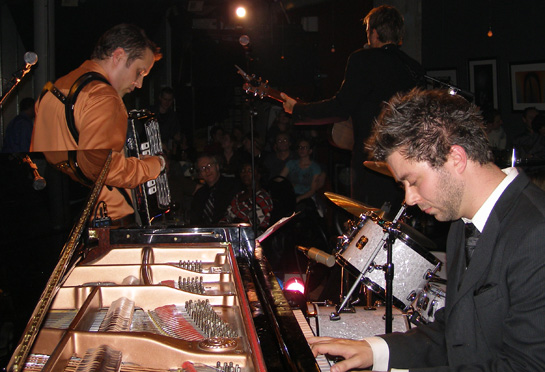 ---
Young German Accordionists in Princeton
On Sunday, December 16 from 3:00 - 4:00 PM, five young German accordionists invite you for a lively concert featuring music of all periods and styles, including Renaissance, Baroque, European Folk, contemporary and dance.

This is the first trip to the USA for Katharina (9), Paula (11), Julius (11), Clara (12) and Franka (13), who won first prize in the 2007 National Competition for Young Musicians, the Jugend Musiziert.

Between pieces, instructor Nancy Laufer-Laycock will discuss the instrument and the music, and children and parents are invited to try out the accordions at the end of the show.

The concert will be held at the Princeton Public Library, 65 Witherspoon St., Princeton, NJ 08542.

---
Electro-Accordion Jam in MN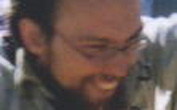 On December 8, 2007 accordionist Marc Jensen will join forces with Elliott McKinley (electronics) for an electro-accordion jam at the Minnesota Center for Book Arts.
December 8, 2007

Marc Jensen is a Ph.D. candidate in music composition at the University of Minnesota, and holds a doctoral dissertation fellowship for 2007-08 through the UMN Graduate College. Much of his work is oriented around composing relationships rather than specific sounds - setting up situations in which performers follow simple sets of rules to interact and produce an unpredictably complex whole.

His principle teachers include Pauline Oliveros, Alvin Curran, Alex Lubet, and Doug Geers. Mr. Jensen has recently completed his teaching certification through the Deep Listening Institute, and has edited several books on Deep Listening. He is active as a composer and performer, presenting his work at events across the country, and also works as a teacher and as a freelance music editor for several publishing houses.

The Minnesota Center for Book Arts is located at:
1011 Washington Ave. S, Suite 100
Minneapolis, MN 55415
Phone: 612.215.2520
Fax: 612.215.2545
E-mail: mcba@mnbookarts.org


---
WMAS Announces Meetings and Events in DC Area
The Washington Metropolitan Accordion Association announces a busy December schedule of accordion events including:
WMAS Holiday Concert: Sunday, December 16, 2007, 2 PM: rehearsal and setup; 4 PM: holiday concert and potluck. There will be a rehearsal for this event on Sunday, December 2, 2007 at 7:00 PM.
Donation: $7, WMAS members and children under 12 free
A potluck will follow the concert. Please bring a dish to share.

Silvia Eberly and Peter Fuehres
Wednesday, December 12, 6 to 9 PM
Cafe Mozart
1331 H Street, NW
Washington, DC
(202) 347-5732

Maryland Accordion Club
Next meeting: Saturday, December 15, 2-5 PM
Bloomsbury Community Center - 2nd floor auditorium
106 Bloomsbury Avenue
Catonsville, MD 21228

e-mail mdaccordion@cavtel.net or call Joe Fertitta at (410) 744-3352.
Holiday Accordion Concert hosted by Dale Wise
Wednesday, December 19, 2007, 8:00 PM
Oakton United Methodist Church
Rte. 123 & Hunter Mill Road
Oakton, VA 22124
featuring
Jim Rice and "The Wiseguys" with new singing sensation Greg Marlow and child prodigy June Kim, pianist, The Potomac Ensemble / Teachers' Choice / Students
Accordions for Kids/USA
Community Singing sponsored by Accordion Plus, Free Admission


---
National Accordion Association March Convention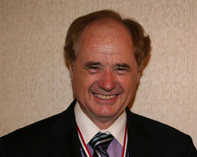 President of the National Accordion Association Norman Seaton, reports that plans are well underway for their 2008 Festival to be held in Texas from March 12-15, 2008.

This year, at the 2007 convention, accordionists of all ages and levels were enriched by dozens of workshops including basic playing techniques, teaching techniques, Scottish style performing, diatonic basics, registration selection, bass patterns, bass enhancement, motivation, emergency repairs, MIDI, Slovenian style playing, Polka dancing, and even rock and roll music performing!

Four concerts were staged during the Texas event. Thursday's concert included favorites like The Ron Pivovar Quartet, and the popular AOK trio. Friday afternoon's concert was wonderful. It was conducted by Alice Aman. Friday evening's concert theme was "Polka night", and The Alaska Polka Chips, followed by Cleveland's Fred Ziwich rocked the house. Even the non-dancers couldn't manage to remain in their seats! Saturday's concert featured international diatonic champion Miha Debevec from Slovenia, British Isles Champion performer Mark Kenneth, Chicago's jazz king John Simkus, phenom Brent Buswell with his bride Crista, Tex-Mex star Joel Guzman, virtuoso Dee Langley with Orkestar Bez Ime, former world champion Don Lipovac, MIDI expert Gordon Kohl, and the 2007 NAA accordion orchestra directed by Dan Orza.

This event has grown in leaps and bounds, and judging by conventioneers' comments, it is "Texas friendly" and very casual. For some of the best accordion music and good times, you are invited to make your way down to Texas in 2008. March 12 – 15. Y'all be there now!

Celebrating more than 20 years together, the National Accordion Association President Norman Seaton, says they have already scheduled their 2009 Convention from March 11 - 14, 2009.

There will be a call for presenters for the 2008 Convention open soon, and interested parties are invited to visit www.accordions.com/naa to make their applications or for more information.

For general information, please contact: Norman Seaton - President
National Accordion Association, Inc.
PO Box 57-0533
Dallas, TX 75357

E-mail: NatlAccordion@SBCGlobal.net

---
Carmen Carrozza CD Offers Unique Career Profile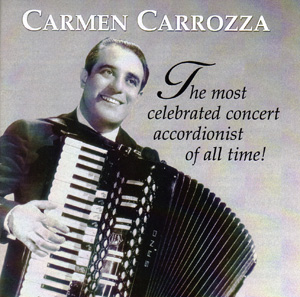 Renowned accordionist Carmen Carrozza has released a CD including recordings of several live Radio Broadcasts, the Concerto for Accordion and Orchestra, Op. 75 by Paul Creston performed with the Boston Pop's Symphony Orchestra conducted by Arthur Fiedler, the Rubaiyat by Hovhaness recorded with the New York Philharmonic.

Carmen Carrozza was born in a small town Solano in Calabria, Italy on July 20, 1921. Carrozza emigrated to the USA with his family when he was nine years old. The Family settled in the town of Chappaqua in Westchester, NY, where Carrozza soon began studying music, becoming proficient on the violin, piano and accordion.

In 1937, he graduated from the Pietro Deiro Accordion Conservatory in Greenwich Village, NYC where he was awarded the highest honors and a gold medal for his performance. He furthered his studies at the New York Academy of Music specializing in theory, harmony, counterpoint and composition. Carrozza's professional debut took place in 1947 at the Philadelphia Academy of Music launching what was to be one of the greatest careers of the century.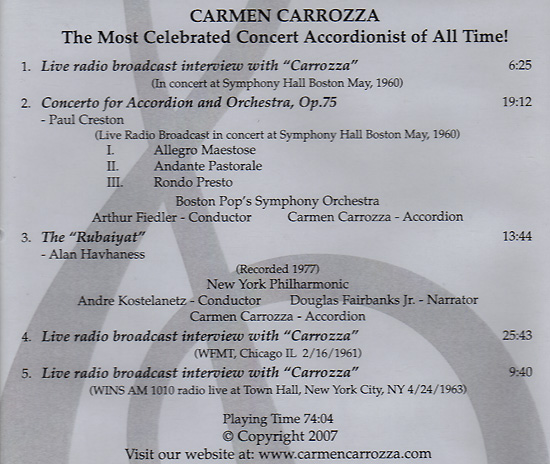 Camen was the first accordionist invited to perform as featured soloist with major symphony orchestras: The Boston Pops Symphony Orchestra under the direction of Arthur Fiedler premiering Paul Creston's Concerto for Accordion and Orchestra; National Symphony and New York Philharmonic under the direction of Andre Kostelznetz, premiering Alan Hovanhess' Rubaiyat; Cincinnati Orchestra, under the direction of Thomas Schippers; The Buffalo Symphony Orchestra, The Baltimore Symphony Orchestra, The Philadelphia Pops Orchestra, The United States Navy Band, and the list goes on and on. A legendary composer, arranger and world renown concert artist and educator, Carrozza has been a true inspiration to humanity.

For more information please visit www.carmencarrozza.com or contact Carmen Carrozza: E-mail: CarmeloCarrozza@aol.com

---
Promoting Your Accordion Services Free at AWW

The Internet is changing the way your customers are searching for services. The days of lugging out a 12 lb. telephone book to find very limited and outdated business information are coming to an end. People are still letting their fingers do the walking, but they're doing it over a computer keyboard. Below are some revealing facts from the Kelsey Group.
74% of US households use the Internet as an information source when shopping.
Approximately 45% of searches had a buying intent.
The percentage of respondents who used yellow page directories decreased from 75% to 62%.
(If you have a printed yellow page ad, it is time to consider buying a smaller ad and shifting your marketing dollars to the Internet.) The off-line Yellow Pages see the writing on the wall and are scrambling to transfer their business model to the Internet.

Businesses can no longer ignore these facts. If you want to be successful, you must have a presence where your customers are searching. Being found on the Internet is vital to the future of your business.



The Accordion Yellow Pages offers free of charge listing for all accordion businesses, teachers and for every type of service for accordionists. On the Accordion Yellow Pages site, you do not need to have a website for accordionists find you and contact you.



The search-accordion.com site is also free of charge, being a listing service for every type of accordion service but you must have a website. Viewers of search-accordion.com can click to your website.



Very popular is the AccordionLinks.com site where those accordion service providers with a website, can attract accordionists free of charge to their website.

All it takes is a little effort, to make sure your information on these three popular and very effective accordion sites is up to date. Your future success may well be determined by your ability to effectively adapt to the Internet. Should it be your New Year's resolution for 2008?


---
Nils Lundin Honored in Dinner Concert in MA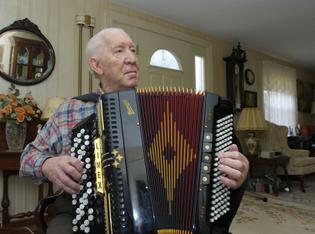 A large, international group of accordion enthusiasts recently gathered to celebrate the 86th birthday of composer/conductor/performer Nils Lundin and to honor his 55 years of service to the Braintree Viking Club, site of the surprise testimonial dinner and benefit concert.

Nils's original compositions were prominently featured on the program along with music by other Scandinavian composers. Accordionists who performed included Warren Johnson [Massachusetts], Jon-Richard and Kassandra Knoff (Vermont and Norway), Mario Pedone (Texas), Donna Maria Regis (New Hampshire), Pär Wahlgren (Sweden), Laurie and Peter Widmark (New Hampshire). Proceeds from the event went to Nils's favorite charity.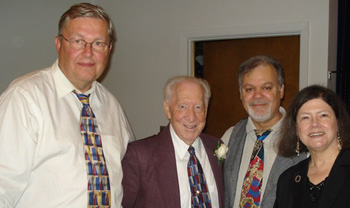 Since moving to the United States from Sweden in 1929, Nils Lundin has been playing the accordion, and getting involved in philanthropic endeavors around the South Shore and beyond. Nils began playing as a young boy in Sweden, and brought his love of the accordion, and his traditional Swedish Polkas to the USA where he has lived for many years. L-R in Photo: Peter Widmark (NH), Nils Lundin (MA), Mario Pedone (TX), and Donna Maria Regis (NH).


---
New CD 'Duality Wrecks'
DUALITY WRECKS, (50 minutes accordion and piano CD), is the title as well as the duo in this new CD that covers the entire spectrum of rock and roll, rockabilly, swing, blues, rhythm and blues as well as ballads in a 50 minute continuum performed without interruption. Perhaps a CD to play in the background at your next party or event; perhaps a CD to dance to - or perhaps a CD to be listened to in the manner of an American Symphony.

The performers wish to remain "sort of anonymous" which is not entirely possible. It's about the music, they say. But the clue lies in the web sites listed here for information and purchasing: www.billschimmel.com


---
Dr. William Schimmel Presents World Premiere with Windscape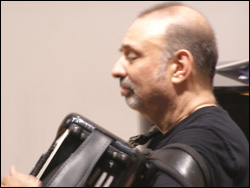 Dr. William Schimmel's new work, Elgar has Hands like Scissors for Accordion and Woodwind Quintet, will have its world premiere on Saturday, December 15 as part of The Peoples' Symphony Concert Series. One of the oldest concert series in New York, it is dedicated to presenting world class performances at affordable prices. The concert will take place at Washington Irving High School in the UnisionSquare section of Manhattan. It will begin at 8:00 PM. The series roster includes, The Juilliard String Quartet, The Emerson String Quartet, Pianist Emmanuel Ax and other notables.

Dr. Schimmel will perform with Windscape, a woodwind quintet whose members include: Tara Helen O'Connor, flute; Randall Ellis, oboe; Alan Kay, clarinet; Frank Morelli, bassoon and David Jolley, horn.

Elgar has Hands Like Scissors is a nine minute work that is almost one hundred percent referential, from its title to the preexisting music that recalls early 1960's groups such as The Zombies. It is dedicated to the "outsider", the person or persons who creates a different world to subside in, sometimes out of necessity, sometimes out of pure survival. And, of course, this includes the accordion. Today, everyone wants to be an outsider.

Dr. Schimmel will also perform a suite of Kurt Weill American Period Works with the ensemble. For more info and tickets: www.pscny.org

---
Geno Delafose to Appear at New Orleans Cajun Zydeco Festival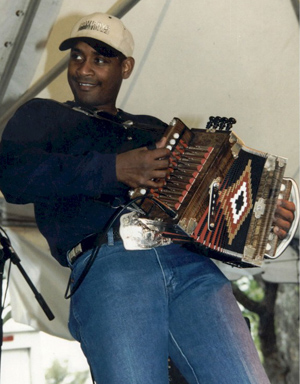 Accordionist Geno Delafose will appear at the New Orleans Cajun and Zydeco Dance Festival takes place on Sunday December 9th, from 10 AM at Tipitina's, 1101 Convention Center Boulevard, New Orleans.

There is this other way of life in the south; a musical ethnicity that has simmered itself to a uniquely homespun flavor. Immersed in the culture since birth, Geno Delafose has lived the life of a true cowboy. He relies on his traditional Creole sensibility for guidance in music, and divides his time between touring and operating his Double D Ranch outside of Eunice, deep in Southwest Louisiana's bayou country, where he breeds cattle and raises quarter horses.

Unbeknownst to many northerners, who often reserve the image of a cowboy for white Anglo-Saxons, Creoles (African-American Francophones) also share in the rural roots of hard work and dedication to the land. Geno epitomizes this cultural tradition. Born into a family of Zydeco musicians, at the ripe age of seven, Geno picked up the rubboard and joined his father John Delafose's band the Eunice Playboys, an ensemble that Geno would one day lead. John Delafose was key in re-launching the current upsurge of Zydeco, and Geno is poised to crossover Zydeco to a wider country music audience with his charismatic cowboy spirit and lively presentation.

To this day, Geno still performs in many of the same dancehalls and churches that he visited as a child in his father's group. Geno Delafose and French Rockin' Boogie are no strangers to the stage. Performing a rigorous one hundred fifty shows each year has left the band in a rigid state of exactness. Cut after cut the group is right there, turning on a dime with each spicy lick emitted from Geno's squeezebox.

Geno fuses his Creole roots and modern voice through his multi-accordion attack. Germans introduced the accordion to Louisiana, and, ever since, it has been a popular instrument thanks to its distinctive ability to speak above the hum in a crowded room of dancers. Geno plays the single-row and triple-row diatonic button accordions for more traditional "French style" tunes, and changes to piano accordion for pounding out contemporary Zydeco. Piano accordions were adopted for their chromatic versatility and ability to play "blue notes." Up until the 1980s only the most sophisticated players could incorporate them into Zydeco.

Everybody's Dancin' released May 13, 2003 on Times Square Records, is Geno's fourth release. A significant portion of the release is dedicated to reinterpreting Creole standards like "Le Bluerunner" and "He-Haw Breakdown", in the band's modern Zydeco vernacular. Fiddle player Michael Doucet of BeauSoleil, America's most-popular Cajun group is featured on three tracks. Genom, who was just awarded Best Zydeco Artist at the 2003 Big Easy Awards in New Orleans is not afraid to share his recipe for Zydeco with other approaches. Receiving the same progressive musical attention as the Creole standards are the old-fashioned waltzes, two-steps, blues, and soul numbers that decorate the album. The fact that each cut was recorded in one or two takes is further evidence of the band's unyielding proficiency.

At the Festival, there will be a World Championship Dance Contest for Zydeco and Cajun Dancers with prizes valued up to $6000. Proceeds will benefit the Grace House Homeless Shelter for Women. In addition to Geno Delafose, artists will also include The Zion Harmonizers Gospel Group, Steve Riley, Bruce Daigpont, Feau Follet, Rosie Ledet, Thomas Fields, and Atlanta Swamp Opera.
2nd Annual New Orleans Cajun and Zydeco Dance Fest
December 9, 2007
Times: 10:00 AM - 11:30 PM
Location: Tipitina's Uptown, 501 Napoleon Ave.
Phone: (504) 779-0922
Admission: $10.00


---
Henry Doktorski to perform with Northwest Indiana Symphony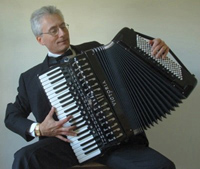 Accordionist Henry Doktorski will be the guest soloist with the Northwest Indiana Symphony Orchestra, under maestro Kirk Muspratt in two selections during their annual holiday pops concerts.

He will be playing two selections from my "A CLassical Christmas" CD: "Chorale and Dance on Jingle Bells" and "Ave Maria" (Bach/Gounod version) during their annual holiday pops concerts.

The concerts are as follows:
Thursday, December 6, 2007
Star Plaza Theatre, 7:30 PM
8001 Delaware Place
Merrillville, IN 46410
Friday, December 07, 2007, 8:00 PM CST
Raue Center for the Arts
26 N. Williams Street
Crystal Lake, IL 60014

---
---
Note: In order to provide as much information as possible for the United States National Accordion News stories, many different sources are often researched to gather additional information and pictures to complement what has been submitted. This information is then correlated to provide the news on www.accordionusa.com in the spirit of which it is intended, which is to provide a free news service to the Accordion Community, specifically in the United Sates. If you feel any copyright has been violated please advise www.accordionusa.com and the article will be removed immediately.