---
Kimberley International Old Time Accordion Championships
Since it's inception 35 years ago, KIOTAC has provided over $250,000.00 in cash prize money as well as more than $60,000.00 in bursaries to young accordionists.

Never heard of KIOTAC? Don't let that stop you from joining the biggest week long party held in B.C. Canada every year for the past 34 years. The Kimberley International Old Time Accordion Championships held the second week in July, consistently attracts many hundreds of accordionists, dance lovers and tourists, from all parts of the globe, and is considered one of the top 100 Events for tour bus attractions in North America.



This year, the festival is held July 7th, through Saturday, July 12th, and hundreds of accordion players of all ages will congregate to show off their talents, just jam with their colleagues, or reminisce on "how they used to play." The dance beat is strong from morning into the night for more than seven days, for people who love to dance a little or a lot, or folks who just like to join in the party atmosphere and listen. The central square, the Platzl, has a stage, where the dance band changes every fifteen minutes, from 10:00 AM until 3:00 PM daily for six days.

People are dancing, sitting, coming and going, all day long, enjoying the entertainment. On some days there is added entertainment in the Platzl, such as Adi the yodeling Woodcarver, Happy Hans the mascot, the Rhythm Man, actors and of course, clowns. The Platzl also boasts a number of street side restaurants, in all price ranges, and some very unique shopping opportunities. Many take their lawn chairs to the Platzl in the morning, and spend the day milling around between listening, shopping and dining, with maybe a beer or two.

The city has a large arena, the Civic Center, where, during the day, the competitions are held, not only in old time music but jazz, classical and popular music as well. It is free, and everyone enjoys the opportunity to compare the talents as well mix and visit with the musicians. Every evening there are formal shows and dances at a nominal charge featuring world class top performers and orchestras.

There's an abundance of accommodation, but it tends to fill up. There are a number of cozy hotels, some right on the Platzl, and if you call early, they can be great fun. Some people stay in motels in nearby Cranbrook. The Happy Hans Campsite is booked years in advance, but they never turn away accepting campers, RVs or tenters; as overflow they will park you in some interesting spots. People tend to share their hydro hookups, and the facilities are sparkling clean no matter how many people are jammed in. The whole town welcomes RV's during the event with all the parking lots of schools, churches, or just anywhere, filled with visitors. You would be guaranteed someplace to park. One of the nice things about the campsites, is "that's where the action is." There are constant groups playing spontaneous music all over the place, sometimes several at a time, and all musical instruments are welcomed to accompany, or even join the accordions in the Platzl. So be sure to bring any musical instrument you have, and join in!

There are three great golf courses in Kimberley, Kimberley Golf Club beside the campsite, and also the world class Trickle Creek Golf Course and Bootleg Gap. There are many activities for children, and it is a favorite destination for families. Looking for summer fun with your family and trailer? Be sure to check out the Kimberley International Old Time Accordion Festival.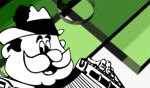 For 34 years spectators and accordionists of varying competence have joined us from many countries, provinces and states. Enthusiasts from Great Britain, Europe, Scandinavia, Soviet Union, America, Australia, China as well as Canadians have chosen to make the trip to find out if all the raves and accolades are really true. Why is it that KIOTAC has made the list of "Top 100 Events in North America" 5 times since 1995, families from California have consistently made the trek for 10 years or more, folks from Scandinavia (where you can choose from many accordion events every week throughout the summer) have called it the best they've ever attended and many families have made us part of their annual plans for 20 to 30 years?

Could it be because of the competition? (A part of our namesake) Maybe it's the daily Open Mic Stage in the Platzl. Maybe it's the dancing or the toe-tapping; day and night, when and wherever you're so inspired. Could it be for the endless variety of concerts and entertainers from the many genres that have consistently thrilled our audiences? Or is it merely the appeal of all the camaraderie and new friendships that keeps bringing them here again and again?

It is more than likely some combination of all of the above with a few personal reasons thrown in for good measure that continues to motivate the KIOTAC committee to new heights and ideals each year. In 2008; 7 to 10 days before the event some folks will start to arrive in town to take up spots and rooms they've either booked or squatted on for years. These folks are our true "perennials". They entertain themselves and format their own itinerary.

Schedule Overview:
On Monday (July 7, 2008) our first official event is check-in of contestants and an open stage with back-up combo from 10:00 AM to 3:00 PM in the Platzl; a daily event. Our first concert/dance is scheduled for 7:00 PM at the Civic Center.
Tuesday morning 8:00 AM competitions begin at the Civic Canter and run daily to 3-4 PM. There are usually workshops for accordion and dancing as well as KIOTAC Concert Band rehearsals held during the late afternoons at various locations around the city.
Wednesday evening performances are reserved for concerts only; (4 hours) in respectful memory of all the years that Myron Floren gave so much enjoyment to so many people who were given a chance to see him due to our festival.
Thursday afternoon we will once again try to break a record of accordionists playing together for more than 30 minutes nonstop. 644 is our last record and we'd love to hit 1,000 this year. Thursday night is a dance with the Best of the Platzl open mic accordionists young and old, playing with the Platzl Combo; once again the rhythm section of the famous Cottonpickers from PA, Saskatchewan.
Friday and Saturday are also evenings with a concert and dance to follow.
Sunday we tear down in the morning and then head for Camp Stone for some Picnic food with a few wobbly pops and enjoy the company of some of our visitors and volunteers (and play some more music)
For information, please contact: Bill Baerg, KIOTAC Entertainment Director at 250-432-0036 or visit: Kimberley International Old Time Accordion Championships website at www.kiotac.ca


---
Roland US V-Accordion Festival
Roland announces the first Roland US V-Accordion Festival to be held In conjunction with the 2nd Roland International V-Accordion Festival. The US Competition will be held Saturday, September 20, 2008 in Los Angeles, CA at Roland USA Headquarters

One lucky participant will win a trip to Rome, Italy to perform in the International Accordion Festival held in November 7 & 8, 2008. In addition, the first prize winner will receive the world renowned Roland FR-7 or FR-7b V-Accordion. Be a part of the growing number of accordion enthusiasts in the US and around the world by participating in a one of a kind event sponsored by Roland Corporation.

How to enter:

Pick up an entry form from your local authorized Roland V-Accordion dealer or download form from www.rolandus.com/v-accordion to be eligible for the preselection process.

Participants must be 18 or older to enter - amateur or professional players.
Submit a videotaped audition (no longer than 5 minutes) to Roland Corporation US by August 1, 2008 by mail.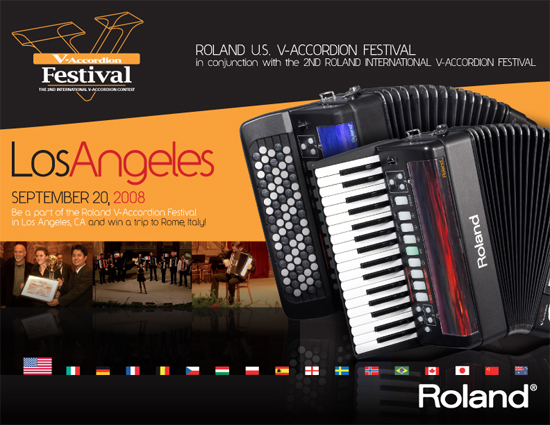 All videos submitted to Roland US for the V-Accordion Festival National Finals' preselection process will become the sole property of Roland US and will not be returned.

General guidelines for preselection and video entries:

Participants will perform in the Senior Soloist Division. (This is the only division available in the US).
All persons entering the festival must be 18 years of age or older. (Born before April 1, 1990).
Performance selection must be no longer than 5 minutes in length and can be from any musical genre; no backing tracks are allowed (this includes SMF, Audio files, CD or MP3 player, etc.).
For the preselection process only, the audition can be performed on any acoustic or digital accordion
(please note the National Finalists must use an FR-7 or FR-7b)
No vocal performances are to accompany the accordion performance submitted on this video tape.
A panel of judges (closed to the public) will determine the winners of this event and notify them by August 15th, 2008

Finalists' guidelines for US National Finals in Los Angeles, CA:

Finalists for the US National Finals in Los Angeles, CA will be selected by Roland Corporation US from submitted video entries.
Roland Corporation US shall for pay for transportation (to Los Angeles, CA), lodging and food for each finalist and one guest per finalist to be held at the Roland Corporation US headquarters on September 20, 2008.
All finalists will perform on an FR-7 or FR7b without external module at the National Finals in Los Angeles, CA.
If the participant does not own an FR-7/b, Roland Corporation US will loan an FR-7/b to the finalist for preparation and performance at the National finals; and shall be returned to Roland after the competition is complete
One winner will be chosen by a panel of professional judges at the US National Finals in Los Angeles, CA.
The first prize winner will be awarded an FR-7/b and an all expense paid trip to Rome, Italy to perform at the International Festival on November 7 – 8, 2008.
The winner must have a valid US Passport prior to November 6, 2008 obtained at the participant's expense.

For further details and competition regulations please go to:

ww.rolandus.com/v-accordion or contact Ron Lankford (Festival Coordinator) at 323-890-3700 extension 2353 or e-mail at Ron.Lankford@rolandus.com.

Please send your video audition and entry form by August 1st, 2008 to:

Roland Corporation US
attn: Virginia Harmon
5100 S. Eastern Avenue
Los Angeles, CA 90040-2938

Entry Form: http://www.rolandus.com/whats_new/contests_sweepstakes.aspx

---
AAA Master Class & Concert Series
LAST FRONTIER!/FINAL NICHE!
THE SEMINARS!
ACCORDION, THAT IS!
WE'LL CALL YOU PARDNER
WE'LL CALL YOU DUDE
AS LONG AS YOU SHOW UP
AND DON'T ACT RUDE

TELL US WHAT YOU WANT
TELL US WHAT YOU NEED
AND WE'LL SING YOU A YARN
OF THE WHITE BUFFALLO STAMPEDE

GIVE US A WEEKEND
WE'LL MAKE YOU A STAR
AND IF YOU BELIEVE THAT
WE'LL THROW IN A CAR!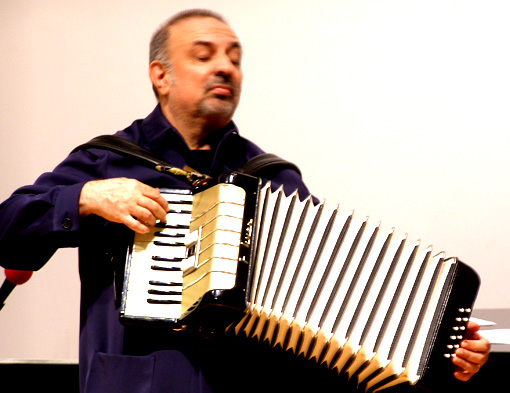 Celebrating the 14th smash year of 'The Seminars', this three day event is being held in New York City from July 25-27, by the American Accordionists' Association (AAA), moderated by Dr. William Schimmel and will feature:
The Kid: Billy, a new Dance/Video work by eminent choreographer/director Micki Goodman - featuring Dr. Schimmel's music and silent movie footage of King Vidor's 1928 classic, The Sky Pilot.

A lecture on the music of Karel Strahala and his music for the Tango/Harmoniku - two volumes of Czech Tangos, Waltzes, Polkas and Foxtrots written all in 1942

A new accordion prototype for rock and roll accordionists in development by Benjamin Ickies.

A virtual wedding of two accordion souls, H and MK, who met a decade ago at The Seminars. Our resident Elvis will perform the ceremony in true blue Hawaiian fashion.

Uriah The Dead, a short opera about David and Bathsheba from Dead Uriah's point of view.
Club Parusia/Here's to Life, the club at the end of the world - an apocalyptic Maximal romp through time and space at the borderline - south of, that is.

Paul Stein's 911 Profiteers and other Scoundrels Suite - artfully defacing politicians, benevolent dictators and O.J.

The debut performance by Duality Wrecks, an anonymous accordion and piano duo designed to shift the focal point of any party or event to Punk pogo-gear with its relentless chance/medleys of Rockabilly, Rock and Roll, Swing, Ballads and pretty much anything in between.

Ayn Rand and the Accordion will be looked at in the light of Liberation Theology, Libertarianism or Librarianisn - or Collectivism, Selectivism and Hoarding a lot of Crap.

Project BC - reducing everything in the world to two facets - BASS/CHORD/BASS/CHORD - covering the entire cultural array of Achtungs, ya yas, Octoberfests, Rumania, bratwurst, beer, barf and beyond- declaring Yorkville as the new cultural world centre.

Deiro - Pietro!/Guido! - Mae West! - The Wild West!

Is everything in life just one huge 12 tone set? Dr. Robert Young McMahan will tell us how it happened and how we never really got out of it despite today's tendency towards new music that chirps "Please love me"- also how it works with and against the mechanisms of various accordions.

Will Holshouser, jazz accordionist, composer - winning the "smirking competiton" at last year's seminars. The smirk is just an un-necessary hook. He elegant playing and writing actually says it all.

Ethomusicologist Marion Jacobson will give a visual/ sound presentation of Houston, Texas : unique Accordion Shops, clubs, Cajun, Czech, Tejano, German, Czech/ German musics - and an Accordion King!

Is life a baloney sandwich? Or frog legs? Or both? The short Becket/like play: FZ /DA will give us a clue - featuring actress Kathleen Tipton.

Marni Rice (above right) will give us the last word on Kabaret. Brian Dewan will give us the last word on Chevrolet.

Rembert Block (right) will rant till the end of time. Dr. Mark Birnbaum declairs Ragtime: Mine!

Seth Hogan will cover the Acadian dimension. Rocco Jerry, no pretension. Godfrey, Lorraine and Lauren - collidial ( 7) suspension. Lenny Feldmann, no detention. Rita Davidson will give us late Ettore and no more. AAA commissions: The Paul Creston Concerto/dance-mix version, and what's left o'er.

An Alice Riff (in honor of David Del Tredici), Elliotude (in honor of Elliot Carter) - birthdays galore.(Domenic Frontiere's Branded Eldorado a Real Pro.) Uri Sharlin, Serge Stanley, Israeli to Aussie-back to the door. Doug Makofka, not Franz Kafka. Cristina Speligene, the Nashville Mafka.
Ray Rue (right) (Gospel and Elvis), never a chore, will not bore. "Dot" will be rotten to a core.

David Stoler, more/more/more. Stefan Curcic, classics to adore. The K duo, Saturday closer once more.

David First, drone until sore. Rachid Eladlouni, the cyberspace door. Dragica Banic/Curcic, Croatian lore.

John Foti, the Jersey shore. Art Bailey , hard core. Lee Mc Clure, Eclectix, digital flute mit score.

Ken Laufer, Har! Har! Har! Catahoula - without the bar. #14 WE'VE COME THIS FAR!
Now join in and sing with us, THE SEMINAR SONG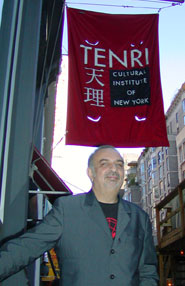 The Seminars will be held July 25-27, 2008 at the Tenri Cultural Institute in New York city, located at 43A West 13th Street, between 5th and 6th Ave.

One of many events coinciding with the exciting AAA 70th Anniversary Celebrations, the three day event "The Last Frontier" will feature daily Master Classes at 3:00 PM and Concerts at 7:00 PM, all moderated by Dr. William Schimmel.

Pricing is as follows:

$20.00 per master class
Those who wish to play, should contact Dr. Schimmel
$25.00 per concert
$40.00 per entire day - includes master class and concert
$110.00 per entire weekend - includes three master classes and three concerts
For reservations and further information: 212-876-0827 or you can e-mail: billschimmel@billschimmel.com or please visit www.ameraccord.com

Subways: 4 5 6 (UNION SQUARE/ F 6TH Ave)


---
Las Vegas International Accordion Festival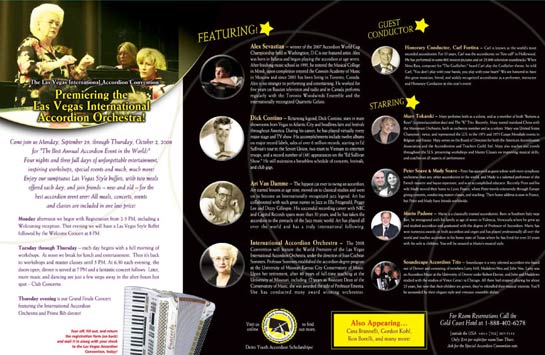 The 2008 Las Vegas International Accordion Convention will be held September 29 - October 2, 2008 at the Gold Coast Hotel, in Las Vegas, NV.

The 2008 Honorary Conductor will be Carl Fortina with featured guest artists including Alexander Sevastian, Dick Contino , Art Van Damme. Alexander Sevasitan (below) is appearing as a special guest as a prize donated by the Las Vegas International Accordion Convention to the winner of the 60th Anniversary CIA Coupe Mondiale World Accordion Championships held in Alexandria, VA in 2007.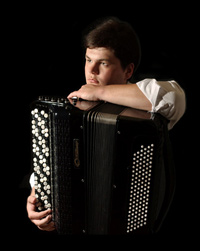 Other guest artists include Mary Tokarski, Peter Soave, Mady Soave, Mario Pedone, Soundscape Accordion Trio, Steve Albini, Gina Brannelli, Gordon Kohl, Ron Borelli, and more!

New this year will be the Las Vegas International Accordion Orchestra which will be directed by Joan Cochran Sommers.

The festival features four nights and three full days of unforgettable entertainment, inspiring workshops, special events and much, much more! Enjoy our sumptuous Las Vegas Style buffets, with two meals offered each day, and join friends – new and old – for the best accordion event ever! All meals, concerts, events and classes are included in one low price!

The convention includes:
Monday afternoon we begin with Registration from 2-5 PM, including a Welcoming reception. That evening we will have a Las Vegas Style Buffet followed by the Welcome Dinner Concert at 8 PM.
Tuesday through Thursday – each day begins with a full morning of workshops. At noon we break for lunch and entertainment. Then it's back to workshops and master classes until 5 PM. At 6:30 each evening, the doors open, Dinner is served at 7 PM, and a fantastic concert follows. Later, more music and dancing are just a few steps away in the after- hours hot spot – Club Concerto.
Thursday evening is our Grand Finale Concert featuring the International Accordion Orchestra with Prime Rib dinner!
Seven meals, seven concerts, all special events and classes are included, with Single Attendance priced at $465 and Couple Attendance at $795. Evening-Only Options are available - contact us for details! The convention offers a special Room Rate ONLY $59 per night!

Call the HOT LINE TODAY TO REGISTER - 1-800-472-1695 (Outside the us +01-801-486-1695)

---
AAA 70th Anniversary Concert
On Saturday, June 21, 2008, at 2 PM the American Accordionists' Association is presenting an Accordion Extravaganza Concert in celebration of the 70th Anniversary of the AAA and to the memory of Maddalena Belfiore.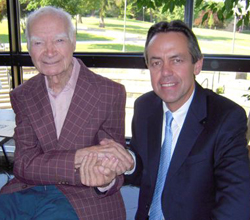 Frank Busso, Sr. served as Master of Ceremonies and the concert featured: Mario Tacca & Mary Mancini (International Vocal Artist), The Amazing Accordion Kings, Frank Toscano, Angelo DiPippo and Manny Corallo, Mary Tokarski, CIA World Champion Beverly Roberts Curnow, Dr. William Schimmel, Dr. Robert McMahan, Eddie Monteiro, Tony Dannon & Joe Cerrito and The Accordion Pops Orchestra conducted by Daniel Desiderio.

Pictured right are Charles Nunzio (the only surviving founding member of the AAA, and Confederation Internationale des Accordeonistes (CIA) President Kevin Friedrich.

The program for the concert included:



Rosamunde Overture by F. Schubert (arr. Petka)
Beguine di Roma by J. Biviano (arr. D. Desiderio
Cabaret Medley by John Kander (arr. Norman Leyden)
Flashing Tambourines by Virginia & Van Dee Sickler (arr. Eugene Ettore)
Accordion Pops Orchestra - conducted by Daniel J. Desiderio

Symbiosis for Accordion and Guitar by Dr. Robert Young McMahan
Dr. Robert Young McMahan (accordion) & Jim Day (Guitar)

Concerto No. 2 in A Major by Franz Liszt (arr. Carmen Carrozza)
Canto XVIII by Samuel Adler
World Premiere of this AAA Commission
Beverly Roberts Curnow

Variety Program
Joe Cerrito

Manhattan Concerto (1st Mov.) by Eugene Ettore
Mexican Carnival by Daniel J. Desiderio
Accordion Pops Orchestra with Mary Tokarski - soloist

Scherzo in Bb Minor by Maddalena Belfiore
World Premiere performed by Mary Tokarski

Intermission

Trumpeter's Lullaby by Leroy Anderson
Bugler's Holiday by Leroy Anderson
Mario Tacca (accordion) & Christopher Melito (trumpet)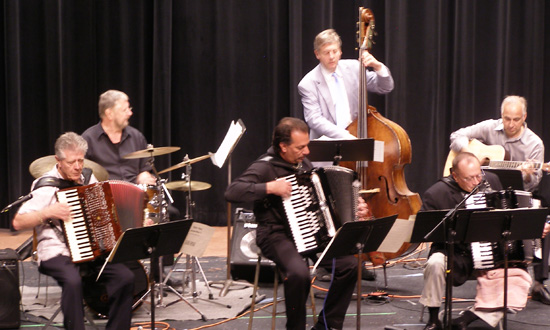 The Amazing Accordion Kings Variety Program
Frank Toscano, Manny Corallo and Angelo DiPippo

Valentino Dances by Domenick Argento
A Polka Monologue - Traditional
Old York by William Schimmel
Dr. William Schimmel, Accordion

Divertimento by A. Astier
Happy Birthday AAA arr. by Mario Tacca
Mario Tacca

Broadway Medley
Sempre Libera "La Traviata" by G. Verdi
Nessun Droma "Turnadot" by G. Puccini
Mary Mancini and Mario Tacca

Let the Bright Seraphim "Samson" by G. F. Handel
Mary Mancini, Mario Tacca & Christopher Melito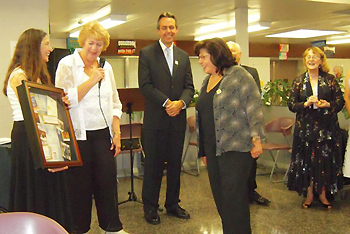 At the conclusion of the concert, the AAA held a 70th Anniversary Dinner attended by many, including the only surviving founding member of the AAA, Charles Nunzio.

At the dinner, the AAA made a presentation to Faithe Deffner (pictured left), the Executive Secretary of the organization for her work as the 2007 Coupe Mondiale organizer. The award was a framed collage of memorabilia from the 60th Anniversary Coupe Mondiale.

The AAA will hold their 70th Anniversary Festival and Competition in Arlington, VA (Washington DC) featuring three International Competitions offering $12,000.00 in Prizes, as well as the annual National Competition and Festival. The event will take place from August 13-17, 2008.


---
Viatcheslav and Natalia Semionov in Concert in the USA
The Washington Balalaika Society cordially invites you to attend a private house concert featuring one of Russia's favorite performing couples, Natlia and Viatcheslav Semionov. The concert will take place on Friday evening, July 25, 2008 at 7:00 PM in Potomac, MD.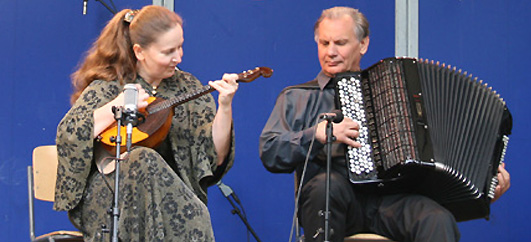 Attendees will have the opportunity to meet the artists after the concert while enjoying a light buffet and refreshments. Minimum donation for attendance is $45.00 per person.

For reservations please call (703) 525-2696. Seating is limited, so it is advised to reserve early. Concert directions will be provided when reservations are made.

---
AAA 70th Anniversary Festival to Star Alexander Poeluev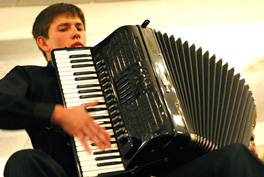 The American Accordionists' Association 70th Anniversary Festival and Competition in Arlington, VA (Washington DC) will feature Russian accordionist Alexander Poeluev as their main International guest artist.

Alexander Poeluev was born on 12th of January 1981, in Rostov-on-Don, Russia. He began to study music at age of six. He studied at I. N. Pilipenko's class at the Children's Music School named after P. Tchaikovsky and graduated from this school in 1996.

In 1996 he entered the Rostov State College of Arts at S. S. Galkin's class and studied there for one year. Since 1997 he continued his study at the Moscow Music College named after A. Schnitke under Professor V. Semionov

During the years of his study Alexander has become two-time winner of the Russia Piano and Button Accordion Competitions in Belgorod. He won the first prize in 1997 and 2000.

In 2002 he won "The 55th Coupe Mondiale World Accordion Championship". Alexander became the first contestant to ever win two categories in the same year - the "Coupe Mondiale World Accordion Championships" and "International Competition for Piano Accordion".

Alexander is a graduate of the Moscow State Music Institute under Viatcheslav Semionov, and performs in Russia and other countries, participates in the International Accordion Festivals. His music program includes pieces by Bach, Scarlatti, Couperin, Paganini-Liszt, Tchaikovsky, Grieg, Prokofiev, Semionov, Kusjakov, Piazzolla, Vlasov and others.

As part of his prize for winning the Coupe Mondiale International Piano Accordion class, he won a concert tour to Australia and New Zealand Concert Tour to New Zealand/Australia to perform as Guest Artist at the 2004 South Pacific Accordion Championships in Auckland, New Zealand and at the 2004 Australian International Accordion Championships in Sydney, Australia. In addition, he was invited to present a concert tour to Slovakia/Hungary to perform in Bratislava, Slovakia and Budapest, Hungary in 2003, which included radio and TV appearances.

For information on the 2008 AAA Competition and Festival please visit: www.ameraccord.com

---
Murl Allen Sanders Features in Newspaper Review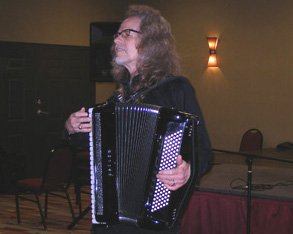 Accordionist Murl Allen Sanders was recently featured in newspaper publication 'The Enterprise' in a review by Dale Burrows. Murl performed with the Cascade Symphony Orchestra.

Excerpt from the review:

....This guy's Accordion Concerto No. 1, performed by him, fires rockets that will, one day, install the accordion next to other instruments, now comfortably in orbit with symphony orchestras. UW educated: with pop, rock, zydeco, country, jazz, blues and heaven knows what else as much a part of him as breathing this lion headed lad wearing John Lennon sunglasses, more than held his own in CSO's company with his trusty accordion.

Doing things you wouldn't think could be done with more than 20 pounds of keyboard strapped on, he went tit for tat and improvised. What could have been a cat and dog fight ended with him out there, by himself, on his won, just him and his accordion, thrilling us all with an infinity of possibilities. The accordion has arrived.

---
Cotati Accordion Festival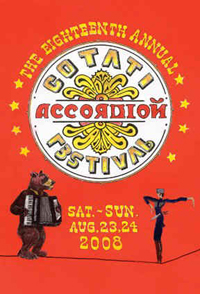 The annual Cotati Accordion Festival will take place from August 23 and 24, 2008. Admission for one day is $17.00 if purchased at the gate, or $15.00 in advance.

Featuring a diverse variety of performers, the scheduled program for the 2008 festival includes:

Saturday;

9:45-10:15 - The Golden State Accordion Club (stage one)
10:20-10:50 - Amber Lee and the Anomalies (Stage two)
10:55-11:25 - The Hurricane (stage one)
11:30-12:00 - Hugh Morrison (stage two)
12:05-12:45 - Alex Meixner (stage one)
12:50-1:05 - The Great Morgani (stage two)
1:10-1:55 - Limpopo (stage one)
2:00-2:25 - Lady of Spain
2:30-3:05 - Simka (stage two)
3:10-4:00 - Dick Contino (stage one)
4:05-4:20 - The Great Morgani (stage two)
4:25-5:15 - Polka Freakout (stage one)
5:20-5:30 - Hugh Morrison (stage two)
5:35-6:25 - Vagabond Opera (stage one)
6:30-8:00 - Brian Jack and the Zydeco Gamblers (stage one)

Sunday show:

9:45-10:15 - The Golden State Accordion Club (stage one)
10:20-10:50 - Tango #9 (stage two)
10:55-11:30 - The Internationals
11:35-12:15 - Monterey International with guest tenor Oracio Aiello
12:20-12:35 - The Great Morgani (stage two)
12:40-1:20 - The Georges Lammam Ensemble (stage one)
1:25-1:50 - Lady of Spain
1:55-2:25 - Joe Domitrowich/Capricious Accordion (stage two)
2:30-3:20 - Dick Contino (stage one)
3:25-3:40 - The Great Morgani (stage two)
3:45-4;30 - Polka Freakout (stage one)
4:35-4:45 - Big Lou (stage two)
4:50-5:45 - Vagabond Opera (stage one)
5:50-6:00 - guest soloist (stage two)
6:00-7:00 - Limpopo (stage one)


---
ATG Festival A Success in Nashville, TN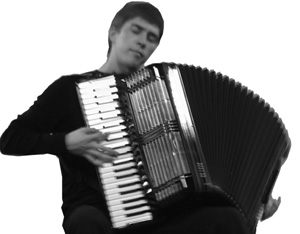 The Accordionists and Teachers Guild, International (ATG) 68th Annual Festival was held in Nashville, TN and featured three days of concerts and workshops. International guest artist Alexander Shirunov from Russia received 2 standing ovations for his spectacular performance, and he also presented an informative workshop about his musical career and the various aspects of his musical education.

Also appearing at the ATG festival were Nashville recording artist and accordionist Jeff Lisenby who performed with the NashVegas Jazz Players with vocalists Abby Burke and Jeff's daughter Jaclyn Brown, Betty Jo Simon who performed the entire Galla-Rini Concerto No. 1 in G Minor by the late ATG President Emeritus Anthony Galla-Rini, Jazz musician Murl Allen Sanders from Seattle, Washington, Roland artist Don McMahon and his wife Leslie Alexandra, Amy JO Sawyer, Christine Jarquio, Mary Tokarski, the ATG 2008 Festival Orchestra conducted by Joan C. Sommers, Donna Dee Ray and Joanna Darrow.

ATG Historian Stanley Darrow received the ATG President's award for his many years of service to the ATG at the Gala Banquet.

For a full review of the event, please visit www.accordions.com/atg for daily coverage.

---
Promoting Your Accordion Services Free at AWW

The Internet is changing the way your customers are searching for services. The days of lugging out a 12 lb. telephone book to find very limited and outdated business information are coming to an end. People are still letting their fingers do the walking, but they're doing it over a computer keyboard. Below are some revealing facts from the Kelsey Group.
74% of US households use the Internet as an information source when shopping.
Approximately 45% of searches had a buying intent.
The percentage of respondents who used yellow page directories decreased from 75% to 62%.
(If you have a printed yellow page ad, it is time to consider buying a smaller ad and shifting your marketing dollars to the Internet.) The off-line Yellow Pages see the writing on the wall and are scrambling to transfer their business model to the Internet.

Businesses can no longer ignore these facts. If you want to be successful, you must have a presence where your customers are searching. Being found on the Internet is vital to the future of your business.


The accordion-yellowpages.com offers free of charge listing for all accordion businesses, teachers and for every type of service for accordionists. On the Accordion Yellow Pages site, you do not need to have a website for accordionists find you and contact you.


The search-accordion.com site is also free of charge, being a listing service for every type of accordion service, but you must have a website. Viewers of search-accordion.com can click through to your website.


Very popular is the AccordionLinks.com site where those accordion service providers with a website, can attract accordionists free of charge to their website.

All it takes is a little effort, to make sure your information on these three popular and very effective accordion sites is up to date. Your future success may well be determined by your ability to effectively adapt to the Internet. Should it be your New Year's resolution for 2008?


---
Dr. Schimmel to perform at Washington Square Music Festival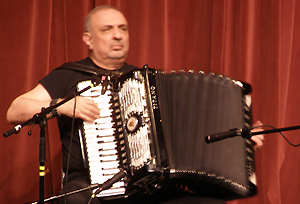 Dr. William Schimmel will perform his Piano Concertos/Accordion Tangos for Accordion and Strings at the Washington Square Music Festival, New York's oldest outdoor summer festival. It will take place on July 15 at 8.00 PM at Washington Square Park and it is free.

Piano Concertos/Accordion Tangos was originally a solo piece that Dr. Schimmel composed in 1987 for Fresh Air, A National Public Radio Show starring Terry Gross. This new version employs a new string section accompaniment composed and arranged by Dr. Schimmel for the occasion.

This will be Dr. Schimmel's fourth appearance at this prestigious festival.

---
Mario Pedone Concerts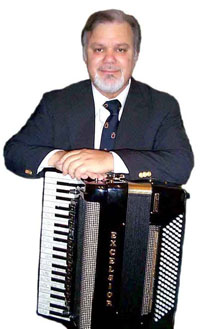 Accordion Mario Pedone will appear in concert throughout the summer months, including the following performances:
Accordion Festival in Calgary AB, Canada
June 13-15, 2008

Accordion by the Sea Victoria BC, Canada
June 27-29, 2008

Kimberly International Old Time Accordion Championship, BC, Canada
Monday July 7, 2008

Performance With Houston Symphony Orchestra
July 17-18, 2008

Rocky Mountain Accordion Festival in Philipsburg, Montana
August 1-2, 2008

Festa Italiana in Portland Oregon
June 21-24, 2008

Tour in Victoria, BC, Canada
August 2008

Las Vegas International Accordion Festival
September 29-30 - October 1-2, 2008

October 18, 2008
Tour in California.

Mario has recorded a numerous Accordion albums reaching 63 different varieties of wonderful music, for more information please e-mail: mario_accordion@yahoo.com


---
Main Squeeze Accordion Festival at Riverside Park in New York City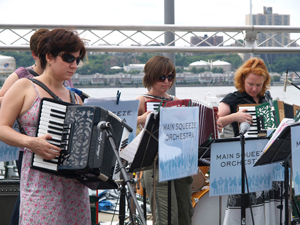 Summer On the Hudson, one of New York City's largest free summer festivals, continues its eighth season with a summer of unique contemporary music events at Riverside Park South.

On Saturday, July 12, the main attraction will be the 3rd Annual New York City Main Squeeze Accordion Festival from 2:00 PM - 9:00 PM at Pier I, Riverside Park South, Manhattan..

The festival will feature traditional, contemporary and eclectic music by squeezebox masters from around the globe will get you up and dancing! At the Accordion Kids Corner, children can get free instruction from 2:30 PM to 4:30 PM from "Furry Murray" (Murray Weinstock, composer of animal tunes, such as "The Bow-Wow Polka") and attendees can also browse the Accordion Flea Market.

Among the featured artists are:
The 15-piece all-female Main Squeeze Orchestra, playing styles from Michael Jackson to classical. Transcending all dorky stereotypes, the Orchestra has developed a rowdy yet sophisticated following, proving the power of the instrument and the power of one man's dream to conduct 18 women in pigtails. It was a dream of 18 accordions played with a precision that would demonstrate the versatility of the instrument. Slight changes in reed selection would determine whether the accordions sounded like oboes, French horns or guitars, and the arrangements would be rich and complex, exploring the work of Schubert, Strauss, Prince, and The Beatles. For months, Walter Kuhr was plagued with visions from his dream; 18 glossy accordions, the wall of sound, the pigtails. He began recruiting through his students and word-of-mouth until The Main Squeeze Orchestra, the only all-female accordion ensemble in the western world, was born in the fall of 2002.
Marie Luise DiCocco was born in Chicopee Falls, Massachusetts, and spent most of her formative years traveling as part of an Air Force family. As a young child, she grew up hearing the sounds of Italian and German music in her family, along with other ethnic music which her parents enjoyed. Marie owns an internet business called PM Organics that provides certified organic cotton fabrics and notions. She is also on the Board of Directors of The Real Diaper Association, and is active in a local food co-op.
Los Macondos: Led by accordionist, Eugenio Ortega, Los Macondos is the oldest and most sought after vallenato ensemble in the United States. Performing traditional Colombian songs of love, hardship and joy, vallenato blends the prose-like Spanish romance with distinctive African-derived rhythmic patterns into festive dance music performed on accordion, bass, caja vallenata, timbales, guiro and congas.

Eugenio Ortega was not born into a musical family, but his beloved bride Bertica took notice of his love of vallenato music and on their first Christmas together in 1957 she gave him his very first accordion as a gift. He learned to play it by ear, mastering the complex and often fast-paced finger work characteristic of vallenato. When their sons Oscar and Juan were old enough they joined him in his vallenato band. Ortega has composed and written the lyrics to thirty of his own songs. Vallenatos traditionally have been used to tell stories of local happenings and the singers' current or past loves. Both Eugenio and vallenato music are natives of the northern coastal region of Colombia.

Nicu Helerea: Romanian folklore has intricate and difficult ornaments and it requires an accordion virtuoso. Nicu Helerea is the only accordion player able to interpret folk songs from ALL the regions of Romania. Nicolae Helerea was born on December 21, 1949, in a small village named Hosman, near Sibiu, Romania. A professional musician once employed as the Lead Solo Accordion Player at the professional folklore orchestra Cindrelul & Junii Sibiului, his talent and ambition established him as one of the best accordion players in Romania. In 1985 he performed in the USA with a 45 member orchestra where he remains and where he continues to expand his repertoire. He has since learned to play other types of music, and is especially fascinated by jazz and big band music.
Raif Hyseni Orchestra: Raif Hyseni hails from Kosova, a province of Yugoslavia with a large Albanian majority. He grew up in the town of Mitrovic n Kosova, where he studied accordion at music school and performed in amateur ensembles. Before moving to Tiran n 1992, Raif was a well-known radio and television performer in Prishtin the capital of Kosova, where he was a member of the group Besnik Through his recordings and media appearances, Raif has become known as a major innovator on the accordion, for which he has composed dozens of instrumental melodies.
Raul Jaurena Tango Trio: Raul Jaurena, master of the Tango, is among todays most prominent bandoneon players. His music-at the same time melancholy and provocative, bittersweet and tender is a very personal tribute to the influences of his native South America and his newly adopted hometown of New York. Combining traditional roots of the tango and the style of the Tango Nuevo influenced by Astor Piazzolla, the bandoneon has become his second nature. Through playing innumerable milongas, the legendary tango nights of the dance caf Jaurenas bandoneon has long since made its way to the big theatres and concert halls
Joshua Horowitz, tsimbl and 19th Century accordion, received his Masters degree in Composition and Music Theory from the Academy of Music in Graz, Austria, where he taught Music Theory and served as Research Fellow and Director of the Klezmer Music Research Project for eight years. He is the founder and director of the ensemble Budowitz, a founding member of Veretski Pass and has performed with Rubin and Horowitz, Brave Old World, Adrienne Cooper and Ruth Yaakov. His music was recently featured in the British film, Some of my best friends are... Jewish / Muslim, awarded the Sandford St. Martin Trust Religious Broadcasting Award and is featured "The Holocaust Tourist" a new film by Jes Benstock, Joshua taught Advanced Jazz Theory at Stanford University with the late saxophonist Stan Getz and is a regular teacher at KlezKamp, The Albuquerque Academy and Klez Kanada. He is currently working on a book of his essays for.
Summer On the Hudson features a diverse mix of events happening at Riverside Park South from West 59th Street to West 72nd Street: music concerts, dance performances, movies, world music DJ dance parties, children and family programs, special events, and wellness & recreation programs, all presented FREE to the public. Food and drink is for sale at the park's Pier 1 Cafe. Summer On The Hudson is an Annual Arts and Cultural Festival in Riverside Park South Presented by The New York City Department Of Parks & Recreation

Contact Information for all events: visit www.nyc.gov/parks/soh, or www.riversideparkfund.org

---
Richard Galliano at the New York City Jazz Festival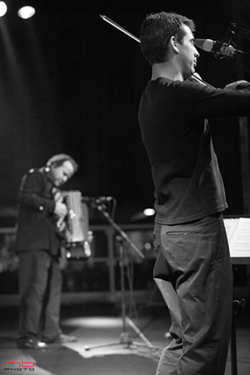 Considered one of the most prestigious jazz festivals in the world, the JVC Jazz Festival New York is a two-week jazz celebration that fills New York City's premiere concert halls, intimate clubs, parks, schools and museums with some of the top musical talent in the world. Started in 1972 by George Wein as the Newport Jazz Festival New York, this festival has been sponsored by JVC since 1984 and has become a New York institution.

Performing in Zankel Hall of Carnegie Hall on Saturday, June 28 at 8:00 PM, Richard Galliano performed with Tangaria. Taking the accordion out from the ballroom and into the world of jazz, Richard Galliano has created New Musette, a seductive fusion of styles ranging from samba, salsa, and reggae to waltz, tango, and bolero.

His quartet, which recently recorded the CD Tangaria Quartet in Saõ Paulo, features Venezuelans Alexis Cardenas and Rafael Meijias on violin and percussion, Belgian Philippe Aerts on double bass, and a special guest from Brazil, Hamilton de Holanda on mandolin.

Photograph of Richard Galliano used with the kind permission of Marco Bizzotto (Italy) of www.photosworld.com


---
Accordions Now Festival in New Hampshire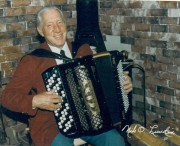 Tony Lovello, widely known as the "Liberace of the Accordion" for his musical flair and scintillating style, will appear as guest artist on August 2, 2008 at the first annual Accordions Now! Festival in Manchester NH. Also appearing: at the festival are Nils Lundin (left), Chad Huval, Gary Morin, Mary Tokarski, John Leeman, the Accordions Now! Festival Orchestra conducted by Donna Maria Regis.

The festival will take place on Saturday, August 2, 2008 from 9:00 AM - 6:00 PM at the Radisson Hotel Manchester, 700 Elm Street, Manchester, NH and will promise accordion fun all day long. For reservations please contact Sue Welch at 1-800-328-5227.

Tickets are $25 with advance registration by July 11, 2008, or $30 after July 11, 2008. Children 12 and under $10 in advance or $15 after July 11. The festival offers reduced-rate parking in garage adjacent to the hotel.

For Hotel reservations please contact the Radisson Hotel directly at 1-888-201-1718. The deadline for a discounted room rate is July 11, 2008 and please mention "accordion festival" when reserving. There is a complimentary shuttle service provided between the Radisson Hotel and Manchester-Boston Regional Airport (MHT).

There will be accordions for sale by various vendors during the festival day.

---
---
Note: In order to provide as much information as possible for the United States National Accordion News stories, many different sources are often researched to gather additional information and pictures to complement what has been submitted. This information is then correlated to provide the news on www.accordionusa.com in the spirit of which it is intended, which is to provide a free news service to the Accordion Community, specifically in the United Sates. If you feel any copyright has been violated please advise www.accordionusa.com and the article will be removed immediately.