AAA to present Friedrich Lips in Concert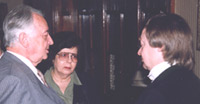 The American Accordionists' Association is proud to present FRIEDRICH LIPS in CONCERT Wednesday, September 25, 2002, 7:30 p.m. at the Saddle Brook Holiday Inn Hotel, Saddle Brook, New Jersey. (Pictured are CIA Secretary General Walter Maurer from Austria and Faithe Deffner - immediate past President of the AAA talking to Friedrich Lips after a recital at the Royal Academy of Music in London, UK.)

Early reservations recommended. Tickets are $20.00 prior to September 15 or $25.00 thereafter. Phone orders accepted. Friedrich Lips is one of the most outstanding and important bayan-accordionists in the world.

Distinguished as a legendary virtuoso, music professor at the world-famous Gnessin Institute for Music Education in Moscow, educator and musicologist, he is esteemed as one of the most significant accordionists of our time.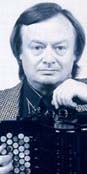 Friedrich Lips was born in the Jemanschelinsk (district of Tcheljabinsk) on November 18th, 1948. In 1967 he concluded his musical education at the secondary school of Magnitogorsk (Class of E.A. Kudinow). In 1972 he then concluded his studies at the state-run Gnessin Institute for music pedagogics (Class of Prof. S. Kolobkow) and in 1974 he finished his post-graduate studies. Since 1971 he has been lecturing at the Gnessin-Institute (Academy of Music since 1992), first as lecturer, later as assistant professor and from 1989 on as a professor. In 1969 he was awarded the first prize in the international contest in Klingenthal (former GDR). In 1982 he was honored as a "distinguished artist" and in 1994 as a "people's artist" of Russia.

Friedrich Lips performs in the most famous concert halls such as Great Hall of the Tchaikowsky Conservatory (Moscow), Concertgebouw (Amsterdam), Santory Hall (Tokio), Lincoln Center (New York), J.F. Kennedy Center (Washington). He plays in chamber music ensembles together with G. Kremer (violin), W. Igolinskij (violin), Yo-Yo Ma (violoncello), W. Toncha (violoncello), M. Pekarskij (percussion). He performed with orchestras conducted by such famous names as G. Roshdestwenskij, V. Spiwakow, J. Bashmet, O. Agarkow, T. Mynbajew, J. Nikolajewskij, Y. Takahashi, L. Pfaff, L. Markis. Numerous works for the bajan composed by Wl. Solotarjow, K. Wolkow, S. Gubaidulina, A. Shurbin, E. Derbenko, E. Denissov, S. Berinsky and others were given their first performances by Friedrich Lips. He has recorded about 100 works which are available on records or CD. The CD "Seven words" (S. Gubaidulina) for bajan, cello and strings, published in Moscow, was awarded the "Golden Diapason" in Paris (1991 "CD of the year").

Friedrich Lips is the author of the book "The Art of Playing the Bayan" (published by "Muzika" in Moscow 1985, 2nd edition in 1998, German translation published by "Intermusik Schmülling", Germany). Furthermore he has published a number of articles on the theory of playing the bayan, as well as many arrangements and transcriptions of organ and piano works for the bayan. He is the initiator and author of the anthology of bayan literature, as well as some volumes on the bayan repertoire.

DON'T MISS THIS OPPORTUNITY TO HEAR THE ACCORDION AS YOU HAVE NEVER HEARD IT BEFORE!!

For more information or to order tickets, call the American Accordionists' Association office TEL 201/991-2233 or FAX 201/991-1944 Mastercard/Visa accepted. For directions, call Holiday Inn Hotel, 201/ 843-0600.

Mr. Lips will also be appearing in Duluth, Chicago and Milwaukee with his former student Stas Venglevski. Details are available on Stas's website.


Second Annual Accordion Rally
The second annual "Accordion Rally" will be held at the Trenton Grange in Trenton, Maine on November 2, 2002 from 9:00 am to 5:00 PM followed by an evening recital.

Trenton Grange Hall is located just south of the Bar Harbor airport on route 3 in Trenton Maine near Acadia National Park. The event is open to all accordionists of all levels and all types of music and instruments. Participants will organize into interest groups and classes, and guests are encouraged to come something to share!

The Accordion Rally will be organized by Nancy Hoffman who is the accordionist for the Casco Bay Tummlers of Portland Maine.

Attendance costs $10.00 per person, $5 per spectator for the evening recital. This does *not* include lodging or lunch. Proceeds to benefit the Grange furnace fund.

Lodging is available across the street at the Open Hearth Motel 207/667-2930 Call between 10.00 AM - 9.00 PM (Eastern Standard Time)

Last year's event attracted 35 squeezers from all over Maine. For further info contact Joe Niemczura Master, Trenton Grange #550 josephn@acadia.net (207) 667 0260 http://www.deffa.orgg


Henry Doktorski's California Adventures

In addition to the four scheduled concerts Henry Doktorski played while in California last month, he also played at three other venues:
on July 27 a performance of the avant garde accordion solo, Meteor Shower, by Stanley and David Darrow for a movie about the accordion written and directed by independent film producer Steve Mobia
a house concert sponsored by Doktorski's hosts John and Valerie Kieser of Oakland on July 30
a mini-recital for the Bay Area Accordion Club meeting on August 7
Between July 30 and August 7, Henry took his two children on a week-long camping trip and tour of central California, visiting Yosemite and Sequoia National Parks, Hearst Castle, and enjoying the scenic drive north on route one between Cambria and San Francisco.

Doktorski said, "I was really hoping to see a bear in Sequoia National Park, as the rangers emphatically warned us to lock up our food securely, and our next door neighbors at the campsite had seen six bears the previous day. Although I kept my eyes and ears open for two days and nights while visiting the forest of giant trees, I did not see one bear.

"However, I was almost killed by another wild creature living in the forest! The last morning, while walking back to our site from the latrine, I passed under a huge Ponderosa pine tree. I heard a curious rustling sound high above my head, stopped in my tracks, and tilted my head up and back toward the direction of the sound. I saw a large projectile about the size of a large coconut hurtling down from the top of the tree straight at my face.

Instinctively I stepped aside with less than a fraction of a second to spare as the projectile narrowly missed my cranium and crashed with a loud 'whack' on the forest floor. It was a large and heavy (maybe four or five pounds) green pine cone with sharp spines protruding and profuse sap oozing. "I looked up at the top of the tree. At first I could see nothing unusual, but after a few moments noticed a shaking branch maybe 50 feet above my head.

A tiny squirrel (chickaree) peeked its head over the foliage and chattered, seemingly laughing at me in squirrel language: 'Awwww, shucks. I missed.'"

This story was corroborated by William C. Tweed, who wrote in Sequoia & Kings Canyon: The Story Behind the Scenery (1997: KC Publications, Inc.), p. 18: "From the forest comes the agitated chirp of the chickaree, a tree squirrel. . . he hops to the massive base (nearly 30 feet across) of a towering, cinnamon- colored tree. It does not matter to the chickaree that the fibrous bark he climbs belongs to one of the oldest and largest living things on earth and that the branch he carefully selects is . . . over 100 feet off the ground. All that matters to the chickaree is the numerous . . . green cones he finds near the end of the branch. He works rapidly and intently, severing the cones at the rate of one per second. As they are cut, the hard cones land with gentle thuds in the thick forest carpet far below."

Doktorski commented, "Gentle thud, my eye! That is unless the cone lands with a loud 'crack' on the head of an unsuspecting camper below. I'm lucky that I didn't end up in the emergency room of a hospital."

Bob Berta summed it up succinctly, "Luckily your tour didn't end with an obituary...'Famous accordionist killed by squirrel in California.' That will be a great story I will remember for years to come!"


Steve Albini and Ron Borelli in Napa Performance
Accordionist and Singer Steve Albini and Accordionist Ron Borelli will be appearing in concert at Piccolino's Italian Cafe in Napa California on October 16 at 7:00 PM

They will be performing both alone and together with singer and guitarist Angerlino Sandri. The concert is part of Piccolino's "Grazie Italia" event honoring Italian heritage.

Piccolino's is located in Downtown Napa at 1385 Napa Town Center (First Street), Napa, CA.

For more information, please contact Joe Salerno e-mail: cathmsal@aol.com or
Phone 707/251-0100


Husband and Wife Duo Debut Performance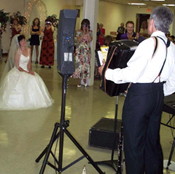 Husband and wife duo accordionists Henry and Mary Kay Doktorski performed for the first time in public together on August 17 in Minneapolis, Minnesota.

They provided music for the wedding ceremony of Robert Welter and Deborah Boyum. (Robert is Mary Kay's brother.) The ceremony, which was attended by 50 people, took place in the garden behind Robert's house.

The Doktorski Duo performed several pieces: Pastoral Symphony from "Messiah" by G.F. Handel, Jesu, Joy of Man's Desiring by J.S. Bach, Kanon in D by Johann Pachelbel, Bridal Chorus from "Lohengrin" by Richard Wagner (as the bride processed down the aisle) and the recessional Wedding March by Felix Mendelssohn.

The bride, Deborah Welter remarked afterwards, "Your music was so beautiful it brought tears to my eyes. It really made my day."


Joe Soprani to perform with Lansdowne Symphony
Joseph Soprani will be the featured accordion soloist with the Lansdowne Symphony Orchestra under the baton of Maestro Irving Ludwig in the annual fund raising concert to be held on the grounds of the Corinthian Yacht Club of Philadelphia in Essington, PA. on Sunday September 22, 2002 at 4.00 PM

The concert is entitled "A Tale of Two Countries," commemorating the trials and tribulations of the United States and the Republic of Austria. In addition to selections by Johann Strauss and John Philip Sousa, Soprani will premiere his arrangements of three Viennese Dances by Fritz Kreisler for accordion and orchestra and perform the popular "Carnival of Venice" by Paganini, a number that for many years has captured the hearts of millions of audiences who heard him play it.

Irving Ludwig, violinist with the Philadelphia Orchestra for over 39 years under Eugene Ormandy and Riccardo Muti, will begin his 13th season as conductor and musical director of the Lansdowne Symphony Orchestra of Lansdowne, PA October 2002. This marks the 57th season of the orchestra.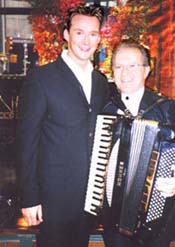 Soprani, who appeared with Russell Watson (pictured right) on GOOD MORNING AMERICA in New York, composed, arranged and performed on the accordion in a full length movie called "Invisible Mountains" by writer Rich Hoffmann and Paul Leitner, producer. Pete Tramo composed the musical score. It will soon be premiered in the fall at the Prince Theatre in Philadelphia.

Contact Numbers:(USA) Corinthian Yacht Club-610 521 4705
Lansdowne Sym-610 284 3719
E-mail: sopranimusic@webtv.net


New CD "Reed Song" by Will Holshouser Trio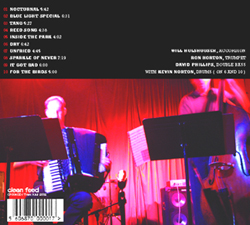 Monday, September 9th will see the official release of the new CD "Reed Song" (under "Clean
Feed" Label of Portugal) by New York accordionist Will Holshouser. The event will take place at Knitting Factory's Old Office in New York City.

A very active accordionist in the New York City area, The Village Voice in New York says "Will Holshouser plays as much accordion as there is to be played." while the New York Times has said that "[Will's music] successfully showcased the range and beauty of the accordion . . . This could be music for some fantastical Fellini film."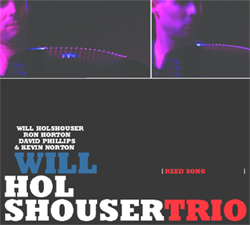 What does it mean to play the accordion at the beginning of the 21st century? Is it a joke, a museum piece, a sacred cow, or a living thing? On an instrument that is often defined by tradition, Will Holshouser uses his experience in jazz, new music, and traditional accordion styles to forge his own sound. His trio features the dynamic improvisers Ron Horton on trumpet and David Phillips on bass. Their debut CD is out now, released in Europe and the US on the Clean Feed label (Portugal) and distributed in the US by North Country. The CD contains ten original pieces, with special guest Kevin Norton on drums.

This is music built on a jazz foundation, composed by a New Yorker who gets to hear many kinds of music regularly. Echoes of various accordion styles (zydeco, tango, klezmer) reverberate, but Will's music occupies its own territory -- being a coherent personal sound rather than a random eclecticism. It's new music, although it has many role models. Will studied with master experimentalist Anthony Braxton, but also draws inspiration from the expressive rhythmic punch of New World accordionists such as Astor Piazzolla, Clifton Chenier and Flaco Jimenez, and the dazzling inflections of European jazz players such as Gus Viseur and Tony Murena.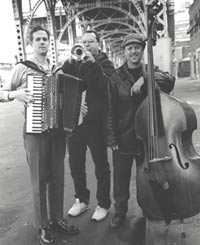 Will Holshouser (accordion) works as a sideman with artists that span the range of jazz, experimental, and folk styles. He plays in David Krakauer's band Klezmer Madness, whose new CD is on Label Bleu (France). He has also worked with Dave Douglas, Phillip Johnston, Michael Hashim, David Garland, Andy Statman, and Lenny Pickett. He is a member of popular NY band Brock Mumford, and also the Raymond Scott Orchestrette (named for the late composer). In 1990 he received a grant to study Cajun and Creole music in Louisiana.

Ron Horton (trumpet) plays regularly with Andrew Hill and is a member of New York's Jazz Composers Collective. He has also worked with Jane Ira Bloom, Phillip Johnston, Matt Wilson, Ted Nash, Michael Blake, Ben Allison, the Herbie Nichols Project and many more. His own CD Genius Envy was released on the Omnitone label to rave reviews.

David Phillips (bass) leads the group Freedance, who have made a CD for Naxos Jazz and toured in France. He began learning bass from his father, Barre Phillips, and went on to earn a degree from Juilliard. A wizard with the bow, he keeps busy playing jazz, classical music, and theatre music in NYC.

Kevin Norton (drums/percussion) makes a guest appearance on this album, contributing his brightly colored talents on two tunes. He has worked with Anthony Braxton, Milt Hinton, Fred Frith, James Emery, David Krakauer, and others on drums, percussion, vibes and marimba. Kevin has released several CDs as a leader on the Clean Feed, Barking Hoop, Music & Arts, and CIMP labels.

The CD can be found online at www.cadencebuilding.com (for USA orders) or soon at www.tremazul.com for orders outside the USA. For more information, you can contact Will directly at willhols@aol.com or 718-765-1545

The CD RELEASE Show on September 9th at Knitting Factory's Old Office will include two sessions at 8.00 PM & 9:30 PM, with an $8.00 entry fee. The Knitting Factory is located at
74 Leonard Street, NYC, 212/219-3055


Cotati Festival A Success

This year's successful Cotati Accordion Festival was held in Cotati, California on August 24th and 25th.

Performers included Dick Contino, Jon Hammond, Montcorbier (which includes accordionist Francois Villon), Montango (family tango group includes Tom Montgomer - bandoneon, Vanessa - violin, Matt - guitar and Tom's wife on vocals), Tameem (Afghanistan), Big Lou & the Polka Casserole, Julio Morgani, The O'Grady Family, Patricia Bartell, Peach Face Lovebirds, Alex Meixner, AbsolutAccord, Rahman Asadollahi, Arizona Button Accordion Band, Hot Frittatas and Polkacide.

Dick Contino was in fine form playing many "crowd pleasers" such as Lady Of Spain (which he introduced in 1955), Tico Tico, Volare, etc. This is Dick's 55th year in show business and he spent both days out in the sun signing autographs and socializing with the crowd.


Accordionist to appear with Mormon Tabernacle Choir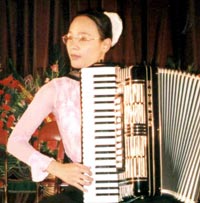 Vietnamese classical accordionist Ms. Nguyen Thi Quynh Trang, in the United States to perform a Saturday 7 September concert venue at the Assembly Hall on Temple Square in Salt Lake City, Utah, has also been invited to perform with the Mormon Tabernacle Choir Sunday 8 September. Ms. Nguyen will perform a three-minute solo and then accompany the famous choir on a number as part of the choir's worldwide syndicated long-running "Music and the Spoken Word" half-hour program that emanates from the Mormon Tabernacle on Temple Square in Salt Lake City.

As $20,000 first-prize winner of the prestigious Hong Kong Competition for Young Asian musicians, which was adjudicated by Sir Neville Marriner and other acclaimed international musicians, Ms. Nguyen received a professional engagement contract for a year to help launch her career. One of those engagements is to perform in the Temple Square Concert Series in the Assembly Hall in Salt Lake City.

Born in Hai Hung, Vietnam in 1983, Ms. Nguyen started playing the accordion at age eight, and in 1992 entered the Hanoi National Conservatory of Music. A frequent accordion performer in concerts and programs in the Vietnamese broadcast media, she has also concertized in Asia. At the Hong Kong Competition Finals she performed Bach's Prelude & Fugue in D Minor, Paganini's Perpetual Motion, and Feld's 4 Intermezzos for Accordion.

More than 300 aspiring musical stars from more than 20 nations, including Japan, India, Indonesia, Pakistan, Sri Lanka, New Zealand,and Hong Kong, entered the competition which is open to all musicians. The competition is sponsored by Radio Television Hong Kong, Morgan Stanley, Hong Kong's Leisure and Cultural Department, and Hong Kong's SAR government.


NY Accordionist tours China with NZ Orchestra

NY accordionist Kevin Friedrich and the New Zealand North Shore Musicale Accordion Ensemble (conducted by Lionel Reekie) have just returned from a very successful concert tour of China.

Concerts were given in Xiamen, Putian and Shanghai, all to capacity crowds which included attendees crowding into the aisles in standing room only arrangements. The Putian concert was also recorded by local television for broadcast later in the month. The ensemble was treated to wonderful hospitality from the accordionists in China, being hosted at a number of informal dinners where impromptu performances were given.

Other highlights of the trip included sightseeing at some of China's most famous attractions, a cultural exchange presented at the Xiamen Teenagers Centre and a specially arranged visit to the Shanghai factory that produces the Sheng.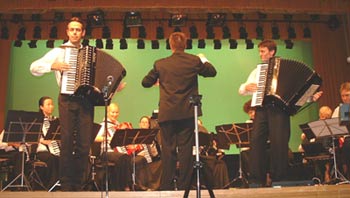 The concert program included a wide variety of pieces such as a popular medley entitled 'Country Accordion' which featured dueling New Zealand Champion accordionists Kevin Friedrich and Campbell Bettridge (pictured left and right respectively).

Other works included pieces such as "Espana Cani", "Whiter Shade of Pale", "La Scala di Seta" (Rossini), the popular New Zealand work entitled "Invercargill March" and a medley of Beatles hits arranged by well known composer and conductor, Gary Daverne.


Galla-Rini 99th Birthday Party in San Diego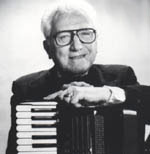 Normally when you have a birthday party thrown for you, it means you sit back, relax and enjoy everyone else doing all the work. Not if you are Maestro Anthony Galla-Rini!

Mr. Galla-Rini is currently working busily on orchestral arrangements that will be performed by the 'ATG Galla-Rini Birthday Orchestra' which he will direct during his 99th Birthday Celebration. Sponsored by the Accordionists and Teachers Guild, International , the celebrations will take place in San Diego from 17-19 January 2003.

This momentous weekend will begin the grand countdown to his 100th Birthday in 2004.

The ATG and Mr. Galla-Rini (who is the ATG President Emeritus) are inviting all accordionists to participate in this Birthday Orchestra which will perform at the concert on Saturday January 18th in San Diego.

The first rehearsal will take place on Friday evening, January 17th at 7:00 PM, with another rehearsal Saturday morning at 9:00 AM. The day time will be free for visits to local attractions such as the San Diego Zoo, or a quick visit to the NAAM convention up in Los Angeles, with guests reconvening later that evening for a Birthday Banquet and evening concert.

Anyone interested in performing in the orchestra should contact ATG President Joan Sommers at sommersj@umkc.edu.


Yuri Yunakov Ensemble in Berkeley Performance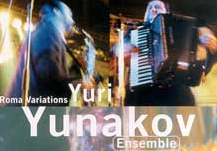 The Yuri Yunakov Ensemble will perform at the La Pena Cultural Center in Berkeley on September 14th.

The ensemble, which plays Bulgarian and Romani music, includes Ivan Milev (accordion), Yuri Yunakov (saxophone), Catherine Foster (clarinet, trumpet & vocals), Lauren Brody (keyboard & vocals) and Carol Silverman (vocals).

Ivan Milev (accordion), a recent emigrant to New York City, is one of Bulgaria's most virtuosi and inventive accordionists, drawing inspiration from classical, jazz, and Eastern Orthodox Church music. In the 1970's Milev founded the famous wedding band Mladost (Youth), based in Haskovo, Thrace. In 1986 Mladost won first prize in the Stambolovo Festival of Wedding Music and Milev won the best accordionist award. Yunakov credits Milev with training him in Bulgarian music and encouraging him to play the saxophone. Yuri played with Milev in Mladost for short time until Papazov recruited him. Milev's performances showcase a historic musical reunion with Yunakov on American soil.

The Yuri Yunakov Ensemble performs Bulgarian and Romani (Gypsy) music from the Balkan countries of Bulgaria and Macedonia. This music is renowned for its haunting melodies, dense ornamentation, complex rhythms, and stunning improvisations. The geographical position of the Balkans in southeastern Europe and hundreds of years of Ottoman Turkish rule has created a wealth of influences from both East and West. The ensemble plays in a contemporary styled called "wedding music," so named for its ubiquitous presence at life cycle celebrations such as weddings and baptisms where dancing and music are a requirement. This style, which gained popularity in the 1970's, emphasizes virtuosi technique, improvisation, rapid tempos, daring key changes, and eclectic musical literacy. A multiplicity of styles, such as jazz and rock, and a multiplicity of sources, such as Turkish and Indian music, are combined with Balkan rural and urban folk music. In Bulgaria, "wedding music, " while officially suppressed by the socialist government, thrived in private settings as a means of counter cultural expression.

The Ensemble's program weaves a texture of both instrumental and vocal music from contrasting regions of the Balkans performed in the Bulgarian, Macedonian, Serbian, and Romani (Gypsy) languages. The Rom (Gypsy) repertoire highlights the popular dance form "chochek" and songs reflecting the marginalization of Roma from mainstream society. Roma, an ethnic group originally from India, has played a central role in the professional folk music of every country of the Balkans. Persecuted throughout history, Roma have recently become the target of numerous violent attacks in Eastern Europe. The leading members of the Ensemble, Yuri and Ivan, played together in Bulgaria in the 1970's. With Ivo Papazov's band, Yuri made many European tours, and has also toured throughout North America and Australia to enthusiastic crowds

For further details phone: +1 510-849-2568


Ashkenaz Festival in Canada
A Festival of New Yiddish Culture will weave its magic again this Labour Day weekend at Harbourfront Centre, bringing an exciting conclusion to the internationally acclaimed performance site's Rhythms of the World summer series of celebratory programs.

A spectacular look at the rich cultural tradition of Eastern Europe's Jewish population, ASHKENAZ will deliver three days of explosive music, dance, theatre, film, visual art, literature, lectures and story-telling from some of the most gifted artists in their disciplines. In previous years, over 70,000 people have enjoyed this wonderfully diverse event which so successfully combines ancient traditions with challenging new artistic directions.

Open air and indoor concerts, theatre and dance performances, literary readings and scholarly lectures, a film series, children's programming, a food fair and craft marketplace combine to make ASHKENAZ and Harbourfront Centre the place to be on the last major weekend of the summer. A majority of the performances will be free-of-charge to the public. The international line-up at ASHKENAZ includes the first Canadian concert appearance of the acclaimed Hungarian band DI Naye Kapelye.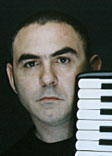 Hear authentic Klezmer music from its roots in the heart of Eastern Europe! Back from their stunning debut at ASHKENAZ 1999 are Lerner and Moguilevsky, Klezmer en Buenos Aires. Using only clarinet and accordion, this duo creates lively klezmer music with a Latin beat.

Among featured performers are the duo of Lerner and Moguilevsky from Buenos Aires. Featuring CÚsar Lerner (pictured left) on accordion and Marcelo Moguilevsky on clarinet the duo play back and forth, trading melodies and riffs, in a lively, mostly traditional, klezmer style.

Two decades ago Lerner and Moguilevsky formed a prolific duo making an important contribution and opening new trends in popular instrumental music. Born of Russian and Polish grandparents who immigrated to Argentina at the turn of the century, they have contributed to the recreation of Klezmer style since 1996 without anthropological pretension. On the contrary, they have developed their own language based on improvisation, combining musical elements from Argentinean folk music, jazz, contemporary music, and tango.

For more information, contact the Ashkenaz office: 416-703-6892 or info@ashkenazfestival.com or check out the website at www.ashkenazfestival.com


Cavan to Feature at Weston Irish Festival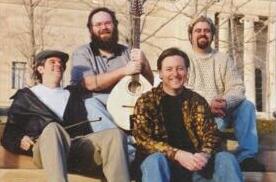 Kansas City based accordionist Brett Gibson (pictured second from right) and popular band Cavan will feature at the 3rd Annual Weston Irish Festival from September 21-22 in Weston, Missouri, just 35 minutes north of Kansas City on I-29, exit 20.

Formed in 2001 by former members of mid-western powerhouse Gabriel's Gate, in addition to accordionist Brett Gibson, Cavan includes musicians Frank Blair, Sean Patrick Hayes and Lance Zimmerman. They have performed for the enjoyment of audiences across the country at Irish festivals, concert venues and educational performances.

Cavan performs an astonishing variety of music drawn from and inspired by the ancient Celtic traditions of Ireland, Scotland, Brittany, and Galicia, to which they add a little spice from the Middle East. Their concerts combine the compelling Celtic dance rhythms: Jigs, Reels, Waltzes, and Strathspeys, with songs telling stories from past and present. Since three of the members are composers, they perform an unusual number of original songs and tunes for a Celtic band.

Cavan will be performing at the Weston Irish Festival at O'Malley's Pub, Brewery Cellars and Courtyard in Weston, MO from Noon-1:10 PM on Saturday on the Courtyard Stage and from
4:00 -5:10 PM on Saturday on the Hall Stage Gate. Passes for the Irish Festival are Friday $5.00 (gates open at 5.00 PM) and Saturday and Sunday $10.00. (Gates open at 11.00 am) Children under 12 - FREE

For additional information, call 816-640-5235 or E-mail us at: omalleyspub@westonirish.com
For further information on Cavan, or to order Cavan CD's, please visit www.bakerstreet.org/cavan


2003 Las Vegas International Accordion Festival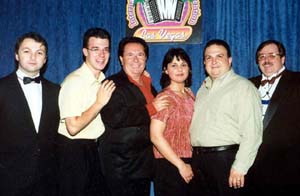 The Las Vegas International Accordion Festival will hold their 2003 event from June 22 - 25, 2003 where it promises A World of Entertainment! Featured guests include Pete Barbutti, Pino DI Modugno, Kenny Kotwitz, Don Lipovac, Art Van Damme, Dick Contino plus more.

Pictured left to right are the performers from the Monday Evening Concert - Mirco Patterini, Julien Labro, Dino Valle, Mady & Peter Soave pose with event organizer Paul Pasquali

The 2002 Las Vegas International Accordion Convention was once again a complete success, with more stars, more workshops and more people attending than every before. Over 500 people were in attendance for the third annual event held at the Plaza Hotel in Las Vegas, Nevada.

Sunday registration for the guests began with music provided by Gina and Romany Rye. It was a warm and welcoming introduction to the event. Lunch with the Legend Series included Art Van Damme, Dick Contino and Frank Marocco. Performers for the lunch series included Joe Vento, Steve Gus Merzi, Gordon Kohl, Bonnie Birch and AbsolutAccord.

Dinner concerts were held each night starting with a welcoming concert with Dick Contino. Others featured during the four nights were Frank Marocco, Peter Soave, Tony Lovello, Mirco Patterini, Mady Soave, Julien Labro, Dino Valle, Ron Borelli and Steve Albini. This year 2 youth accordion players were awarded scholarships: Brian Wong and Ginny Mac (pictured, bottom left). Both played on stage Wednesday evening.

Workshops were held each day from 9:00 AM until 5:00 PM with a noon-break for Lunch/Concert. Peter Soave, Gordon Kohl, Ron Borelli, Gina Brannelli, AbsolutAccord, John Bonica, Bonnie Birch, Frank Marocco, Steve Albini, Paul Pasquali, Tony Lovello, Mady Soave, Julien Labro, Dale Wise and Count Guido Roberto Deiro all presented workshops. Workshops topics ranged from various styles and techniques to repair to even the physical "do's and don'ts" when playing an accordion.

After hours Club Concerto was presented nightly by Gina & Romany Rye with guest appearances until the early hours. This was a very popular venue for relaxing and making new friends.

The Frosini Award-which honors the accordion club that is judged to have done the most in the preceding year to promote accordion culture-went to the San Diego Accordion Club ALSI. The Honorary Director Award for 2002 was presented to the sisters of Myron Floren, who unfortunately was not able to attend due to his health. The first Galla-Rini Lifetime Achievement Award was presented to Maestro Anthony Galla-Rini himself - accepting the award was Frank Marocco.

The special Guido Deiro Award to have been presented in 2003 in the memory of Guido Deiro was presented to Ginny Mac from Texas one year in advance, in honor of her professional entertainment presentation at the age of 16 years. Her vocal and instrumental talent, as well as her stage presentation, overwhelmed the officials and Count Deiro decided to present the award one year early, and took great pleasure in doing so. Congratulations, Ginny!
Paul Pasquali thanked his administrative staff: Jim Duane, Marilyn & Danny Showalter, Eric Browning, George Chernenko and Bradford Nelson. Paul also thanked friends Gina Brannelli and Peter Soave for helping make the convention a reality by sharing their wisdom, insight, guidance and enthusiasm.

For information, please call the HOT LINE: 801-486-1695 or FAX 801-596-7315
2330 South Main Street Suite 15
Salt Lake City, UT 84115
E-mail: lasvegas@accordioninfo.com


2001 ATG Piano Accordion Champion in Concert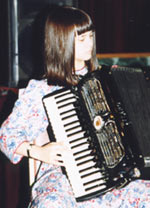 Shanxi Upsdell, 16 year old accordionist from Overland Park, KS, presented a 15 minute solo recital for the Chicago Accordion Club on August 19, 2002 at the invitation of the club president, John Simkus.

John heard Shanxi play in San Antonio during the 2001 ATG Festival where she won the first ATG National Piano Accordion division which ran in conjunction with the new CIA category, and decided she should present a program for the Chicago Club. Shanxi played
Mephisto Waltz by Franz Liszt, arranged Anthony Galla-Rini
Sonata, K. 367 by D. Scarlatti
Jalousie by Gade arranged by Anthony Galla-Rini
Preludium 11 from the Well Tempered Clavier by J.S. Bach
Shanxi has a large repertoire consisting of original and arranged works and including both standard stradella and free-bass accordion works.

Shanxi began the study of accordion in New Zealand. After her family emigrated to the USA she has been studying with Joan Cochran Sommers in Kansas City, MO for 3 1/2 years, even driving in from Cincinnati for part of that time.

Shanxi is an active member of the UMKC Community Accordion Orchestra as well as being very successful in the field of Debate.

In the recent National Christian Forensics and Communications Association's 2002 Speech and Debate Tournament held in Murfreesboro, TN she and her partner received an 11th place ranking for Team Policy Debate, out of 92 teams. The Tournament was host to 334 national home schooled competitors representing 34 states.


September Dates at a Glance
For important dates in September, please refer to the Future Events page located on this site, by selecting from the menu to the right, or by clicking here.



---

---

Note: In order to provide as much information as possible for the United States National Accordion News stories, many different sources are often researched to gather additional information and pictures to complement what has been submitted. This information is then correlated to provide the news on www.accordionusa.com in the spirit of which it is intended, which is to provide a free news service to the Accordion Community, specifically in the United Sates. If you feel any copyright has been violated please advise www.accordionusa.com and the article will be removed immediately.